These States Are The Most Likely To Legalize Marijuana In 2021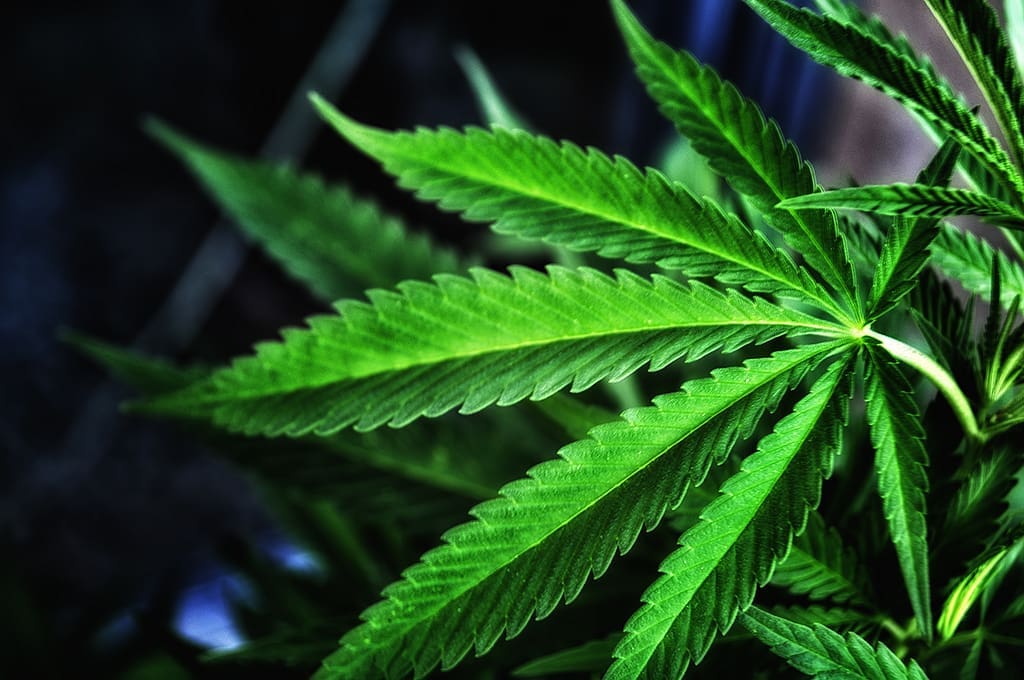 Voters approved a slew of marijuana legalization initiatives during November's election—in states around the country and across the political spectrum—but activists aren't slowing down. They expect that 2021 will see another surge of reform in state legislatures.
The state-level legalization movement has demonstrated that there's strong, bipartisan support for the policy change. Lawmakers are increasingly taking note of voters' appetite for reform as demonstrated at the ballot box, and there are already signals that the new year could see significant developments on the issue in states across the country.
"2020 was an unprecedented year in many ways, including for marijuana reform at the federal and states levels," Carly Wolf, state policies director for NORML, told Marijuana Moment. "The election results prove even further that medical and adult-use legalization holds widespread support from those across all geographic and political spectrums."
Marijuana Moment previously analyzed the most likely states to place legalization on their 2022 midterm ballots, but that doesn't mean advocates will be waiting two years to put additional reform notches on their belts.
"November's clean sweep of marijuana initiatives will help propel neighboring states' legislatures to get their own bills past the finish line in 2021," Karen O'Keefe, director of state policies at the Marijuana Policy Project (MPP), told Marijuana Moment. "These victories—in blue, red, and purple states—reflect the overwhelming popular support for legalization and a huge missed opportunity for states that fail to act."
Here's a breakdown of which states could legislatively advance reform in the new rear, with those most likely to legalize recreational marijuana listed first, followed by those that are somewhat longer shots when it comes to ending prohibition and then those where medical cannabis stands a good chance of being enacted:
States Most Likely To Legalize Recreational Marijuana
Connecticut
There have been repeated attempts to legalize cannabis in Connecticut, but none have gotten over the finish line so far. And while it's no guarantee, the incoming speaker of the House said in November that he feels there's a "50-50 chance" that the reform will finally be approved in 2021.
Those increased odds are due in large part to the fact that marijuana policy in the region is rapidly evolving, putting pressure on the state to adopt new laws on the issue to match those of its neighbors.
"It is now legal in New Jersey, New York is coming, and it's legal in Massachusetts," Rep. Matt Ritter (D) said. "Connecticut cannot fortify its border."
Gov. Ned Lamont (D) said that legalizing marijuana in his state will bolster public health amid the COVID-19 outbreak by preventing cannabis tourism to surrounding states.
He said said officials have "got to think regionally when it comes to how we deal with the pandemic—and I think we have to think regionally when it comes to marijuana as well."
Lamont and other top policymakers in the region have similarly said that the passage of a cannabis legalization referendum in neighboring New Jersey underscores the need for their states to advance the reform in a regionally coordinated manner.
Democrats increased their majority in Connecticut's state legislature in November's election, boosting the chances that legalization can succeed in 2021. The governor said the policy change is "on the table" and that it could bring in needed tax revenue.
If the legislature fails to act, top Democratic lawmakers recently said they will take the issue to voters through a proposed constitutional amendment on the ballot in 2022.
New Mexico
New Mexico is another state where lawmakers have tried to no avail to enact legalization in past sessions, but top legislators—as well as the governor—are optimistic about their prospects in 2021.
House Speaker Brian Egolf (D) said that the legislature will again attempt to advance the reform next session, for example. A bill to legalize cannabis for adult use passed one Senate committee in January only to be rejected in another before the end of the short 2020 session.
Gov. Michelle Lujan Grisham (D), said in September that marijuana legalization represents a positive fiscal opportunity for the state, especially amid budget shortfalls caused by the coronavirus pandemic.
Lujan Grisham, who formed a working group to study the impact of legalization in 2019, made a similar argument in April, noting that the reform could generate $100 million in annual revenue.
In May, the governor signaled that she may actively campaign against lawmakers who blocked her legalization legislation in the 2020 session and said in February that she's open to letting voters decide on the policy change via a ballot referendum if lawmakers can't get a bill to her desk.
Marijuana legalization was included as a legislative priority for Lujan Grisham as part of the regular session. That didn't materialize, however.
In 2019, the House approved a legalization bill that included provisions to put marijuana sales mostly in state-run stores, but it later died in the Senate.
Adding pressure on lawmakers to get legalization done in the new year is the fact that voters in neighboring Arizona overwhelmingly approved the policy change in November. Also, cannabis is expected to be legalized across the border in Mexico, with lawmakers facing a Supreme Court mandate to end prohibition by April 2021.
The legalization effort in the state may also get a boost from the results primary elections in which several Democratic lawmakers who had opposed the reform were ousted by progressive challengers.
New York
Advocates are strongly pushing New York to finally legalize marijuana for adult use. Gov. Andrew Cuomo (D) in recent years has become a major backer of the policy change, but the legislature has declined to advance reform legislation despite him including it in his last two budget requests. While leading lawmakers also support legalization, the effort has stalled over disagreements on details such as taxes and revenue allocations.
In December, the governor discussed the fiscal benefits of legalizing cannabis, as a group of progressive organizations and lawmakers separately included marijuana reform in a package of criminal justice measures they want prioritized.
2021 seems to be shaping up to be a more productive year for enacting the policy change, especially after voters in neighboring New Jersey approved legalization at the ballot box in November.
The top Republican in the New York Assembly said that he expects the legislature to legalize cannabis in the coming session, for example.
Senate Majority Leader Andrea Stewart-Cousins (D) said that she also anticipates that the reform will advance in 2021, though she noted that lawmakers will still have to decide on how tax revenue from marijuana sales is distributed.
Cuomo said that the "pressure will be on" to legalize cannabis in the state and lawmakers will approve it "this year" to offset economic losses from the coronavirus pandemic.
"You have such a [budget] gap now," he said. "I think it's going to be an easier conversation."
A top aide also confirmed in October that the administration planned to give legalization another try in 2021, and the governor said in a separate recent interview that he felt the reform would be accomplished "soon."
Senate Democrats are on better footing to advocate for policies they favor since they secured a supermajority during the recent election. If Cuomo were to veto any bill over details he didn't like, they could potentially have enough votes to override him.
New York lawmakers have separately prefiled eight medical cannabis reform bills so far to be considered in upcoming session.
Rhode Island
Rhode Island's governor and legislative leaders have expressed significant interest in legalizing marijuana in 2021.
And while there are still some disagreements about what a legal market might look like—with some pushing for a state-run model and other favoring a more traditional commercial system—there are already plans in the works to advance reform.
Senate President Dominick Ruggerio (D) recently said that he asked Majority Leader Michael McCaffrey (D) and Sen. Joshua Miller (D), who has led efforts to legalize in past sessions, to work out the details for a marijuana bill for the new legislative session.
"The time has come to legalize adult cannabis use," McCaffrey said in November. "We have studied this issue extensively, and we can incorporate the practices we've learned from other states."
Also that month, the Senate Finance Committee held a hearing to begin formal consideration of Gov. Gina Raimondo's (D) proposal to legalize marijuana through a state-run model, which she originally included in a budget proposal last January before the pandemic. The governor has argued in the past that the public model "will allow the state to control distribution, prevent youth consumption, and protect public health."
Incoming House Speaker Joseph Shekarchi (D), meanwhile, said that he's "absolutely" open to the idea of cannabis legalization and that his chamber is "very close" to having majority support for the change.
"The governor feels maybe it should be state-run like they do in New Hampshire with the liquor stores," he said. "I think maybe we can look at a private model."
Those comments reflected much of the discussion at the recent Senate hearing, where lawmakers largely focused their comments on how the state should legalize rather than whether it should.
Raimondo also put legalization in her earlier 2019 budget, but that proposal did not include the state-run model.
Meanwhile, Shekarchi also recently said that while he doesn't have "a particular leaning" on marijuana reform, he plans to establish a House task force to look at the issue.
Virginia 
In December, the governor of Virginia unveiled a budget proposal that "lays the groundwork to legalize marijuana" by including millions of dollars to support efforts to expunge cannabis convictions as well as steps to set up the state to eventually implement a system of commercial sales.
Gov. Ralph Northam (D) had campaigned on merely decriminalizing possession, but he publicly backed broader legalization of marijuana for adult use in November, just as a legislative commission issued recommendations on how to most effectively enact such a system.
Separately, a working group comprised of four Virginia cabinet secretaries and other top officials submitted marijuana legalization recommendations to the governor and lawmakers, and that included investing in social equity and expunging prior cannabis convictions. Their report was required as part of a cannabis decriminalization bill that the governor signed in 2019.
Meanwhile, legislation to stop police from searching people or seizing property based solely on the smell of marijuana in Virginia is set to take effect after lawmakers adopted recommended changes from the governor in October.
Also during the recently concluded special session, Northam signed another bill that will allow people issued summonses for cannabis offenses under the state's new decriminalization law to prepay their civil penalty rather than having show up in court.
—
Marijuana Moment is already tracking more than 100 cannabis bills in state legislatures and Congress this year. Patreon supporters pledging at least $25/month get access to our interactive maps, charts and hearing calendar so they don't miss any developments.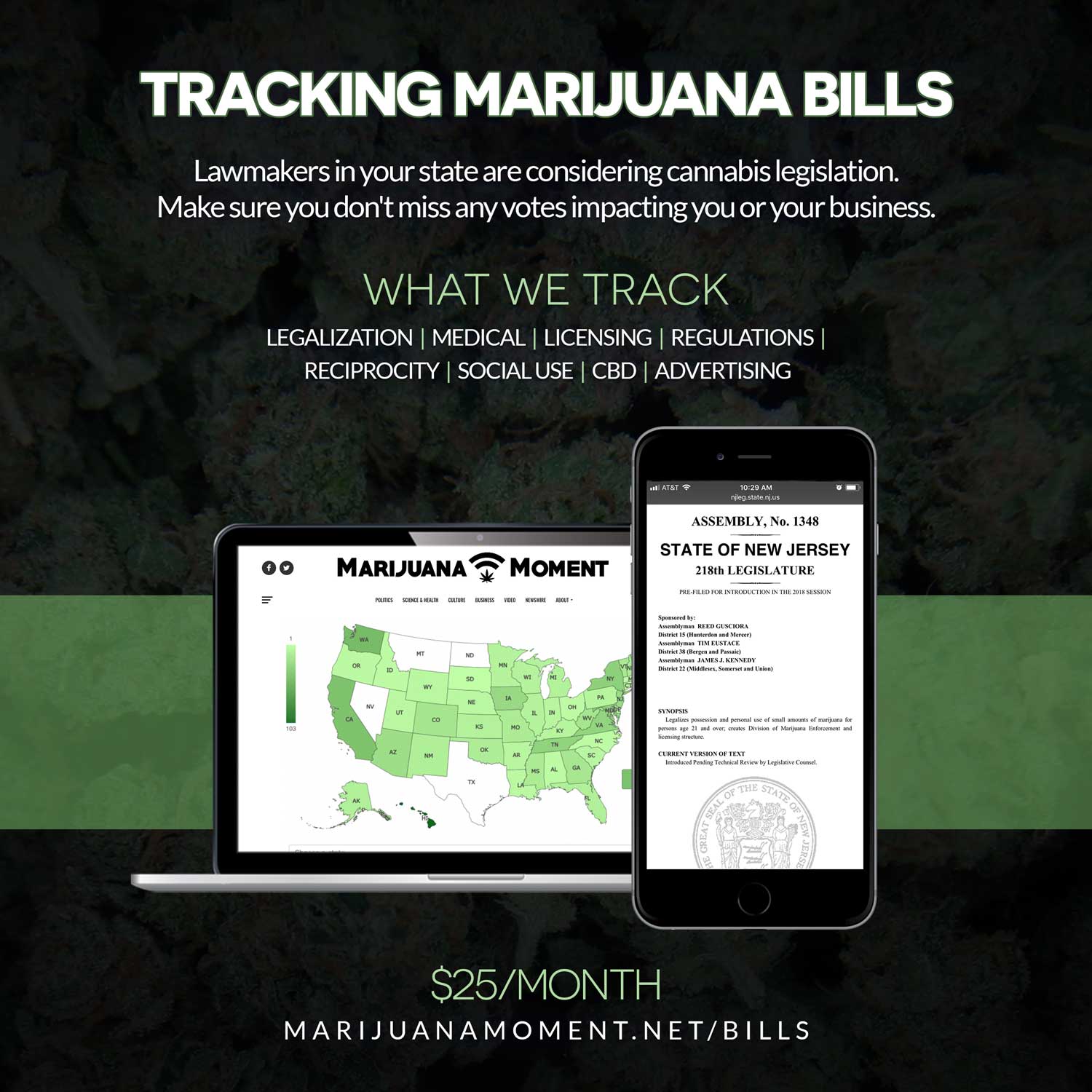 Learn more about our marijuana bill tracker and become a supporter on Patreon to get access.
—
States That Could Legalize Recreational Marijuana
In addition to the states above where a combination of gubernatorial and legislative support is aligned behind ending prohibition, there are several other states where momentum is building and that legalization is possible, though less likely due to remaining opposition from certain top leaders.
Delaware
In 2019, a Delaware House committee approved a bill to legalize marijuana for adult use in the state, but it did not advance before the end of the session.
Rep. Ed Osienski (D), sponsor of the measure, plans to reintroduced it in 2021, according to the Marijuana Policy Project.
Legalization legislation previously received majority support on the House floor in 2018, but procedural rules required a supermajority for it to pass and it didn't meet that threshold.
While Gov. John Carney (D) is not in favor of legalization, he did sign two pieces of marijuana expungement legislation in recent years. In 2017 and 2018, a state task force met to discuss issues related to legalization, and the governor hosted a series of roundtable meetings about cannabis.
Carney's predecessor approved a measure to decriminalize simple possession of cannabis in 2015.
As in other states without legalization on the books in the Northeast, regional pressures could come into play in 2021. Delaware borders New Jersey, where voters opted to legalize in November, as well as two other states where cannabis reform could shortly advance.
Separately, in an effort to mitigate the spread of coronavirus, state regulators announced in April that medical cannabis patients could soon access delivery services under an emergency program.
Maryland
A top Maryland lawmaker recently prefiled a bill for 2021 that would legalize recreational cannabis.
Beyond permitting adults to possess and purchase marijuana, the legislation would also allow for sales by state-licensed businesses, expunge past convictions and establish a social equity program meant to reinvest in communities disproportionately impacted by the war on drugs.
Medical cannabis was legalized in Maryland in 2012. Decriminalization of marijuana possession took effect in 2014, removing the threat of jail time for low-level possession and replacing it with a civil fine. But broader reform has stalled in the state.
That could change in 2021, especially if neighboring Virginia moves forward with legalization and adds regional pressure on Maryland lawmakers.
The House approved a bill in 2020 that would have increased the cannabis possession threshold to one ounce, but it did not move through the Senate.
In 2019, a House committee held hearings on two bills that would have legalized marijuana, but those also stalled.
Gov. Larry Hogan (R) vetoed a bill in May that would have protected people with low-level cannabis convictions from having their records publicized on a state database. However, he said he took the action because legislators failed to act on a separate bill unrelated to cannabis.
Despite staying relatively quiet on his personal cannabis policy preferences, Hogan has expressed an openness to exploring the possibility of legalizing marijuana. If he gets on board with the broad reform, that could help him politically should he decide to pursue a run for the presidency in 2024, as he's rumored to be considering.
Minnesota
The most significant factor bolstering the chances of passing legalization in Minnesota in 2021 is the support of House Majority Leader Ryan Winkler (D), who filed a bill earlier this year to enact the policy change, and Gov. Tim Walz (D), who has taken steps to prepare the state for eventually ending prohibition.
Winkler described his legislation, which did not advance this session, as the "best" in the country in part because it would have prioritized social equity in the industry.
The governor said in 2019 that he was directing state agencies to prepare to implement reform in anticipation of legalization passing.
In December, the House Select Committee On Racial Justice adopted a report that broadly details race-based disparities and recommends a series of policy changes that could resolve those issues, including marijuana decriminalization and expungements.
Any attempt to pass legalization legislation will face an uphill battle in the Republican-controlled Senate, however. In 2019, a legalization bill was defeated in a Senate committee, and Senate Majority Leader Paul Gazelka (R) said that the proposal is "not good for Minnesota."
Another sign of the challenge advocates face heading into the next session is that Senate Republicans in May quashed a measure that would have allowed patients to purchase raw, whole-plant forms of cannabis.
But lawmakers may be feeling new pressure to enact the policy change given that voters in neighboring South Dakota elected to legalize recreational marijuana in November.
That election also failed to give Democrats control of the legislature—and that appears to be partly due to the fact that candidates from marijuana-focused parties in the state earned a sizable share of votes that may have otherwise gone to Democrats, perhaps inadvertently hurting the chances of reform passing.
Pennsylvania 
Since adopting a pro-legalization position in 2019, Gov. Tom Wolf (D) has repeatedly called on the legislature to enact the policy change. He's stressed that marijuana reform could generate tax revenue to support the state's economic recovery from the coronavirus pandemic and that ending criminalization is necessary for social justice.
In September, he took a dig at the Republican-controlled legislature for failing to act on reform in the previous session. And in August, he suggested that the state itself could potentially control marijuana sales rather than just license private retailers as other legalized jurisdictions have done.
Lt. Gov. John Fetterman (D), a longstanding legalization advocate, has been similarly vocal about his position. In speeches and on social media, the official has expressed frustration that Pennsylvania has yet to legalize cannabis.
He's said that farmers in his state can grow better marijuana than people in neighboring New Jersey, where voters approved a legalization referendum in November.
Fetterman also recently hosted a virtual forum where he got advice on how to effectively implement a cannabis system from the lieutenant governors of Illinois and Michigan, which have enacted legalization.
Shortly after the governor announced that he was embracing the policy change, a lawmaker filed a bill to legalize marijuana through a state-run model.
A majority of Senate Democrats sent Wolf a letter in July arguing that legislators should pursue the policy change in order to generate revenue to make up for losses resulting from the COVID-19 pandemic.
But the state legislature remains under Republican control, and top leaders have so far maintained their opposition to legalization.
Wisconsin
The governor of Wisconsin recently said that he's considering adding marijuana legalization to his 2021 budget proposal as a means to boost tax revenue amid the coronavirus pandemic.
While Gov. Tony Evers (D) attempted to get marijuana possession decriminalized and medical cannabis legalized through the budget in 2019, Republican leaders in the legislature nixed those measures from the final spending bill. There's since been an open question about how the governor would navigate the issue this time around, but now he's indicating he may go bolder.
Evers criticized the legislature for failing to act on the more incremental reforms at the beginning of 2020, citing overwhelming public support for medical cannabis legalization.
Wisconsin legislators filed a bill last year to remove criminal penalties for possession of up 28 grams of marijuana, but it did not advance.
Meanwhile, voters at the local level have been making their opinion clear on cannabis reform over the past few years. In three jurisdictions, they approved non-binding advisory questions in favor of marijuana legalization last year. That's after Wisconsinites across the state overwhelmingly embraced cannabis reform by supporting similar measures during the 2018 midterm election.
In another sign of the times, city officials in the state's capital of Madison voted in November to remove most local penalties for marijuana possession and consumption, effectively allowing cannabis use by all adults 18 and older.
Wisconsin also borders Illinois, where adult-use marijuana is legal and where tax revenue from cannabis sales has been significant in the year since the commercial market opened.
States Most Likely To Legalize Medical Cannabis
Alabama 
In 2020, the Alabama Senate approved legislation to legalize medical marijuana in the state but it never advanced in the House amid the coronavirus pandemic.
The Senate approved a separate medical cannabis bill in 2019, but it was significantly altered and later died in the House.
A study commission submitted a report to the legislature in December 2019 and recommended that medical marijuana be legalized in the state.
Separately, a Senate committee unanimously approved a bill in 2018 that would have decriminalized possession of small amounts of marijuana, but it did not advance further.
The Senate's incoming president voted against medical cannabis in 2020 but said he is open to letting the issue advance in the new session. Meanwhile, the House speaker said that "if the bill comes up and it has proper restrictions in it, then I'm open to at least debating it."
Kentucky
The Kentucky House in 2020 approved a bill to legalize medical marijuana in the state, but the coronavirus pandemic stalled the legislation's progress in the Senate.
Passing medical cannabis legalization in Kentucky could have national implications as well, as anti-marijuana Senate Majority Leader Mitch McConnell (R-KY) has been a longstanding roadblock to reform but could feel pressure to serve his constituents by taking up modest legislation such as protecting banks that service the industry.
Gov. Andy Beshear (D) is in favor of medical cannabis legalization. During his campaign, he said the reform move could help mitigate the opioid crisis.
According to a poll released in February, nine out of 10 Kentucky residents support legalizing medical marijuana.
South Carolina
In December, Republicans in the House and Senate prefiled companion legislation to legalize medical marijuana.
"I feel there is a very good chance we get something passed this session," sponsor Sen. Tom Davis (R) said. "This bill has been fully vetted after five years of testimony and input by various stakeholders."
"The time has come for lawmakers to get out of the way and allow patients, in consultation with their physicians, to legally and safely access medicinal cannabis," he said.
In 2019, a medical cannabis bill advanced in a Senate committee but never got a floor vote.
A potential problem for reform is Gov. Henry McMaster (R), who says he will maintain an opposition to legalization so long as law enforcement officials in the state are against it.
Like Kentucky, enacting a marijuana policy change in South Carolina would be of national consequence as well. Sen. Lindsey Graham (R-SC) is chair of the Judiciary Committee, a key panel for any potential cannabis legislation. The senator's challenger in the last election, former South Carolina Democratic Party ChairmanJaime Harrison, made broad legalization a central part of his campaign.
The stage is set for a productive year of marijuana reform.
While advocates are still celebrating 2020's legalization victories, 2021 is set to see another expansion of the state-level reform movement, with lawmakers likely emboldened by the apparent popularity of the issue among voters.
"Now that one-third of Americans live in a jurisdiction that has or will soon have legal access to marijuana for adults, all eyes are on lawmakers to take action on reform proposals in the 2021 legislative sessions, and it will be up to advocates at every level of government to keep up the political pressure to propel the enactment of meaningful reform," NORML's Wolf said.
As states work to address budget deficits, O'Keefe of MPP said that legalization "is even more popular when compared to alternatives like raising taxes or slashing public services."
"Many Massachusetts dispensaries' parking lots are full of license plates from neighboring states without legalization," she said. "With states facing large-scale unemployment and deep financial pressures, it would be political malpractice not to pick this low-hanging fruit to lessen the pain."
Wisconsin Governor Floats Marijuana Legalization In 2021 Budget To Boost Economy
Photo courtesy of Carlos Gracia.
Minnesota Marijuana Legalization Bill Approved By Seventh House Committee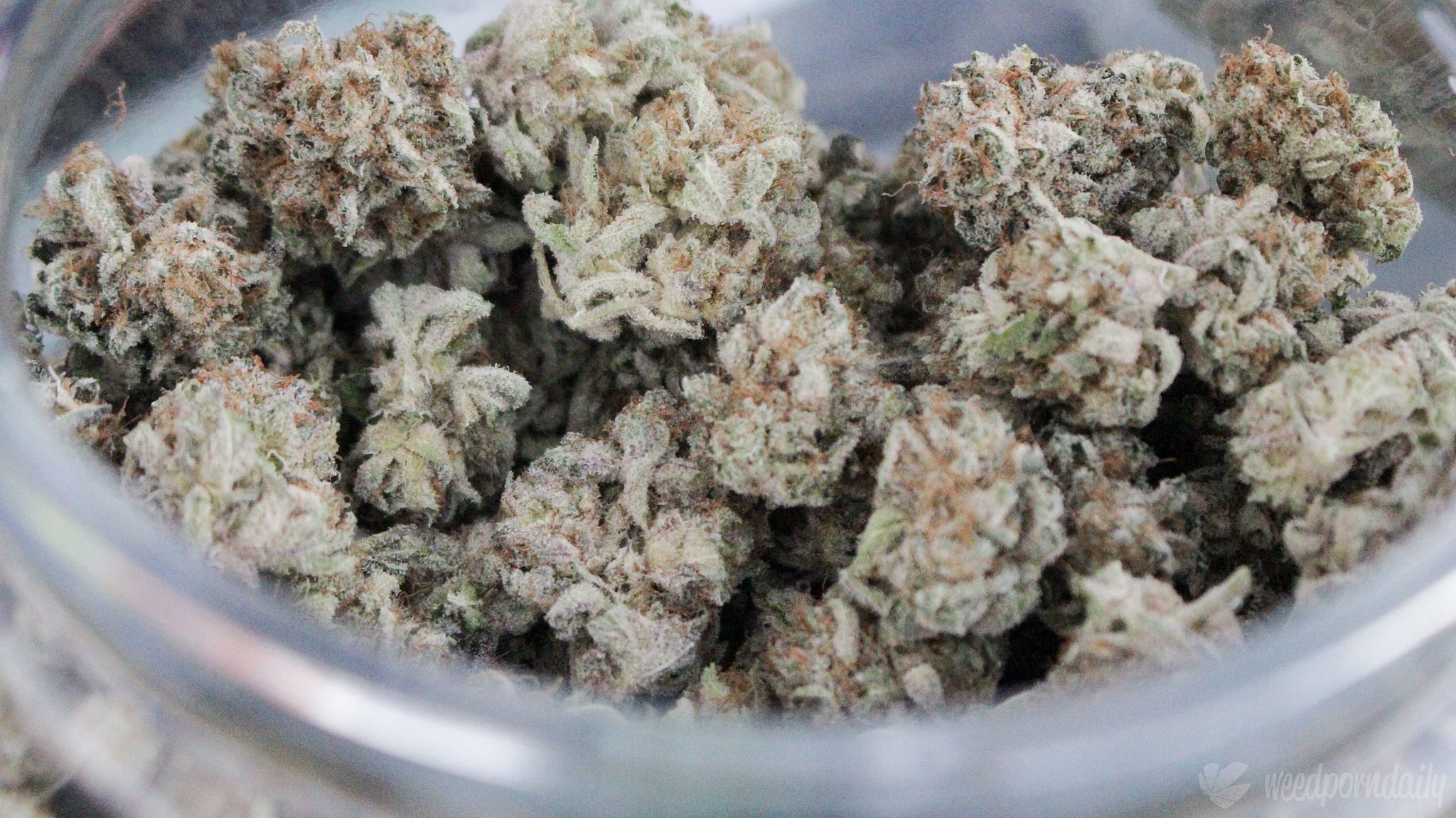 Another day, another House committee approval of a bill to legalize marijuana in Minnesota.
On Saturday, a seventh panel cleared the proposal from House Majority Leader Ryan Winkler (D), Speaker Melissa Hortman (D) and other lawmakers since it was filed in February.
The bill would allow adults 21 and older to purchase and possess up to 1.5 ounces of cannabis and cultivate up to eight plants, four of which could be mature.
The House State Government Finance and Elections Committee is the latest panel to advance the legislation, by a vote of 7-5,—just days after the House Judiciary Finance and Civil Law Committee gave it the green light.
Winkler said before the vote that the goal of the bill is "to end the criminal prohibition of cannabis in Minnesota [and] to acknowledge that the criminal enforcement of cannabis in Minnesota is part of a broader war on drugs that has disproportionately impacted communities of color, especially black Minnesotans."
"We seek to provide criminal justice reform and make sure that those adversely affected through the criminal sanctions of the war on drugs have an opportunity to have their records expunged," he said, "and to have an opportunity to participate in the upside, the opportunity of a new cannabis market—to right past wrongs."
Before this latest hearing, the House Environment and Natural Resources Finance and Policy Committee, the Agriculture Finance and Policy Committee, the Workforce and Business Development Finance and Policy Committee, the Labor, Industry, Veterans and Military Affairs Finance and Policy Committee and the Commerce Finance and Policy Committee each advanced the measure.
The next stop will be the Education Finance Committee. Winkler recently said that he expects the legislation to go through any remaining panels by the end of April, with a floor vote anticipated in May.
—
Marijuana Moment is already tracking more than 1,000 cannabis, psychedelics and drug policy bills in state legislatures and Congress this year. Patreon supporters pledging at least $25/month get access to our interactive maps, charts and hearing calendar so they don't miss any developments.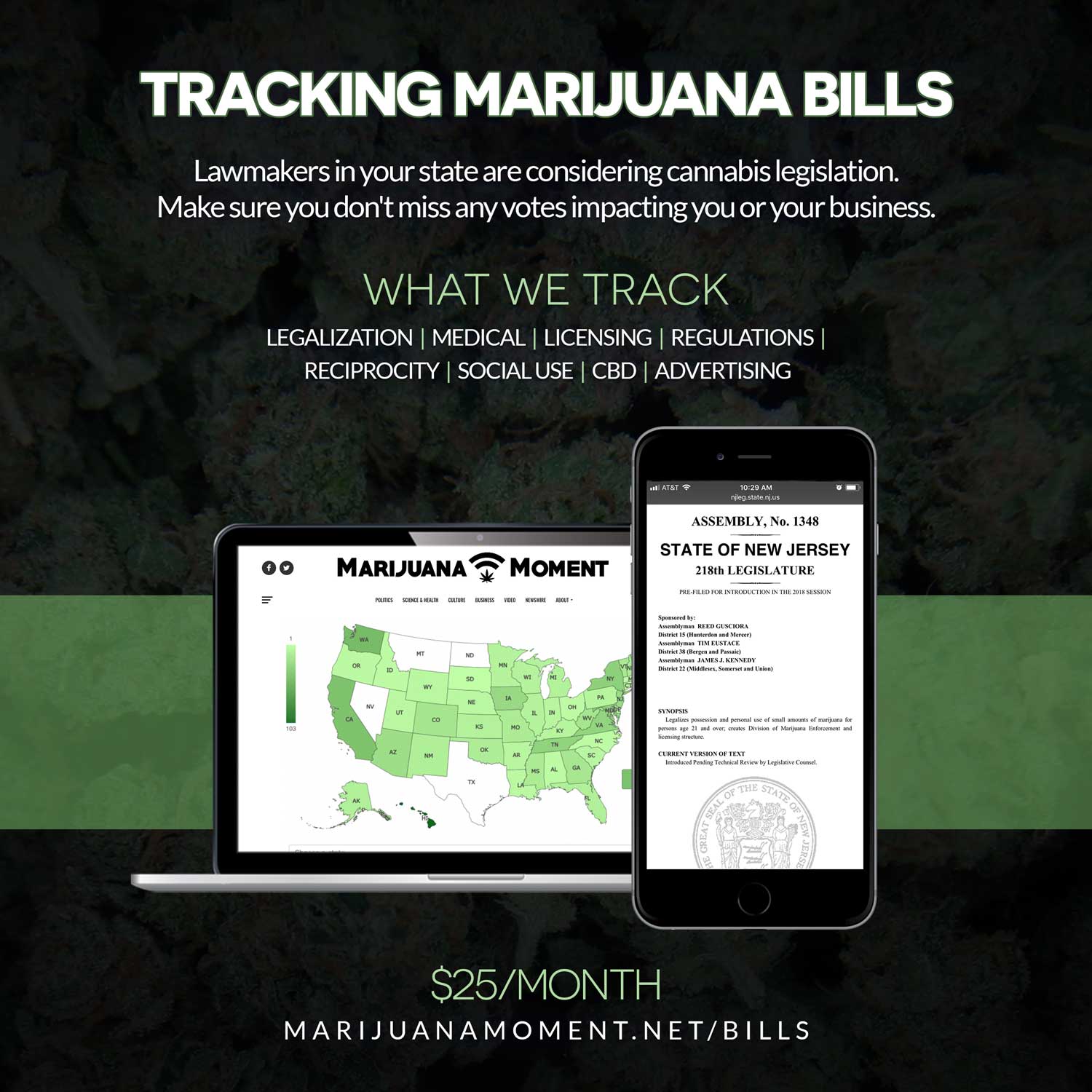 Learn more about our marijuana bill tracker and become a supporter on Patreon to get access.
—
Still, even if the legislation does make it all the way through the House, it's expected to face a significant challenge in the Republican-controlled Senate, where lawmakers have signaled that they're more interested in revising the state's existing medical cannabis program than enacting legalization of adult use.
After the New York legislature approved a recreational cannabis legalization bill—which the governor promptly signed into law—Winkler said that Minnesota is "falling behind a national movement towards progress."
"MN has some of the worst criminal justice disparities in the country, and legalizing cannabis & expunging convictions is a first step towards fixing that," he tweeted.
The majority leader's bill as introduced was identical to a proposal he filed last year, with some minor technical changes. Winkler, who led a statewide listening to gather public input ahead of the measure's introduction, called it the "best legalization bill in the country" at the time. It did not advance in that session, however.
Under the legislation, social equity would be prioritized, in part by ensuring diverse licensing and preventing the market from being monopolized by corporate players. Prior marijuana records would also be automatically expunged.
On-site consumption and cannabis delivery services would be permitted under the bill. And unlike in many legal states, local municipalities would be banned from prohibiting marijuana businesses from operating in their areas.
Retail cannabis sales would be taxed at 10 percent. Part of that revenue would fund a grant program designed to promote economic development and community stability.
The bill calls for the establishment of a seven-person Cannabis Management Board, which would be responsible for regulating the market and issuing cannabis business licenses. It was amended in committee month to add members to that board who have a social justice background.
People living in low-income neighborhoods and military veterans who lost honorable status due to a cannabis-related offense would be considered social equity applicants eligible for priority licensing.
Cannabis retails sales would launch on December 31, 2022.
Gov. Tim Walz (D) is also in favor of ending marijuana prohibition, and in January he called on lawmakers to pursue the reform as a means to boost the economy and promote racial justice. He did not include a request to legalize through his budget proposal, however.
Walz did say in 2019 that he was directing state agencies to prepare to implement reform in anticipation of legalization passing.
Winkler, meanwhile, said in December that if Senate Republicans don't go along with the policy change legislatively, he said he hopes they will at least let voters decide on cannabis as a 2022 ballot measure.
Heading into the 2020 election, Democrats believed they had a shot of taking control of the Senate, but that didn't happen.
The result appears to be partly due to the fact that candidates from marijuana-focused parties in the state earned a sizable share of votes that may have otherwise gone to Democrats, perhaps inadvertently hurting the chances of reform passing.
In December, the Minnesota House Select Committee On Racial Justice adopted a report that broadly details race-based disparities in criminal enforcement and recommends a series of policy changes, including marijuana decriminalization and expungements.
Marijuana Banking Bill Will Get A House Floor Vote Next Week, Majority Leader Confirms
Photo courtesy of WeedPornDaily.
Marijuana Banking Bill Will Get A House Floor Vote Next Week, Majority Leader Confirms
A bipartisan bill to protect banks that service state-legal marijuana businesses from being penalized by federal regulators has been formally scheduled to receive a House floor vote on Monday, a calendar released by Majority Leader Steny Hoyer's (D-MD) office confirms.
Marijuana Moment reported on the expected development earlier Friday after obtaining an email that was sent to stakeholders by a staffer for Rep. Ed Perlmutter (D-CO), the bill's sponsor, seeking letters of support for the Secure and Fair Enforcement (SAFE) Banking Act ahead of the anticipated vote.
The bill is now now officially listed on the majority leader's agenda of legislation for Monday.
This will mark the first floor action on a cannabis reform bill this Congress. The standalone legislation cleared the House with bipartisan support in 2019, and its language was also included in two coronavirus relief packages that the chamber approved. The proposal did not advance in any form in the Senate under GOP control, however.
With Democrats now in control of the House, Senate and White House, industry stakeholders are optimistic that the legislation stands a solid chance of becoming law this year.
The SAFE Banking Act was reintroduced in the House last month, and it currently has 168 cosponsors—more than one-third of the chamber. Days later, it was refiled in the Senate, where Sens. Jeff Merkley (D-OR) and Steve Daines (R-MT) are the chief sponsors.
—
Marijuana Moment is already tracking more than 1,000 cannabis, psychedelics and drug policy bills in state legislatures and Congress this year. Patreon supporters pledging at least $25/month get access to our interactive maps, charts and hearing calendar so they don't miss any developments.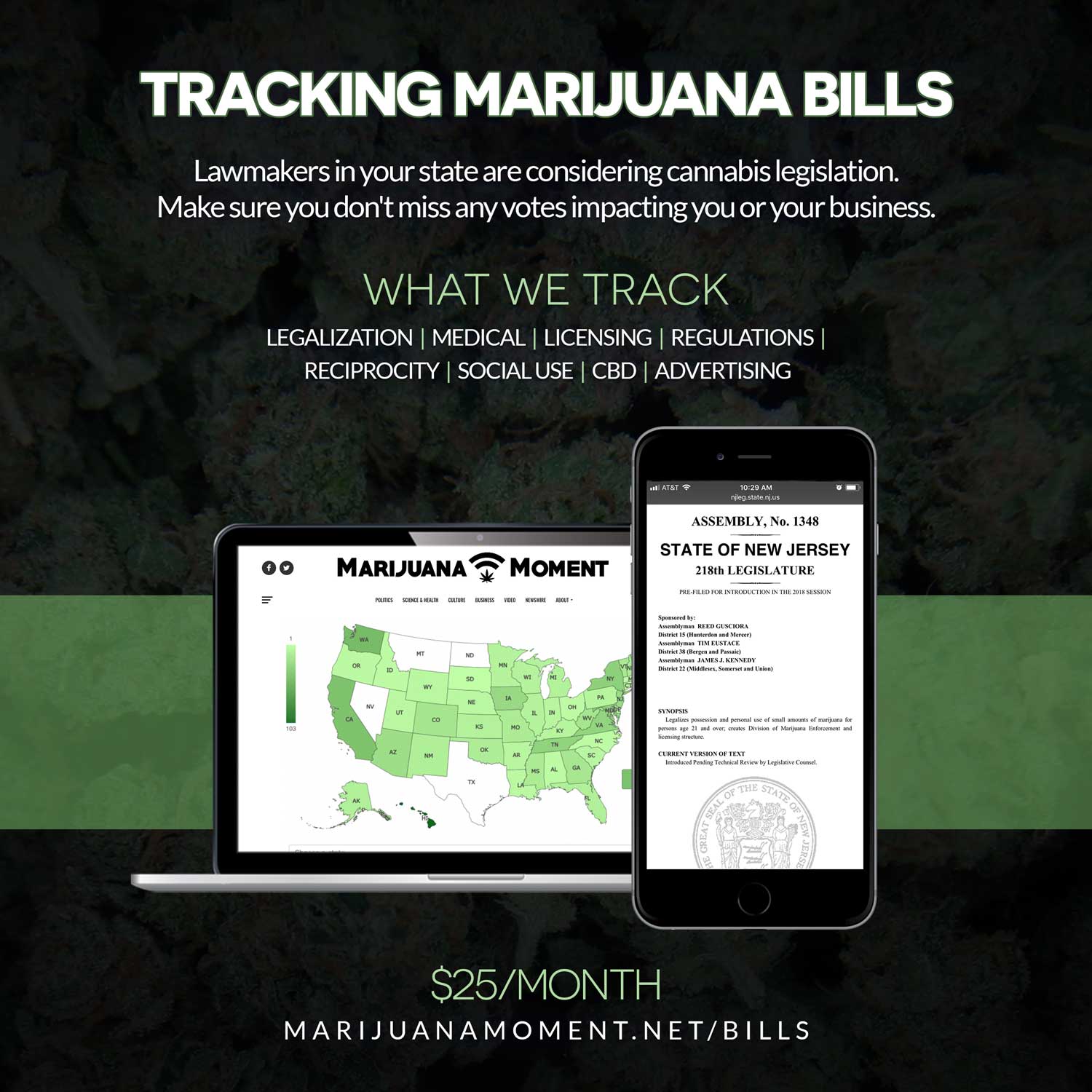 Learn more about our marijuana bill tracker and become a supporter on Patreon to get access.
—
The legislation would ensure that financial institutions could take on cannabis business clients without facing federal penalties. Fear of sanctions has kept many banks and credit unions from working with the industry, forcing marijuana firms to operate on a cash basis that makes them targets of crime and creates complications for financial regulators.
Because the bill will be taken up under the process known as suspension of the rules, it will need a two-thirds supermajority to pass—an achievable threshold given the level of support it got during the earlier 2019 vote. No floor amendments will be allowed under the procedure.
Rep. Matt Gaetz (R-FL) said in a tweet on Friday that he'll "be voting for the SAFE Banking Act in the House" and that it's "absurd that Marijuana business cannot fully access the US financial system." He did not comment on the timing of a vote, however.
I'll be voting for the SAFE Banking Act in the House.

It is absurd that Marijuana business cannot fully access the US financial system. pic.twitter.com/5YDeuUBr0p

— Matt Gaetz (@mattgaetz) April 16, 2021
After it passed the House last Congress, advocates and stakeholders closely watched for any action to come out of the Senate Banking Committee, where it was referred after being transmitted to the chamber. But then-Chairman Mike Crapo (R-ID) did not hold a hearing on the proposal, despite talk of negotiations taking place regarding certain provisions.
Crapo said he opposed the reform proposal, but he signaled that he might be more amenable if it included certain provisions viewed as untenable to the industry, including a 2 percent THC potency limit on products in order for cannabis businesses to qualify to access financial services as well as blocking banking services for operators that sell high-potency vaping devices or edibles that could appeal to children.
Sen. Sherrod Brown (D-OH), who took the top seat in that panel after Democrats secured a majority in the Senate, told reporters in February that he's "willing" to move the cannabis banking bill, "but with it needs to come sentencing reform."
The current Senate version of the SAFE Banking Act has 32 cosponsors.
When legislative leaders announced that the SAFE Banking Act was getting a House vote in 2019,  there was pushback from some advocates who felt that Congress should have prioritized comprehensive reform to legalize marijuana and promote social equity, rather than start with a measure viewed as primarily friendly to industry interests.
Rep. Earl Blumenauer (D-OR), co-chair of the Congressional Cannabis Caucus and an original cosponsor of the bill, said last month that the plan is to pass the banking reform first this session because it "is a public safety crisis now," and it's "distinct—as we've heard from some of my colleagues—distinct from how they feel about comprehensive reform."
Meanwhile, congressional lawmakers are simultaneously preparing to introduce legislation to end federal cannabis prohibition.
Senate Majority Leader Chuck Schumer (D-NY), Senate Finance Chairman Ron Wyden (D-OR) and Sen. Cory Booker (D-NJ) are in the process of crafting a legalization bill, and they've already met with advocates to get feedback on how best to approach the policy change.
Schumer said this week that the legislation will be introduced and placed on the floor "soon."
On the House side, Judiciary Chairman Jerrold Nadler (D-NY) said recently that he plans to reintroduced his legalization bill, the Marijuana Opportunity, Reinvestment and Expungement (MORE) Act, which cleared the chamber last year but did not advance in the Senate under GOP control.
Biden's Already On Board With Federal Marijuana Legalization Even If He Doesn't Use That Word, Booker Says
Washington Senate Replaces Drug Decriminalization Bill With Revised Measure To Reinstate Penalties
A bill that would have formally decriminalized drugs in Washington State was gutted on the Senate floor on Thursday, with lawmakers approving a dramatically revised version that instead reinstates criminal penalties following a state Supreme Court ruling that overturned prohibition.
The action sets up a possible showdown with more progressive Democrats in the House of Representatives who have said they won't vote for legislation that returns to a criminal war on drugs.
Washington has been without a law against drug possession since a divided state Supreme Court abruptly struck it down February, after ruling that a narrow portion of the decades-old law was unconstitutional. Lawmakers have since scrambled to address the decision—which has halted drug arrests and prosecutions across the state and freed dozens of people incarcerated on drug possession charges—before the legislative session ends on April 25.
On the Senate floor on Thursday evening, a bill that originally would have left drug possession decriminalized was amended to instead make possession a gross misdemeanor, a crime punishable by up to a year in jail and a $5,000 fine—a change that led its lead sponsor to vote against the measure.
Prior to the court decision, drug possession was classified as a felony.
Senators passed the amended version of the bill, SB 5476, on a 28–20–1 vote. It next proceeds to the House, where it's scheduled for an initial hearing in the Appropriations Committee on Monday, with possible committee action slated for Wednesday, April 21.
Watch the senators discuss the drug penalties legislation, around 1:01:33 into the video below: 
As amended, the Senate-passed bill represents a moderate reform to Washington's now-invalidated felony law against possession. It requires the prosecutors divert people for first- and second-time possession charges to evaluation and treatment programs, and allows for the possibility of further diversions with a prosecutor's approval.
"I think that this striking amendment will help move us forward as we continue negotiations in these final 10 days with the body across the way toward having a response that will provide services and treatment and help for people who are struggling with substance use disorder," Sen. Jamie Pedersen (D), who brought the amendment, said on the Senate floor.
The bill in its original form represented a more significant shift away from the drug war. It would have imposed no penalties for possession of small, "personal use" amounts of drugs, instead routing people to evaluation and treatment services for substance use disorder.
Some senators who initially supported SB 5476 ultimately changed their vote after the misdemeanor amendment was adopted. The bill's original sponsor, Sen. Manka Dhingra (D) said she could no longer support the proposal.
"The way we are doing this, I'm glad there'll be opportunities for diversion, but it needs to be not through the criminal justice system," Dhingra said during floor debate. "I understand this is my bill, I understand my name is on there, but I will be voting no on this today."
Many senators who weighed in on the bill Thursday said it was important that the legislature pass something before the session end, given the sweeping impact of February's state Supreme Court decision, State v. Blake. In a statement issued after the floor vote, Senate Majority Leader Andy Billig (D) said that not passing a state law on drug possession "means a patchwork of local ordinances that will be confusing to Washingtonians and won't provide equal justice across the state."
Generally speaking, state drug laws are understood to preempt those of Washington's cities and counties. With the state law against possession gone, localities could establish their own laws and penalties, and some have already begun doing so.
"The bill we passed today is not the final word on the subject," Billig said in a statement. "It is a compromise that keeps this important legislation moving so that we can do our duty as the representatives of the people of our whole state."
Representatives in the House, however, have indicated more openness to leaving drug possession decriminalized this session. On Thursday, lawmakers in favor of broader drug reform introduced a new bill, HB 1578, which would expand treatment and recovery services and reclassify low-level possession as a civil infraction, punishable by a fine of up to $125 and no possibility of jail time.
—
Marijuana Moment is already tracking more than 1,000 cannabis, psychedelics and drug policy bills in state legislatures and Congress this year. Patreon supporters pledging at least $25/month get access to our interactive maps, charts and hearing calendar so they don't miss any developments.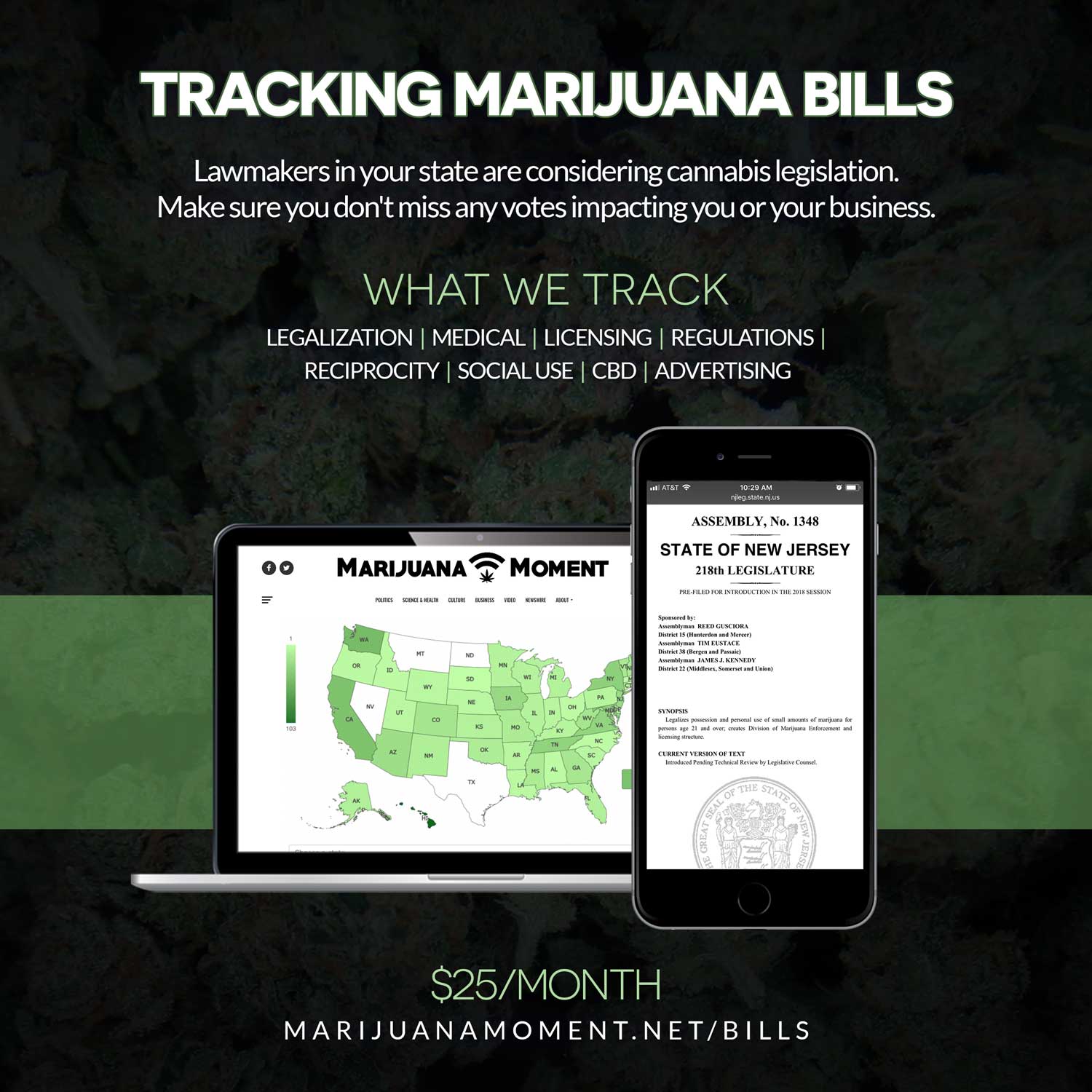 Learn more about our marijuana bill tracker and become a supporter on Patreon to get access.
—
Of all the measures currently in play this session, the new bill is the one that most closely resembles neighboring Oregon's drug decriminalization measure passed by voters in November. But its path forward is uncertain: HB 1578 would need to pass both chambers of the legislature in less than two weeks.
Likewise, it remains unclear how the House will receive the Senate-passed bill, SB 5476, in its new form. More progressive members of the Democratic caucus have said they won't vote for legislation that reimposes criminal penalties for simple possession, but it's not certain they'll be able to muster enough support to pass a decriminalization measure.
If House lawmakers were to amend the Senate bill before passing it, the legislation would need to go to a conference committee, where members of both chambers would iron out differences in the two versions of the bills.
Earlier this year, before the Supreme Court's decision, a House committee passed a separate bill, HB 1499, that would have ended criminal penalties for personal use amounts of drugs and instead routed people to evaluation and treatment. It would have also significantly expanded the state's outreach and recovery programs for people with drug use disorders. That measure failed to proceed further after missing a legislative deadline last month.
HB 1499, for its part, stemmed from an effort to put a drug decriminalization initiative on Washington's ballot last year. Supporters pivoted to a push through the legislature after pressing pause on their signature-gathering campaign after COVID-19 first broke out in the Seattle area early last year.
Advocates for reform have noted that the state's criminal enforcement of drug possession laws has had a strong bias against people of color, particularly the state's Black, brown and Indigenous communities.
In her comments on the Senate floor, Dhingra echoed that point, arguing that the Blake decision presents a chance for lawmakers to finally begin to address those racial disparities.
"I will say that the Supreme Court did provide us with an opportunity," she said, "an opportunity to really think about what we as a state and as a nation have been doing in regards to the war on drugs, and to really think critically of the impact that this has had very, very specifically on Brown and Black families."
"The racial impact of our drug laws cannot be understated," Dhingra continued. "When we take a look at mass incarceration, when we take a look at families with a single mom who is bringing up her children, when we take a look at parents who cannot find a job because of their criminal history, cannot find housing, cannot seek recovery, it comes down to the manner in which we have been enforcing our drug laws."
Rep. Roger Goodman (D), the lead sponsor of the new House measure, HB 1578, which would make possession a civil infraction, didn't immediately respond to a request for comment on Thursday evening. In an interview with Marijuana Moment last month, however, he called the Blake decision "both a blessing and a curse."
"It's an opportunity for us to come up with a more effective approach that does less harm," he said, "but we don't have the opportunity to be deliberate and inclusive in conversations with interested parties, so it's not as well thought-out a proposal as it would be otherwise. It has to be an interim measure."
Just five years ago, few state legislatures would have dreamed of letting drugs remain decriminalized after a court decision like Blake. Now attitudes are beginning to shift.
"There's this phenomenon called discontinuous change," Goodman told Marijuana Moment, "where nothing happens and nothing happens and nothing happens, and then the Berlin Wall falls down. We're getting to that place in drug policy where it's a tipping point."
Oregon voters ended prohibition of low-level drug possession at the ballot during last November's election, which has contributed to the national conversation.
In both Maine and Vermont, lawmakers have also recently unveiled legislation last month to decriminalize small amounts of illegal drugs. Last month, a Rhode Island Senate committee held a hearing on legislation that would end criminal penalties for possessing small amounts of drugs and replace them with a $100 fine.
In New Jersey, meanwhile, Gov. Phil Murphy (D) said last month that he's "open-minded" on decriminalizing all drugs.
California Bill To Legalize Possession Of Psychedelics Clears Second Senate Committee