Voters In Two States Nominate Marijuana Legalization Supporters for Governor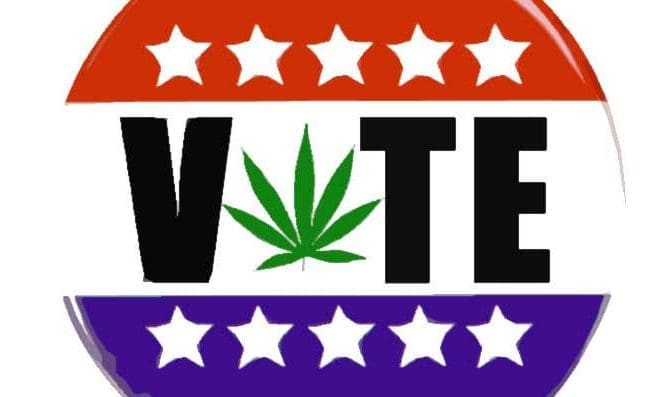 Tuesday's primary elections brought in a wave of Democratic gubernatorial candidates who've endorsed marijuana legalization—from Maryland to Colorado.
Here's a breakdown of where the gubernatorial primary winners stand on cannabis.
Maryland
Democratic winner: Ben Jealous, former NAACP president
Jealous campaigned as a progressive, pro-legalization candidate for governor, earning him the endorsements of Sen. Bernie Sanders (I-VT) and Kamala Harris (D-CA), among others. He spoke to Marijuana Moment earlier this month about how comedian Dave Chappelle first put the idea of legalization in his head—and how his stance on cannabis reform further evolved after studying racial disparities in marijuana enforcement as well as the economic potential of full legalization. Jealous told Marijuana Moment that, if elected governor, he would use tax revenue from a legal cannabis retail system to fund universal pre-k education throughout Maryland.
To end the era of mass incarceration, we need to finally legalize marijuana for adult use.

It's time that we confront the racial and economic injustices that result from disproportionate enforcement and make our communities safer at the same time.https://t.co/wH52pNcmj9

— Ben Jealous for Governor (MD) (@BenJealous) June 12, 2018
"We know that we have to end mass incarceration—and yet go further," he said. "We have to really get back to opening up the gates of opportunity for all of our children. And by legalizing cannabis, we get to make progress on both fronts."
Every single Democratic gubernatorial candidate in Maryland backed legalization during the primary, The Baltimore Sun reported, but Jealous seemed to focus on it more than most other major contenders.
Republican winner: Larry Hogan, incumbent governor
Hogan hasn't taken an official stance on full marijuana legalization and, notably, declined to respond to a question about whether he felt voters should be entrusted to make that decision as part of a state referendum last year.
Just ahead of the primary election this week, however, Hogan said that "[a]t this point, I think it's worth taking a look at" in reference to full legalization.
"I was for medical cannabis. I want to make sure we're off to the right start and we look at every aspect of the issue."
The governor signed a bill last month that expanded Maryland's medical marijuana program. The legislation called for increased licenses for cannabis processors and growers; it was also designed to resolve the lack of diversity among individuals and businesses that receive these licenses.
Colorado
Democratic winner: Jared Polis, U.S. representative
The sitting congressman has made a concerted effort to distinguish his support for marijuana reform from his competitors as well as the state's incumbent Democratic governor, John Hickenlooper. He emphasized the need to protect the state's recreational cannabis program from federal interference in an interview with Marijuana Moment, saying that, as governor, he "would make sure that we would not cooperate from the state-level and that state law enforcement resources were not used and information was not shared with any federal agent going after a legal, constitutionally protected Colorado activity."
Polis, who has consistently championed cannabis bills and amendments in Congress, also vowed to approve legislation that would facilitate investments in the state's marijuana program and expand the list of conditions that qualify patients for medical cannabis to include those on the autism spectrum—measures that Hickenlooper recently vetoed, much to the chagrin of legalization advocates.
The nominee has argued that the state's regulated marijuana program provides valuable economic resources and that cannabis may serve as a viable alternative to dangerous and addictive opioids for pain patients.
Alternative pain management such as medical marijuana can be a bigger part of combating the opioid epidemic. A recent study found that states with medical marijuana have a 23% lower opioid dependency and abuse rate.https://t.co/C23BCJRFBO

— Polis for Colorado (@PolisForCO) April 29, 2018
Pro-legalization advocacy group, NORML endorsed Polis in May.
"The results from the Democratic Gubernatorial Primary are not just a victory for Jared Polis and supporters of sensible marijuana policy, they are a victory for anyone who believes that our prohibition on marijuana was a failure and that states should be free to set their own policies when it comes to cannabis, free from federal incursion," NORML PAC executive director Erik Altieri said in a press release on Tuesday.
"Jared Polis has been the preeminent champion for ending our nation's failed federal prohibition on marijuana while in Congress and an unrelenting force in standing up for Colorado's legalization and medical marijuana laws. Just as he has always stood and fought by our side against federal prohibition, we will continue to fight for Jared Polis until he takes his rightful place in the governor's mansion."
Republican winner: Walker Stapleton, Colorado treasurer
Stapleton hasn't gone on the record fully embracing the state's recreational marijuana program, but he stood out among his Republican gubernatorial competition by disagreeing with the notion of advancing an agenda to repeal Colorado's legal marijuana law, Amendment 64. He's also acknowledged marijuana's medical benefits.
"There have been a lot of unintended consequences that have come with legalization of marijuana," Stapleton told Westword. "I don't think a repeal is a realistic option, so as governor, I will work with the industry and stakeholder groups to make this work."
"We need to have better guardrails in place to keep it out of the hands of children and to address some of the unintended consequences we have seen develop," he said.
Oklahoma
Democratic winner: Drew Edmondson, former Oklahoma attorney general
The former state attorney general said that he supported earlier legislation that reduced criminal penalties for marijuana possession and said he would also support State Question 788—an initiative to legalize medical marijuana in Oklahoma that passed on Tuesday.
I'm voting yes on 788. We can see how rec plays out in other states.

— Drew Edmondson (@DrewForOklahoma) May 3, 2018
However, Edmondson stopped short of embracing full legalization. He told Tulsa World that he believes "it is too early for full legalization in Oklahoma, but we do have the benefit of observing the long-term effects in Colorado and other states."
Republican winner: Mick Cornett, Oklahoma City mayor
Cornett hasn't said much about his personal views about marijuana reform on the record, but a spokesperson for the mayor told The Associated Press that "[o]ne of the strengths of Oklahomans is their willingness to help people," in reference to a bill to legalize medical cannabis in the state, which passed on Tuesday.
"If this ballot measure can help Oklahomans, it is likely to pass."
Cornett's Republican competitor, Oklahoma Lt. Gov. Todd Lamb, was decidedly opposed to the legalization initiative, arguing that it was "poorly written and will create a host of societal problems."
South Carolina
Republican winner: Henry McMaster, incumbent governor
Last year, McMaster, who won a runoff election on Tuesday night, said flatly that he believed it was "a bad idea to legalize marijuana" and that he doesn't "think it's healthy."
SC Gov. Henry McMaster Says No To Legalizing Marijuana https://t.co/VGGRJnTLWw pic.twitter.com/ewEuS8SknB

— ABC Columbia (@abc_columbia) February 17, 2017
It was unclear whether the governor was describing his stance on full, adult-use legalization or if he considered medical cannabis reform an exception, however.
South Carolina Rep. James Smith (D), who became the Democratic gubernatorial primary nominee earlier this month, said he supported medical cannabis and co-sponsored a piece of legislation to legalize a medical program.
I am for medical cannabis and a co-sponsor along with @MPowersNorrell for the Compassionate Care Act.

— James Smith (@JamesSmithSC) June 5, 2018
Photo courtesy of Democracy Chronicles.