New York Will Legalize Marijuana By April And Regulate CBD-Infused Drinks, Governor's Advisor Says
The top marijuana advisor to New York Gov. Andrew Cuomo (D) says cannabis legalization legislation will again be introduced through the state budget in January, with the goal being to enact the reform by April. He also previewed state regulations for hemp-derived CBD products, including allowing infused drinks and food items.
During an interview with Canopy Growth Corp.'s David Culver on the company's recently launched video series, "Under The Canopy," Assistant Counsel Axel Bernabe talked about how efforts to legalize marijuana in surrounding states underscore the need for reform in New York. And he said the legislation the governor will be introducing will serve as a "model" for other states, prioritizing social equity and economic development.
In this episode of #UnderTheCanopy we speak to Axel Bernabe of @NYGovCuomo's office who answered our questions on New York's upcoming #hemp regulations, #cannabis #legalization, and the Gov.'s pandemic response. Watch here: https://t.co/5SzWFMnFSU

— Canopy Growth (@CanopyGrowth) October 14, 2020
But he also recognized that neighboring New Jersey may beat the Empire State to the punch, as voters are positioned to approve a legalization referendum next month.
"We're watching New Jersey closely. We've always been confident that we get to this before New Jersey, so if they pass the referendum they still have to have agreement between the governor the Senate over there," he said, referring to necessary implementing legislation that will need to be approved if voters pass the ballot question. "We're working on this. We're going to reintroduce this in our budget in January. We think we can get it done by April 1."
That said, a top New Jersey senator recently indicated that lawmakers in the Garden State could pass the enacting bill as soon as the first week of November.
Over in New York, Cuomo has included legalization in his budget proposal for the last two years, but negotiations have consistently stalled out in the legislature, with sticking points such as how cannabis tax revenue will be allocated preventing a deal from being reached.
"If Jersey can beat us to it, then they'll get the gold star—but I still think we're going to set the model here."
Bernabe said he's especially excited about the public safety and economic development components of the administration's forthcoming legalization proposal. And he spoke about the need to ensure social equity for communities historically targeted by the war on drugs, adding that there will be some changes from this year's version in light of other states' experiences.
"I would say equity pervades the entirety of the bill. It pervades it on the licensing front, it's on the revenue side and the use of funds and providing capital and loans," he said.
Also in the interview, Bernabe talked about pending regulations for hemp-derived cannabinoids. While those who grow the crop for fiber, seeds and other agricultural purposes are covered under existing rules, he said the administration is "literally putting the final tweaks" on policies for consumer CBD products that will take effect at the beginning of 2021.
"We're excited because we've taken the bull by the horns so to speak. I think people recognize that there are a lot of sectors or product lines that haven't really had some thorough regulation attached to them," he said. "You can pick a number of them but probably the most high-profile or obvious ones are something like vapes—so CBD or other cannabinoid extract vapes. Flower, even some tinctures, and foods and beverages."
"How do you regulate that? What are the parameters around it? What's permissible? What's not?" he said. "We dug deep. I don't know that we'll get everything right. We had to make some calls."
NY is on the cusp of opening their hemp market – but what went into the regulatory process to make this a reality? Axel Bernabe from @NYGovCuomo's office discusses this & all things cannabis-related in this episode of #UnderTheCanopy Click here to watch: https://t.co/5SzWFMnFSU pic.twitter.com/HEK351bG5o

— Canopy Growth (@CanopyGrowth) October 18, 2020
The administration official offered an example of a regulation they're likely to pursue that other states have avoided: creating rules for cannabinoid-infused drinks and food items.
"We think of this in terms of consumer protection. Those products are already out there. There's no sense in trying to pretend they're not," he said, adding that one way they're planning to ensure those protections is to set a maximum 25 milligram CBD dose per serving.
"We're really doing it across the board on this," Bernabe said. "We're really looking at every product class and trying to strike a balance between consumer protection and letting people have what they're obviously using extensively for health and wellness."
As the administration finalizes those rules, the state's hemp industry also recently got some news about broader regulations. Since a congressional continuing rider signed by the president last month extends the 2014 Farm Bill pilot program for the crop until next September, the New York Agriculture Department said it will similarly allow hemp businesses to continue to operate under the existing program until September 30, 2021.
"With so much uncertainty right now, we applaud [the department's] move to extend these rules," Allan Gandelman, president of the New York Cannabis Growers and Processors Association, said in a press release on Wednesday.
Another New Jersey Poll Shows Marijuana Legalization Passing By A Huge Margin
Photo courtesy of Mike Latimer.
Illinois 'New Leaf' Program Uses Marijuana Tax Revenue To Expunge Prior Cannabis Records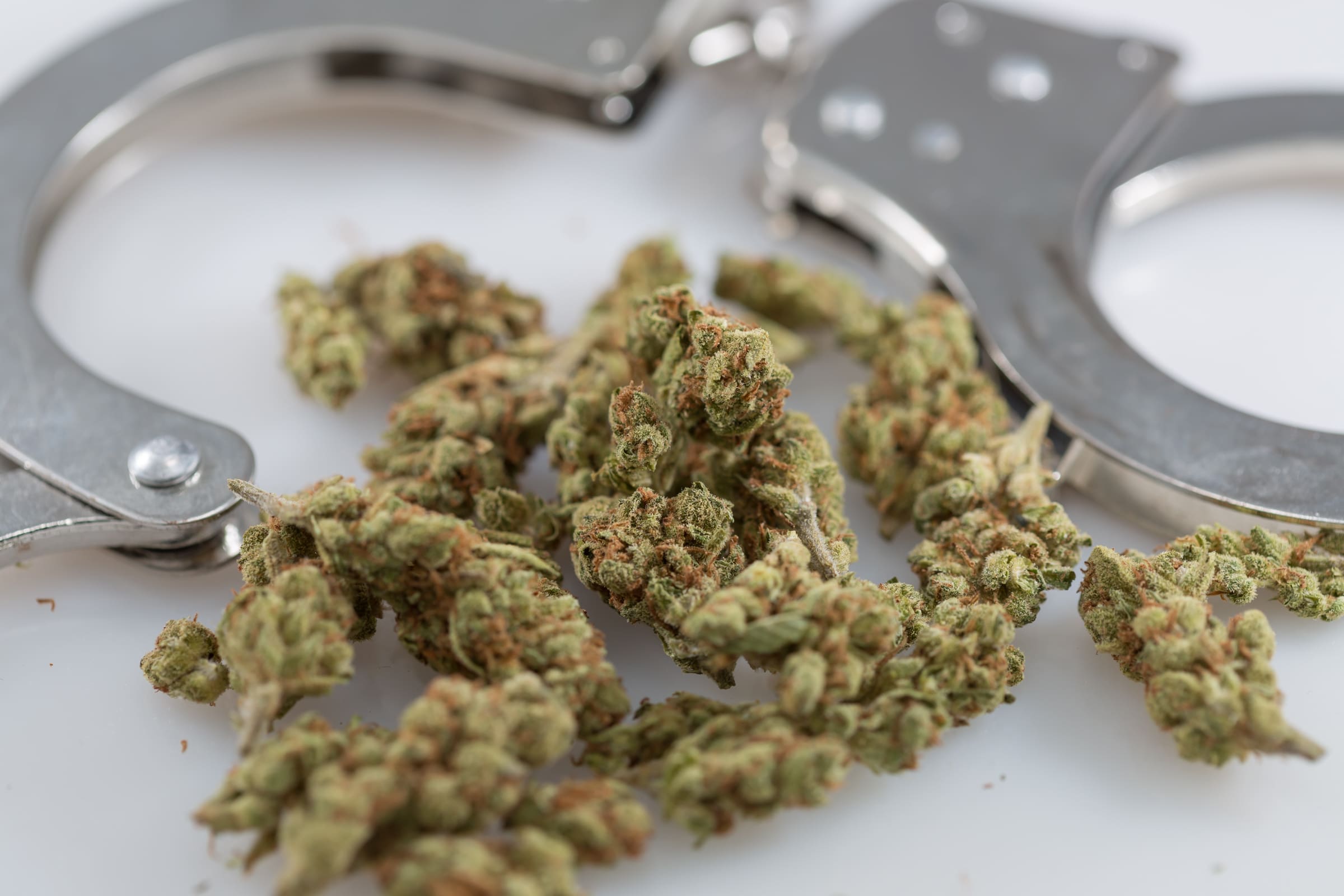 "The expungement process is one step toward repairing that harm for people who were previously arrested or prosecuted for something that is now legal for all of us."
By Raymon Troncoso, Capitol News Illinois
A new state-funded initiative called New Leaf Illinois aims to connect Illinoisans who want to remove marijuana arrests or convictions from their records with 20 nonprofit organizations that provide free legal representation and information on expungements.
New Leaf Illinois was launched Thursday by the Illinois Equal Justice Foundation (IEJF), an organization created by a 1999 state law to distribute funding appropriated by the government to support nonprofit legal aid programs and initiatives. IEJF administers state appropriations to three programs—a broad legal aid grant program, a legal aid service for veterans and, most recently, a marijuana offense expungement program.
As part of the 2019 Cannabis Regulation and Tax Act—the law that legalized marijuana for recreational use—arrests and convictions for certain marijuana offenses are eligible for expungement. Arrests and minor offenses are eligible for automatic expungement, while some convictions require a petition be filed in court.
The 2019 law also set aside a portion of the tax revenue generated from the legal sale of marijuana that must be put toward the expungement process. Through the IEJF, a portion of these funds are given as grants to New Leaf organizations to provide legal services.
Tax revenue from legal marijuana sales has also been earmarked for other services, like the R3 community investment program.
According to Leslie Corbett, IEJF executive director, the organization received a $1.6 million appropriation to create the New Leaf initiative, with $1.46 million being distributed as grants to the 20 member organizations and the remainder being used to administer the program.
IEJF estimates there are approximately 700,000 Illinoisans eligible for marijuana offense expungement, either through the automatic process or the court filing route. Automatic expungement means the beneficiary doesn't have to personally ask for expungement, but the process itself must still be carried out manually by the Illinois State Police and criminal justice officials on a case-by-case basis.
Due to the volume of records, ISP has set a five-year timeline for when arrests and minor convictions will be expunged, in order of when the offense occurred. New Leaf Illinois offers to help applicants speed up the process if an arrest for a marijuana offense remains on their record.
"These individuals may have a criminal record that could make it harder for them to actually get a job, advance their education or even be able to rent an apartment," Gray Matteo-Harris, an IEJF board member and partner at the Fox Rothschild law firm, said at a news conference announcing New Leaf Illinois on Thursday.
"If you look at the data, Black and brown people and economically disadvantaged communities were disproportionately penalized by past criminalization. The expungement process is one step toward repairing that harm for people who were previously arrested or prosecuted for something that is now legal for all of us," she said.
Illinoisans with an arrest or conviction for marijuana can go to NewLeafIllinois.org and fill out a form to be paired with a legal professional from one of the 20 member organizations to determine what options are available to them. They can also call the New Leaf Illinois hotline at (855) 963-9532.
This story was first published by Capitol News Illinois.
Virginia Will Be A Leader On Marijuana Legalization In The South, Governor Says
Number Of Banks Working With Marijuana Industry Continues To Drop Amid COVID, Federal Report Shows
For the third fiscal quarter in a row, the number of financial institutions reporting that they service state-legal marijuana businesses has declined, new federal data shows.
As of September 30, there were 677 banks and credit unions that filed reports saying they were working with cannabis clients. That's down from 695 in the last fiscal quarter ending in June and 711 for the quarter preceding that, according to a report published by the Financial Crimes Enforcement Network (FinCEN) late last week.
But the reasoning behind the trend appears to be multifaceted and not necessarily a reflection of an increasing unwillingness for banks to take on the marijuana industry.
One of the most significant factors is related to a change in Suspicious Activity Report (SAR) requirements for hemp firms. FinCEN, which is part of the Treasury Department, stopped including hemp-only businesses in their quarterly reports since the crop was federally legalized under the 2018 Farm Bill—which accounts for at least part of the dip as compared to prior figures that counted hemp-focused accounts.
The federal agency also said in its latest report that the "COVID-19 pandemic may be adding to this apparent decline for two reasons."
Some marijuana-related businesses "have likely been closed during this time period due to government imposed Phase 1 quarantine restrictions," FinCEN said, adding that the pandemic may have also led to staffing shortages among depository institutions, leaving fewer resources to process SARs.
That said, most states allowed cannabis companies to continue to operate as essential services during the pandemic, and states like Illinois continue to see record-breaking sales month-over-month.
Under FinCEN guidance issued by the Obama administration in 2014 that remains in effect, banks and credit unions are required to submit SARs if they elect to provide financial services to marijuana businesses. In the years since, the number of depositories taking on marijuana clients has gradually increased—until this more recent downward trend.
"Short-term declines in the number of depository institutions actively providing banking services to marijuana-related businesses (MRBs) may be explained by filers exceeding the 90 day follow-on Suspicious Activity Report (SAR) filing requirement," FinCEN said. "Several filers take 180 days or more to file a continuing activity report. After 90 days, a depository institution is no longer counted as providing banking services until a new guidance-related SAR is received."
As of the end of last quarter, there were 502 banks and 175 credit unions reporting active marijuana clients.
But while fewer banks and credit unions seem to be working with the cannabis market, that could change dramatically if congressional legislation to protect those institutions from being penalized by federal regulators is approved. And the chances of that happening are improving.
The House has passed the Secure and Fair Enforcement (SAFE) Banking Act three times over the past year—first as a standalone bill and then twice as part of COVID-19 relief legislation. Meanwhile, even if Republicans maintain control of the Senate—which has under its current leadership refused to take up cannabis reform—the would-be GOP chair of the Banking Committee recently indicated his panel would advance the proposal.
Senate Minority Leader Chuck Schumer (D-NY) also filed his own COVID-19 bill last month that contained the marijuana banking language, but that has not advanced.
When the House approved its coronavirus legislation with the SAFE Banking Act attached, it attracted controversy, with multiple Republican lawmakers and White House officials criticizing its inclusion and arguing that it is not germane to the issue at hand.
Senate Majority Leader Mitch McConnell (R-KY) in particular has been a vocal opponent of the measure, though he's largely focused his criticism on certain provisions of the SAFE Banking Act that require industry diversity reporting.
Democratic leaders in both chambers, however, have made clear that they're willing to keep up the fight, and the House even highlighted the diversity component in a summary of its legislation. House Speaker Nancy Pelosi (D-CA) said in July that she agrees that the banking measure is an appropriate component of the bill.
Also in July, bipartisan treasurers from 15 states and one territory sent a letter to congressional leadership, urging the inclusion of the SAFE Banking Act in any COVID-19 legislation that's sent to the president's desk. Following GOP attacks on the House proposal, a group of Democratic state treasurers renewed that call.
Virginia Will Be A Leader On Marijuana Legalization In The South, Governor Says
Virginia Will Be A Leader On Marijuana Legalization In The South, Governor Says
Virginia Gov. Ralph Northam (D) on Friday said the state will lead the way on marijuana legalization in the South, pledging to move forward with a cannabis measure in 2021 that he wants to serve as a model for the region.
"There are 15 or so other states that have moved toward legalizing marijuana," he said Friday on WAMU radio's The Kojo Nnamdi Show. "Virginia will be the first in the South, but we tend to be leaders, and now that's what we're going to do this year. And we're going to do it the right way."
Northam campaigned on cannabis decriminalization but had long declined to take a position on broader adult-use legalization. That changed last week, when he called on state lawmakers to pursue legalization in the coming legislative session.
"Marijuana laws have been based originally in discrimination, and undoing those harms means thins like social equity licenses, access to capital, community reinvestment and sealing or expunging people's prior records," he said in coming out for the policy change.
Listen to Northam's new marijuana comments, around 8:10 into the audio below:
In Friday's interview, Northam revealed more of his thinking on legalization, expanding on his ideas for social equity and desire to keep cannabis away from minors. "We want equity to be part of this," he said, "and I as a pediatrician certainly want to protect our youth."
Northam said he's still undecided on whether to allow residents to grow marijuana at home.
"That's something we're looking into. We're looking at what other states have done" he said. "The bottom line is, if we're going to do that, we want it to be done safely."
"Now, you could make the argument or the point that we're able to brew beer in our home, why not grow marijuana?" the governor continued. "I've heard that. I understand that. But it's something that, again, we want to do this the right way. There's going to be a lot of people at the table to discuss how we move forward. And that's certainly a part of the discussion that we will undertake as we move forward with this."
.@GovernorVA supports legalizing marijuana in Virginia. But, he says, "It's going to be done with equity."

He says people of color use marijuana at the same rate as non-people of color, but are incarcerated at a much higher rate.https://t.co/JcomypueGx

— The Kojo Nnamdi Show (@kojoshow) November 20, 2020
Nearly every state where cannabis is legal for adults allows residents to grow marijuana for personal use, although recent legalization proposals in both New Jersey and Rhode Island would prohibit home cultivation, at least initially.
Northam already successfully led a measure to decriminalize marijuana possession across the finish line this year. The new law, which took effect in July, makes possession of up to an ounce of cannabis punishable by a $25 fine with no threat of jail time.
He also signed two expansions of that policy that were passed in a special session.
One stipulates that "no law-enforcement officer may lawfully stop, search, or seize any person, place, or thing solely on the basis of the odor of marijuana, and no evidence discovered or obtained as a result of such unlawful search or seizure shall be admissible in any trial, hearing, or other proceeding."
The other will allow people issued summonses for cannabis offenses under the state's new decriminalization law to prepay their civil penalty rather than having show up in court.
Full legalization, however, could be a bigger fight. Northam acknowledged earlier this week that the policy change is "not going to happen overnight."
A report published Monday by the Joint Legislative Audit and Review Commission (JLARC), however, provides plenty of fodder for Northam. While the panel did not make a formal recommendation on whether lawmakers should legalize, it found the change would reduce arrests, raise tax revenue and help repair past drug war damages.
Legalizing marijuana would lead to an 84 percent reduction in cannabis related-arrests, the report said, while also boosting the economy: A state-legal industry would create upwards of 11,000 jobs by year five, JLARC said, and could bring in between about $150 million and $300 million in annual tax revenue if taxed at a rate of 25 to 30 percent.
Top lawmakers in the state, meanwhile, signaled earlier this month that legalization could have enough votes in the Legislature to pass if a bill is introduced in 2021. House Majority Leader Charniele Herring (D) said there is a "good chance" it could happen, and Senate Majority Leader Dick Saslaw (D) put the odds at "slightly better than 50–50."
Beyond the JLARC study, several executive agencies—including the Secretaries of Agriculture and Forestry, Finance, Health and Human Resources, and Public Safety and Homeland Security—have formed a working group to study the potential implications of legalization, an action required under the new decriminalization law.
A report from the group is due by the end of this month.
Teen Marijuana Treatment Admissions Fell Sharply In States That Legalized, Federal Report Shows
Photo courtesy of Ralph Northam