Alabama Senate Approves Medical Marijuana Bill
After hours of tense debate, the Alabama Senate voted on Wednesday to pass a bill to legalize medical marijuana in the state.
Lawmakers voted 22-11 in support of the legislation, which would allow qualifying patients to purchase certain medical marijuana products from state-licensed dispensaries. Cannabis intended for smoking or vaping would be prohibited under the proposal, meaning only preparations such as tablets, topicals and certain infused edibles would be available.
"I think in this day and time, with the opioid crisis, we need to try alternative medicines that will help people," said Sen. David Sessions (R), who voted to pass the bill.
With the Senate's approval on Wednesday, the proposal now heads to the House, where its prospects are unclear. Speaker Mac McCutcheon (R) has been noncommittal, telling reporters last month that he was in "wait and see mode."
The state's attorney general, meanwhile, has urged lawmakers to oppose any move to legalize.
The bill, SB 165, would establish a state Medical Cannabis Commission to register patients and oversee licensing businesses.
Under the measure, patients suffering from specified conditions would qualify for the program. Those include anxiety, cancer, epilepsy and post-traumatic stress disorder (PTSD). Patients would be able to purchase up to a 70-day supply at a time, and there would be a cap of 32 dispensaries allowed in the state.
Products would be tested for potency and contaminants, and sales from licensed dispensaries would be subject to a nine percent tax. Part of those funds would go toward creating a new Consortium for Medical Cannabis Research, which would provide grants to study the plant.
Medical marijuana would be tracked from seed to sale under the measure, which also contains a number of restrictions on advertising. Workers at cannabis facilities would be subject to background checks.
"Today's landslide vote in the Alabama Senate shows lawmakers in even the most conservative states in the nation are starting to recognize that allowing medical cannabis is good politics and good policy. Voters of every political background overwhelmingly support allowing medical cannabis," Karen O'Keefe, state policies director for the Marijuana Policy Project, told Marijuana Moment. "That said, with polls showing upwards of 90 percent of Americans supporting allowing medical marijuana, it's alarming that 27 states continue to criminalize patients for choosing a safer alternative to opioids."
The bulk of opposition during Senate debate on Wednesday came from Sen. Arthur Orr (R). Orr, who admitted at times that he was unfamiliar with certain aspects of the bill as well as underlying research around medical marijuana generally, questioned virtually every element of the bill and its amendments.
At one point he demanded that Sen. Tim Melson (R), SB 165's sponsor, produce medical literature in support of the legalization proposal. But Orr indicated that even such evidence wouldn't change his mind: "What happened in the world of opioids, I don't know that I really trust the medical community as a broad group," he said.
Orr also attacked a successful amendment by Sen. Bobby Singleton (D) that would work to ensure diversity in the state's new medical marijuana industry. When Orr complained that he wasn't privy to what was in the proposal, Singleton replied: "You just told me you really didn't get involved in it and didn't look at it."
In response to badgering from Orr, who described the relatively modest medical marijuana proposal as taking a "pedal to the metal" approach, Melton replied: "I'm beginning to wonder how long you left your training wheels on."
The Senate also approved a raft of additional amendments to the bill during Wednesday's debate. The most notable of the changes imposes a 75-milligram daily limit on THC intake, where previously the bill had no limit. (Orr proposed a lower, 50-mg limit, as well as a separate measure limiting cannabis products to 10 percent THC, but those amendments failed.) Another will prevent regulators from expanding the current list of qualifying conditions, instead requiring sign-off from lawmakers. Other approved changes will expand the number of available business licenses and restrict those licenses to in-state actors.
A measure to add menopause or premenstrual syndrome as qualifying medical conditions for cannabis was also approved after a brief delay in the chamber to consider other legislation.
Following the spurt of amendments, Orr threatened to kill the bill by speaking until midnight, especially if none of his amendments were accepted. He then introduced another proposal to remove some of the qualifying conditions but told members they were free to leave for the hour he was allotted to speak before coming back to vote. In effect, he was making good on his threat and engaging in somewhat of a filibuster to delay the legislation. That measure was defeated.
Another Orr amendment, which was approved, limits medical cannabis products for minors to 3 percent THC.
Those changes came in addition to other amendments added during a Senate Judiciary Committee hearing last month. One amendment approved by the panel shields doctors from legal liability for recommending marijuana, which remains illegal under federal law. Another clarifies that workers who cause accidents while under the influence of cannabis don't qualify for workers' compensation.
While Melson and supporters pushed back some of the restrictive changes proposed on the floor, they embraced others as likely to help build political support for the bill.
The Senate approved a separate medical marijuana bill last year, but it was ultimately gutted in the House. As enacted, the legislation did not include provisions to legalize cannabis but instead set up a study commission to look into the issue and develop recommendations.
In December, the newly created study commission came back with its report, which recommended medical marijuana be legalized.
"Although some medical study results are inconclusive and some results are mixed," the report found, "there is strong scientific evidence that both hemp and marijuana contain compounds that provide significant relief for symptoms of certain specified medical conditions."
Melson, the sponsor of both SB 165 and last year's legalization bill, says the new measure is an updated and more politically feasible version of last year's legislation that incorporates the study group's recommendations.
New NFL Policy Would End Suspensions For Testing Positive For Any Drug—Not Just Marijuana
Photo courtesy of Rick Proctor
Oregon Psilocybin Initiative Gets Boost From New TV Ad But Draws Opposition From Unlikely Source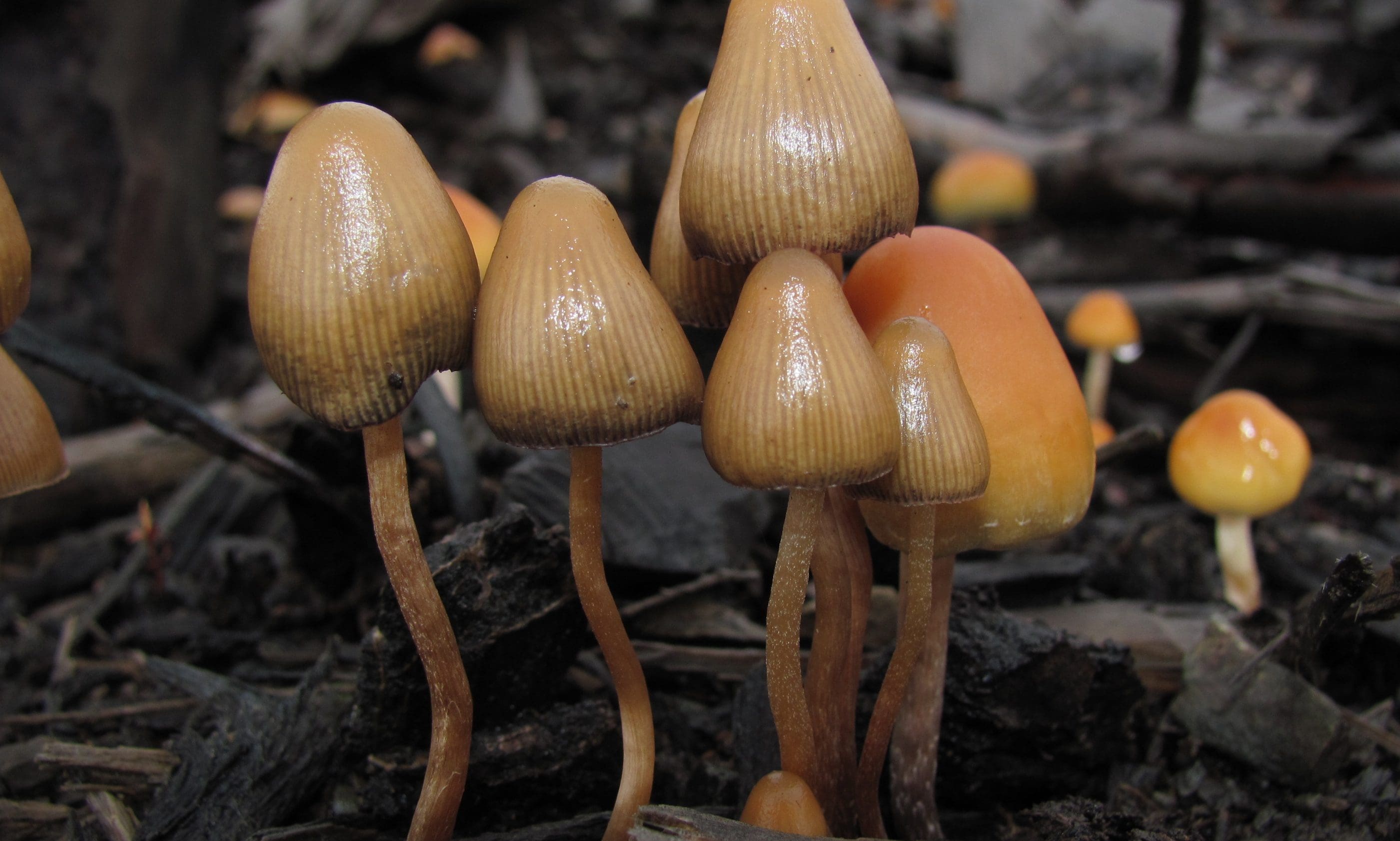 An Oregon ballot initiative to legalize psilocybin for therapeutic purposes is getting a boost from a nonprofit veterans group's new TV ad. But meanwhile, the campaign is seeing pushback from an unexpected source.
On the one side, the Heroic Hearts Project—which helps connect veterans to entheogenic-based healing and provides complementary counseling—is airing an advertisement in the state that highlights the therapeutic potential of taking psilocybin in a clinical setting.
The 30-second spot doesn't explicitly mention the reform measure that will appear on Oregon's November ballot, but it could help inform how voters approach that question when they head to the polls nonetheless. According to the group, it will play on television frequently enough that the average viewer should see it about seven or eight times.
Here's the script of the ad: 
"As a scientist, I'm impressed by the research. Major universities findings show psilocybin therapy can be effective for depression and anxiety.
It's plant medicine [the Food and Drug Administration] calls breakthrough therapy, meaning it can be an improvement over available options.
The psilocybin therapy program: Research-based with patient safety top of mind, strictly regulated.
We're in a mental health crisis. The science is real, the restrictions smart. Psilocybin therapy: Healing, providing hope."
Heroic Hearts Project is largely focused on the plant ayahuasca. But the group says psilocybin is another treatment option that's shown promise in mitigating symptoms of post-traumatic stress disorder.
"In Oregon and across the country there has been a big decriminalization movement, there's been a big push to do similar to what we're doing but also allow for access within the U.S. because there's a lot of people that understand the power and the efficacy of these treatments," Jesse Gould, founder of the organization, told Marijuana Moment.
"Within Oregon, there is this historic opportunity where they're trying to create licensed and regulated psilocybin and therapy—and there's a lot of veterans in Oregon—so just having that availability of it in a place that they can rely on, that they know it's safe, is a tremendous value to the veterans in Oregon," he said. "I think it will also be a model for other states and other localities to adopt it."
Again, the ad doesn't explicitly promote the psilocybin legalization initiative that will appear on Oregon's November ballot—but there has been a strong push from a wide range of experts and advocates to pass the historic measure. The Oregon Democratic Party also formally endorsed the psychedelic therapy proposal earlier this month.
"Oregonians are suffering from the most severe mental health crisis in the country," Sam Chapman, campaign manager for the psilocybin measure, told Marijuana Moment. "We know that if we want to help terminally ill cancer patients, veterans, and so many others who are struggling to combat depression and anxiety due to COVID, we need a licensed and regulated system that people can trust."
But while these developments could help bolster the campaign, there's also been surprising dissent from certain psychedelics reform advocates who argue that the proposed legal therapeutic model for psilocybin would threaten equitable access to entheogens.
Decriminalize Nature (DN), the group advancing a localized psychedelics decriminalization movement across the country, is urging Oregonians to vote "no" on the initiative.
"M109 threatens equitable access by not ending the prohibition of personal use and establishing supremecy [sic]," DN said in a tweet.
DN groups in OR are taking a No position on the Oregon Psilocybin Service measure. M109 threatens equitable access by not ending the prohibition of personal use and establishing supremecy. Therefore, in solidarity with our local groups in Oregon, we share this with our DN network https://t.co/Q8cqJF7iPh

— Decriminalize Nature (@DecrimNature) September 30, 2020
The group's Portland chapter, which said earlier this year that it would pursue psychedelics decriminalization through the City Council, announced last week that it's now against the psilocybin measure and declining to endorse a separate proposal to decriminalize possession of all currently illicit drugs and fund treatment services that will also appear on the state's ballot.
DN Portland said they are "advocating that all people who care about ensuring access to entheogenic medicines for all people regardless of financial status, those who care about protecting these medicines from the profit motives of capital, and those who wish to see big money removed from the equation of psychedelic medicines."
David Bronner, CEO of the soap company Dr. Bronner's, has helped finance a slew of marijuana and psychedelics reform campaigns for years, including the psilocybin legalization initiative. Private messages that DN decided to release show the executive expressing concern about certain internal politics within the movement, including disputes between DN and the Indigenous Peyote Conservation Initiative about including peyote within the scope of decriminalization measures.
In a blog post, he wrote that Dr. Bronner's "is fully committed to the Decriminalize Nature (DN) movement, but have recently lost faith in its national leadership." Regardless, "we still fully support regional DN campaigns such as DC's effort to decriminalize plant medicines."
In turn, DN alleged that Bronner "is resorting to divide and conquer tactics to control the Decriminalize Nature movement. "
Under the Oregon psilocybin ballot measure, adults would be able to access the psychedelic in a medically supervised environment. There aren't any limitations on the types of conditions that would make a patient eligible for the treatment.
Rep. Earl Blumenauer (D-OR) told Marijuana Moment in January that he was in favor of the psilocybin reform proposal and that he would be working to boost the campaign as the election approaches. Last month, he wrote in an email blast that passing the measure is necessary "because it tackles an important issue in our community, mental health, and it does so in an innovative and responsible way."
The campaign behind the separate drug decriminalization and treatment funding initiative recently released its first ad urging Oregonians to support it.
Montana Marijuana Legalization Initiative Endorsed By Environmental Conservation Groups
Photo courtesy of Wikimedia/Mushroom Observer.
Colorado Governor Grants Thousands Of Marijuana Pardons With New Clemency Powers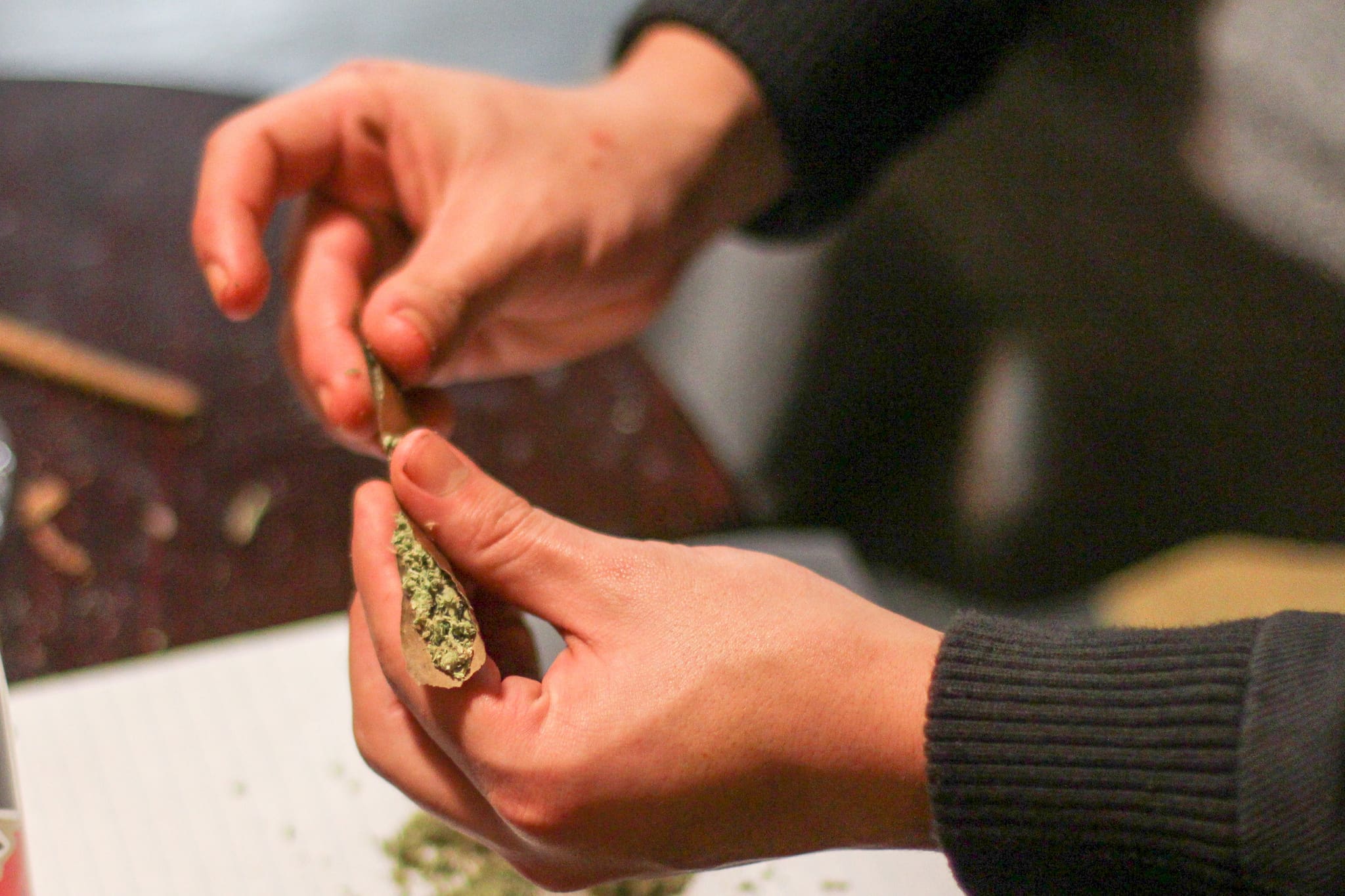 The governor of Colorado on Thursday signed an executive order granting nearly 3,000 pardons for people convicted of possession one ounce of less of marijuana.
Pursuant to a new law that he signed in June, Gov. Jared Polis (D) made the pardons on the first day the policy took effect. While the law gives him authority to grant clemency for cases of possession of up to two ounces, his office explained that he limited it to one ounce because that's the legal possession limit under Colorado's cannabis program.
"We are finally cleaning up some of the inequities of the past by pardoning 2,732 convictions for Coloradans who simply had an ounce of marijuana or less," Polis said in a press release. "It's ridiculous how being written up for smoking a joint in the 1970's has followed some Coloradans throughout their lives and gotten in the way of their success."
Thank you to @repjamescoleman, Sen. Julie Gonzales (@SenadoraJulie), and Sen. @VickiMarble for sponsoring this historic bill. Rep. @leslieherod and Rep. Jonathan Singer (@Singer4BoCo) were also champions of passing this legislation.

— Governor Jared Polis (@GovofCO) October 1, 2020
Convictions impacted by the governor's action range from those that took place in 1978 though 2012.
"Too many Coloradans have been followed their entire lives by a conviction for something that is no longer a crime, and these convictions have impacted their job status, housing, and countless other areas of their lives," he added. "Today we are taking this step toward creating a more just system and breaking down barriers to help transform people's lives as well as coming to terms with one aspect of the past, failed policy of marijuana prohibition."
The new law allows the governor to use his clemency power for cannabis offenses without consulting with prosecutors and judges involved in the cases, as is typically required under statute.
"For the individuals pardoned in this Executive Order, all rights of citizenship associated with the pardoned conviction are restored in full without condition," the order states. "All civil disabilities and public sufferings associated with the pardoned conviction are removed."
People who are eligible for the pardons don't have to do anything to clear their own records; it's automated, and individuals can check a website to see if they've been processed.
Those who have municipal marijuana convictions, or who were arrested or given a summons, don't qualify for the pardon. The action only applies to state-level convictions.
A frequently asked questions document states that while Polis has declined for now to use the full extend of his pardon power by applying it to people with convictions of up one to two ounces, the "administration will continue to evaluate" cases that could receive clemency. A representative from the governor's office did not immediately respond to a question from Marijuana Moment about whether plans are imminent to expand the pardon pool.
The governor's action also calls on the state Department of Public Health to "develop a process to indicate on criminal background checks which individuals' convictions have been pardoned pursuant to this Executive Order."
Colorado isn't alone in pursuing opportunities to enact marijuana-focused restorative justice policies.
In June, more than 15,000 people who were convicted for low-level marijuana possession in Nevada were automatically pardoned under a resolution from the governor.
The governors of Washington State and Illinois have both issued pardons for cannabis offenses since their states legalized the plant.
Polis told Westword that beyond the practical benefits of having these records cleared, the move is "also symbolically important, because it shows that as a state and nation, we're coming to terms with the incorrect discriminatory laws of the past that penalized people for possession of small amounts of marijuana."
Marijuana Arrests Decline Nationally For First Time In Four Years, FBI Data Shows
Photo courtesy of Martin Alonso.
Marijuana Arrests Decline Nationally For First Time In Four Years, FBI Data Shows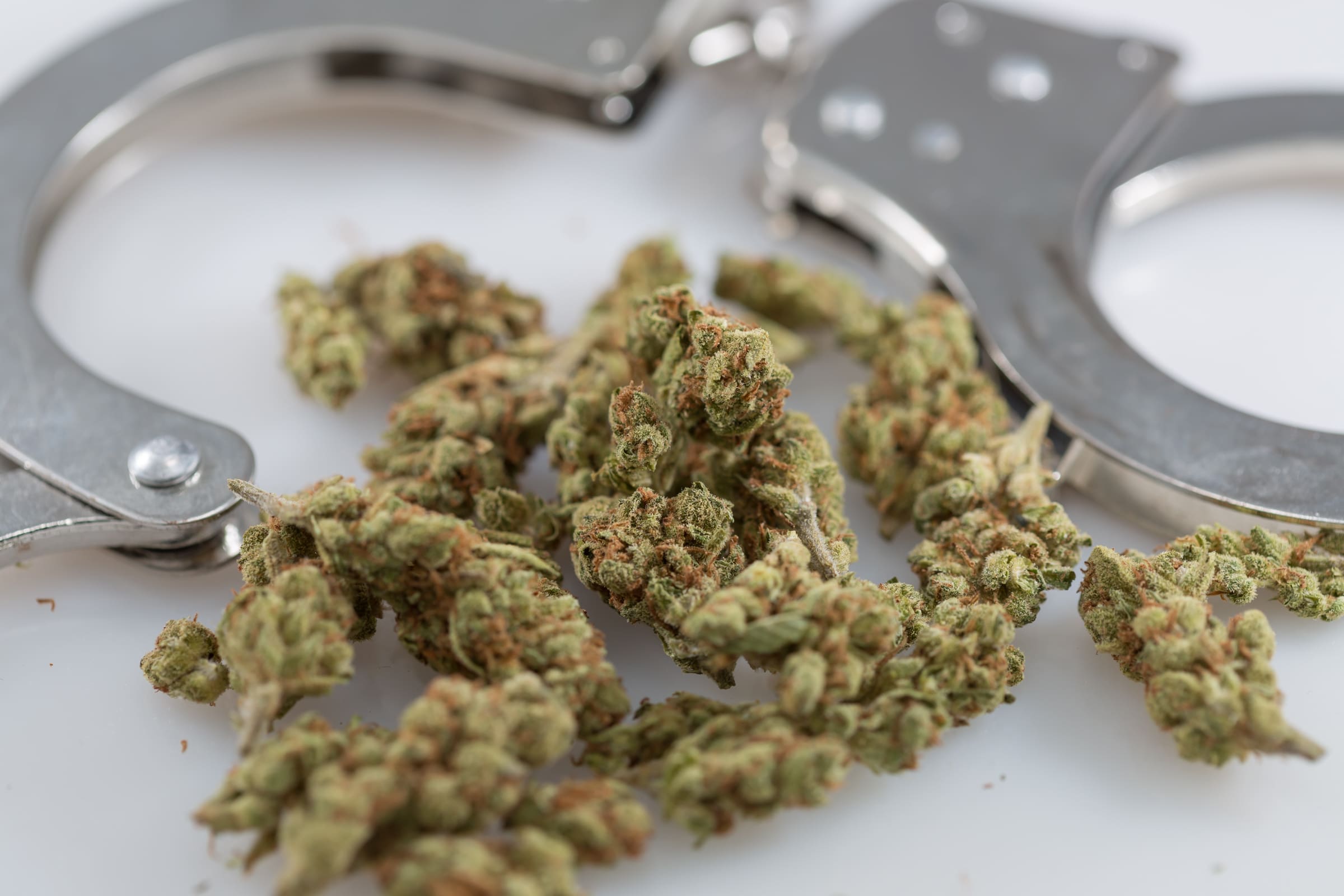 Marijuana arrests in the U.S. declined in 2019 for the first time in four years, a new federal report shows.
While many expected the state-level legalization movement to reduce cannabis arrests as more markets went online, that wasn't the case in 2016, 2017 or 2018, which each saw slight upticks in marijuana busts year-over-year. But last year there was a notable dip, the data published this week shows.
There were a total of 545,601 marijuana arrests in 2019—representing 35 percent of all drug arrests—according to FBI's Uniform Crime Reporting program. That's down from 663,367 the prior year and 659,700 in 2017.
Put another way, police across the country made a cannabis bust every 58 seconds on average last year. Of those arrests, 500,394 (92 percent) were for possession alone.
"A decline in cannabis related arrests is better than seeing an increase for a fourth year in a row, but the amount of these arrests is still abhorrent," Marijuana Policy Project Executive Director Steve Hawkins told Marijuana Moment. "There is no reason to continue punishing adults for consuming a substance that is less harmful than alcohol. Arresting adult cannabis consumers has a dramatically disproportionate impact on communities of color, is a massive waste of law enforcement officials' time and resources and does nothing to improve public health or safety."
Overall, arrests for drug sales, manufacturing and possession amounted to 1,558,862 for the year—approximately 15 percent of all busts reported to FBI from local and state law enforcement agencies. That's one new drug case every 20 seconds.
Before 2016, the country had seen a consistent decline in marijuana arrests for roughly a decade. It should be noted, however, that not all local police participate in the federal agency's program, so these figures are not holistic.
Nonetheless, this data shows that American law enforcement carried out more arrests for marijuana alone than for murder, rape, robbery, burglary, fraud and embezzlement combined.
"At a time when a super-majority of Americans support marijuana legalization, law enforcement continues to harass otherwise law abiding citizens at an alarming rate," NORML Political Director Justin Strekal told Marijuana Moment. "Now is the time for the public to collectively demand that enough is enough: end prohibition and expunge the criminal records to no longer hold people back from achieving their potential."
While there's no solitary factor that can explain the recent downward trend in cannabis cases, there are one-off trends that could inform the data. For example, marijuana possession arrests fell almost 30 percent in Texas from 2018 to 2019, and that seems to be connected to the legalization of hemp and resulting difficulties police have had in differentiating the still-illegal version of the cannabis crop from its newly legal non-intoxicating cousin.
At the federal level, prosecutions for marijuana trafficking declined in 2019, and drug possession cases overall saw an even more dramatic decline, according to a report published by the U.S. Sentencing Commission in March.
Federal prosecutions of drug-related crimes increased in 2019, but cases involving marijuana dropped by more than a quarter, according to an end-of-year report released by Supreme Court Chief Justice John Roberts in December.
A study released by the Cato Institute in 2018 found that "state-level marijuana legalization has significantly undercut marijuana smuggling."
Mixed Arizona Marijuana Polls Raise Questions About Legalization Ballot Measure's Prospects