These States Could Have Marijuana Legalization On Their 2022 Ballots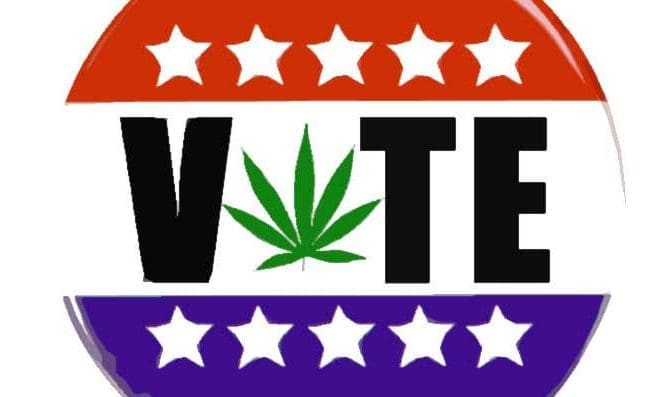 Five states legalized marijuana in some form on Election Day this year. When those newly approved laws take effect, about one-third of the nation's population will live in a state where cannabis is legal for medical or recreational purposes. Now, advocates are already hard at work formulating plans and collecting signatures to extend that success to even more states during the 2022 midterms.
For background, every single marijuana measure placed on state ballots this year passed: Arizona (recreational), Mississippi (medical) Montana (recreational), New Jersey (recreational), South Dakota (recreational and medical). The victories represent a continuation of the state-level reform movement that has consistently expanded in election after election.
But while advocates see this momentum as building pressure for federal policy change, they aren't giving up statewide pushes.
Nebraska and Idaho activists are already in the process of qualifying medical marijuana measures for midterm ballots in 2022, for example. And it's unlikely that those will be the only states were voters will get to decide on cannabis reform in two years.
Matthew Schweich, the deputy director of the Marijuana Policy Project who was involved in several of the successful reform initiatives this year, told Marijuana Moment that the election results make him optimistic that "there's a path to victory in multiple states [in 2022] and we just need to survey the landscape."
"The biggest takeaway is that we can probably run competitive campaigns on either issue [medical or recreational] in any state," he said. "It's just a question of what are the strongest opportunities to make the greatest positive impact given the resources available."
Here's a rundown of the most likely states where marijuana legalization will make the ballot two years from now.
Recreational: 
Arkansas
Activists attempted to put a legalization measure on the 2020 ballot—and even secured a procedural victory when a court mandated that the state accept signatures that were not collected in-person or notarized due to the coronavirus pandemic. But they were nonetheless unable to garner enough petitions to qualify to put the issue before voters this year.
Although Arkansas voters already approved medical cannabis in 2016, the effort to put up another fight for broader legalization could be bolstered by voters in neighboring Mississippi, another traditionally conservative state, approving a medical marijuana initiative on Election Day this year, which signaled that reform has momentum regionally.
Florida
Florida activists announced back in January that, due to restrictive ballot qualification policies in the state, they will be pursuing a marijuana legalization initiative in 2022, rather than this year as initially planned.
The Make It Legal Florida campaign filed a lawsuit with the state's Supreme Court at the beginning of the year, alleging that a new law that imposes restrictions on the signature gathering process is unconstitutional. They didn't prevail in that case, however, and the legalization measure didn't make the ballot.
Now, advocates will turn their attention to 2022, though it is worth noting that cannabis reform measures have traditionally had better success in presidential election years rather than during midterms—and Florida rules require an initiative to get 60 percent of the vote in order to pass rather than a simple majority. While a Florida medical cannabis measure fell just short of the supermajority needed for approval during the 2014 midterms, a follow-up attempt two years later was successful.
Missouri
There was a push to put recreational cannabis legalization on the state's 2020 ballot, but activists announced in March that the coronavirus pandemic meant they would have to suspend their campaign. While they have not made any official decisions, a spokesperson said that "it is likely we will return to pursue this goal in 2022."
Missouri voters approved a ballot measure to legalize medical marijuana in 2018, and dispensaries made the state's first cannabis sales to patients in October.
North Dakota
A campaign to legalize cannabis in North Dakota worked hard to put the reform measure on this year's ballot. They ceased campaign activities amid the COVID-19 outbreak in April, but considered starting back up in a limited capacity when businesses started reopening. Ultimately, however, advocates stopped pushing for the proposal and conceded that it would more likely appear on the 2022 ballot.
"Our whole thing is about ending people going to prison, our whole point is about ending the dangers of the war on drugs, so it would be irresponsible for us to endanger people while we try to do it," a spokesperson said in May. "Two wrongs don't make a right. We're going to try, but [qualifying for November] likely still isn't in the cards. That just means we have more time to get prepared to push for that 2022 date."
Meanwhile, advocates are stepping up the push to get lawmakers to enact marijuana reform bills following a formal review of the issue conducted by the legislature's Judiciary Committee.
Ohio
Ohio was another example of a state where activists attempted and failed to qualify an initiative to legalize marijuana for adult use, due in large part to restrictions resulting from the COVID-19 outbreak.
A proposed legal cannabis measure was filed in March, just before social distancing measures that made signature collection all but impossible were enacted. Now, advocates are looking ahead to 2022, when it may be possible to mount a successful ballot qualification bid.
Meanwhile, a group called the Sensible Movement Coalition has been pursing local marijuana decriminalization initiatives through municipal ballots. They tried to go through the courts to get the state to allow digital signature gathering amid the pandemic—and at first they got a victory when a federal judge ruled in their favor—but an appeals court shut that lawsuit down in June. That said, they did succeed in getting four more Ohio cities to adopt local measures to decriminalize cannabis during the November election.
Oklahoma
Oklahoma activists filed a proposed ballot measure to legalize cannabis for adult use in December. But they ultimately withdrew that petition in August—again, because of the coronavirus pandemic.
"We have been put in a position of choosing between attempting to give Oklahomans an opportunity to adopt critical marijuana and criminal justice law reforms or protecting the health of ourselves and our fellow Oklahomans," a campaign spokesperson said. "As necessary as these reforms are for Oklahoma, we cannot in good conscience embark on a campaign that would require hundreds of thousands of interactions in the midst of a global pandemic."
The campaign said they soonest they would take up the reform proposal would be in 2022. Voters in the state approved a medical marijuana ballot measure during a 2018 primary election. This year, a bill to significantly expand the state's medical cannabis program advanced through the legislature, but the governor vetoed it and lawmakers declined to pursue an override before adjourning for the session in May.
Medical: 
Idaho
In Idaho, advocates behind a measure to legalize medical marijuana tried to make the 2020 ballot, but they gave up that effort due to COVID-related signature gathering complications and the state's refusal to provide petitioning accommodations.
Activists have already filed a petition to put the issue before voters in 2022, however.
"We're really excited about the 2022 campaign because what we've proven in 2020 is that the people of Idaho are very much ready for medical marijuana to be passed," campaign spokesperson and longtime reform advocate Russ Belville told Marijuana Moment last month. "We know the signatures are out there, we know that people are ready for this."
Nebraska
Nebraska activists have already started petitioning to get a medical cannabis measure on the state's 2022 ballot.
While the campaign collected enough signatures to qualify a reform initiative for this year, the state Supreme Court shut it down following a legal challenge. The justices determined that the measure violated the state's single-subject rule, much to the disappointment of advocates.
To avoid getting blocked under the single-subject rule, the language of the new proposal concisely states: "Persons in the State of Nebraska shall have the right to cannabis in all its forms for medical purposes." It has no regulations.
"Though we profoundly disagree with the Nebraska Supreme Court's decision in September to remove our previous initiative from the ballot, we took good notes," the campaign said in October. "They argued the previous language violated the single subject rule, so now we've drafted one, simple sentence to legalize medical cannabis."
2022 already on my mind. #MedicalMarijuana #Marijuana pic.twitter.com/XDR7jNCnVM

— Senator Adam Morfeld (@Adam_Morfeld) November 5, 2020
State Sen. Adam Morfeld (D), a chief petitioner for the initiative, told Marijuana Moment that the campaign "carefully crafted our new language to be in compliance with the new precedent set forth by the Supreme Court in September so we are confident it complies with the single subject rule."
"Medical marijuana is incredibly popular across partisan and ideological lines in Nebraska and we are confident once we have the signatures and it is on the ballot that it will pass by a wide margin," he said.
Would have, could have, should have. We were pursuing Medical Marijuana because of the compelling need for it by our constituents and because of the broad political support. Would have, could have, should have. We will continue to fight and a lot can happen in two years 🙂

— Senator Adam Morfeld (@Adam_Morfeld) November 6, 2020
There's also some speculation that a proposal to legalize for adult use could be in the cards—but that's less likely.
Beyond The Ballot
Aside from voter-initiated ballot measures, there are multiple states where top lawmakers have said they're serious about pursing cannabis legalization bills in 2021, including New Mexico, New York and Rhode Island. In Connecticut, the incoming House speaker said that if there aren't enough votes in the legislature to pass a legalization bill next year, lawmakers will put it on the ballot for voters to decide as a referendum.
Federal Marijuana Legalization Bill Will Get A Congressional Vote Next Week, Leader Announces
Photo courtesy of Democracy Chronicles.