These States Are The Most Likely To Legalize Marijuana In 2021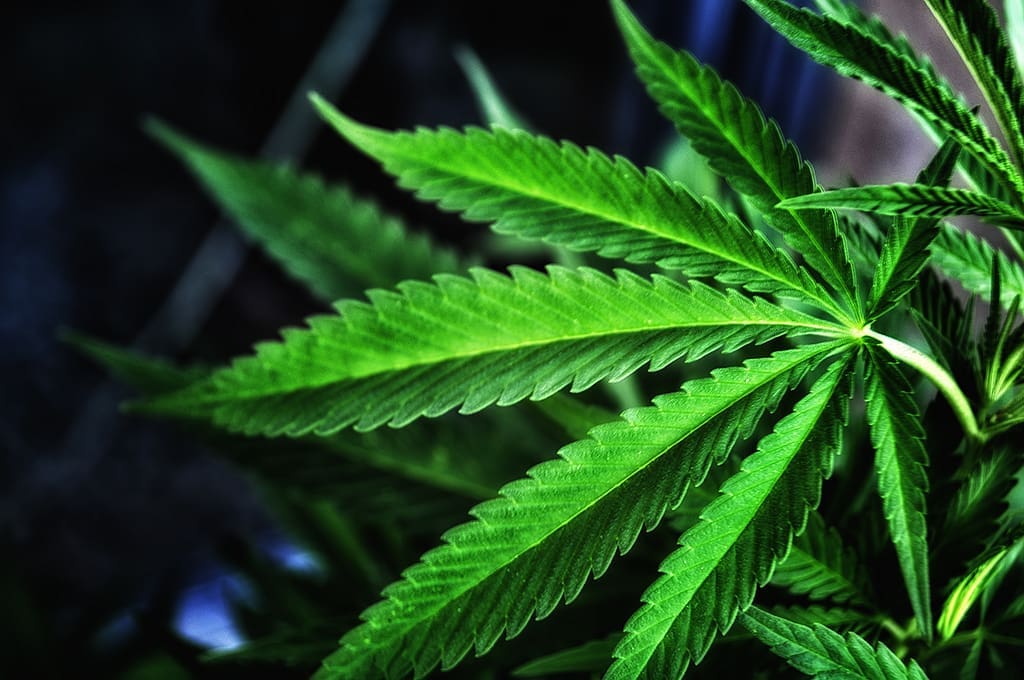 Voters approved a slew of marijuana legalization initiatives during November's election—in states around the country and across the political spectrum—but activists aren't slowing down. They expect that 2021 will see another surge of reform in state legislatures.
The state-level legalization movement has demonstrated that there's strong, bipartisan support for the policy change. Lawmakers are increasingly taking note of voters' appetite for reform as demonstrated at the ballot box, and there are already signals that the new year could see significant developments on the issue in states across the country.
"2020 was an unprecedented year in many ways, including for marijuana reform at the federal and states levels," Carly Wolf, state policies director for NORML, told Marijuana Moment. "The election results prove even further that medical and adult-use legalization holds widespread support from those across all geographic and political spectrums."
Marijuana Moment previously analyzed the most likely states to place legalization on their 2022 midterm ballots, but that doesn't mean advocates will be waiting two years to put additional reform notches on their belts.
"November's clean sweep of marijuana initiatives will help propel neighboring states' legislatures to get their own bills past the finish line in 2021," Karen O'Keefe, director of state policies at the Marijuana Policy Project (MPP), told Marijuana Moment. "These victories—in blue, red, and purple states—reflect the overwhelming popular support for legalization and a huge missed opportunity for states that fail to act."
Here's a breakdown of which states could legislatively advance reform in the new rear, with those most likely to legalize recreational marijuana listed first, followed by those that are somewhat longer shots when it comes to ending prohibition and then those where medical cannabis stands a good chance of being enacted:
States Most Likely To Legalize Recreational Marijuana
Connecticut
There have been repeated attempts to legalize cannabis in Connecticut, but none have gotten over the finish line so far. And while it's no guarantee, the incoming speaker of the House said in November that he feels there's a "50-50 chance" that the reform will finally be approved in 2021.
Those increased odds are due in large part to the fact that marijuana policy in the region is rapidly evolving, putting pressure on the state to adopt new laws on the issue to match those of its neighbors.
"It is now legal in New Jersey, New York is coming, and it's legal in Massachusetts," Rep. Matt Ritter (D) said. "Connecticut cannot fortify its border."
Gov. Ned Lamont (D) said that legalizing marijuana in his state will bolster public health amid the COVID-19 outbreak by preventing cannabis tourism to surrounding states.
He said said officials have "got to think regionally when it comes to how we deal with the pandemic—and I think we have to think regionally when it comes to marijuana as well."
Lamont and other top policymakers in the region have similarly said that the passage of a cannabis legalization referendum in neighboring New Jersey underscores the need for their states to advance the reform in a regionally coordinated manner.
Democrats increased their majority in Connecticut's state legislature in November's election, boosting the chances that legalization can succeed in 2021. The governor said the policy change is "on the table" and that it could bring in needed tax revenue.
If the legislature fails to act, top Democratic lawmakers recently said they will take the issue to voters through a proposed constitutional amendment on the ballot in 2022.
New Mexico
New Mexico is another state where lawmakers have tried to no avail to enact legalization in past sessions, but top legislators—as well as the governor—are optimistic about their prospects in 2021.
House Speaker Brian Egolf (D) said that the legislature will again attempt to advance the reform next session, for example. A bill to legalize cannabis for adult use passed one Senate committee in January only to be rejected in another before the end of the short 2020 session.
Gov. Michelle Lujan Grisham (D), said in September that marijuana legalization represents a positive fiscal opportunity for the state, especially amid budget shortfalls caused by the coronavirus pandemic.
Lujan Grisham, who formed a working group to study the impact of legalization in 2019, made a similar argument in April, noting that the reform could generate $100 million in annual revenue.
In May, the governor signaled that she may actively campaign against lawmakers who blocked her legalization legislation in the 2020 session and said in February that she's open to letting voters decide on the policy change via a ballot referendum if lawmakers can't get a bill to her desk.
Marijuana legalization was included as a legislative priority for Lujan Grisham as part of the regular session. That didn't materialize, however.
In 2019, the House approved a legalization bill that included provisions to put marijuana sales mostly in state-run stores, but it later died in the Senate.
Adding pressure on lawmakers to get legalization done in the new year is the fact that voters in neighboring Arizona overwhelmingly approved the policy change in November. Also, cannabis is expected to be legalized across the border in Mexico, with lawmakers facing a Supreme Court mandate to end prohibition by April 2021.
The legalization effort in the state may also get a boost from the results primary elections in which several Democratic lawmakers who had opposed the reform were ousted by progressive challengers.
New York
Advocates are strongly pushing New York to finally legalize marijuana for adult use. Gov. Andrew Cuomo (D) in recent years has become a major backer of the policy change, but the legislature has declined to advance reform legislation despite him including it in his last two budget requests. While leading lawmakers also support legalization, the effort has stalled over disagreements on details such as taxes and revenue allocations.
In December, the governor discussed the fiscal benefits of legalizing cannabis, as a group of progressive organizations and lawmakers separately included marijuana reform in a package of criminal justice measures they want prioritized.
2021 seems to be shaping up to be a more productive year for enacting the policy change, especially after voters in neighboring New Jersey approved legalization at the ballot box in November.
The top Republican in the New York Assembly said that he expects the legislature to legalize cannabis in the coming session, for example.
Senate Majority Leader Andrea Stewart-Cousins (D) said that she also anticipates that the reform will advance in 2021, though she noted that lawmakers will still have to decide on how tax revenue from marijuana sales is distributed.
Cuomo said that the "pressure will be on" to legalize cannabis in the state and lawmakers will approve it "this year" to offset economic losses from the coronavirus pandemic.
"You have such a [budget] gap now," he said. "I think it's going to be an easier conversation."
A top aide also confirmed in October that the administration planned to give legalization another try in 2021, and the governor said in a separate recent interview that he felt the reform would be accomplished "soon."
Senate Democrats are on better footing to advocate for policies they favor since they secured a supermajority during the recent election. If Cuomo were to veto any bill over details he didn't like, they could potentially have enough votes to override him.
New York lawmakers have separately prefiled eight medical cannabis reform bills so far to be considered in upcoming session.
Rhode Island
Rhode Island's governor and legislative leaders have expressed significant interest in legalizing marijuana in 2021.
And while there are still some disagreements about what a legal market might look like—with some pushing for a state-run model and other favoring a more traditional commercial system—there are already plans in the works to advance reform.
Senate President Dominick Ruggerio (D) recently said that he asked Majority Leader Michael McCaffrey (D) and Sen. Joshua Miller (D), who has led efforts to legalize in past sessions, to work out the details for a marijuana bill for the new legislative session.
"The time has come to legalize adult cannabis use," McCaffrey said in November. "We have studied this issue extensively, and we can incorporate the practices we've learned from other states."
Also that month, the Senate Finance Committee held a hearing to begin formal consideration of Gov. Gina Raimondo's (D) proposal to legalize marijuana through a state-run model, which she originally included in a budget proposal last January before the pandemic. The governor has argued in the past that the public model "will allow the state to control distribution, prevent youth consumption, and protect public health."
Incoming House Speaker Joseph Shekarchi (D), meanwhile, said that he's "absolutely" open to the idea of cannabis legalization and that his chamber is "very close" to having majority support for the change.
"The governor feels maybe it should be state-run like they do in New Hampshire with the liquor stores," he said. "I think maybe we can look at a private model."
Those comments reflected much of the discussion at the recent Senate hearing, where lawmakers largely focused their comments on how the state should legalize rather than whether it should.
Raimondo also put legalization in her earlier 2019 budget, but that proposal did not include the state-run model.
Meanwhile, Shekarchi also recently said that while he doesn't have "a particular leaning" on marijuana reform, he plans to establish a House task force to look at the issue.
Virginia 
In December, the governor of Virginia unveiled a budget proposal that "lays the groundwork to legalize marijuana" by including millions of dollars to support efforts to expunge cannabis convictions as well as steps to set up the state to eventually implement a system of commercial sales.
Gov. Ralph Northam (D) had campaigned on merely decriminalizing possession, but he publicly backed broader legalization of marijuana for adult use in November, just as a legislative commission issued recommendations on how to most effectively enact such a system.
Separately, a working group comprised of four Virginia cabinet secretaries and other top officials submitted marijuana legalization recommendations to the governor and lawmakers, and that included investing in social equity and expunging prior cannabis convictions. Their report was required as part of a cannabis decriminalization bill that the governor signed in 2019.
Meanwhile, legislation to stop police from searching people or seizing property based solely on the smell of marijuana in Virginia is set to take effect after lawmakers adopted recommended changes from the governor in October.
Also during the recently concluded special session, Northam signed another bill that will allow people issued summonses for cannabis offenses under the state's new decriminalization law to prepay their civil penalty rather than having show up in court.
—
Marijuana Moment is already tracking more than 100 cannabis bills in state legislatures and Congress this year. Patreon supporters pledging at least $25/month get access to our interactive maps, charts and hearing calendar so they don't miss any developments.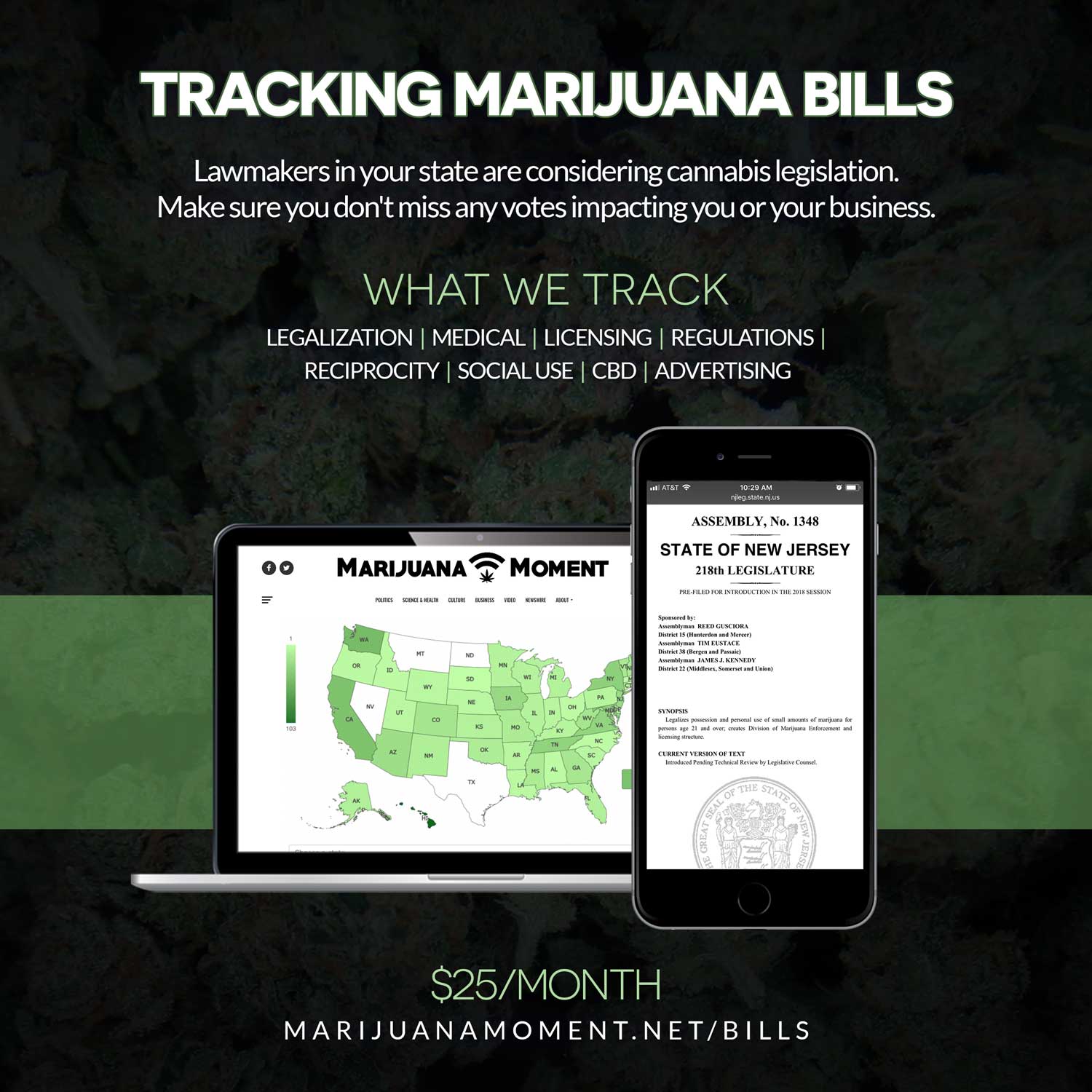 Learn more about our marijuana bill tracker and become a supporter on Patreon to get access.
—
States That Could Legalize Recreational Marijuana
In addition to the states above where a combination of gubernatorial and legislative support is aligned behind ending prohibition, there are several other states where momentum is building and that legalization is possible, though less likely due to remaining opposition from certain top leaders.
Delaware
In 2019, a Delaware House committee approved a bill to legalize marijuana for adult use in the state, but it did not advance before the end of the session.
Rep. Ed Osienski (D), sponsor of the measure, plans to reintroduced it in 2021, according to the Marijuana Policy Project.
Legalization legislation previously received majority support on the House floor in 2018, but procedural rules required a supermajority for it to pass and it didn't meet that threshold.
While Gov. John Carney (D) is not in favor of legalization, he did sign two pieces of marijuana expungement legislation in recent years. In 2017 and 2018, a state task force met to discuss issues related to legalization, and the governor hosted a series of roundtable meetings about cannabis.
Carney's predecessor approved a measure to decriminalize simple possession of cannabis in 2015.
As in other states without legalization on the books in the Northeast, regional pressures could come into play in 2021. Delaware borders New Jersey, where voters opted to legalize in November, as well as two other states where cannabis reform could shortly advance.
Separately, in an effort to mitigate the spread of coronavirus, state regulators announced in April that medical cannabis patients could soon access delivery services under an emergency program.
Maryland
A top Maryland lawmaker recently prefiled a bill for 2021 that would legalize recreational cannabis.
Beyond permitting adults to possess and purchase marijuana, the legislation would also allow for sales by state-licensed businesses, expunge past convictions and establish a social equity program meant to reinvest in communities disproportionately impacted by the war on drugs.
Medical cannabis was legalized in Maryland in 2012. Decriminalization of marijuana possession took effect in 2014, removing the threat of jail time for low-level possession and replacing it with a civil fine. But broader reform has stalled in the state.
That could change in 2021, especially if neighboring Virginia moves forward with legalization and adds regional pressure on Maryland lawmakers.
The House approved a bill in 2020 that would have increased the cannabis possession threshold to one ounce, but it did not move through the Senate.
In 2019, a House committee held hearings on two bills that would have legalized marijuana, but those also stalled.
Gov. Larry Hogan (R) vetoed a bill in May that would have protected people with low-level cannabis convictions from having their records publicized on a state database. However, he said he took the action because legislators failed to act on a separate bill unrelated to cannabis.
Despite staying relatively quiet on his personal cannabis policy preferences, Hogan has expressed an openness to exploring the possibility of legalizing marijuana. If he gets on board with the broad reform, that could help him politically should he decide to pursue a run for the presidency in 2024, as he's rumored to be considering.
Minnesota
The most significant factor bolstering the chances of passing legalization in Minnesota in 2021 is the support of House Majority Leader Ryan Winkler (D), who filed a bill earlier this year to enact the policy change, and Gov. Tim Walz (D), who has taken steps to prepare the state for eventually ending prohibition.
Winkler described his legislation, which did not advance this session, as the "best" in the country in part because it would have prioritized social equity in the industry.
The governor said in 2019 that he was directing state agencies to prepare to implement reform in anticipation of legalization passing.
In December, the House Select Committee On Racial Justice adopted a report that broadly details race-based disparities and recommends a series of policy changes that could resolve those issues, including marijuana decriminalization and expungements.
Any attempt to pass legalization legislation will face an uphill battle in the Republican-controlled Senate, however. In 2019, a legalization bill was defeated in a Senate committee, and Senate Majority Leader Paul Gazelka (R) said that the proposal is "not good for Minnesota."
Another sign of the challenge advocates face heading into the next session is that Senate Republicans in May quashed a measure that would have allowed patients to purchase raw, whole-plant forms of cannabis.
But lawmakers may be feeling new pressure to enact the policy change given that voters in neighboring South Dakota elected to legalize recreational marijuana in November.
That election also failed to give Democrats control of the legislature—and that appears to be partly due to the fact that candidates from marijuana-focused parties in the state earned a sizable share of votes that may have otherwise gone to Democrats, perhaps inadvertently hurting the chances of reform passing.
Pennsylvania 
Since adopting a pro-legalization position in 2019, Gov. Tom Wolf (D) has repeatedly called on the legislature to enact the policy change. He's stressed that marijuana reform could generate tax revenue to support the state's economic recovery from the coronavirus pandemic and that ending criminalization is necessary for social justice.
In September, he took a dig at the Republican-controlled legislature for failing to act on reform in the previous session. And in August, he suggested that the state itself could potentially control marijuana sales rather than just license private retailers as other legalized jurisdictions have done.
Lt. Gov. John Fetterman (D), a longstanding legalization advocate, has been similarly vocal about his position. In speeches and on social media, the official has expressed frustration that Pennsylvania has yet to legalize cannabis.
He's said that farmers in his state can grow better marijuana than people in neighboring New Jersey, where voters approved a legalization referendum in November.
Fetterman also recently hosted a virtual forum where he got advice on how to effectively implement a cannabis system from the lieutenant governors of Illinois and Michigan, which have enacted legalization.
Shortly after the governor announced that he was embracing the policy change, a lawmaker filed a bill to legalize marijuana through a state-run model.
A majority of Senate Democrats sent Wolf a letter in July arguing that legislators should pursue the policy change in order to generate revenue to make up for losses resulting from the COVID-19 pandemic.
But the state legislature remains under Republican control, and top leaders have so far maintained their opposition to legalization.
Wisconsin
The governor of Wisconsin recently said that he's considering adding marijuana legalization to his 2021 budget proposal as a means to boost tax revenue amid the coronavirus pandemic.
While Gov. Tony Evers (D) attempted to get marijuana possession decriminalized and medical cannabis legalized through the budget in 2019, Republican leaders in the legislature nixed those measures from the final spending bill. There's since been an open question about how the governor would navigate the issue this time around, but now he's indicating he may go bolder.
Evers criticized the legislature for failing to act on the more incremental reforms at the beginning of 2020, citing overwhelming public support for medical cannabis legalization.
Wisconsin legislators filed a bill last year to remove criminal penalties for possession of up 28 grams of marijuana, but it did not advance.
Meanwhile, voters at the local level have been making their opinion clear on cannabis reform over the past few years. In three jurisdictions, they approved non-binding advisory questions in favor of marijuana legalization last year. That's after Wisconsinites across the state overwhelmingly embraced cannabis reform by supporting similar measures during the 2018 midterm election.
In another sign of the times, city officials in the state's capital of Madison voted in November to remove most local penalties for marijuana possession and consumption, effectively allowing cannabis use by all adults 18 and older.
Wisconsin also borders Illinois, where adult-use marijuana is legal and where tax revenue from cannabis sales has been significant in the year since the commercial market opened.
States Most Likely To Legalize Medical Cannabis
Alabama 
In 2020, the Alabama Senate approved legislation to legalize medical marijuana in the state but it never advanced in the House amid the coronavirus pandemic.
The Senate approved a separate medical cannabis bill in 2019, but it was significantly altered and later died in the House.
A study commission submitted a report to the legislature in December 2019 and recommended that medical marijuana be legalized in the state.
Separately, a Senate committee unanimously approved a bill in 2018 that would have decriminalized possession of small amounts of marijuana, but it did not advance further.
The Senate's incoming president voted against medical cannabis in 2020 but said he is open to letting the issue advance in the new session. Meanwhile, the House speaker said that "if the bill comes up and it has proper restrictions in it, then I'm open to at least debating it."
Kentucky
The Kentucky House in 2020 approved a bill to legalize medical marijuana in the state, but the coronavirus pandemic stalled the legislation's progress in the Senate.
Passing medical cannabis legalization in Kentucky could have national implications as well, as anti-marijuana Senate Majority Leader Mitch McConnell (R-KY) has been a longstanding roadblock to reform but could feel pressure to serve his constituents by taking up modest legislation such as protecting banks that service the industry.
Gov. Andy Beshear (D) is in favor of medical cannabis legalization. During his campaign, he said the reform move could help mitigate the opioid crisis.
According to a poll released in February, nine out of 10 Kentucky residents support legalizing medical marijuana.
South Carolina
In December, Republicans in the House and Senate prefiled companion legislation to legalize medical marijuana.
"I feel there is a very good chance we get something passed this session," sponsor Sen. Tom Davis (R) said. "This bill has been fully vetted after five years of testimony and input by various stakeholders."
"The time has come for lawmakers to get out of the way and allow patients, in consultation with their physicians, to legally and safely access medicinal cannabis," he said.
In 2019, a medical cannabis bill advanced in a Senate committee but never got a floor vote.
A potential problem for reform is Gov. Henry McMaster (R), who says he will maintain an opposition to legalization so long as law enforcement officials in the state are against it.
Like Kentucky, enacting a marijuana policy change in South Carolina would be of national consequence as well. Sen. Lindsey Graham (R-SC) is chair of the Judiciary Committee, a key panel for any potential cannabis legislation. The senator's challenger in the last election, former South Carolina Democratic Party ChairmanJaime Harrison, made broad legalization a central part of his campaign.
The stage is set for a productive year of marijuana reform.
While advocates are still celebrating 2020's legalization victories, 2021 is set to see another expansion of the state-level reform movement, with lawmakers likely emboldened by the apparent popularity of the issue among voters.
"Now that one-third of Americans live in a jurisdiction that has or will soon have legal access to marijuana for adults, all eyes are on lawmakers to take action on reform proposals in the 2021 legislative sessions, and it will be up to advocates at every level of government to keep up the political pressure to propel the enactment of meaningful reform," NORML's Wolf said.
As states work to address budget deficits, O'Keefe of MPP said that legalization "is even more popular when compared to alternatives like raising taxes or slashing public services."
"Many Massachusetts dispensaries' parking lots are full of license plates from neighboring states without legalization," she said. "With states facing large-scale unemployment and deep financial pressures, it would be political malpractice not to pick this low-hanging fruit to lessen the pain."
Wisconsin Governor Floats Marijuana Legalization In 2021 Budget To Boost Economy
Photo courtesy of Carlos Gracia.
Virginia Has Sealed 64,000 Marijuana Distribution Charges Since Legalization Took Effect This Summer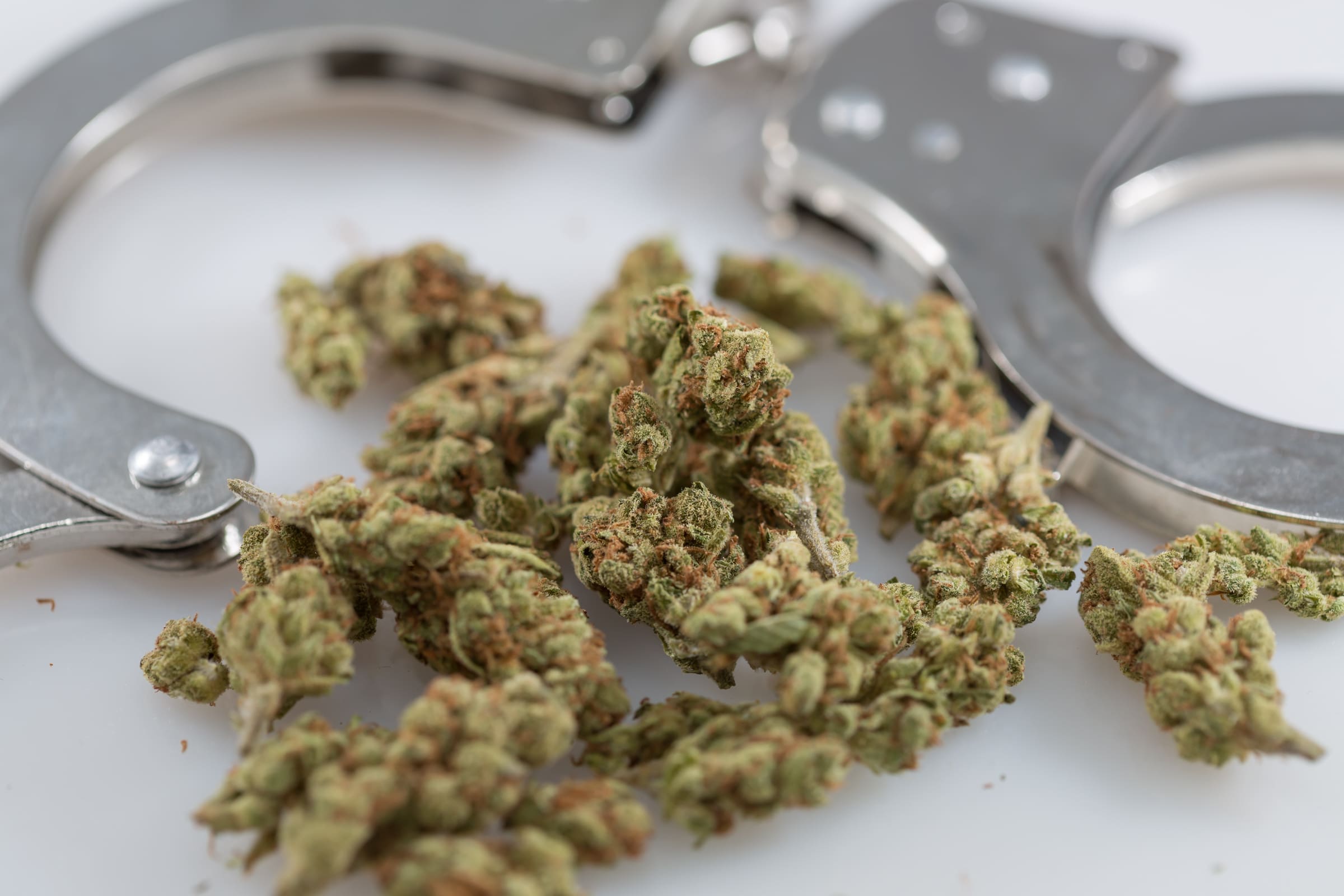 "These aren't just numbers and there are families attached."
By Ned Oliver, Virginia Mercury
Virginia has sealed records documenting more than 64,000 misdemeanor marijuana distribution charges since the state legalized the drug in July.
The figure came out Thursday during a meeting of the legislature's Cannabis Oversight Commission.
Officials said the records were scrubbed from the state's criminal record database, which is used by employers like school boards, state agencies and local governments to screen employees.
The state had already sealed 333,000 records detailing charges of simple possession last year after the state reduced the offense to a civil infraction on par with a traffic offense, said Shawn G. Talmadge, the Deputy Secretary of Public Safety and Homeland Security.
Lawmakers directed the state to expand that effort when they voted to broadly legalize recreational use of marijuana earlier this year.
The legislature also agreed to a broader expungement reform that will automatically seal other misdemeanor charges, including underage possession of alcohol, use of a fake ID, petit larceny, trespassing and disorderly conduct. Talmadge said those charges will remain in the system until the state finishes updating the software it uses to track criminal records.
"As of right now, the process is proceeding," he said.
The Virginia Joint Commission on Cannabis Oversight is meeting now.  You can find the agenda and links to livestream and to provide public comment at https://t.co/f1wsPn7SV7

— Jennifer McClellan (@JennMcClellanVA) October 14, 2021
Members of the oversight commission also heard from two advocates who urged them to move fast to address people currently imprisoned for marijuana offenses—a category of people the legalization legislation passed this year did not address.
Chelsea Higgs Wise, the leader of the advocacy group Marijuana Justice, and Gracie Burger, with the Last Prisoner Project, said Department of Corrections data suggests there are currently 10 people being held solely on serious marijuana charges.
They said it remains unknown how many more are being held because of marijuana related probation violations.
"These aren't just numbers and there are families attached," Burger said.
This story was first published by Virginia Mercury,
Nevada Sold More Than $1 Billion In Marijuana In One Year, Officials Report
DEA Proposes Dramatic Increase In Marijuana And Psychedelic Production In 2022, Calling For 6,300 Percent More MDMA Alone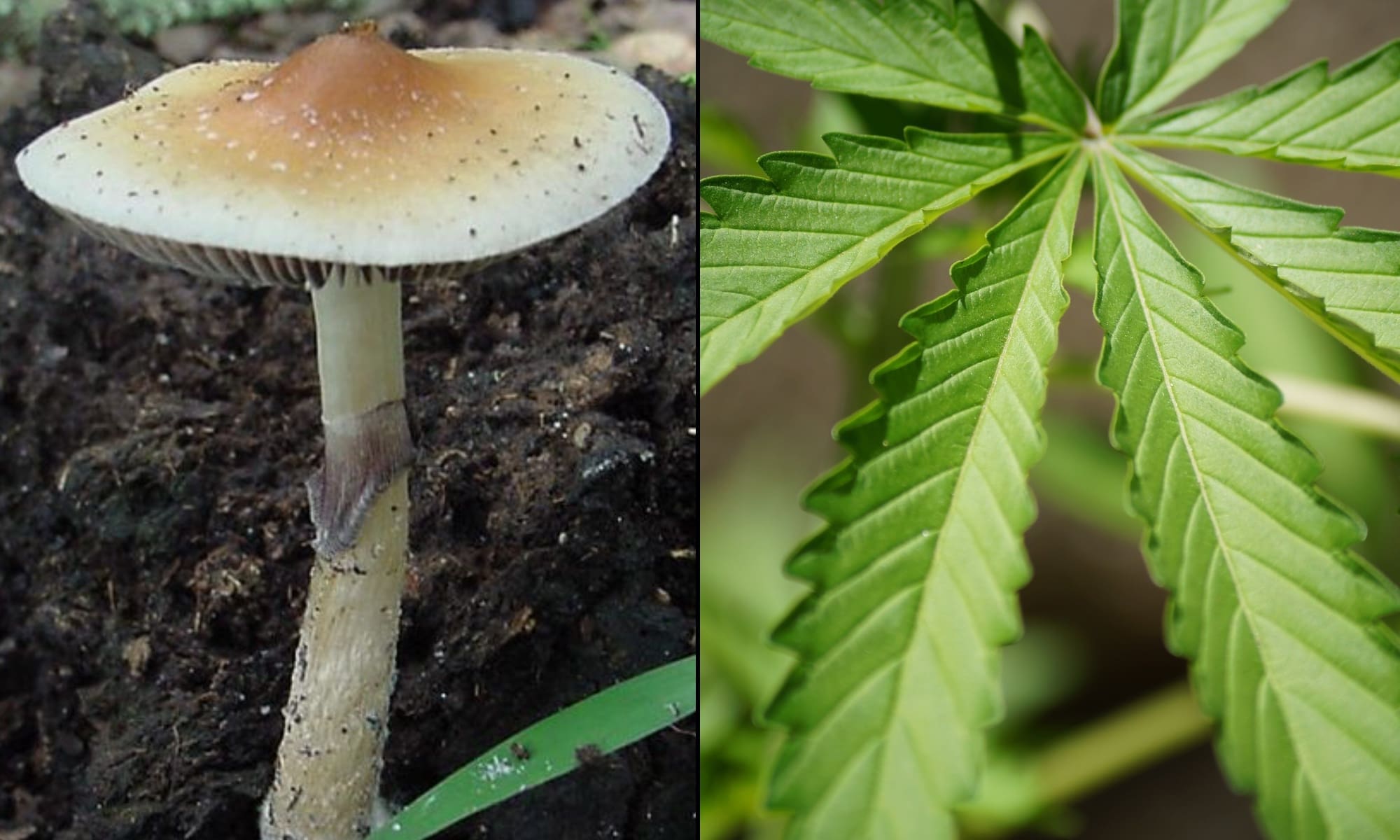 The Drug Enforcement Administration (DEA) is proposing a dramatic increase in the legal production of marijuana and psychedelics like psilocybin, LSD, MDMA and DMT to be used in research next year.
In a notice scheduled to be published in the Federal Register on Monday, the agency said there's been a "significant increase in the use of schedule I hallucinogenic controlled substances for research and clinical trial purposes," and it wants authorized manufacturers to meet that growing demand.
DEA had already massively upped its proposed 2021 quota for cannabis and psilocybin last month, but now it's calling for significantly larger quantities of research-grade marijuana and a broader array of psychedelics to be manufactured in 2022.
It wants to double the amount of marijuana extracts, psilocybin and psilocyn, quadruple mescaline and quintuple DMT. What especially stands out in the notice is MDMA. The agency is proposing an enormous 6,300 percent boost in the production of that drug—from just 50 grams in 2021 to 3,200 grams in the coming year—as research into its therapeutic potential continues to expand.
LSD would see a 1,150 percent increase, up to 500 grams of the potent psychedelic.
Marijuana itself would get a 60 percent boost under DEA's proposal, up to 3.2 million grams in 2022 from the 2 million grams last year.
Here's a visualization of the proposed quota increase from 2021 to 2022 for marijuana and cannabis extracts:
For all other THC, psilocybin, psilocyn and MDMA:
And for other psychedelic substances like LSD, mescaline and DMT:
DEA said in the Federal Register notice that it has been receiving and approving additional applications to "grow, synthesize, extract, and manufacture dosage forms containing specific schedule I hallucinogenic substances for clinical trial purposes" to achieve these ambitious quotas.
"DEA supports regulated research with schedule I controlled substances, as evidenced by increases proposed for 2022 as compared with aggregate production quotas for these substances in 2021," the agency said, adding that it working "diligently" to process and approve marijuana manufacturers applications in particular, as there's currently only one farm at the University of Mississippi that's permitted to cultivate the plant for research.
"Based on the increase in research and clinical trial applications, DEA has proposed increases in 3,4- Methylenedioxyamphetamine (MDA), 3,4-Methylenedioxymethamphetamine (MDMA), 5-Methoxy-N,N-dimethyltryptamine, Dimethyltryptamine, Lysergic acid diethylamide (LSD), Marihuana, Marihuana Extract, Mescaline, Psilocybin, Psilocyn, and All Other Tetrahydrocannabinols to support manufacturing activities related to the increased level of research and clinical trials with these schedule I controlled substances."
Here are the exact numbers for the proposed 2021 and 2022 quotas:
| | | |
| --- | --- | --- |
| Substance | 2021 | |
| Marijuana | 2,000,000 | 3,200,000 |
| Marijuana extract | 500,000 | 1,000,000 |
| All other tetrahydrocannabinol | 1,000 | 2,000 |
| Psilocybin | 1,500 | 3,000 |
| Psilocyn | 1,000 | 2,000 |
| MDMA | 50 | 3,200 |
| LSD | 40 | 500 |
| Mescaline | 25 | 100 |
| DMT | 50 | 250 |
| 5-MeO-DMT | 35 | 550 |
| MDA | 55 | 200 |
A 30-day public comment period will be open after the notice is formally published on Monday.
It's difficult to overstate just how significant the proposed 2022 increases are, but it's certainly true that scientific and public interest in marijuana and psychedelics has rapidly increased, with early clinical trials signaling that such substances show significant therapeutic potential.
National Institute on Drug Abuse (NIDA) Director Nora Volkow told Marijuana Moment in a recent interview that she was encouraged by DEA's previous proposed increase in drug production quota. She also said that studies demonstrating the therapeutic benefits of psychedelics could be leading more people to experiment with substances like psilocybin.
Advocates and experts remain frustrated that these plants and fungi remain in the strictest federal drug category in the first place, especially considering the existing research that shows their medical value for certain conditions.
A federal appeals court in August dismissed a petition to require the DEA to reevaluate cannabis's scheduling under the Controlled Substances Act. However, one judge did say in a concurring opinion that the agency may soon be forced to consider a policy change anyway based on a misinterpretation of the therapeutic value of marijuana.
Separately, the Washington State attorney general's office and lawyers representing cancer patients recently urged a federal appeals panel to push for a DEA policy change to allow people in end-of-life care to access psilocybin under state and federal right-to-try laws.
Singer Melissa Etheridge And Activist Van Jones Promote Psychedelics Reform As Movement Grows
Image element courtesy of Kristie Gianopulos.
Supreme Court Won't Hear Case On Legalizing Safe Drug Consumption Sites, But Activists Are Undeterred
The U.S. Supreme Court (SCOTUS) has rejected a request to hear a case on the legality of establishing safe injection sites where people can use illicit drugs in a medically supervised environment.
The justices announced on Tuesday that they decided against taking up the case raised by the nonprofit Safehouse, despite the pleas of attorneys general from 10 states and D.C. who recently filed amici briefs urging the court's involvement.
Representatives from 14 cities and counties, as well as the mayor of Philadelphia, which is at the center of the current case, also filed briefs in support of the case in recent days.
Safehouse was set to launch a safe consumption site in Philadelphia before being blocked by a legal challenge from the Trump administration. It filed a petition with the nation's highest court in August to hear the case.
But while the Supreme Court declined to take action—and the Biden administration passed up its voluntary opportunity to weigh in at this stage, which may well have influenced the justices' decision—activists say the battle will continue at a lower federal court level, where the administration will have to file briefs revealing its position on the issue.
Disappointed but not surprised U.S. Supreme Court declined to hear our case. We're pursuing our claims in federal court. As that litigation proceeds, Biden administration will have to take a position, which it avoided by waiving its right to respond to our Supreme Court petition.

— Safehouse (@SafehousePhilly) October 13, 2021
"We were disappointed that the government chose not to respond to our petition," Safehouse Vice President Ronda Goldfein told Filter. "They said, 'We're going to waive our right to respond,' [and] the Supreme Court declined to review our case. Ordinarily that sounds like the end of the road—but in our case we are still pursuing our claims in a different venue."
That venue will be the the federal district court in Philadelphia, where activists plan to submit multiple arguments related to religious freedom and interstate commerce protections. The Biden administration will be compelled to file a response in that court by November 5.
"If they don't respond, they lose," Goldfein said.
A coalition of 80 current and former prosecutors and law enforcement officials—including one who is President Joe Biden's pick for U.S. attorney of Massachusetts—previously filed a brief urging the Supreme Court to take up Safehouse's safe injection case.
Fair and Justice Prosecution, the group that coordinated the amicus brief, also organized a tour of Portugal for 20 top prosecutors in 2019 so they could learn about the successful implementation of the country's drug decriminalization law.
If the Supreme Court were to have taken the case and rule in favor of Safehouse, it could have emboldened advocates and lawmakers across the country to pursue the harm reduction policy.
The governor of Rhode Island signed a bill in July to establish a safe consumption site pilot program where people could test and use currently illicit drugs in a medically supervised environment. It became the first state in the country to legalize the harm reduction centers. It's not clear whether the Department of Justice will seek to intervene to prevent the opening of such facilities in that state.
Massachusetts lawmakers advanced similar legislation last year, but it was not ultimately enacted.
A similar harm reduction bill in California, sponsored by Sen. Scott Wiener (D), was approved in the state Senate in April, but further action has been delayed until 2022.
Florida Democratic Candidates For Governor Fight Over Who Supports Marijuana Reform The Most