Illinois Bill To Close Marijuana Expungement 'Loophole' Heads To Governor, While Workplace Protection Measure Stalls
Illinois lawmakers have sent a bill to the governor that would make it so courts cannot deny petitions to expunge or seal records based on a positive drug test for marijuana.
However, a separate House-passed bill concerning workplace protections for employees who use cannabis off-the-job stalled in the Senate before the chamber adjourned for the session.
The bill sent to Gov. J.B. Pritzker (D) last week would revise the state's Criminal Identification Act to stipulate that courts "shall not deny a petition for expungement or sealing because the petitioner has submitted a drug test taken within 30 days before the filing of the petition for expungement or sealing that indicates a positive test for the presence of cannabis within the petitioner's body," a synopsis says.
Rep. Carol Ammons (D), the bill's sponsor, said the measure closes an "existing loophole" that could inadvertently impact people who are eligible for relief following the legalization of marijuana for adult use in 2020.
UPDATE: HB4392 has officially passed the Senate and now goes to @govpritzker for approval! This is an exciting step forward in closing the existing loopholes that still criminalize Illinoisans for using cannabis years after its legalization. #cannabisjustice
@CGLA

— Rep. Carol Ammons (@StateRepAmmons) April 7, 2022
Following a year of implementation, the governor took pride in announcing that more than 500,000 expungements and pardons had been processed for people with low-level marijuana offenses on their records.
Still, advocates are disappointed with the outcome of the separate employment-related legislation from Rep. Bob Morgan (D) and Sen. Robert Peters (D) that would have provided protections to workers who lawfully use marijuana off the job and prevented discrimination against most job applicants who test positive for cannabis.
The measure passed the House last month, but it was slightly amended in a Senate committee before being scheduled for a third and final reading that ultimately didn't occur before the chamber adjourned on Saturday morning. If passed by the Senate it still would've needed to go back to the House for the amendment to be adopted before heading to Pritzker's desk.
However, a staffer for Peters told Marijuana Moment that the bill necessarily isn't dead for the year, per se. The Senate might be adjourned, but there's still a possibility that it could be further tweaked and taken back up before the formal end of General Assembly business for 2022 when lawmakers return this fall for a veto session.
A hearing for the legislation was previously postponed following a short debate in the Senate Executive Committee late last month, but the panel took it back up last week and advanced it to the full chamber where it stalled.
The bill as amended would have provided protections for workers who use cannabis in compliance with state law during non-working hours and when they're not on-call. People contracted by the federal Department of Transportation would not have been eligible for the safeguard, however.
There also wouldn't have been any further protections added with respect to the state's workers' compensation law.
—
Marijuana Moment is already tracking more than 1,000 cannabis, psychedelics and drug policy bills in state legislatures and Congress this year. Patreon supporters pledging at least $25/month get access to our interactive maps, charts and hearing calendar so they don't miss any developments.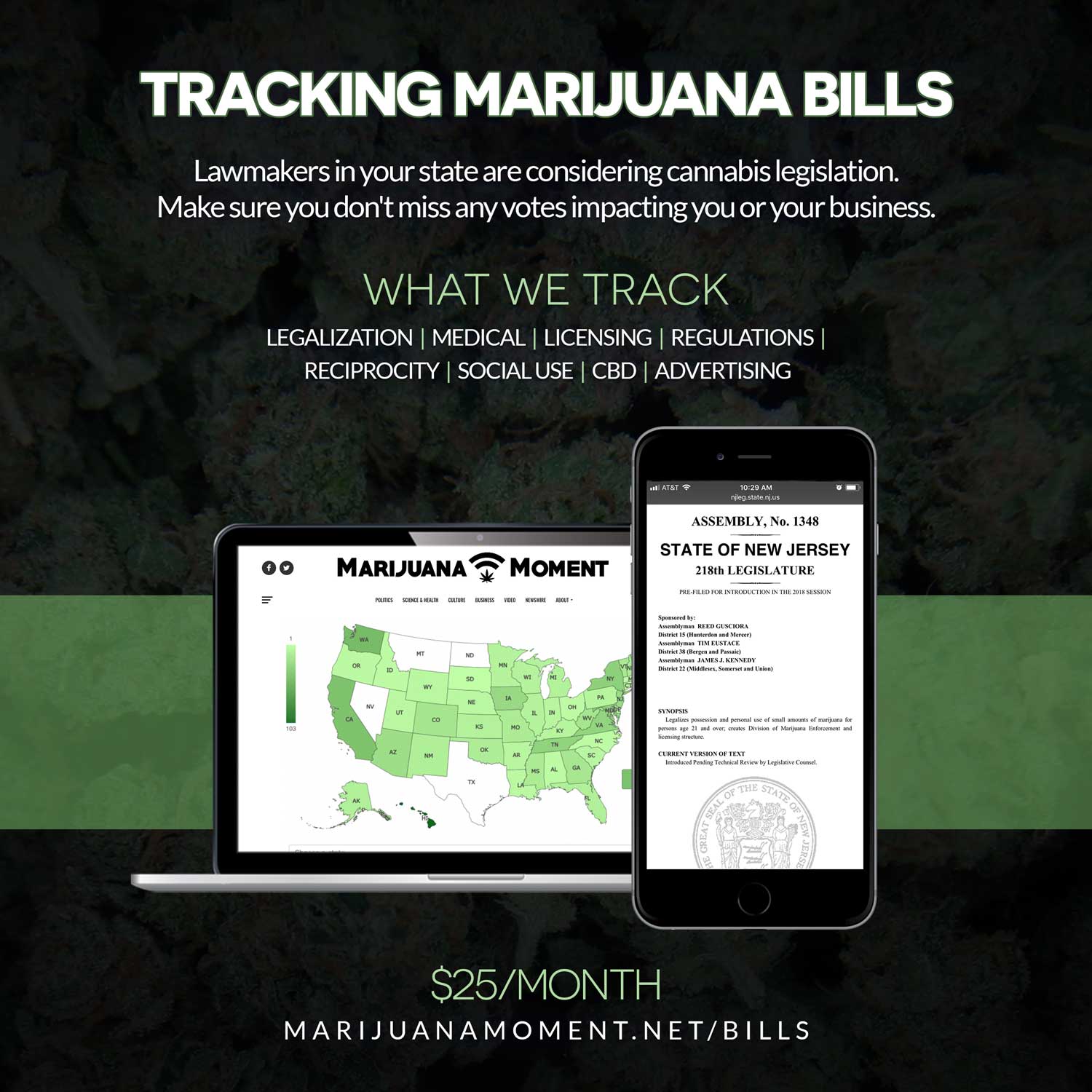 Learn more about our marijuana bill tracker and become a supporter on Patreon to get access.
—
Under the legislation, employers could have terminated an employee over a positive THC test if they worked with heavy machinery or aircraft, carried a firearm, performed emergency services or had other safety-sensitive responsibilities. Workers could also have been fired if they were found to be impaired on the job.
Organizations that are focused on drug abstinence would also have been exempt from the policy change.
The bill was only slightly amended in committee in the Senate to broaden language related to workers who operate heavy machinery in the manufacturing sector. The bill as originally approved by the House would have only made a positive THC test a fireable offense for workers who use heavy machinery at retail distribution centers.
While advocates viewed the legislation as a step in the right direction, there were limitations to the protections. For example, employers could have terminated workers whose test results met or exceeded the legal limits set forth in the state's vehicle code, which is meant to prohibit impaired driving.
State law stipulates that drivers are considered impaired if they test positive for THC at a concentration of greater than 5 nanograms per milliliter of blood—or 10 ng/mL of other bodily fluids, such as saliva or urine—within two hours of driving. Critics have raised concerns about that threshold for workers, arguing that THC levels can remain high in users' bloodstreams days or weeks after demonstrable impairment.
The restriction could have theoretically put employees' jobs at risk even for off-duty cannabis use if they consume marijuana the night before clocking in for a morning shift, for example.
The state-level legalization movement has prompted policymakers across the U.S. to grapple with questions concerning drug testing policy.
Following the enactment of adult-use legalization in New York, the state Department of Labor announced a policy change barring most employers from drug testing certain workers for marijuana.
In Washington, D.C., a Council committee unanimously approved a bill last month to ban most workplaces from subjecting job applicants to pre-employment marijuana testing. It would expand on previous legislation the D.C. Council approved to protect local government employees against workplace discrimination due to their use of medical cannabis.
Last month, however, a Colorado House committee rejected a bill that would have provided protections for workers in that state who use marijuana off the job. As introduced, the measure also would have allowed medical cannabis patients to use marijuana at work, although later amendments scaled back those protections.
Meanwhile, as Missouri lawmakers work to advance marijuana legalization in the state, the St. Louis County Council approved a bill last month to ban pre-employment and random drug testing for cannabis for most county workers.
The Kansas City, Missouri Council also voted last year to enact a similar policy drug testing policy change for cannabis.
A nationwide labor report recently found that drug testing rates at U.S. workplaces have fallen considerably over the past quarter-century, as states began ending marijuana prohibition. The government-collected data also offered a glance at what types of industries are screening workers for drugs the most and the least.
Federal and military policies regarding drug testing policy have also been a key area of interest as more states move to legalize cannabis.
For example, the director of national intelligence (DNI) said earlier this year that federal employers shouldn't outright reject security clearance applicants over past use and should use discretion when it comes to those with cannabis investments in their stock portfolios.
FBI updated its hiring policies last year to make it so candidates are only automatically disqualified from joining the agency if they admit to having used marijuana within one year of applying. Previously, prospective employees of the agency could not have used cannabis within the past three years.
The Department of Transportation also took a different approach to its cannabis policy in 2020, stating in a notice that it would not be testing drivers for CBD.
And while the Biden administration has instituted a policy of granting waivers to certain workers who admit to prior cannabis use, it's come under fire from advocates following reports that it fired or otherwise punished dozens of staffers who were honest about their history with marijuana.
White House Press Secretary Jen Psaki has previously attempted to minimize the fallout, without much success, and her office released a statement last year stipulating that nobody was fired for "marijuana usage from years ago," nor has anyone been terminated "due to casual or infrequent use during the prior 12 months."
A powerful congressional committee released a report last year that urges federal agencies to reconsider policies that result in the firing of employees who use marijuana legally in accordance with state law.
Military branches in general have been notably consistent in their policies—prohibiting service members from using any form of cannabis, including hemp-based products that have been federally legalized.
Last week, for example, members of the Navy were specifically told not to drink a new Rockstar energy drink from Pepsi that contains hemp seed oil.
That advisory from the Naval War College is a follow-up on an initial Navy-wide notice in 2018 that informed ranks that they're barred from using CBD and hemp products no matter their legality. Then in 2020 it released an update explaining why it enacted the rule change.
In 2019, the Department of Defense (DOD) announced a policy barring all active and reserve service members from using hemp products, including CBD. DOD more broadly reaffirmed that CBD is off limits to service members in earlier notices published in 2020.
About one year after hemp was federally legalized, the Air Force sent out a notice that similarly warned against using CBD products that are commonly found on the market.
A Massachusetts base of the U.S. Air Force told pilots last year that they could face disciplinary action for possessing any type of hemp product, even if it's "for your pet."
Officials with the military branch also said the previous year that it wants its members to be extra careful around "grandma's miracle sticky buns" that might contain marijuana.
The Coast Guard said that sailors can't use marijuana or visit state-legal dispensaries.
And NASA, which is not part of the military, warned that CBD products could contain unauthorized THC concentrations that could cost employees their jobs if they fail a drug test.
SAMHSA may have influenced these prior policy updates. It released guidance to federal agency drug program coordinators in 2019 that outlined concerns about THC turning up in CBD products and causing failed drug tests. The agency issued an updated warning in 2020 after several more states voted to legalize marijuana.
Kentucky Governor Explores Executive Action On Medical Marijuana Reform As House-Passed Bill Stalls
Photo courtesy of Chris Wallis/Side Pocket Images.