Illinois Senate Committee Abruptly Halts Debate On Bill To Protect Workers Who Test Positive For Cannabis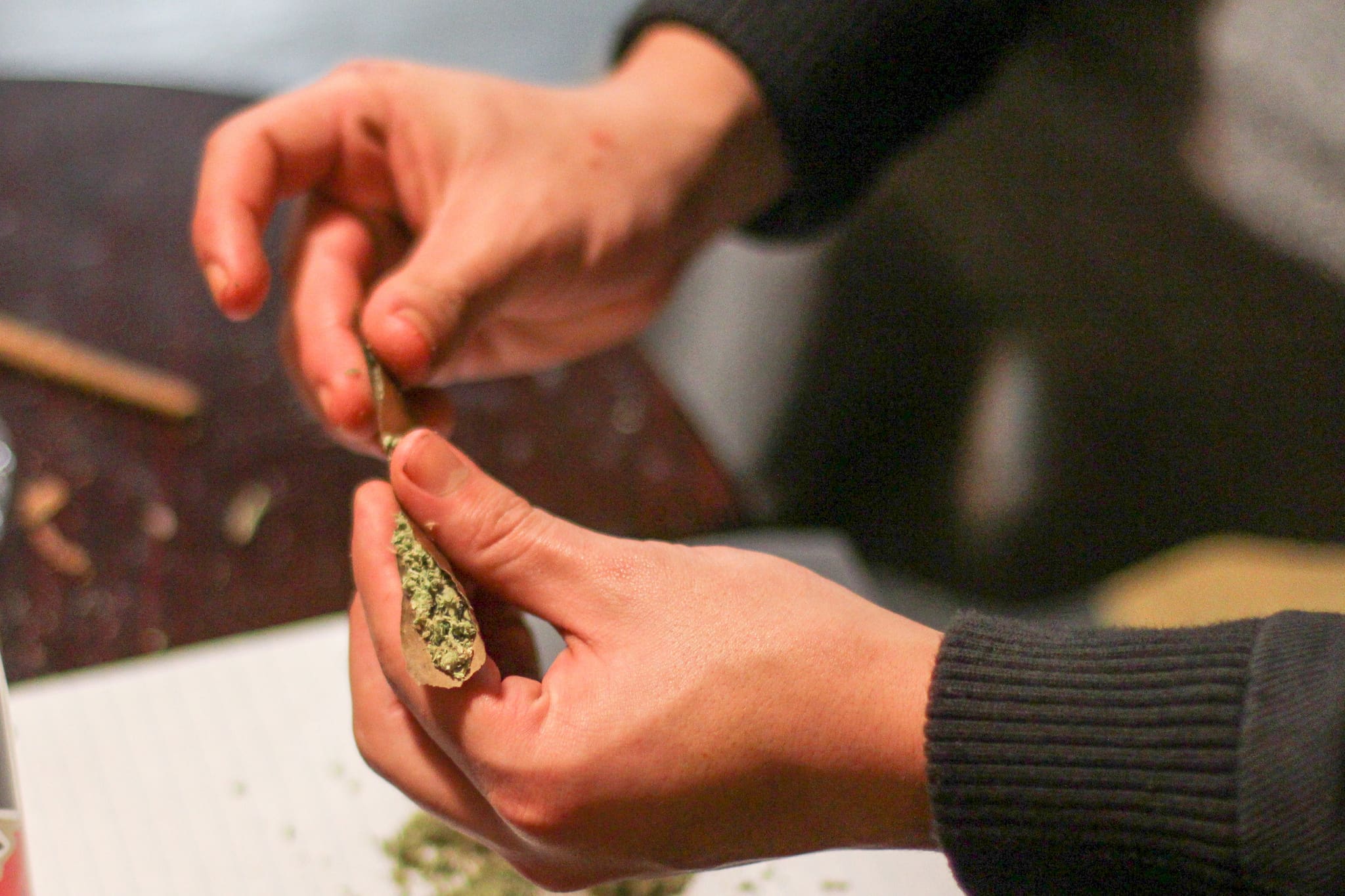 An Illinois Senate committee began debate this week on a bill that would protect workers from being fired for using cannabis on their free time. With some exceptions, the measure would prohibit employers from firing workers or discriminating against job applicants merely for testing positive for marijuana use.
The House of Representatives already passed a version of the legislation, sponsored by Rep. Bob Morgan (D), on a 61–41 vote earlier this month.
At a hearing of the Senate Executive Committee on Wednesday, senators spent about half an hour discussing details of the bill before its Senate sponsor, Sen. Robert Peters (D), abruptly paused the debate. Amid a series of critical questions from Republicans on the panel, Peters announced that he was pulling the bill from the record and would return to it later.
"I'm gonna make this easier," he said in response to a string of hypotheticals about when certain workers could be fired under the bill. "I'm gonna pull this from the record for right now, and I'll come back."
Peters earlier in the hearing had expressed optimism that the discussion would proceed smoothly. "This is a very negotiated bill," he said. "I'm very excited for a very simple, nice, pleasant conversation with everybody."
It was not immediately clear following Wednesday's hearing when the committee might return to the proposal, HB 4116. After the panel adjourned, the bill's status changed to "postponed" on the state legislature's website. Neither Peters nor Morgan responded to emails from Marijuana Moment.
—
Marijuana Moment is already tracking more than 1,000 cannabis, psychedelics and drug policy bills in state legislatures and Congress this year. Patreon supporters pledging at least $25/month get access to our interactive maps, charts and hearing calendar so they don't miss any developments.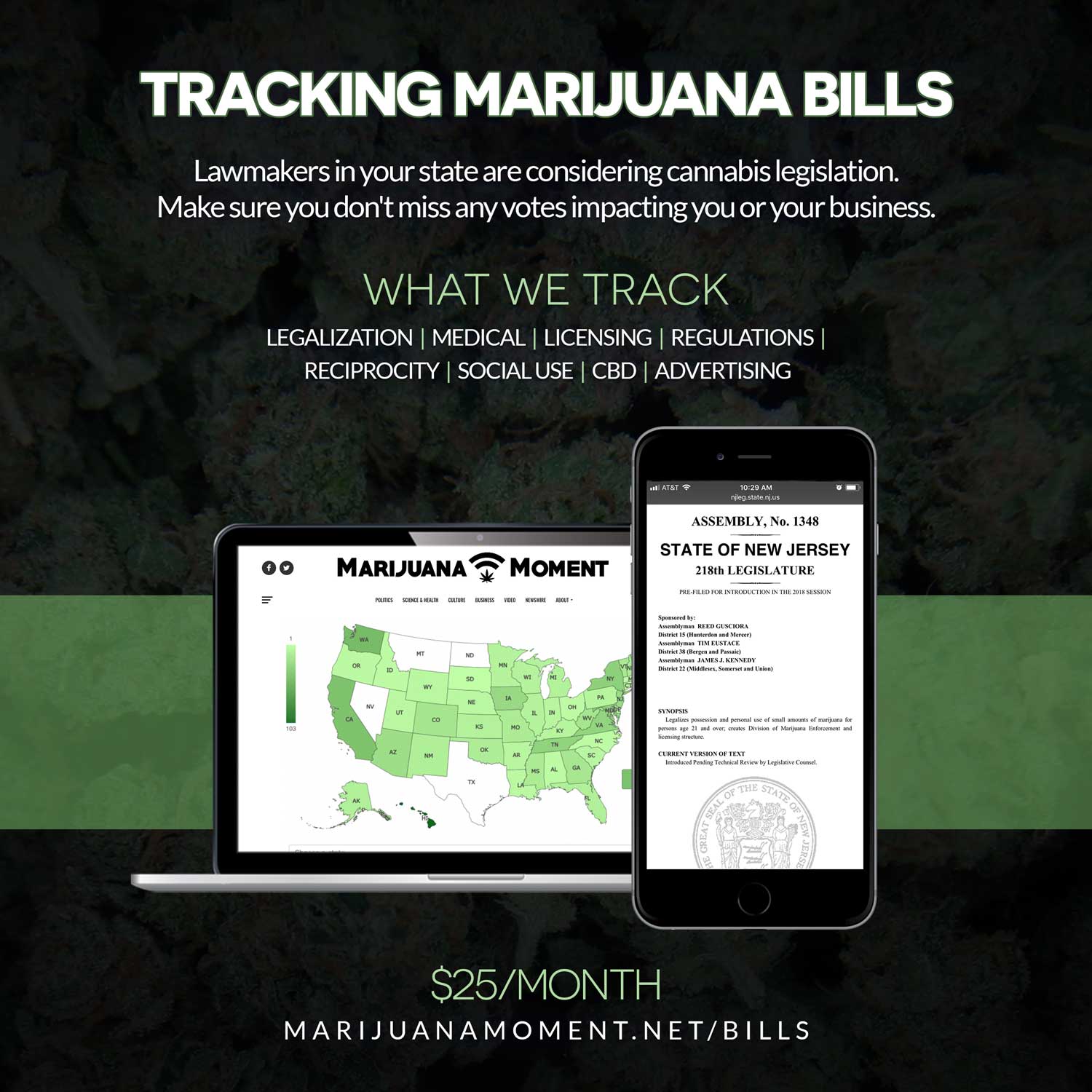 Learn more about our marijuana bill tracker and become a supporter on Patreon to get access.
—
The measure in its current version would protect workers who use lawful products off of job premises during nonworking hours and when the employee is not on call. Workers at entities that are contractors of the federal Department of Transportation would not receive the protection, nor would the bill add any additional protections under the state's workers' compensation law.
The legislation contains various other carveouts for certain categories of employees. For example, a positive THC test result could still be grounds for termination in jobs where workers operate heavy machinery or aircraft, carry a weapon, perform emergency services or handle other safety-sensitive tasks. Companies could also still fire employees for being impaired by cannabis while at work.
Organizations that exist to promote drug abstinence would also be exempt from the change.
A short amendment proposed by Peters and adopted by the Senate panel would also allow workers to be fired over a positive cannabis test if their jobs involve using heavy machinery in manufacturing. As passed by the House, the bill would have applied only to workers using heavy machinery specifically at retail distribution centers.
Earlier, House lawmakers adopted two amendments to the legislation before approving it. One replaced the original bill in its entirety, and another that modified the new language.
Some observers, including local news talk radio station WROK, have previously pointed out that the bill as currently written appears to protect only workers who test positive for relatively low amounts of cannabis. Among the bill's exceptions, it says employers can fire workers whose test results meet or exceed the legal limits set forth in the state's vehicle code, which is meant to prohibit impaired driving.
In Illinois, drivers are considered impaired if they test positive for THC at a concentration of greater than 5 nanograms per milliliter of blood—or 10 ng/mL of other bodily fluids, such as saliva or urine—within two hours of driving. That limit is seen as too low by some critics, who note that THC levels can remain high in users' bloodstreams days or weeks after demonstrable impairment.
Setting a similar limit for workers in general could mean employees' jobs would be at risk even for off-duty cannabis use, for instance smoking a joint the night before work and then showing up the next morning, even if that worker demonstrates no indication of impairment.
During Wednesday's hearing, Peters framed the bill as a necessary reform to respect workers' privacy following the state legislature's 2019 legalization of cannabis for adults. He said he views the legislation as only the starting point for how to square employees' rights with businesses' need to ensure workplace safety.
"This to me feels like this will be an ongoing conversation as we enter this new, post-legal environment," Peters said, adding that the proposed reform was motivated by stories of job applicants who were "going in for a job and they weren't able to get it because we didn't have anything in the law that provided the necessary protections."
Despite Peters's hope for an amicable debate, Republicans pressed the senator on specifics during Wednesday's hearing, suggesting the proposal would be onerous for employers and overstep boundaries on government control over private business.
Sen. Jil Tracy (R) questioned the boundaries of the bill's exemptions, noting that it leaves the term "heavy machinery" undefined and appears to exempt workers in retail settings from the privacy protections but not workers in otherwise similar wholesale settings.
"We will continue to have conversations around this," Peters replied.
"Have you ever heard the term 'letting Pandora out of the box'?" Tracy shot back.
Republican Sen. Sue Rezin asked how the process for companies declaring safety-sensitive positions would work. She said businesses in what she described as her "chemical corridor" district had told her they have difficulty finding enough workers who test negative for THC.
"I often hear too, in our area, from employers, [that] it's hard to get good people to work for us because they've got marijuana in their system," she said. "I just want to make sure there's a process in place…that everybody agrees to and understands."
Peters replied by touting that some large employer organizations, such as the Illinois Manufacturing Association, have expressed neutral positions on the bill. The state Department of Labor also holds a neutral position. "This is a very negotiated bill," he said.
A few on the panel, including Sen. Donald P. DeWitte (R), said the state's cannabis legalization law had explicitly granted employers the ability to preserve zero-tolerance drug policies.
"What authority does the state of Illinois have to dictate to a private business that they can no longer maintain zero-tolerance policy for anyone having cannabis in their system?" DeWitte asked.
Questions and testimony on HB 4116 continues. #SenExec

— IL Senate Democrats (@ILSenDems) March 30, 2022
Peters responded there was a need to balance that provision with separate privacy rights the legalization law also established. "What we're saying is that employers can't dictate what employees do on their private time," the sponsor said.
DeWitte continued to question Peters, asking how the bill's various provisions would interact if, for example, a worker were involved in an on-site accident but tested positive only for trace amounts of THC—lower than the state's per se limit for cannabis-impaired driving. It was at that point that Peters stopped the debate, and without further discussion the panel moved on to the next bill on the agenda.
Drug testing for THC has become tricker for employers as more jurisdictions have legalized cannabis for adults, especially because many tests can indicate only whether someone has recently used cannabis—not whether they're currently experiencing the drug's affects. Illinois, which legalized cannabis in 2019 through an act of the legislature, number of states have recently sought to address the problem.
Following the enactment of adult-use legalization in New York, the state Department of Labor announced a policy change barring most employers from drug testing certain workers for marijuana.
In Washington, D.C., a Council committee unanimously approved a bill this month to ban most workplaces from subjecting job applicants to pre-employment marijuana testing. It would expand on previous legislation the D.C. Council approved to protect local government employees against workplace discrimination due to their use of medical cannabis.
Last week, however, a Colorado House committee rejected a bill that would have provided protections for workers in that state who use marijuana off the job. As introduced, the measure also would have allowed medical cannabis patients to use marijuana at work, although later amendments scaled back those protections.
Meanwhile, as Missouri lawmakers work to advance marijuana legalization in the state, the St. Louis County Council approved a bill this month to ban pre-employment and random drug testing for cannabis for most county workers.
The Kansas City, Missouri Council also voted last year to enact a similar policy drug testing policy change for cannabis.
A nationwide labor report recently found that drug testing rates at U.S. workplaces have fallen considerably over the past quarter-century, as states began ending marijuana prohibition. The government-collected data also offered a glance at what types of industries are screening workers for drugs the most and the least.
At the federal level, House appropriations legislation and attached reports passed by the House last year directed federal government agencies to reconsider policies that fire employees for using cannabis in compliance with state law. But that provision was not included in the omnibus package approved by the House on Wednesday.
The White House Office of Personnel Management (OPM) recently issued a memo to federal agencies that says admitting to past marijuana use should not automatically disqualify people from being employed in the federal government.
Last month, a top Wells Fargo analyst says that there's one main reason for rising costs and worker shortages in the transportation sector: federal marijuana criminalization and resulting drug testing mandates that persist even as more states enact legalization.
In January, a coalition of more than two dozen congressional Democrats filed bill on promoting workplace investment to combat climate change, and they want to boost the workforce nationwide by protecting people in legal marijuana states from being penalized due to federal drug testing policies.
Federal Marijuana Legalization Bill Amendments Get Committee Review Ahead Of Floor Vote
Photo courtesy of Martin Alonso