Workplace Protections For DC Medical Marijuana Patients Extended Under Emergency Bill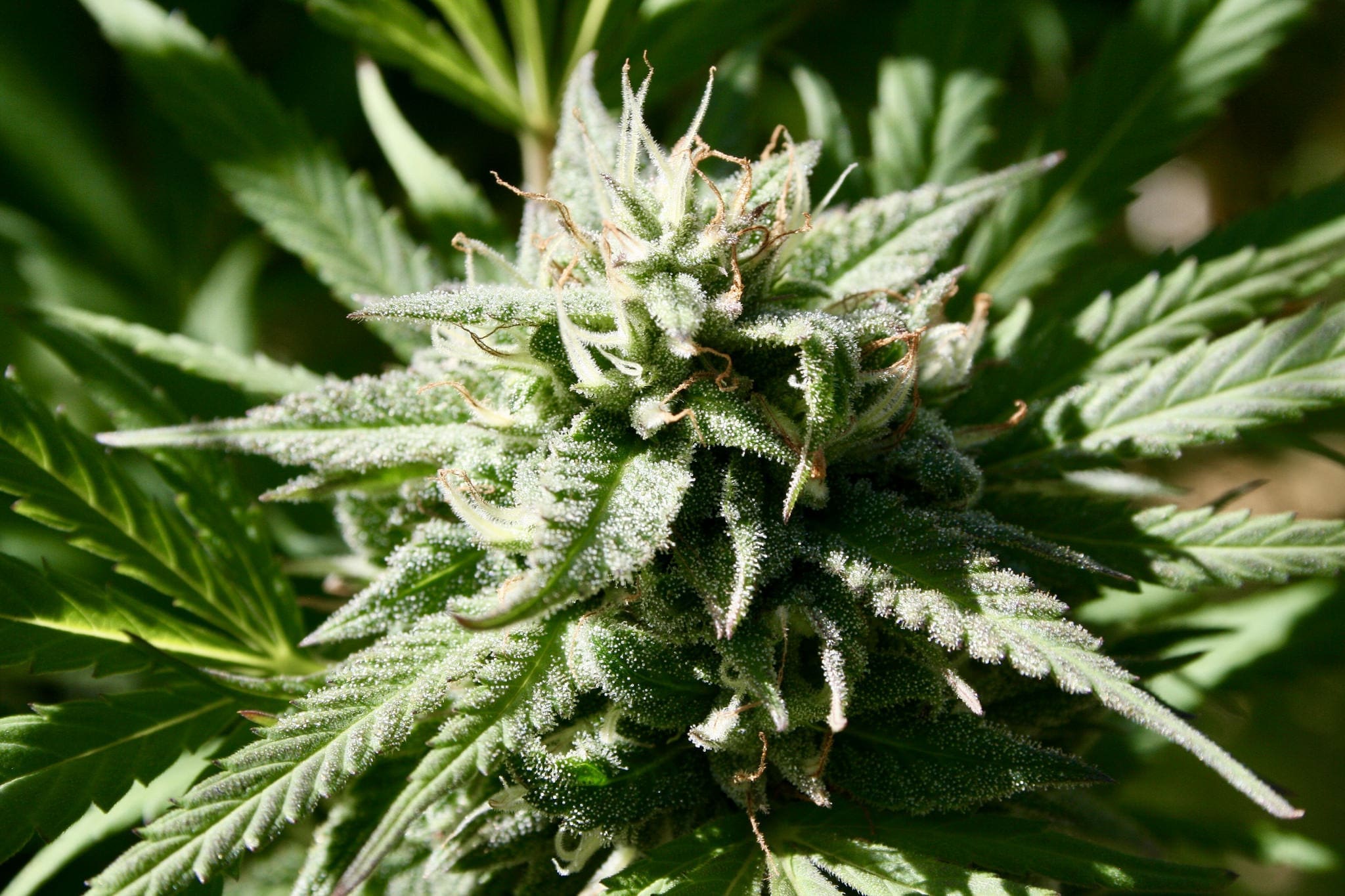 With a Washington, D.C. law protecting local government employees against workplace discrimination due to their use of medical marijuana set to expire next month, lawmakers passed emergency legislation on Tuesday that temporarily extends the policy.
Councilmember David Grosso (D) introduced a resolution that triggers the emergency bill extending the workplace policy for 90 days after the mayor signs it. He also filed temporary legislation that would further extend it by 230 days but, unlike an emergency bill, that would have to go through the more time-consuming committee process.
Both the resolution and an accompanying emergency measure were unanimously approved by the District Council.
The resolution notes the the current medical marijuana workplace protections approved last year are set to expire on June 5 and "no permanent legislation is in place because the work on the permanent legislation was interrupted by the COVID-19 pandemic response."
The circumstances "constitute emergency…making it necessary that the Medical Marijuana Program Patient Employment Protection Emergency Amendment Act of 2020 be adopted after a single reading," the resolution continues.
Under the emergency bill, "a public employer may not refuse to hire, terminate from employment, penalize, fail to promote, or otherwise take adverse employment action against an individual based upon the individual's status as a qualifying patient unless the individual used, possessed, or was impaired by marijuana at the individual's place of employment or during the hours of employment."
There are exemptions to the drug testing ban for workers in safety sensitive positions or in situations where "compliance would cause the public employer to commit a violation of a federal law, regulation, contract, or funding agreement."
Text of the legislation is identical to that of the prior Council-passed bill.
Grosso emphasized during Tuesday's meeting that "progress on moving a permanent bill has been interrupted by the pandemic" and he hopes "we can find a lasting and just solution once we emerge from this crisis."
Watch the Council approve the medical cannabis protections, starting around 6:35 into the video below:
This is the latest example of lawmakers prioritizing workplace protections for people who consume cannabis.
The Richmond, Virginia City Council approved a resolution earlier this month that requests the city stop testing certain workers for marijuana as a condition of their employment.
Also this month, legislation broadly banning pre-employment drug testing for cannabis went into effect in New York City, with some exceptions.
Separately in D.C., Mayor Muriel Bowser (D) released a budget plan for the 2021 fiscal year this week that proposes to shift regulatory and licensing responsibilities for the city's current medical cannabis program from the Department of Health to the Alcoholic Beverage Regulation Administration. Advocates see that as a signal that the mayor is setting the stage for establishing a system of legal marijuana sales once federal restrictions are lifted.
U.S. Virgin Islands Governor Unveils Revised Marijuana Legalization Bill
Photo courtesy of Brian Shamblen.
Colorado Governor Grants Thousands Of Marijuana Pardons With New Clemency Powers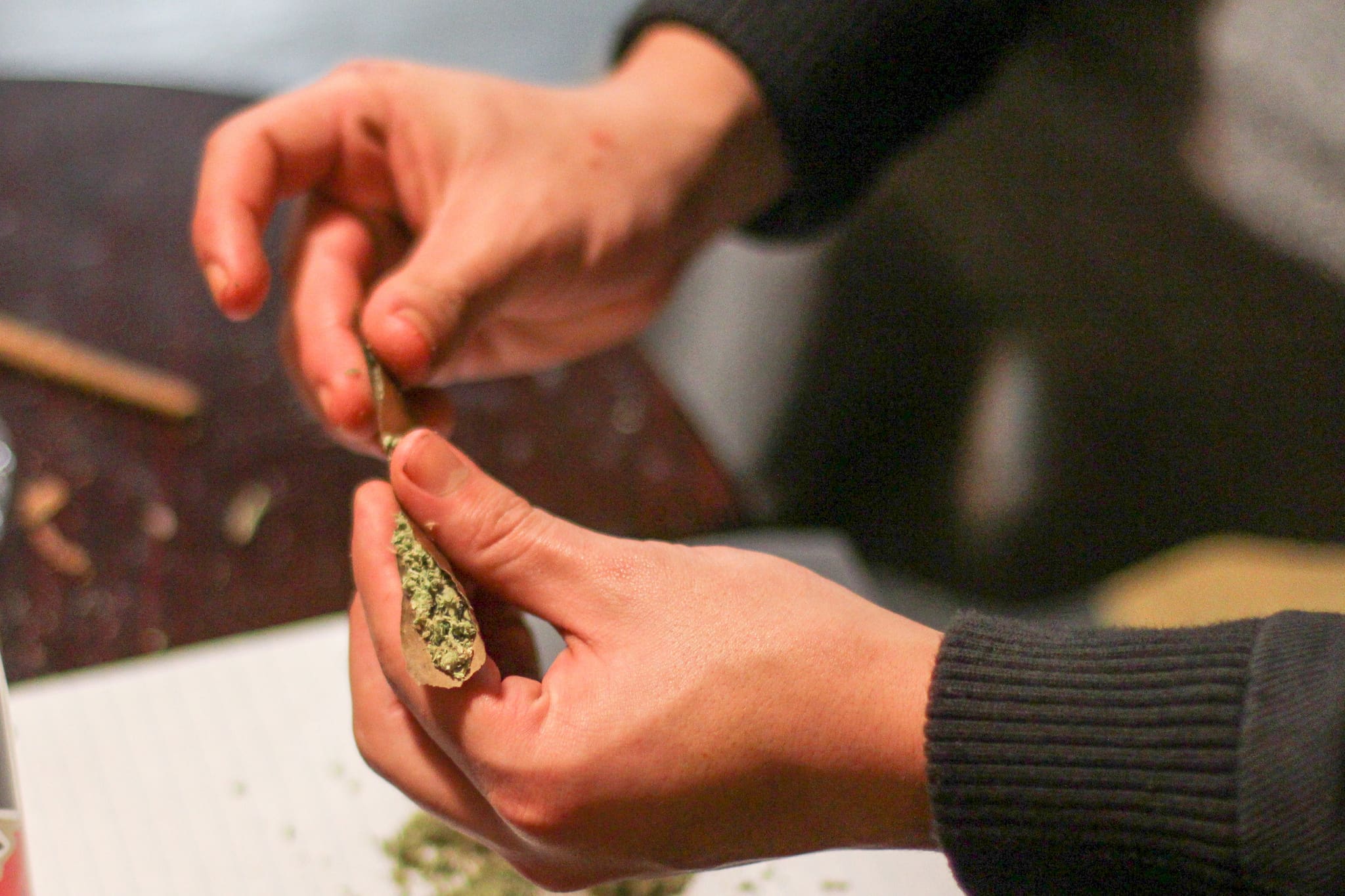 The governor of Colorado on Thursday signed an executive order granting nearly 3,000 pardons for people convicted of possession one ounce of less of marijuana.
Pursuant to a new law that he signed in June, Gov. Jared Polis (D) made the pardons on the first day the policy took effect. While the law gives him authority to grant clemency for cases of possession of up to two ounces, his office explained that he limited it to one ounce because that's the legal possession limit under Colorado's cannabis program.
"We are finally cleaning up some of the inequities of the past by pardoning 2,732 convictions for Coloradans who simply had an ounce of marijuana or less," Polis said in a press release. "It's ridiculous how being written up for smoking a joint in the 1970's has followed some Coloradans throughout their lives and gotten in the way of their success."
Thank you to @repjamescoleman, Sen. Julie Gonzales (@SenadoraJulie), and Sen. @VickiMarble for sponsoring this historic bill. Rep. @leslieherod and Rep. Jonathan Singer (@Singer4BoCo) were also champions of passing this legislation.

— Governor Jared Polis (@GovofCO) October 1, 2020
Convictions impacted by the governor's action range from those that took place in 1978 though 2012.
"Too many Coloradans have been followed their entire lives by a conviction for something that is no longer a crime, and these convictions have impacted their job status, housing, and countless other areas of their lives," he added. "Today we are taking this step toward creating a more just system and breaking down barriers to help transform people's lives as well as coming to terms with one aspect of the past, failed policy of marijuana prohibition."
The new law allows the governor to use his clemency power for cannabis offenses without consulting with prosecutors and judges involved in the cases, as is typically required under statute.
"For the individuals pardoned in this Executive Order, all rights of citizenship associated with the pardoned conviction are restored in full without condition," the order states. "All civil disabilities and public sufferings associated with the pardoned conviction are removed."
People who are eligible for the pardons don't have to do anything to clear their own records; it's automated, and individuals can check a website to see if they've been processed.
Those who have municipal marijuana convictions, or who were arrested or given a summons, don't qualify for the pardon. The action only applies to state-level convictions.
A frequently asked questions document states that while Polis has declined for now to use the full extend of his pardon power by applying it to people with convictions of up one to two ounces, the "administration will continue to evaluate" cases that could receive clemency. A representative from the governor's office did not immediately respond to a question from Marijuana Moment about whether plans are imminent to expand the pardon pool.
The governor's action also calls on the state Department of Public Health to "develop a process to indicate on criminal background checks which individuals' convictions have been pardoned pursuant to this Executive Order."
Colorado isn't alone in pursuing opportunities to enact marijuana-focused restorative justice policies.
In June, more than 15,000 people who were convicted for low-level marijuana possession in Nevada were automatically pardoned under a resolution from the governor.
The governors of Washington State and Illinois have both issued pardons for cannabis offenses since their states legalized the plant.
Polis told Westword that beyond the practical benefits of having these records cleared, the move is "also symbolically important, because it shows that as a state and nation, we're coming to terms with the incorrect discriminatory laws of the past that penalized people for possession of small amounts of marijuana."
Marijuana Arrests Decline Nationally For First Time In Four Years, FBI Data Shows
Photo courtesy of Martin Alonso.
Marijuana Arrests Decline Nationally For First Time In Four Years, FBI Data Shows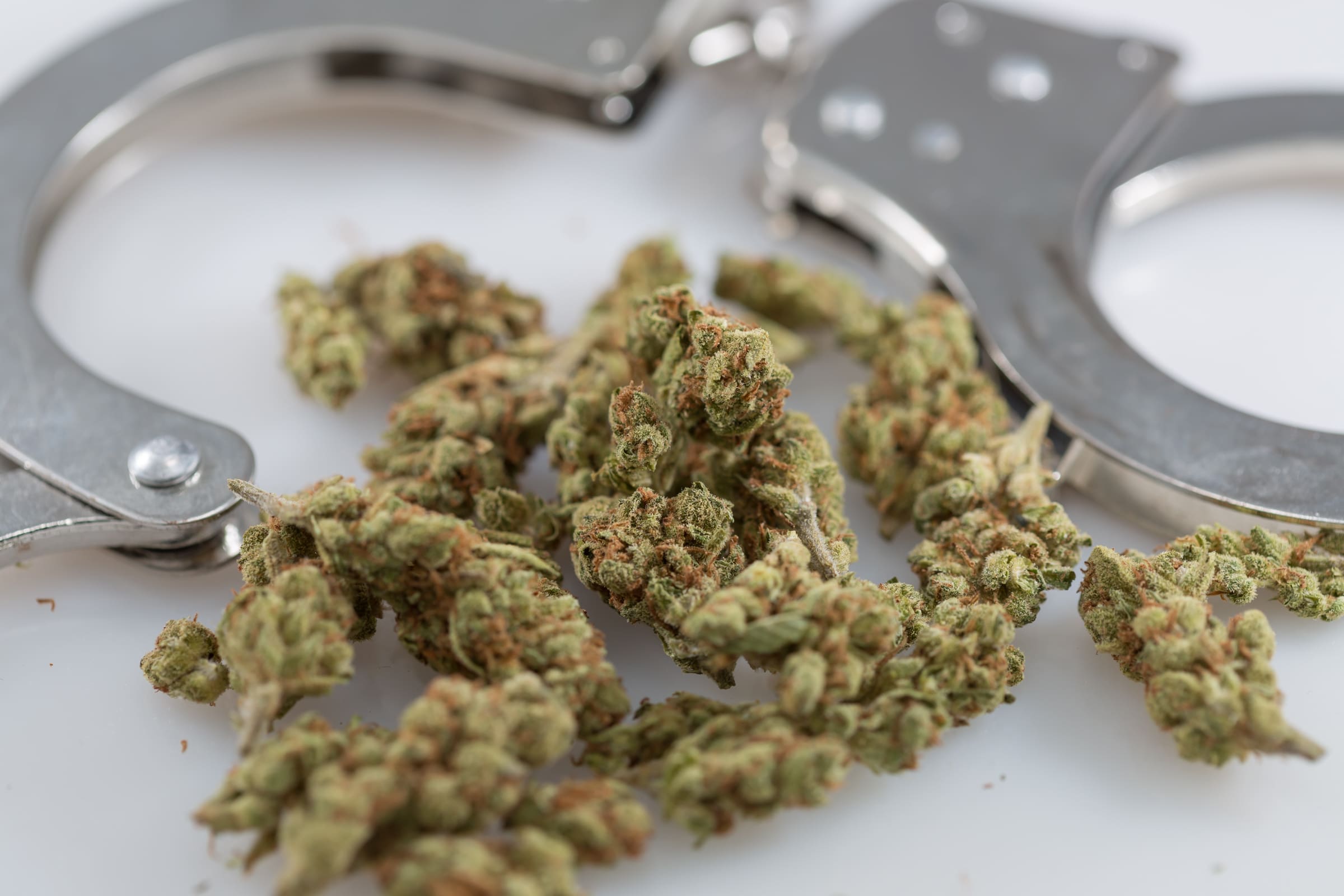 Marijuana arrests in the U.S. declined in 2019 for the first time in four years, a new federal report shows.
While many expected the state-level legalization movement to reduce cannabis arrests as more markets went online, that wasn't the case in 2016, 2017 or 2018, which each saw slight upticks in marijuana busts year-over-year. But last year there was a notable dip, the data published this week shows.
There were a total of 545,601 marijuana arrests in 2019—representing 35 percent of all drug arrests—according to FBI's Uniform Crime Reporting program. That's down from 663,367 the prior year and 659,700 in 2017.
Put another way, police across the country made a cannabis bust every 58 seconds on average last year. Of those arrests, 500,394 (92 percent) were for possession alone.
"A decline in cannabis related arrests is better than seeing an increase for a fourth year in a row, but the amount of these arrests is still abhorrent," Marijuana Policy Project Executive Director Steve Hawkins told Marijuana Moment. "There is no reason to continue punishing adults for consuming a substance that is less harmful than alcohol. Arresting adult cannabis consumers has a dramatically disproportionate impact on communities of color, is a massive waste of law enforcement officials' time and resources and does nothing to improve public health or safety."
Overall, arrests for drug sales, manufacturing and possession amounted to 1,558,862 for the year—approximately 15 percent of all busts reported to FBI from local and state law enforcement agencies. That's one new drug case every 20 seconds.
Before 2016, the country had seen a consistent decline in marijuana arrests for roughly a decade. It should be noted, however, that not all local police participate in the federal agency's program, so these figures are not holistic.
Nonetheless, this data shows that American law enforcement carried out more arrests for marijuana alone than for murder, rape, robbery, burglary, fraud and embezzlement combined.
"At a time when a super-majority of Americans support marijuana legalization, law enforcement continues to harass otherwise law abiding citizens at an alarming rate," NORML Political Director Justin Strekal told Marijuana Moment. "Now is the time for the public to collectively demand that enough is enough: end prohibition and expunge the criminal records to no longer hold people back from achieving their potential."
While there's no solitary factor that can explain the recent downward trend in cannabis cases, there are one-off trends that could inform the data. For example, marijuana possession arrests fell almost 30 percent in Texas from 2018 to 2019, and that seems to be connected to the legalization of hemp and resulting difficulties police have had in differentiating the still-illegal version of the cannabis crop from its newly legal non-intoxicating cousin.
At the federal level, prosecutions for marijuana trafficking declined in 2019, and drug possession cases overall saw an even more dramatic decline, according to a report published by the U.S. Sentencing Commission in March.
Federal prosecutions of drug-related crimes increased in 2019, but cases involving marijuana dropped by more than a quarter, according to an end-of-year report released by Supreme Court Chief Justice John Roberts in December.
A study released by the Cato Institute in 2018 found that "state-level marijuana legalization has significantly undercut marijuana smuggling."
Mixed Arizona Marijuana Polls Raise Questions About Legalization Ballot Measure's Prospects
California Governor Approves Changes To Marijuana Banking And Labeling Laws
California Gov. Gavin Newsom (D) signed a handful of marijuana bills into law on Tuesday, making a series of small adjustments to the nation's largest legal cannabis system. More sweeping proposals such as overhauling the state's marijuana regulatory structure will have to wait until next year, the governor said.
Among the biggest of the new changes are revisions to banking and advertising laws. With many legal marijuana businesses are still unable to access financial services, Newsom signed a bill (AB 1525) to remove state penalties against banks that work with cannabis clients.
"This bill has the potential to increase the provisions of financial services to the legal cannabis industry," Newsom wrote in a signing statement, "and for that reason, I support it."
Democrats in Congress, meanwhile, have been working for months to remove obstacles to these businesses' access to financial services at the federal level. A coronavirus relief bill released by House Democratic leaders on Monday is the latest piece of legislation to include marijuana banking protections. Past efforts to include such provisions have been scuttled by Senate Republicans.
In his signing statement on the banking bill, Newsom directed state cannabis regulators to establish rules meant to protect the privacy of marijuana businesses that seek financial services, urging that data be kept confidential and is used only "for the provision of financial services to support licensees."
Another bill (SB 67) the governor signed on Tuesday will finally establish a cannabis appellation program, meant to indicate where marijuana is grown and how that might influence its character. The system is similar to how wine regions are regulated.
Under the new law, growers and processors under the new law will be forbidden from using the name of a city or other designated region in product marketing unless all of that product's cannabis is grown in that region. Similar protections already apply at the county level.
For outdoor growers, the new law recognizes the importance of terrior—the unique combination of soil, sun and other environmental factors that can influence the character of a cannabis plant. For indoor growers, it provides a way to represent a hometown or cash in on regional cachet.
Most of the other new changes that the governor signed into law are relatively minor and will likely go unnoticed by consumers. One, for example, builds in more wiggle room on the amount of THC in edibles (AB 1458), while another would allow state-licensed cannabis testing labs to provide services to law enforcement (SB 1244).
The bills were approved by state lawmakers earlier this month, as the state's legislative session drew to a close.
Other pieces of cannabis legislation passed by the legislature this session were met with the governor's veto. On Tuesday, Newsom rejected a proposal (AB 1470) that would have allowed processors to submit unpackaged products to testing labs, which industry lobbyists said would reduce costs. Currently products must be submitted in their final form, complete with retail packaging. Newsom said the proposal "conflicts with current regulations…that prevent contaminated and unsafe products from entering the retail market."
"While I support reducing packaging waste, allowing products to be tested not in their final form could result in consumer harm and have a disproportionate impact on small operators," Newsom said in a veto statement.
Those changes to testing procedures should instead be considered next year, Newsom said, as part of a pending plan to streamline California's cannabis licensing and regulatory agencies.
"I have directed my administration to consolidate the state regulatory agencies that currently enforce cannabis health and safety standards to pursue all appropriate measures to ease costs and reduce unnecessary packaging," he wrote. "This proposal should be considered as part of that process."
Newsom also last week vetoed a bill (AB 545) that would have begun to dissolve the state Bureau of Cannabis Control, which oversees the legal industry. In a statement, the governor called that legislation "premature" given his plans for broader reform.
"My Administration has proposed consolidating the regulatory authority currently divided between three state entities into one single department," Newsom wrote, "which we hope to achieve next year in partnership with the Legislature."
Earlier this month, the governor signed into law one of the industry's top priorities for the year—a measure (AB 1872) that freezes state cannabis cultivation and excise taxes for the entirety of 2021. The law is intended to provide financial stability for cannabis businesses in California, where taxes on marijuana are among the highest in the nation.
The state's leading marijuana trade group, the California Cannabis Industry Association (CCIA), applauded the governor's moves. All the bills approved by Newsom this week had the industry group's support.
"We thank Governor Newsom for prioritizing these bills, which seek to reduce regulatory burdens, improve enforcement, expand financial services and enhance the state's cannabis appellation's program," CCIA Executive Director Lindsay Robinson said in a message to supporters on Wednesday. "Like so many, the cannabis industry has faced a series of unexpected challenges and setbacks in 2020. We look forward to continuing to work with the Newsom Administration, and the Legislature, as we pursue a robust policy agenda in 2021."
New Jersey Governor Works To Get Out The Vote For Marijuana Legalization Referendum
Image element courtesy of Gage Skidmore