Oregon Campaigns To Legalize Psilocybin Mushrooms And Decriminalize Drugs Team Up To Qualify For Ballot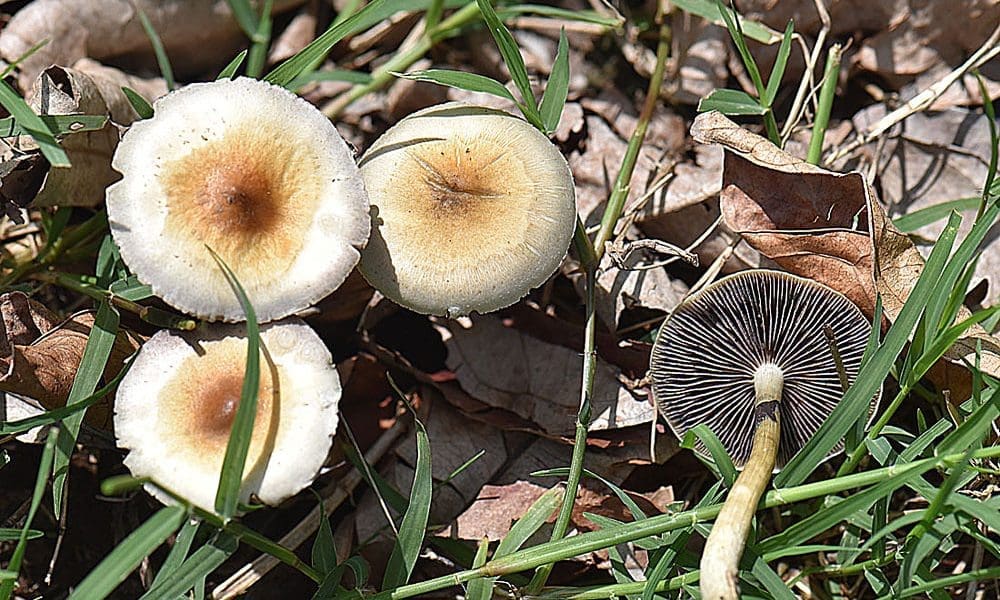 Two drug policy reform campaigns in Oregon are teaming up as they both work to collect enough signatures to qualify for the state's November ballot.
Activists behind an effort to legalize psilocybin mushrooms for therapeutic use and another to decriminalize all currently illicit drugs and expand substance misuse treatment are partnering to ensure mutual success. It's a collaboration that is one of the clearest signs of the times, with advocates increasingly exploring broader reform beyond legalizing marijuana.
Both campaigns sent out email blasts over the past week encouraging their supporters to sign petitions for the other measure.
Sam Chapman, campaign manager of the psilocybin legalization initiative, wrote that the decriminalization and treatment measure "will greatly expand addiction and recovery services using a portion of existing marijuana revenues" and also "end the cruel and ineffective policy of making criminals of people struggling with addiction by decriminalizing the possession of small amounts of drugs."
"This measure will be a game-changer. But only if it gets on the ballot," he told supporters last Monday. "We at the IP 34 campaign strongly support them, as they support us. Both campaigns are working together. We are asking every supporter of IP 34 to download and sign the petition for IP 44 today."
On Friday, the drug decriminalization and treatment campaign similarly sent out a call for action, urging their supporters to back the psilocybin measure.
"What's one thing that's hard to do while social distancing? Helping good and positive ballot measures qualify for the ballot," the group's chief petitioner, Anthony Johnson, said. "IP 34 would give all Oregonians access to a new treatment option through psilocybin therapy was weeks away from qualification. And then it just stopped cold, and now, just like the friendly hug you've replaced with a Zoom call we're forced to try to replace face to face democracy with a brand new kind of organizing."
"We all know that the physical distance the pandemic has put between us has stressed our mental health. IP 34 initiative is designed to help people with depression and anxiety—which describes almost all of us now—get a new treatment option that research shows can really help," he said. "But they can only build a system for this new option in Oregon if they qualify and pass IP 34, and to do that they need you."
Johnson previously served as a chief petitioner for the state's successful 2014 marijuana legalization ballot measure.
Tom Eckert, a chief petitioner for the psilocybin effort told Marijuana Moment that "IP 34 and IP 44 have always enjoyed a supportive relationship with regard to gathering signatures, and that will certainly continue until both campaigns cross the finish line and make the November ballot."
IP 34 would make Oregon the first jurisdiction in the U.S. to implement a therapeutic legalization model for psilocybin mushrooms.
IP 44 places an emphasis on expanding drug treatment programs through the use of funds derived from existing marijuana tax revenues. At the same time, it would promote treating drug addiction as a health issue by decriminalizing illegal substances. Low-level possession would instead be considered a civil infraction punishable by a maximum $100 fine and no jail time.
While both campaigns have faced setbacks due to the coronavirus pandemic, which forced the suspension of in-person signature gathering and other traditional outreach activities, they're also within reach of qualifying and have developed new strategies to make up for lost time.
The activists, for example, are hosting group video chat organizing calls, orchestrating texting and social media communications and calling prospective voters on the phone. The aim is to encourage residents to fill out petitions and mail them in to organizers.
This new partnership is the latest development, with both groups leveraging their respective audiences to assist each other.
To qualify, each measure needs 112,020 valid signatures from registered voters ahead of a July 2 deadline.
Here's a status update on other drug policy reform efforts throughout the country: 
Activists in Washington State are also working on a similar drug decriminalization and treatment measure.
Washington, D.C. activists behind a psychedelics decriminalization campaign are more confident that they will be able to make the ballot after the District Council voted in favor of a series of changes to signature gathering protocol last week. Their petition has also been approved by the Board of Elections. The campaign has a new strategy to test the waters and deliver petitions and mailers directly to voters who could then sign and send them back to their headquarters.
Montana advocates announced last week that they will resume signature gathering for a marijuana legalization initiative with new safety protocols in place.
In Arizona, the organizers of a legalization effort are petitioning the state Supreme Court to instruct the secretary of state to allow people to sign cannabis petitions digitally using an existing electronic system that is currently reserved for individual candidates seeking public office.
Activists behind a campaign to legalize medical cannabis in Nebraska are holding out hope that they will qualify for their state's ballot and recently unveiled a new strategy amid the pandemic that includes using disposable pens and social distancing measures.
California activists had hoped to get a measure to legalize psilocybin on the state's November ballot, but the campaign stalled out amid the coronavirus pandemic.
A California campaign seeking to amend the state's cannabis law asked for a digital petitioning option, but state officials haven't signed on.
A campaign to legalize cannabis in Missouri officially gave up its effort for 2020 due to signature collection being virtually impossible in the face of social distancing measures.
North Dakota activists said they plan to continue campaign activities for a marijuana legalization initiative, but it's more likely that they will seek qualification for the 2022 ballot.
Idaho medical cannabis activists announced that they are suspending their ballot campaign, though they are still "focusing on distributing petitions through online download at IdahoCann.co and encouraging every volunteer who has downloaded a petition to get them turned in to their county clerk's office by mail, regardless of how many signatures they have collected."
In New York, Gov. Andrew Cuomo (D) conceded that the 2020 legalization push is "effectively over" in the legislature. Coronavirus shifted priorities, and comprehensive cannabis reform seems to have proved too complicated an issue in the short-term.
Prior to the COVID-19 outbreak and stay-at-home mandates, measures to legalize marijuana for medical and recreational purposes qualified for South Dakota's November ballot.
The New Jersey legislature approved putting a cannabis legalization referendum before voters as well.
And in Mississippi, activists gathered enough signatures to qualify a medical cannabis legalization initiative for the ballot—though lawmakers also approved a competing (and from advocates' standpoint, less desirable) medical marijuana proposal that will appear alongside the campaign-backed initiative.
Maryland Governor Vetoes Bill To Shield Marijuana Conviction Records From Public View
Photo courtesy of Dick Culbert