DEA Sued By Doctor Who Wants Permission To Give Psilocybin Mushrooms To Patients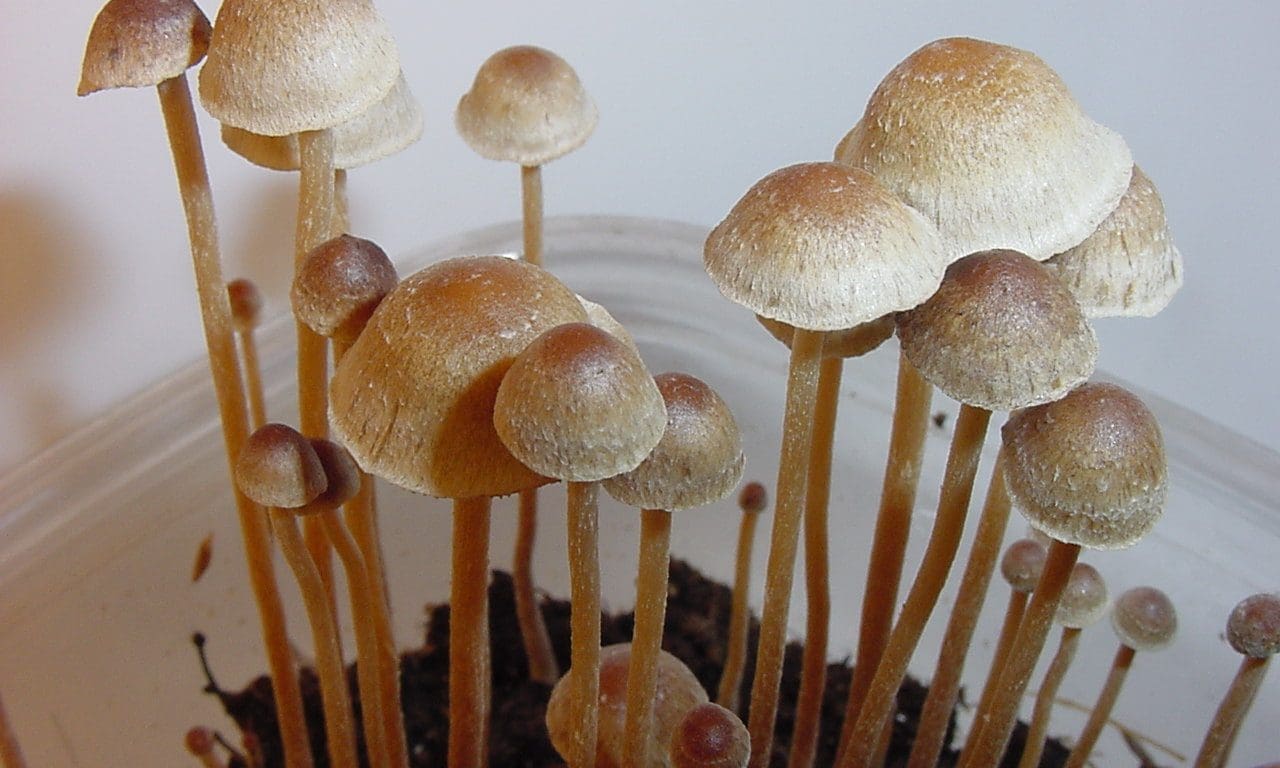 A Seattle doctor hoping to expand access to psilocybin mushrooms for terminally ill cancer patients is taking the U.S. Drug Enforcement Administration (DEA) to court over the agency's recent denial of an application to legally use the psychedelic in end-of-life treatment.
Attorneys filed a lawsuit Monday in the U.S. Circuit Court of Appeals for the Ninth Circuit, arguing that DEA's denial of the application was unfounded. They're asking judges to throw out the decision and force the agency to "expeditiously reconsider and accommodate valid requests made from qualified health providers for the therapeutic use of the eligible investigation drug psilocybin."
"It is a first-of-its-kind lawsuit," lead attorney Kathyn Tucker said on a press call on Tuesday. "The case is about seeking to ensure that patients with serious, life-threatening illness are able to realize the promise of state and federal right-to-try laws and access psilocybin for therapeutic."
The push to expand patient access began last year, when Dr. Sunil Aggarwal, who specializes in end-of-life care, began searching for a legal way to obtain psilocybin for treating patients. In November, he began applying to state and federal regulators for approval to cultivate psilocybin mushrooms and use them in treatment.
"We know that it's a naturally occurring substance that we can cultivate safely, we know how to dose it and there's really good reason to believe it can help," Aggarwal told Marijuana Moment at the time.
Aggarwal's team argues that psilocybin should be made available under state and federal right-to-try laws, relatively new policies that give patients with terminal conditions the opportunity to try investigational medications that have not been approved for general use. Washington state adopted a right-to-try law in 2017. President Donald Trump signed the federal Right to Try Act the following year. Dozens of other states have also passed right-to-try laws.
Aggarwal and the clinic where he works, the Advanced Integrative Medical Science (AIMS) Institute, wrote to DEA in January asking for guidance on how to move forward on psilocybin, which remains a Schedule I controlled substance, under right-to-try laws.
"What we hoped the DEA would be doing under right-to-try is creating a user-friendly approach to how clinicians like Dr. Aggarwal can navigate the system to obtain an eligible investigational drug for an eligible patient," Tucker said on the press call.
Instead DEA rejected the application, replying in a February 12 letter that the agency lacks the authority to waive the federal Controlled Substances Act, despite what the federal Right to Try Act says. The only way to dispense psilocybin legally, the agency added, would be to apply for a federal research permit, which "would not be applicable to Dr. Aggarwal at this time."
In response, Aggarwal and the AIMS Institute filed their petition for review this week. At Tuesday's press conference, he criticized DEA's decision as an obstacle for terminally ill patients who simply want to improve their quality of life.
"This is absolutely unacceptable for their care, because they have this right under the law, and the law states that that medicines like this should be made available expeditiously for patients," Aggarwal said. "I'm hoping that the judges who look at that will take into consideration the great potential [of psilocybin], the suffering of my patients, and the law and what their rights are."
Tucker, the lead attorney in the suit, explained that psilocybin seems to fit the criteria listed in state and federal right-to-try laws, having completed a Phase I research trial and remaining under active investigation. "Psilocybin, hence, is what the right-to-try laws designate as an eligible investigational drug," she said.
The team noted noted that health regulators in Canada have already extended legal exemptions to certain patients seeking to use psilocybin in end-of-life care. Officials there granted the first such exemption in August of last year, and in December the country's health minister said some therapists and health care professionals could also legally use the drug.
One of the patients represented in the new lawsuit is Erinn Baldeschweiler, a mother of two who has been diagnosed with stage four metastatic breast cancer. Psilocybin, she believes, could help ease the emotional trauma of a terminal diagnosis.
"Whatever remaining time I have left," Baldeschwiler said, "I want to have the highest quality of life."
This isn't the first time DEA has found itself battling lawsuits over the criminalization of controlled substances that hold therapeutic value.
Scientists and veterans sued the federal agency last year, arguing that the legal basis DEA has used to justify keeping marijuana in Schedule I of the Controlled Substances Act is unconstitutional. They asked for a review of its decisions to reject rescheduling petitions in 2020, 2016 and 1992. DEA subsequently requested that the court dismiss that suit.
The agency has also been taken to court over delays in approving additional cannabis manufacturers for research purposes.
The Scottsdale Research Institute alleged that DEA has been deliberately using delay tactics to avoid approving cultivation applications. A court mandated that the agency take steps to make good on its promise, and that suit was dropped after DEA provided a status update.
In March 2020, DEA finally unveiled a revised rule change proposal that it said was necessary due to the high volume of applicants and to address potential complications related to international treaties to which the U.S. is a party.
But the new psychedelics-related litigation is unique and reflects the growing public interest in loosening laws governing plant- and fungi-based materials, particularly for medical use.
A New York lawmaker filed a bill on Monday to decriminalize psychedelic mushrooms in the state, for example.
Six cities—Oakland, Santa Cruz, Ann Arbor, Washington, D.C., Somerville and Cambridge—have decriminalized possession of a broader collection psychedelics since Denver became the first to deprioritize enforcement against psilocybin in 2019. Activists in Spokane, Washington have also recently submitted a similar reform proposal to local lawmakers.
In Oregon, voters approved historic initiatives to legalize psilocybin for therapeutic purposes and decriminalize drugs more broadly in November.
Legislators in California, Connecticut, Florida, Hawaii, Kansas, Missouri, Washington State and Virginia are also considering psychedelics and drug policy reform bills for the 2021 session.
A Republican lawmaker in Iowa introduced a bill to remove psilocybin from the list of controlled substances, which received a subcommittee hearing last week but did not advance. He also filed another piece of legislation to let seriously ill patients use psychedelic mushrooms, LSD, DMT and other drugs.
Read the full psilocybin lawsuit against DEA and related correspondence below:
DEA Psilocybin Lawsuit by Marijuana Moment
New York Lawmaker Files Bill To Decriminalize Psilocybin Mushrooms