Researchers Accuse DEA Of Using Delay Tactics To Avoid Approving Marijuana Farms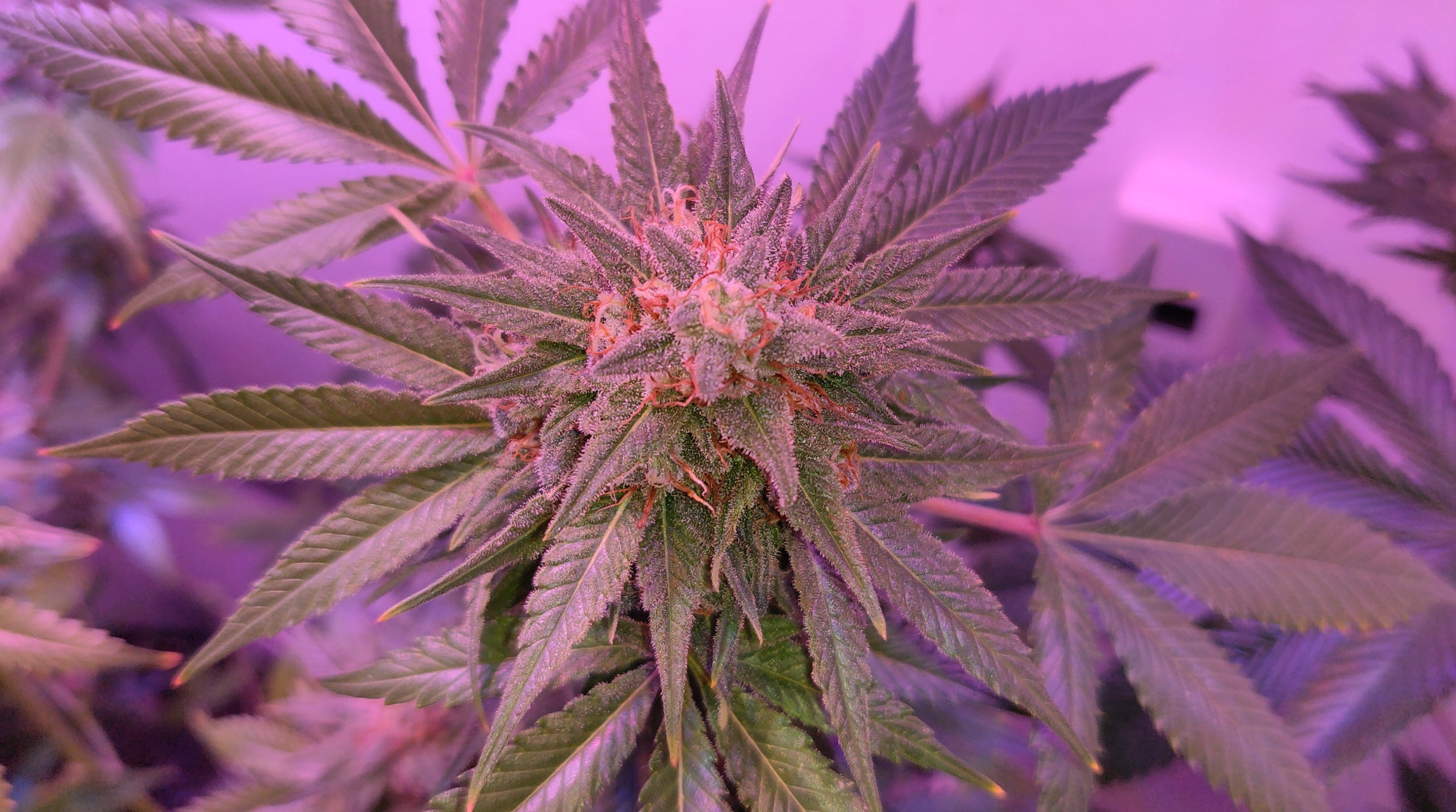 The Drug Enforcement Administration (DEA) is deliberately using delay tactics to avoid approving additional marijuana manufacturers for research purposes, the Scottsdale Research Institute (SRI) alleged in a court filing on Wednesday.
DEA said late last month that it would take steps to approve applications for federally authorized cannabis farms—three years after it announced that such proposals would be accepted—but the agency also said it had to develop new rules for the process due to a high level of interest.
SRI isn't buying it. In the filing with the U.S. Court of Appeals for the D.C. Circuit, which was first reported by Politico, the institute argued that the rulemaking process demonstrates DEA is "ignoring its duty to make an up-or-down decision on SRI's application within the timeframe Congress intended."
"SRI sought an order compelling DEA to take a simple but important step to guarantee prompt processing of its application. What it got was more delay—the very delay that prompted the filing of this action," the filing states. "As a result, the controversy is more intense than ever. This case is not moot."
In June, SRI filed its original suit against DEA over its inaction on a manufacturer application. The following month, the court ordered DEA to respond to the petition within 30 days, and just one day before that deadline, the agency made its announcement about processing applications but did not provide an actionable timeline for approvals.
Now SRI is asking the court not to close the case and to retain jurisdiction over the matter
"Even in cases where this Court has declined to issue a writ of mandamus, it has retained jurisdiction to ensure the agency acts with appropriate dispatch going forward. The writ should issue, for the reasons stated above and in the Amended Petition. But in any case, the Court should retain jurisdiction."
It's not clear what's behind the extensive delay, especially given that Attorney General William Barr has said that he supports expanding cannabis farms for research, and it's an issue that's received significant bipartisan attention in Congress.
At issue is the fact that marijuana cultivated at what is currently the only federally authorized source—a facility at the University of Mississippi—is not reflective of products on commercial markets and is chemically closer to hemp than marijuana from state-legal dispensaries, research has indicated. That calls into question the findings of studies that rely on the federal government's cannabis.
Another problem associated with having only one facility is that there's growing demand for marijuana for studies. DEA acknowledged as much on Wednesday when it posted a notice of its requested 2020 quota for cannabis—3.2 million grams, more than a 30 percent increase from this year's quota.
DEA said it will take additional time to develop rules to process the applications because of the volume of petitions, but SRI noted that the reason there's such a backlog is "only because DEA inexplicably and unlawfully failed to process a single application to manufacture marijuana for three years."
"DEA can't use the consequences of its past egregious delays to justify even more unlawful delays going forward," the filing states.
DEA Wants 3.2 Million Grams Of Marijuana Legally Grown In 2020
Photo courtesy of Mike Latimer.
Civil Rights Groups Urge Congress To Delay Marijuana Banking Vote
A coalition of organizations including the American Civil Liberties Union, Human Rights Watch and Drug Policy Alliance is urging congressional Democratic leaders to delay a planned vote on a marijuana banking bill next week until more far-reaching legislation ending federal cannabis prohibition advances first.
"We are concerned that if the House approves this bill, it will undermine broader and more inclusive efforts to reform our country's marijuana laws," the groups wrote to House Speaker Nancy Pelosi (D-CA) and House Majority Leader Steny Hoyer (D-MD) in a letter on Tuesday.
Hoyer's office confirmed to Marijuana Moment last week that the House planned to vote on the cannabis financial services legislation by the end of the month.
"The Congress has a unique opportunity to address the myriad injustices created by this nation's marijuana laws. For decades, people of color have suffered under harsh and racially-biased marijuana laws," the groups, which also include Center for American Progress, Leadership Conference on Civil and Human Rights and JustLeadershipUSA, wrote. "The banking bill does not address marijuana reform holistically. Instead, it narrowly addresses the issues of banking and improved access to financial services, measures that would benefit the marijuana industry, not communities who have felt the brunt of prohibition."
The letter is the most public sign yet of a dispute that has been brewing among advocates in the marijuana policy reform movement, with some seeing a successful vote on banking legislation as demonstrating momentum for broader reform and others expressing concern that the financial services proposal primarily helps the industry and could take the wind out of the sails of a full-scale push to end prohibition.
Advocates who want broader reform have focused on a bill that House Judiciary Committee Chairman Jerrold Nadler (D-NY) filed this summer that would remove cannabis from the Controlled Substances Act and invest money into programs aimed at repairing the harms of the war on drugs, which has been waged in a racially disproportionate manner.
"Individuals and communities who are still suffering from the destabilizing collateral consequences of prohibition need reform and should not be second in line behind the industry," Queen Adesuyi, policy coordinator for Drug Policy Alliance, told Marijuana Moment. "We need to ensure that the sequencing of federal marijuana bills, especially under House Democratic Leadership, is well thought out and done in a way that centers the millions directly impacted by overenforcement. We want to avoid the banking bill becoming Congress' only bite at the apple for cannabis reform this session."
Nadler's bill, the Marijuana Opportunity Reinvestment and Expungement (MORE) Act, has been referred by House leadership to eight committees, none of which—including his own—have scheduled a vote on it. The financial services legislation—the Secure and Fair Enforcement (SAFE) Banking Act—cleared a committee with a bipartisan vote in March and has been waiting on the House calendar for floor action for months.
"It's a difference in tactics, not desired outcomes," NORML Political Director Justin Strekal, who supports going forward with the banking vote next week, told Marijuana Moment. "It's our hope that the SAFE Banking vote demonstrates which members of Congress are willing to recognize the successes of state level reforms as we continue to move the MORE Act through the committee process."
Morgan Fox, media relations director for the National Cannabis Industry Association, took a similar view.
"The SAFE Banking Act is a necessary reform that would represent a major step toward more sensible cannabis laws, and it's looking increasingly likely that it can actually pass soon," he said. "We have an opportunity to end policies that actively endanger people, hurt small businesses, and stymie equitable participation in the cannabis industry. Banking reform is certainly not the end of the road, and the industry is committed to working in support of far more comprehensive reforms that more fully address the harms caused by prohibition. Passage of this legislation will only add momentum to those efforts."
But the groups signing the new letter disagree.
"Marijuana legislation must first address the equity and criminal justice reform consequences of prohibition," they wrote to Pelosi and Hoyer.
"To be clear, we recognize the challenges facing marijuana businesses that lack access to financial services. However, we believe it is a mistake to move this issue forward while many of the other consequences of marijuana prohibition remain unresolved," they wrote in urging the House not to vote on cannabis financial services legislation next week. "The banking bill does not solve the underlying problems of marijuana prohibition – namely, that many people of color have been saddled with criminal records for a substance that is now legal in many states, and that communities have been shut out of the emerging and booming marijuana industry."
Meanwhile, on the other side of Capitol, Senate Banking Committee Chairman Mike Crapo (R-ID) said last week that he plans a vote on the marijuana banking bill in his panel by the end of the year. That chamber's version of the legislation got its 33rd senator signed on this week, meaning that it now has the proactive support of a third of the body's membership.
Because House leaders plan to bring the marijuana banking bill to the floor under a procedure known as suspension of the rules, which requires a two-thirds majority to pass, any Democratic votes lost as a result of the groups' opposition could jeopardize the legislation. The SAFE Banking Act currently has 207 lawmakers signed on, whereas 290 votes are needed to approve a bill under suspension.
"Since the start of the 116th Congress, we have expressed concern to House Leadership, the House Financial Services Committee, and member offices, that if the banking bill moved to the Floor before broader reform, it would jeopardize comprehensive marijuana reform," the concerned groups wrote in their letter. "Therefore, we have pushed for a conversation among advocates, Committee leadership, and House Leadership to formulate a plan for moving marijuana legislation in a way that is comprehensive and does not result in carve-outs for the industry and leave behind impacted communities."
"We ask that you delay any vote on the banking bill until agreement has been reached around broader marijuana reform," they said.
Read the full letter urging a delay on the marijuana banking vote below:
Groups Oppose Marijuana Ban… by Marijuana Moment on Scribd
This story has been updated to include comment from Drug Policy Alliance and National Cannabis Industry Association.
Mitch McConnell Tells FDA To Clear A Path For CBD Products Though Spending Bill Directive
Bernie Sanders Asks Campaign Rally Audience To Share Stories About Marijuana Arrests
Sen. Bernie Sanders (I-VT) asked an audience in South Carolina to share stories about marijuana possession convictions and then argued that those anecdotes help to demonstrate the case for national legalization.
During a campaign stop in the early primary state on Sunday, the 2020 Democratic presidential candidate asked people to raise their hands if they knew someone who'd been arrested for possessing cannabis. There was no shortage of hands raised.
"Holy God, whoa. That's a lot of people," Sanders said before asking for volunteers to go into detail.
"I got caught with about a joint and they took my license for a year and I lost my job," an audience member said. "Ended up losing my house, and it went worse from there."
The War on Drugs has been a disaster. It is time to legalize marijuana nationwide. pic.twitter.com/tehuM7xjxx

— Bernie Sanders (@BernieSanders) September 17, 2019
"Wow, this is for smoking a joint?" Sanders asked.
"Yeah, I had a little—like a dime bag in my car," the person said.
Another person in attendance who appeared in the campaign video Sanders released on Tuesday said that she visited a guilty plea court and witnessed "three different men get put in at least two years of prison just for anywhere from two grams to eight grams of marijuana found on them."
"That's why all over this country states are doing the right thing and either decriminalizing or legalizing the possession of marijuana," Sanders said to applause.
Since becoming the first major party presidential candidate to call for cannabis legalization in 2015, Sanders has continued to place an emphasis on the need for marijuana reform, with a focus on the racial injustices of prohibition.
Last month, he released a criminal justice reform plan that included proposals to legalize cannabis federally and also provide for safe injection sites to curb opioid overdoses.
But while Sanders has been a leading voice in the drug policy reform movement, he's said twice in recent weeks that he's not ready to embrace decriminalizing possession of drugs beside marijuana.
Joe Biden Says Marijuana Should Remain Illegal As A Misdemeanor At Democratic Debate
Photo courtesy of Lorie Shaull.
New York Gov. Cuomo Hints Marijuana Smoking Ban Could Be Part Of Next Legalization Push
New York Gov. Andrew Cuomo (D) seemed to suggest that he might want a ban on smoking marijuana included in legalization legislation when lawmakers take up the issue again next year.
During an interview with MSNBC on Sunday, the governor was asked whether the spike in apparent vaping-related lung injuries and deaths, which experts attribute to altered nicotine and cannabis oils primarily purchased on the illicit market, has made him reconsider pursuing legalization in the state.
"No," he said, adding that his administration is "not in favor of smoking marijuana" and that there are "ways to get THC without smoking marijuana."
"People are vaping THC, yes that is true," Cuomo said. "We think that from a public health point of view, that is not something that we recommend and we think it's dangerous—smoking of any kind."
"You can legalize marijuana and sell THC in compounds that do not require you to smoke the marijuana, and we do not support smoking of marijuana," he said. "There are compounds that have the THC, which is a compound in marijuana, that you don't smoke."
It's not entirely clear if Cuomo plans to ask for a smoking ban the next time a legalization bill emerges or if he was simply outlining an administrative position advising against smoking. A spokesperson for his office did not respond to Marijuana Moment's request for comment by the time of publication.
But while there was no ban on marijuana smoking included in legalization legislation that he worked to pass earlier this year, it wouldn't be entirely out of character given that he pushed for such a restriction as part of New York's medical cannabis program in legislation enacted in 2014.
The logic behind that policy, according to Cuomo, was that it would prevent people from abusing the program. If he moved to incorporate a ban for adult-use legalization, however, it would presumably be a public health decision.
That could create problems when lawmakers return to the negotiating table. In California, flower and concentrates represent about 70 percent of the marijuana market, meaning any attempt to ban smokeable cannabis will likely be met with pushback from consumers, industry stakeholders and civil liberties-minded reform advocates.
Industry players seemed to have influence when Cuomo included a ban on home cultivation for personal use in his prior legalization proposal—something a major medical cannabis association recommended in a policy statement submitted to the governor.
For the time being, however, there don't seem to be tangible plans to include a smoking ban in future cannabis legislation and it could be that the governor simply ends up pushing for public education campaigns discouraging the activity rather than keeping it illegal.
Cuomo has made clear that legalization would again be an administrative priority after negotiations failed to produce a passable bill last session.
In July, he signed legislation broadening New York's decriminalization law and creating a pathway for expungements for individuals with prior cannabis convictions.
Former White House Drug Czar Offers Marijuana Legalization Advice To Mexico
Photo courtesy of MSNBC.