Canada Will Let Terminally Ill Patients Use Psychedelic Mushrooms For End-Of-Life Care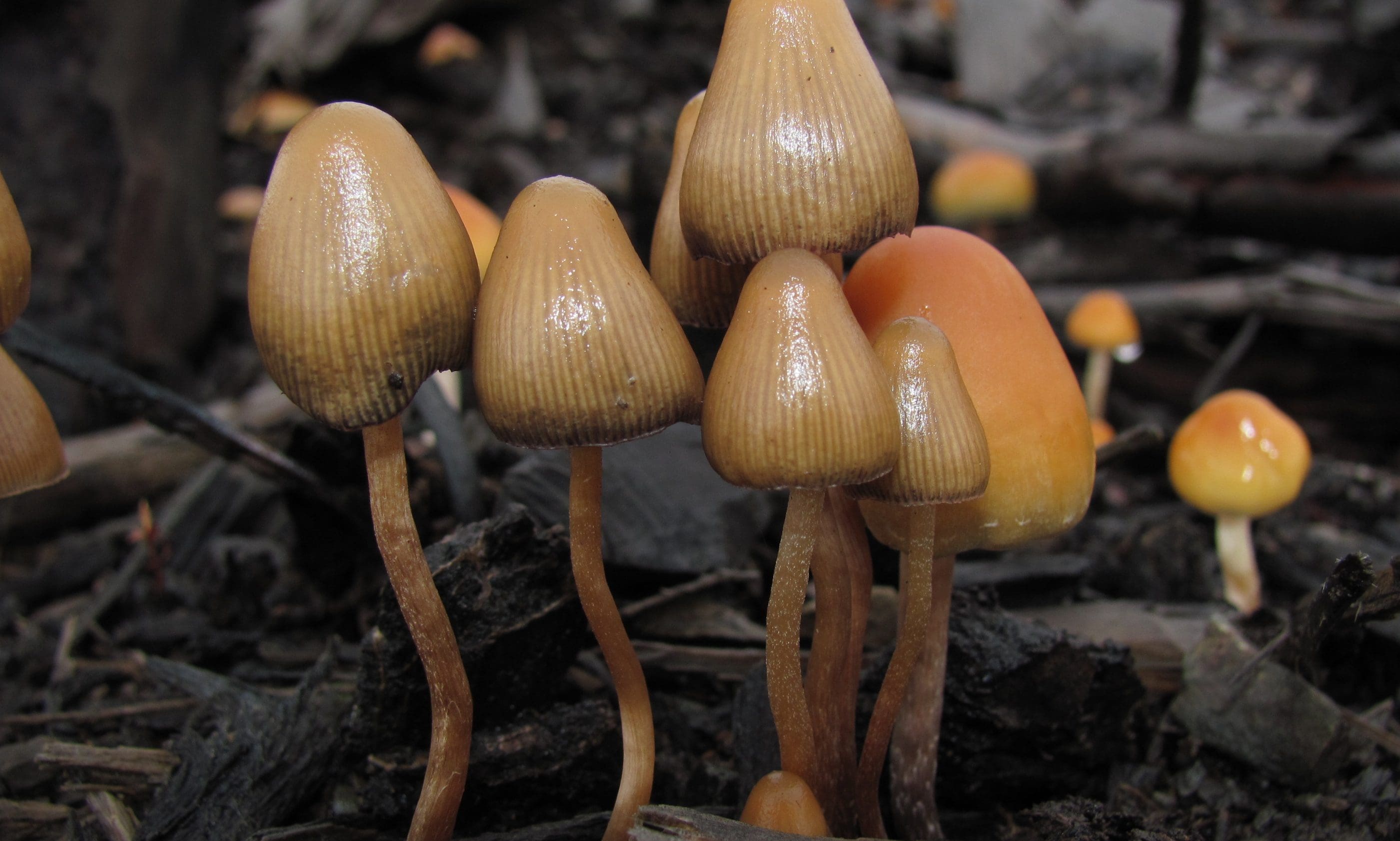 Four cancer patients in end-of-life care will be become the first people in decades to legally possess and consume psilocybin mushrooms in Canada after a landmark decision Tuesday by the country's minister of health.
The patients petitioned Health Minister Patty Hajdu back in April for exemptions from the country's laws against psilocybin in order to use psychedelic mushrooms as part of psychotherapy treatment. On Tuesday afternoon, Hajdu officially granted the patients' request, the nonprofit TheraPsil, which assisted with the application, announced.
The approvals mark the first publicly-known individuals to receive a legal exemption from the Canadian Drugs and Substances Act to access psychedelic therapy, Therapsil said, and the first medical patients to legally use psilocybin since the compound became illegal in Canada in 1974.
"This is the positive result that is possible when good people show genuine compassion. I'm so grateful that I can move forward with the next step of healing," one of the patients, Thomas Hartle, said in a statement Tuesday.
NEWS: 4 Palliative Canadians experiencing end-of-life distress have been APPROVED to access psychedelic therapy through section 56 exemptions. This historic decision marks the first known individuals to legally use #psilocybin since it's illegality in 1974.https://t.co/AUlzjvKGcm

— TheraPsil (@TheraPsil) August 4, 2020
The applicants, as well as various advocates for psychedelic therapy, had personally appealed to Hajdu via a concerted social media campaign during the months their applications were pending.
"Health Canada is committed to carefully and thoroughly reviewing each request for an exemption under the Controlled Drugs and Substances Act, on a case-by-case basis, taking into account all relevant considerations, including evidence of potential benefits and risks or harms to the health and safety of Canadians," a government spokesperson told Marijuana Moment in an email. "These exemptions do not change the fact that the sale and possession of magic mushrooms remain illegal in Canada."
In statements issued Tuesday, other patients thanked Hajdu and said they were optimistic that more patients will one day have safe, legal access to psilocybin for therapeutic use.
Minister @pattyhajdu please hear this message from Thomas Hartle: "I am one of the applicants that currently have a section 56 exemption that is in your hands…I just wanted to remind you that it has now been 100 days since some of the applications started coming to you." pic.twitter.com/5h0d8hfuUl

— TheraPsil (@TheraPsil) July 31, 2020
"I want to thank the Health Minister and Health Canada for approving my request for psilocybin use. The acknowledgement of the pain and anxiety that I have been suffering with means a lot to me, and I am feeling quite emotional today as a result," said Laurie Brooks, an applicant from British Columbia. "I hope this is just the beginning and that soon all Canadians will be able to access psilocybin, for therapeutic use, to help with the pain they are experiencing, without having to petition the government for months to gain permission."
TheraPsil said on Tuesday that it expects more people to petition the government for exemptions following the first four patients' approval. A separate request by the nonprofit to allow therapists to use psychedelics themselves in preparation for treating patients with psilocybin was not addressed in Tuesday's announcement, the group said.
The government, in its statement to Marijuana Moment, said that the use of "magic mushrooms also comes with risks, including increased heart rate and blood pressure, flashbacks and bad trips that may lead to risk-taking behaviour, traumatic injuries and even death."
All of the four patients who received the new exemptions have been diagnosed with untreatable cancer. Therapists who use psychedelics in their practices say that psilocybin-aided therapy sessions can help patients deal with issues such as depression and anxiety, allowing them to better accept death as a natural part of existence.
"At this point psilocybin is a reasonable medical choice for these individuals," TheraPsil's executive director, Spencer Hawkswell, told Marijuana Moment in an interview last month. "This is about the minister being compassionate and using her ministerial abilities to help give patients access to something that's going to help them."
The therapeutic potential of psychedelics has attracted attention in recent years from a growing number of academics, policy makers and even the U.S. government. In September of last year, Johns Hopkins University announced the launch of the nation's first-ever psychedelic research center, a $17-million project to study whether psychedelics can treat conditions such as opioid use disorder, Alzheimer's disease, depression, anxiety and post-traumatic stress disorder.
In June, the University of North Carolina (UNC) announced a $27 million project funded by the U.S. Department of Defense to research and develop an entirely new class of psychedelics-inspired drugs. The program, UNC said, "aims to create new medications to effectively and rapidly treat depression, anxiety, and substance abuse without major side effects."
Meanwhile, activists in the United States have advocated for state- and local-level reforms to research, decriminalize and in some cases even legalize psychedelics.
In May 2019, Denver became the first U.S. city to enact such a reform, with voters approving a measure that effectively decriminalized psilocybin possession. Soon after, officials in Oakland, California, decriminalized possession of all plant- and fungi-based psychedelics. In January of this year, the City Council in Santa Cruz, California, voted to make the enforcement of laws against psychedelics among the city's lowest enforcement priorities.
Reformers are pushing for similar changes in other jurisdictions. A proposal in Washington, D.C. would allow voters to decide this fall whether to decriminalize plant- and fungi-based psychedelic drugs, including psilocybin, ayahuasca and ibogaine. A decision on whether that initiative will make the ballot is expected later this week. In Oregon, voters in November will consider a measure that would decriminalize all drugs and expand access to treatment. A separate Oregon proposal would legalize psilocybin therapy—the same therapy sought by the Canadian cancer patients.
Lawmakers in Hawaii earlier this year approved a plan to study psilocybin mushrooms' medical applications with the goal of eventually legalizing access.
This story was updated with comment from Health Canada.
Psychedelic Therapists Petition Government For Permission To Dose Themselves In Order To Better Treat Patients
Photo courtesy of Wikimedia/Mushroom Observer.
House Rejects AOC Amendment To Promote Research Into Psychedelics' Medical Benefits
The U.S. House of Representatives rejected an amendment on Tuesday that was designed to free up research into the therapeutic potential of psychedelics. The body also addressed several other amendments related to cannabis.
Rep. Alexandria Ocasio-Cortez (D-NY) filed the psychedelics measure, which would remove a 1990s-era provision that's long been part of spending legislation for the Department of Health and Human Services (HHS). The congresswoman attempted to eliminate the language via an amendment in 2019 only to have it defeated by Republicans as well as a majority of her own party members in a resounding vote of 91-331.
Our amendment allows research on whether Schedule I drugs can treat disease. MDMA helps some vets with PTSD. Ibogaine may treat opioid addiction. Marijuana helps cancer & epilepsy patients. But these treatments aren't available b/c related medical research is effectively banned. pic.twitter.com/4TMcK2fizf

— Rep. Alexandria Ocasio-Cortez (@RepAOC) July 27, 2021
This time around—amid a growing national movement to reform laws around psychedelics—the chamber rejected it with a narrower 140-285 tally for inclusion as part of a large-scale funding package covering multiple federal agencies.
Most Democrats supported the reform in the most recent vote, but enough still sided with the vast majority of Republicans to defeat it.
"The United States has and continues to uphold an obsolete provision from the war on drugs," Ocasio-Cortez said on the floor before the vote. "This provision specifically has for a very long period of time presented and acted as a barricade to federal research on certain substances— psilocybin, MDMA and marijuana—and allowing us to research the potential therapeutic applications of these drugs in the treatment of diseases such as PTSD, addiction and depression. We are long overdue."
Rep. Lou Correa (D-CA) also spoke in support of expanding psychedelic research, saying the substances can "help veterans deal with those invisible wounds that they bring back from the battlefield—PTSD and other mental issues that they bring back with them and carry with them on a day to day basis."
The House also acted on a series of other amendments concerning cannabis on Tuesday that the House Rules Committee had made in order for floor consideration earlier this week.
For example, a pro-reform proposal that advanced encourages the Food and Drug Administration (FDA) to enact rules allowing CBD as a dietary supplement and food ingredient. Filed by Rep. Kurt Schrader (D-OR), and approved in a voice vote as part of an en bloc package with other amendments, it encourages FDA to create a regulatory pathway for CBD "no later than 180 days after enactment."
I spoke on the House floor tonight on my CBD amendment, as well as my bill HR 841, which would legalize the use of CBD in dietary supplements. pic.twitter.com/gZVuOkFu8t

— Rep. Kurt Schrader (@RepSchrader) July 28, 2021
In a House floor speech, Schrader said hemp businesses face "economic burdens from the regulatory uncertainty caused by lack of action" from FDA.
"The livelihoods of hemp farmers and safety of consumers across the country reside in the hands of the agency," he said.
—
Marijuana Moment is already tracking more than 1,100 cannabis, psychedelics and drug policy bills in state legislatures and Congress this year. Patreon supporters pledging at least $25/month get access to our interactive maps, charts and hearing calendar so they don't miss any developments.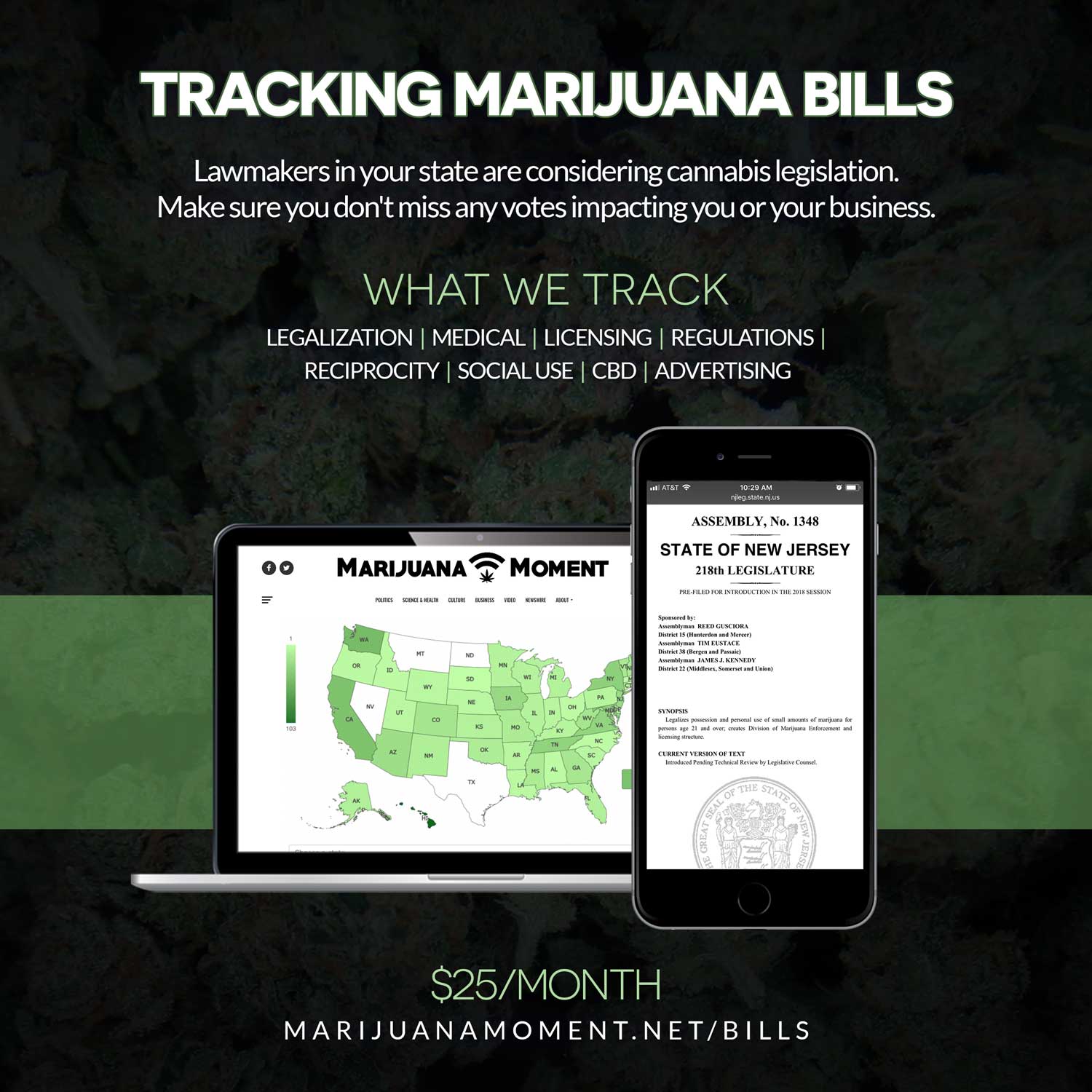 Learn more about our marijuana bill tracker and become a supporter on Patreon to get access.
—
Lawmakers defeated a proposal from Rep. Debbie Lesko (R-AZ) to the U.S. Department of Health and Human Services (HSS) appropriations bill to eliminate a rider that's currently in the legislation that "allows federal funding to go to institutions of higher education that are conducting research on marijuana."
That measure generated significant pushback given that research into cannabis is an overwhelmingly bipartisan issue, and top federal drug officials have repeatedly urged Congress to support policies that make it easier to study the risks and benefits of the plant. What's more, Lesko represents a state with adult-use legalization on the books.
The congresswoman argued in a House floor speech before the vote that not passing her amendment would "permit universities to offer a class called 'Pot Smoking 101' [that's] dedicated to smoking pot under the false pretense of research."
Universities can conduct marijuana research if they go through proper procedures, but Dems want to skirt the rules. Who's to say we won't have Pot Smoking 101 classes dedicated to smoking marijuana under the false pretense of "research"?

WATCH my remarks on my amendment⬇️ pic.twitter.com/Eu5m2Vabqs

— Congresswoman Debbie Lesko (@RepDLesko) July 28, 2021
But House Appropriations Committee Chairwoman Rosa DeLauro (D-CT) said removing the current marijuana protections for universities in the bill could hamper studies.
"Without such research, there would be limited scientific discovery and breakthroughs helping to shape our daily lives," she said. "Evidence-based research regarding cannabis ought to be encouraged in academic settings, not discouraged, and we should ensure that we broaden our understanding of marijuana, not limit it."
I just voted against an amendment that would have denied funding to universities that conduct research on marijuana.

We should be responsibly exploring the medical benefits of marijuana, not continuing to fight an outdated War on Drugs. pic.twitter.com/HadxHvKdho

— Angie Craig (@RepAngieCraig) July 28, 2021
Lesko's amendment was rejected, with 147 votes in favor and 276 against.
Another amendment, which was rejected in a different en bloc package with other proposals, would have transferred "$25 million from the Environmental Programs and Management enforcement activities account to the National Forest System account for enforcement and remediation of illegal marijuana trespass grow sites on federal lands and for the clean-up of toxic waste and chemicals at these sites," according to a description.
That measure was filed by Rep. Doug LaMalfa (R-CA), who recently released video of himself driving a bulldozer of cannabis plants.
Two marijuana reform amendments from Rep. Eleanor Holmes Norton (D-DC) that legalization advocates hoped to see advance were blocked from floor consideration by the Rules Committee on Monday.
Her proposals—which were aimed at appropriations legislation for the Department of Housing and Urban Development (HUD)—would have made it so marijuana possession or consumption could not be used as the sole basis for denying people access to public housing. One Norton amendment was narrowly focused on medical cannabis while a second measure would have covered all marijuana use that's legal under state laws.
Members filed these proposed revisions as part of the appropriations minibus bill for fiscal year 2022 to fund the Departments of Labor, Health and Human Services, Education, Agriculture, Rural Development, Energy and Water Development, Financial Services and General Government, Interior, Environment, Military Construction, Veterans Affairs, Transportation, and Housing and Urban Development.
The spending package as introduced would also allow Washington, D.C. to use its local tax dollars to implement a system of lawful marijuana sales for adults.
That stands in contrast to a budget proposal from President Joe Biden, whose administration is seeking to keep language protecting medical cannabis states from federal intervention but has excluded the provision on giving D.C. autonomy to legalize marijuana commerce.
Another provision that was included as part of the Financial Services and General Government (FSGG) spending bill would protect banks that work with marijuana businesses. Further, the committee report attached to that legislation encourages federal government agencies to reconsider policies that fire employees for using marijuana in compliance with state law.
Federal health agencies should pursue research into the therapeutic potential of psychedelics for military veterans suffering from a host of mental health conditions, a report attached to separate spending legislation that's part of the minibus package says.
Report language also directs the U.S. Department of Veterans Affairs (VA) to improve communication on veteran eligibility for home loans and report back to Congress on its progress within 180 days of the enactment of the legislation. A separate provision urges VA to expand research on the medical benefits of cannabis for veterans.
In the report for Agriculture Department funding, lawmakers took issue with the 2018 Farm Bill's 0.3 percent THC cap for lawful hemp products and directed USDA to work with HHS and DEA on a study of whether that threshold is scientifically backed. That report also addressed numerous other issues related to the crop.
Other report language attached to this spending package highlights the difficulty of studying Schedule I drugs like marijuana, recognizes the medical potential of cannabinoids like CBD, encourages federal agencies not to restrict the plant kratom and acknowledges the lifesaving value of syringe access programs and safe consumption sites for illegal drugs.
The appropriations process this session has seen numerous drug policy reform provisions included in bill text and attached reports—also stopping immigrants from being deported for cannabis, for example, among other issues.
A bipartisan group of congressional lawmakers recently circulated a letter to build support for an amendment to a separate Department of Justice spending bill that would protect all state and tribal marijuana programs from federal interference—going beyond the existing measure that shields only medical cannabis states that's currently enacted into law. There are now 15 cosponsors signed on to the broader proposal, which is being considered by the Rules Committee and may see floor action this week.
The Commerce, Justice, Science, and Related Agencies (CJS) spending report also notes that the Drug Enforcement Administration (DEA) has moved to approve additional marijuana manufacturers for research purposes and says the committee supports ongoing research efforts on cannabis, particularly in the wake of an outbreak of lung injuries associated with unregulated vaping products.
The bill was up for Rules Committee consideration on Tuesday, but the panel delayed decisions on amendments until Wednesday morning.
A provision was also attached to the bill that would make states and localities ineligible for certain federal law enforcement grants if they maintain a policy allowing for no-knock warrants for drug-related cases. That policy garnered national attention following the police killing of Breonna Taylor, who was fatally shot by law enforcement during a botched drug raid.
Ohio Marijuana Activists Launch Ballot Campaign To Push Lawmakers To Enact Legalization
Ohio Marijuana Activists Launch Ballot Campaign To Push Lawmakers To Enact Legalization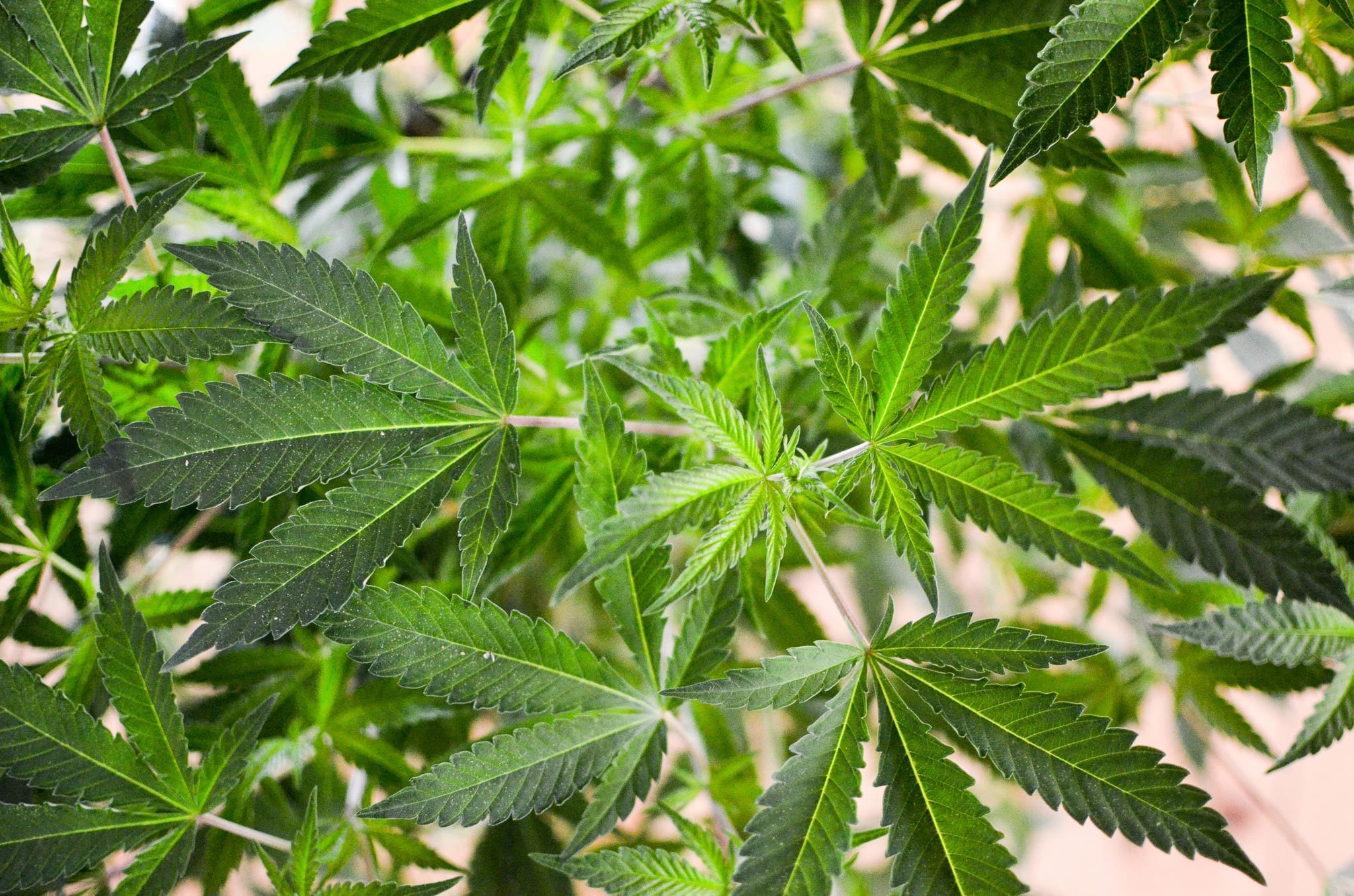 Ohio marijuana activists have a new plan to legalize cannabis in the state as lawmakers pursue separate reform legislation.
Voters rejected a 2015 legalization initiative, and advocates suspended a campaign to place another measure on the 2020 ballot due to the coronavirus pandemic. But on Tuesday, the Coalition to Regulate Marijuana Like Alcohol (CTRMLA) launched a new effort to implore legislators to enact the policy change.
The group submitted the requisite 1,000 signatures to the Ohio attorney general's office on Tuesday. Officials now have 10 days to review the summary and text to ensure that it is "fair and truthful" and approve it for circulation. Several existing medical cannabis businesses are backing the measure.
"I think people are tired of prohibition with respect to marijuana," spokesperson Tom Haren told Marijuana Moment in a phone interview on Tuesday, adding that he thinks Ohioans are ready to join the growing list of states that are enacting legalization.
Unlike past efforts, the new measure is a statutory, rather that a constitutional, proposal. If supporters collect 132,887 valid signatures from registered voters, the legislature will then have four months to adopt the measure, reject it or adopt and amended version. If lawmakers to not pass the proposal, organizers will then need to collect an additional 132,887 signatures to place the measure before voters on the ballot in 2022.
"We are proposing to regulate marijuana for adult use, just like we do for alcohol," Haren said in a press release. "Our proposal fixes a broken system while ensuring local control, keeping marijuana out of the hands of children and benefiting everyone."
The proposed law that CTRMLA is pushing would legalize possession of up to 2.5 ounces of cannabis for adults 21 and older, and they could also have up to 15 grams of marijuana concentrates. Individuals could grow up to six plants for personal use, with a maximum 12 plants per household.
It's a notable departure from the failed 2015 reform initiative, which faced criticism from advocates because of an oligopolistic model that would've granted exclusive control over cannabis production to the very funders who paid to put the measure on the ballot.
—
Marijuana Moment is already tracking more than 1,100 cannabis, psychedelics and drug policy bills in state legislatures and Congress this year. Patreon supporters pledging at least $25/month get access to our interactive maps, charts and hearing calendar so they don't miss any developments.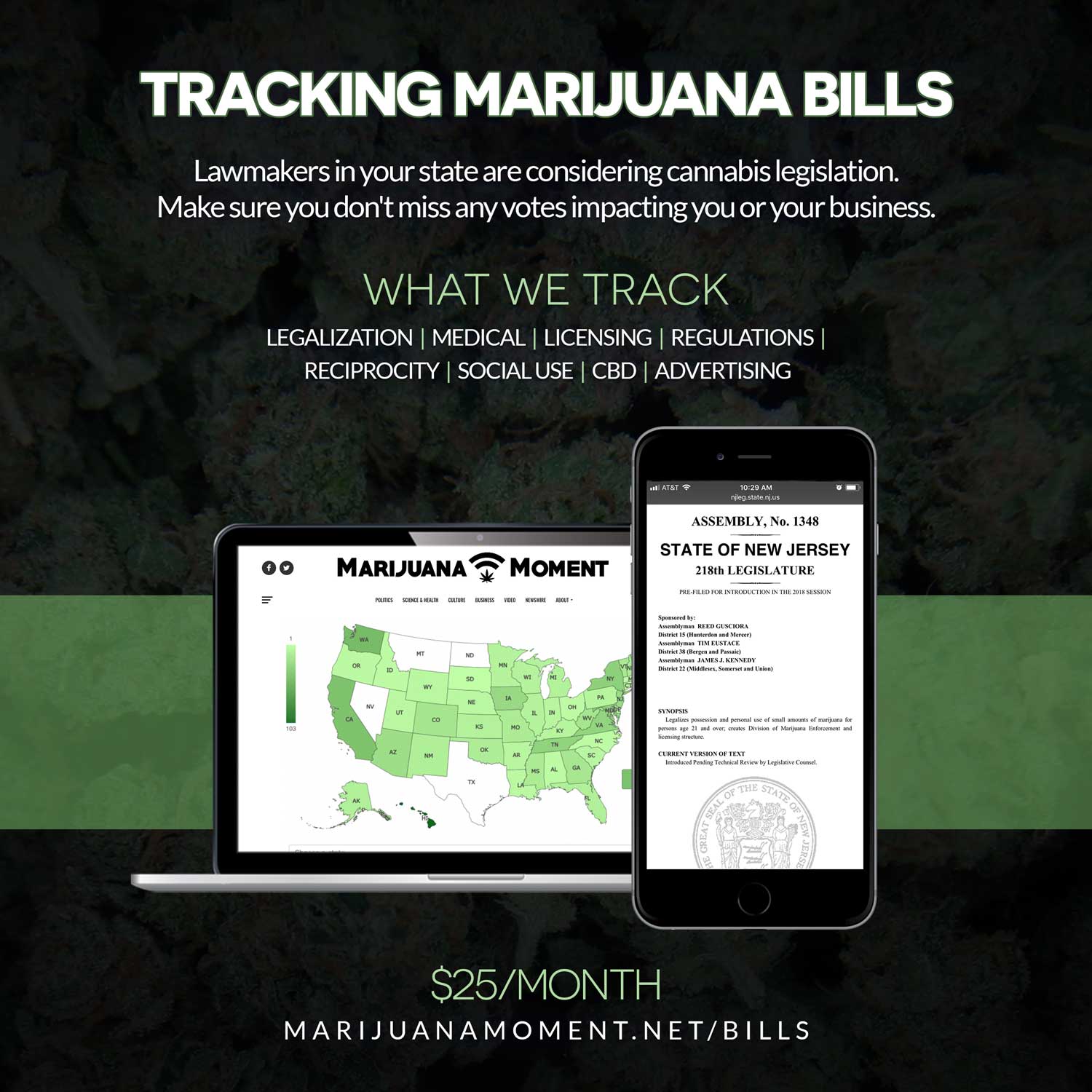 Learn more about our marijuana bill tracker and become a supporter on Patreon to get access.
—
A 10 percent sales tax would be imposed on cannabis sales, with revenue being divided up to support social equity and jobs programs (36 percent), localities that allow adult-use marijuana enterprises to operate in their area (36 percent), education and substance misuse programs (25 percent) and administrative costs of implementing the system (three percent).
Under the proposal, a Division of Cannabis Control would be established under the state Department of Commerce. It would have authority to "license, regulate, investigate, and penalize adult use cannabis operators, adult use testing laboratories, and individuals required to be licensed."
The measure gives current medical cannabis businesses a head start in the recreational market. Regulators would need to begin issuing adult-use licenses to qualified applicants who operate existing medical operations within nine months of the enactment of the legislation.
The division would also be required to issue 40 recreational cultivator licenses and 50 adult-use retailer licenses "with a preference to applications who are participants under the cannabis social equity and jobs program." And it would authorize regulators to issue additional licenses for the recreational market two years after the first operator is approved.
Individual municipalities would be able to opt out of allowing new recreational cannabis companies from opening in their area, but they could not block existing medical marijuana firms even if they want to add co-located adult-use operations. Employers could also maintain policies prohibiting workers from consuming cannabis for adult use.
Further, regulators would be required to "enter into an agreement with the Department of Mental Health and Addiction Services" to provide "cannabis addiction services," which would involve "education and treatment for individuals with addiction issues related to cannabis or other controlled substances including opioids."
"Marijuana legalization is an issue whose time has come in Ohio," Haren said in the press release, adding that "we crafted legislation based on the best practices learned by those that went before us."
"Ohioans want this," he said. "They see marijuana legalization as inevitable. They want our leaders to seize the opportunity and take control of our future."
With respect to social equity, some advocate are concerned about the lack of specific language on automatic expungements to clear the records of people with convictions for offenses that would be made legal under the legislation. That said, it does include a provision requiring regulators to "study and fund" criminal justice reform initiatives including expungements.
Haren said the reason they weren't able to prescribe specific expungement provisions is due to the state's single subject ballot rule for initiated statutes.
If the measure does make the ballot, the results of local reform initiatives across the state signal that it would be successful.
As it stands, 22 jurisdictions have adopted local statues so far that reduce the penalty for low-level cannabis possession from a misdemeanor punishable by jail time and a fine to the "lowest penalty allowed by state law." And activists are pursuing similar policy changes in dozens of cities this year, with several having already collected enough signatures to qualify for local ballots.
"Legalization is popular in Ohio," Haren told Marijuana Moment. "That's why these types of local decrim measures are passing—because people recognize that marijuana prohibition has failed, and it's not good policy. And it's much better policy to have a regulated market that provides consumers with an ability to purchase from a legal, regulated source."
Meanwhile, state Rep. Casey Weinstein (D) recently announced he will be sponsoring legislation alongside Rep. Terrence Upchurch (D) this session that would legalize and regulate marijuana in the state. It would mark the first time such a proposal to allow recreational cannabis commerce has been introduced in the legislature
"Ohioans and Americans are way out ahead on this issue, and the comfort level with first decriminalization and medical marijuana and then full legalization is just so far beyond where legislators are," Weinstein told Marijuana Moment in a phone interview about his bill. "This is an effort to close that gap and catch up."
Haren said that while he hasn't reviewed Weinstein's legislation at this point, his organization would welcome working with any lawmaker to get reform enacted one way or the other.
Weinstein's bill would would legalize possession of up to five ounces of cannabis for adults 21 and older and allow them to cultivate up to 12 plants for personal use. It will also include provisions to expunge prior convictions for possession and cultivation activities that are being made legal under the measure.
Like the CTRMLA proposal, a 10 percent excise tax would be imposed on marijuana sales. But after covering administrative costs, revenue would be divided among municipalities with at least one cannabis shop (15 percent), counties with at least one shop (15 percent), K-12 education (35 percent) and infrastructure (35 percent).
Gov. Mike DeWine (R) is likely to oppose the legislative effort given his record. But a voter-led initiative could create a different opportunity for advocates.
"We are laser focused at this point on getting the required number of signatures, sending it to the legislature and then working with them—hand in glove, in lockstep, whatever phrase you want to use—to get get this proposal ultimately signed into law by the governor," Haren said.
According to cleveland.com, the CTRMLA campaign has already hired several prominent consulting firms to work on the effort, suggesting it has robust funding.
Massachusetts Lawmakers Discuss Bill To Create Psychedelics Legalization Task Force At Hearing
Photo courtesy of Philip Steffan.
Massachusetts Lawmakers Discuss Bill To Create Psychedelics Legalization Task Force At Hearing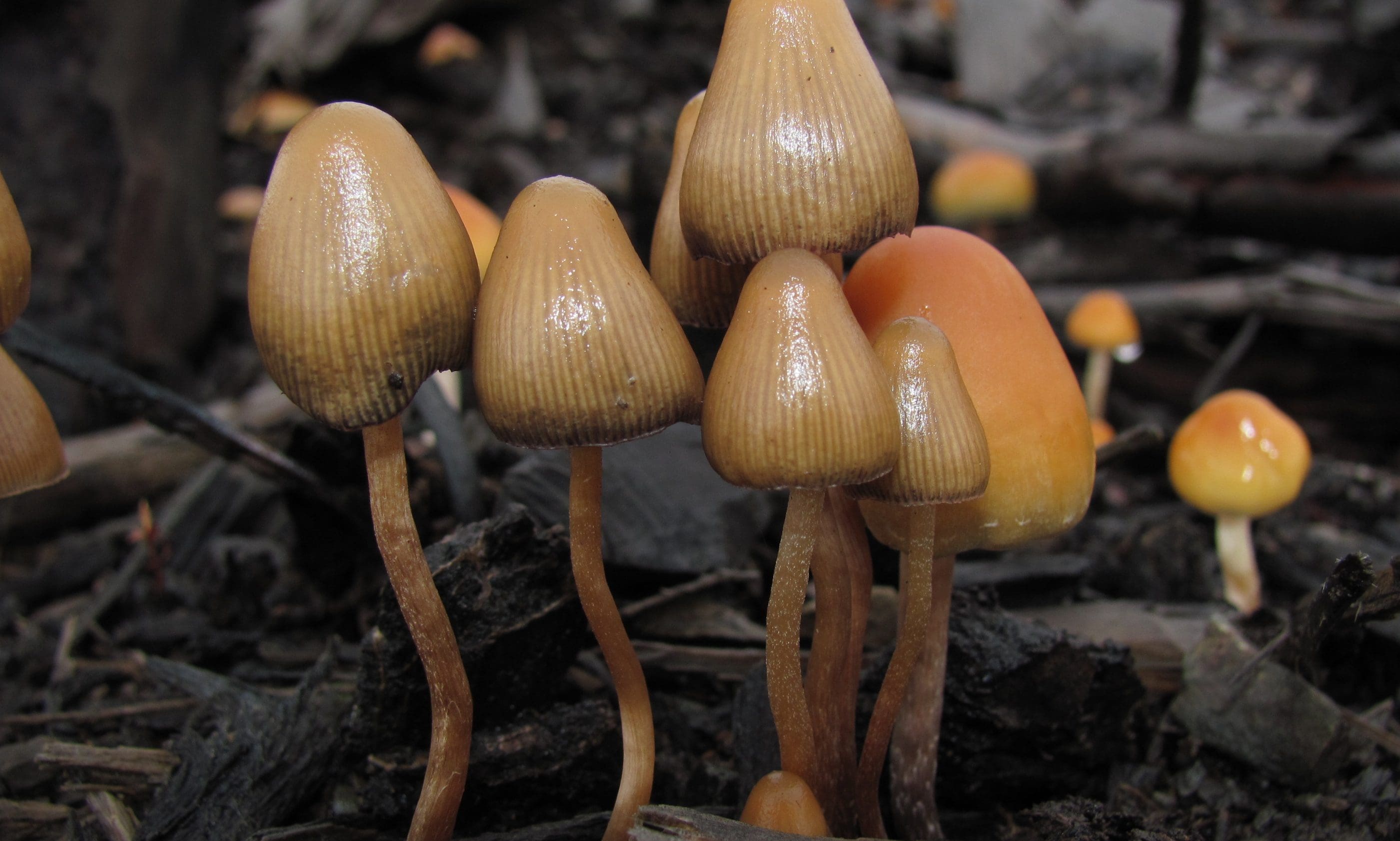 Massachusetts lawmakers on Tuesday heard testimony about a bill to create a task force charged with studying the implications of legalizing psychedelics like psilocybin and ayahuasca.
The legislature's Joint Judiciary Committee met to discuss legislation from Rep. Mike Connolly (D). While members didn't vote on the proposal, the sponsor was able to make the case for the reform, noting the emerging research that suggests entheogenic substances hold significant therapeutic potential for certain mental health conditions.
He also pointed to the local reform movement that's led three Massachusetts cities to decriminalize psychedelics so far, saying it represents "another reason why it should be a priority for all of us to bring stakeholders together and have that conversation about what policies should look like."
"We're hearing from the medical community, we're hearing from clinicians and researchers that the potential benefits here simply can't be ignored," Connolly said. "There are these issues like PTSD and depression, anxiety and addiction that…we are struggling to address, and what the research is telling us is that these substances offer a tremendous benefit."
The 21-member task force that the lawmaker is proposing would be responsible for analyzing the pros and cons of "legalizing the possession, consumption, transportation and distribution of naturally cultivated entheogenic plants and fungi."
The sponsor said on Tuesday that the group "could really allow Massachusetts to play a leadership role in crafting policies around these substances."
In an email to Marijuana Moment, Connolly said that momentum for broader psychedelics and drug policy reform in states across the country shows that "our proposal to create a task force to craft policies around legalization is rational and warranted."
"Given our status as a longtime leader in civil rights, freedom, academic research and advances in medicine," he said, "it is important for the Commonwealth of Massachusetts to be proactive about crafting policies to ensure that as the movement for legalization of psychedelics continues to advance—and as the clinical trials showing the therapeutic value of these medicines continue to pile up—that we are moving forward in an equitable, just and inclusive fashion."
—
Marijuana Moment is already tracking more than 1,100 cannabis, psychedelics and drug policy bills in state legislatures and Congress this year. Patreon supporters pledging at least $25/month get access to our interactive maps, charts and hearing calendar so they don't miss any developments.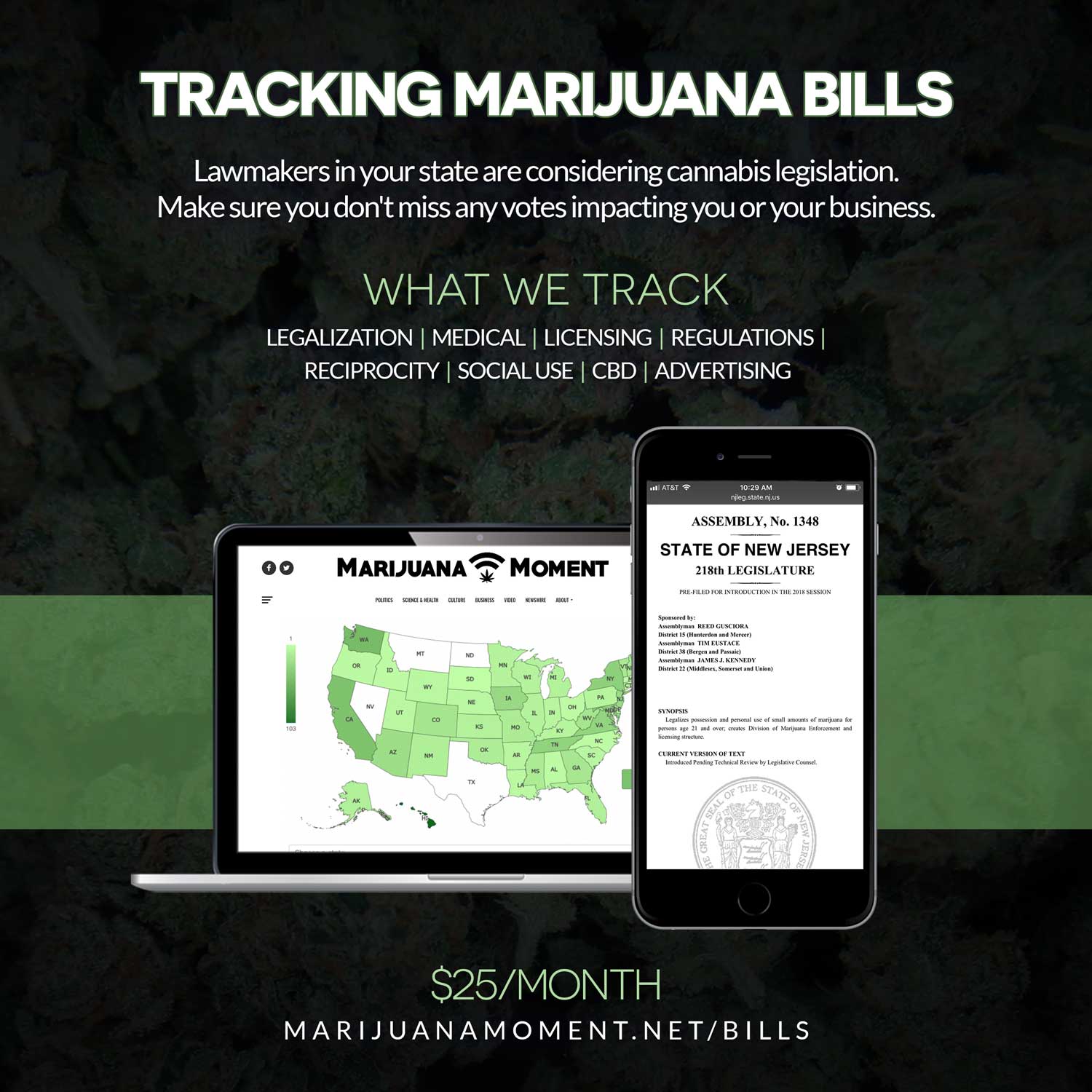 Learn more about our marijuana bill tracker and become a supporter on Patreon to get access.
—
Middlesex District Attorney Marian Ryan also testified in favor of the reform proposal before the committee on Tuesday.
For the most part, the burgeoning psychedelics reform movement has been limited to decriminalization—with the exception or Oregon, where voters elected to legalize psilocybin for therapeutic purposes during last year's election. California activists are also pushing to place psilocybin legalization on the state's 2022 ballot as a lawmaker works to pass a separate bill to legalize possession of a wide range of psychedelics that has already passed the state Senate and two Assembly committees.
While the Massachusetts legislation would only establish a task force to investigate the potential legalization of these substances, it marks another significant development demonstrating how local reforms have caught the attention of state legislators.
Connolly said at Tuesday's hearing that it's important to remember "that it was the Nixon administration in the 1970s that classified entheogens as Schedule I substances, without any real scientific basis. It was more to do with politics—it was more to do with systemic racism—that led to this classification and this criminalization."
"Today, when you hear some of the professionals, some of the researchers talk about this, they really feel like we lost several decades of potential therapeutic benefit because of these arbitrary political decisions," he said. "With this task force, there really is an opportunity for us in Massachusetts to bring policymakers and stakeholders together to make sure that as this research advances we can be ready with applicable policies, so don't don't repeat the mistakes of the past."
The lawmaker said "the war on drugs, racial injustice and years of oppression here in our country" partly motivated the introduction of his legislation.
The task force would "bring together stakeholders from the scientific, public safety, racial justice, harm reduction, indigenous, social work, the relevant regulatory bodies and medical communities to make recommendations for the legalization and possession, consumption and distribution of entheogenic substances," he said.
Three Massachusetts cities—Northampton, Somerville and Cambridge—have each passed resolutions to deprioritize enforcement of laws against the possession, use and distribution of a wide range of psychedelics and other drugs.
"I'm proud to represent Somerville and Cambridge, two communities that have acted in recent months to decriminalize the possession of psychedelics and entheogenic plans, primarily as part of the larger movement to continue working to undo the racist impact of the War On Drugs," Connolly told Marijuana Moment.
If his bill is enacted, the 21-person task force would have until June 2022 to study the effects of plant- and fungi-based psychedelics and develop recommendations for how to legalize the substances "in a manner that maximizes equitable access and sustainable manufacture of these plants."
Particular focus would be paid under the bill to the impact of drug prohibition on on marginalized groups, "including indigenous people, veterans, people with physical and mental health disabilities, Black people, people of Latino and Hispanic heritage, people of Asian descent, people of color, people in poverty, and people identifying with the LGBTQ community."
The measure also calls for the task force to develop recommendations around "pardons, parole, diversion, expungement, and equity measures" for people with criminal records due to possession, or distribution of controlled substances.
The Massachusetts developments are some of the latest iterations of a national psychedelics reform movement that's spread since Denver became the first city to decriminalize psilocybin mushrooms in 2019.
Besides the cities in Massachusetts, four others—Oakland, Santa Cruz, Ann Arbor and Washington, D.C.—have also decriminalized possession of plant-and fungi-based psychedelics.
An Arcata, California councilmember announced this month that she would sponsor a measure to decriminalize psychedelics. That measure has since been referred to a committee.
The governor of Connecticut signed legislation recently that includes language requiring the state to carry out a study into the therapeutic potential of psilocybin mushrooms.
Texas also recently enacted a bill to require the state study the medical benefits of psychedelics for military veterans.
A New York lawmaker introduced a bill last month that would require the state to establish an institute to similarly research the medical value of psychedelics.
In Oakland, the first city where a city council voted to broadly deprioritize criminalization of entheogenic substances, lawmakers approved a follow-up resolution in December that calls for the policy change to be adopted statewide and for local jurisdictions to be allowed to permit healing ceremonies where people could use psychedelics.
After Ann Arbor legislators passed a decriminalization resolution last year, a county prosecutor recently announced that his office will not be pursuing charges over possessing entheogenic plants and fungi—"regardless of the amount at issue."
The Aspen, Colorado City Council discussed the therapeutic potential of psychedelics like psilocybin and proposals to decriminalize such substances at a meeting in May. But members said, as it stands, enacting a reform would be more better handled at the state level while entheogens remain strictly federally controlled.
Seattle lawmakers also recently sent a letter to members of a local task force focused on the opioid overdose epidemic, imploring the group to investigate the therapeutic potential of psychedelics like ayahuasca and ibogaine in curbing addiction.
The psychedelics conversation is also catching on at the federal level.
The U.S. House of Representatives will vote this week on a proposal from Rep. Alexandria Ocasio-Cortez (D-NY) that remove a spending bill rider that advocates say has restricted federal funds for research into Schedule I drugs, including psychedelics such as psilocybin, MDMA and ibogaine.
In 2019, a large majority of Democratic House members joined all but seven Republicans in a vote against an earlier version of the congresswoman's amendment. But given the surge in state and local psychedelics reform efforts in the years since, it stands to reason that this Congress may take the issue more seriously this time.
Federal health agencies should pursue research into the therapeutic potential of psychedelics for military veterans suffering from a host of mental health conditions, a report attached to separate spending legislation that's part of an advancing minibus package says.
When it comes to broader drug policy reform, Oregon voters also approved an initiative in November to decriminalize possession of all drugs. This year, the Maine House of Representatives passed a drug decriminalization bill, but it later died in the Senate.
Last month, lawmakers in Congress filed the first-ever legislation to federally decriminalize possession of illicit substances.
White House Declines To Blame Marijuana Sales For Violent Crime Spike Despite D.C. Police Chief's Comments
Photo courtesy of Wikimedia/Mushroom Observer.