Biden Finally Grants Relief To People With Federal Marijuana And Drug Convictions After More Than A Year In Office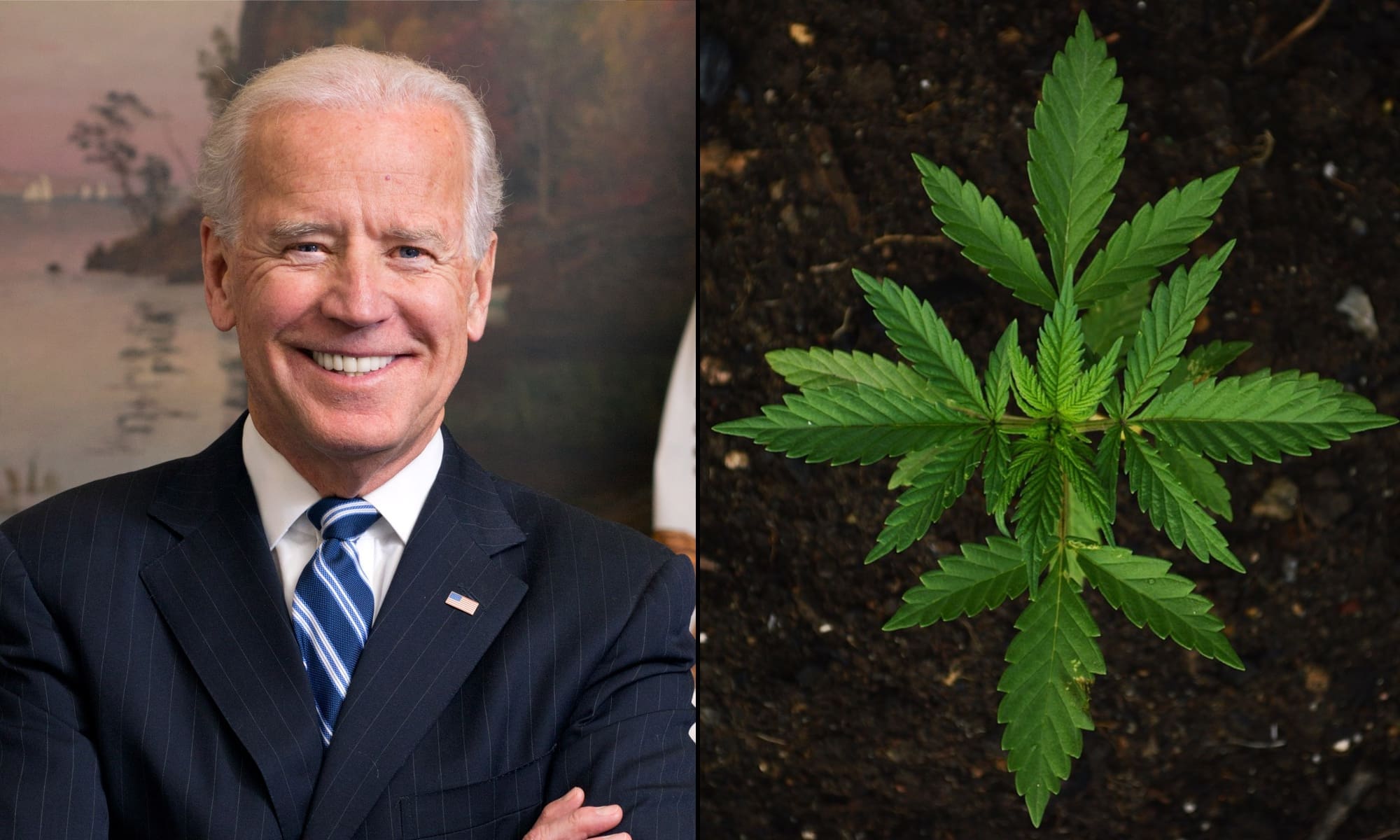 After more than a year in office, President Joe Biden on Tuesday granted clemency to dozens of people with non-violent federal drug convictions on their records.
The president commuted the sentences of 75 individuals who were previously released to home confinement amid the coronavirus pandemic. This marks the first clemency action from Biden—a move that advocates and lawmakers have long awaited and that the administration has repeatedly been pressed on.
While it's not the mass pardon for people criminalized over cannabis that activists have been pushing for—with White House descriptions of only nine of the people newly receiving clemency mentioning marijuana—it's a step toward fulfilling a campaign pledge that Biden repeatedly made while running for president.
"America is a nation of laws and second chances, redemption, and rehabilitation," Biden said in a statement. "Elected officials on both sides of the aisle, faith leaders, civil rights advocates, and law enforcement leaders agree that our criminal justice system can and should reflect these core values that enable safer and stronger communities."
Today, I am pardoning three people who are striving every day to give back and contribute to their communities. I am also commuting the sentences of 75 people who are serving long sentences for non-violent drug offenses.

— President Biden (@POTUS) April 26, 2022
The president said that many of the people he is granting relief to "would have received a lower sentence if they were charged with the same offense today, thanks to the bipartisan First Step Act" signed into law by his predecessor, President Donald Trump.
In addition to the 75 sentence commutations, Biden also issued three pardons.
Late last year, there were signals that the administration might be moving toward clemency for certain people with federal convictions. The federal Bureau of Prisons (BOP) started asking eligible individuals to get the process started by filing out clemency applications.
Now that preliminary step appears to be getting executive results.
The president continues to oppose adult-use marijuana legalization, despite increasing bipartisan support for the policy change, but it seems the White House is finally willing to take unilateral action to provide some level of relief for those caught up in the war on drugs that Biden as a senator helped perpetuate.
The commutations are generally being granted to people with low-level drug offenses with up to four years left in their sentence and who were eligible for home confinement under the Trump-era Coronavirus Aid, Relief, and Economic Security (CARES) Act.
About 8,300 federal inmates were allowed to temporarily transition to home confinement amid the coronavirus pandemic in 2020.
Biden has received about a dozen letters from lawmakers, advocates, celebrities and people impacted by criminalization to do something about the people who remain behind federal bars over cannabis. After months of inaction, some members of Congress like Sen. Elizabeth Warren (D-MA) have even sent follow-up letters demanding a response.
Among those pushing for reform is Weldon Angelos, a person who received a president pardon from Trump in 2020 and has since become a key advocate for criminal justice reform who has worked with both the Trump and Biden administration of furthering relief.
Had an amazing meeting at the @WhiteHouse about clemency. We have a great champion for criminal justice reform in @RepTroyCarter and an amazing group of advocates @FollowNCR Saphira Galoob @DrChandaZulu and frmr Dept Atty General Jim Cole. @MangoneDavid #CannabisClemencyNOW pic.twitter.com/syGInxxJGl

— Weldon Angelos (@weldon_angelos) April 26, 2022
"We recently had an impactful meeting at the White House to discuss clemency matters, especially for those incarcerated for cannabis offenses, and also those out on CARES Act," Angelos told Marijuana Moment. "The meeting was very encouraging, and we believe President Biden will keep his campaign pledge to grant categorical clemency for cannabis offenders."
The advocate noted that Biden recently appointed someone with experience as a federal defender to serve as pardon attorney—a position usually held by a prosecutor or military judge—calling the move "a breath of fresh air."
"I believe the president is moving in the right direction by putting the right people in these positions," Angelos said. "Today was a large grant of clemencies, and to do this in his first term strongly suggests many more are coming."
"We will continue urging the president to grant clemency to the 2,700 people incarcerated for cannabis only offenses, as he promised when he was running for president. And we are grateful for the opportunity to meet with the president's team to share our ideas."
Biden, in his statement, said that "while today's announcement marks important progress, my Administration will continue to review clemency petitions and deliver reforms that advance equity and justice, provide second chances, and enhance the wellbeing and safety of all Americans."
Along with the acts of clemency announced on Tuesday, the administration also announced a series of moves to expand opportunities for formerly incarcerated people, including job training, grants for workforce development programs, expanded access to capital, improved reentry services and support for health care, housing and education.
While today's announcement marks important progress, my Administration will continue to review clemency petitions and deliver reforms that advance equity and justice, provide second chances, and enhance the wellbeing and safety of all Americans. https://t.co/uN1baHUqn0

— President Biden (@POTUS) April 26, 2022
A report published by the Congressional Research Service (CRS) last year affirmed that the president has it within his power to grant mass pardons for cannabis offenses. It also said that the administration can move to federally legalize cannabis without waiting for lawmakers to act.
Despite having the authority to unilaterally issue a mass pardon for people with federal cannabis convictions, however, Biden had previously only ceremonially pardoned turkeys around Thanksgiving since taking office.
Following that ceremony, The New York Post's Steven Nelson pressed the president on cannabis clemency, asking him if there were plans to pardon "any people in addition to turkeys." Biden jokingly replied, "you need a pardon?" and didn't respond to a follow-up question about marijuana prisoners.
The White House has been asked about the issue several times. But while Press Secretary Jen Psaki has said that the president has "every intention of using his clemency power" and is "looking at" relief for non-violent drug offenders, no meaningful action has been taken until this point.
Advocates may be encouraged to see this latest action, but they're committed to getting the president on board with broader reform that they hope will be sent to his desk, including bills to end federal marijuana prohibition.
After the House passed a cannabis legalization bill earlier this month, Psaki told reporters that the president agrees that "our current marijuana laws are not working," but she declined to directly address whether the president supports the specific legislation.
The press secretary, who is reportedly planning to leave the administration later this year, said that "we look forward to working with Congress to achieve our shared goals—and we'll continue having discussions with them about this objective."
Do those "shared goals" include the main components of the MORE Act to holistically end prohibition? Psaki didn't get into detail. It's another example of the marijuana policy schism that's divided not just congressional lawmakers along partisan lines but also the Democratic president and a supermajority of voters in his party.
Biden himself hasn't made a substantive public comment about cannabis policy since entering the Oval Office, beside making a quick, dismissive comment to the reporter who asked about clemency for current federal marijuana prisoners.
Vice President Kamala Harris, for her part, said last year that the Biden administration isn't focused on following through on its marijuana reform pledges because it's too overwhelmed with other issues.
Advocates have been losing patience. This latest action represents a concrete steps toward righting the wrongs of the drug war, but the administration has also made moves that subvert reform efforts.
For example, in Biden's latest budget proposal for Fiscal Year 2023, he again proposed the continuation of a rider blocking Washington, D.C. from legalizing cannabis sales. To the relief of advocates, however, he again kept a separate rider intact to protect legal medical cannabis programs from federal intervention.
Early in 2021, the Biden administration came under fire after it was reported that it had terminated or otherwise punished dozens of staffers who admitted to prior marijuana use as part of their background check process.
Psaki previously attempted to minimize the fallout, without much success, and her office also stressed that nobody was fired for "marijuana usage from years ago," nor has anyone been terminated "due to casual or infrequent use during the prior 12 months."  However, she's consistently declined to speak to the extent to which staff have been suspended or placed in a remote work program because they were honest about their history with marijuana on the federal background check form.
For what it's worth, a poll released in January found that more than half of Americans feel that Biden has made little to no progress on his campaign pledge to decriminalize marijuana during his first year in office—and most people also aren't betting on him doing more to advance the reform in 2022.
Seven In Ten Americans Back Marijuana Legalization, With Majorities Embracing Pro-Reform Politicians, Two New Polls Find