Psilocybin Treatment And Drug Decrim Campaigns Submit Signatures To Qualify For Oregon Ballot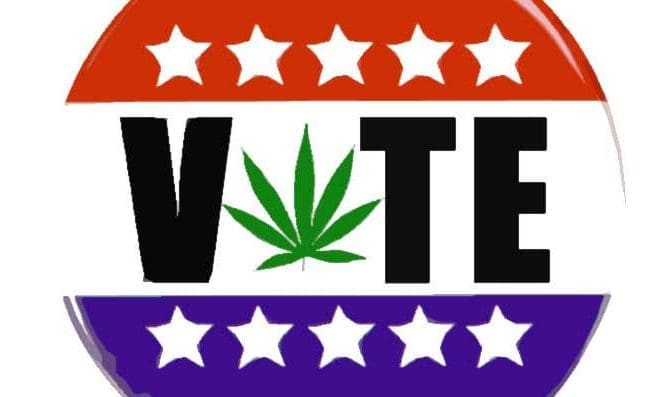 It increasingly looks like Oregon voters will have the chance to decide on two far-reaching drug policy reform ballot measures in November.
A campaign to decriminalize drug possession while significantly expanding substance misuse treatment as well as another effort to legalize psilocybin mushrooms for therapeutic purposes both submitted more than enough raw signatures on Friday to qualify for ballot access.
While the signatures have yet to be verified by the secretary of state's office, more than 147,000 have been turned in for the Drug Addiction Treatment and Recovery Act (DATRA) and more than 135,000 have been submitted for the Oregon Psilocybin Services Act. To qualify, the campaigns each need to collect 112,020 valid signatures from registered voters ahead of a July 2 deadline.
Activists behind both efforts say they will continue to collect signatures until the deadline, as the current pool could contain too many invalid petitions, including those that are illegible, have wrong addresses or are otherwise unverifiable. The campaigns recently partnered up, endorsing each other and encouraging their supports to sign the other measure.
"We're close, but we still don't think we have enough signatures to qualify for the ballot," Peter Zuckerman, campaign manager of the drug decriminalization initiative, said in a press release.
Sam Chapman, campaign manager of the psilocybin campaign, said the "pandemic has put physical distance between so many of us," but "we're doing everything we can to overcome that distance through thoughtful outreach to all potential supporters."
While several other ballot campaigns around the state—as well as numerous across the country—have been derailed by the coronavirus pandemic, the campaigns found a way to proceed despite stay-at-home orders and social distancing requirements. They've asked residents to print the form, fill it out and mail it to the campaign headquarters.
"One of the reasons we've been able to still gather thousands of signatures during the shutdown is because more and more people are realizing that we need this initiative right now more than ever," Janie Gullickson, a chief petitioner for DATRA and the executive director of the Mental Health and Addiction Association of Oregon, said in a press release.
"Before COVID-19, Oregon already ranked nearly last in the nation in providing basic access to drug treatment," she said. "The isolation and stress from the pandemic has made our state's addiction crisis even worse. That's why I'm helping lead the campaign to pass IP 44 and get more treatment and recovery services to more people, in more parts of Oregon."
Sheri Eckert, a chief petitioner of the psilocybin initiative, said the submission of the signatures last week "represents five years of development, planning, coalition building, and overall effort."
"In times like these, we need accessible therapeutic options that can really impact people's lives. That is what this initiative is all about," she said. "We're honored by the support and faith that so many Oregonians have put into this effort and we're excited to have made this leap towards qualification."
The secretary of state's office now has until June 19 to conduct a random sample of the submitted signatures. If a sufficiently high percentage are deemed valid such that when extrapolated the overall number of submissions would exceed the minimum requirement, the measures will be certified for the ballot.
Under DATRA, drug treatment programs would be expanded through the use of funds derived from existing marijuana tax revenues. At the same time, it would promote treating drug addiction as a health issue by decriminalizing illegal substances. Low-level possession would instead be considered a civil infraction punishable by a maximum $100 fine and no jail time.
The psilocybin measure would make Oregon the first jurisdiction in the U.S. to implement a therapeutic legalization model for psychedelic mushrooms. Part of the strategy to continue collecting signatures for the initiative involves promoting an app that enables residents to see which of their friends and family have signed it yet, allowing them to personally reach out and push them to submit a signed petition.
"As we enter this final stretch, we are doing the best we can to boost our signal across the state of Oregon, to educate our potential allies, collect the signatures we need to qualify, and to keep you all safe," the campaign recently said in an email blast. "To that end, we hope you will join Outreach Circle and remotely mobilize with us to get IP 34 on the ballot come November."
Here's a status update on other drug policy reform efforts throughout the country: 
Activists in Washington State are also working on a similar drug decriminalization and treatment measure.
Washington, D.C. activists behind a psychedelics decriminalization campaign are more confident that they will be able to make the ballot after the District Council voted in favor of a series of changes to signature gathering protocol last week. Their petition has also been approved by the Board of Elections. The campaign has a new strategy to test the waters and deliver petitions and mailers directly to voters who could then sign and send them back to their headquarters.
Activists in Montana and Nebraska have resumed signature gathering with new safety measures in place for campaigns to legalize adult-use and medical marijuana, respectively.
In Arizona, the organizers of a legalization effort asked the state Supreme Court to instruct the secretary of state to allow people to sign cannabis petitions digitally using an existing electronic system that is currently reserved for individual candidates seeking public office. That request was denied, however.
California activists had hoped to get a measure to legalize psilocybin on the state's November ballot, but the campaign stalled out amid the coronavirus pandemic.
A California campaign seeking to amend the state's cannabis law asked for a digital petitioning option, but state officials haven't signed on.
A campaign to legalize cannabis in Missouri officially gave up its effort for 2020 due to signature collection being virtually impossible in the face of social distancing measures.
North Dakota activists said they plan to continue campaign activities for a marijuana legalization initiative, but it's more likely that they will seek qualification for the 2022 ballot.
Idaho medical cannabis activists announced that they are suspending their ballot campaign, though they are still "focusing on distributing petitions through online download at IdahoCann.co and encouraging every volunteer who has downloaded a petition to get them turned in to their county clerk's office by mail, regardless of how many signatures they have collected."
In New York, Gov. Andrew Cuomo (D) conceded that the 2020 legalization push is "effectively over" in the legislature. Coronavirus shifted priorities, and comprehensive cannabis reform seems to have proved too complicated an issue in the short-term.
Prior to the COVID-19 outbreak and stay-at-home mandates, measures to legalize marijuana for medical and recreational purposes qualified for South Dakota's November ballot.
The New Jersey legislature approved putting a cannabis legalization referendum before voters as well.
And in Mississippi, activists gathered enough signatures to qualify a medical cannabis legalization initiative for the ballot—though lawmakers also approved a competing (and from advocates' standpoint, less desirable) medical marijuana proposal that will appear alongside the campaign-backed initiative.
Federal Judge Orders Ohio To Let Marijuana Decriminalization Campaigns Collect Signatures Electronically
Photo courtesy of Democracy Chronicles.