Congressional Lawmakers Ask Supreme Court To Hear Marijuana Lawsuit Against DEA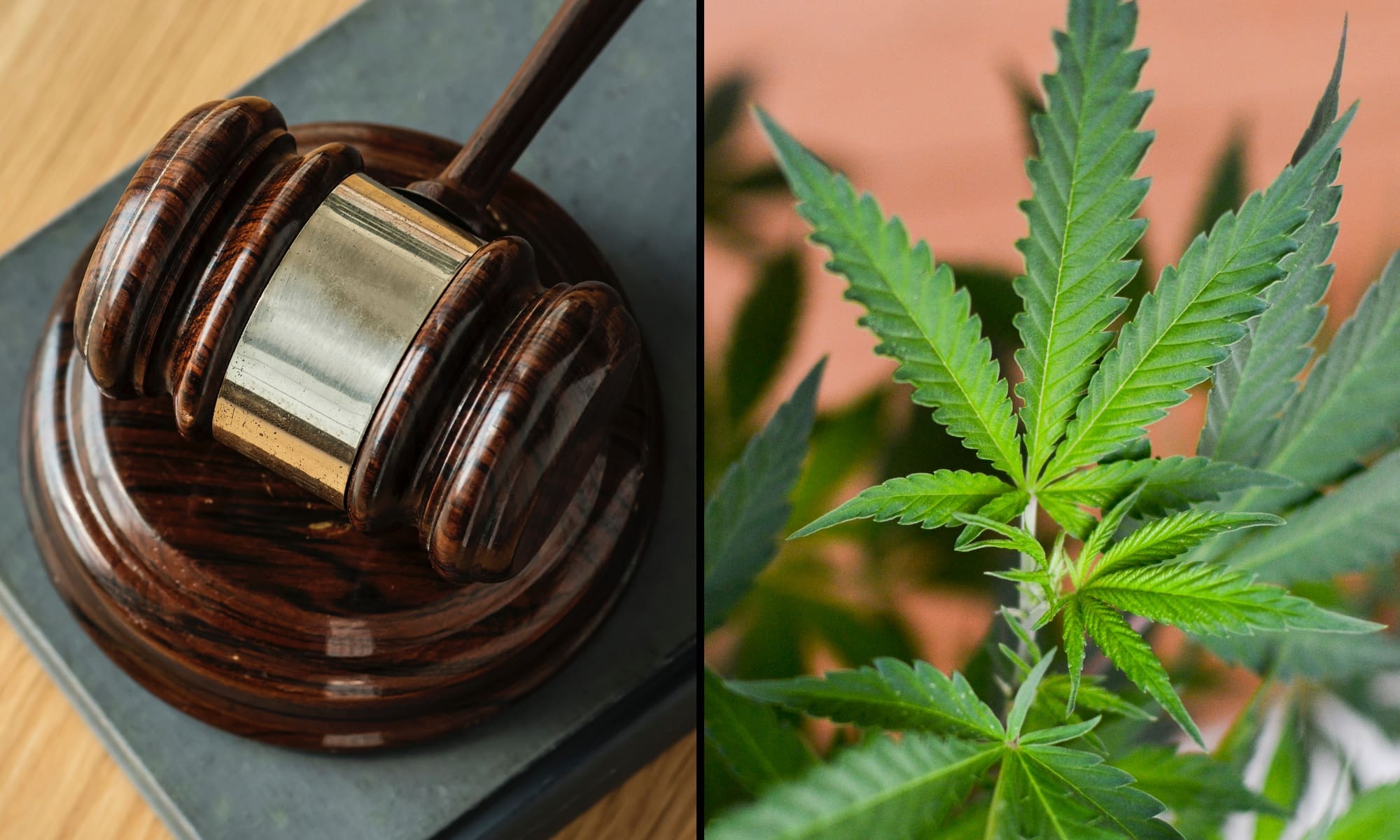 Seven members of Congress and a slew of marijuana reform groups have submitted legal documents urging the U.S. Supreme Court to take up a lawsuit against the Drug Enforcement Administration's (DEA) refusal to change the federal classification of cannabis.
In an amicus brief filed on Tuesday, the lawmakers sided with the plaintiffs and said the prohibition of marijuana is unconstitutional and should be resolved by the Court. The Schedule I status of cannabis under the Controlled Substances Act "creates an unconstitutional framework that unfairly burdens their constituents," the brief states.
The original lawsuit against DEA was filed in 2017 by a coalition of medical cannabis patients and activists, including Alexis Bortell and former NFL player Marvin Washington. It was rejected in a series of rulings by lower courts, but attorneys for the plaintiffs said those decisions made it clear their only source of acceptable relief would come from the Supreme Court.
That's because both a U.S. District Court and U.S. Court of Appeals for the Second Circuit previously determined that advocates would have to first seek administrative relief through existing channels such as a petition asking DEA directly to reclassify cannabis. But the plaintiffs said they wouldn't go that route because they believe the request would be denied by DEA and because the agency would, at best, reclassify marijuana as a Schedule II drug, which they say could create additional harms in terms of patient access to the plant.
It's not clear whether the Supreme Court will take the case, but the batch of amicus briefs could give added weight to the case, particularly when members of Congress are calling for action. The nine justices are scheduled to discuss whether to grant a hearing during a private October 9 conference.
"The submission of an amicus brief by seven members of Congress is significant, not only because it adds legitimacy to our petition, but more importantly, because it provides critical support for one of the central points of our appeal—that the only realistic means of resolving the issue of legalization is through the courts," Michael Hiller, lead counsel for the plaintiffs, told Marijuana Moment.
The lawmakers wrote that because "many states have legalized medicinal (and recreational) uses of cannabis, the continued rigid federal criminalization of any cannabis use creates a system that infringes on Constitutional rights—the right to interstate travel, to participate in civic life, to contract and engage in interstate commerce, to make life-saving and life-sustaining medical decisions without government intervention, and to make decisions guided by a clear, nationally-consistent regulatory scheme."
"This Court must take action to remedy the unconstitutional system that has unfairly burdened Petitioners and similarly-situated patients who lawfully use medical marijuana under the supervision of a physician and pursuant to state law. While a legislative solution is theoretically possible, various unsuccessful Congressional attempts to deschedule marijuana have made clear that legislative action is made practically impossible by complicated political realities. Because the current federal scheme violates federal law and infringes on Constitutional rights, the Court should grant certiorari to resolve this matter."
Reps. Earl Blumenauer (D-OR), Tulsi Gabbard (D-HI), Jared Huffman (D-CA), Barbara Lee (D-CA), Alan Lowenthal (D-CA), Mark Pocan (D-WI) and Jamie Raskin (D-MD) each signed the amicus brief.
That makes the language of the filing as it concerns "complicated political realities" preventing legislative change somewhat curious, as Blumenauer and Lee are cochairs of the Congressional Cannabis Caucus and have expressed confidence that a bill to federally legalize marijuana that's due for a House vote next week will pass. Blumenauer went so far as to say on Tuesday that he feels it even stands a chance of clearing the GOP-controlled Senate.
If the legislation does advance through at least one chamber of Congress prior to the justices' discussion of the case next month, that could undermine the legal argument that the courts are the only place where advocates stand a reasonable chance of forcing a change to marijuana's federal scheduling.
Additional briefs in support of the lawsuit have been filed by NORML, International Cannabis Bar Association, National Cannabis Industry Association, Arcview Group, Last Prisoner Project, Americans for Safe Access, Minority Cannabis Business Association and others.
"The submission of nine amicus briefs from 19 organizations, two leading experts in cannabis science, and seven members of Congress reinforces our arguments," Hiller said. "Today, 70 percent of American jurisdictions maintain some form of legalization. We believe that the issue is fully ripe for determination by the Supreme Court and remain hopeful that the Justices will see fit to grant cert."
The Justice Department, in a short filing on Monday, declined an opportunity to respond to the petition.
"In my experience, the federal government generally waives its opposition to cert petitions, and it would have been quite unusual for the federal government not to have done so here," Hiller said. "Consequently, we were not the least bit surprised that the federal government waived its opposition."
DEA has on numerous past occasions denied petitions to change marijuana's status under the CSA, most recently in 2016.
The current case isn't the only cannabis-related lawsuit DEA has faced in recent years. Scientists sued the agency last year, alleging that it had deliberately delayed approving additional marijuana manufacturers for research purposes despite pledging to expand the number of those facilities in 2016.
A court mandated that DEA take steps to make good on its promise, and that case was dropped after DEA provided a status update.
In March, DEA finally unveiled a revised rule change proposal that it said was necessary due to the high volume of applicants and to address potential complications related to international treaties to which the U.S. is a party.
The scientists behind the original case filed another suit against DEA, claiming that the agency used a "secret" document to justify its delay of approving manufacturer applications.
That was born out when the Justice Department Office of Legal Counsel document was released in April as part of a settlement in the case, revealing, among other things, that the agency feels that its current licensing structure for cannabis cultivation has been in violation of international treaties for decades.
Separately, a federal court recently ruled that California regulators must comply with a DEA subpoena demanding information about marijuana businesses that they are investigating.
Read the lawmakers' amicus brief on the marijuana lawsuit against DEA below:
Amicus Brief DEA suit by Marijuana Moment
This story has been updated to include comment from Hiller.
House Marijuana Vote In Question Following Leadership Remarks, But 'Schedule Hasn't Changed'
Photo elements courtesy of rawpixel and Philip Steffan.