UK Parliament Committee Endorses Decriminalizing Drugs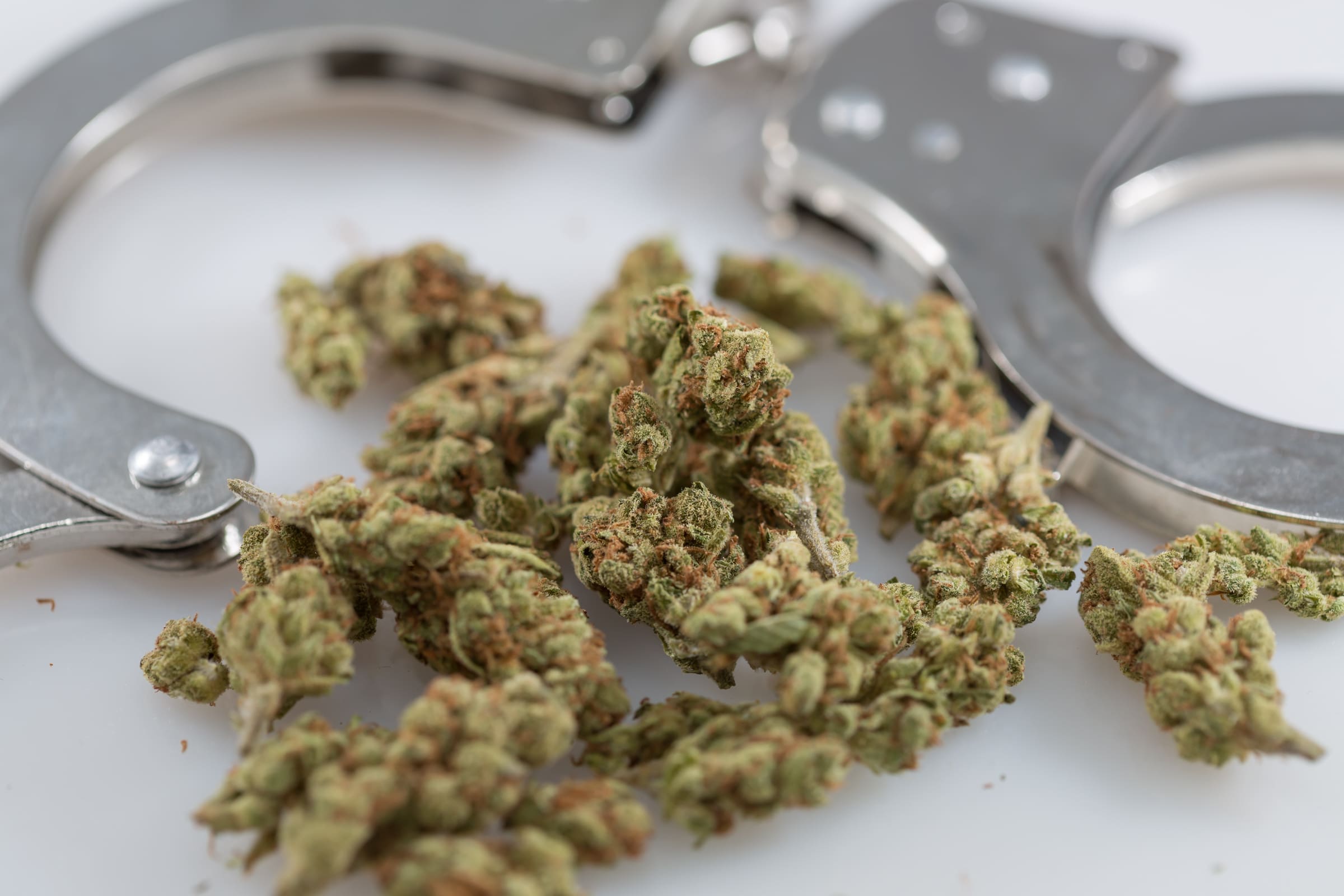 A UK House of Commons panel is calling on the government to decriminalize drugs and adopt other harm reduction approaches to address a growing overdose crisis.
"We recommend a radical change in UK drugs policy from a criminal justice to a health approach. A health focused and harm reduction approach would not only benefit those who are using drugs but reduce harm to and the costs for their wider communities," reads a report issued on Wednesday by the Health and Social Care Committee. "Decriminalisation of possession for personal use saves money from the criminal justice system that is more effectively invested in prevention and treatment."
"Every drug death is avoidable. However, the United Kingdom, and in particular Scotland, have amongst the highest drug death rates in Europe. The evidence we have heard leads us to conclude that UK drugs policy is failing."
The panel said that decriminalization alone "will not be effective without investing in holistic harm reduction, support and treatment services for drug addiction." To that end, it is also voicing support for syringe exchange programs, drug checking services, naloxone, safe consumption facilities and heroin assisted treatment—components that it says "can all play an important role in preventing deaths amongst drug users as well as protecting their communities by reducing the harm from discarded syringes and drug related crime."
The committee also wants to move responsibility for drug policy from the Home office, which handles crime, to the Department of Health and Social Care. "We strongly recommend this move," the report says.
Our report on #drugspolicy is now published.

Read it here: https://t.co/wOPXr17Ews

Find our press notice here: https://t.co/TZ67YcLL8e pic.twitter.com/lSPb0KLmxA

— Health and Social Care Committee (@CommonsHealth) October 22, 2019
When it comes to the proposal to remove criminal penalties for drug possession, the committee wrote about witnessing the success of that policy in Portugal, where it was enacted in 2001.
"On our visit to Portugal we saw a system marked by a positive attitude to service users which recognised the impact that chaotic lifestyles could have on engagement with support and treatment," the report says. "There was a striking ethos of holistic, non-judgemental treatment and access to services focused on the needs of individuals rather than the convenience of the system."
The lawmakers said that UK-based treatment professions share "a similar ethos, but their capacity to deliver is compromised by inadequate funding and the policy framework."
The Portuguese model, they write, has "had an impact on stigma" and has led to a "dramatic drop in drug related deaths…without significant increases in drug use."
"All those we met in Portugal involved in this policy area were very positive about their model," the lawmakers said. "On introduction, there had been significant opposition, but there is now political consensus and nobody would want to go back. Some of those we met were now of the view that the next step should be legalisation and regulation, to enable the generation of taxation revenue and quality control."
"Efforts to improve the unacceptably high rates of drug-related deaths would be strengthened by explicitly reframing drug use as a health rather than a criminal justice issue."
The panel's report also recounts how members toured supervised drug consumption facilities in Frankfurt, Germany, and recommends that they be "piloted in areas of high need" in the UK.
"Police representatives told us that these facilities should not be viewed simply as allowing people to take illicit drugs–they are about safety, stopping drug overdoses, and very importantly, providing access to a wraparound of other services to eventually stop that person's drug use," they wrote. "Harm reduction approaches such as [drug consumption rooms] reduce the wider harms to local communities as well as for those using drugs."
A government spokesperson rejected the committee's recommendation to remove criminal penalties for low-level drug offenses, saying that it "would not eliminate the crime committed by the illicit trade, nor would it address the harms associated with drug dependence and the misery that this can cause to families and communities."
But Dr. Sarah Wollaston MP, chair of the Health and Social Care Committee, said that "a holistic approach centered on improving the health of and reducing the harm faced by drug users, as well as increasing the treatment available, must be a priority going forward."
"This approach would not only benefit those who are dependent on drugs but benefit their wider communities," she said in a press release. "The Government should learn lessons from the international experience, including places like Portugal and Frankfurt. It should consult on the decriminalisation of drug possession for personal use from a criminal offence to a civil matter. Decriminalisation alone would not be sufficient. There needs to be a radical upgrade in treatment and holistic care for those who are dependent on drugs and this should begin without delay."
James Nichols, CEO of the pro-reform Transform Drug Policy Foundation, praised the report but also suggested its recommendations didn't go far enough in that they would leave the market unregulated by simply decriminalizing possession.
"We need to think about drugs as a health issue, not a criminal justice agenda. This isn't simply a matter of thinking differently. It's about creating an entirely new policy landscape. It means action, not just words," he wrote in a blog post. "Decriminalisation is essential in moving drug policy away from the simplistic, ineffective and often prejudicial approach we have today. Ultimately, though, we need to bring the whole market under legal regulation in order to really get drugs under control and reduce the violence and exploitation that prohibition creates."
The UK committee's endorsement of decriminalization is just the latest sign that broad drug policy reforms beyond marijuana legalization are gaining traction around the globe.
This month, Scotland's ruling party unanimously adopted a resolution endorsing "decriminalization of possession and consumption of controlled drugs so that health services are not prevented from giving treatment to those that need it."
In Canada, the House of Commons Standing Committee on Health issued a report in June recommending the government "work with provinces, territories, municipalities and Indigenous communities and law enforcement agencies to decriminalize the simple possession of small quantities of illicit substances."
In the U.S., presidential candidates such as Pete Buttigieg and Tulsi Gabbard have voiced support for drug decriminalization during the course of their campaigns for the Democratic nomination, and businessman Andrew Yang and former Rep. Beto O'Rourke (D-TX) spoke in favor of removing criminal penalties for at least opioids during a debate this month.
Denver and Oakland have enacted policies this year focused on psychedelics decriminalization.
A poll released this month found that a majority of Americans—55 percent—support decriminalizing drugs.
Last week, a top Mexican lawmaker proposed going further by legalizing the production and sales of drugs in order to undercut the violent, cartel-controlled underground market.
Vaping Injury Outbreak Hasn't Hurt Marijuana Legalization Support, Gallup Poll Shows
Local Massachusetts Lawmakers Unanimously Approve Psychedelics Decriminalization Measure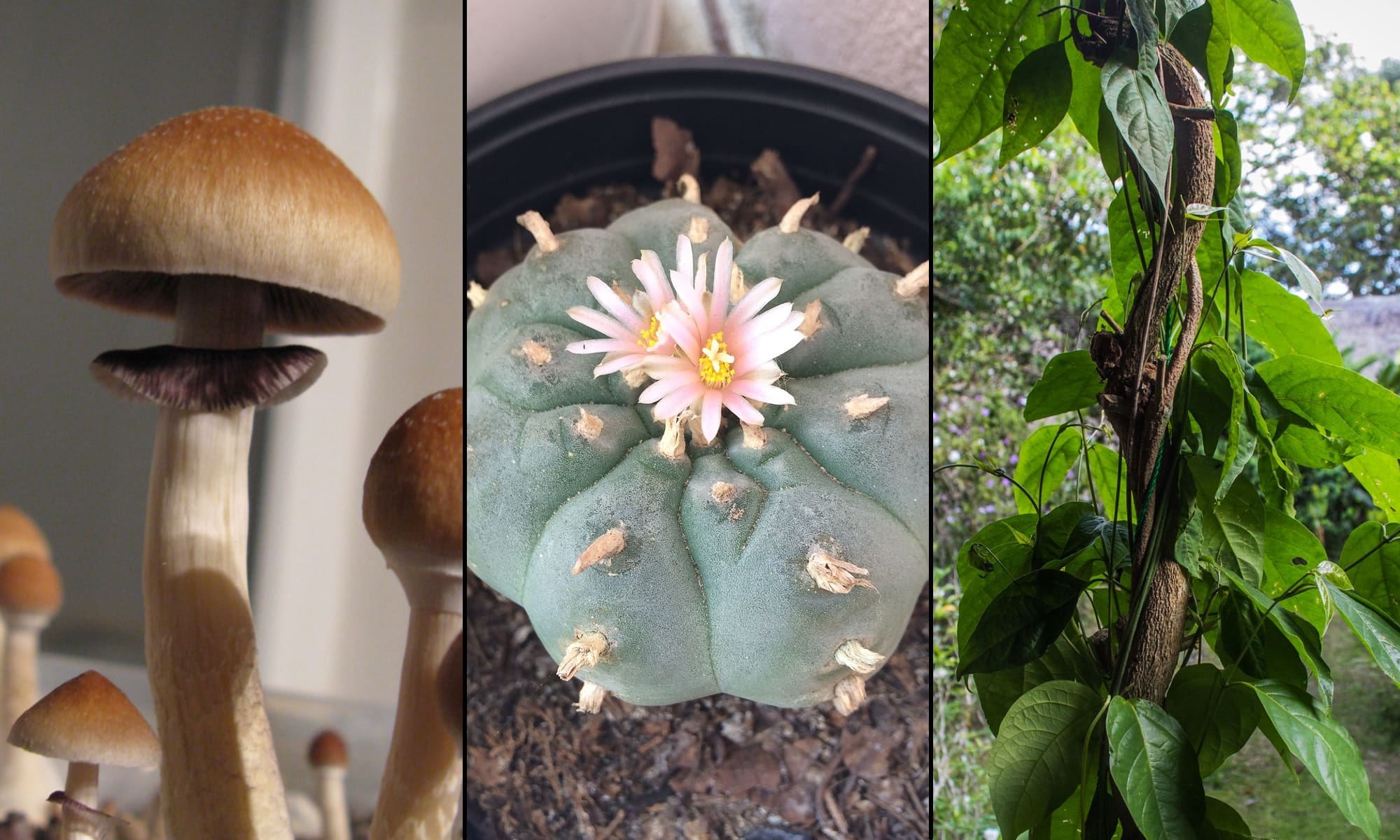 Local Massachusetts lawmakers on Thursday unanimously approved a resolution to decriminalize a wide range of psychedelics—the latest in a national movement to reform laws on entheogenic plants and fungi.
Prior passing the measure in a 9-0 vote, the Somerville City Council took testimony from two people with personal experience benefiting from the therapeutic use of psychedelics. Several members of the council also discussed the failures of the drug war and the potential medical value of entheogenic substances, particularly as it concerns mental health.
The resolution was supported by the mayor.
"By decriminalizing psychedelic plants, Massachusetts can mainstream harm-reduction strategies as therapists and health providers embrace these compounds for physical, psychological, and spiritual relief," Decriminalize Nature, Bay Staters for Natural Medicines and the Heroic Hearts Project said in written testimony to lawmakers.
"Somerville has a chance to empower our neighbors, friends, and loved ones to seek the physical and spiritual relief they need and put public health above incarcerating people even in cases of addiction and abuse of controlled substances," they wrote.
Quote:"no … officer or employee of the city, including without limitation, Somerville Police Department personnel, should use any city funds or resources to assist in the enforcement of laws imposing criminal penalties for the use and possession of entheogenic plants by adults"

— JT Scott (@JTforWard2) January 15, 2021
Under the proposal, enforcement of laws against psychedelics such as psilocybin mushrooms and ayahuasca would be among the city's lowest priorities. It also calls on the county prosecutor to cease pursing cases for persons charged with possessing or distributing entheogens.
The measure states that "the City Council hereby maintains it should be the policy of the City of Somerville that the investigation and arrest of adult persons for planting, cultivating, purchasing, transporting, distributing, engaging in practices with, and/or possessing entheogenic plants… shall be amongst the lowest law enforcement priority for the City of Somerville."
It also stipulates that "no City of Somerville department, agency, board, commission, officer or employee of the city, including without limitation, Somerville Police Department personnel, should use any city funds or resources to assist in the enforcement of laws imposing criminal penalties for the use and possession of entheogenic plants by adults."
The resolution emphasizes that the measure would not allow for commercial sales of these substances, nor would it permit driving while under the influence of them.
Thank you to my colleauges Councilor Clingan @JesseForWard4, Councilor Scott @JTforWard2, and Mayor @JoeCurtatone for filing tonight's Resolution supporting the decriminalization of enthiogenic plants, fungus, and cacti – proud to co-sponsor. pic.twitter.com/SrXkNdQNuT

— Ben Ewen-Campen (@BenForWard3) January 14, 2021
"I love living in a city where this is not controversial and you got unanimous support," Council President Matt McLaughlin said at the close of the meeting. "Let's end this war on drugs, and this is a good step."
Watch the lawmakers discuss the psychedelics reform resolution, starting around 25:45 into the video below: 
With Thursday's vote, Somerville joins a growing number of cities across the U.S. that have enacted psychedelics decriminalization. Most of the reforms have advanced legislatively, though Washington, D.C. became the first jurisdiction to decriminalize via the ballot in November.
Three other cities—Oakland, Santa Cruz and Ann Arbor—have also decriminalized possession of plant-and fungi-based psychedelics.
In Oregon, November's election saw the passage of a historic initiative to legalize psilocybin mushrooms for therapeutic purposes. The governor announced in November that applications for an advisory board to oversee implementation of the program were being accepted up until January 1.
Much of this reform progress can be traced back to Denver, which became the first city in the country to decriminalize psilocybin mushrooms in May 2019. Since then, activists in more than 100 cities have expressed interest in pursuing psychedelics decriminalization.
In Oakland, the first city where a city council voted to broadly deprioritize criminalization of entheogenic substances, lawmakers approved a follow-up resolution last month that calls for the policy change to be adopted statewide and for local jurisdictions to be allowed to permit healing ceremonies where people could use psychedelics.
A California state senator plans to file a bill to decriminalize psychedelics for the 2021 session.
Meanwhile, after Ann Arbor legislators passed a decriminalization resolution in September, a county prosecutor recently announced that his office will not be pursuing charges over possessing entheogenic plants and fungi—"regardless of the amount at issue."
Virginia Senate Holds First Marijuana Legalization Hearing, With More Scheduled Next Week
Photo elements courtesy of carlosemmaskype and Apollo.
North Dakota Lawmakers File Bill To Significantly Expand Marijuana Decriminalization Law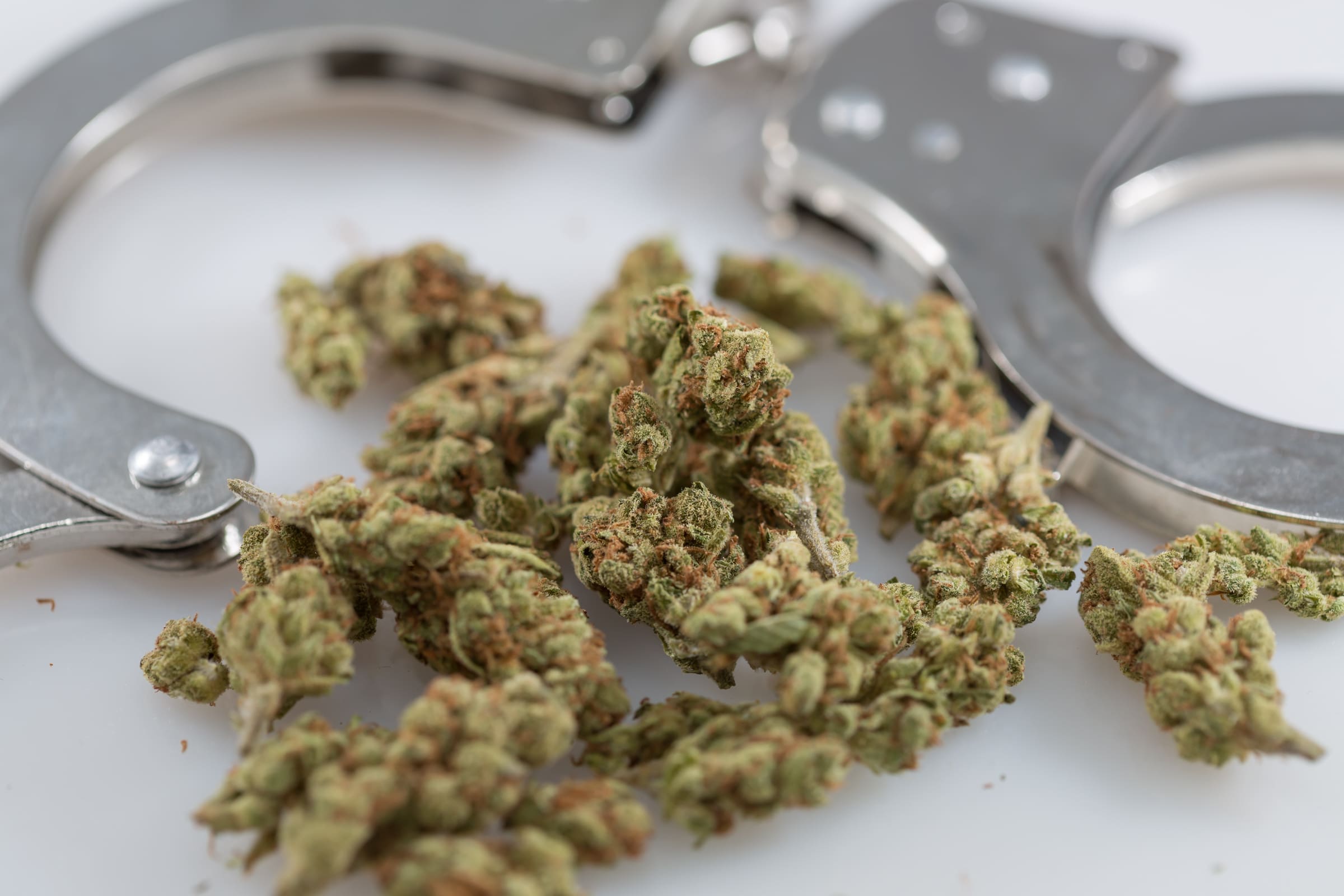 North Dakota lawmakers have introduced a bill to significantly expand marijuana decriminalization in the state.
The legislation, which was filed on Monday, would build on an initial cannabis decriminalization law that was enacted in 2019.
Under the current statute, possession of half an ounce or less of marijuana is an infraction punishable by a fine of up to $1,000, with no jail time. The new proposal would make possession of up to an ounce a non-criminal offense that carries a $50 fine.
Further, possession of more than one ounce and less than 250 grams would be treated as an infraction, rather than a class B misdemeanor, as it is currently classified.
Possessing more than 250 grams of marijuana would be a class B misdemeanor and possessing more than 500 grams would be a class A misdemeanor.
The bill is being sponsored by Rep. Shannon Roers Jones (R) and Sen. Scott Meyer (R) in their respective chambers. It's been referred to the House Judiciary Committee.
—
Marijuana Moment is already tracking more than 250 cannabis, psychedelics and drug policy bills in state legislatures and Congress this year. Patreon supporters pledging at least $25/month get access to our interactive maps, charts and hearing calendar so they don't miss any developments.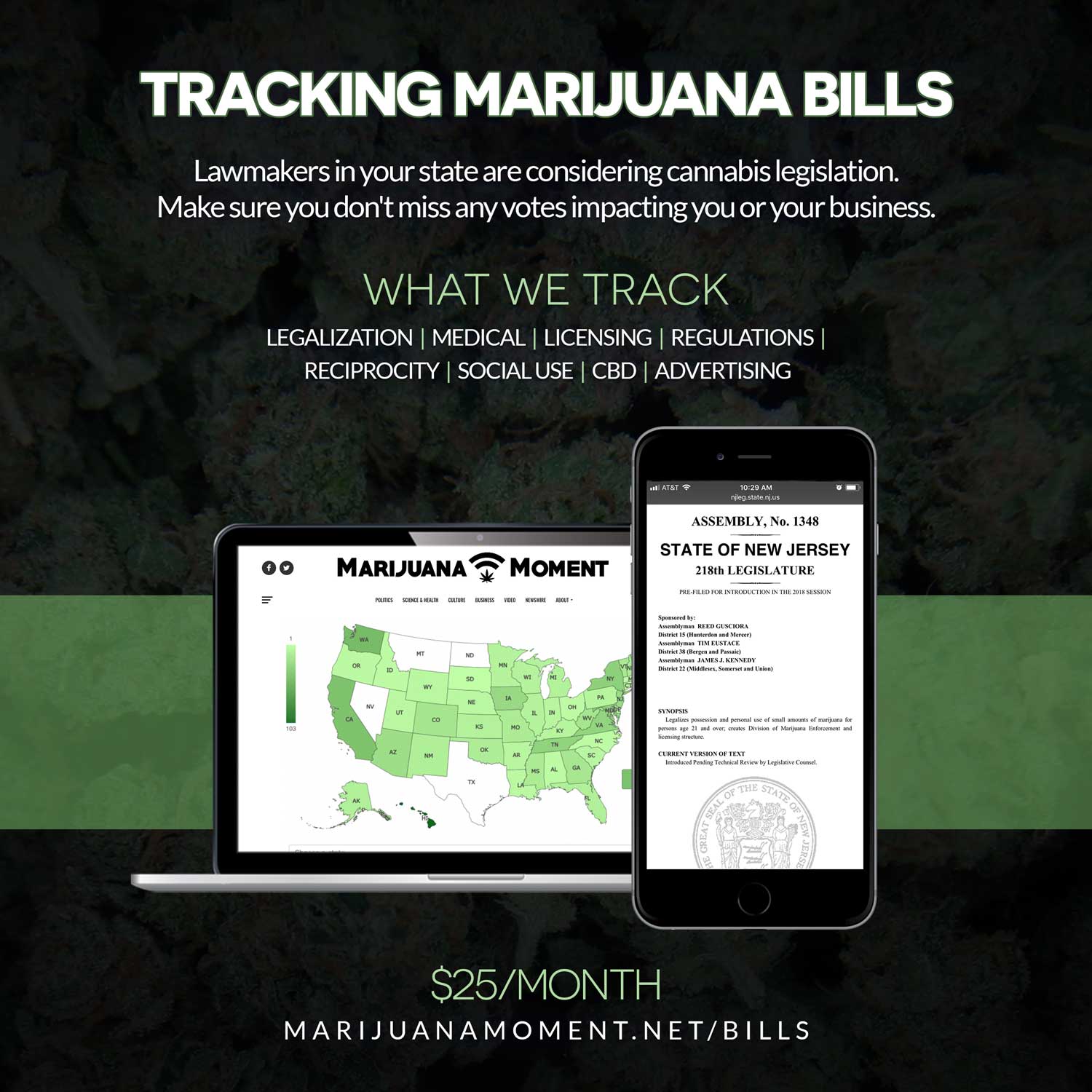 Learn more about our marijuana bill tracker and become a supporter on Patreon to get access.
—
"It's encouraging to see Rep. Roers Jones and her colleagues continue the push to reduce harsh and senseless penalties for possession of small amounts of marijuana in North Dakota," Jared Moffat, state campaigns manager at the Marijuana Policy Project, told Marijuana Moment. "Decriminalization is no substitute for legalizing and regulating marijuana for adults, as several of North Dakota's neighbors have now done. But passage of this bill would continue the trend of progress the state has seen in recent years."
Activists are moving forward with plans to put a cannabis legalization ballot initiative before voters in 2022.
The measure, which would allow adults 21 and older to possess and cultivate cannabis for personal use, was submitted to Secretary of State Al Jaeger on Monday. If its language is accepted, the campaign will be able to start signature gathering to qualify for the ballot.
The same team behind the new initiative came close to putting a similar measure on the state's ballot last year, but petitioning efforts were impeded by the coronavirus pandemic.
A separate group of advocates, Legalize ND, also attempted to qualify a different legalization initiative in 2020 that would have allowed retail sales but excluded a home grow option. That organization is also considering plans for its own 2022 measure.
Previously, a 2018 legalization push that did qualify for the ballot was defeated. Voters in the state did approve a measure to legalize medical cannabis in 2016, though the law was scaled down by the legislature the following year.
While activists are skeptical that the legislature has the appetite to enact the policy change on their own, it is the case that lawmakers may feel increased pressure given that voters in neighboring South Dakota and Montana elected to legalize cannabis in November.
Read the new North Dakota marijuana decriminalization bill below: 
North Dakota Decriminalizat… by Marijuana Moment
New Mexico Governor Says Marijuana Legalization Is A 2021 Priority
Virginia Senate Holds First Marijuana Legalization Hearing, With More Scheduled Next Week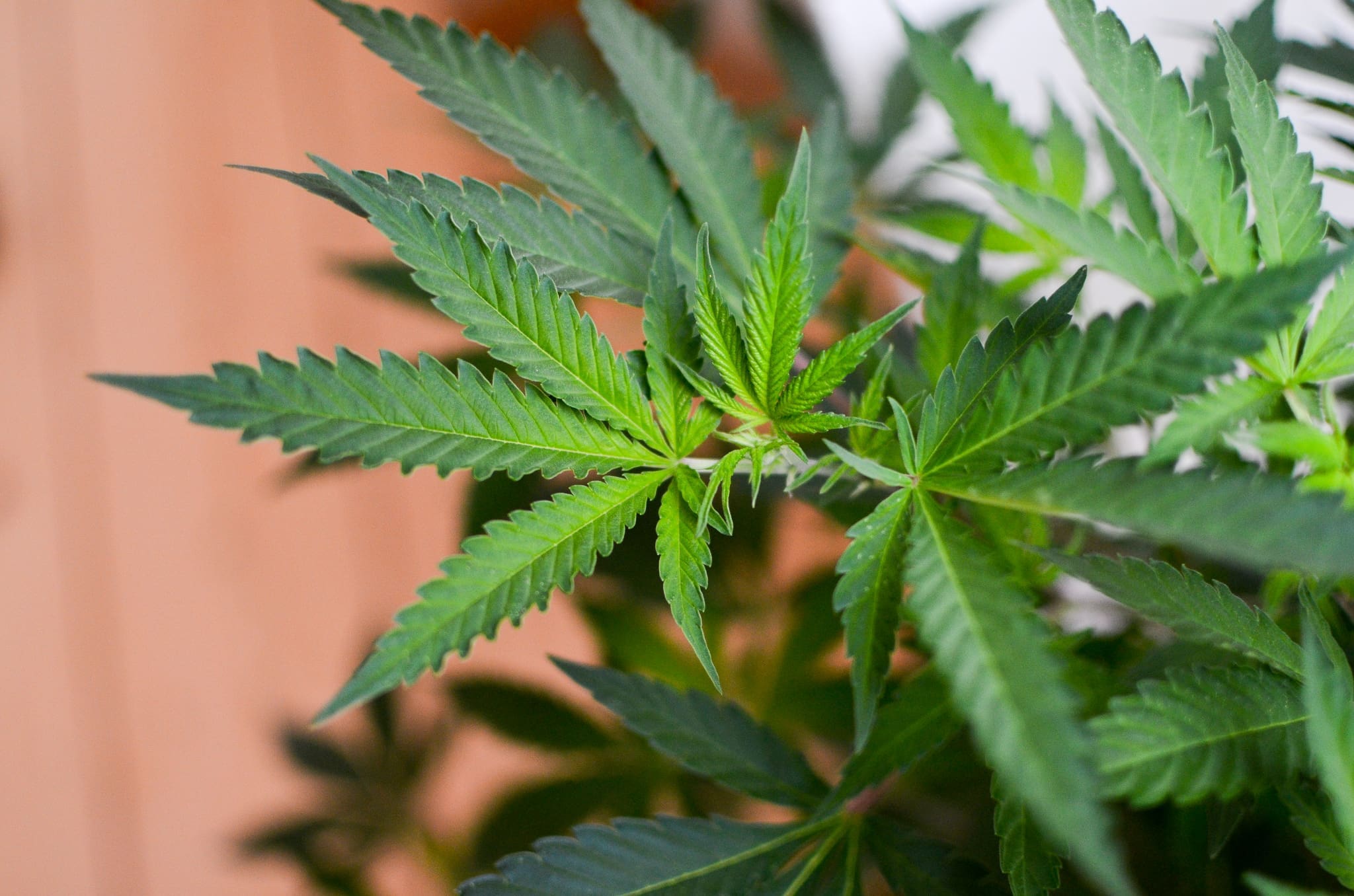 A Virginia Senate committee held an initial hearing on Friday on a bill to legalize marijuana that was introduced with support from the governor just two days ago.
The legislation's quick consideration by the Senate Rehabilitation and Social Services Committee is an early sign that lawmakers intend to advance it expeditiously. Two additional hearings are scheduled for Tuesday and Wednesday in a newly formed subcommittee of the panel that's specifically focused on cannabis policy.
The bill, which is being carried by top Senate and House leaders, would create a system of regulated and taxed marijuana sales and production, and allow adults 21 and older to purchase and possess up to one ounce of cannabis and cultivate up to four plants for personal use, two of which could be mature.
After the bill is considered by the new marijuana-focused subcommittee next week, the full Rehabilitation panel is expected to hold a vote next Friday to refer it to the Senate Judiciary Committee. After that panel considers the legislation, it would head to the Finance Committee before coming to the full Senate floor.
At the initial hearing, members heard testimony from a representative of Gov. Ralph Northam's (D) administration and asked questions about components of the bill such as those concerning expungements and social equity grants.
The legislation's provisions have been informed by two official state studies on legalization that were recently conducted by a legislative commission and a separate working group comprised of four Virginia cabinet secretaries and other officials, both of which looked at how to effectively implement legalization and submitted recommendations to the governor's office late last year.
Those studies were required under a marijuana decriminalization bill that was approved last year.
Many of those recommendations have been incorporated into the new legislation, including provisions to promote social equity in the cannabis market. Notably, it would also apportion almost half of the tax revenue the state collects from marijuana sales to funding pre-kindergarten education—a policy championed by First Lady Pamela Northam.
The state's alcohol regulatory body would be renamed the Virginia Alcoholic Beverage and Cannabis Control Authority, and it would be responsible for promulgating rules and issuing licenses.
A new 21 percent tax would be imposed on cannabis sales, and local jurisdictions that allow marijuana businesses to operate could levy an additional three percent tax. Existing state sales taxes would also apply on purchases, for a total potential 30 percent tax rate.
Revenue from the new state tax would go toward funding pre-k education (40 percent), a Cannabis Equity Reinvestment Fund (30 percent), substance misuse and treatment programs (25 percent) and public health initiatives (five percent).
—
Marijuana Moment is already tracking more than 250 cannabis, psychedelics and drug policy bills in state legislatures and Congress this year. Patreon supporters pledging at least $25/month get access to our interactive maps, charts and hearing calendar so they don't miss any developments.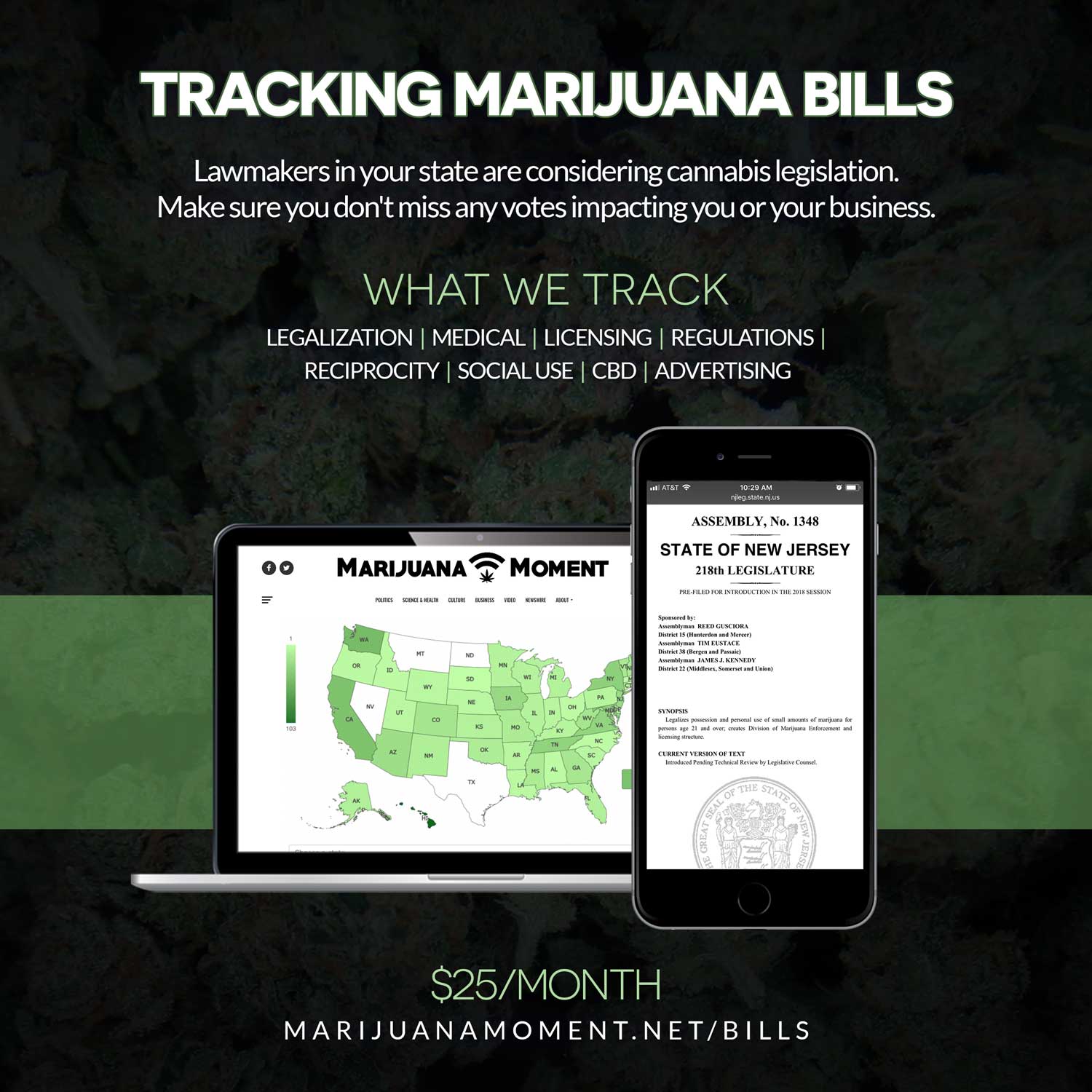 Learn more about our marijuana bill tracker and become a supporter on Patreon to get access.
—
Deputy Secretary of Agriculture and Forestry Brad Copenhaver, who testified on behalf of the Northam administration on Friday, emphasized that the "keystone of this entire bill is marijuana legalization of a social equity endeavor."
Advocates have celebrated the bill's introduction and are optimistic about the prospects of getting the reform enacted this session, but they also feel the legislation as proposed can be improved upon.
One problematic provision from advocates' perspective is that the bill would make public consumption a misdemeanor, whereas currently it is a civil offense punishable by a $25 fine.
Additionally, it seems to increase the fine for people aged 18-20 who possess cannabis. The fine would be $250 for a first offense, and the legislation also stipulates that underage people could be subject to mandatory substance misuse treatment for violating the law.
This introduction of the bill comes one month after the governor included provisions to lay the groundwork for cannabis legalization in a budget proposal that also calls for millions of dollars to support expungements. Northam had campaigned on merely decriminalizing possession, but he publicly backed broader legalization of marijuana for adult use in November.
Northam said during his State of the Commonwealth address on Wednesday that cannabis prohibition was deliberately enacted as a means to discriminate against people of color.
"The administration's proposal does an excellent job of centering equity and restorative justice, but we are greatly concerned by the proposed rollbacks of newly enacted decriminalization measures and creation of new crimes for consumption and possession," Jenn Michelle Pedini, executive director of Virginia NORML, told Marijuana Moment.
"Not only would this escalation in criminalization not increase public safety, this will specifically target young, Black, Brown, and poor Virginians, those who are already overwhelmingly and disproportionately harmed by marijuana prohibition," Pedini, who also serves as NORML's national development director, said. "Governor Northam wants to get this right, and NORML will be offering policy guidance to help the administration do just that. It's time to move forward, not backward, with cannabis policies in the Commonwealth."
Separate legislation to legalize cannabis for adult use was filed by Del. Steve Heretick (D) last week.
Meanwhile, legislation to stop police from searching people or seizing property based solely on the smell of marijuana in Virginia is set to take effect after lawmakers adopted recommended changes from the governor in October.
Also during the recently concluded special session, Northam signed another bill that will allow people issued summonses for cannabis offenses under the state's new decriminalization law to prepay their civil penalty rather than having show up in court.
USDA Releases Final Rule For Hemp, Two Years After Crop Was Federally Legalized
Photo courtesy of Philip Steffan.