Mexican Senate Committees Formally Approve Marijuana Legalization Bill For Full Floor Action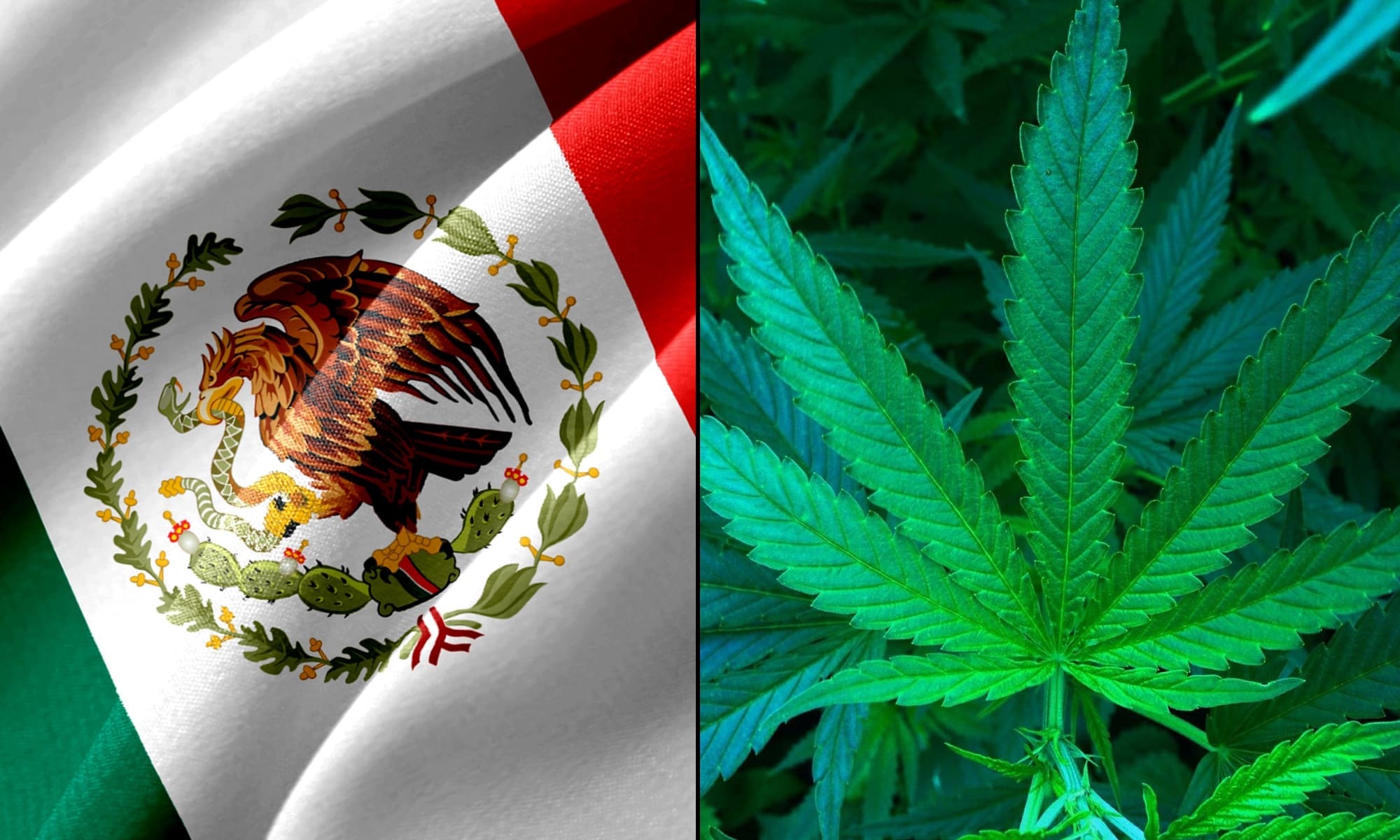 Key Mexican Senate committees on Wednesday approved a bill to legalize marijuana nationwide—and a full floor is expected soon.
The joint panels gave initial consent to advance the legislation during a virtual hearing on Friday, and have now reconvened in person to formally push it to a floor vote.
The bill, which was circulated in draft form earlier this month and has since been further amended, would establish a regulated cannabis market in Mexico, allowing adults 18 and older to purchase and possess up to 28 grams of marijuana and cultivate up to four plants for personal use.
Most of the amendments that have been added since the prior virtual hearing are technical in nature. However, there was a notable revision to make it so people who grow cannabis for personal use will not be subject to a requirement to have regulators track plants.
Members of the Senate's Justice, Health, and Legislative Studies Committees approved the proposal, months after passing an earlier version. A full vote in the chamber could come as soon as Thursday.
🔴 Reunión de las comisiones unidas de Justicia, de Salud y de Estudios Legislativos Segunda, del 18 de noviembre de 2020 https://t.co/DNjlLnQe3k

— Senado de México (@senadomexicano) November 18, 2020
While advocates have celebrated the development, they are still seeking certain changes to promote consumers' rights and social equity in the legal market.
El dictamen actual amenaza con mantener la criminalización de las personas usuarias y las poblaciones más vulnerables, mientras habilita un mercado del que se beneficiarán, principalmente, actores privados y extranjeros.

— México Unido (@MUCD) November 18, 2020
Desde @MUCD reiteramos nuestro llamado al @senadomexicano de no perder la oportunidad histórica de corregir los males de la prohibición y regular bien.

Necesitamos #CannabisLegalConJusticiaSocial.

— México Unido (@MUCD) November 18, 2020
Lawmakers have been working on the reform legislation for two years since the nation's Supreme Court ruled in late 2018 that the prohibition on possessing and growing cannabis is unconstitutional. The court ordered Congress to amend the law accordingly, but the legislature has struggled to reach consensus on the issue and has been granted several deadline extensions to enact the policy change.
The current deadline to legalize marijuana is December 15.
Senate President Eduardo Ramírez said last week that there is a "consensus" to achieve the reform by the court-mandated date.
Reform advocates have been consistently pushing for legislative action on reform since the court ruling, though they've taken issue with certain provisions of lawmakers' various proposals. Namely, they remain concerned about high penalties that can be imposed for violating the cannabis rules and feel the bill should further promote social equity in the industry.
Those requested changes do not seem to have been incorporated into the latest amended bill that the committees approved, but there's still time to make revisions on the floor and in the Chamber of Deputies, which must also pass the legislation in order for it to become law.
Ricardo Monreal, the ruling MORENA party's coordinator in the Senate, said last week that the proposal is a significant improvement on current laws against possession, which have "only caused the detention centers to be full of people for possession of a few grams of cannabis, which is why they seek to reduce the penalties in carrying of this product."
In a column published on the senator's website on Sunday, he said the "intensity, duration and complexity of the discussion reflects the desire to achieve the pacification of a country that for years has been a victim of violence caused by drug trafficking, as well as the will to respect the right to free development of the personality, at the same time that favorable conditions are generated to expand national economic development," according to a translation.
Con la aprobación en comisiones del @senadomexicano del dictamen a la Ley Federal para la Regulación de Cannabis, podremos cumplirle a México en materia de salud, derechos humanos y combate a la delincuencia organizada. Mi columna, vía @El_Universal_Mx: https://t.co/e9dDgUF2ms

— Ricardo Monreal A. (@RicardoMonrealA) November 16, 2020
Lawmakers have "the historic opportunity to regulate the use of cannabis within the Mexican regulatory framework, to allow better control of the health of users, the emancipation of organized crime activities and the use of its wide benefits for society," he said, adding "this is a momentous moment in the public life of the country."
Sen. Nancy Sánchez Arredondo, also of the MORENA party, said that the process "has been a long road, whose merit goes to countless civil organizations and public and private institutions that struggled to give a complete turn to the prohibition in the use of cannabis."
According to La Jornada, there's some fragmentation within the ruling party over the legislation. However, advocates expect that members—despite certain differences over social justice components—will ultimately approve it. The Institutional Revolutionary, Citizens' Movement and Democratic Revolution parties will also reportedly back the measure.
La bancada de Morena en el Senado no tiene un voto uniforme para la regulación de la cannabis y su consumo lúdico #RegístrateGratis https://t.co/zmL1c4NlzG

— REFORMA Nacional (@reformanacional) November 17, 2020
The legislation makes some attempts to mitigate the influence of large marijuana corporations. For example, it states that for the first five years after implementation, at least 40 percent of cannabis business licenses must be granted to those from indigenous, low-income or historically marginalized communities.
The Mexican Institute of Cannabis would be responsible for regulating the market and issuing licenses.
Public consumption of marijuana would be allowed, except in places where tobacco use is prohibited or at mass gatherings where people under 18 could be exposed.
Households where more than one adult lives would be limited to cultivating a maximum of six plants. The legislation also says people "should not" consume cannabis in homes where there are underaged individuals. Possession of more than 28 grams but fewer than 200 grams would be considered an infraction punishable by a fine but no jail time.
Monreal originally said the chamber would vote on the legalization bill by the end of October, that timeline did not work out.
In his latest column, he remarked that the delay enabled the legislature to take into consideration marijuana reforms "in Uruguay, Canada and the United States," which "serve as examples of the probable consequences that must be foresee and solve in the Mexican case, while observing the benefits that the regulated use of this plant and its derivatives has generated in those nations."
President Andrés Manuel López Obrador said in August that marijuana reform legislation will advance in the session that began in September.
Sen. Julio Ramón Menchaca Salazar, also of the MORENA party, said in April that legalizing cannabis could fill treasury coffers at a time when the economy is recovering from the pandemic.
As lawmakers work to advance the reform legislation, there's been a more lighthearted push to focus attention on the issue by certain members and activists. That push has mostly involved planting and gifting marijuana.
In September, a top administration official was gifted a cannabis plant by senator on the Senate floor, and she said she'd be making it a part of her personal garden.
A different lawmaker gave the same official, Interior Ministry Secretary Olga Sánchez Cordero, a marijuana joint on the floor of the Chamber of Deputies last year.
Cannabis made another appearance in the legislature in August, when Sen. Jesusa Rodríguez of the MORENA party decorated her desk with a marijuana plant.
Drug policy reform advocates have also been cultivating hundreds of marijuana plants in front of the Senate, putting pressure on legislators to make good on their pledge to advance legalization.
See a list of changes to the Mexican Senate marijuana legalization bill below:
Mexican Senate Marijuana Legalization Amendments by Marijuana Moment on Scribd
Marijuana Legalization Got More Votes Than Trump, Biden And Other Officials In Multiple States