Mexican Lawmakers Fail To Legalize Marijuana Ahead Of Supreme Court Deadline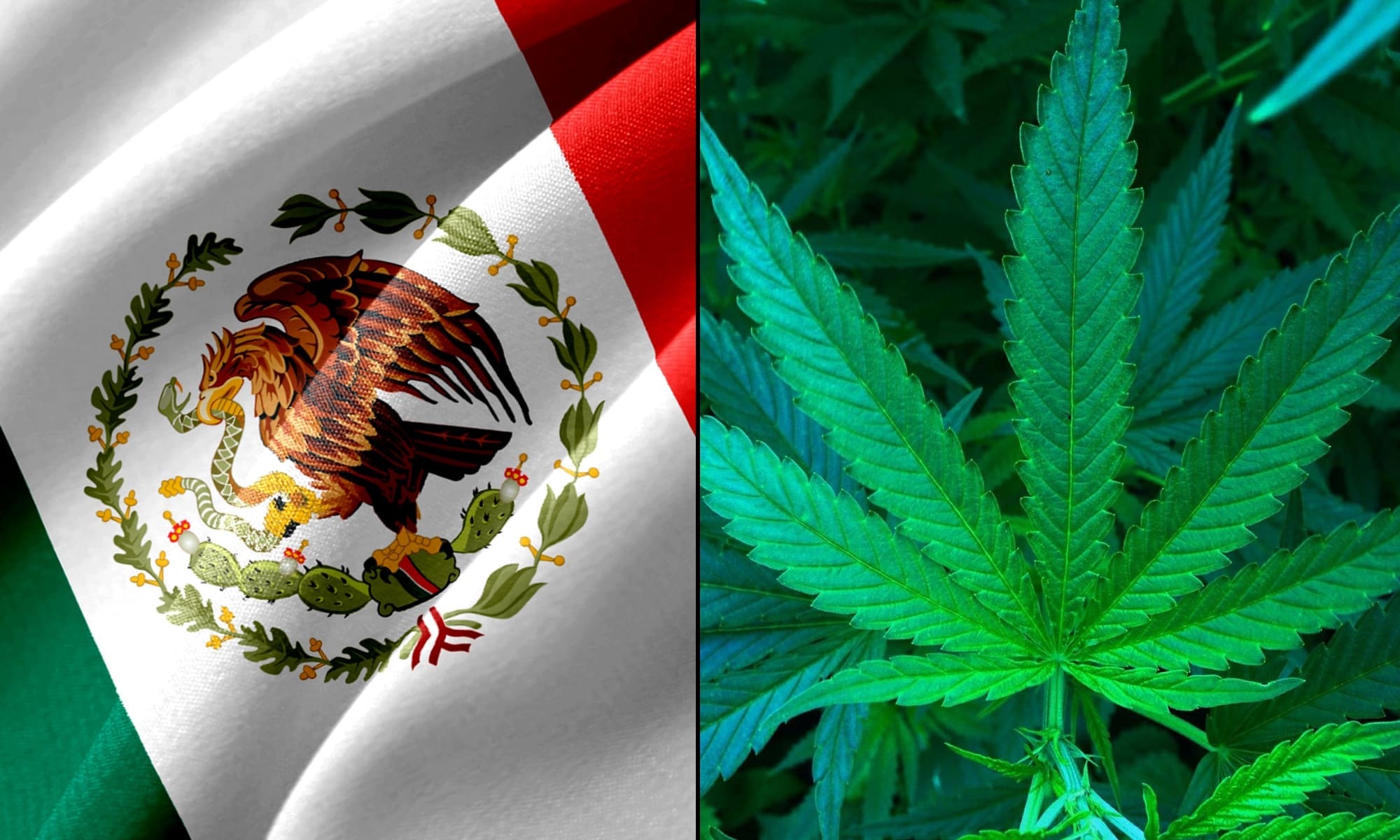 Mexican lawmakers have failed to meet a Supreme Court deadline to end marijuana prohibition after spending months going back and forth on a legalization bill that passed both chambers of Congress in differing forms.
The result is a lot of uncertainty. The court first deemed prohibition unconstitutional in 2018, ordering legislators to enact a policy change. And while there's been progress in drafting and advancing legalization legislation in the years since, senators repeatedly requested deadline extensions that the court granted.
This session, it seemed like the reform would finally be achieved. The Senate approved a legalization bill late last year, and then the Chamber of Deputies made revisions and passed it in March, sending it back to the originating chamber. A couple of Senate committees then took up and cleared the amended measure, but leaders quickly started signaling that certain revisions made the proposal unworkable.
That's where the situation stood for weeks as the court's latest April 30 deadline approached. There was an expectation that the Senate would again ask the court for an extension, but that did not take place. Instead, lawmakers have begun floating the idea of holding a special legislative session after June's elections in order to get the job done this year.
Hoy vence el periodo de sesiones y con él la prórroga de la @scjnmexico para regular la cannabis. @ricardomonreal ahora señala que se pueden ir a periodo extraordinario para regresar los cambios a @mx_diputado. #NoMásPrórrogas pic.twitter.com/V1hJqmsQqK

— MéxicoRegula (@MexicoRegula) April 30, 2021
Advocates, including those with Mexico Unido, are now pushing for a special session after lawmakers missed their deadline.
🟢 Comunicado:

MUCD exhorta al Congreso a 𝗰𝗼𝗻𝘃𝗼𝗰𝗮𝗿 𝗮 𝘂𝗻𝗮 𝘀𝗲𝘀𝗶𝗼́𝗻 𝗲𝘅𝘁𝗿𝗮𝗼𝗿𝗱𝗶𝗻𝗮𝗿𝗶𝗮 para terminar con la prohibición absoluta de la #cannabis 👉🏽 https://t.co/qyp3M0Yjys pic.twitter.com/Gg8Jr3acsR

— México Unido (@MUCD) April 30, 2021
"We are in uncharted territory," Zara Snapp, a legalization activist with the Instituto RIA and the coalition #RegulacionPorLaPaz, told Marijuana Moment.
She said that while "nothing automatically happens" on the court's end with the deadline's expiration, the body has 10 working days to make a general declaration about the unconstitutionality of marijuana prohibition. One potential complication is that the court now has a different makeup, with some new justices, from when it first ruled to strike down criminalization in 2018. As a result, it's not clear if there is currently a majority that would back a similar finding.
Further court action would likely take place before a special legislative session, however, and so what would happen in the interim is an open question.
After the Chamber of Deputies approved the Senate-passed legalization bill, senators said that the revised proposal was critically internally conflicted—on provisions concerning legal possession limits, the definition of hemp and other issues—and lawmakers themselves could be subject to criminal liability if it went into effect as drafted.
But Senate Majority Leader Ricardo Monreal Avila said last month that if the court were to make a declaration of unconstitutionality before a measure to regulate cannabis was approved, it would result in "chaos."
#EnVivo Converso con las y los comunicadores que cubren la fuente informativa del @senadomexicano, en este día que concluye el último periodo ordinario de sesiones de esta Legislatura. https://t.co/qk33gFpukW

— Ricardo Monreal A. (@RicardoMonrealA) April 29, 2021
The top senator also talked about the importance of lawmakers taking their time to craft good policy and not rush amidst lobbying from tobacco and pharmaceutical industry interests.
"We must not allow ourselves to be pressured by interests," he said. "The Senate must act with great prudence in this matter."
Sen. Eduardo Ramírez Aguilar of the ruling MORENA party said last month that "at this time, it is important to legislate in the terms that are presented to us" and then consider additional revisions to cannabis laws through subsequent bills.
That's the position many legalization advocates took as well, urging lawmakers to pass an imperfect bill immediately and then work on fixing it later.
Under the proposal, adults 18 and older would be allowed to purchase and possess up to 28 grams of marijuana and cultivate up to six plants for personal use. The deputies made changes that principally concern the regulatory structure, rules for the commercial market and licensing policies.
One of the most notable changes is that the revised bill would not establish a new independent regulatory body to oversee the licensing and implementation of the program as was approved by the Senate. Instead, it would give that authority to an existing agency, the National Commission Against Addictions.
Deputies also approved additional revisions to increase penalties for unauthorized possession of large amounts of cannabis, prevent forest land from being converted to marijuana growing areas and to require regulators to "coordinate campaigns against problematic cannabis use and…develop permanent actions to deter and prevent its use by minors and vulnerable groups."
Advocates had hoped for more. Throughout this legislative process, they've called for changes to further promote social equity and eliminate strict penalties for violating the law.
While the bill would give priority for licenses to marginalized communities, advocates are worried that there might not be strict and specific enough criteria to actually ensure that ends up being the case. They also pushed for an amendment to make it so a specific percentage of licenses would be set aside for those communities, but that did not happen.
Monreal Avila, the Senate majority leader, said ahead of the Chamber of Deputies vote that there "is no problem if they modify the cannabis law, we have no problem."
"That is their job and their function. And on the return we will review whether or not they are appropriate," he said, according to a translation. "The idea is to regulate the use of cannabis and not ignore a prohibitionist approach that generated a great social problem in the country."
President Andres Manuel Lopez Obrador, for his part, said in December that a vote on legalization legislation was delayed due to minor "mistakes" in the proposal.
The legalization bill cleared a joint group of Senate committees prior to the full floor vote in that chamber last year, with some amendments being made after members informally considered and debated the proposal during a virtual hearing.
Members of the Senate's Justice, Health, and Legislative Studies Committees had approved a prior version of legal cannabis legislation last year as well, but the pandemic delayed consideration of the issue. Sen. Julio Ramón Menchaca Salazar of the MORENA party said in April that legalizing cannabis could fill treasury coffers at a time when the economy is recovering from the health crisis.
As lawmakers work to advance the reform legislation, there's been a more lighthearted push to focus attention on the issue by certain members and activists. That push has mostly involved planting and gifting marijuana.
In September, a top administration official was gifted a cannabis plant by senator on the Senate floor, and she said she'd be making it a part of her personal garden.
A different lawmaker gave the same official, Interior Ministry Secretary Olga Sánchez Cordero, a marijuana joint on the floor of the Chamber of Deputies in 2019.
Cannabis made another appearance in the legislature in August, when Sen. Jesusa Rodríguez of the MORENA party decorated her desk with a marijuana plant.
Drug policy reform advocates have also been cultivating hundreds of marijuana plants in front of the Senate, putting pressure on legislators to make good on their pledge to advance legalization.
Illinois Breaks Yet Another Marijuana Sales Record In April, State Data Shows