Mexican Lawmakers Fail To Legalize Marijuana Ahead Of Supreme Court Deadline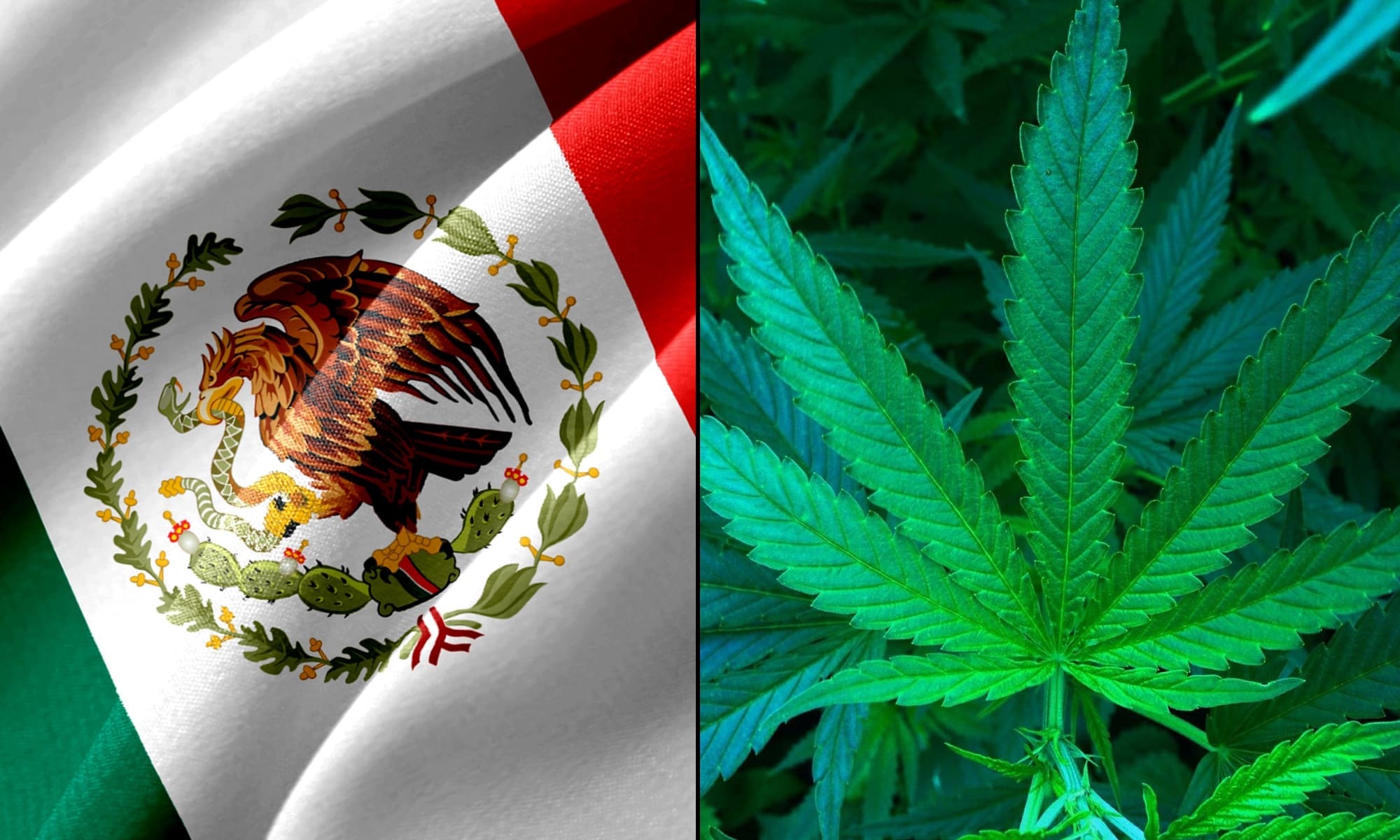 Mexican lawmakers have failed to meet a Supreme Court deadline to end marijuana prohibition after spending months going back and forth on a legalization bill that passed both chambers of Congress in differing forms.
The result is a lot of uncertainty. The court first deemed prohibition unconstitutional in 2018, ordering legislators to enact a policy change. And while there's been progress in drafting and advancing legalization legislation in the years since, senators repeatedly requested deadline extensions that the court granted.
This session, it seemed like the reform would finally be achieved. The Senate approved a legalization bill late last year, and then the Chamber of Deputies made revisions and passed it in March, sending it back to the originating chamber. A couple of Senate committees then took up and cleared the amended measure, but leaders quickly started signaling that certain revisions made the proposal unworkable.
That's where the situation stood for weeks as the court's latest April 30 deadline approached. There was an expectation that the Senate would again ask the court for an extension, but that did not take place. Instead, lawmakers have begun floating the idea of holding a special legislative session after June's elections in order to get the job done this year.
Hoy vence el periodo de sesiones y con él la prórroga de la @scjnmexico para regular la cannabis. @ricardomonreal ahora señala que se pueden ir a periodo extraordinario para regresar los cambios a @mx_diputado. #NoMásPrórrogas pic.twitter.com/V1hJqmsQqK

— MéxicoRegula (@MexicoRegula) April 30, 2021
Advocates, including those with Mexico Unido, are now pushing for a special session after lawmakers missed their deadline.
🟢 Comunicado:

MUCD exhorta al Congreso a 𝗰𝗼𝗻𝘃𝗼𝗰𝗮𝗿 𝗮 𝘂𝗻𝗮 𝘀𝗲𝘀𝗶𝗼́𝗻 𝗲𝘅𝘁𝗿𝗮𝗼𝗿𝗱𝗶𝗻𝗮𝗿𝗶𝗮 para terminar con la prohibición absoluta de la #cannabis 👉🏽 https://t.co/qyp3M0Yjys pic.twitter.com/Gg8Jr3acsR

— México Unido (@MUCD) April 30, 2021
"We are in uncharted territory," Zara Snapp, a legalization activist with the Instituto RIA and the coalition #RegulacionPorLaPaz, told Marijuana Moment.
She said that while "nothing automatically happens" on the court's end with the deadline's expiration, the body has 10 working days to make a general declaration about the unconstitutionality of marijuana prohibition. One potential complication is that the court now has a different makeup, with some new justices, from when it first ruled to strike down criminalization in 2018. As a result, it's not clear if there is currently a majority that would back a similar finding.
Further court action would likely take place before a special legislative session, however, and so what would happen in the interim is an open question.
After the Chamber of Deputies approved the Senate-passed legalization bill, senators said that the revised proposal was critically internally conflicted—on provisions concerning legal possession limits, the definition of hemp and other issues—and lawmakers themselves could be subject to criminal liability if it went into effect as drafted.
But Senate Majority Leader Ricardo Monreal Avila said last month that if the court were to make a declaration of unconstitutionality before a measure to regulate cannabis was approved, it would result in "chaos."
#EnVivo Converso con las y los comunicadores que cubren la fuente informativa del @senadomexicano, en este día que concluye el último periodo ordinario de sesiones de esta Legislatura. https://t.co/qk33gFpukW

— Ricardo Monreal A. (@RicardoMonrealA) April 29, 2021
The top senator also talked about the importance of lawmakers taking their time to craft good policy and not rush amidst lobbying from tobacco and pharmaceutical industry interests.
"We must not allow ourselves to be pressured by interests," he said. "The Senate must act with great prudence in this matter."
Sen. Eduardo Ramírez Aguilar of the ruling MORENA party said last month that "at this time, it is important to legislate in the terms that are presented to us" and then consider additional revisions to cannabis laws through subsequent bills.
That's the position many legalization advocates took as well, urging lawmakers to pass an imperfect bill immediately and then work on fixing it later.
Under the proposal, adults 18 and older would be allowed to purchase and possess up to 28 grams of marijuana and cultivate up to six plants for personal use. The deputies made changes that principally concern the regulatory structure, rules for the commercial market and licensing policies.
One of the most notable changes is that the revised bill would not establish a new independent regulatory body to oversee the licensing and implementation of the program as was approved by the Senate. Instead, it would give that authority to an existing agency, the National Commission Against Addictions.
Deputies also approved additional revisions to increase penalties for unauthorized possession of large amounts of cannabis, prevent forest land from being converted to marijuana growing areas and to require regulators to "coordinate campaigns against problematic cannabis use and…develop permanent actions to deter and prevent its use by minors and vulnerable groups."
Advocates had hoped for more. Throughout this legislative process, they've called for changes to further promote social equity and eliminate strict penalties for violating the law.
While the bill would give priority for licenses to marginalized communities, advocates are worried that there might not be strict and specific enough criteria to actually ensure that ends up being the case. They also pushed for an amendment to make it so a specific percentage of licenses would be set aside for those communities, but that did not happen.
Monreal Avila, the Senate majority leader, said ahead of the Chamber of Deputies vote that there "is no problem if they modify the cannabis law, we have no problem."
"That is their job and their function. And on the return we will review whether or not they are appropriate," he said, according to a translation. "The idea is to regulate the use of cannabis and not ignore a prohibitionist approach that generated a great social problem in the country."
President Andres Manuel Lopez Obrador, for his part, said in December that a vote on legalization legislation was delayed due to minor "mistakes" in the proposal.
The legalization bill cleared a joint group of Senate committees prior to the full floor vote in that chamber last year, with some amendments being made after members informally considered and debated the proposal during a virtual hearing.
Members of the Senate's Justice, Health, and Legislative Studies Committees had approved a prior version of legal cannabis legislation last year as well, but the pandemic delayed consideration of the issue. Sen. Julio Ramón Menchaca Salazar of the MORENA party said in April that legalizing cannabis could fill treasury coffers at a time when the economy is recovering from the health crisis.
As lawmakers work to advance the reform legislation, there's been a more lighthearted push to focus attention on the issue by certain members and activists. That push has mostly involved planting and gifting marijuana.
In September, a top administration official was gifted a cannabis plant by senator on the Senate floor, and she said she'd be making it a part of her personal garden.
A different lawmaker gave the same official, Interior Ministry Secretary Olga Sánchez Cordero, a marijuana joint on the floor of the Chamber of Deputies in 2019.
Cannabis made another appearance in the legislature in August, when Sen. Jesusa Rodríguez of the MORENA party decorated her desk with a marijuana plant.
Drug policy reform advocates have also been cultivating hundreds of marijuana plants in front of the Senate, putting pressure on legislators to make good on their pledge to advance legalization.
Illinois Breaks Yet Another Marijuana Sales Record In April, State Data Shows
U.S. Sports Authority Backs 'Liberalization' Of Marijuana Laws, Official Tells Lawmakers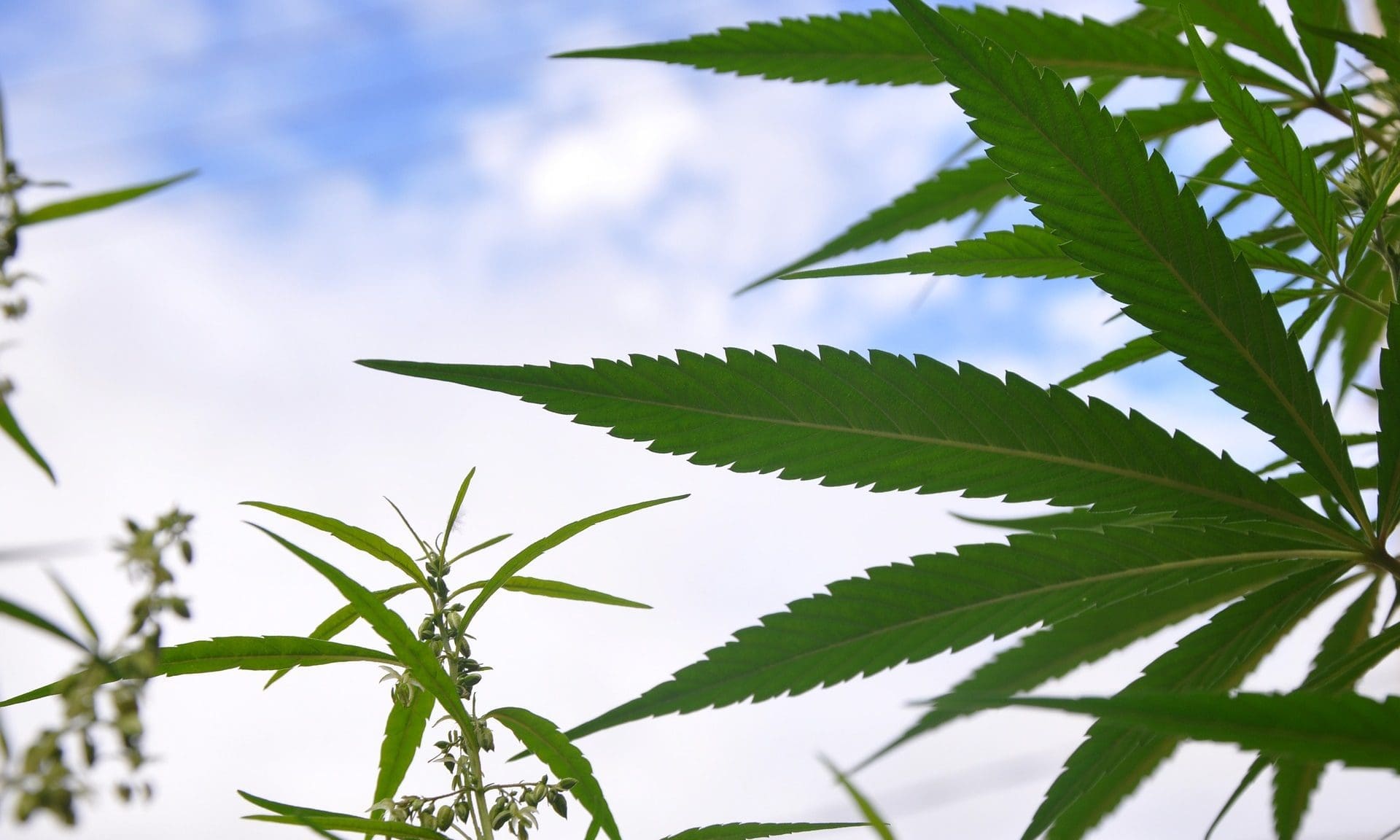 A representative of the U.S. Anti-Doping Agency (USADA) this week shifted blame for the Olympics suspension of U.S. runner Sha'Carri Richardson over a positive marijuana test, saying the national sports organization is "heartbroken" over the case and supports "liberalization" of current bans but claiming that its hands are tied with respect to enforcing international drug policy.
Edwin Moses, a two-time Olympic gold medal winner for track and field, and emeritus chair of USADA, appeared before a federal commission at a hearing on international sports on Wednesday and was pressed by panel co-chair Rep. Steve Cohen (D-TN) about the controversial suspension.
Cohen, who earlier in the day blasted the penalty for Richardson and urged federal action to end cannabis prohibition at a separate congressional hearing, said the case that's made national headlines "is such a shame," especially considering that the runner admitted to using marijuana in a legal state after learning about the death of her mother.
He also repeated a joke he made hours before that cannabis is "not a performance enhancing drug unless you're involved in the hot dog eating contest on the Fourth of July at Coney Island."
Moses replied that the Richardson situation "was one of the most heartbreaking cases that we've had this year."
"Although there was a handful of similar cases from the beginning of the year—and so it was not the first case of its kind—we're heartbroken at USADA to have to adjudicate any of these cases because, in many cases, there's lots of reasons for drug use," he told Cohen and other members at the hearing of the Commission on Security and Cooperation in Europe (also known as the Helsinki Commission).
Moses said the athlete "admitted what she did" and was aware of the potential consequences under international policy but argued that USADA has "always been on the side of more liberalization of the marijuana laws with respect to doping."
"We've moved and promoted changing the regulations, bringing the level [of permissible THC concentrations in drug tests] higher to eliminate cases of out-of-competition use, which in certain states is legal," he said. "It's not banned out of competition. However, she just got caught within that window. We have been trying everything we can to get the world to understand how this drug fits into the scheme of things."
The sports official also noted that the World Anti-Doping Agency (WADA) is a comprehensive body comprised of "650 organizations," and "neither the United States Olympic Committee nor USADA nor the [USA Track & Field] have anything to do with making up the rules."
"In most countries in the world, it's still an illegal substance," Moses said. "And there's countries in the world that under no circumstance will they ever be as liberal as we are."
But WADA recently made clear in a letter to Reps. Jamie Raskin (D-MD) and Alexandria Ocasio-Cortez (D-NY) this month that the U.S. itself played a leading role in imposing the cannabis prohibition. And the first president of WADA, Richard Pound, made similar comments in a recent interview with Marijuana Moment, pointing to how the country essentially bullied the rest of the world in including cannabis on the banned substances list.
At the hearing, Cohen said he recognized that enacting reform is an onerous task, and it's one that he's faced over his career as a member of Congress.
"Making good laws like is slow as molasses, and the cultural lag that we experience is awful," he said. "I know it's tough, and I hope you'll put your best efforts" toward changing the marijuana policy at the international sports level.
"Because it's the law and because it's the rule doesn't mean it's right," the congressman said. "They should be changed."
Advocates appreciated that Cohen's questioning got USADA to publicly flesh out its position on marijuana use by athletes.
"USADA told Congress, right to its face, that the policy of prohibition and stigmatization of cannabis consumers is wrong," Justin Strekal, political director for NORML, told Marijuana Moment. "The remaining question is when will the House take action to end the mandate that organizations like USADA, the DEA, ONDCP, and others stop criminalizing otherwise law-abiding Americans?"
Since Richardson's suspension was announced, there's been widespread and largely bipartisan criticism of the rules, especially as more states move to legalize. But officials have consistently pitted blame on other agencies and governments for enacting the prohibitionist policy in the first place.
USADA also responded to the letter from Raskin and Ocasio-Cortez, and it asserted that the rules on marijuana for international athletes "must change." USADA had previously expressed sympathy for Richardson and indicated that it may be time for a reevaluation of the marijuana prohibition—but in that statement, it explicitly called for a policy change.
USADA wrote that "President Joe Biden described the way forward best when he said" that the "rules are rules," but those regulations may need to be reevaluated.
Also this month, the White House press secretary—like USADA—expressed sympathy for the runner and indicated that it may be time for a reevaluation of the marijuana prohibition.
Press Secretary Jen Psaki previously declined to condemn Olympics officials' sanction on Richardson when asked about the issue at a briefing with reporters earlier this month, but she told CNN in the newer comments that the case highlights the need to "take another look" at the rules on cannabis, especially in light of the decision to bar the athlete from a second event that fell outside the scope of the 30-day suspension.
USA Track & Field also said recently that international policy on cannabis punishments for athletes "should be reevaluated." And following Ocasio-Cortez and Raskin's letter, a separate group of lawmakers also sent a letter to USADA last week to urge a policy change.
Chuck Schumer Discusses Strategy For Getting Enough Votes To Pass Marijuana Legalization Bill
Photo courtesy of Max Pixel.
Chuck Schumer Discusses Strategy For Getting Enough Votes To Pass Marijuana Legalization Bill
Senate Majority Leader Chuck Schumer (D-NY) on Thursday discussed his strategy for getting enough votes to pass his federal marijuana legalization bill, describing the process of soliciting feedback on the legislation from colleagues and working to incorporate any requested "modifications" in order to get the measure across the finish line.
It was just last week that Schumer unveiled a 163-page draft version of the reform legislation alongside Senate Finance Committee Chairman Ron Wyden (D-OR) and Sen. Cory Booker (D-NJ). While they made clear that public input is valued—and they've created an email account where people can submit comments until September 30 on the proposal—the new comments provide a fresh insight into the legislative process to build support for the measure within the Senate.
"We're now going around to our colleagues saying, 'Would you sign onto the bill? And if you don't like what's in the bill and want some modifications, tell us,'" he told ABC's The View. "I want to get this done. And I think we will get it done because it's so, so overwhelmingly supported by the American people."
Americans want an end to marijuana prohibition.

And with the Cannabis Administration and Opportunity Act that @SenBooker, @RonWyden, and I released:

We are working to end the federal prohibition and repair the harms done by the War on Drugs.

Here's what I said on @TheView: pic.twitter.com/aD9BYO08f7

— Chuck Schumer (@SenSchumer) July 22, 2021
There have been some serious questions about whether the three senators will be able to muster the 60 votes needed to pass the legislation in their chamber. Even with a slim Democratic majority in the Senate, there are some members of Schumer's own party who've expressed concerns about the comprehensive reform.
In the days following the introduction of the Cannabis Administration and Opportunity Act (CAOA), Booker had repeatedly stressed that he wants to see this legislation pass before allowing incremental reform to advance such as a bipartisan bill to protect banks that service state-legal marijuana businesses from being penalized by federal regulators.
Last week, the senator vowed to "lay myself down" to block any other senators who seek to pass marijuana banking legislation before the body approves comprehensive cannabis reform, igniting the controversy.
He's taken some criticism from stakeholders on that position—though he clarified on Wednesday he simply feels that holding off on voting on the banking reform as a "sweetener" could encourage his colleagues to support more comprehensive legislation.
—
Marijuana Moment is already tracking more than 1,100 cannabis, psychedelics and drug policy bills in state legislatures and Congress this year. Patreon supporters pledging at least $25/month get access to our interactive maps, charts and hearing calendar so they don't miss any developments.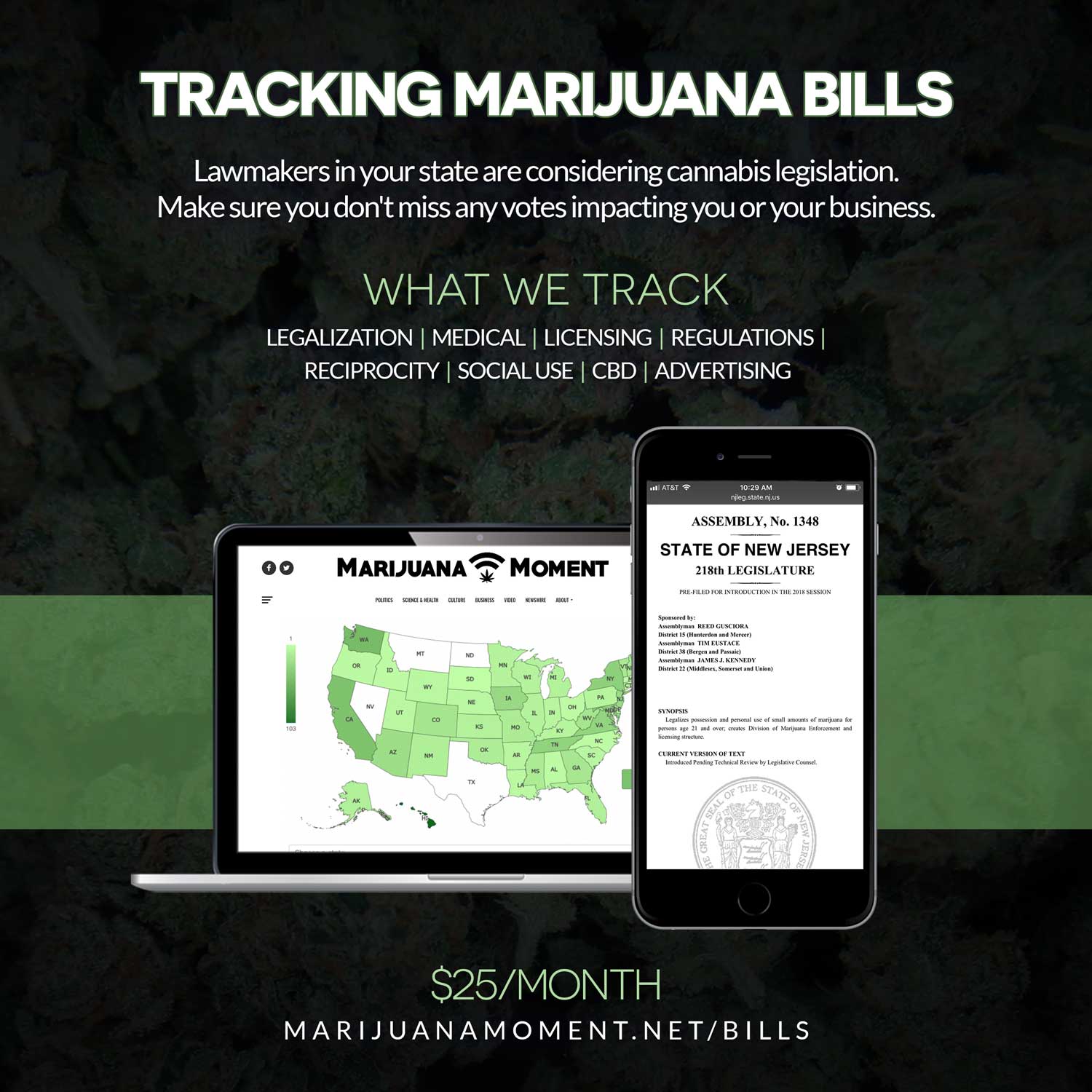 Learn more about our marijuana bill tracker and become a supporter on Patreon to get access.
—
In any case, Schumer argued on Thursday that marijuana legalization overall is an overdue policy change.
"It's been so over-criminalized at the federal level—it's treated like heroin or cocaine, very much more serious drugs," he said. "Even worse, we have a person who has a small amount of marijuana—a young person—in their pocket [they] can get arrested, have a such a serious criminal record as if they were selling a whole lot of heroin [and] they can almost never recover."
"First we want to legalize it to make sure that the people who want to use it can use it without this over-criminalization," Schumer said. "Secondly, we want to expunge records of people who had a small amount of marijuana in their pockets and are then hurt the rest of their lives. We'd love them to be productive citizens."
The majority leader said voter initiatives on reform in traditionally conservative states like South Dakota clearly demonstrate that "Americans are for legalization."
The View host Whoopi Goldberg, an advocate and marijuana business owner, could be heard giving an enthusiastic off-screen "yeah" at the senator's closing remarks.
"That was a Whoopi 'yeah,'" Schumer guessed.
"As expected, that was Whoopi," a co-host confirmed.
In the run-up to the introduction of the CAOA, Schumer made the case for reform everywhere from the Senate floor on 4/20 to a cannabis rally in New York City.
All three senators formally started their efforts on the legalization bill by holding a meeting earlier this year with representatives from a variety of advocacy groups to gain feedback on the best approach to the reform.
Schumer made a point in March to say that it will specifically seek to restrict the ability of large alcohol and tobacco companies to overtake the industry. Instead, it will prioritize small businesses, particularly those owned by people from communities most impacted by prohibition, and focus on "justice, justice, justice—as well as freedom," he said.
He also urged voters to reach out to their congressional representatives and tell them that "this is long overdue."
Meanwhile, a separate House bill to federally legalize marijuana and promote social equity in the industry was reintroduced in May.
The legislation, sponsored by Judiciary Committee Chairman Jerrold Nadler (D-NY), was filed with a number of changes compared to the version that was approved by the chamber last year.
AOC Promotes Research On Benefits Of Psychedelics Like Psilocybin And MDMA With New Amendment
AOC Promotes Research On Benefits Of Psychedelics Like Psilocybin And MDMA With New Amendment
Rep. Alexandria Ocasio-Cortez (D-NY) is again fighting to remove a federal research roadblock in the hopes of promoting studies into the therapeutic potential of psychedelics like MDMA, psilocybin and ibogaine.
The congresswoman introduced an amendment seeking to attach the policy change to large-scale spending legislation covering funding for multiple agencies. Meanwhile, numerous other amendments on drug policy issues have been filed to the bill, including one that would remove protections for universities that conduct research into marijuana.
Another important proposed revision would direct the Food and Drug Administration (FDA) to move forward on rulemaking to establish a regulatory pathway to allow CBD as a dietary supplement.
Put simply, the amendments to the large-scale appropriations minibus run the gamut. But Ocasio-Cortez's proposal is especially notable given its focus on psychedelics—an issue that's rarely been breached in Congress. Her measure would strike a longstanding rider, first enacted in 1996, that prohibits the use of federal funds for "any activity that promotes the legalization of any drug or other substance in Schedule I."
A description of the amendment clarifies that the intent is to allow "United States researchers to study and examine the potential impacts of several schedule I drugs, such as MDMA, psilocybin, and or ibogaine, that have been shown to be effective in treating critical diseases."
In 2019, a large majority of Democratic House members joined all but seven Republicans in a vote against an earlier version of the congresswoman's amendment. But given the surge in state and local psychedelics reform efforts in the years since, it stands to reason that this Congress may take the issue more seriously.
It is ridiculous that Congress upholds War on Drugs-era barriers on federal research into substances like psilocybin, ibogaine,& MDMA when early results are indicating major promise in treating PTSD, addiction,& more.

I'm trying (again) to lift them so we can pursue the science. https://t.co/e87U3UYhUS

— Alexandria Ocasio-Cortez (@AOC) July 22, 2021
Relatedly, a recent House committee report attached to spending legislation also encourages federal health agencies to pursue research into the therapeutic potential of psychedelics for military veterans suffering from a host of mental health conditions.
—
Marijuana Moment is already tracking more than 1,100 cannabis, psychedelics and drug policy bills in state legislatures and Congress this year. Patreon supporters pledging at least $25/month get access to our interactive maps, charts and hearing calendar so they don't miss any developments.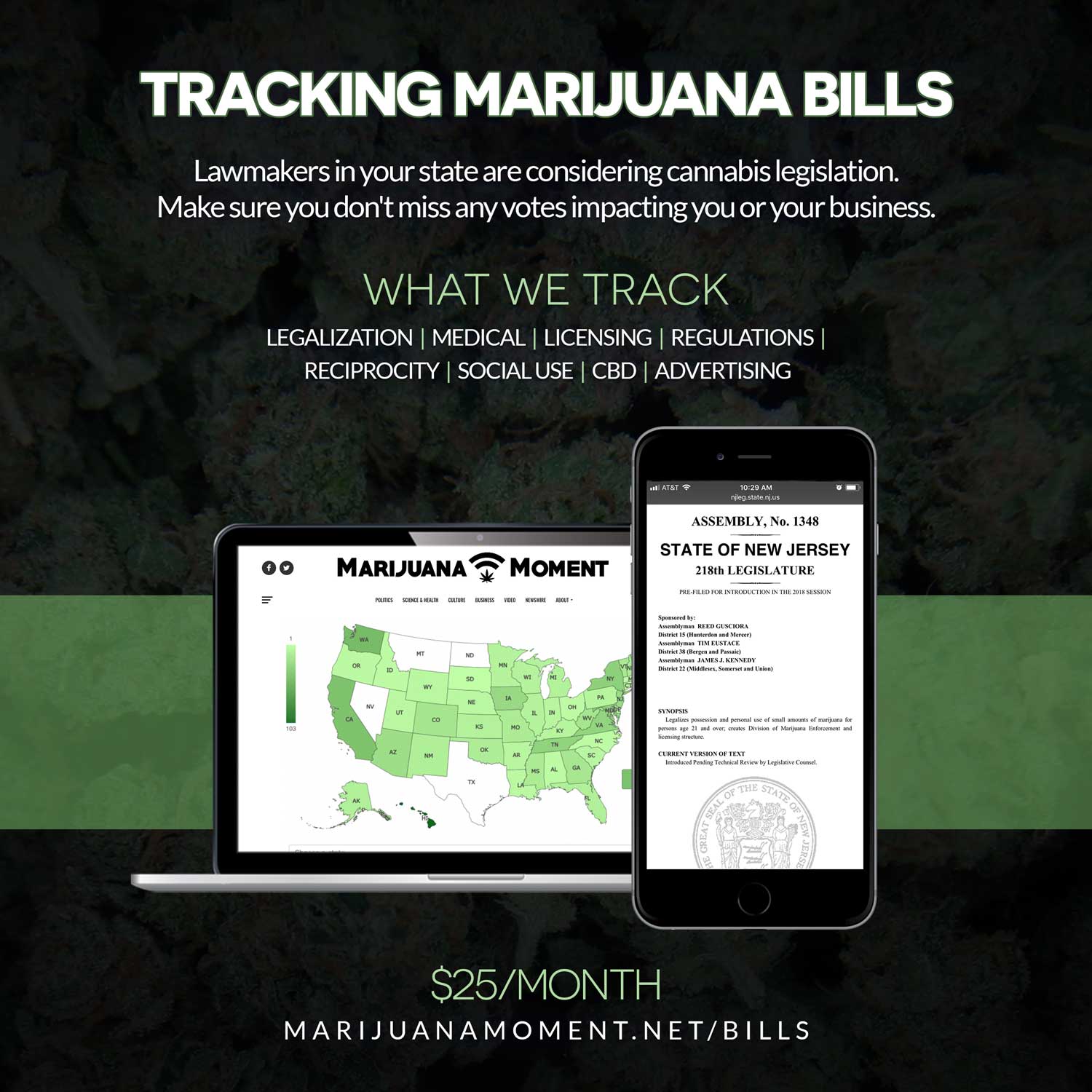 Learn more about our marijuana bill tracker and become a supporter on Patreon to get access.
—
As some lawmakers move to catch up to the public on progressive drug policy issues, others are seeking more regressive amendments to the fiscal year 2022 spending bill for the Departments of Labor, Health and Human Services, Education, Agriculture, Rural Development, Energy and Water Development, Financial Services and General Government, Interior, Environment, Military Construction, Veterans Affairs, Transportation, and Housing and Urban Development.
Case in point: Rep. Debbie Lesko (R-AZ) introduced a proposal to eliminate a rider that was added to the bill in committee that "allows federal funding to go to institutions of higher education that are conducting research on marijuana."
To advocates, this is simply beyond the pale, even for a reform opponent. Promoting research into cannabis is an overwhelmingly bipartisan issue, and top federal drug officials have repeatedly urged Congress to support policies that make it easier to study the risks and benefits of the plant. What's more, Lesko represents a state with adult-use legalization on the books.
"There is no way to describe Representative Lesko's governing philosophy in regards to cannabis other than to deny reality and maintain oppression," Justin Strekal, political director of NORML, told Marijuana Moment. "Her absurdity is in direct contrast to the will of her constituents, as demonstrated by the recent legalization initiative in Arizona."
These are just some of the recently filed drug policy amendments. One of the other more notable proposals from Rep. Kurt Schrader (D-OR) would affect funding for FDA to "highlight the need for the Agency to proceed with rulemaking on cannabidiol (or CBD) by no later than 180 days after enactment, out of concern that the FDA has not initiated rulemaking to establish a regulatory pathway for CBD as a dietary supplement and food ingredient."
Rep. Doug LaMalfa (R-CA), who recently hopped on a bulldozer to help local California police eradicate illicit marijuana grows, filed an amendment to transfer "$25 million from the Environmental Programs and Management enforcement activities account to the National Forest System account for enforcement and remediation of illegal marijuana trespass grow sites on federal lands and for the clean-up of toxic waste and chemicals at these sites."
Rep. French Hill (R-AR), meanwhile, wants to take $50 million from a federal electric vehicles fund and transfer it to the White House Office of National Drug Control Policy's (ONDCP) High Intensity Drug Trafficking Areas Program, which coordinates crackdowns on illegal marijuana and other drugs.
LaMalfa separate filed a proposed change to block federal funding for needle distribution programs. And in a similar vein, Rep. Ted Butt (R-NC) introduced an amendment to prevent the use of funds to purchase clean syringes. A nearly identical revision would prevent such use in Washington, D.C. specifically. Each of the measures take aim at harm reduction policies that advocates say could help mitigate the drug overdose epidemic.
On the other side of the spectrum, Rep. Eleanor Holmes Norton (D-DC) filed amendments to the large-scale minibus appropriations legislation that would make it so marijuana possession or consumption could not be used at the sole basis for denying people access to public housing.
Meanwhile, a bipartisan group of congressional lawmakers is now circulating a letter to build support for an amendment to a separate spending bill that would protect all state and tribal marijuana programs from federal interference—going beyond the existing measure that shields only medical cannabis states that's currently enacted into law.
The Rules Committee will meet next week to decide which of the submitted amendments will be deemed in order for votes on the floor of the full House of Representatives.
The appropriations process this session has seen numerous drug policy reform provisions included in bill text and attached reports—including protecting banks that work with marijuana businesses, encouraging government agencies to reconsider policies that fire employees for use and stopping immigrants from being deported for cannabis, among other issues.
Congressional Lawmakers Seek To Build Support For Amendment To Protect All Marijuana States From Federal Interference