Mexican Senators Weigh Yet Another Extension Of Marijuana Legalization Deadline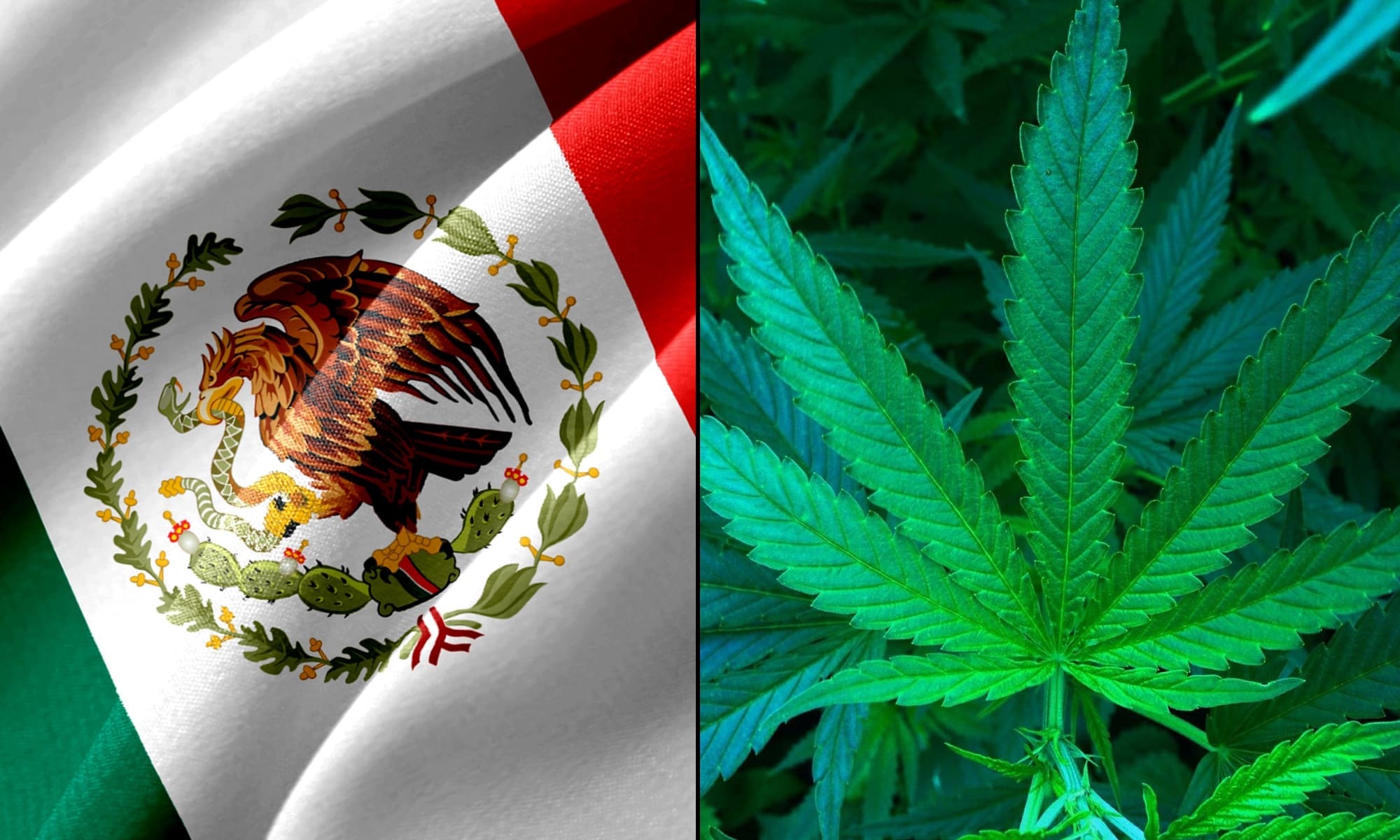 Mexican senators are again considering requesting an extension of a Supreme Court deadline to legalize marijuana after determining that a reform bill moving through the chamber contains multiple "inconsistencies" and could be unconstitutional.
It was late 2018 when the court first declared that the country's prohibition on cannabis itself is unconstitutional and ordered lawmakers to enact a policy change. The initial deadline to make that change was October 2019, but for one reason or another, senators have repeatedly asked to push back the timeline, and the court has accepted each request.
Senators have pointed out that the bill as it stands is critically internally conflicted—on provisions concerning legal possession limits, the definition of hemp and other issues—and lawmakers themselves could be subject to criminal liability if it went into effect as drafted.
The legislation at issue originated in the Senate, which passed it in November. The Chamber of Deputies then took it over, made a series of revisions, approved the proposal last month and then sent it back to the Senate for final consideration. There's been talk of inconsistencies among senators as the bill has moved through two Senate committees this week, but despite that progress, another deadline extension is now on the table.
The media outlet Excelsior reported that the Senate's Board of Directors formally asked the court on Wednesday night for more time to work on the cannabis bill's provisions, but a top lawmaker said on Thursday that wasn't the case and they are still deliberating on whether to submit the request.
Still, it seems senators are leaning toward that option and are interested in taking the bill back up during the next session starting in September.
"I am convinced of the need to regulate it. I have always been a promoter of this reform as it was approved in the Senate," Majority Leader Ricardo Monreal Avila said at a press conference, according to a translation. "It was the product of many months of work. However, the Chamber of Deputies modified it and in the Senate there is a decision to review it and act with great caution because, for me, this is one of the most important laws that Mexico can enact."
#EnVivo Conferencia de prensa con los medios de comunicación que cubren la fuente informativa del @senadomexicano. https://t.co/8AUqixmhWb

— Ricardo Monreal A. (@RicardoMonrealA) April 8, 2021
"I have been talking with several legislators from all parliamentary groups who have concerns about this legislation, and there is this possibility of requesting [from] the court another deadline to complete the legislative process," he said.
The top senator also talked about the importance of lawmakers taking their time to craft good policy and not rush amidst lobbying from tobacco and pharmaceutical industry interests.
"We must not allow ourselves to be pressured by interests," he said. "The Senate must act with great prudence in this matter."
Excelsior reported that it obtained a Senate document determining that revisions made by the Chamber of Deputies infringes on human rights "and the Political Constitution of the United Mexican States is violated and there is even the risk of not complying with the Declaration of Institutionality."
Monreal said at an earlier press conference on Tuesday that if lawmakers don't seek or obtain an extension and also fail to legalize marijuana legislatively by the current April 30 deadline, the court can unilaterally declare prohibition unconstitutional without establishing regulations for a market, and the result would be "chaos."
"It is not easy, and the Senate has a big problem," Monreal Avila said on Tuesday, according to a translation.
"We must not create imperfect laws. We must legislate with the greatest cohesion and with the aim of solving social problems that are occurring," he said. "Neither economic purposes, nor profit purposes, nor collection purposes can be placed above social interest."
#EnVivo Converso con los medios de comunicación que cubren la fuente informativa del @senadomexicano. https://t.co/8JBGze34TP

— Ricardo Monreal A. (@RicardoMonrealA) April 6, 2021
The Senate's official Twitter account, meanwhile, quizzed followers this week about the legislative process on enacting cannabis reform.
✅ Anteriormente, el Senado realizó un #ParlamentoAbierto para fortalecer el nuevo marco regulatorio de cannabis. Ahora, con la recepción de una minuta, el proceso legislativo continúa en esta Cámara.https://t.co/pf926MbL7m

— Senado de México (@senadomexicano) April 8, 2021
But even more questions remain with respect for the Senate. For example, will the legalization bill still proceed to its third and final committee as initially planned? Would the Supreme Court grant yet another deadline extension, and until when? And what kind of revisions are needed in order for the legislation to be resolved?
While senators have blamed the other chamber for problems in the cannabis bill, Dep. Martha Tangle said in a tweet on Thursday that the the issues emerged in the initial legislation as passed by the Senate.
The court "should not give a new extension to Congress," she said, adding that there is "no will of the legislators of [MORENA] to do their job."
La @SCJN no debe dar una nueva prórroga al congreso, desde el 2018 sacó la jurisprudencia sobre #cannabis y tratándose de una reforma legal no ha salido porque no hay voluntad de legisladores de la 4T de hacer su trabajo. @SCJN deberá emitir declaratoria de inconstitucionalidad

— Martha Tagle (@MarthaTagle) April 8, 2021
Sen. Eduardo Ramírez Aguilar of the ruling MORENA party said last month that "at this time, it is important to legislate in the terms that are presented to us" and then consider additional revisions to cannabis laws through subsequent bills.
Under the proposal, adults 18 and older would be allowed to purchase and possess up to 28 grams of marijuana and cultivate up to six plants for personal use. The deputies made changes that principally concern the regulatory structure, rules for the commercial market and licensing policies.
One of the most notable changes is that the revised bill would not establish a new independent regulatory body to oversee the licensing and implementation of the program as was approved by the Senate. Instead, it would give that authority to an existing agency, the National Commission Against Addictions.
Deputies also approved additional revisions to increase penalties for unauthorized possession of large amounts of cannabis, prevent forest land from being converted to marijuana growing areas and to require regulators to "coordinate campaigns against problematic cannabis use and…develop permanent actions to deter and prevent its use by minors and vulnerable groups."
Advocates had hoped for more. Throughout this legislative process, they've called for changes to further promote social equity and eliminate strict penalties for violating the law.
While the bill would give priority for licenses to marginalized communities, advocates are worried that there might not be strict and specific enough criteria to actually ensure that ends up being the case. They also pushed for an amendment to make it so a specific percentage of licenses would be set aside for those communities, but that did not happen.
Monreal Avila, the Senate majority leader, said ahead of the Chamber of Deputies vote that there "is no problem if they modify the cannabis law, we have no problem."
"That is their job and their function. And on the return we will review whether or not they are appropriate," he said, according to a translation. "The idea is to regulate the use of cannabis and not ignore a prohibitionist approach that generated a great social problem in the country."
President Andres Manuel Lopez Obrador, for his part, said in December that a vote on legalization legislation was delayed due to minor "mistakes" in the proposal.
The legalization bill cleared a joint group of Senate committees prior to the full floor vote in that chamber last year, with some amendments being made after members informally considered and debated the proposal during a virtual hearing.
Members of the Senate's Justice, Health, and Legislative Studies Committees had approved a prior version of legal cannabis legislation last year as well, but the pandemic delayed consideration of the issue. Sen. Julio Ramón Menchaca Salazar of the MORENA party said in April that legalizing cannabis could fill treasury coffers at a time when the economy is recovering from the health crisis.
As lawmakers work to advance the reform legislation, there's been a more lighthearted push to focus attention on the issue by certain members and activists. That push has mostly involved planting and gifting marijuana.
In September, a top administration official was gifted a cannabis plant by senator on the Senate floor, and she said she'd be making it a part of her personal garden.
A different lawmaker gave the same official, Interior Ministry Secretary Olga Sánchez Cordero, a marijuana joint on the floor of the Chamber of Deputies in 2019.
Cannabis made another appearance in the legislature in August, when Sen. Jesusa Rodríguez of the MORENA party decorated her desk with a marijuana plant.
Drug policy reform advocates have also been cultivating hundreds of marijuana plants in front of the Senate, putting pressure on legislators to make good on their pledge to advance legalization.
This story has been updated to reflect that a deadline extension request has not been submitted and to add comments from the majority leader.
Connecticut Governor Says Marijuana Legalization Will Be Decided By Voters If Lawmakers Fail To Enact Reform