Marijuana Ballot Initiative Campaigns Raised $12.9 Million, Final Pre-Election Numbers Show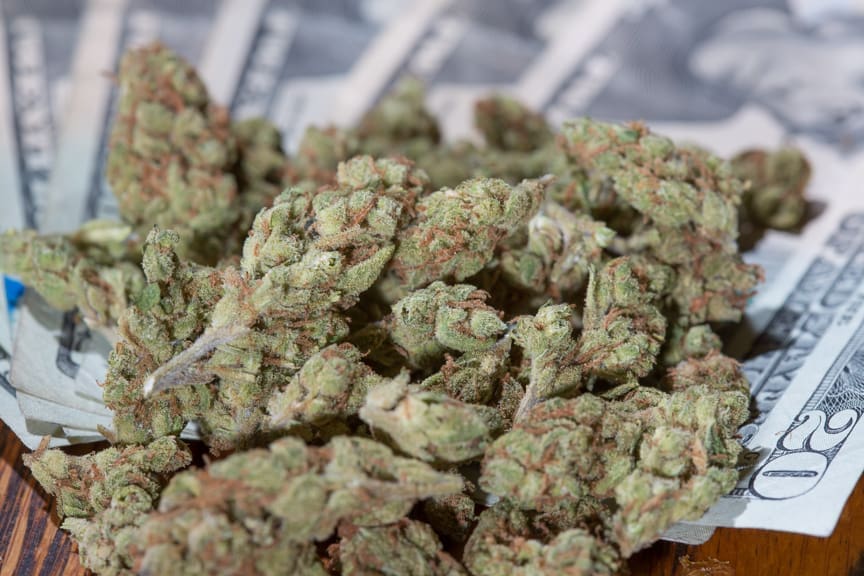 2018 has been a banner year for marijuana ballot initiatives. Voters in two states are considering legalizing recreational use, while those in another two states will decide whether to allow medical cannabis.
In the lead-up to the election, committees supporting or opposing these initiatives have raised a total of $12.9 million in cash and in-kind services over the past two years to convince those voters, Marijuana Moment's analysis of the latest campaign finance records filed the day before Election Day shows.
On the day final ballots are cast and tallied, here's where funding totals now stand for the various cannabis committees, both pro and con, in the four states considering major modifications to marijuana laws.
(Notes: For Missouri, PACS supported one of three initiatives that would bring some form of medical marijuana to the state. Missouri Oppose ($6,000) data isn't visible on chart due to scale.)
Missouri
Missouri has three different medical cannabis ballot initiatives, and the resulting competition among and against them attracted the most money in the country: a whopping $5.4 million in funding split between five committees.
Find the Cures, which supports Amendment 3 and is funded almost single-handedly by loans from physician Brad Bradshaw, raised almost $2.2 million.
New Approach Missouri, which supports Amendment 2, raised a total of $1.7 million. Major donors included Drug Policy Action, which contributed $258,500 and the national New Approach PAC, which contributed a total of $173,470 in-kind, most of that coming through in October. Former Anheuser-Busch CEO Adulphus Busch IV contributed $134,000 through individual donations and his Belleau Farms. Seven Points LLC contributed $125,000 over the course of the year, Missouri Essentials dropped in $97,000 and Emerald City Holdings put in $75,000. The group received a last-minute $25,000 donation from 91-year-old Ethelmae Humphrys, former CEO of TAMKO, and realtor Ron Stenger contributed $25,000 over the year.
Latecomer PAC Patients Against the "Bradshaw Amendment," also supports Amendment 2 and raised $2,530.
Missourians for Patient Care, which supports Proposition C, reports raising $1.48 million, but much of that is in-kind services from staff.
Another group, Show-Me Cannabis Regulation, raised only $350.
Citizens for SAFE Medicine, which opposes all the initiatives, did not appear on the scene until September, and accounts for only $6,000 of the total.
Michigan
Michigan committees raised more than $5 million in the past two years around adult-use legalization on the ballot. The pro-legalization Coalition to Regulate Marijuana like Alcohol raised the most: $2.3 million. The National New Approach PAC provided almost half of those funds, with $1.1 million in contributions. The Marijuana Policy Project contributed $554,205, while the Drug Policy Alliance provided $75,000 in the last weeks of the campaign.
Anti-legalization committee Healthy and Productive Michigan was right behind, raising $2.2 million, with over a million of that from national prohibition organization Smart Approaches to Marijuana (SAM). SAM also provided over $125,000 of in-kind support.
MI Legalize raised just over $500,000, most of that in 2017, and two smaller PACS raised a total of $10,000.
Funding has continued to pour in at an extraordinary rate during the last days of the campaign. 31 percent of the total money raised—$1.6 million—has come in since October 21.
Utah
Political Issues Committees (PICs) on both sides of a medical cannabis legalization question in Utah raised $1.7 million.
The PIC that raised the most was against the proposition: Drug Safe Utah raised $842,424 in 2018. Over $350,000 of that funding came from a single lawyer, William Plumb, and his associates.
A smaller opponent to the proposition, Truth About Proposition, raised $66,040.
It took pro-reform PIC Utah Patients Coalition 18 months to raise $831,471. The group's largest donor was the national organization Marijuana Policy Project, which contributed $268,000 in cash and $55,111 of in-kind staff time. The Libertas Institute contributed $135,000, and hemp-infused Dr. Bronner's Magic Soaps donated $50,000. Non-profit patient group Our Story contributed $49,000 and DKT Liberty Project put in $35,000.
With the exception of Drug Safe Utah, most campaign finance activity surrounding the race has slowed significantly following the announcement last month of a deal to pass a compromise medical cannabis bill through the legislature after Election Day.
North Dakota
The state with the smallest population of the four considering marijuana measures not surprisingly raised far less money during the year, but interest caught fire in the last month of the campaign. Committees for and against Measure 3, the Marijuana Legalization and Automatic Expungement Initiative, raised $413,868 in cash and $304,498 in-kind, with 82 percent of that coming in October.
The committees supporting the initiative were heavily out-funded in cash funding, by a ratio of 18 to one. Healthy and Productive North Dakota, which opposes the measure, accounted for more than half of the total funds raised, even though it didn't start raising money until October. It raised a total of $226,234, entirely from SAM, which also supplied $237,234 of in-kind support.
North Dakotans Against the Legalization of Marijuana raised a total of $163,180, almost two-thirds of that in October. Big donors last month included the North Dakota Petroleum Council with $30,000, and the Greater North Dakota Chamber, which contributed $10,000 on top of their $30,000 donation in September. The Associated General Contractors of North Dakota dropped in $10,000. Outdoor sports magnate Steve Scheels contributed $10,000 personally, and $9,500 through the Scheels corporation.
Pro-legalization group LegalizeND raised only $19,754 in cash, but received another $67,264 in in-kind services. A separate group, Legalize North Dakota, appears to have raised approximately $12,750, but the reports it filed are not consistent.
After all the money that has been spent across the four states, the decision is in the hands of voters. Within hours, the ballots will be counted, and the effectiveness of the funds contributed and spent on both sides of the various measures in the four states can be evaluated.
This story has been updated to include a corrected graphic on committees' fundraising.
Voters In Seven States Will See These Marijuana Questions On Election Day