North Dakota Marijuana Legalization Measure Qualifies For November Ballot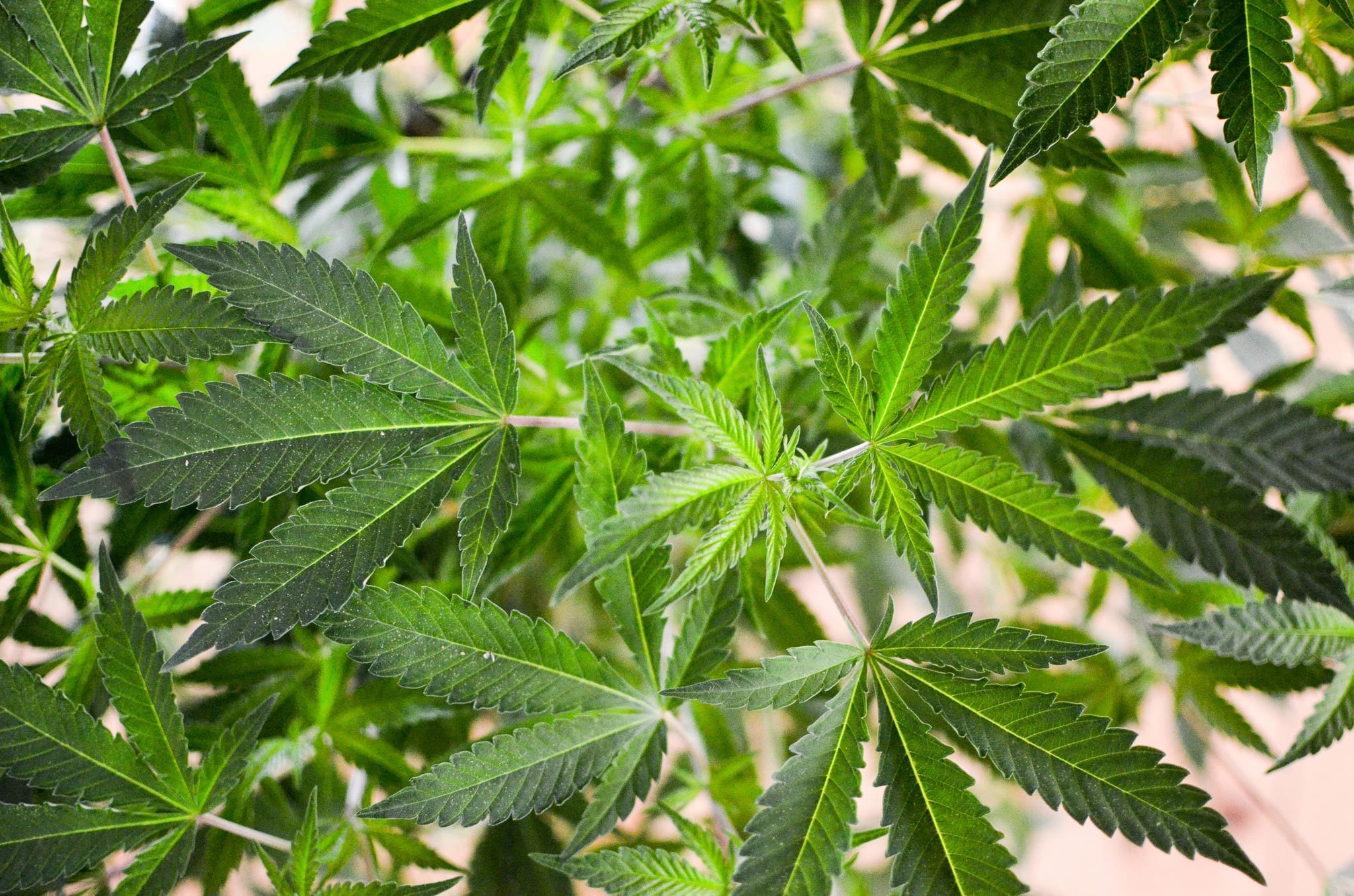 North Dakotans voted to approve medical cannabis two years ago, and now they will get the chance to decide on full marijuana legalization this November.
Activists collected a sufficient number of signatures to qualify a ballot measure that would allow adults over 21 to use and grow marijuana, the secretary of state's office determined on Monday.
Unlike legalization measures approved in a number of other states, the North Dakota proposal would set no limit on how much cannabis people could possess or cultivate. It would also allow a system of legal marijuana production and sales.
Michigan is also voting on a marijuana legalization measure this year. Utah has a medical cannabis question on its ballot, and Missouri voters will choose from three different medical marijuana measures in November. Oklahomans overwhelmingly approved a medical cannabis proposal during the June primary election.
"We applaud the hard work and dedication from the campaign and countless volunteers on the ground in North Dakota who went door to door and out into their communities to gather the signatures required to put this on the ballot in November," NORML Executive Director Erik Altieri said. "Marijuana legalization is no longer a regional or partisan issue. Well over 60% of all Americans support ending our nation's failed prohibition and I expect North Dakota voters to send shockwaves across the country this fall when they join the growing contingent of states who have chosen the sensible path of legalization and regulation over prohibition and incarceration."
In 2016, North Dakota voters passed a medical marijuana initiative by a margin of 64% to 36%. Implementation has been slow, with officials announcing last week that they have received nearly 20 applications for dispensary licenses. Legal sales are not expected to begin until next year.
Last month, activists submitted more than 18,000 signatures to qualify the new full legalization measure. Through random sampling, officials determined that 15,039 were valid, which exceeds the 13,452 needed to qualify for the ballot.
A poll earlier this year found that North Dakota voters support legalizing marijuana by a margin of 45% to 39%, with 15% undecided.
This piece was first published by Forbes.
Photo courtesy of Philip Steffan.
Mormon Church Faces Potential Lawsuit Over Medical Marijuana Opposition
One week after Utah voters approved a medical marijuana ballot initiative, a lawyer representing patients and advocates has formally notified the Mormon church to preserve records ahead of a potential lawsuit concerning its alleged attempts to undermine the measure.
It's no secret that the church opposed the medical cannabis initiative, which ultimately passed by roughly 52-46 percent, with some ballots still left to be counted. Though the organization said it supports medical cannabis reform, it vehemently resisted Proposition 2 and implored church members to vote against it.
Advocates and opponents reached a tentative compromise last month ahead of Election Day to have the Utah state legislature pass legislation during a special session ensuring access to medical marijuana. But not all legalization proponents felt encouraged by the deal, and the new legal notice to the church signals continued battles over exactly how the state's patients will access legal cannabis.
Several Utah lawmakers, the Utah Patients Coalition and the Utah Medical Association were also named in the notice and asked to maintain records.
The church has "a long history of dominating and interfering with the government of the State of Utah, often dictating to state and municipal legislators what legislative measures or policies they are to support or oppose," attorney Rocky Anderson, a former mayor of Salt Lake City, wrote in the notice, which was shared with Marijuana Moment.
"That dominance and interference is prohibited by the Utah Constitution."
Whether or not there will be a lawsuit remains unclear, as Anderson wrote that it was up to the claimants who reached out to him to determine if that was the best course of action. Advocacy groups TRUCE and the Epilepsy Association of Utah, along with several patients, are listed as claimants in the document.
Brian Stoll, a reform advocate who has served as a spokesperson for TRUCE and is also a member of the church, told Marijuana Moment that he does expect a lawsuit to go forward.
"Speaking as myself, not TRUCE, I do believe that they have every intention of going forward with the lawsuit if only to get lawmakers under oath discussing the domination of the political process in Utah of the Church of Jesus Christ of Latter-day Saints on record," he said. "There have been many stories over the years about their undue influence, including some accounts published by lawmakers detailing how intimately involved they are in legislation regarding certain topics."
"As you know, I'm an active member of The Church, and that will remain true. However, after having worked with the Utah legislature for the better part of three years where I saw this happen, and seeing all their work to thwart Prop 2 including having the ability to call a special session, I feel that it's unethical and not right for them to have such an influence."
If there is a lawsuit, the church is being implored to preserve a wide range of records, both physical and electronic. Anderson alleges that the church forced the special session "to radically undermine and alter the new law," which he claims amounts to a constitutional violation.
"Vastly altering the law mandated by the people is contrary not only to the popular will, but contrary to the intention expressed in the Utah Constitution that the people can, through an initiative, directly exercise their constitutionally guaranteed legislative power," he wrote.
In a statement provided to Marijuana Moment, a spokesperson for the Mormon church said "we have worked, from the outset, with medical professionals, law enforcement, educators and many other groups and prominent community leaders to seek the best for the people of Utah, to provide relief from human pain and suffering, especially where children are concerned."
"Broad community engagement was the reason a workable, beneficial and safer medical cannabis program was put together at the direction of state leadership. We stand behind and look forward to the safe, responsible and  compassionate solution that will be considered by the state legislature," the spokesperson said.
Read the full notice below.
Notice to Maintain Records – LDS Domination – Prop. 2 by Marijuana Moment on Scribd
UPDATE: This story has been updated to include comments from reform advocate and Mormon church member Brian Stoll, as well as a statement from the church. 
Utah Voters Approve Medical Marijuana Legalization Ahead Of Compromise Deal
Photo courtesy of Chris Wallis // Side Pocket Images.
Colorado Governor Touts Marijuana Legalization's Benefits
After the 2012 election, which saw Colorado become the first state to legalize marijuana, Gov. John Hickenlooper (D) said he probably would have reversed the vote if he had a magic wand.
But with the perspective of a few years post-legalization, today he says he'd put that wand "back in the drawer."
"I'm not quite there to say this is a great success, but the old system was awful," Hickenlooper said at a forum hosted by the Economic Club of Chicago on Wednesday.
What's more, "the things that we most feared—a spike in teenage consumption, a spike in overall consumption, people driving while high—we haven't seen them," he said.
"We had a little increase in teenage consumption, but then it went down. We do think that some of the teenage consumers are using it a little more frequently than they were five years ago before legalization. We have in many ways seen no demographic where there's an increase in consumption, with one exception: senior citizens. I leave you to draw your own conclusions."
Hickenlooper, who's been floated as a potential 2020 presidential candidate, described the challenges his administration faced when Colorado voters approved an adult-use legalization measure. Elected officials and advisors were opposed to it, he said, and plus, "it's no fun to be in conflict with federal law."
But he pushed forward with implementation, recruiting the "smartest people" he could find to figure out the best approach to regulation and taxation. And Illinois, which recently elected pro-legalization J.B. Pritzker for governor, will likely be better off if they pursue reform because they can learn from the successes and failures of Colorado's system, Hickenlooper said.
"Ultimately, I haven't come to a final conclusion yet, but I think it's looking like this is going to be—for all of the flaws and challenges we have—a better system than what we had. You guys are going to benefit, I think, having let us make a bunch of the mistakes and deal with it, I think you're going to be able to have a much better system if indeed that is the direction that the state wants to go."
Asked what advice he'd give to Pritzker if Illinois does elect to fully legalize cannabis, Hickenlooper offered three tips: 1) don't overtax marijuana, or else the illicit marketplace will persist, 2) get data from law enforcement on the presence of cannabis metabolites in the blood after highway fatalities to establish "good baselines" for comparison and 3) set limits on THC concentrations in edibles.
"What they're selling now, they tell me it's 10-to-12 times more intense than what allegedly I smoked in high school," Hickenlooper said, pausing before conceding, "I smoked pot in high school and I inhaled, but it was a fraction of the intensity of what these kids are getting now."
Legal Marijuana Would Generate Hundreds Of Millions For Illinois, New Analysis Finds
Photo courtesy of YouTube/Economic Club of Chicago.
The DEA Just Got Scolded Over Its Marijuana Eradication Program
The Drug Enforcement Administration (DEA) got a slap on the wrist from a federal watchdog agency over its management of a multi-million dollar marijuana eradication program.
In a report released on Wednesday, the non-partisan Government Accountability Office (GAO) said the DEA had failed to adequately collect documentation from state and local law enforcement partners that received funds through the federal program. And that lapse could prevent the agency from being able to accurately assess "program performance."
What's more, the DEA "has not clearly documented all of its program goals or developed performance measures to assess progress toward those goals," according to the report.
In other words, the agency expends about $17 million in funds to partners across the U.S. each year to help them get rid of illegal cannabis grows. That includes fully legal states like California, where enforcement efforts are generally limited to public lands—namely national forests. But due to inadequate record keeping, the DEA doesn't really know if that money is serving its purpose.
To fix the problems, the GAO issued four recommendations:
1. The DEA Administrator should develop and implement a plan with specific actions and time frames to ensure that regional contractors are implementing DEA's requirement for collecting documentation supporting participating agencies' Domestic Cannabis Eradication And Suppression Program (DCE/SP) program expenditures in the intended manner.
2. The DEA Administrator should clarify DCE/SP guidance on the eradication and suppression activities that participating agencies are required to report, and communicate it to participating agencies and DEA officials responsible for implementing DCE/SP.
3. The DEA Administrator should clearly document all DCE/SP program goals.
4. The DEA Administrator should develop DCE/SP performance measures with baselines, targets, and linkage to program goals.
The DEA was able to review a draft of the GAO report ahead of its release and, in an October 17 letter, a Justice Department official said the agency concurred with all four of the recommendations and would take steps to address them.
You can listen to a podcast about the GAO report here:
Just because it's the DEA's program doesn't mean it's the only agency dropping the ball on marijuana eradication efforts. In April, a report from the inspector general for the U.S. Department of Agriculture found that agents weren't adequately cleaning up public lands after cannabis busts, which can pose threats to humans, animals and the environment.
Feds Don't Properly Clean Up After Marijuana Raids, Report Finds
Photo courtesy of Chris Wallis // Side Pocket Images.