Key Committee Chair Broke Promise On Marijuana Justice Before Banking Vote, Advocates Say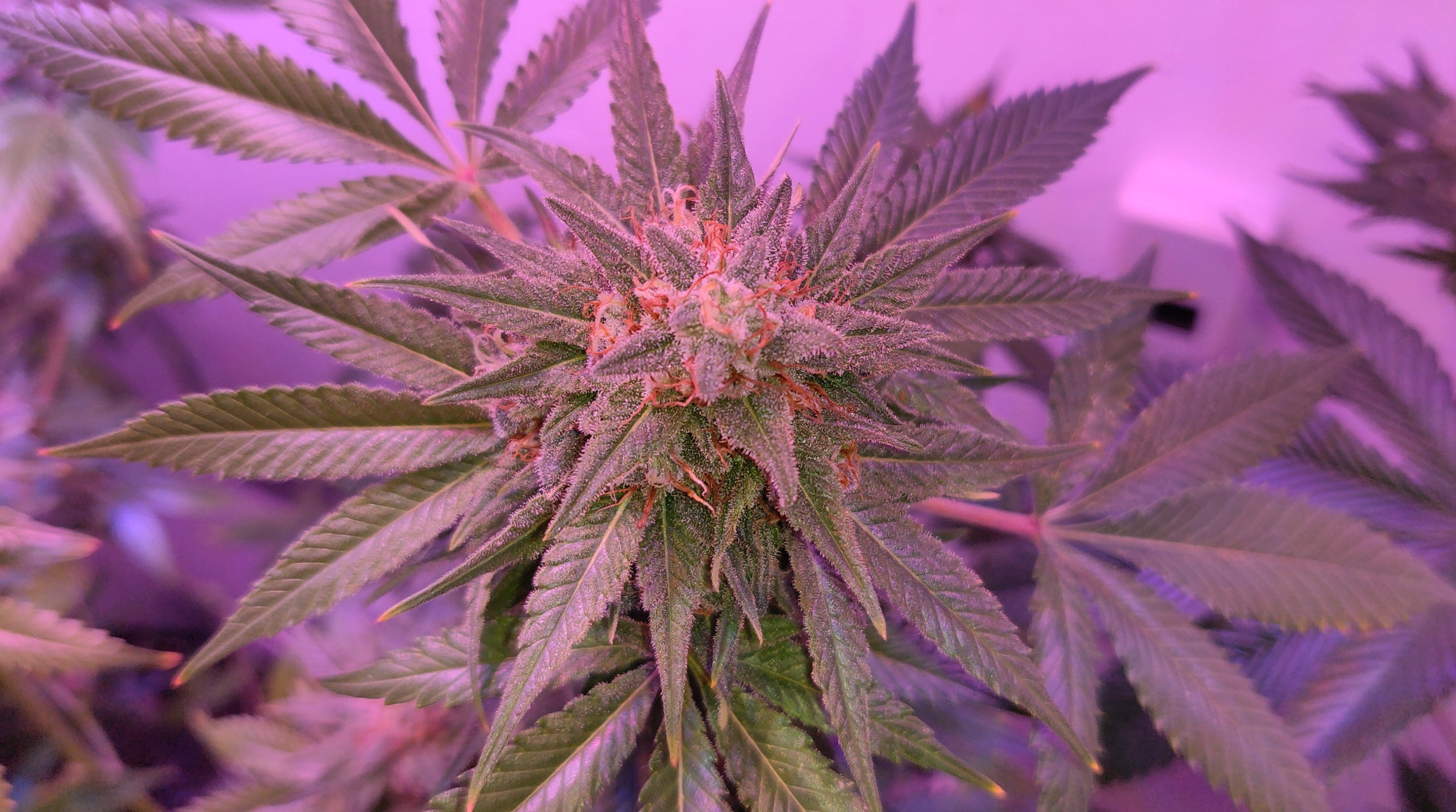 Marijuana industry excitement over Wednesday's House vote on cannabis banking legislation is palpable. But as the bill approaches the floor, some advocates are feeling burned by a key committee chair who they say made a deal to take up comprehensive reform before passing a proposal viewed as primarily favorable to large marijuana businesses.
In February, House Financial Services Chair Maxine Waters (D-CA) apparently made the agreement with several leading advocacy groups including the Drug Policy Alliance (DPA), ACLU and the Center for American Progress. So when Majority Leader Steny Hoyer (D-MD) announced earlier this month that he intended for the House to vote on the Secure and Fair Enforcement (SAFE) Banking Act by the end of September, it ignited debate within advocacy circles.
A number of advocacy organizations wrote a letter to House leadership urging a delay on the banking vote until broader legislation that addressed social equity issues passed. They didn't get their wish, though, as Hoyer later confirmed a vote would take place on Wednesday.
During their first meeting with Waters and Financial Services Committee leadership in February, the groups "brought up our strategic concerns about the way the banking bill hitting the floor first could potentially take air out of the room for broader and more comprehensive reform, really emphasizing all the points we've been continually talking about," Queen Adesuyi, policy coordinator with DPA, told Marijuana Moment.
"The banking bill doesn't actually address the crux of the issue when it comes to prohibition and how it's impacted individuals and communities," she said. "They made it seem like they were in alignment with our concerns and recognized them and acknowledged them."
Waters, who chairs the House Financial Services Committee, told Marijuana Moment in an interview last week that she appreciates the concerns expressed in the letter requesting a delay of the floor vote, but she said the problem is a lack of action on the part of Judiciary Chairman Jerrold Nadler (D-NY), who has yet to put his more wide-ranging legalization bill to a vote in his panel in preparation of potential action by the full body.
"And so what's going to happen is [the SAFE Banking Act] that gives safe harbor to the banks is going to move, and whenever Judiciary gets that bill done, then it's going to move too with the same kind of support that [the banking] bill is going to get," she said.
But as Adesuyi described it, ensuring that Nadler's bill received a vote before the banking legislation was explicitly part of the groups' verbal agreement with Waters's office.
"If the deal was upheld and the MORE Act moved first and the banking bill moved second, we wouldn't be in this position."
Prior to the August congressional recess, rumors began circulating that the SAFE Banking Act would soon be scheduled for a vote, and the advocacy groups arranged a follow-up meeting.
"We met again with [staff for] Chairwoman Waters and Financial Services leadership, asking 'what's the deal' and they reiterated the fact that the deal was still on the table and they still were abiding by it and the MORE Act would still go first," Adesuyi said. "There was a reiterating of alignment with our concerns and alignment with our perspective around needing more comprehensive reform rather than a piecemeal reform."
"We were struck and disappointed to see within the first two weeks of them coming back from recess hearing that the banking bill was being scheduled for a vote," she said. "Chairwoman Waters went back on her word, and Financial Services went back on their word. That's essentially what happened."
Representatives from Waters's office did not respond to Marijuana Moment's request for comment on the agreement advocates described by the time of publication, but late on Tuesday night the chairwoman released a statement saying she is "pleased" that the banking bill will be on the floor and that it is "one important piece of what should be a comprehensive series of cannabis reform bills."
"I have long fought for criminal justice reform and deeply understand the need to fully address the historical racial and social inequities related to the criminalization of marijuana," she said. "I support legislation that deschedules marijuana federally, requires courts to expunge convictions for marijuana-related offenses, and provides assistance such as job training and reentry services for those who have been disproportionately affected by the war on drugs."
Chairwoman @RepMaxineWaters' Statement on House Consideration of the #SAFEBankingAct and the Need For Comprehensive Cannabis Reforms

READ: https://t.co/IN4mytp87H pic.twitter.com/CPTE9RZ3tm

— Financial Svcs Cmte (@FSCDems) September 25, 2019
Lawmakers And Groups Weigh In On Eve Of Historic Cannabis Vote
In recent weeks, industry stakeholders, advocates and lawmakers have voiced a wide range of perspectives on the best way to approach banking reform for the cannabis industry.
In an interview with Marijuana Moment on Tuesday, Rep. Ilhan Omar (D-MN) said that while she's in favor of broad, all-encompassing marijuana legislation, there are political realities that ought to be considered, stating that "we've become desensitized in terms to how challenging this process of moving policy is."
"Oftentimes it is easy for people to believe if one thing happens, something else won't happen," she said. "And the idea that we could have it all is really fading for many people who are pushing for progress in this country."
Omar's message to groups opposed to allowing the banking vote to proceed first is "to believe that it is possible that we could get all of these policies implemented, that we don't have to forego a particular idea or policy implementation because something else is more pressing or more important."
She added that she will be a "yes" vote on the banking bill—which will be the first standalone piece of cannabis reform legislation in history to receive a full House floor vote—and that she's "for all of it" in terms of broader marijuana reform.
Judiciary Committee Chairman Jerrold Nadler (D-NY) said in a statement on Tuesday that he would vote for the banking bill and further committed to schedule a vote in his panel on more far-reaching marijuana reform legislation.
Waters said in her statement that she wants that done "as quickly as possible."
"The sooner the better," she said.
While drug policy reform advocates broadly share the sentiment that there's a need for legalization legislation that seeks to resolve the injustices of the war on drugs, with disagreements mostly coming down to timing, financial associations have been unambiguously focused on passing the SAFE Banking Act as soon as possible.
That's been true from the onset: 50 state banking associations, the National Association of State Treasurers, the top financial regulators of 25 states have all voiced support for the bill's passage throughout the year.
And on Tuesday, the American Bankers Association (ABA) sent a letter to the leaders on Tuesday that described the legislation as "an important measure that helps clarify many issues for the banking industry, regulators, businesses and consumers."
"It also provides immediate relief for urgent public safety and cannabis industry oversight challenges, which will help keep our communities safe and should not be delayed while Congress works to build consensus on broader questions of national drug policy," ABA said.
ABA, Americans for Prosperity, Council of Insurance Agents and Brokers, Electronic Transactions Association, National Association of Mutual Insurance Companies, National Association of Professional Employer Associations, National Association of REALTORS and Wholesale & Specialty Insurance Association also sent a separate letter to House leaders calling on Congress to advance the legislation.
Support for the #SAFEBanking Act is broad and diverse. ABA joined seven other influential groups in a letter to House and Senate leadership urging support for legislation that will "ensure that legal cannabis marketplaces are safe, legal, and transparent." https://t.co/NhVwulMosa pic.twitter.com/sz9QvGsoap

— American Bankers Association (@ABABankers) September 24, 2019
"A safe harbor would not only enable law enforcement and states to effectively monitor and regulate cannabis transactions and businesses, but it would bring billions of dollars and tax revenue out of duffel bags and safes and into the regulated banking sector," the groups wrote.
"We understand that creating a true federal regulatory framework for cannabis is a multi-step process," they said. "However, we strongly believe that the SAFE Banking Act is a critical first step to ensure that legal cannabis marketplaces are safe, legal, and transparent."
Marijuana-focused groups that want to see a vote argue that besides serving as a first step on the path to comprehensive legalization, the banking bill does address social equity to an extent by opening up opportunities to credit and financial services that disadvantaged groups have been shut out of.
National Cannabis Industry Association (NCIA) Executive Director Aaron Smith said in a press release Wednesday that the bill "would greatly improve public safety and transparency, and represents a chance to even the playing field by allowing small businesses and people from marginalized communities participating in this emerging industry to access traditional lending."
There will be an historic vote on cannabis in the U.S. House of Representatives tomorrow. You can help! Contact your Representative today and ask them to support the #SAFEBankingAct.https://t.co/yDIFinfkuY pic.twitter.com/K2KWLVDBXh

— TheCannabisIndustry (@NCIAorg) September 24, 2019
"Current banking regulations disproportionately hurt small businesses, women, and people of color, and we cannot afford to wait any longer while they are being excluded from the opportunities created by legal cannabis markets," Smith said. "We urge every member of the House who is concerned about safety and fairness to support this bill."
The Marijuana Policy Project (MPP) made a similar argument in an op-ed published on Monday.
"Members of Congress should allow banks to provide financial services to cannabis businesses," MPP Executive Director Steve Hawkins said. "This creates access to resources for minority and women entrepreneurs and increases the chances for success in state equity initiatives. The SAFE Act is the best next step toward establishing a more equitable cannabis industry in the U.S."
Justin Strekal, political director of NORML, wrote in an op-ed on Tuesday that a "congressional fix is necessary" to resolve banking issues in the marijuana industry.
Tomorrow, there is going to be a vote in the House to allow banks to service the state-legal cannabis industry.

It's tally will represent which members of the House recognize that legalization affirmatively works.https://t.co/Zev1DPa073

— NORML (@NORML) September 24, 2019
"In short, the upcoming banking vote is an important first step by Congress," he said. "But much more action will still need to be taken in order to ultimately comport federal law with the new political and cultural realities surrounding marijuana."
Florida Agriculture Commissioner Nikki Fried said she agreed with MPP's position, writing that the SAFE Banking Act "improves equity for minority & women entrepreneurs—Congress should pass it."
As #SAFEBankingAct comes up for a U.S. House vote tomorrow, I agree with @MarijuanaPolicy that the cannabis industry currently leaves behind people of color & women.

The bill improves equity for minority & women entrepreneurs — Congress should pass it. https://t.co/lhHeY8QcvZ

— Commissioner Nikki Fried (@NikkiFriedFL) September 24, 2019
The Cannabis Trade Federation and Veterans Cannabis Project also voiced supported for passing the banking legislation.
It is time for Congress to act! Contact your representative and tell them to vote YES on the #SAFEBankingAct: https://t.co/vgRLFxsckT

— Cannabis Trade Federation (@CanTradeFed) September 24, 2019
TOMORROW the House of Representatives is scheduled to vote on the #SAFEBankingAct. Please take two minutes to encourage your lawmakers to protect #veterans' GI Bill benefits by passing this critical first step in #cannabis reform. #vetscannabis #vets https://t.co/foSfqegvQM

— Veterans Cannabis Project (@VetCannabisProj) September 24, 2019
The bill will "set things right by granting legal marijuana businesses access to traditional banking services, just as any other legitimate business receives," Law Enforcement Action Partnership said in an action alert.
That said, Will Heaton, vice president of government affairs at JustLeadershipUSA, another group that called for the banking vote delay, told Marijuana Moment in an interview that congressional cannabis reform "requires a very holistic approach."
"Even in Chairwoman Waters's statements in the markup and in the hearings earlier this year, she's been a very avid supporter of justice reform and I don't want to take away from that record at all," he said. "At the same time, I think this is just a misstep in terms of not taking advantage of the opportunity that we had here to pass legislation that would be able to significantly address some of these disparities."
To be sure, Waters said during her committee's vote on the banking bill that it "addresses an urgent public safety concern for legitimate businesses that currently have no recourse but to operate with just cash," but that "I also consider this bill as part of a holistic approach toward providing criminal justice reform to those who have been harmed by criminalization of marijuana, and should not by any means be the only bill the House takes up on the important issue of cannabis reform."
Despite pushback against the bill from certain progressive lawmakers such as Rep. Alexandria Ocasio-Cortez (D-NY), who said last week she was considering voting against it because it didn't fully grapple with social equity, insiders generally expect the SAFE Banking Act to pass in the Democratic-controlled chamber, even under the expedited procedure being used that requires a two-thirds majority.
In an effort to broader the bill's GOP appeal, its sponsor, Rep. Ed Perlmutter (D-CO) moved to add amendments at the last minute that would clarify that banks would be protected while servicing hemp and CBD businesses and also stipulate that federal regulators couldn't target certain industries like firearms dealers as higher risk for fraud without valid reasons.
The lobbying arm of the conservative think tank Heritage Foundation remains opposed to the legislation, however, writing on Tuesday that the bill is "a shortcut to federal marijuana legalization and undermines existing federal law in the process."
⚠️THREAD: The #SAFEBankingAct is a shortcut to federal marijuana legalization and undermines existing federal law in the process. https://t.co/erNLBPFErJ

— Heritage Action (@Heritage_Action) September 24, 2019
The group is joined by the prohibitionist Smart Approaches to Marijuana, which similarly opposes the reform move.
Expanding investment into Big Marijuana while people are dying from marijuana vaping?

Click here to tell your representative to vote NO on the SAFE Banking Act: https://t.co/ej2NSlZL85 pic.twitter.com/nhjZcZ852E

— SAM (@learnaboutsam) September 24, 2019
Advocates who wrote the delay request letter made an eleventh-hour attempt to insert additional social equity language into the bill, but that didn't come to fruition.
The House will vote on the bill on suspension of the rules, meaning it needs the supermajority threshold to pass and that no amendments can be added on the floor. Discussion on the legislation will also be limited to 40 minutes.
Aaron Houston contributed reporting from Capitol Hill for this story.
This story was updated to include a statement from Waters.
Senate Committee Includes State Medical Marijuana Protections In Spending Bill
This story was updated to clarify that groups met with staff for Waters rather than the lawmaker herself.
Photo courtesy of Mike Latimer.