Marijuana Banking Bill Approved By Congressional Committee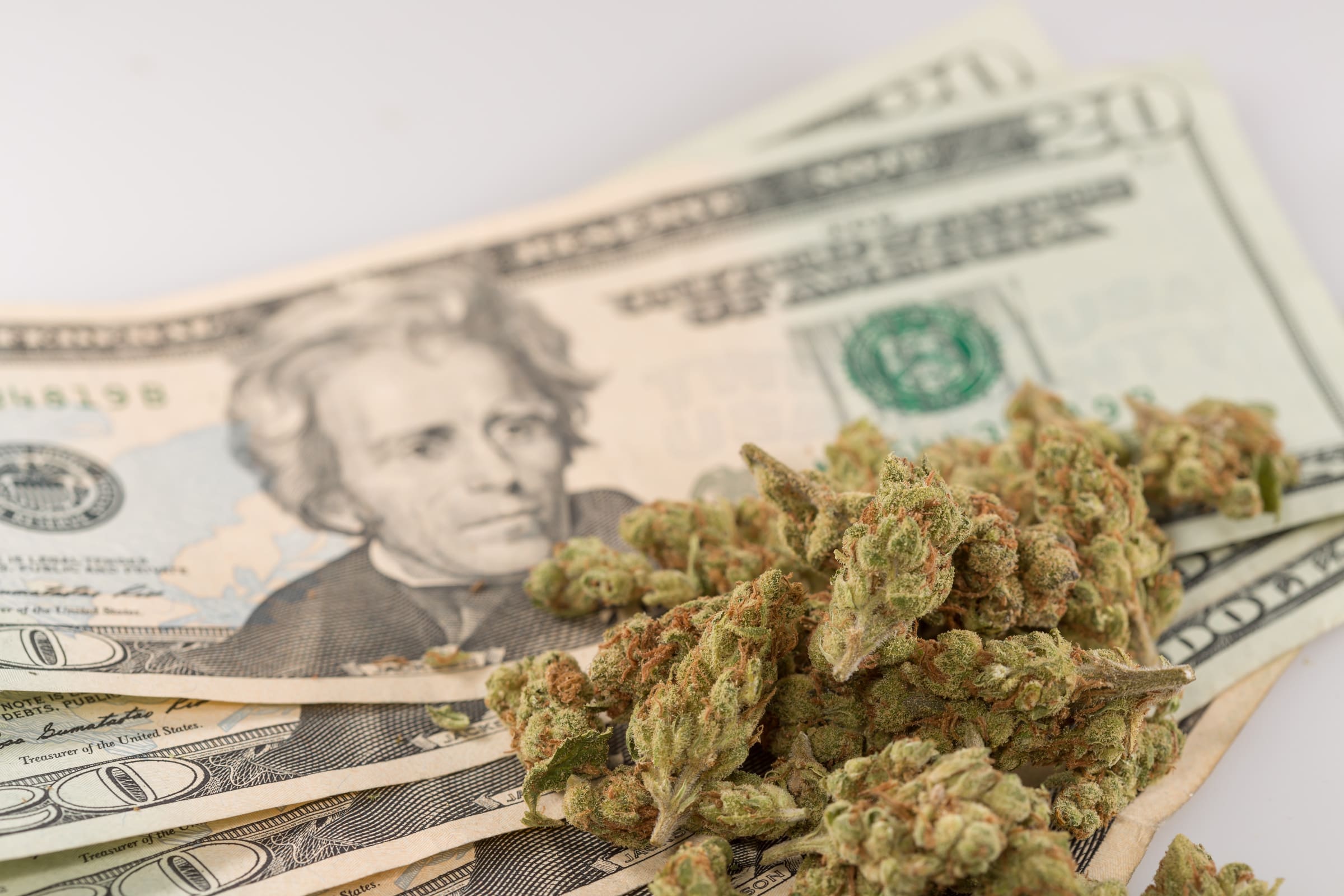 A congressional committee voted on Thursday to approve legislation aimed at increasing marijuana businesses' access to banks.
Following multiple days of lengthy debate and consideration of several amendments, the House Financial Services Committee voted 45 to 15 to advance the legislation to the full body.
Floor action has not yet been scheduled, but cannabis reform advocates are hopeful that the committee approval of the banking bill is a sign Democrats are ready to move broad marijuana reforms this year.
Indeed, House Rules Committee Chairman James McGovern (D-MA) said in a radio interview on Wednesday that he expects the chamber to vote on legislation to end federal marijuana prohibition within a matter of "weeks."
"We will guide it to the House floor for a vote, which I think it will pass with an overwhelming vote—Democrats and I think a lot of Republicans as well," he said. "If we have a strong bipartisan vote that will increase the pressure on the Senate to do something."
All of the party's major 2020 presidential candidates now support outright legalization, as do a majority of its voters, according to polls.
The banking bill "addresses an urgent public safety concern for legitimate businesses that currently have no recourse but to operate with just cash," Chairwoman Maxine Waters (D-CA) said at the start of the committee's proceedings, which began on Tuesday and carried over through a second Wednesday meeting to votes on Thursday morning.
"However, I also consider this bill as part of a holistic approach toward providing criminal justice reform to those who have been harmed by criminalization of marijuana, and should not by any means be the only bill the House takes up on the important issue of cannabis reform," she said.
While some surveys also show that a smaller majority of GOP voters back ending cannabis prohibition, Republican lawmakers in Congress had blocked marijuana amendments from even being considered over the course of the past several years during their House majority.
Last week, top Republicans on the Financial Services Committee requested that Waters delay the vote on the banking legislation, writing in a letter that they had several "unanswered questions" about the measure.
"Some on my side support the measure as written. Many oppose it," Rep. Patrick McHenry (R-NC), the panel's top Republican, said in his opening remarks at the committee meeting. "Most important for this committee, we need to ensure that we're doing our due diligence before proceeding. One committee hearing is not enough to fully understand the consequences of this bill. It is a massive change in federal policy."
That the vote went ahead over GOP objections is a sign that the effective marijuana roadblock on Capitol Hill has been lifted by the chamber's new Democratic majority.
Under the approved bill, federal banking regulators would not be able to punish financial institutions just because they work with marijuana businesses that are legal under state or local laws, or those of an Indian tribe.
Currently, while a growing number of banks are opening accounts for cannabis businesses as more state policies change, many remain reluctant to do so out of fear of violating federal money laundering or drug laws. As a result, many marijuana growers, processors and sellers are forced to operate on a cash-only basis, which can make them targets for robberies.
Legally-authorized cannabis businesses are forced to operate w/ cash only, which sometimes makes them targets for violent criminals. #HR1595, the #SAFEBankingAct will address this issue by creating a safe harbor that allows banks & credit unions to provide services to these biz.

— Financial Svcs Cmte (@FSCDems) March 27, 2019
The legislation approved by the committee, the Secure And Fair Enforcement (SAFE) Banking Act, currently has 152 cosponsors—more than a third of the entire House, which is far more support than any previous standalone cannabis bill has earned. Twelve Republicans have cosponsored the legislation.
The SAFE Banking Act's approval by the financial services panel is only the third time in history that a standalone marijuana reform bill has cleared a congressional committee. Last year, other committees voted to advance legislation encouraging the Department of Veterans Affairs to study medical cannabis and to require the Department of Justice to license additional growers of marijuana for research, but those proposals never made it to the House floor for action.
"It is our job to address this and no longer ignore it. I have brought this legislation up for six years," Rep. Ed Perlmutter (D-CO), the SAFE Banking Act's lead sponsor, said prior to the vote. "The people of this country sort of took it into their own hands, state by state, to pass initiative for medical marijuana or for cannabis oil or fully legal."
Committee Acts On Amendments
Prior to voting to advance the bill to the House floor, the committee took action on a number of proposed changes to the legislation.
Perlmutter put forth an amendment to his own bill, which was adopted via a voice vote. In addition to clarifying the definition of the financial services that are covered by the bill and specifying that its provisions would protect Federal Reserve banks, new additions would require the federal government to study diversity and inclusion in the marijuana industry—a key concern of legalization advocates seeking to undo the damage of the war on drugs, which has been waged in a racially disproportionate manner.
The new language would require federal financial regulators to publish annual reports tracking "information and data on the availability of access to financial services for minority-owned and women-owned cannabis-related legitimate businesses" and to issue "regulatory or legislative recommendations for expanding access to financial services" for those populations.
In addition, the amended bill directs that the Government Accountability Office to conduct a study "on the barriers to marketplace entry, including in the licensing process, and the access to financial services for potential and existing minority-owned and women-owned cannabis-related legitimate businesses."
Also during the committee markup, Rep. Katie Porter (D-CA) moved a separate amendment that would extend protections to so-called "de novo" banking institutions that are seeking charters or master accounts from a Federal Reserve bank. It was adopted via a voice vote.
My friendly amendment to the cannabis banking bill passed unanimously! Clarifies that *new* banks/credit unions are also protected by the bill. We need to level the playing field for new market entrants, in this growing industry and across our economy. https://t.co/IUYBMrszRq

— Rep. Katie Porter (@RepKatiePorter) March 27, 2019
Rep. Steve Stivers (R-OH), one of the bill's lead Republican cosponsors, filed an amendment expanding the legislation's protections to insurance companies. It too was passed in a voice vote.
An amendment from Rep. Scott Tipton (R-CO) directs the Government Accountability Office to study previous reports that banks are required to file on their marijuana business customers to understand how effective they are in identifying bad actors. It was supported by the bill's sponsors and approved on a voice vote.
Tipton filed an another amendment aimed at making sure drug cartels and organized crime networks aren't able to benefit from the bill's provisions, but he withdrew it instead of forcing a vote.
Rep. Bill Huizenga (R-MI) moved to delay the bill's effective date until marijuana is federally descheduled, but withdrew the amendment rather than force a vote.
Rep. Blaine Luetkemeyer (R-MO) sought to attach an amendment that would add "legal entities operating in accordance with federal law" to those covered by the bill. In introducing the measure, he made reference to prior federal investigations of banks working with firearms dealers and payday lenders. It was ruled non-germane, however.
Rep. Andy Barr (R-KY) filed an amendment that would have delayed the bill's enactment until the Treasury secretary certifies it wouldn't leave any financial institution more susceptible to illicit financial activity and money laundering, and that it doesn't inhibit their ability to comply with federal regulations. It was defeated in a voice vote and then again in roll call vote by a margin of 33 to 27.
Another Barr amendment would have restricted the bill's reach to only protect hemp businesses instead of those that deal with marijuana. It also lost on both a voice vote and a recorded vote. The latter went down 42 to 18.
An amendment from Rep. John Rose (R-TN) would have required banks to attest that they have internal controls ensuring that no funds have been deposited in their institutions that are associated with illegal organizations. It too was rejected in voice and roll call votes, with the latter tallying 33 to 27.
A second Huizenga amendment would have postponed enactment until federal financial regulators are able to issue guidance to banks. It was rejected with a voice vote, and a roll call was requested, which came out 35 against to 25 for.
Rep. Sean Duffy (R-WI) offered an amendment to withdraw the bill's protections from banks that serve marijuana businesses located within 1,000 feet of schools, youth centers, public parks, child care facilities, public housing, civic centers or designated drug-free zones. It was rejected via a voice vote, and then in a roll call vote by a margin of 34 to 26.
During the broader debate on the bill, Rep. Denny Heck (D-WA), who along with Perlmutter is a leading sponsor of the proposal, spoke about a Colorado marijuana dispensary security guard who was killed during an attempted robbery as an example of the public safety harms of blocking banking access. He added that allowing cannabis industry operators to store their profits in regulated financial institutions would "enhance supervision and audibility of marijuana businesses."
Banking Is Just The First Step For Federal Marijuana Reform
The banking legislation, which was the subject of a separate lengthy committee hearing last month, is seen by advocates as just the first step in an ambitious cannabis reform agenda they want the Democratic House to pass this year. Several more far-reaching bills to change marijuana's legal status so that states can implement their own policies without the looming threat of federal interference have not yet been scheduled for hearings. Other pending proposals seek to address medical cannabis access by military veterans, the removal of roadblocks to research and tax rates for marijuana firms.
"Congress must take the long view that all these efforts—and I will work to ensure that when it comes to passing [the banking bill] that the House does not take a 'one and done' approach but that we will also comprehensively work, especially with our colleagues on the Judiciary Committee, on a series of marijuana related reforms," Waters, the Financial Services Committee chair, said prior to the vote.
This country is in need of criminal justice reform, including addressing the historic racial & social inequities related to the criminalization of #marijuana. That is why @FSCDems support the #SAFEBankingAct which complements other cannabis reforms introduced by @HouseDemocrats pic.twitter.com/tl2x97vXVl

— Financial Svcs Cmte (@FSCDems) March 27, 2019
Rep. Nydia Velazquez (D-NY) said at the Wednesday meeting that she will be exploring ways to expand credit opportunities for marijuana businesses, particularly those owned by women and minorities, in her role as chair of the House Small Business Committee.
Late last year, Rep. Earl Blumenauer (D-OR) authored a "blueprint" memo that lays out a step-by-step process Democratic leaders could take to federally legalize marijuana by the end of 2019. Passing a banking bill is a key part of his plan.
A good start in our blueprint to legalization, but it's just the beginning. We will continue to work so all marijuana related bills see their day this Congress. The STATES Act, Veterans Equal Access, decriminalization, industry equity, and restorative justice all coming soon! https://t.co/5P1Zt0tY4m

— Earl Blumenauer (@repblumenauer) March 27, 2019
"This is a historic and critical step forward for the nation's burgeoning cannabis industry. Lawmakers seem to recognize the urgency and public safety implications of ensuring cannabis businesses can access banking services," Steve Hawkins, executive director of the Marijuana Policy Project, said in a press release. "Regardless of where members stand on legalization, they can agree that it is in the public interest to make banking available to cannabis businesses in states where it is legal."
NORML Political Director Justin Strekal also praised the committee's action.
"This is a positive step forward to address an untenable tension between state-legal cannabis marketplaces and federal marijuana prohibition," he said. "Ultimately, the banking issue is just one symptom of the toxic and cruel policy of federal marijuana criminalization. In order to truly bring the vibrant marijuana economy out of the shadows, actions need to be taken by Congress to end federal prohibition and the discrimination that comes with this failed policy."
Sens. Jeff Merkley (D-OR) and Cory Gardner (R-CO) are expected to file companion legislation on access to financial services for marijuana businesses in the Senate soon. A prior bill during the last Congress garnered 20 cosponsors in the chamber but did not receive a hearing or vote.
California Governor Signs Marijuana Tax Fairness Bill But Vetoes Cannabis In Hospitals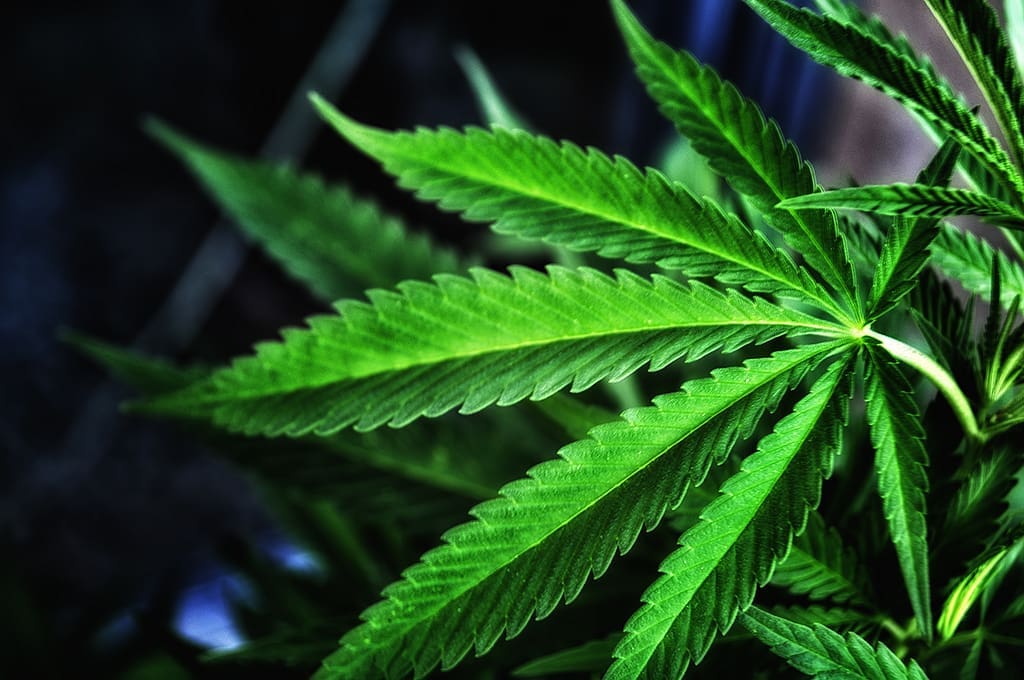 California Gov. Gavin Newsom (D) announced on Saturday that he signed several marijuana-related bills into law—including one that will let legal businesses take advantage of more tax deductions—but also vetoed another measure that would have allowed some patients to use medical cannabis in health care facilities.
Under a section of current federal law known as 280E, marijuana growers, processors and sellers are unable to deduct expenses from their taxes that businesses in any other sector would be able to write off. Until now, California policy simply mirrored the federal approach.
But under AB 37, the state tax code will depart from Internal Revenue Service policy when it comes to 280E, allowing licensed state cannabis firms to take deductions just like other business.
Newsom, who campaigned for the state's successful marijuana legalization measure that voters approved in 2016, also signed SB 34, which allows businesses to provide free medical cannabis to low-income patients, and exempts those products from state taxes.
Gov. @GavinNewsom signed #SB34, our legislation to ensure #cannabis compassion programs – which provide free medical cannabis to low income patients – can survive. These programs are critical to the health of many with #HIV, cancer, PTSD & other conditions. Thank you Governor!

— Scott Wiener (@Scott_Wiener) October 13, 2019
Another bill signed by the governor, SB 153, directs state officials to develop and submit to the U.S. Department of Agriculture an industrial hemp program plan in accordance with the provisions of the 2018 Farm Bill, which federally legalized the crop and its derivatives—including CBD.
"The California hemp industry looks to become a significant force nationally thanks to" the bill, Eric Steenstra, president of Vote Hemp, said in a press release.
But Newsom "begrudgingly" vetoed legislation, SB 305, that would have required certain health care facilities to allow terminally ill patients to use medical cannabis on site.
"This bill would create significant conflicts between federal and state laws that cannot be taken lightly," the governor wrote in a veto message that suggested facilities would be at risk of losing Medicare and Medicaid funds if they allowed use of federally illegal cannabis.
"It is inconceivable that the federal government continues to regard cannabis as having no medicinal value," Newsom said, adding that its "ludicrous stance puts patients and those who care for them in an unconscionable position."
California NORML Director Dale Gieringer said in an email that the group is "disappointed" with the governor's veto, noting that the legislation had already been watered down from an initial version that covered more than just terminal patients.
"The bill even allowed exemptions in the case that federal agencies ruled or notified the facilities that they were violating the law," he said.
Other legislation Newsom signed includes measures on marijuana testing laboratories, vape cartridge labeling, appellations and marketing, cultivation canopy sizes, industry labor peace agreements and equity license applicants.
He also signed the appropriately numbered AB 420, which expands cannabis-focused research.
Last week, Newsom signed a bill to allow parents to administer medical cannabis to students at schools.
This piece was first published by Forbes.
Photo courtesy of Carlos Gracia.
Former Congressman Who Fought Marijuana Legalization Joins Cannabis Company Board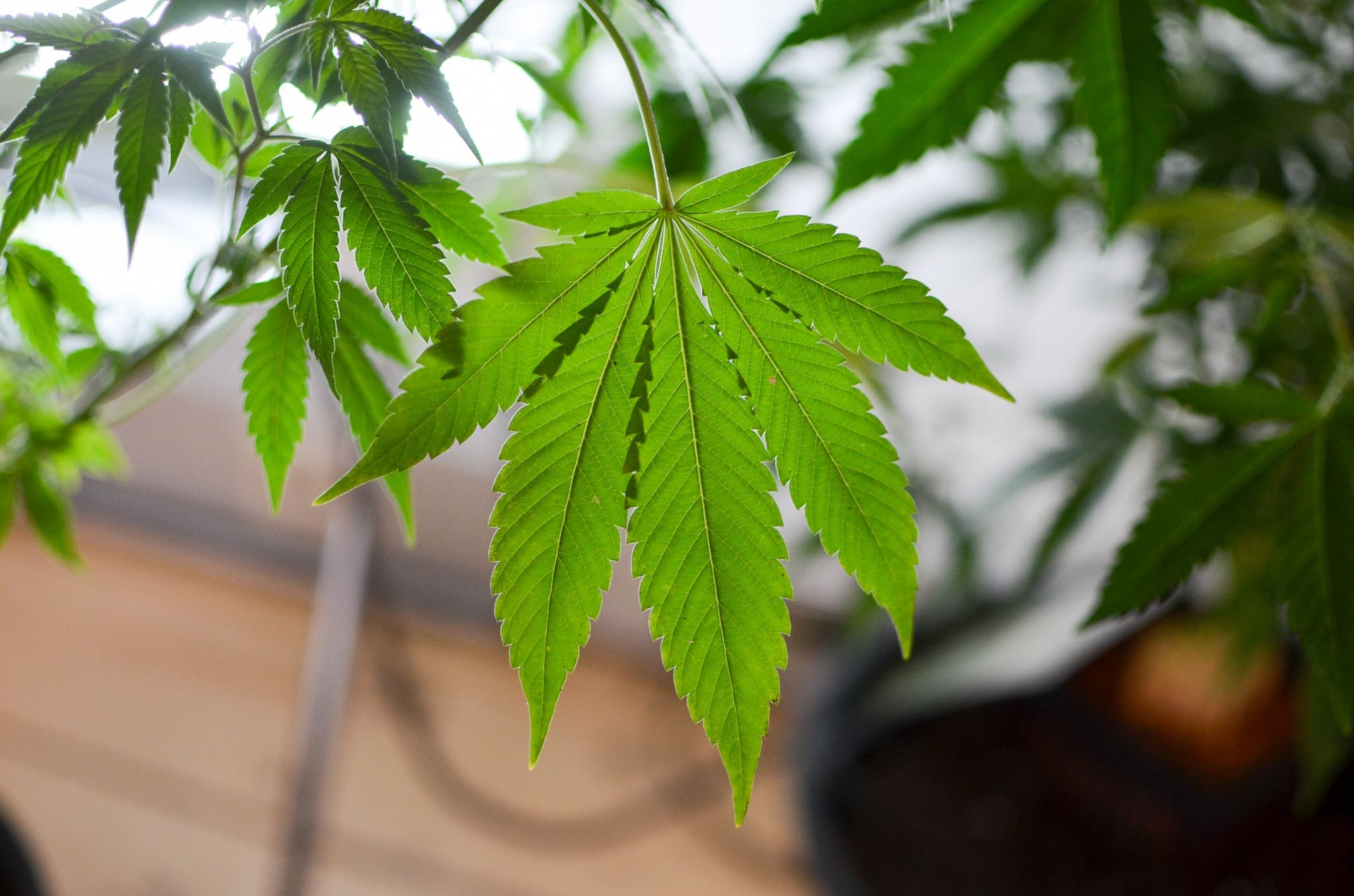 A former GOP congressman with a long track record of opposing marijuana legalization efforts is now cashing in on the legal cannabis industry.
FSD Pharma, a Canadian company that is a licensed producer of "pharmaceutical grade cannabis" through its subsidiary FV Pharma and researches cannabinoid-based therapies, announced on Friday that former Rep. Steve Buyer (R-IN) joined its board of directors. Missing from the press release is mention of his legislative history that includes repeated actions to oppose federal protections for state-level marijuana reforms.
From 1998 to 2000, Buyer cosponsored two resolutions and one bill aimed at condemning legalization and upholding federal prohibition. His opposition extended to limited medical cannabis reforms, too, voting five times from 2003 to 2007 against an amendment to protect state laws and the patients and providers complying with them from federal prosecution.
One of the anti-marijuana resolutions he signed onto passed the House but did not advance in the Senate. As introduced, it characterized cannabis as "both dangerous and addictive" and stated that "Congress is unequivocally opposed to legalizing marijuana for medicinal use, and urges the defeat of State initiatives that would seek to legalize marijuana for medicinal use."
The version that passed, which Buyer voted for, expressed concerns that "ambiguous cultural messages about marijuana use are contributing to a growing acceptance of marijuana use among children and teenagers" and noting that federal authorities can enforce prohibition "through seizure and other civil action, as well as through criminal penalties."
The separate bill he cosponsored sought to declare state laws that allow cannabis use as "null and void."
"[I]t is the intent of the Congress to supersede any and all laws of the States and units of local government insofar as they may now or hereafter effectively permit or purport to authorize the use, growing, manufacture, distribution, or importation by an individual or group of marijuana or any controlled substance which differs from the provisions of the Controlled Substances Act and the Controlled Substances Import and Export Act or regulations issued  pursuant thereto," it read.
It's not quite clear what changed for Buyer, but his appointment to the board of a major marijuana company that has benefitted from the successful reform movement he opposed is sure to raise questions.
In response to Marijuana Moment's query about what accounted for the former congressman's evolution on the issue, FSD Pharma President Zeeshan Saeed simply replied, "3M options as all other Directors and $40k cash comp."
Hours later, Saeed clarified that he intended to send that reply to another journalist.
Raza Bokhari, executive co-chairman and CEO of FSD Pharma, said in a subsequent email that he's known Buyer for years and believes that while he "remains opposed to recreational use of cannabis," he "has come to recognize the potential of cannabinoid molecule in drug development targeting auto-immune diseases, especially the role of synthetic cannabinoids and other cannabinoids targeting the endocannibinoid system of the human body."
The former congressman has been on "a very personal journey, with his wife being plagued with an auto-immune disease that has no cure and others in her family also that suffer from auto-immune diseases," Bokhari said.
He added that Buyer has personally invested a quarter of a million dollars in the company and compared him to former House Speaker John Boehner (R-OH), who also joined the marijuana industry after opposing cannabis reform while serving in Congress.
In a press release announcing the appointment, Buyer said the "opportunity to participate in FSD's growth at this stage is exciting" and that he's "attracted by FSD's medical research to tame and define the unknown by challenging the edges of medical science to provide relief to people suffering from fibromyalgia and other serious illnesses."
In welcoming Steve Buyer to the FSD Pharma Board of Directors and announcing a share consolidation, the Company has made an immense positive stride forward https://t.co/aAP9cM2kAi

— FSD Pharma (@FsdPharma) October 11, 2019
One industry that the former congressman's actions did assist while in office and later went on to work for as a lobbyist is Big Tobacco. Buyer raised eyebrows in 2009 when he opposed legislation to regulate the tobacco industry and argued in a House floor speech that a person is just as likely to experience the health consequences of cigarettes if they were to smoke dried lettuce or grass. He insisted that it's "smoke that kills, not the nicotine."
Shortly after retiring, Buyer joined tobacco company Reynolds American as a lobbyist and paid consultant.
There have been several reports that noted Buyer's decision not to run for reelection in 2010 came amid controversy over a foundation he founded. The Frontier Foundation was supposed to provide educational funding for students, but while it raked in tens of thousands from pharmaceutical interests such as Ely Lilly and PhRMA over a three-year period, it reportedly hadn't distributed a single scholarship.
His retirement came months after USA Today and the Indianapolis Star reported on the foundation's activities.
But now, Buyer is entering the cannabis space, and the company described his experience in the pharmaceutical industry and Congress as an asset.
"In welcoming Steve Buyer to the FSD Pharma Board of Directors and announcing a share consolidation, the Company has made an immense positive stride forward" FSD Pharma CEO Raza Bokhari said. "Steve's addition has further strengthened the independence and profile of the FSD Pharma Board of Directors; his broad leadership experience and pharmaceutical industry relationships will help enhance our visibility, especially among U.S. Institutional investors and on U.S. Capitol Hill."
Buyer also previously served as a special assistant U.S. attorney and an Indiana deputy attorney general.
This story has been updated to include additional comment from FSD Pharma's CEO. 
Inside Mitch McConnell's Private Lunch Meeting With The Marijuana Industry
Photo courtesy of Philip Steffan.
Inventors File Patent Application For Scratch-And-Sniff Marijuana Packages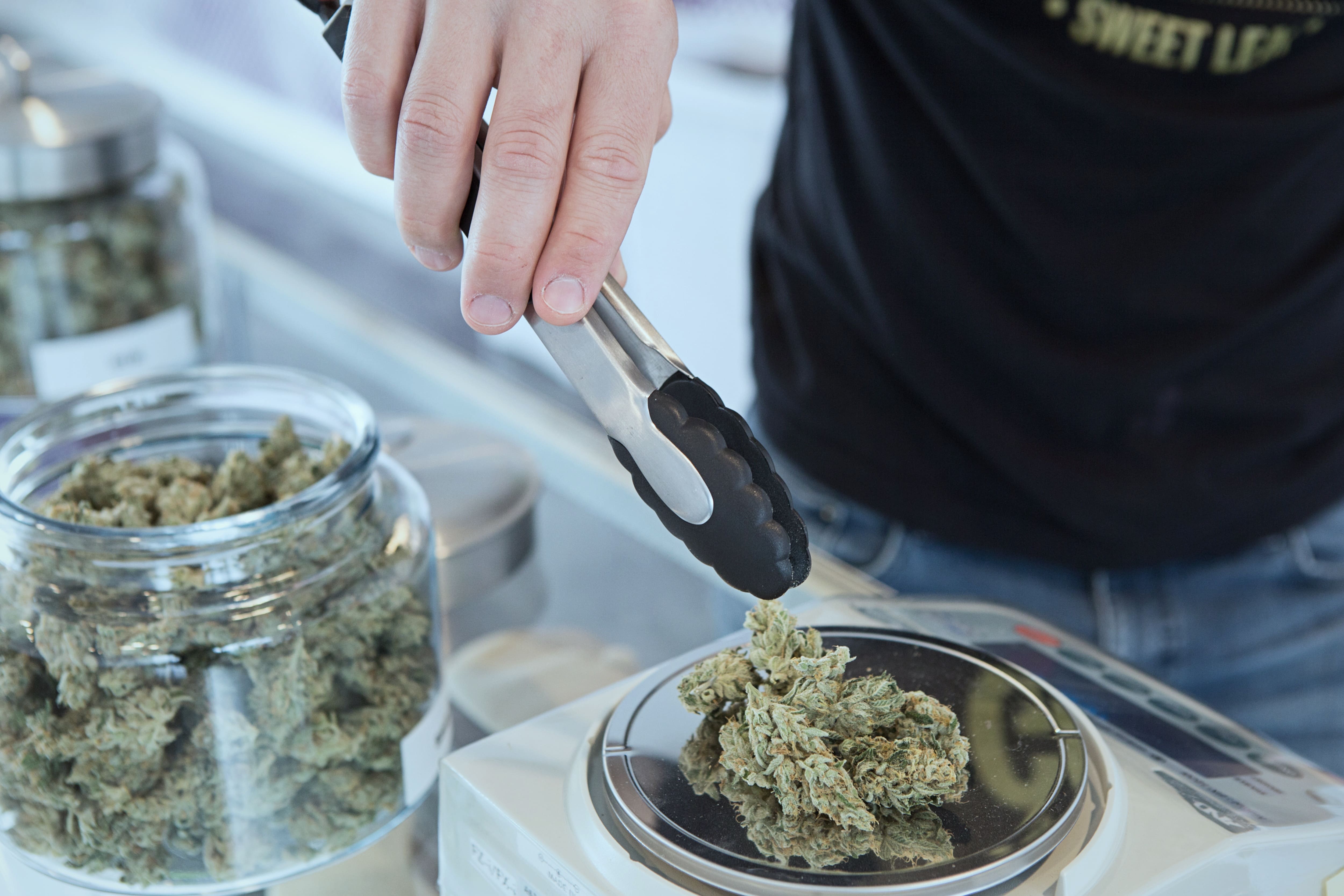 Scratch-and-sniff marijuana packaging could be coming to a dispensary near you.
An application for a patent on the cannabis container concept was published by the U.S. Patent and Trademark Office on Thursday. In order to comply with state regulations while at the same time ensuring consumers know what they're buying, the inventors are pitching a secure package that uses non-THC volatiles to produce the scent of the product when a sticker on the exterior is scratched.
The applicants recognized in their filing that there's an existing patent application for scratch-and-sniff stickers that are meant to identify the flavor of coffee, but argued their idea is distinct because the other application produced the scent of coffee after it's brewed whereas this sticker would smell like cannabis in its unsmoked form.
"A major hurdle to the purchase of Cannabis is the secure packaging laws of various states," the application states. "Packaging can often prevent a purchaser from observing certain characteristics of the Cannabis, such as its scent."
In a summary of the proposal, the applicants said the "general purpose of the present invention is to provide a Cannabis package and method of selection that includes all the advantages of the secure packaging, and overcomes the drawbacks inherent therein."
Another advantage of the proposed packaging is to help patients identify medicinal properties of different marijuana varieties, or assess quality, without having to open the product, the applicants, Random Vaughn and Jonathan Tanzer of Olympia, Washington, argued. They said that scent is is important in "selecting Cannabis for medical reasons such as seizures, headaches, or insomnia."
The application lists two iterations of the concept. The main one would involve a sticker that would be infused with the scent of cannabis. Terpenes, which are non-intoxicating compounds in the plant that give cannabis its smell and taste, would be used to produce the scent.
For the other, the scent wouldn't correspond with the actual small of the marijuana itself, but instead various flavor notes, which are sometimes used in cannabis marketing to describe the product's qualities similar to what's often done with wine. The applicants listed a diverse list of potential smells, including freshly cut grass, bread, vanilla, bacon, fish and chips, a Christmas tree, cinnamon, after shave, shampoo, the seaside, furniture polish and a Sunday roast.
Seth Rogen And Snoop Dogg Offer Marijuana Advice To First-Time Consumers