Civil Rights Groups Urge Congress To Delay Marijuana Banking Vote
A coalition of organizations including the American Civil Liberties Union, Human Rights Watch and Drug Policy Alliance is urging congressional Democratic leaders to delay a planned vote on a marijuana banking bill next week until more far-reaching legislation ending federal cannabis prohibition advances first.
"We are concerned that if the House approves this bill, it will undermine broader and more inclusive efforts to reform our country's marijuana laws," the groups wrote to House Speaker Nancy Pelosi (D-CA) and House Majority Leader Steny Hoyer (D-MD) in a letter on Tuesday.
Hoyer's office confirmed to Marijuana Moment last week that the House planned to vote on the cannabis financial services legislation by the end of the month.
"The Congress has a unique opportunity to address the myriad injustices created by this nation's marijuana laws. For decades, people of color have suffered under harsh and racially-biased marijuana laws," the groups, which also include Center for American Progress, Leadership Conference on Civil and Human Rights and JustLeadershipUSA, wrote. "The banking bill does not address marijuana reform holistically. Instead, it narrowly addresses the issues of banking and improved access to financial services, measures that would benefit the marijuana industry, not communities who have felt the brunt of prohibition."
The letter is the most public sign yet of a dispute that has been brewing among advocates in the marijuana policy reform movement, with some seeing a successful vote on banking legislation as demonstrating momentum for broader reform and others expressing concern that the financial services proposal primarily helps the industry and could take the wind out of the sails of a full-scale push to end prohibition.
Advocates who want broader reform have focused on a bill that House Judiciary Committee Chairman Jerrold Nadler (D-NY) filed this summer that would remove cannabis from the Controlled Substances Act and invest money into programs aimed at repairing the harms of the war on drugs, which has been waged in a racially disproportionate manner.
"Individuals and communities who are still suffering from the destabilizing collateral consequences of prohibition need reform and should not be second in line behind the industry," Queen Adesuyi, policy coordinator for Drug Policy Alliance, told Marijuana Moment. "We need to ensure that the sequencing of federal marijuana bills, especially under House Democratic Leadership, is well thought out and done in a way that centers the millions directly impacted by overenforcement. We want to avoid the banking bill becoming Congress' only bite at the apple for cannabis reform this session."
Nadler's bill, the Marijuana Opportunity Reinvestment and Expungement (MORE) Act, has been referred by House leadership to eight committees, none of which—including his own—have scheduled a vote on it. The financial services legislation—the Secure and Fair Enforcement (SAFE) Banking Act—cleared a committee with a bipartisan vote in March and has been waiting on the House calendar for floor action for months.
"It's a difference in tactics, not desired outcomes," NORML Political Director Justin Strekal, who supports going forward with the banking vote next week, told Marijuana Moment. "It's our hope that the SAFE Banking vote demonstrates which members of Congress are willing to recognize the successes of state level reforms as we continue to move the MORE Act through the committee process."
Morgan Fox, media relations director for the National Cannabis Industry Association, took a similar view.
"The SAFE Banking Act is a necessary reform that would represent a major step toward more sensible cannabis laws, and it's looking increasingly likely that it can actually pass soon," he said. "We have an opportunity to end policies that actively endanger people, hurt small businesses, and stymie equitable participation in the cannabis industry. Banking reform is certainly not the end of the road, and the industry is committed to working in support of far more comprehensive reforms that more fully address the harms caused by prohibition. Passage of this legislation will only add momentum to those efforts."
But the groups signing the new letter disagree.
"Marijuana legislation must first address the equity and criminal justice reform consequences of prohibition," they wrote to Pelosi and Hoyer.
"To be clear, we recognize the challenges facing marijuana businesses that lack access to financial services. However, we believe it is a mistake to move this issue forward while many of the other consequences of marijuana prohibition remain unresolved," they wrote in urging the House not to vote on cannabis financial services legislation next week. "The banking bill does not solve the underlying problems of marijuana prohibition – namely, that many people of color have been saddled with criminal records for a substance that is now legal in many states, and that communities have been shut out of the emerging and booming marijuana industry."
Meanwhile, on the other side of Capitol, Senate Banking Committee Chairman Mike Crapo (R-ID) said last week that he plans a vote on the marijuana banking bill in his panel by the end of the year. That chamber's version of the legislation got its 33rd senator signed on this week, meaning that it now has the proactive support of a third of the body's membership.
Because House leaders plan to bring the marijuana banking bill to the floor under a procedure known as suspension of the rules, which requires a two-thirds majority to pass, any Democratic votes lost as a result of the groups' opposition could jeopardize the legislation. The SAFE Banking Act currently has 207 lawmakers signed on, whereas 290 votes are needed to approve a bill under suspension.
"Since the start of the 116th Congress, we have expressed concern to House Leadership, the House Financial Services Committee, and member offices, that if the banking bill moved to the Floor before broader reform, it would jeopardize comprehensive marijuana reform," the concerned groups wrote in their letter. "Therefore, we have pushed for a conversation among advocates, Committee leadership, and House Leadership to formulate a plan for moving marijuana legislation in a way that is comprehensive and does not result in carve-outs for the industry and leave behind impacted communities."
"We ask that you delay any vote on the banking bill until agreement has been reached around broader marijuana reform," they said.
Read the full letter urging a delay on the marijuana banking vote below:
Groups Oppose Marijuana Ban… by Marijuana Moment on Scribd
This story has been updated to include comment from Drug Policy Alliance and National Cannabis Industry Association.
Mitch McConnell Tells FDA To Clear A Path For CBD Products Though Spending Bill Directive
New York Governor Will Visit Legal Marijuana States To Take Lessons Back Home
New York Gov. Andrew Cuomo (D) said on Thursday that he plans to visit at least three states that have legalized marijuana to learn from their experiences and incorporate components of their cannabis laws as New York moves ahead with plans to end prohibition.
The governor, who last month included legalization in his budget request for the second year in a row, said that while lawmakers often talk about their objectives for a legal market such as promoting social equity, "many of those goals haven't been met."
"I also want to make sure [legalization] is done correctly. You look at states that have legalized marijuana, many of them have generated more questions," Cuomo said. "I'm going to visit Massachusetts, Illinois and California or Colorado, which are three states that have legalized it and have different versions."
The governor said he and his team will meet with officials in those states and "discuss what they've done, what's worked, what hasn't worked."
"Has the social equity piece worked? Has the law enforcement piece worked?" he asked, adding that information gathered on the tour will ensure that New York has "the best bill and the best system when we pass it, and I want to pass it by April 1."
In the meantime, Cuomo said New York will continue to pursue a regionally coordinated cannabis legalization plan, working with the governments of neighboring states such as New Jersey and Connecticut to create a program that prevents residents from across state borders to obtain marijuana products that are taxed lower or have higher THC potency, for example.
He and several other Northeast governors met in December and agreed to a set of basic principles for what a legal marijuana market should look like.
"It's regional coordination, but then if you look at what has happened in states that have done it—about 11 states have legalized marijuana—everybody talks about the goals," he said. "We want a social equity component, we want to make sure it's policed—they have all these goals. But many of the programs, once they've been implemented and they went back and looked, they didn't meet those goals."
"It's like our political debate now is all about: I have a plan, I have a plan, I have a plan. Yeah everybody has a plan, but can you actually get it done and does it turn out the way you planned it, right?" he added. "That's the big question and that's where government usually gets into trouble. I want to make sure we learn from them."
Cuomo said that now that nearby states have agreed to regionally coordinate their reform moves, "I now want to literally go to California, Illinois, Massachusetts [and] sit with them. What was your plan? How did it work out? What did you learn? What can we incorporate?"
The governor made a big push for legalization last year, but after months of negotiations with lawmakers, the legislature was unable to produce a passable bill prior to the end of the session. But he's expressed optimism, including during his State of the State address last month, that 2020 will be the year that the reform will be accomplished.
Photo elements courtesy of Metropolitan Transportation Authority and Carlos Gracia.
New Hampshire House Approves Marijuana Legalization Bill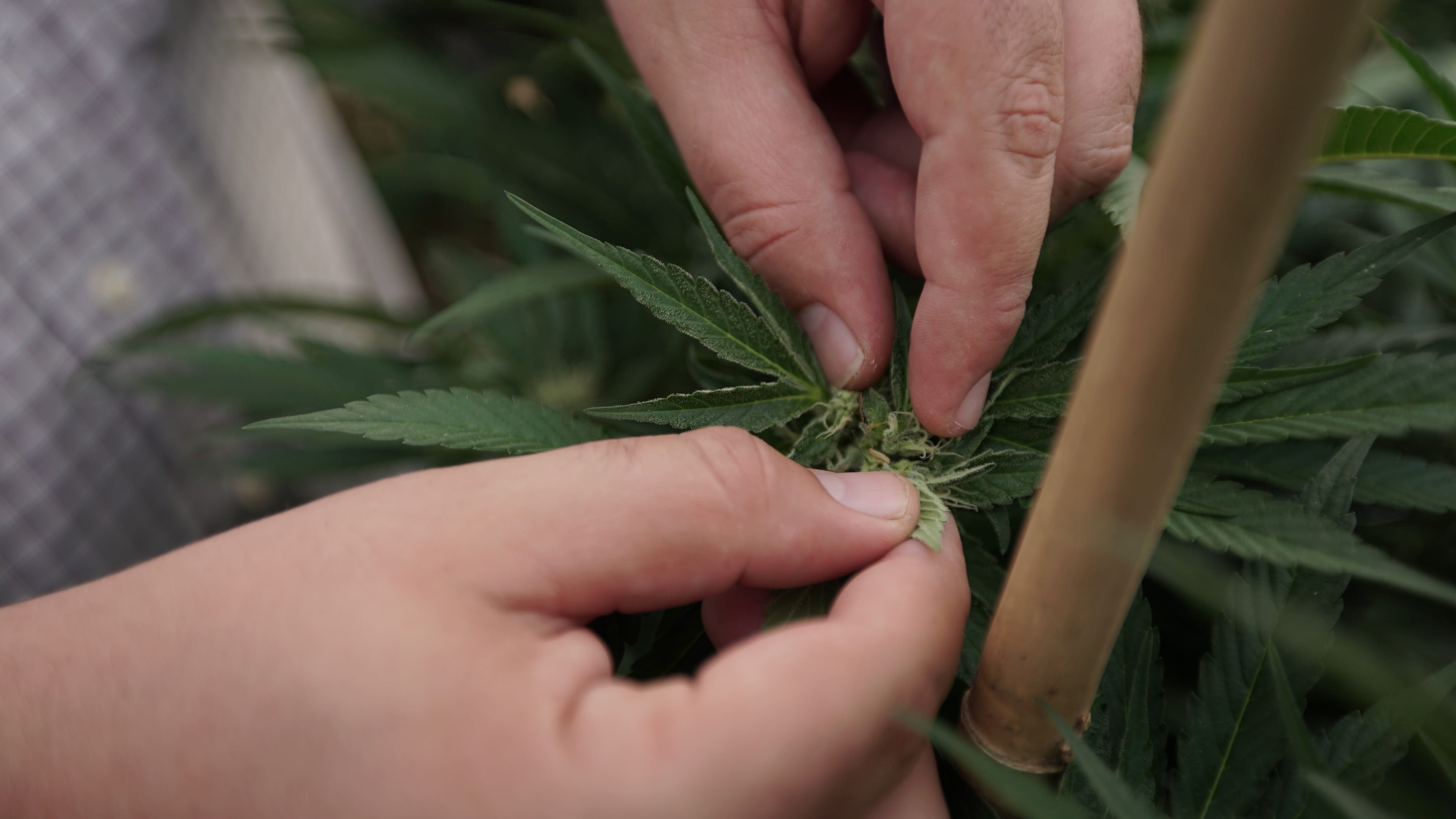 A bill to legalize the personal use, cultivation and gifting of marijuana in New Hampshire is one step closer to becoming law. The state House of Representatives on Thursday approved the legislation on a 236-112 vote, advancing the measure to the Senate.
The proposal would not legalize commercial production or sales of cannabis. Instead, adults 21 and older would be allowed to grow a limited number of plants at home and legally give up to three-quarters of an ounce of marijuana to other adults. The measure resembles neighboring Vermont's 2018 cannabis law, which legalized low-level possession and home cultivation but does not allow for sales.
Legalization is tremendously popular in the famously independent state, as one lawmaker acknowledged before a House committee voted last month to advance the bill to the floor.
"I think that the legalization of cannabis is more popular than the legislature itself or the governor or any other political entity in the state of New Hampshire," House Criminal Justice and Public Safety Committee Chairman Renny Cushing (D) said. "This is something that the people of the state of New Hampshire want. They don't want to be treated like they're criminals if they have a plant."
A full tax-and-regulate marijuana legalization bill was passed by the House last year. But after receiving a hearing in the Senate Judiciary Committee, it ultimately stalled and died in the chamber. Advocates believe the new scaled-down approach has a better shot of being enacted.
The current bill has sponsors from both sides of the aisle, but even if it's passed by the legislature, it could still be vetoed by Gov. Chris Sununu (R), who has said he opposes commercial legalization and has killed other cannabis bills in the past. He signed a limited decriminalization measure into law in 2017, but last year vetoed a bill to allow medical marijuana patients to grow the plant at home.
The state Senate earlier this month signed off on a new effort to allow medical cannabis homegrow, but its path ahead remains uncertain. The body narrowly failed to override the governor's veto of the 2019 version.
Cushing told Marijuana Moment in an interview last month that legislators "don't know how the governor will respond" to the adult-use legalization measure if the bill makes it to his desk.
Matt Simon, New England political director for the Marijuana Policy Project (MPP), told Marijuana Moment that with the House's passage, the bill now faces "a more difficult challenge" before the Senate. But given the strong public support for legalization, he said, it's time for lawmakers to move.
"It makes no sense for the 'Live Free or Die' state to continue punishing adults for growing and possessing cannabis," he said. "The Senate should join the House in passing HB 1648, and Governor Sununu should recognize that it's time to bring New Hampshire's cannabis laws more nearly into line with neighboring states."
The legislation, HB 1648, says that allowing residents to "cultivate their own limited supply of cannabis will provide them with an alternative to buying cannabis from illicit drug dealers." Adults over 21 years of age would be able to grow six plants, with three being mature, flowering plants. People who possess more than the allowed three-fourths of an ounce of marijuana would be subject to a misdemeanor charge.
Lawmakers approved a floor amendment clarifying that consuming cannabis in public is prohibited and is punishable by a fine of not more than $100.
If New Hampshire's marijuana legalization proposal does become law, it could open the door to later commercial sales. That process is unfolding next door in Vermont, where lawmakers are considering expanding the current policy allowing possession and home cultivation by passing a bill to establish a commercial marijuana industry subject to taxes and state oversight. A recent MPP survey found 76 percent of Vermont residents are in favor of allowing adults to purchase marijuana "from regulated, taxpaying small businesses."
New Hampshire Lawmakers Take New Approach To Marijuana Legalization For 2020
Photo courtesy of Chris Wallis // Side Pocket Images
Top Trump Campaign Spokesman: Marijuana Must Be 'Kept Illegal'
Asked in a new interview about President Trump's position on changing federal marijuana laws, a top reelection campaign aide said the administration's policy is that cannabis and other currently illegal drugs should remain illegal.
"I think what the president is looking at is looking at this from a standpoint of a parent of a young person to make sure that we keep our kids away from drugs," Marc Lotter, director of strategic communications for the Trump 2020 effort, said in an interview with Las Vegas CBS affiliate KLAS-TV.
Please visit Forbes to read the rest of this piece.
(Marijuana Moment's editor provides some content to Forbes via a temporary exclusive publishing license arrangement.)
Photo courtesy of Gage Skidmore.