These New Marijuana Banking Bill Amendments Could Help Win GOP Support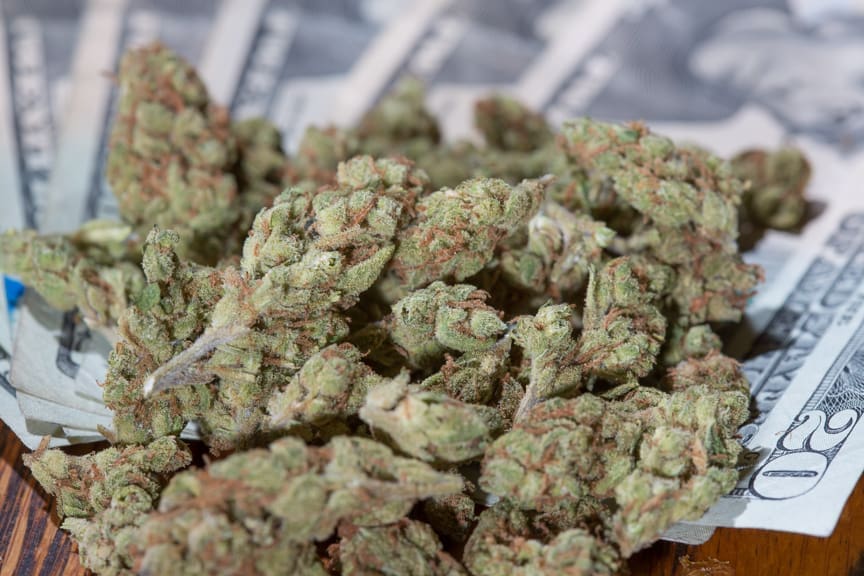 The sponsor of a bipartisan bill that would resolve banking issues in the marijuana industry is preparing to amend the legislation as a planned House floor vote approaches in order to bolster its appeal among GOP members.
The bill, which currently has 206 cosponsors, including 26 Republicans, was revised to clarify that banking protections apply to hemp and CBD businesses and also shields certain businesses such as firearms dealers from being targeted by financial regulators, as was the case under a 2013 Justice Department initiative that flagged various industries as higher risk for fraud and money laundering.
Other changes include an expansion of the definition of ancillary businesses working with marijuana firms that would be protected, extending and clarifying protections to federal home loan banks and insurers and language specifying that financial regulators wouldn't be uniquely restricted in their supervisory roles over the cannabis industry.
The text of the updated bill as prepared for floor action next week was obtained by Marijuana Moment.
The provisions are meant to entice conservative members who might have been wary of approving a bill that is narrowly tailored to help the cannabis industry.
A new section of the bill notes that hemp was federally legalized under the 2018 Farm Bill yet "some hemp businesses (including producers, manufacturers, and retailers) continue to have difficulty gaining access to banking products and services" and that "businesses involved in the sale of hemp-derived cannabidiol ('CBD') products are particularly affected, due to confusion about their legal status."
In order to address that problem, the legislation stipulates that financial regulators must issue guidance "confirming the legality of hemp, hemp-derived CBD products, and other hemp-derived cannabinoid products, and the legality of engaging in financial services with businesses selling hemp, hemp-derived CBD products, and other hemp-derived cannabinoid products, after the enactment of the Agriculture Improvement Act of 2018."
Regulators must also "provide recommended best practices for financial institutions to follow when providing financial services and merchant processing services to businesses involved in the sale of hemp, hemp-derived CBD products, and other hemp-derived cannabinoid products."
The section that seems to aim to prevent actions such as the controversial Justice Department initiative known as "Operation Choke Point" targeting the gun industry states that federal banking agencies "may not formally or informally request or order a depository institution to terminate a specific customer account or group of customer accounts or to otherwise restrict or discourage a depository institution from entering into or maintaining a banking relationship with a specific customer or group of customers" unless there's a valid reason.
Getting more Republicans on board will be critical as House leaders plan to advance the Secure and Fair Enforcement (SAFE) Banking Act through an expedited process known as suspension of the rules, which requires two-thirds of the chamber of pass and does not provide opportunities for floor amendments.
The expanded version of the legislation will also likely fare better in the Republican-controlled Senate if it clears the House. Senate Banking Chair Mike Crapo (R-ID) said earlier this month that his panel will also hold a vote on the banking issue, ideally by the year's end, but he didn't commit specifically to a vote on the SAFE Banking Act as currently drafted.
Senate Majority Leader Mitch McConnell (R-KY), who's made clear that he's no fan of marijuana, could presumably feel better about brining the bill to his chamber's floor given his long-standing advocacy for hemp and CBD issues.
It's not just the GOP that the bill's supporters have to consider, however. While Democrats have capitalized on popular marijuana reform issues, the banking legislation has recently been a topic of contention among progressive advocates and lawmakers.
After House Majority Leader Steny Hoyer (D-MD) informed the Democratic Caucus of his intent to bring the bill to a floor vote by the end of the month, some groups such as the ACLU, Human Rights Watch and Drug Policy Alliance signed a letter urging leadership to delay a vote until comprehensive legalization legislation that addresses social equity is passed.
Rep. Alexandria Ocasio-Cortez (D-NY) is a prominent example of a lawmaker who indicated she might not vote in favor of banking legislation without Congress first tackling the racial injustices of cannabis prohibition, with a staffer telling Marijuana Moment on Thursday that the congresswoman "feels strongly that addressing racial justice should be the first priority."
Marijuana Moment spoke to a number of lawmakers about the internal Democratic caucus debate on Wednesday. House Financial Services Chair Maxine Waters (D-CA), whose panel passed the bill in March, said that she understands the groups' perspective but that the issue is that Judiciary Chair Jerrold Nadler (D-NY) has yet to hold a vote on his more wide-ranging legalization bill.
Rep. Ed Perlmutter (D-CO), sponsor of the SAFE Banking Act, made a similar point and stressed the need for action on any cannabis reform legislation regardless of its scale. Revising his bill signals that he's not letting up on that goal, and it also bodes well for the prospects of getting a vote next week.
A vote has yet to be scheduled but a key signal will be whether the SAFE Banking Act is listed on a weekly floor schedule that Hoyer's office will release on Friday.
Marijuana Moment's Patreon supporters can read the full text of the revised banking bill below:
Senate Committee Blocks DC Marijuana Legalization While Advancing Hemp Regulations