California Marijuana Retailers '100 Percent' Compliant In Checking IDs To Prevent Youth Access, Study Finds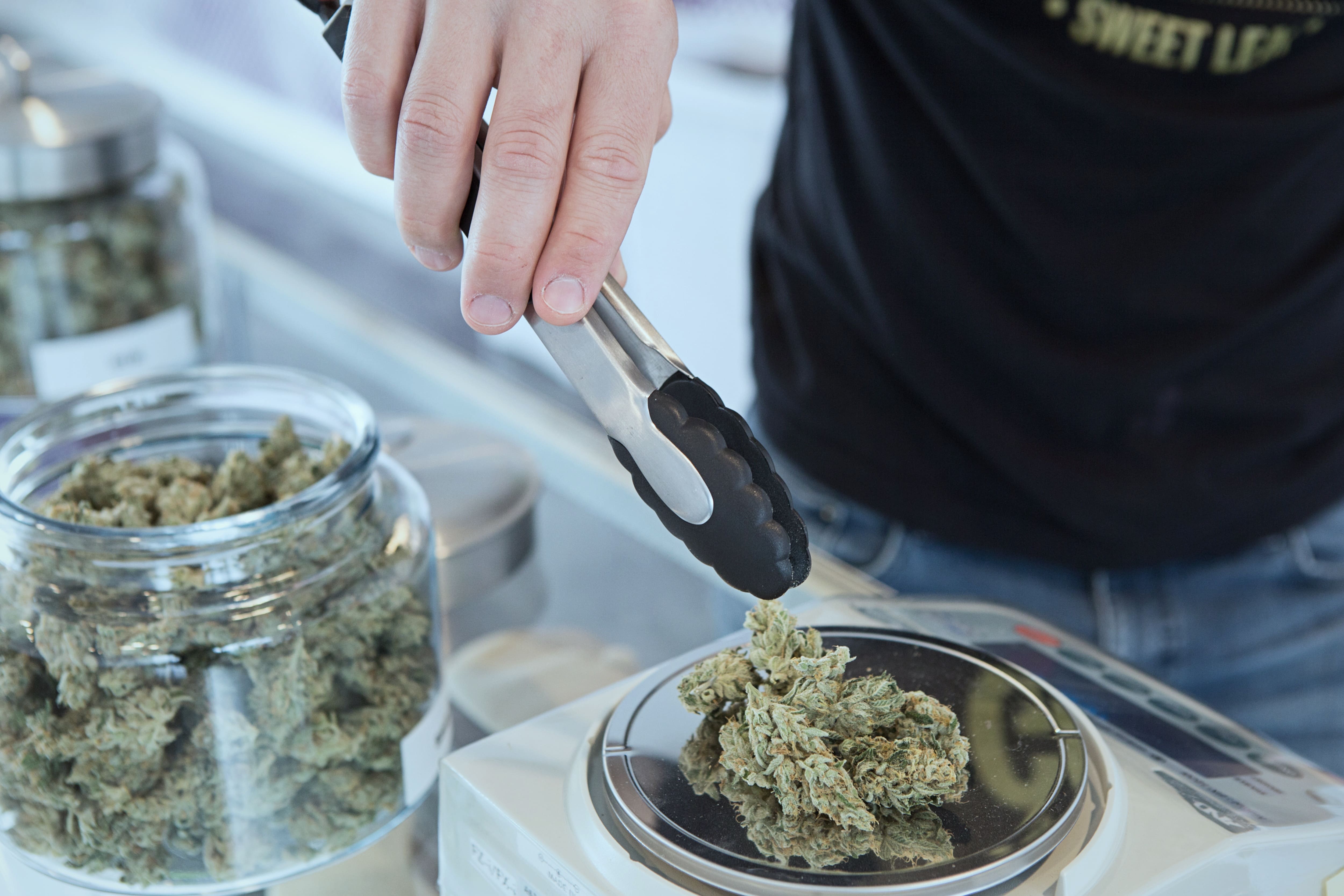 California marijuana retailers do a very good job of preventing underage people from entering their shops and purchasing cannabis, a new study found.
Researchers wanted to put the cannabis industry's compliance with ID requirements to the test, so they sent people who seemingly looked underage to 50 randomly selected marijuana shops throughout the state to see if they could get in without presenting identification.
Every single retailer required ID.
"It was somewhat surprising that there was 100 percent compliance with the ID policy to keep underage patrons from purchasing marijuana directly from licensed outlets," the authors of the study, published this month in the Journal of Safety Research, wrote. "However, that was consistent with what was observed in two other states, Washington and Colorado."
While the consistency of compliance took the authors by surprise, the reason is likely unsurprising: retailers face serious penalties if they skirt the law, and typically there's an entry area inside licensed shops where ID is required upfront before a person can even go into the main part of the store.
"It appears that licensed California recreational marijuana outlets avoid selling marijuana to underage customers. One reason could be a strong incentive for recreational marijuana outlet owners and managers to avoid being shut down for an illegal activity."
In California, anyone who provides cannabis to someone underage faces up to six months in jail and a maximum $500 fine for a first offense. Police officers are allowed to use minors as decoys to test compliance, and failure to comply with ID requirements can result in the the loss of a license and further penalties.
"It appears that licensed recreational marijuana outlets in California are checking young patrons for identification of their age. Therefore, it is unlikely that youth are purchasing marijuana directly from these outlets," the new study says. "It is more likely they are using other sources, such as asking an adult to purchase it for them, obtaining it from older friends or siblings, and using it at parties where the marijuana use might be shared."
The authors also said that while these results represent an important part of a growing body of literature of cannabis policy compliance, they added that future studies and enforcement agencies "should investigate whether underage patrons attempt to use fake IDs at licensed marijuana outlets and whether youth are obtaining marijuana from illicit dispensaries or from social sources."
Advocates and legalization opponents alike share an interest in preventing underage use, so the study is encouraging to that end. But for reform proponents, the results support the argument they've been making for years: providing adults with regulated access to marijuana is a more effective alternative to blanket prohibition.
Even as more states move to legalize cannabis, youth marijuana usage rates have either remained stable or declined, multiple studies and surveys have found.
Sen. John Hickenlooper (D-CO), who served as governor of Colorado in 2012, unsuccessfully tried to convince voters to reject a ballot initiative to legalize marijuana, in large part because he worried it would encourage more use by young people. But he recently conceded that, with years of data now generated by his state and other that have since enacted legalization, his concern was unfounded.
As Hickenlooper has said previously, while youth use not increased, more elderly residents have begun patronizing cannabis shops.
The Coalition for Cannabis Policy, Education, and Regulation (CPEAR), an alcohol and tobacco industry-backed marijuana policy group, also recently released a report analyzing data on youth marijuana use rates amid the state-level legalization movement.
The report points to studies that plainly contradict claims often made by prohibitionists that creating regulated cannabis markets would lead more underage people to consume marijuana.
One of the most recent federally funded surveys on the topic stressed that youth marijuana use "decreased significantly" in 2021, as did teen consumption of illicit substances overall.
The 2020 federally funded Monitoring the Future survey further found that cannabis consumption among adolescents "did not significantly change in any of the three grades for lifetime use, past 12-month use, past 30-day use, and daily use from 2019-2020."
Another federally funded study, the National Survey on Drug Use and Health (NSDUH), was released in October showing that youth marijuana use dropped in 2020 amid the coronavirus pandemic and as more states moved to enact legalization.
Further, an analysis published by the Journal of the American Medical Association in September found that enacting legalization has an overall impact on adolescent cannabis consumption that is "statistically indistinguishable from zero."
The U.S. Department of Education's National Center for Education Statistics also analyzed youth surveys of high school students from 2009 to 2019 and concluded that there's been "no measurable difference" in the percentage of those in grades 9-12 who reported consuming cannabis at least once in the past 30 days.
In a separate, earlier analysis, the Centers for Disease Control and Prevention found that marijuana consumption among high school students declined during the peak years of state-legal recreational cannabis legalization.
There was "no change" in the rate of current cannabis use among high school students from 2009-2019, the survey found. When analyzed using a quadratic change model, however, lifetime marijuana consumption decreased during that period.
Another study released by Colorado officials in 2020 showed that youth cannabis consumption in the state "has not significantly changed since legalization" in 2012, though methods of consumption are diversifying.
An official with the White House Office of National Drug Control Policy's National Marijuana Initiative went even further in 2020, admitting that, for reasons that are unclear, youth consumption of cannabis "is going down" in Colorado and other legalized states and that it's "a good thing" even if "we don't understand why."
Marijuana Is Now Legal In Rhode Island, With Governor Signing Bill To End Prohibition