Trump Campaign Orders Mississippi Medical Marijuana Activists To Cease Using President's Name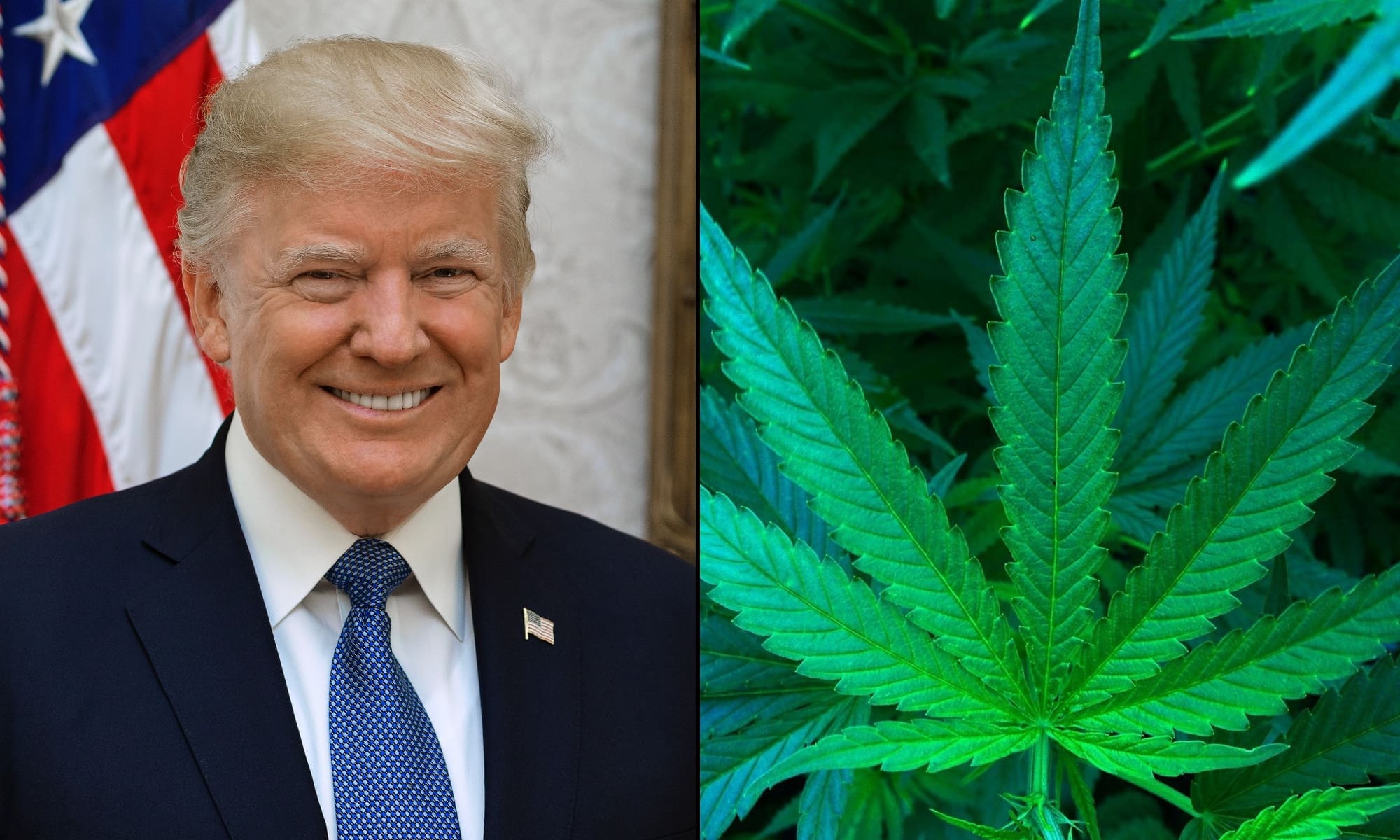 President Donald Trump's reelection campaign has issued a cease and desist order against a Mississippi medical marijuana legalization campaign, claiming "unauthorized and misleading representation" of the president's position on the reform initiative in one of its mailers—even though he has on multiple occasions spoken favorably on camera about medical cannabis.
Michael Glassner, chief operating officer of Donald J. Trump for President Inc., sent a letter to Mississippians for Compassionate Care (MCC), demanding that they stop distributing campaign materials touting the president's past remarks.
While the mailer and the envelope it's being sent in don't at any point state that Trump has specifically endorsed Initiative 65, they encourage voters to "join President Trump and 3 out of 4 Mississippi Republicans who support medical marijuana" and point out that he's voiced "complete support for medical marijuana."
It is indeed the case that the president has, on several occasions, stated that he's in favor of medical cannabis reform.
For example, while he said in 2015 that Colorado has "a lot of problems going on right now" with its recreational marijuana program, medical cannabis "is another thing."
"I think medical marijuana, 100 percent," he said.
Beyond stating his personal support for medical cannabis, Trump has said multiple times that he personally knows people who have benefited from using it.
"I think medical should happen, right? Don't we agree? I mean I think so," he said at a 2015 rally in Nevada. "I know people that are very, very sick and for whatever reason, the marijuana really helps them."
"I know people that have serious problems and they did that and it really does help them," he said In a 2016 interview on Fox News.
But the president's reelection campaign evidently takes issue with the state cannabis effort using his on-camera quotes.
"President Trump has never expressed support for Initiative 65, and his campaign demands that you immediately cease and desist all activities using the President's name, image or likeness in support of the legalization of medical marijuana in Mississippi," Glassner wrote in the October 12 letter, which was first reported by Y'all Politics.
"The President's campaign strongly believes in and encourages your organization's fundamental right to engage in speech on issues of public importance, but this is not about that," he said. "You are misleadingly using the President's name in support of your own agenda without authorization or justification."
But MCC is defending the mailers, which also feature endorsements from multiple Republican legislators in the state.
"President Trump has clearly stated on multiple occasions that he supports medical marijuana. That is all that we've shared—the truth," MCC Communications Director Jamie Grantham said in a press release. "The politicians and bureaucrats behind Mississippi Horizon clearly orchestrated this letter from the Trump campaign. It's just the latest example of the lengths to which they will go to prevent any form of medical marijuana in Mississippi."
"President Trump himself has said he supports medical marijuana and is letting the states decide," she said. "Initiative 65 is the only plan on the ballot that will create an actual medical marijuana program in Mississippi."
While Trump has made his views on medical cannabis clear—and he's expressed support for a states' right approach to marijuana policy—he's also on several occasions released signing statements on spending legislation stipulating that he reserves the right to ignore a long-standing rider that prohibits the Justice Department from using its funds to interfere with state-legal medical marijuana programs.
He also proposed deleting the rider altogether in multiple annual budget proposals to Congress, though President Obama did the same thing when he was in office.
The Mississippi mailer neglected to acknowledge those nuances, however.
"For the last two years, he has signed legislation offered by Republican Senators to prevent his Department of Justice from prosecuting medical marijuana businesses in states that have legalized its use," it states.
"The Trump campaign's decision in this matter is a further indication that this administration is unwilling to either embrace or act upon marijuana policy reform,' Justin Strekal, political director of NORML, told Marijuana Moment. "For four years, this administration has been silent at best and hostile at worst when it comes to marijuana policy, and there is no indication that they would change going forward if given the opportunity."
"At the end of the day, this is just bad politics," he said.
A Quinnipiac poll found last year that 93 percent of Americans support medical marijuana, including 86 percent of Republicans, 96 percent of Democrats and 96 percent of independents—raising questions about why the president's reelection campaign chose to take the proactive step of distancing their candidate from such an overwhelmingly popular issue that enjoys supermajority backing across partisan lines.
Meanwhile, the Democratic presidential nominee, Joe Biden, favors legalizing medical marijuana, decriminalizing cannabis possession more broadly, expunging prior convictions, modestly rescheduling the drug under federal law and letting states set their own policies. That said, he helped craft some of the nation's most infamously punitive anti-drug laws during his time in the Senate—a record that the Trump campaign has seized on.
"More than 81 percent of Mississippians agree with President Trump in supporting medical marijuana for people who are suffering," Grantham said, referencing a poll released last month. "Voters see through the actions of politicians who failed to act on this issue and who are now trying to block this initiative. 65A lets politicians decide. More than 228,000 Mississippians signed petitions for Initiative 65 which lets doctors and patients decide."
The medical cannabis reform campaign has faced a series of obstacles before and after qualifying for the state's November ballot.
The primary complication for advocates is the fact that two competing initiatives will appear alongside each other on the ballot. After MCC qualified their measure, the legislature approved an alternative that is viewed as more restrictive. The result is a muddled ballot that requires voters to answer a two-step series of questions—and that potential confusion threatens to jeopardize the activist-led proposal.
More recently, the Mississippi State Medical Association and American Medical Association have also contributed to the opposition, circulating a sample ballot that instructs voters on how to reject Initiative 65.
Last week, Gov. Tate Reeves (R) signed legislation that amends state law to allow people to obtain marijuana-derived medications that are approved by the Food and Drug Administration. He also reiterated his opposition to broader medical cannabis reform, stating that he's "against efforts to make marijuana mainstream."
If the campaign's measure passes, it would allow patients with debilitating medical issues to legally obtain marijuana after getting a doctor's recommendation. The proposal includes 22 qualifying conditions such as cancer, chronic pain and post-traumatic stress disorder, and patients would be allowed to possess up to 2.5 ounces of marijuana per 14-day period.
In June, lawmakers introduced yet another medical cannabis alternative resolution that would've similarly posed a threat to the activist-driven reform initiative. But, to advocates' relief, the legislation didn't advance before lawmakers went home for the summer.
Read the Trump campaign's cease and desist letter below: 
Trump Cease and Desist To M… by Marijuana Moment
Kamala Harris Touts 'Commitment' To Marijuana Decriminalization And Expungements Under Biden Administration
Marijuana Equity Advocates Propose Changes To Federal Legalization Bill To Stop Big Business Takeover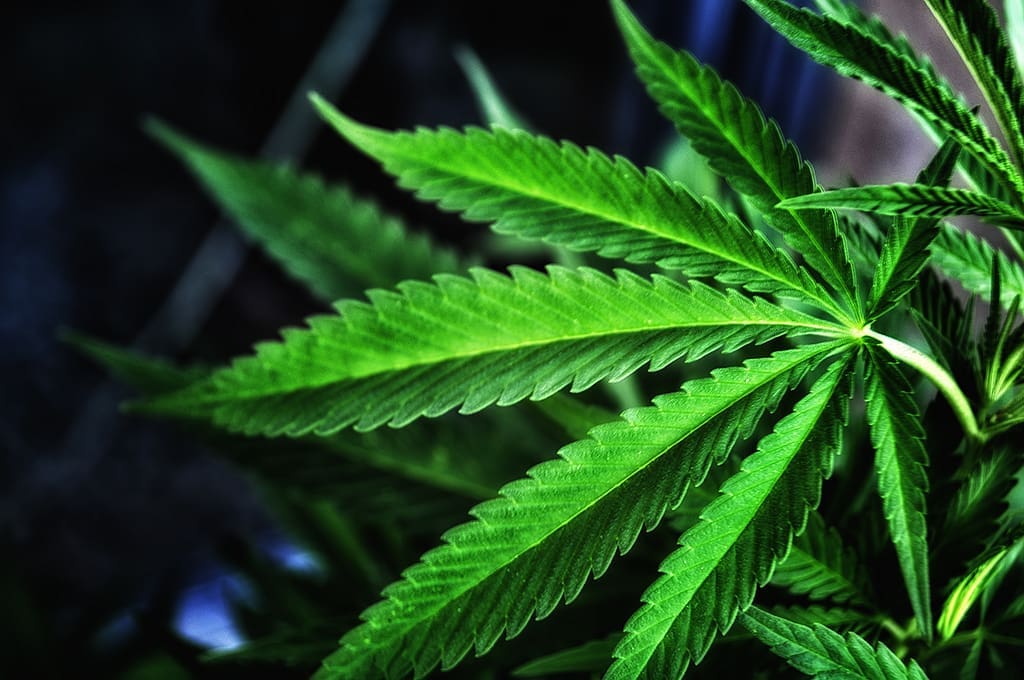 Civil rights groups are pushing for a vote on a bill to federally legalize marijuana to take place in the U.S. House of Representatives this month—but some activists who have experience in the state-level regulatory space are now proposing changes to the legislation to ensure that the market is equitable and empowers communities that have been most impacted by prohibition to benefit from the new industry.
Without the modifications, they say, legal cannabis sales could end up in the hands of a few large corporations—"putting most small cultivators and retailers out of business."
The equity advocates have submitted a pair of alternative amendments of the Marijuana Opportunity, Reinvestment and Expungement (MORE) Act, which cleared the House last year and was recently refiled by Judiciary Committee Chairman Jerrold Nadler (D-NY). The proposals come from the Parabola Center, a newly established organization that is working to inform legalization legislation federally and at the state-level with the intent of promoting social justice-centered reforms.
The new suggested amendments were shared exclusively with Marijuana Moment and are being sent to cannabis reform champions in the House and Senate for consideration on Thursday.
In principle, there's broad agreement on the legislation, Parabola Center's Shaleen Title, a former Massachusetts cannabis regulator, told Marijuana Moment. But in practice, there's a sense among some advocates that federally descheduling cannabis without rigorous regulations will not have the intended impact for disproportionately impacted communities.
"We hope this project inspires the mass movement that legalized marijuana to become more proactive and intentional in deciding what the national marijuana marketplace will look like," Title said.
In order to achieve equity, the advocates say there must also be a conversation around how to prevent large corporations—more specifically Big Tobacco and Big Alcohol—from dominating the market once the restraints of federal prohibition are lifted. There's a sense of urgency to address that aspect of the reform, with companies like Amazon now lobbying in favor of the MORE Act, for example.
A summary of the proposed amendments from the Parabola Center says that the MORE Act's sponsors "deserve full credit for their determination to address" equity-focused reforms, but expresses concern that the federal government is not yet ready to effectively oversee a national marijuana market, noting that its "experience with cannabis until now has been exclusively limited to interdiction and prosecution predominantly targeting Black and Latino communities."
The advocates say the government "needs time to develop the tools and skills to regulate marijuana in a way that repairs the harms of the war on drugs" and points out that states are also struggling to oversee the industry "in an equitable way."
Regulating marijuana isn't just a matter of applying existing rules for alcohol and tobacco, Parabola says.
"While superficial similarities exist, to equate the prohibition and regulation of alcohol to that of cannabis is legally and historically inaccurate. It is not a sound basis for detailed cannabis policy," their summary states. "Neither alcohol nor tobacco regulations have been developed to repair damage on the scale of that caused by the war on drugs. Further, neither of those regulatory models are ideal. As a country, we are still trying to undo the public health damage of letting Big Tobacco run wild."
"Ultimately, if we are serious about creating a fair and equitable national industry, we must allow the federal government to develop its own core competency in cannabis regulation and prevent the domination of the market by a small number of corporations in the meantime."
As introduced in Congress, the MORE Act would deschedule cannabis and take steps to promote equity in the industry. That includes by providing for expungements of prior marijuana convictions and reinvesting cannabis tax dollars into disproportionately impacted communities.
However, the descheduling component could inadvertently undermine the the social justice goals of the bill if steps aren't taken to prevent the corporate consolidation of the industry, Parabola says. There's a "high likelihood that such removal will result in a handful of national cannabis firms rapidly dominating the market and putting most small cultivators and retailers out of business," according to the summary.
In other words, advocates see room for improvement, and they're pushing for the incorporation of one of two proposed regulatory approaches to federal reform.
The first would give additional power to the Office of Cannabis Justice (OCJ) established under the MORE Act, letting the autonomous Justice Department body that would be created by the legislation dictate marijuana permitting. As drafted, that authority would be given to the Treasury Department.
The office would "regulate interstate commerce and enforce anti-cartel restrictions, preventing the creation of a national oligopoly similar to the state-level oligopolies that currently exist," the summary states.
Federal funding could also be withheld from states that fail to meet certain racial justice benchmark standards under the revised plan.
The second, separate Parabola proposal is being described as a "cooperative federalism approach" that would end the federal criminalization of personal possession, cultivation and social sharing under the Controlled Substances Act (CSA)—but it would not formally deschedule marijuana and would allow states to continue operating under the broader status quo of prohibition.
States that have legal markets could fully opt out of CSA enforcement if they meet certain criteria, specifically tied to racial justice objectives.
The purpose of that approach is to "protect individual cannabis consumers from federal arrest and prosecution while allowing states to continue to experiment with different types of equitable commercial markets."
Asked why the group proposed two options for lawmakers, Title said they "thought it would be valuable to illustrate that there's a whole spectrum of regulatory approaches between prohibition and descheduling that doesn't protect state programs."
"Those are the approaches we see discussed most often, but they essentially represent a police free-for-all versus a corporate free-for-all, both bad choices in our view," she said.
Here's a closer look at the details of each proposal: 
Approach 1
-Under this plan, OCJ would regulate marijuana permitting, and no person or corporation would be able to own more than five cannabis licenses in order to support small business participation in the industry.
-While the MORE Act was amended this Congress to exclude a section barring market participation by people with former felony convictions, advocates recommend replacing that language. The proposal says that except for offenses based on marijuana sales, there should be "mandatory disqualification of applicants who have violated the RICO Act or engaged in substantial fraud, abusive labor practices, human trafficking, slavery, intentional failure to pay wages, substantial harm to public health, the environment or an endangered species, terroristic actions, money laundering, misappropriation of public funds, and/or public corruption." Offenses related to marijuana would not be taken into account
-OCJ would have authority over regulating interstate commerce and would be required to study state markets to develop the best approach. The proposal says that could take the form of regional compacts allowing for limited interstate commerce between certain states or allowing only equity businesses to sell cannabis across state lines.
-Federal funds could be withheld from states that fail to meet "racial justice benchmarks," and portions of federal tax revenue could go to states that are meeting those standards.
Approach 2
-As with the original MORE Act, this approach would not preempt state law. Personal possession, cultivation and social sharing would be federally legalized while marijuana remains a controlled substance.
-For states that follow certain federal guidelines for cannabis regulation, the plant would only be legal within their borders. Interstate commerce would not be permitted under this approach.
-The proposers say this will "allow state governments to continue their experimentation while giving the federal government time to understand those models and develop its own evidence-based cannabis policies."
"The key is that both approaches eliminate federal penalties for consumers and patients using cannabis, but they don't open the doors to corporate consolidation we wouldn't be able to take back," Title said. "It's important not to conflate consumer/patient rights with corporate profits. One is an immediate need and one isn't."
Separately, a federal prisoner who received clemency for his cannabis conviction from President Donald Trump recently wrote to members of Congress about how the MORE Act's resentencing and expungement provisions could leave some impacted people without the relief that lawmakers intend.
These proposals also come as Senate leadership continues to work on their own version of legalization legislation, which Majority Leader Chuck Schumer (D-NY) has repeatedly said will be introduced "soon."
Senate Finance Committee Chairman Ron Wyden (D-OR), who is also working the bill alongside Schumer and Sen. Cory Booker (D-NJ), also said to expect a filing "very soon."
Schumer has said that the proposal they're working on will "ensure restorative justice, public health and implement responsible taxes and regulations." He also made a point in March to say that it will specifically seek to restrict the ability of large alcohol and tobacco companies to overtake the industry.
Instead, it will prioritize small businesses, particularly those owned by people from communities most impacted by prohibition, and focus on "justice, justice, justice—as well as freedom," he said.
Read the summary of the advocates' MORE Act proposals and the text of the amendments below: 
MORE Act Markup by Marijuana Moment on Scribd
Connecticut Marijuana Legalization Bill Heads To Governor's Desk
Photo courtesy of Carlos Gracia.
Connecticut Marijuana Legalization Bill Heads To Governor's Desk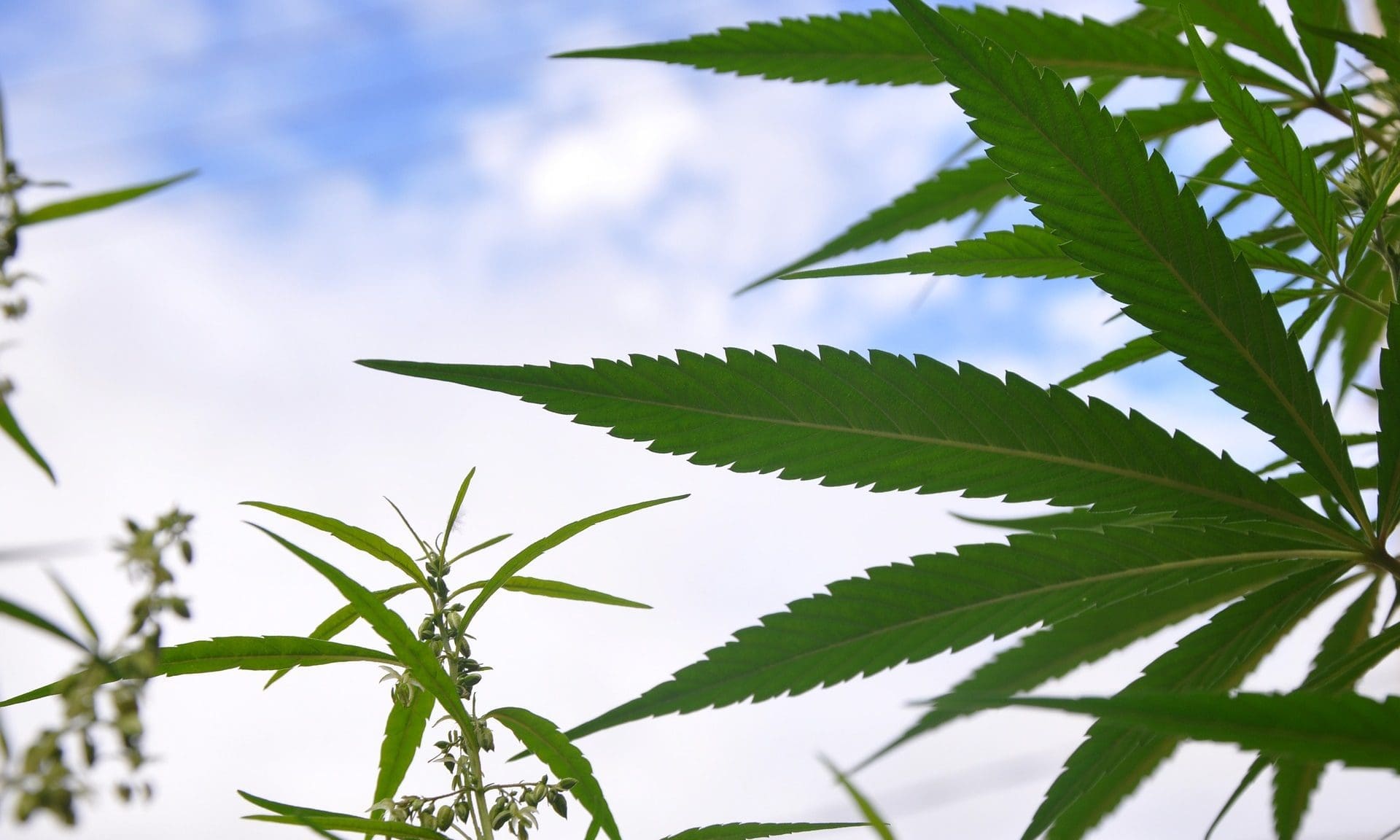 Connecticut is on the verge of legalizing marijuana after lawmakers sent a cannabis reform bill to the desk of the state's supportive governor on Thursday.
The latest action, a Senate vote of 16-11, caps a drama-filled week that at one point saw Gov. Ned Lamont (D) issue a threat to veto the legislation he largely supports over a specific provision on equity licensing eligibility.
On Wednesday the bill passed the House of Representatives, which had amended the version adopted by the Senate a day earlier to remove the controversial language, necessitating Thursday's final vote on concurrence.
If Lamont signs the bill into law as expected, possession of marijuana by adults 21 and older will become legal on July 1. Commercial cannabis sales could begin as soon as next May, but the bill does not specify an exact start date.
Sen. Gary Winfield (D), who shepherded the measure through the body, noted before the final vote that it came on the 50th anniversary of President Richard Nixon's declaration of the war on drugs, which the senator said damaged communities that now stand to benefit from equity-focused legalization.
"We have operated for 50 years with unjust laws that target certain communities," he said. "We have damaged the lives of human beings in the United States of America who are a certain hue, because of politics."
In a statement after the vote, Lamont called it "fitting" for the move to come on the drug war anniversary.
"The war on cannabis, which was at its core a war on people in Black and Brown communities, not only caused injustices and increased disparities in our state, it did little to protect public health and safety," he said. "I look forward to signing the bill and moving beyond this terrible period of incarceration and injustice."
Here's my statement on final approval by the Connecticut General Assembly of legislation legalizing adult-use cannabis.

I look forward to signing the bill and moving beyond this terrible period of incarceration and injustice. pic.twitter.com/H4DYBcbe0K

— Governor Ned Lamont (@GovNedLamont) June 17, 2021
On Tuesday, senators had adopted an amendment allowing people with past cannabis arrests and convictions, as well as their parents, children and spouses, to qualify for social equity status when applying for marijuana business licenses. Previously the bill limited eligibility only to people who reside in areas that have been disproportionately affected by drug war convictions and arrests.
Half of all business licenses under the new system would need to be issued to social equity applicants.
While the provision expanding equity eligibility based on past arrests and convictions was intended to help redress harms caused by the war on drugs, Lamont's chief of staff, Paul Mounds Jr., said in a statement that it would "open the floodgates for tens of thousands of previously ineligible applicants to enter the adult-use cannabis industry."
The rule "allows just about anyone with a history of cannabis crimes or a member of their family, regardless of financial means, who was once arrested on simple possession to be considered with the same weight as someone from a neighborhood who has seen many of their friends and loved ones face significant penalties and discrimination due to their past cannabis crimes," the statement said.
A second Senate amendment, which reportedly was introduced to address the governor's stated concerns, clarified that anyone whose income is more than three times the state's median income—regardless of criminal record or place of residence—could not qualify for social equity status. But on Wednesday morning, Lamont again told reporters that he wouldn't sign the bill in the form passed by the Senate.
In response, House lawmakers rejected both Senate-approved amendments, essentially returning the bill to the form in which it was originally introduced on Monday—then made one additional change.
I just presided over the Senate's historic vote legalizing adult-use cannabis.

This is a good bill, grounded in equity and bringing justice to communities disproportionately harmed by the war on drugs. I look forward to seeing @GovNedLamont sign it into law! https://t.co/gloLnlnyUn

— Lt. Gov. Susan Bysiewicz (@LGSusanB) June 17, 2021
After stripping the Senate changes, House lawmakers added back in a Senate-passed provision that bars legislators, statewide elected officials, cannabis regulators and members of the social equity board from participating in the cannabis industry for two years after leaving government. That restriction was introduced in response to Republican concerns that legalization would otherwise create opportunities for officials to benefit themselves by entering an industry they previously influenced.
Despite the flurry of activity on the latest proposal, much of the nearly 300-page bill resembles a legalization measure that passed the Senate last week, which went on to stall on the House floor during the final hours of the regular session. That measure was pitched by Democratic legislative leaders as a compromise incorporating elements of both Lamont's own legalization proposal, which advanced through two legislative committees this year, as well as an equity-focused legalization bill by Rep. Robyn Porter (D).
The current bill, SB 1201, was originally introduced Monday by House Speaker Matt Ritter (D) and Senate President Martin Looney (D).
Here are some key details of the current legalization proposal:
It would allow adults 21 and older to possess up to 1.5 ounces of cannabis starting on July 1 and establish a retail market. Legislative leaders anticipate sales would launch in May 2022.
Regulators with the Department of Consumer Protection (DCP) would be responsible for issuing licenses for growers, retailers, manufacturers and delivery services. Social equity applicants would be entitled to half of those licenses.
Equity applicants could also qualify for technical assistance, workforce training and funding to cover startup costs.
A significant amount of tax revenue from cannabis sales would go toward broader community reinvestment targeting areas most affected by the criminal drug war.
Home cultivation would be permitted—first for medical marijuana patients and later for adult-use consumers.
Most criminal convictions for possession of less than four ounces of cannabis would be automatically expunged beginning in 2023.
Beginning July 1, 2022, individuals could petition to have other cannabis convictions erased, such as for possession of marijuana paraphernalia or the sale of small amounts of cannabis.
The smell of cannabis alone would no longer be a legal basis for law enforcement to stop and search individuals, nor would suspected possession of up to five ounces of marijuana.
Absent federal restrictions, employers would not be able to take adverse actions against workers merely for testing positive for cannabis metabolites.
Rental tenants, students at institutions of higher learning, and professionals in licensed occupations would be protected from certain types of discrimination around legal cannabis use. People who test positive for cannabis metabolites, which suggest past use, could not be denied organ transplants or other medical care, educational opportunities or have action taken against them by the Department of Children and Families without another evidence-based reason for the action.
Cannabis-related advertising could not target people under 21, and businesses that allow minors on their premises would be penalized. Products designed to appeal to children would be forbidden.
Licensees who sell to minors would be guilty of a Class A misdemeanor, punishable by up to a year in prison and a $2,000 fine. People in charge of households or private properties who allow minors to possess cannabis there could also face a Class A misdemeanor.
Adults 18 to 20 years old who are caught with small amounts cannabis would be subject to a $50 civil fine, although subsequent violations could carry a $150 fine and/or mandatory community service. All possession offenses would require individuals to sign a statement acknowledging the health risks of cannabis to young people.
Minors under 18 could not be arrested for simple cannabis possession. A first offense would carry a written warning and possible referral to youth services, while a third or subsequent offense, or possession of more than five ounces of marijuana, would send the individual to juvenile court.
Local governments could prohibit cannabis businesses or ban cannabis delivery within their jurisdictions. Municipalities could also set reasonable limits on the number of licensed businesses, their locations, operating hours and signage.
Municipalities with more than 50,000 residents would need to provide a designated area for public cannabis consumption.
Until June 30, 2024, the number of licensed cannabis retailers could not exceed one per 25,000 residents. After that, state regulators will set a new maximum.
Cannabis products would be capped at 30 percent THC by weight for cannabis flower and all other products except pre-filled vape cartridges at 60 percent THC, though those limits could be further adjusted by regulators. Medical marijuana products would be exempt from the potency caps. Retailers would also need to provide access to low-THC and high-CBD products.
The state's general sales tax of 6.35 percent would apply to cannabis, and an additional excise tax based on THC content would be imposed. The bill also authorizes a 3 percent municipal tax, which must be used for community reinvestment.
Existing medical marijuana dispensaries could become "hybrid retailers" to also serve adult-use consumers. Regulators would begin accepting applications for hybrid permits in September 2021, and applicants would need to submit a conversion plan and pay a $1 million fee. That fee could be cut in half if they create a so-called equity joint venture, which would need to be majority owned by a social equity applicant. Medical marijuana growers could also begin cultivating adult-use cannabis in the second half this year, though they would need to pay a fee of up to $3 million.
Licensing fees for social equity applicants would be 50 percent of open licensing fees. Applicants would need to pay a small fee to enter a lottery, then a larger fee if they're granted a license. Social equity licensees would also receive a 50 percent discount on license fees for the first three years of renewals.
The state would be allowed to enter into cannabis-related agreements with tribal governments, such as the Mashantucket Pequot Tribe and the Mohegan Tribe of Indians.
—
Marijuana Moment is already tracking more than 1,100 cannabis, psychedelics and drug policy bills in state legislatures and Congress this year. Patreon supporters pledging at least $25/month get access to our interactive maps, charts and hearing calendar so they don't miss any developments.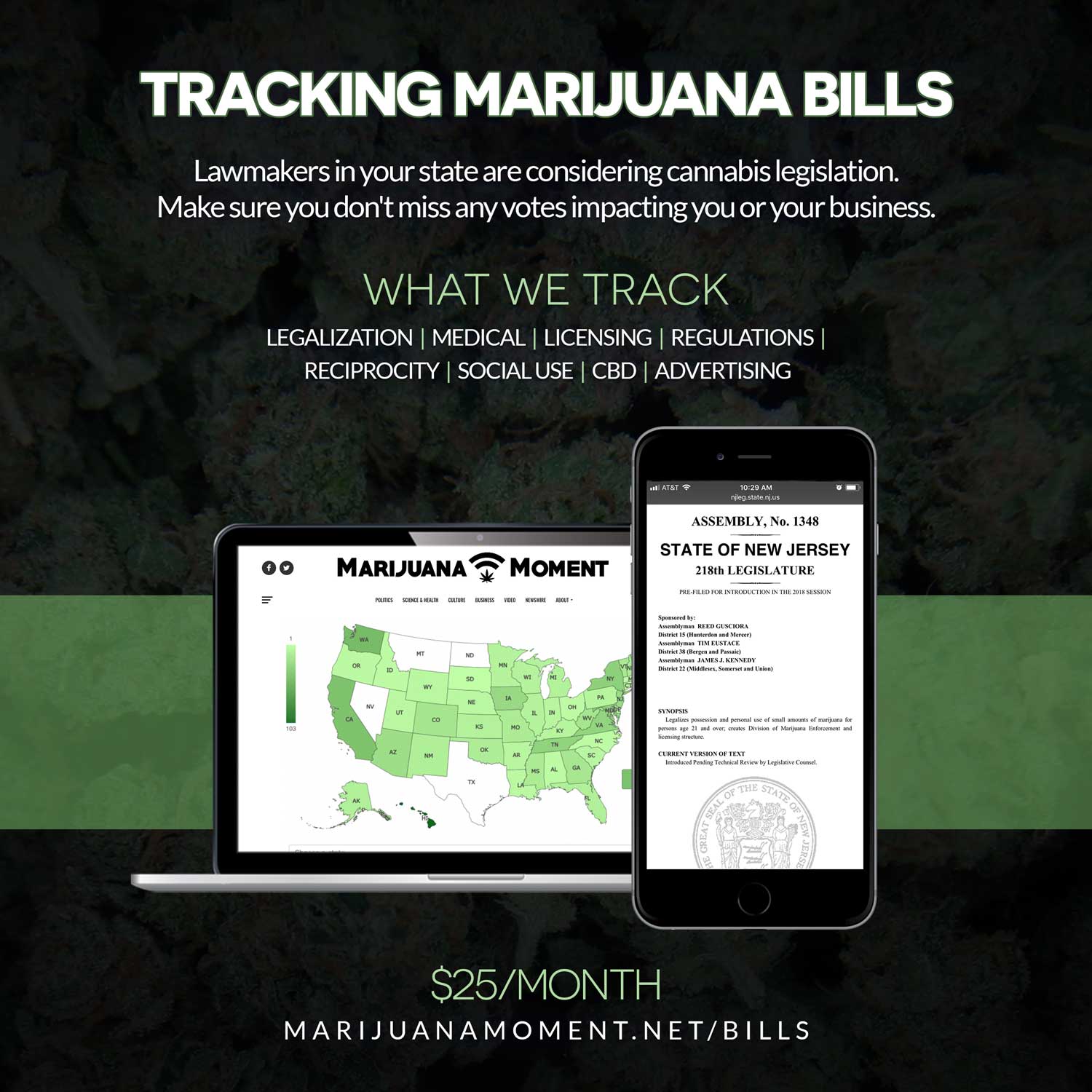 Learn more about our marijuana bill tracker and become a supporter on Patreon to get access.
—
Despite his veto threat, Lamont has been broadly supportive of legalization. Last week he told reporters that he has "a strong point of view to do whatever it takes to get this over the finish line."
"Around the country, we have red states and blue states that are passing this and doing it on a very careful, regulated way—and I think we're ready to do the same."
The governor also said that if a legalization measure isn't enacted this year, the issue could ultimately go before voters.
"Marijuana is sort of interesting to me. When it goes to a vote of the people through some sort of a referendum, it passes overwhelmingly. When it goes through a legislature and a lot of telephone calls are made, it's slim or doesn't pass," the governor said. "We're trying to do it through the legislature. Folks are elected to make a decision, and we'll see where it goes. If it doesn't, we'll probably end up in a referendum."
Ritter said late last month that he feels there's a 57-43 chance that the legislation is approved, whereas he previously gave it a 50-50 chance.
He last year that if the legislature wasn't able to pass a legalization bill, he would move to put a question on the state's 2022 ballot that would leave the matter to voters.
According to recent polling, if legalization did go before voters, it would pass. Sixty-four percent of residents in the state favor legalizing cannabis for adult use, according to a survey from Sacred Heart University released last month.
The legislature has considered legalization proposals on several occasions in recent years, including a bill that Democrats introduced last year on the governor's behalf. Those bills stalled, however.
Lamont reiterated his support for legalizing marijuana during his annual State of the State address in January, stating that he would be working with the legislature to advance the reform this session.
The governor has compared the need for regional coordination on marijuana policy to the coronavirus response, stating that officials have "got to think regionally when it comes to how we deal with the pandemic—and I think we have to think regionally when it comes to marijuana, as well."
Meanwhile in neighboring Rhode Island, a legislative committee on Monday approved a marijuana legalization bill backed by Senate leadership in that state.
Louisiana Governor Says Marijuana Legalization Will Likely Happen In His State—But Not While He's In Office
Photo courtesy of Max Pixel.
Most American Voters Support Decriminalizing All Drugs, Another New Poll Finds
The survey's release coincides with the introduction of a first-ever congressional bill to decriminalize drugs.
By Molly Bernstein & Sean McElwee, The Appeal
For 50 years, the so-called "war on drugs," which President Richard Nixon declared on June 17, 1971, has ravaged entire communities, exacerbated racial inequality and helped propel the United States to the highest incarceration rate in the world. It is a war that, by any measure, has been lost. Abusive and discriminatory policing tactics, long prison terms, and the myriad collateral consequences of criminal convictions have destroyed lives, while doing nothing to curb addiction or the epidemic of overdose fatalities.
These destructive policies of criminalization are also unpopular.
A new national poll from Data for Progress and The Lab, a policy vertical of The Appeal, found that more than seven in ten voters (71 percent) believe that federal drug policies are not working and that there is a need for reform. Voters no longer want to treat public health issues like drug use and addiction as matters of crime and law enforcement—they support decriminalizing both drug possession (59 percent support) and the distribution of drugs in small quantities (55 percent support), while also shifting regulatory power over drugs from the Drug Enforcement Agency to the Department of Health & Human Services (60 percent support).
Many of these reforms are part of the Drug Policy Reform Act (DPRA), announced this week by Reps. Bonnie Watson Coleman (D-NJ) and Cori Bush (D-MO). The DPRA would eliminate incarceration as a penalty for possession of any drug, expunge possession convictions retroactively, invest in alternative harm reduction programming and place drug classification power within DHS.
The DPRA also creates incentives for state and local jurisdictions to decriminalize drug possession and invest in alternatives to incarceration, reflecting momentum toward decriminalization already in full swing at the state and local level. In November 2020, Oregon passed a measure decriminalizing low-level drug possession across the board and four other states—Arizona, Montana, New Jersey and South Dakota—voted to legalize marijuana, joining 11 other states and Washington, D.C. At the local level, prosecutors in counties like Philadelphia and Austin have policies to dismiss a significant number of possession-related charges.
The DPRA builds upon the Marijuana Opportunity Reinvestment and Expungement (MORE) Act that would decriminalize marijuana and that the House passed in December 2020, though the Senate has yet to vote on it.
Full Polling Results
We also found that a variety of arguments in support of reforming federal drug policy resonate with voters, including that the war on drugs has led to ineffective, discriminatory policies and counterproductive outcomes:
60 percent of likely voters find it convincing that current federal drug policies are unfair and too harsh, exacerbating racial inequality rather than healing communities;
70 percent of likely voters find it convincing that "war on drugs" policies fail to improve community safety by failing to address drug addiction or crime;
68 percent of likely voters find it convincing that outdated "war on drugs" policies focus too much on politics and punishment;
67 percent of likely voters find it convincing that punishing people for drug use is ineffective at helping individuals and communities.
The new survey is the second this month to find broad support for decriminalizing drugs. A separate poll from the ACLU and Drug Policy Alliance found similar results, with 83 percent saying the drug war is a failure and 66 percent backing the removal of criminal penalties for drug possession.
Polling Methodology
From May 21 to 23, 2021, Data for Progress conducted a survey of 1,250 likely voters nationally using web panel respondents. The sample was weighted to be representative of likely voters by age, gender, education, race and voting history. The survey was conducted in English. The margin of error is ±3 percentage points.
The story was first published by The Appeal. The Appeal is a non-profit media organization that produces news and commentary on how policy, politics, and the legal system affect America's most vulnerable people.
Additional reporting by Marijuana Moment.
California Senator Previews Next Steps For Psychedelics Bill And Says It's A Step Toward Decriminalizing All Drugs