Trump Reelection Campaign Attacks Biden As 'Architect' Of The War On Drugs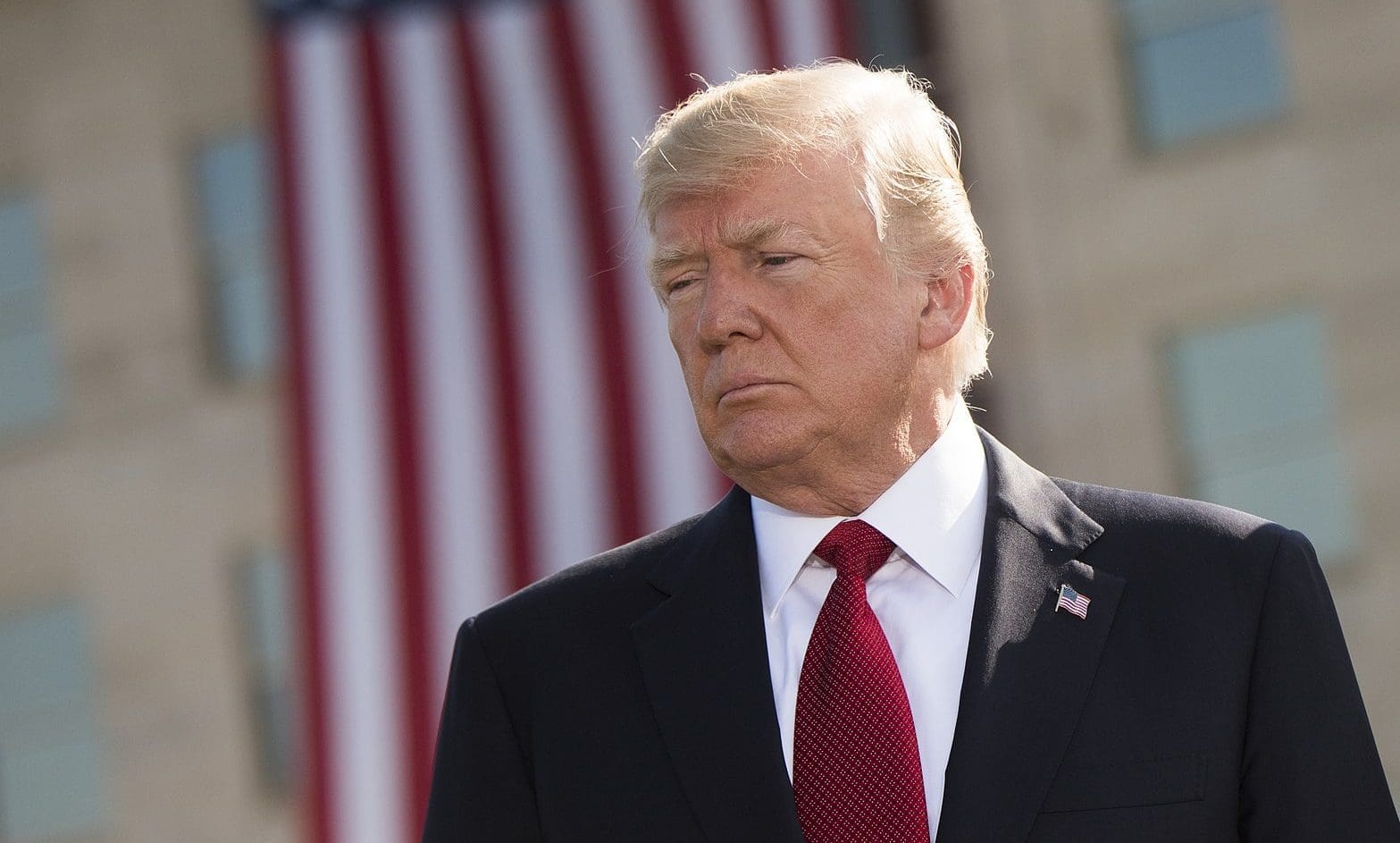 President Trump's reelection campaign is seizing on presumptive Democratic presidential nominee Joe Biden's record as a chief sponsor and champion of punitive anti-drug laws that have contributed to mass incarceration.
In a blog post on Tuesday, the campaign attacked Biden as a "typical Washington career politician who spent decades building up America's mass incarceration system and poisoning the public discourse with race-baiting, divisive and inflammatory remarks."
Biden's role in authoring bills ramping up the war on drugs during his time in the Senate is also being featured in a Trump 2020 video ad—signaling that the president is angling to present himself as the drug policy reform candidate as the November election approaches.
"Biden hasn't just stoked America's racial divisions over the course of his decades in Washington," the blog post on donaldjtrump.com, which was later shared on Twitter by the technically unaffiliated super PAC America First, states. "Biden was the chief architect of mass incarceration and the War on Drugs, which targeted Black Americans."
Biden hasn't just stoked America's racial divisions over the course of his decades in Washington. Biden was the chief architect of mass incarceration and the War on Drugs, which targeted Black Americans. https://t.co/DV0Yf8Fvvw

— America First (@AmericaFirstPAC) June 2, 2020
"Biden voted to extend minimum penalties for people under 21 charged with selling marijuana, and introduced the civil forfeiture legislation which allows the government to seize assets of citizens accused of drug crimes," the campaign blog post continues. "Biden helped write the Anti-Drug Abuse Act, which created the 100:1 crack cocaine sentencing disparity and disproportionately targeted minority communities."
"Biden's self-imagined reinvention as a racial healer is laughable and requires memory-holing decades of racially inflammatory rhetoric."
In the video ad released last month, the Trump campaign said that mass incarceration "has put hundreds of thousands behind bars for minor offenses. Joe Biden wrote those laws."
"Joe Biden's policies destroyed millions of black lives" due to his role in advancing anti-drug laws and other criminal justice policies, it states. "Joe Biden may not remember. But we do."
The campaign first indicated it would be highlighting criminal justice reform when it aired an ad during the Super Bowl in February touting the president's commutation of a person convicted of a nonviolent drug offense.
I promised to restore hope in America. That includes the least among us. Together, let's KEEP AMERICA GREAT!

Text TRUMP to 88022 if you liked our Super Bowl ad! pic.twitter.com/Lgjt53B7QX

— Donald J. Trump (@realDonaldTrump) February 2, 2020
Drug reform advocates have made similar criticisms of the former vice president, arguing that his record does not bode well for the prospects of comprehensive policy changes in the U.S. criminal justice system. His ongoing opposition to adult-use marijuana legalization has also been a source of frustration, despite his recent support for more modest proposals such as decriminalizing possession, allowing medical cannabis, federal rescheduling, expunging past convictions and letting states set their own laws.
That said, while the Trump administration has taken certain modest bipartisan steps—such as signing sentencing reform legislation, granting clemency to certain individuals with prior federal drug convictions and voicing support for states' rights when it comes to cannabis legalization—the image of a uniformly pro-reform president that the campaign is attempting to present isn't the full picture.
"Joe Biden's record on drug policy is quite abysmal given his role in the 1994 Crime Bill and as one of the lead advocates for increased mandatory minimum sentences and other policies that inflamed our crisis of mass incarceration in this country," Erik Altieri, executive director of NORML, told Marijuana Moment. "Unfortunately, despite not having a long legislative record like Biden for direct comparison, Donald Trump's history as it relates to racial justice and drug policy is also quite horrendous."
Trump's first attorney general, Jeff Sessions, rescinded Obama-era guidance known as the Cole memo. Under that directive, federal prosecutors were advised not to pursue action against individuals for state-legal cannabis-related activity, except under a select set of circumstances.
Also, while Trump has voiced support for medical cannabis legalization, he's on several occasions released signing statements on spending legislation stipulating that he reserves the right to ignore a long-standing rider that prohibits the Justice Department from using its funds to interfere with state-legal medical marijuana programs.
Trump also asked Congress to end the medical cannabis protections as part of his fiscal year 2021 budget plan—something the Obama administration also previously did to no avail.
Despite his pledged support for medical cannabis and states' rights, Trump evidently holds some negative views toward marijuana consumption, as evidenced in a recording from 2018 that was leaked two years later. In that recording, the president said that using cannabis makes people "lose IQ points."
Another controversial administrative action concerns immigrants and marijuana. In April 2019, the U.S. Citizenship and Immigration Services issued a memo stating that using marijuana or engaging in cannabis-related "activities" such as working for a dispensary—even in states where it's legal—is an immoral offense that makes immigrants ineligible for citizenship.
In December 2019, the Justice Department issued a notice that it was seeking to make certain marijuana offenses, including misdemeanor possession, grounds to deny asylum to migrants.
In February 2020, the president applauded countries that impose the death penalty for drug traffickers—a point he's repeatedly been known to make, according to a report from Axios.
Meanwhile, though the president's reelection campaign is presenting him as a criminal justice reformer, Trump himself in recent days has embraced the slogan of "law and order" as he has seemed to endorse violent law enforcement responses to people protesting police killings of black Americans.
Sleepy Joe has been in politics for 40 years, and did nothing. Now he pretends to have the answers. He doesn't even know the questions. Weakness will never beat anarchists, looters or thugs, and Joe has been politically weak all of his life. LAW & ORDER!

— Donald J. Trump (@realDonaldTrump) June 2, 2020
Altieri of NORML said that despite these conflicting statements and administrative actions, the Trump campaign "does seem to understand by putting forth this outreach is that marijuana law reform and ending our failed War on Drugs are popular positions with the majority of all Americans, regardless of political affiliation."
"All candidates should be putting forth comprehensive plans on how they will address cannabis and criminal justice reform if they are in the White House in 2021, but as of yet we've seen mostly lip service and finger pointing in lieu of real solutions," he said.
The White House Is Reviewing CBD And Marijuana Research Guidance From FDA
Photo courtesy of Wikimedia.