Sheriff Files Lawsuit To Keep Medical Marijuana Off Nebraska's Ballot
After failing to convince Nebraska's secretary of state to keep a medical marijuana initiative off the state's ballot, a local police official is now going to court to try to prevent voters from getting a chance to decide on the measure.
Lancaster County Sheriff Terry Wagner filed the case on Friday, just one day after Secretary of State Bob Evnen rejected his arguments that the ballot proposal "cases confusion," "creates doubt about what will be authorized after the election" and violates the state's single-subject rule for initiatives. That filing was made by a law firm that refused to disclose the sheriff as its client.
Now the top county cop has revealed himself in the new lawsuit filing, and the state Supreme Court will take up the dispute, with arguments expected on Thursday. A decision will need to be made in the case by September 11, which is the deadline to certify items for November ballots.
Nebraskans for Medical Marijuana submitted nearly 200,000 signatures last month, well beyond the 121,669 required to qualify for the ballot.
Under the proposal, physicians could recommend cannabis to patients suffering from debilitating medical conditions, and those patients would then be allowed to possess, purchase and "discreetly" cultivate marijuana for personal use.
Sens. Anna Wishart Adam Morfeld, cochairs of the legalization campaign, and other legislators have tried for years to pass medical cannabis bills in the legislature only to be blocked by opposition from leadership. But with help from the Marijuana Policy Project and other advocacy groups, they decided to put the issue directly to voters.
On Saturday, Morfeld recalled pressing Wagner about the relative dangers of marijuana, alcohol and other drugs during a Judiciary Committee hearing.
"I asked Sheriff Wagner how many people had died from drug and alcohol overdoses in his career?" the senator tweeted. "He said too many to count. How many from marijuana? Zero."
During a Judiciary Committee hearing that he testified in opposition to medical marijuana because he claimed it was "dangerous" I asked Sheriff Wagner how many people had died from drug and alcohol overdoses in his career? He said too many to count. How many from marijuana? Zero. https://t.co/AkAdtshNQV

— Senator Adam Morfeld (@Adam_Morfeld) August 29, 2020

Nebraskas for Medical Marijuana said in in an email to supporters that it has "overcome many challenges in this campaign, and we will overcome this one, too.
"Common sense, compassion, and the law are on our side," the campaign said.
While the campaign suspended signature gathering amid the COVID-19 outbreak, it relaunched its efforts in May with new social distancing safety protocols in place.
Nebraska's attorney general said in an opinion last year that efforts to legalize medical marijuana legislatively in the state would be preempted by federal law and "would be, therefore, unconstitutional."
Here's a status update on other 2020 drug policy reform campaigns across the country: 
A measure to legalize marijuana in Arizona officially qualified for the November ballot earlier this month.
Montana's secretary of state also announced this month that cannabis activists collected more than enough signatures to qualify two legalization measures.
The Washington, D.C. Board of Elections certified this month that activists submitted enough valid signatures to place a measure to decriminalize plant- and fungi-based psychedelics in the nation's capital.
Oregon's secretary of state confirmed last month that separate measures to legalize psilocybin therapy and decriminalize possession of all drugs while expanding treatment services will appear on the November ballot.
Prior to the COVID-19 outbreak and stay-at-home mandates, separate measures to legalize marijuana for medical and recreational purposes qualified for South Dakota's November ballot.
The New Jersey legislature approved putting a cannabis legalization referendum before voters as well.
And in Mississippi, activists gathered enough signatures to qualify a medical cannabis legalization initiative for the ballot—though lawmakers also approved a competing (and from advocates' standpoint, less desirable) medical marijuana proposal that will appear alongside the campaign-backed initiative.
Idaho activists behind a medical marijuana legalization initiative were hoping to get a second wind after a federal judge said recently that the state must make accommodations for a separate ballot campaign due to signature gathering complications caused by the coronavirus pandemic. But following a U.S. Supreme Court ruling against the other group last week, hopes are dashed.
A campaign to legalize cannabis in Missouri officially gave up its effort for 2020 due to signature collection being virtually impossible in the face of social distancing measures.
North Dakota marijuana legalization activists are shifting focus and will seek qualification for the 2022 ballot.
Washington State activists had planned to pursue a drug decriminalization and treatment measure through the ballot, but citing concerns about the COVID-19 outbreak, they announced last month that they will be targeting the legislature instead.
Read the full Nebraska medical cannabis lawsuit below:
Nebraska Medical Marijuana Lawsuit by Marijuana Moment on Scribd
Full-Page Washington Post Ad Calls For Marijuana Prisoner's Freedom While Celebs Make Money In Industry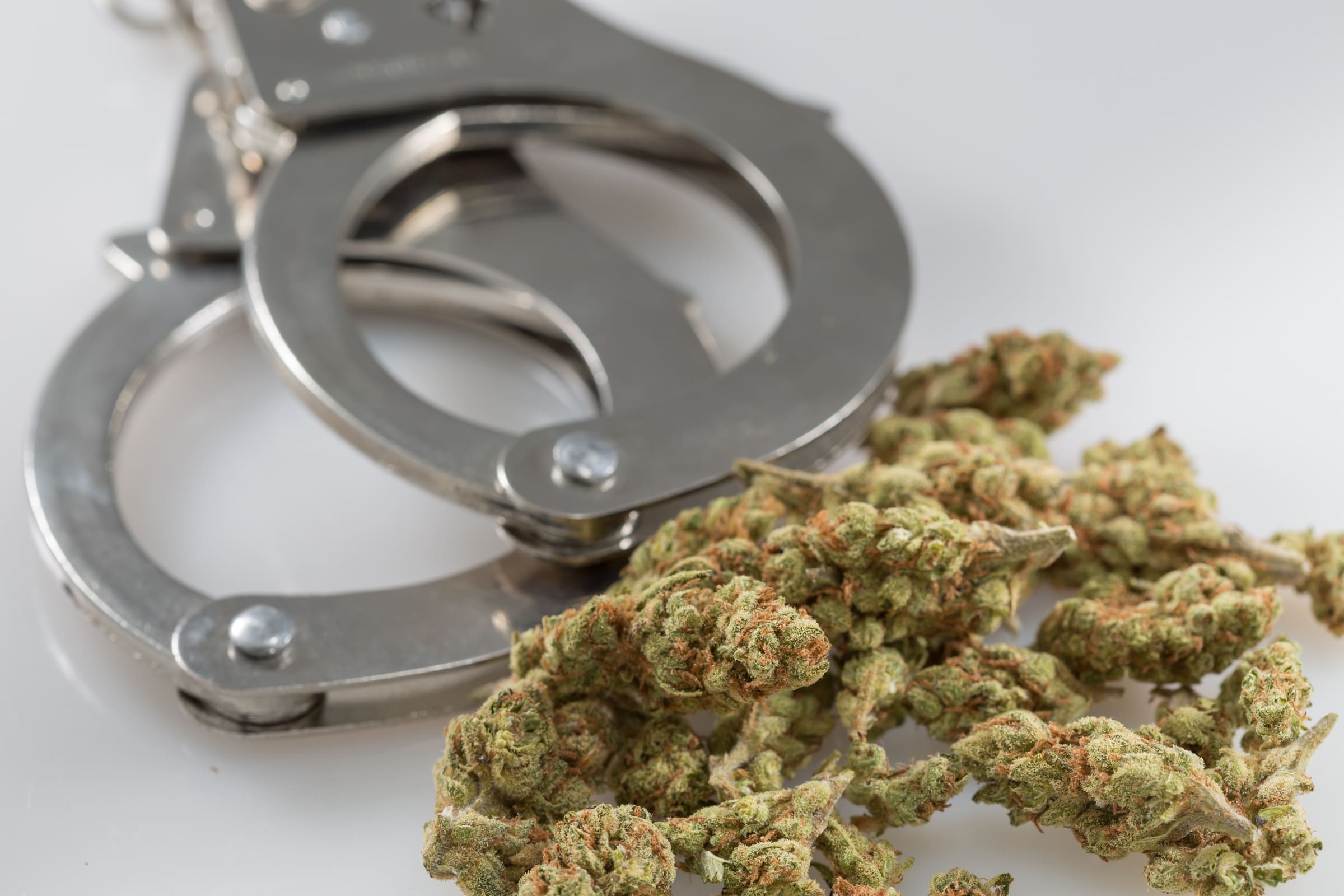 Supporters of a 26-year-old man who is currently incarcerated while awaiting sentencing for a federal marijuana charge took out a full-page ad in The Washington Post on Thursday, blasting the hypocrisy of his imprisonment while celebrities like Beyonce, Jay Z, Seth Rogen and Willie Nelson stand to profit off the legal cannabis industry.
Jonathan Wall faces up to 15 years in prison on charges that he and other conspired to traffic marijuana from California to Maryland over two years. His family says this is a flagrant miscarriage of justice that highlights the need for relief for Wall and for broader federal marijuana reform.
The ad has the headline, "Who will be the last person incarcerated for marijuana in the United States?"
"Cannabis corporations are in Maryland and 26 other states making billions in revenue growing, manufacturing and distributing pot," it says. "Cannabis conglomerates wonderfully engaged in branding, licensing , product innovation, research and development."
It notes that, just miles away from where Wall is being held, consumers can buy marijuana from major marijuana businesses like Curaleaf or Acreage Holdings, which counts former GOP House Speaker John Boehner (R-OH) among its board members.
"But then you—along with the likes of Jay Z, Seth Rogen, and Willie Nelson—would be in violation of U.S. federal law and subject to incarceration," the ad says. "26-year-old Jonathan Wall faces life in prison while Beyonce says that she's starting a cannabis farm. This is not the way the law is supposed to work."
"President Biden recently gave a speech about how 20 years in Afghanistan was too long and that our continued involvement there was a mistake. Well, what about more than 50 years of proven failure, 50 years of gross economic waste, 50 years of caging our own citizens, 50 years of asset forfeiture abuse, 50 years of enforcement disparity and evisceration of the constitutional rights of people of color. In a country where you can guy an assault rifle and fifth of whiskey, federal prohibition of cannabis has never been about more than fear, bias, race, stigmatization and control."
This isn't the first time that the Biden administration has faced demands to provide relief for people criminalized over marijuana.
Congressional lawmakers have also recently pushed President Joe Biden to grant clemency to nearly 20,000 people in the federal prison system—including those with drug convictions.
A group of more than 150 celebrities, athletes, politicians, law enforcement professionals and academics separately signed a letter that was delivered to Biden, asking him to issue a "full, complete and unconditional pardon" to all people with non-violent federal marijuana convictions.
While advocates are looking for more, the Biden administration is asking a fraction of people with drug convictions who were placed on home confinement amid the coronavirus pandemic to apply for the relief.
"It is time for our government to admit that it has made a mistake," the new ad says.
Mississippi Lawmakers Reach Deal On Medical Marijuana Legalization, Plan To Request Special Session
House Officially Passes Defense Bill With Marijuana Banking Protections, But Key Senators May Block Path Ahead
The U.S. House of Representatives on Thursday approved a large-scale defense spending bill that includes an amendment to shield banks that works with state-legal marijuana businesses from being penalized by federal regulators. Now advocates and industry stakeholders are left wondering: what's the fate of the reform in the Senate? And can it make it to the president's desk?
New comments from Sen. Cory Booker (D-NJ)—who's helping lead the charge to advance comprehensive marijuana legalization and who has been severely critical of efforts to enact banking reform first—signal that the path to pass the incremental policy change through the National Defense Authorization Act (NDAA) could be in jeopardy in the Senate. Other key senators have also expressed skepticism about the reform's prospects through this process.
For supporters, things may have been more simple if the Senate had moved to include cannabis banking reform in its own version, but the text of NDAA released by Senate Armed Services Committee on Wednesday does not contain that language. That means the matter will need to be settled in a bicameral conference committee after the full Senate formally passes its bill. At that point, negotiators from both chambers will work to resolve differences between their separate proposals.
Already, there's pushback from key senators to including the Secure and Fair Enforcement (SAFE) Banking Act in the NDAA that's ultimately sent to President Joe Biden. That's not especially surprising considering that leadership, including Senate Majority Leader Chuck Schumer (D-NY), has insisted on passing comprehensive justice-focused marijuana legalization first rather than advance an incremental reform on banking. But recent statements do raise questions about the prospects of enacting the reform through the defense bill.
It's not that the SAFE Banking Act is partisan or especially controversial on its face; it's a matter of legislative priorities for certain senators and a question of germaneness in NDAA. As of Tuesday, when the reform amendment was officially attached to the House version of the bill, it has now passed five times in the chamber, usually along largely bipartisan lines.
Rep. Ed Perlmutter (D-CO), chief sponsor of the SAFE Banking Act, spoke with Marijuana Moment about the process moving forward in a phone interview on Wednesday. He was optimistic about the measure's prospects with NDAA as the vehicle, though he conceded that he hadn't spoken with Schumer or other key senators who are actively finalizing legalization legislation that they hope to see move first.
"I think the fifth time is the charm," he said. "I mean, obviously, we still have to do some work to make sure that it remains part of the NDAA as the House and the Senate go to conference. So we still have work to do with the Senate to make sure that it remains part of it. But I think that it will."
"I mean, the fact that it deals with cartels and national security, on top of the need for the public safety piece of this thing, I think that we'll be able to convince the conference committee and the conferees generally to keep it in," he said. "But we still have work to do."
—
Marijuana Moment is already tracking more than 1,200 cannabis, psychedelics and drug policy bills in state legislatures and Congress this year. Patreon supporters pledging at least $25/month get access to our interactive maps, charts and hearing calendar so they don't miss any developments.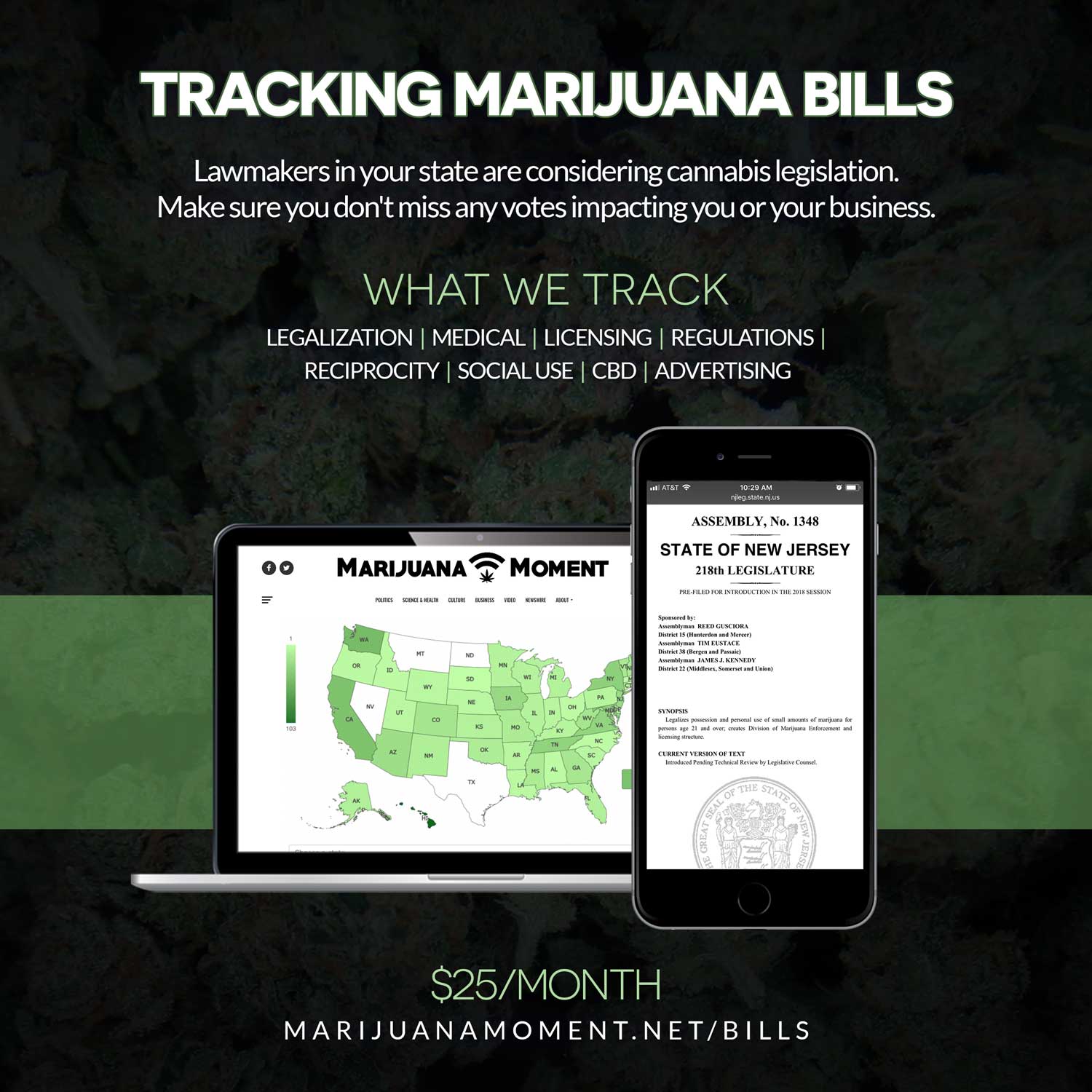 Learn more about our marijuana bill tracker and become a supporter on Patreon to get access.
—
Some advocates have expressed support for enacting the achievable banking policy change while working to build support for more comprehensive reform.
"Enactment of the SAFE Banking Act would improve public safety and business efficiency in the 36 states that currently permit some form of retail marijuana sales," NORML Political Director Justin Strekal said. "The Senate should ensure this provision remains in the final version of this funding package and enact it swiftly."
"The SAFE Banking Act is only the first step toward making sure that state-legal marijuana markets operate safely and efficiently," he said. "The sad reality is that those who own or patronize these currently unbanked businesses would still be recognized as criminals in the eyes of the federal government and by federal law. This situation can only be rectified by removing marijuana from the list of controlled substances."
Schumer and certain other senators, meanwhile, have insisted the banking issue should be tackled by holistically ending marijuana prohibition. They argue that it is inappropriate to pass what is seen as an industry-focused reform that helps businesses and investors while leaving unaddressed the harms of decades of racially disparate prohibition enforcement that should be addressed with equity-focused legalization.
Booker, who is helping Schumer alongside Senate Finance Committee Chairman Ron Wyden (D-OR) to produce a final legalization bill has said he would proactively work to block any senators who attempt to get marijuana banking reform passed before enacting social justice-focused legalization legislation.
And Booker told Politico on Wednesday that cannabis banking is "something that should not be included" in NDAA.
Senate likes to send NDAA amendments to a vote by unanimous consent. If one senator raises an objection to an NDAA Amendment, it can kill or stall it. Booker wouldn't discuss his plans but said has "a lot of options as an individual senator" should the amendment be proposed.

— Natalie Fertig (@natsfert) September 22, 2021
"It undermines the ability to get comprehensive marijuana reform and the kind of things that are harder to get done like expungement of people's records," he said, echoing a point that Schumer made in an interview with Marijuana Moment in April. And a spokesperson for the majority leader affirmed that his position has not changed in light of the House development.
Should a senator propose a floor amendment to the chamber's version of the defense bill to incorporate SAFE Banking, Booker left open the possibility of standing in its way.
Sen. Jeff Merkley (D-OR), sponsor of the standalone Senate version of the SAFE Banking Act, also declined to say whether he would push to attach the reform to NDAA and told Politico he'd "love to see if we can even do the more comprehensive [reform]—that'd be even better."
Senate Armed Services Committee Chairman Jack Reed (D-RI), meanwhile, told Roll Call that the issue hasn't been discussed by members of his panel. And bipartisan supporters of the reform—including Sens. Brian Schatz (D-HI) and Rand Paul (R-KY)—told the outlet they weren't certain that the Senate would pursue marijuana banking through NDAA.
Schatz also said that Senate Minority Leader Mitch McConnell (R-KY) "doesn't like" the marijuana banking proposal, and so "he's going to have to consult with the Republicans in his conference who are in favor of this reform, but so far he's been blocking it."
Based on these comments, it seems increasingly clear that the effort to enact SAFE Banking through the must-pass defense bill faces a tough road ahead. And despite bipartisan support for the proposal on its own, it's an open question as to whether the negotiators in committees of jurisdiction will be able to reach a consensus.
At an initial meeting of the House Rules Committee about NDAA on Monday, House Armed Services Committee Chairman Adam Smith (D-WA), who is managing the bill for the chamber, acknowledged that while some members might consider certain amendments "superfluous" to defense spending matters, the annual legislation has been used as a vehicle to advance non-germane legislation in the past. He added, though, that doing so has historically required the issues at hand to have broad bipartisan support in order to survive the House-Senate conference committee process.
He didn't specifically cite the cannabis banking proposal, but Perlmutter himself said earlier in the hearing that "whether something is superfluous is always in the eyes of the beholder," signaling that he feels his measure's germaneness in this context is up for interpretation.
Smith said that "whatever superfluous items the Rules Committee decides to put in order and get attached to this bill, we go to conference, and in conference, we work in a bipartisan fashion."
But beyond Smith and Reed, it will also be up to leading members of key committees that handle banking issues to decide whether the measure gets a ride to the president's desk in NDAA.
"We're not going to pull one over on anybody here. We're going to have to work with committees of jurisdiction—not just the chairs, but the ranking members as well—to come to some agreement on those before we go forward," he said. "So if you see an item that you consider to be superfluous being added to the bill, don't freak out."
The chair's comments about needing support from leaders of committees of jurisdiction raise questions about whether the amendment stands a chance in conference with the Senate following House approval. Not only did House Financial Services Committee Ranking Member Patrick McHenry (R-NC) vote against the standalone SAFE Banking Act this year and in 2019, but on the Senate side, even Banking Committee Chairman Sherrod Brown (D-OH) has been generally unenthusiastic about advancing the reform.
On the flip side, House Finance Services Committee Chairwoman Maxine Waters (D-CA) is a supporter of the banking reform and brought it through her panel last Congress. Senate Banking Committee Ranking Member Pat Toomey (R-PA), for his part, has previously voiced support for advancing the SAFE Banking Act.
Perlmutter has said that he appreciates that Senate leadership is pushing for a more comprehensive end to federal marijuana prohibition—and he agrees with Booker that promoting social equity is an important objective—but he feels the SAFE Banking Act is urgently needed to address public safety issues resulting from the industry's lack of access to traditional financial institutions.
Some of the strongest proponents for broad reform like Rep. Earl Blumenauer (D-OR) voted in favor of the SAFE Banking Act in April despite the body yet having taken up a legalization measure this session.
FBI Clarifies That Using Marijuana More Than 24 Times Disqualifies Would-Be Agents
Mississippi Lawmakers Reach Deal On Medical Marijuana Legalization, Plan To Request Special Session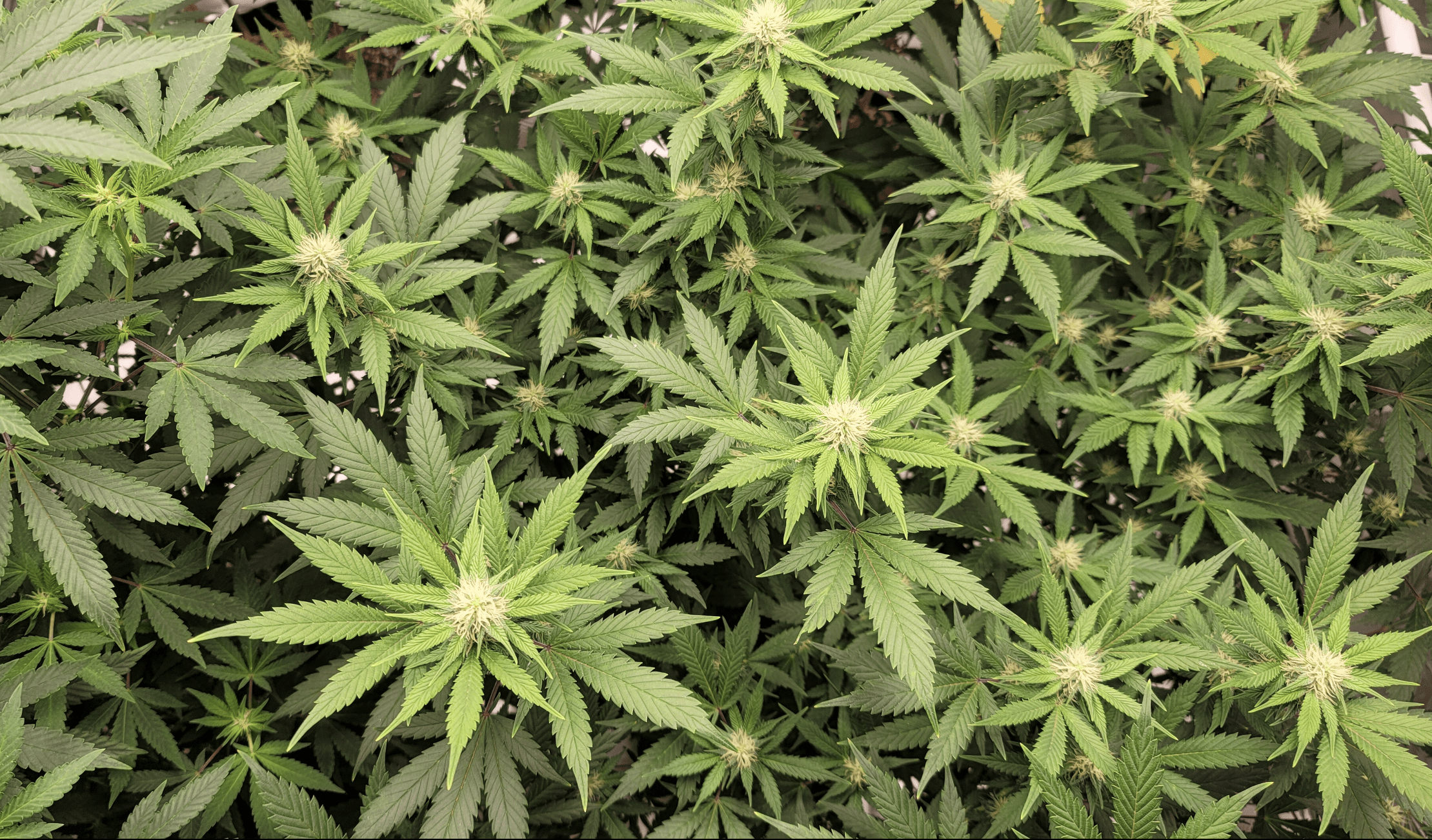 Lawmakers reached a deal on key provisions such as which agencies should be responsible for regulating the medical cannabis market.
By Geoff Pender, Mississippi Today
Legislative negotiators and leaders have agreed on a draft of medical marijuana legislation, and are anticipated to ask Gov. Tate Reeves (R) as early as Friday to call the Legislature into special session, sources close to the negotiations said Thursday.
Legislative leaders on Thursday released some details of the proposal—which had been kept close to the vest for months—such as that cities and counties will be allowed to "opt out" of having medical marijuana cultivation or dispensaries, although local voters can override this.
Negotiations have dragged on throughout the summer on crafting a medical marijuana program to replace one passed by Mississippi voters in November but shot down in May by the state Supreme Court on a constitutional technicality.
House Speaker Philip Gunn (R) in a Thursday interview on a Supertalk radio show said he believed the House and Senate leadership and negotiators are "in agreement" on a draft bill, and he believes both chambers have the votes to pass such a measure. He said he planned to get together with Lt. Gov. Delbert Hosemann (R), then barring any last minute glitches "inform the governor we are ready."
Other sources close to the negotiations on Thursday told Mississippi Today they anticipate that request to the governor would happen as soon as Friday. Reeves has sole authority to call lawmakers into special session, and would set the date and parameters of a special session. Although legislative leaders have expressed interest in dealing with COVID-19 and other issues in a special session, Reeves has appeared unwilling but said he would call a session for medical marijuana, pending lawmakers are in agreement and he agrees with the measure.
Gunn in his radio interview on Thursday gave some particulars of the bill, but said "don't hold me to it" and deferred to Rep. Lee Yancey, (R), the lead House negotiator on the measure. Yancey has worked with Sen. Kevin Blackwell, (R), the lead Senate negotiator. Blackwell could not immediately be reached for comment on Thursday.
Yancey gave Mississippi Today some highlights of the draft bill, which would be subject to changes by the full Legislature. They include:
Cities and counties could opt out. Voters could opt back in. City councils or aldermen, or county boards of supervisors, within 60 days of passage of legislation, could opt out from allowing cultivation or dispensing of medical marijuana within their borders. However, voters could gather 1,500 signatures, or signatures of 20 percent of voters, whichever is less, and force a referendum on the issue. If such a referendum to allow it fails, voters could try again in two years, similar to state alcohol referenda. Yancey said that under the draft measure, "Once it's in, it's in," meaning once approved, a locality could not come back and ban it.
"This gives businesses the certainty they need to get started," Yancey said. "No licenses will be issued the first 60 days after passage for cultivation and processing, and licenses (for cannabis use) and dispensaries wouldn't start until the 90th day."
Smoking cannabis would be allowed. There had been debate on whether Mississippi's program would allow smoking of cannabis by patients, as most states with programs allow, or prohibit it, as Alabama does with its recently approved program.
"There are those who have certain debilitating conditions who need the effects of medical cannabis to take effect immediately," Yancey said. "Ingesting a gummy or something like that could take 45 minutes to an hour. Whether it's terrible seizures or pain and suffering or not being able to eat, there are those who need relief as immediately as possible… There are those who look at this from a bias of recreational use, but that's not apples to apples, not fair. There are people who are suffering, who need the palliative relieve medical cannabis can provide, and our main goal is to allow people who are suffering terrible illnesses to get relief."
Medical marijuana would be subject to sales tax and an excise. The state's sales tax, currently at 7 percent, would be levied on medical marijuana, as well as a $15 an ounce excise. Yancey said the goal was to have a 5 percent excise, but that going rates for marijuana vary by potency and product, so the weight-based tax was the easiest way to get near that mark. Weight for edibles and other product would be based on the cannabis weight, not food or other product. Yancey said this tax rate would put Mississippi roughly in the middle of states with legalized medical cannabis.
"The going rate for mid-range (marijuana flower) is about $300 an ounce, so if you do the math, $15 an ounce would be around the 5%," Yancey said. "If a product sold for lower, you would pay higher than that rate, if sold for more, you would pay less."
Outdoor growing would not be allowed. Lawmakers during hearings this summer were told by officials from other states that regulating growing and safety of medical marijuana is easier with indoor growing facilities.
State Health Department would be in charge, with Department of Revenue, Agriculture Commission sharing some responsibilities. The Mississippi State Department of Health would oversee the state's medical marijuana program, but the state's taxing and agriculture agencies would share some regulatory duties. State Agriculture Commissioner Andy Gipson has told lawmakers he will not participate in regulating medical marijuana because marijuana is still federally illegal. Gipson has threatened to sue if lawmakers try to force him to participate.
Yancey said the proposal would allow Gipson to subcontract growing regulations to someone else.
"For instance, if the Board of Pharmacy said it was interested in regulating the plants—like they do with compounding pharmacies—they could do it," Yancey said. "In a sense Andy wouldn't have to do it himself, he could farm it out, no pun intended."
Preference would be given to in-state companies. Yancey said cultivators would be licensed in tiers—from "micro cultivators" to large ones, based on square footage of canopy space. Micro growers, under 2,000 square feet, would have to be "100 percent Mississippi resident participation." Larger ones initially would have to have 35 percent Mississippi ownership, but that requirement would be repealed after one year. Yancey said this could help Mississippians be involved in the business, but help the state avoid lawsuits other states have faced from out-of-state growers. Yancey said there would be a similar setup for processors, based on amount of pounds of product they produce.
Potency would be regulated. Yancey said there would be THC potency limits of 30 percent on flower, 60 percent on concentrates and infused products. He said any product above 30 percent THC would have to have a warning label.
This story was first published by Mississippi Today.
Mississippi Agriculture Department Should Have No Role In Medical Marijuana Regulation, Commissioner Tells Lawmakers
Photo courtesy of Mike Latimer.