Illinois Has Sold More Than $1 Billion In Marijuana So Far This Year, State Officially Announces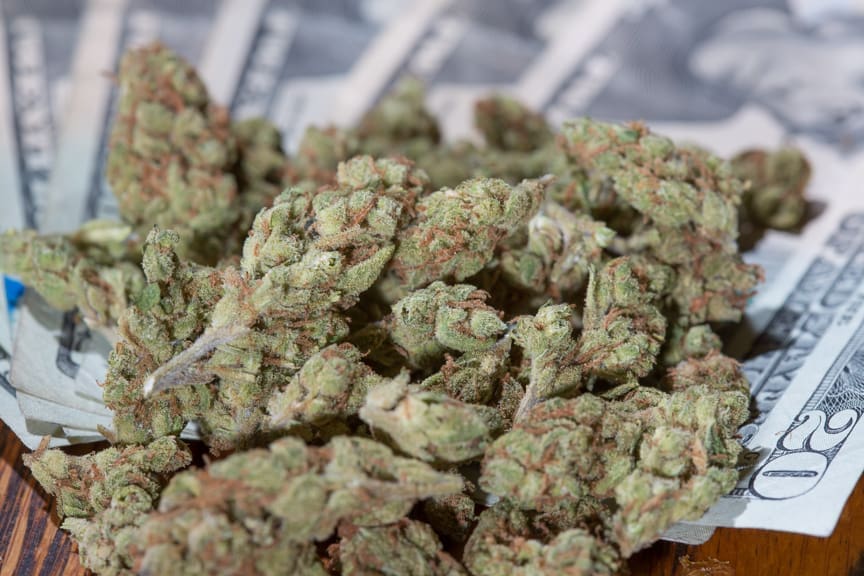 Illinois has officially exceeded $1 billion in adult-use marijuana sales in 2021, a major economic milestone since the state launched its retail market last year.
The Illinois Department of Financial and Professional Regulation (IDFPR) reported on Tuesday that there were $123,375,372 in recreational cannabis purchases in October, raising the total to $1.12 billion for the year so far.
Adults purchased 2,757,354 marijuana products last month, with most sales ($81,212,423) coming from state residents and the remainder ($42,162,949) from out-of-state visitors.
The $123 million haul is lower than the state's peak sales of $127,794,220 in July—which officials partly attributed to a boost from the music festival Lollapalooza—but it was the second biggest month since sales launched in January 2020.
This is the eighth month in a row that adult-use marijuana sales surpassed $100 million in the state.
The new figures do not include sales of medical cannabis, which are tracked separately by a different agency.
The Illinois Chamber of Commerce president predicted back in May that retailers would sell more than $1 billion in adult-use marijuana sales in 2021, and they've now accomplished that with two more months to go in the year.
The level of cannabis commerce means a significant increase in revenue for the state. Illinois sold about $670 million in marijuana last year and took in $205.4 million in tax revenue.
The state generated more quarterly tax dollars from marijuana than alcohol for the first time earlier this year, the Illinois Department of Revenue reported in May. From January to March, Illinois generated about $86,537,000 in adult-use marijuana tax revenue, compared to $72,281,000 from liquor sales.
In July, state officials put $3.5 million in cannabis-generated funds toward efforts to reduce violence through street intervention programs.
Wisconsin Gov. Tony Evers (D) is getting "tired" of hearing about these sales figures, he said in April, joking that Illinois Gov. J.B. Pritzker (D) always "thanks me for having Wisconsinites cross the border to buy marijuana" since the neighboring state does not have a legal market.
Illinois officials have emphasized that the tax dollars from all of these sales are being put to good use. For example, the state announced in January that it is distributing $31.5 million in grants funded by marijuana tax dollars to communities that have been disproportionately impacted by the war on drugs.
The funds are part of the state's Restore, Reinvest, and Renew (R3) program, which was established under Illinois's adult-use cannabis legalization law. It requires 25 percent of marijuana tax dollars to be put in that fund and used to provide disadvantaged people with services such as legal aid, youth development, community reentry and financial support.
Awarding the new grant money is not all that Illinois is doing to promote social equity and repair the harms of cannabis criminalization. Pritzker announced in December that his office had processed more than 500,000 expungements and pardons for people with low-level cannabis convictions on their records.
Relatedly, a state-funded initiative was recently established to help residents with marijuana convictions get legal aid and other services to have their records expunged.
But promoting social equity in the state's cannabis industry has proved challenging. Illinois has faced criticism from advocates and lawsuits from marijuana business applicants who feel officials haven't done enough to ensure diversity among business owners in the industry.
Pritzker's signed a bill in July that's meant to build upon the state's legalization law by creating more cannabis business licensing opportunities to help people from disproportionately impacted communities enter into the marijuana industry. Regulators have since held a series of lotteries to award additional dispensary licenses, but losing companies have since filed legal challenges to the process.
Meanwhile, a House committee approved a resolution earlier this year that broadly condemns the war on drugs, calling it "the United States' longest and costliest war and ultimately a complete and shameful failure."
Marijuana markets have been booming in states across the U.S.
Maine recreational marijuana sales broke another record in August, exceeding $10 million for the first time since the adult-use market launched in October 2020.
Arizona brought in about $21 million in medical and adult-use marijuana tax revenue in July, state officials recently reported on a new webpage that enables people to more easily track how the industry is evolving.
California collected about $817 million in adult-use marijuana tax revenue during the 2020-2021 fiscal year, state officials estimated in August. That's 55 percent more cannabis earnings for state coffers than was generated in the prior fiscal year.
A recent scientific analysis of sales data in Alaska, Colorado, Oregon and Washington State found that marijuana purchases "have increased more during the COVID-19 pandemic than in the previous two years."
In July alone, at least three states saw record-breaking sales for recreational cannabis. The same goes for Missouri's medical marijuana program.
Michigan marijuana sales broke another record in July with more than $171 million in cannabis transactions, according to data from the state's regulatory body. There were $128 million in adult-use sales and $43 million in medical cannabis purchases.
Throughout the pandemic, many states allowed cannabis retailers to remain open—with governors and regulators in several markets declaring marijuana businesses to be essential services—and some jurisdictions issued emergency rules allowing curbside pickup, delivery services or other more relaxed policies in order to facilitate social distancing.
Meanwhile, New York officials are projecting that marijuana tax revenue will help keep the state's budget afloat as cigarette sales continue to decline over the coming years. But retails sales have yet to launch as of now.
Senators' Marijuana Amendment To Defense Bill Would Streamline Research