Four States Report Record-Breaking Marijuana Sales In July
July was an especially productive and profitable month for the marijuana industry, with retailers making record-breaking sales in at least four states.
This is continuing a trend that's been observed in numerous states as cannabis markets have come online and matured. And it's all the more impressive considering how the industry has thrived even amid the coronavirus pandemic.
In Illinois, Maine and Michigan, sales on adult-use marijuana products reached new highs in July. The same goes for Missouri's medical cannabis market.
Here's a breakdown of the record month of marijuana sales in July: 
Illinois
The Prairie State saw nearly $128 million in recreational cannabis purchases last month—more than double the total monthly sales from a year ago.
People bought 2,802,124 individual cannabis products in July, which represents another monthly record.
The Illinois Department of Financial and Professional Regulation reported that in-state residents bought $85 million in marijuana, or 69 percent, while out-of-state visitors accounted for $42 million in sales.
July marks the fifth consecutive month that sales in Illinois's adult-use market have topped $100 million. If the trend continues, the state is on track to see more than $1 billion in adult-use marijuana sales in 2021.
That would mean a significant increase revenue for the state. Illinois sold about $670 million in cannabis last year and took in $205.4 million in tax revenue.
Illinois took in more tax dollars from marijuana than alcohol for the first time last quarter, officials reported in May. From January to March, Illinois generated about $86,537,000 in adult-use marijuana tax revenue, compared to $72,281,000 from liquor sales.
Maine
Adult-use marijuana sales reached $9.4 million in July—a 45 percent increase from the prior month's record.
Cannabis business owners on the ground credit the Fourth of July holiday and tourism for the spike, The Portland Press Herald reported.
The retail market for recreational cannabis launched in October of last year, and it's steadily grown in popularity. July marks the first time that adult-use sales rivaled those of the state's older medical marijuana market.
And of course, these rising sales are contributing to tax revenue for the state. The Maine Office of Marijuana Policy reported $943,500 in cannabis sales tax revenue for July.
Michigan
Michigan marijuana sales broke another record last month with more than $171 million in cannabis transactions, according to data from a state regulatory body that was released last week.
There were $128 million in adult-use sales and $43 million in medical cannabis purchases in July.
The prior month saw $107 million recreation marijuana sales and $42 million for medical cannabis.
For July, the total sales translates into $23 million in tax revenue, some of which will go to infrastructure projects, public education and individual jurisdictions.
Last week, state officials also awarded $20 million in marijuana tax revenue to fund a pair of research projects meant to investigate the therapeutic potential of cannabis for military veterans with post-traumatic stress disorder.
Most of last month's recreational sales went to flower cannabis products ($63.5 million), followed by vape cartridges ($26.3 million) and edibles ($18.5 million).
Missouri
For the first time, Missouri medical cannabis sales exceeded $20 million in July.
Analysts say the record-breaking figures is largely attributable to a combination of new dispensaries opening and growing patient enrollment in the state's medical marijuana program.
With July's $21 million in cannabis sales, that raises the total medical marijuana purchases in the state to about $91 million for 2021.
Meanwhile, a group of Missouri marijuana activists recently filed four separate initiatives to put marijuana reform on the state's 2022 ballot, a move that comes as other advocacy groups are preparing separate efforts to collect signatures for cannabis ballot petitions of their own.
Still other activists are focusing on getting the legislature to pass a resolution to place the question of legalization before voters next year.
These record-breaking sales reports have become a common theme across legal states amid the coronavirus pandemic.
A recent scientific analysis of sales data in Alaska, Colorado, Oregon and Washington State found that marijuana purchases "have increased more during the COVID-19 pandemic than in the previous two years."
"Findings show a general increase in cannabis sales following stay-at-home orders issued in AK, CO, OR, and WA in late March 2020," the report, published earlier this month in the International Journal of Drug Policy, says. "In all four states, those increases were greater than the percent increases observed in the preceding two years."
Throughout the pandemic, many states allowed cannabis retailers to remain open—with governors and regulators in several markets declaring marijuana businesses to be essential services—and some jurisdictions issued emergency rules allowing curbside pickup, delivery services or other more relaxed policies in order to facilitate social distancing.
An exception to the booming sales trend is Colorado, however, where purchases fell again in June, the most recent month for which data is available.
Ohio Activists Submit Revised Marijuana Legalization Petition For 2022 Ballot After State Rejected Earlier Version
Banking Activity Increases In States That Legalize Marijuana, Study Finds
While marijuana businesses often struggle to find banks that are willing to take them on as clients due to risks caused by the ongoing federal prohibition of cannabis, a new study found that banking activity actually increases in states that legalize marijuana.
The research doesn't make a direct connection between state-level marijuana reform and the increased activity, but it does strongly imply that there's a relationship—even if the factors behind the trend aren't exactly clear.
Researchers set out to investigate banking trends in states that have legalized cannabis, looking at bank regulatory filings with the Federal Deposit Insurance Corporation (FDIC) from 2011 to 2016. They found evidence that "banking activity (deposits and subsequent loans) increase considerably in legalizing states relative to non-legalizing states."
That's in spite of the fact that banks and credit unions run the risk of being penalized by federal regulators for working with businesses that deal with a federally controlled substance.
"While uncertainty can result in overly cautious behavior and hinder economic activity, we do not find evidence of this with cannabis laws and the banking industry," the authors wrote in the new paper—titled, "THC and the FDIC: Implications of Cannabis Legalization for the Banking System."
The study analyzed data from "150,566 bank-quarter observations from 6,932 unique banks located in 46 different states." It found that deposits increased by an average range of 3.14-4.33 percent—and bank lending increased by 6.54-8.62 percent—post-legalization.
"Our results indicate that deposits and loans increased for banks after recreational cannabis legalization."
Of course, it makes sense that legal states would see increased financial activity in the banking sector after opening a new market, even if only some banks choose to take the risk of working directly with cannabis businesses. The emerging marijuana industry also supports an array of ancillary firms and traditional companies that provide services to dispensaries and grow operations.
As of June 30, there were 706 financial institutions that had filed requisite reports saying they were actively serving cannabis clients. Thats up from 689 in the previous quarter but still down from a peak of 747 in late 2019.
But the question remains: why are some banks deciding to take on marijuana clients while others remain wary of federal repercussions?
The study authors—from the University of Arizona, Drexel University, San Diego State University and Scripps College—put forward two possibilities about why "the risk from regulatory uncertainty did not decrease banks' willingness to accept deposits or make loans."
The increase "may suggest that banks were either unconcerned about the potential risk associated with accepting cannabis related deposits or optimistic about the chances that regulations will adapt to the needs of legalizing states," the paper reasons.
Confidence about working with a federally illegal industry may well have been bolstered in 2014 when the Financial Crimes Enforcement Network (FinCEN) under the Obama administration issued guidance to financial institutions on reporting requirements for cannabis-related businesses.
The second option, optimism about federal reform, also seems possible. It was around the time that the bipartisan Secure and Fair Enforcement (SAFE) Banking Act was first introduced that there was a notable spike in financial institutions reporting that they have marijuana business clients.
In the years since, that legislation has been approved in some form five times in the U.S. House of Representatives, but it's continued to stall in the Senate. In general, banks reporting marijuana accounts has remained relatively stable since 2019.
"Although many have speculated about the increased legal risks to banks, there is a lack of evidence for instances where banks are criminally prosecuted or lose their federally insured status," the study states. "If these negative repercussions rarely happen, it makes sense that banks would not respond to the legislative uncertainty."
"As more state regulators issue statements in support of banks and credit unions serving the cannabis industry, the financial institutions can become more optimistic about the chances that regulations will adapt in their favor with time," the authors wrote.
Despite optimism for future reform that certain lawmakers have expressed, it doesn't necessarily take the sting out of the latest failed attempt to secure protections for banks that choose to work with state-legal cannabis businesses as part of a large-scale defense bill.
A pro-reform Republican senator recently slammed Democrats for failing to advance marijuana banking reform despite having a congressional majority and control of the presidency.
For what it's worth, the secretary of the U.S. Treasury Department recently said that freeing up banks to work with state-legal marijuana businesses would "of course" make the Internal Revenue Service's (IRS) job of collecting taxes easier.
With respect to the SAFE Banking Act, a bipartisan coalition of two dozen governors recently implored congressional leaders to finally enact marijuana banking reform through the large-scale defense legislation.
A group of small marijuana business owners also recently made the case that the incremental banking policy change could actually help support social equity efforts.
Rodney Hood, a board member of the National Credit Union Administration, wrote in a recent Marijuana Moment op-ed that legalization is an inevitability—and it makes the most sense for government agencies to get ahead of the policy change to resolve banking complications now.
Rhode Island Governor Includes Marijuana Legalization And Expungements In Budget Request
Colorado Earned $423 Million In Marijuana Tax Revenue Last Year
More than $12 billion in marijuana has been sold since legalization in 2014, with the state collecting over $2 billion in taxes.
By Robert Davis, The Center Square
Colorado brought in a record $423 million in tax revenue from marijuana sales last year, according to the latest market report from the state's Department of Revenue (DOR).
In all, Colorado has sold more than $2 billion in marijuana through November 2021, making it the second consecutive year that the state has eclipsed that mark. In 2020, the state collected $387 million in taxes from the sales.
Colorado's tax revenue total also implies that the state beat its previous record of $2.1 billion in sales, though DOR said it will release the final numbers next month.
More than $12 billion in marijuana has been sold since legalization in 2014, with the state collecting over $2 billion in taxes.
🚨New record alert!🚨 In 2021, Colorado collected over $423 million in revenue from marijuana sales (compared to the previous record of over $387 million in 2020). Colorado also surpassed $2B in tax and fee revenue and $12B in marijuana sales to date. https://t.co/M5zrEiSNYR pic.twitter.com/XxpZzyV1XQ

— CO Dept. of Revenue (@CO_Revenue) January 12, 2022
Colorado collects its marijuana taxes from a 2.9 percent state sales tax on marijuana sold in stores, a 15percent state retail marijuana sales tax and a 15 percent retail marijuana excise tax on wholesale sales and transfers of marijuana. The state also collects fee revenue from marijuana license and application fees.
In December, Colorado collected more than $30 million in taxes, capping off a five-month streak of declining tax revenue.
The state also recorded more than $158 million in sales in November, with both medical and recreational marijuana showing significant declines in sales.
Colorado sold $131 million in recreational marijuana in November, an 11 percent drop when compared to October.
Similarly, November's medical marijuana sales totaled $26 million, representing a drop of more than 10 percent on a month-over-month basis.
The story was first published by The Center Square.
Delaware Lawmakers File New Marijuana Legalization Bill With Key Equity Revisions
Arizona Hits Recreational Marijuana Sales Record, With New Program Catching Up To Medical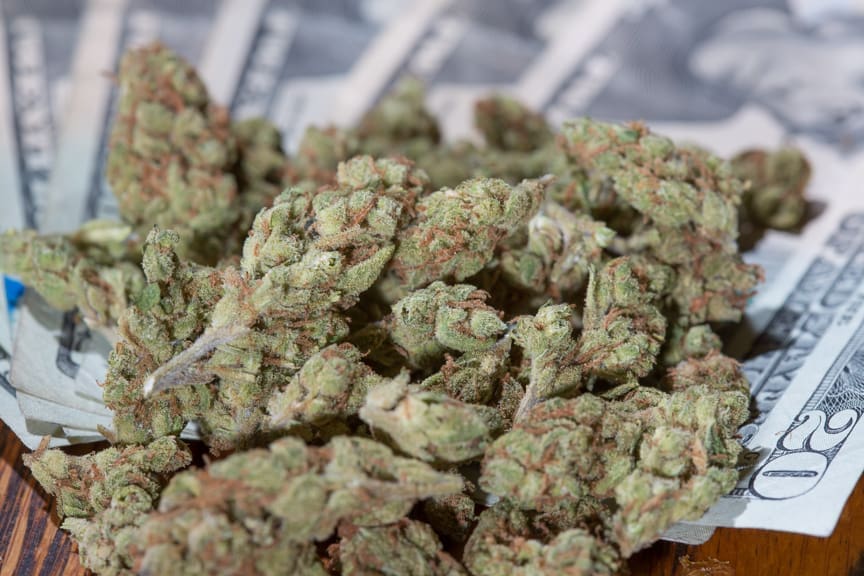 Medical cannabis sales eclipsed recreational from February through October—adult-use sales began on January 22—but in November, those numbers were almost identical.
By David Abbott, Arizona Mirror
Arizona cannabis sales continued on an upward trajectory in 2021, with the Arizona Department of Revenue reporting more than $1.23 billion in combined cannabis sales through the first 11 months of the year.
In November, adult-use recreational cannabis sales hit a new peak and crossed $60 million for the first time. Medical sales have fluctuated throughout the year, topping out at about $73 million in March and April.
Medical sales eclipsed recreational from February through October—adult-use sales began on January 22—but in November, those numbers were almost identical, with the medical program bringing in an estimated $60,365,545, while recreational sales reached $60,299,191.
In October, estimated cannabis sales for both programs were within $7 million of each other, the first time recreational sales came within $10 million of medical sales. But the adult-use market is in its infancy and is expected to match the medical program's economic heft within a few years.
Cannabis sales also provided a solid tax contribution in 2021.
TAXABLE Sales (Estimated) to date

| PERIOD COVERED | ADULT USE‐420 | MEDICAL‐ 203 | EXCISE TAX |
| --- | --- | --- | --- |
| Jan‐21 | $7,370,460 | $42,140,608 | $11,391,371 |
| Feb‐21 | $32,697,512 | $55,320,625 | $39,246,992 |
| Mar‐21 | $51,628,266 | $72,934,129 | $55,808,898 |
| Apr‐21 | $54,037,990 | $72,944,477 | $58,954,469 |
| May‐21 | $52,843,171 | $70,158,567 | $59,372,157 |
| Jun‐21 | $50,943,017 | $64,854,708 | $56,749,799 |
| Jul‐21 | $54,324,542 | $70,880,576 | $58,740,337 |
| Aug-21 | $51,877,656 | $65,492,643 | $57,675,654 |
| Sep-21 | $52,450,298 | $62,704,561 | $57,663,164 |
| Oct-21 | $59,508,253 | $65,415,461 | $62,446,719 |
| Nov-21 | $60,299,191 | $60,365,545 | $63,187,702 |
| Dec-21 | $20,922 | $591,294 | $0 |
| | $528,001,278 | $703,803,194 | $581,237,261 |
The state collects 16 percent excise tax on recreational sales in addition to the standard sales tax; medical patients pay a 6 percent excise tax. Local jurisdictions charge an additional 2 percent or so for all marijuana sales.
Taxes collected in November for recreational cannabis sales were $5,055,950, with medical slightly less at $5,026,317. The excise tax reached $10,110,032 for a total of $20,192,299 in tax revenue from November marijuana sales.
Proposition 207, which voters approved in 2020 to legalize adult use of cannabis, included specific uses for taxes collected on the recreational side. One-third is dedicated to community college and provisional community college districts; 31 percent to public safety—police, fire departments, fire districts, first responders—25 percent to the Arizona Highway User Revenue Fund and 10 percent to the justice reinvestment fund, dedicated to providing public health services, counseling, job training and other social services for communities that have been adversely affected and disproportionately impacted by marijuana arrests and criminalization.
The state collected a total of $196,447,570 in tax revenue the first 11 months of 2021 from cannabis sales, with $44,533,436 from recreational, $58,916,172 from medical and $92,997,962 from the excise tax.
This story was first published by Arizona Mirror.
Florida Marijuana Activists Pivot To 2024 For Legalization Ballot Initiative