Launch Of Maine's Legal Marijuana Sales Inspires Rambling Police Department Facebook Post
A member of a local Maine police department has some thoughts about the state's newly launched marijuana retail system. In fact, he has a lot of thoughts—and he laid them all out in a rambling 1,400-word Facebook post on Saturday. The diatribe touches on everything from Phish festivals to drug-sniffing dogs to the medical benefits of cannabis to sweet chili Doritos.
Lt. Tim Cotton of the Bangor Police Department took over the agency's social media page, advising people about the policy change, discussing the ban on cannabis use among law enforcement, sprinkling in a few stoner stereotypes and seemingly sympathizing with tobacco consumers who face their own restrictions. He said he's been "inundated with incoming questions" about what's allowed in the new retail market.
For what it's worth, Maine voters legalized marijuana though a ballot initiative in 2016, but it took until last week to implement a commercial sales component. That's a significant delay in bringing a retail market online compared to California, Massachusetts and Nevada, which also legalized for adult-use on the same day four years ago.
Cotton recommended that people read up on state statutes for any questions they might have, or to ask "your friendly and professional purveyor of marijuana."
In any case, the lieutenant took the opportunity presented by incoming cannabis-related inquiries to run the gamut on marijuana policy in his post. While it might not have been especially informative on the nuances of the market rules, the comments section is filled with people thanking him for the lively dialogue.
Here are some notable excerpts from the post.
On his own eating habits.
"I already snack like a 70s stoner, and I have been known to partake in both Hostess cupcakes and sweet chili Doritos within the same half-hour period. Years of black coffee and stale doughnuts have made my stomach both larger, and cast iron. I don't even need to chew Tums or Rolaids after a road-trip that is littered with empty bags of delightful and deep-fried tubers, Mountain Dew, and Whoppers containing self-installed banana peppers..because the King really doesn't supply those burgers exactly 'my way.'"
On personal use and police policy.
"This is not me complaining about the fact that cops can't partake in recreational marijuana usage. It's merely me advising you to avoid passing the fatty to the cop who happens to be standing between you and the next person in your 'therapy' group at the next Phish festival. It's best if we don't become involved in the ritual of passing of the happy salad to your friend, Kevin, even though he has really short arms ever since he has been lifting heavy.
"Just ask us to get out of the way so the party can continue uninterrupted by the guy with the bad moustache and the pistol.
…
"For the record, I don't smoke cigarettes or medicine. As for the recreational use of marijuana, Federal statutues [sic] disallow your local, county, and state employed gendarme from partaking in dabs, doobies, and bong-hits as we— apparently—are not actually regular citizens, but merely a class of individual who should not stoned or buzzed while enforcing laws and such. I have to agree.
"For you? Smoke away my friends. Check the rules at the State of Maine website, you must be twenty-one-years-old to stop referring to weed as medicine, at least, in front of your mom and dad who you have derided for years for having a couple of Swisher Sweet stogies at the poker game. And, yes, I am talking about dear mother. She also cheats at cards. We love that woman."
On marijuana terminology.
"One of the upsides in the new rules regarding the recreational use of Marijuana is that I no longer will have to worry about misusing the terms, caregiver, medicine, herbal therapy, and patient when I am engaged in conversations with humans who chose to partake in the ingestion of plant-based herbal calming smoke.
"No, these conversations were not work related. These were the terms that I was forced to use at family reunions and other events when my great nephew piped up and said, 'Hey, be careful! He's a cop. I think he's wearing a wire.'"
On tobacco regulations.
"I have found it somewhat disconcerting that the entire world has deemed all forms of smoke ingestion to be a repulsive and filthy habit, while also telling me that filterless hand-rolled firesticks of the finest backyard-grown Mary. J. Wauna has zero negative effect on lung function. I'm no doctor, and I am not the boss of you.
…
"You see, the people who smoke cigarettes, pipes, cigars, and all manner of tobacco products have been literally shunned and thrown outside in cold weather, hurricanes, and winter storms for the last thirty-years.
"They are forced to walk five-hundred-feet away from the doorways of buildings. No one even supplies a burn-barrel for them to keep their hands warm. I worry about how they feel. Because they have feelings, too. No one ever lets them refer to themselves as caregivers when they pass the menthol-filtered tobacco torch to their friend who is short on cash and can't afford to pay two hours wages so they can have their own pack of cigarettes.
"They've been taxed, tormented, and ridiculed for a very long time. I like to show a bit of support for the little guy with a 'fresh pack of Luckys and a mint called Sen-Sen.' And, I refuse to judge him for his use of Old Spice aftershave."
On drug-sniffing dogs.
"FYI- Bangor Police Department dogs are not trained to sniff out your marijuana, that would be really dumb, because it is now legal. We saw this coming. Our dogs do sniff out lost people, evidence at crime scenes, and illegal narcotics. Don't get all hinky and bolt across town if you see Aki, Raye, or Jessie when you are carrying some shake and a half pack of ZigZags, you'll be tired for no reason. Relax."
The post also features purported interjected notes from Bangor Police Department's "legal team" that is later revealed not to even exist and was all written by Cotton himself.
For more clear directions on the legal sales system in Maine, residents might want to turn to policymakers like U.S. Rep. Chellie Pingree (D-ME), who last week shared a Portland Press Herald article about what people should know before they go to a new cannabis dispensary.
Starting tomorrow, recreational marijuana goes on sale in Maine!

Check out the @PressHerald's "Know Before You Go" guide. For example, the method of payment will vary by retailer. Do your research before waiting in line.https://t.co/RIab7LEvLG

— Congresswoman Chellie Pingree (@chelliepingree) October 8, 2020
"Do your research before waiting in line," she advised.
In nearby Vermont, things are also changing when it comes to marijuana sales. A bill to legalize cannabis commerce in the state was enacted without Gov. Phil Scott's (R) signature last week, though it will still take up to two years to license dispensaries based on the timeline.
Democratic Senate Candidate Plans To Vote For Arizona's Marijuana Legalization Measure Next Month
NFL Explores How Marijuana And CBD Can Be Used As Opioid Alternatives For Players
The National Football League and NFL Players Association are launching an effort to learn about the potential of marijuana and its components like CBD as alternative treatment options for pain.
They're also more generally interested in discovering how cannabis use affects athletic performance.
A request for information that was published on Tuesday states that the league's goal is "to identify investigators who have the current capability to carry out studies aimed at supplementing the NFL-NFLPA Pain Management Committee's ('PMC') knowledge about pain management and athletic performance in NFL players."
The notice lists three areas of interest:
1. The potential therapeutic role of medications and non-pharmacological interventions that are considered to be alternatives to opioids in routine pain management of NFL players. Medications may include, but are not limited to, cannabinoids such as cannabidiol ("CBD").
2. The impact of cannabis or cannabinoids on athletic performance in NFL players.
3. The potential therapeutic role of medications and non-pharmacological interventions that are considered adjunctive to routine post-surgical orthopedic pain management in NFL football players.
The joint NFL-NFLPA committee also noted that, in 2020, it held two informational forums on CBD "to learn about the current state of CBD science and manufacturing in North America."
The findings of those forums weren't definitive, as PMC found that while the non-intoxicating cannabis compound shows promise in the treatment of some forms of pain, the science doesn't currently live up to the "hype."
"CBD is a promising compound, but the level of its use in the United States outpaces the level of research at this point," the committee wrote in a white paper for players. "Most of the hype about CBD is based upon results from animal studies."
This new request for information stresses that NFL is not committing to funding any particular studies but is more generally meant to help the league find qualified scientists if it does move forward with research projects on these issues. Interested parties have until March 31 to submit relevant information.
Meanwhile, the league's drug testing policy changed demonstrably last year as part of a collective bargaining agreement.
Under the new policy, NFL players will not face the possibility of being suspended from games over positive tests for any drug—not just marijuana.
The decision reflects a significant shift in the league's approach to drug use by players, with the agreement emphasizing the need to focus on "ensuring evaluation and treatment" rather than punishment. Now those who test positive for drugs, exhibit behaviors that indicate drug misuse or self-refer themselves will be required to enter an "intervention program" where they would receive an evaluation and treatment plan.
Testing positive for prohibited substances after that point would result in a half-week salary loss for first violations, a one-week salary loss for second violations, a two-week salary loss for third violations and a three-week salary loss for fourth and subsequent violations. The threat of suspensions would be removed.
In a similar vein, the MLB decided in 2019 to remove cannabis from the league's list of banned substances. Baseball players can consume marijuana without risk of discipline, but officials clarified last year that they can't work while under the influence and can't enter into sponsorship contracts with cannabis businesses, at least for the time being.
Meanwhile, a temporary NBA policy not to randomly drug test players for marijuana amid the coronavirus pandemic may soon become permanent, the league's top official said in December. Rather than mandate blanket tests, Commissioner Adam Silver said the league would be reaching out to players who show signs of problematic dependency, not those who are "using marijuana casually."
37 Members Of Congress Ask Biden To Issue Mass Marijuana Pardons Ahead Of Legalization
Image element courtesy of Marco Verch.
Elon Musk Thinks CBD Is 'Fake,' But Joe Rogan Teaches Him A Lesson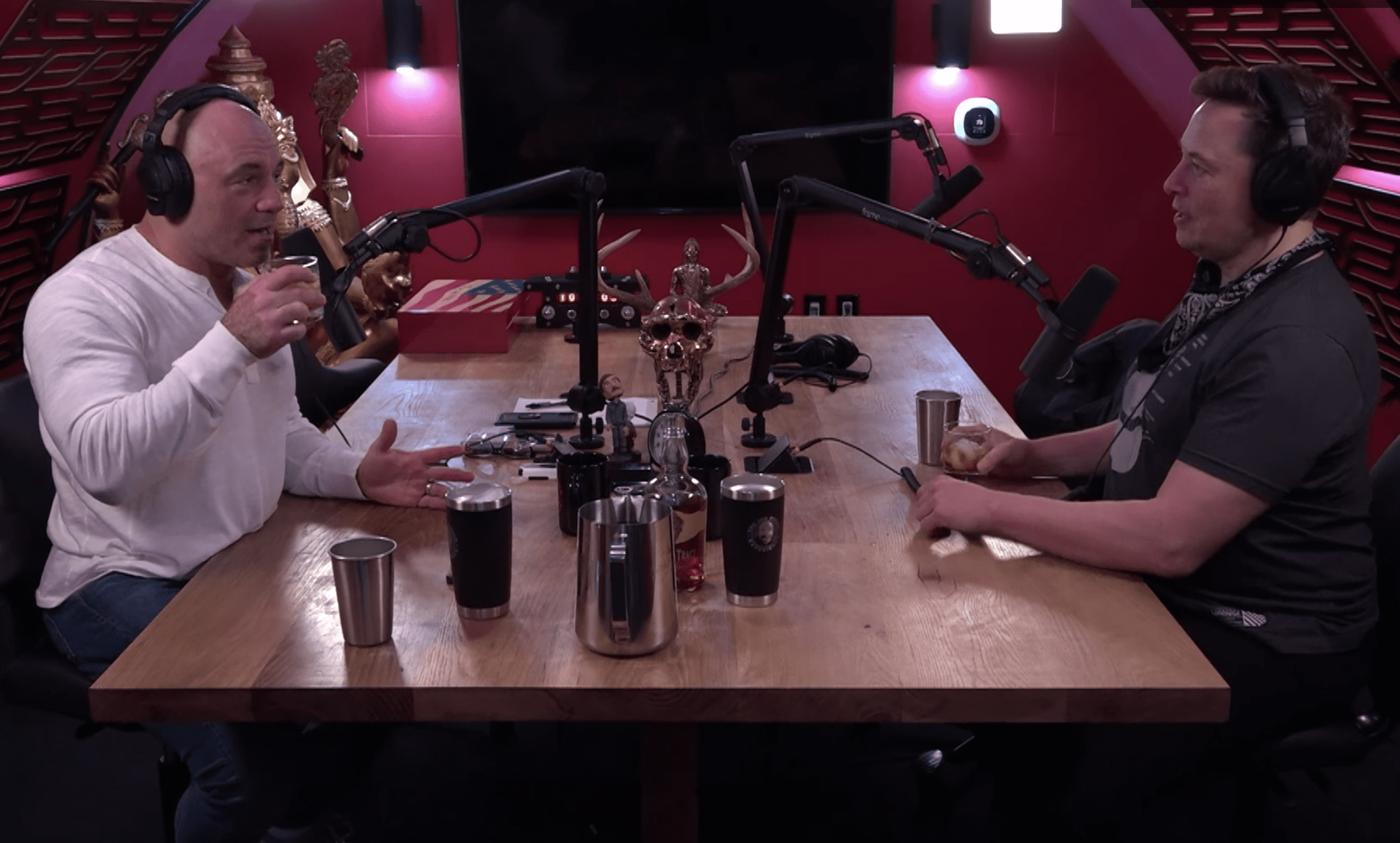 Elon Musk might know a thing or two about rockets and electronic vehicles, but during an interview with podcaster Joe Rogan this week, he revealed something of a blind spot when it comes to cannabis, saying he thinks CBD is "fake."
That's not to say he believes the non-intoxicating cannabinoid doesn't actually exist. Rather, the tech entrepreneur indicated he feels it's overhyped and "doesn't do anything." Rogan, for his part, had a lot to say about cannabidiol's benefits in response.
The exchange started with Musk and Rogan reflecting on an earlier podcast show in 2018, where the SpaceX and Tesla CEO puffed on a marijuana blunt (which he later claimed he never actually inhaled), prompting an investigation by NASA over his aerospace company's "workplace safety" and "adherence to a drug-free environment."
Rogan, who relocated his podcast headquarters from California to Texas last year, noted that his new home state has not yet legalized marijuana, but "CBD is legal here."
"CBD doesn't do anything. Does it?" Musk said. "I think that's fake."
Listen to Musk and Rogan discuss CBD below, starting around 50:00:
Rogan promptly gave Musk a crash course in the numerous therapeutic benefits of CBD that have been identified in an ever-growing body of scientific literature.
Read the rest of the exchange below:
JR: Well, no—no, it definitely does something for inflammation.
EM: It does?
JR: Yeah, for sure.
EM: Well, how much CBD do you have to have before you notice it?
JR: Physically?
EM: Yeah.
JR: Yeah, physically, you don't have to have a lot. Physically, CBD works great for people with arthritis and people with sore muscles and things like that. Yeah, no, CBD definitely works for that, but as far as like psychoactive effects, not much. It relieves anxiety for people.
EM: Okay.
JR: It helps people sleep, especially when it's combined with things like melatonin, you know, things along those lines. But it doesn't get you high. People do mix CBD with THC for muscle creams though, and that doesn't get you high either, but it increases the effectiveness.
EM: Okay.
JR: Yeah, there's some creams that are really good that people like that have THC and CBD in it.
EM: Alright, so you have like sunscreen or something and then, I mean why not just throw it in there?
JR: Why not? Well, it's great for soreness.
EM: You smell like weed all day.
JR: It doesn't smell like weed, though.
EM: It doesn't?
JR: No, no—some of it does, though. That's the thing about anything that's unregulated, right? Like hippies making it, that's always the problem.
EM: Quality control.
JR: Yeah, no quality control. That's the problem with edibles. They're made by a bunch of crazy people, cooking them up and some, you know, Chula Vista apartments, you really don't know what's in there.
Musk might not be quite up-to-speed on CBD, but he does enjoy playing into marijuana culture from time to time.
When shares of Telsa hit $420, for example, he responded on Twitter with crying laughing emojis and said "Whoa … the stock is so high lol."
Of course, 420 is well known among cannabis enthusiasts, as it represents the unofficial cannabis holiday, 4/20. And that wasn't the first time that Musk has played into it, either.
The billionaire tech entrepreneur landed in hot water with the Securities and Exchange Commission (SEC) in 2018 after he said he was considering taking Tesla private at a share price of $420—an announcement that SEC described as "false and misleading" and that was made without required notification to regulators.
Rogan, for his part, is a proud cannabis and psychedelics enthusiast, and once, for example, shared a story about how he hung out with Dave Chappelle while the comedian ate psilocybin mushrooms that were gifted by a stranger.
Texas Would Study Psilocybin And MDMA To Treat PTSD And Depression Under New Bill
Photo courtesy of Joe Rogan Experience/Spotify.
Sierra Club Gives Tips On Using Marijuana In An Environmentally Friendly Way
A leading environmental conservationist group wants to help you sustainably and safely consume marijuana.
The Sierra Club, which has not historically weighed in on cannabis issues, released a guide last week that makes a series of recommendations about how to source marijuana in a way that's healthy and good for the environment.
They said that, absent regulations from federal agencies like the Food and Drug Administration or U.S. Department of Agriculture, consumers are left in the dark when it comes to best practices. And the 129-year-old environmental nonprofit is here to help.
"The majority of Americans now live in states where they can legally consume medicinal or recreational cannabis," the new guide published this month in the Sierra Club's print magazine says. "As more ways to lawfully partake become available, the choices can be confusing."
The medicinal and recreational cannabis industry is in many ways opaque and in flux. Here are some best practices for consuming safely and sustainably: https://t.co/0BYXguLoME via @Sierra_Magazine

— Sierra Club (@SierraClub) January 4, 2021
The article lists five tips for marijuana enthusiasts during a time when more and more state-legal markets are coming online.
–Buy organic—or "organic-ish." Because marijuana remains federally illegal, there isn't an opportunity for cannabis companies to obtain a standard organic certification. But consumers should look for a Clean Green or Sun+Earth label, as these third-party organizations also maintain strong standards and help businesses gain formal certification.
–Buy outdoor-grown marijuana. The carbon footprint for indoor-cultivated cannabis can be significant, as the process relies heavily on electronic lighting. That's not the case for outdoor-grown flower. Sierra Club said "the production of one kilogram of indoor-grown cannabis results in 4,600 kilograms of carbon dioxide emissions, the equivalent of driving the United States from coast to coast 11 times."
–Familiarize yourself with the marijuana producer. The illicit market doesn't disappear when a state launches a legal cannabis market. And because illicit sellers are unregulated, they may be using harmful pesticides, or cultivating their products on public lands in ways that can hurt surrounding wildlife. That said, a 2019 study did find that illegal cultivation in national forests declined post-legalization in Oregon and Washington State.
The guide also notes that certain states encourage cannabis companies to enroll in energy-saving programs. Colorado has taken it a step further, with the governor announcing last year that the state was rolling out pilot programs to promote sustainability cooperation between the cannabis and alcohol markets by using carbon dioxide from the brewing process to stimulate marijuana plant growth.
–Look for a Certificate of Analysis. That's easier said than done in states where marijuana remains prohibited, but for consumers in legal states, it's an important component, as it means the products have been tested for heavy metals, mold and other potentially dangerous substances.
–Be wary of packaging. As in other industries, plastic and packaging is an environmental problem. Seeking out products with low-waste packages can help mitigate that issue, Sierra Club said. For example, there are some companies that use recycled plastics recovered from the ocean. Alternatively, consumers could try to find hemp-based packaging.
The guide also offers tips for specific types of cannabis products.
For example, when it comes to edibles, consumers should seek out vegan goodies. Beyond arguments that a plant-based diet represents a humane alternative, it's also the case that animal agriculture is overly polluting and resource intensive.
For smoking, the group says that glass pipes are "inherently earth-friendlier" than rolling papers, as they cut down on waste and production. The environmentally conscious cannabis consumer should also buy flowers in jars instead of as single pre-rolls, "to reduce throwaway packaging."
As far as vaping goes, Sierra Club recommends spending your money with companies that offer recycling programs for used cartridges.
Meanwhile, activists in Montana are also seeing a link between environmentalism and marijuana. A voter-approved initiative to legalize cannabis in the state calls for a significant amount of tax revenue from marijuana sales to be allocated to conservation programs.
Biden AG Pick Merrick Garland Wants To Defer To DEA On Marijuana Science And Classification
Photo by davide ragusa on Unsplash.