Marijuana Sales Increased In Multiple States During COVID, Study Finds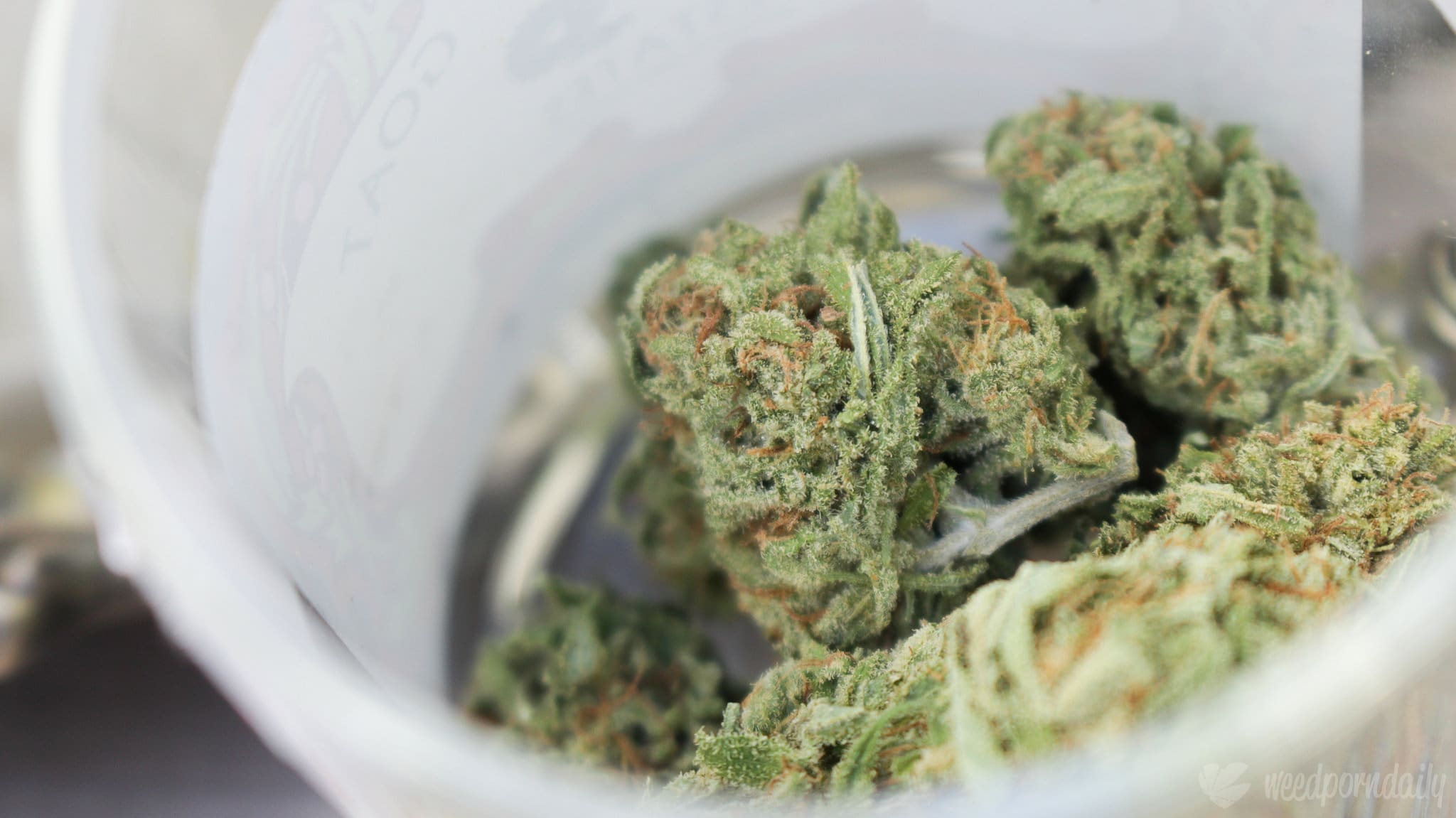 Legal marijuana sales in multiple states reached record highs in mid-2020 as coronavirus spread across the nation, according a new study. To date, sales in the four states examined in the analysis—Alaska, Colorado, Oregon and Washington—"have increased more during the COVID-19 pandemic than in the previous two years."
The study, authored by a group of health researchers, gathered pre-tax cannabis sales data from state regulatory agencies and compared those numbers over time. It found that even amid stay-at-home orders that dealt hard hits to other economic sectors, cannabis sales picked up speed.
"Findings show a general increase in cannabis sales following stay-at-home orders issued in AK, CO, OR, and WA in late March 2020," the report, published last week in the International Journal of Drug Policy, says. "In all four states, those increases were greater than the percent increases observed in the preceding two years."
"To date, cannabis sales in Alaska, Colorado, Oregon, and Washington have increased more during the COVID-19 pandemic than in the previous two years."
Authors include researchers at the U.S. Centers for Disease Control and Prevention (CDC), the University of Washington's Drug and Alcohol Institute and health and regulatory agencies in several states. While official data releases and news articles documented the spike in marijuana sales as it occurred, the new report calls itself "the first study in the academic literature to document changes in U.S. cannabis sales data during the COVID-19 pandemic."
While the authors didn't attempt to determine the causes behind the increased sales, they speculated the boost might be related to a number of different factors: increased cannabis use among individuals coping with stress, stay-at-home orders pushing consumers from the illicit market to licensed stores, possible price increases due to rising demand and/or purchasing of more expensive cannabis products, such as concentrates and oils.
Many states allowed cannabis retailers to remain open during the pandemic—with governors and regulators in several markets declaring marijuana businesses to be essential services—and some jurisdictions issued emergency rules allowing curbside pickup, delivery services or other more relaxed policies in order to facilitate social distancing.
Those measures could have allowed easier access for people with mobility issues or small children in their care, the authors noted. "State cannabis regulatory policy changes to promote social distancing during the pandemic may have increased the convenience or ease of purchasing cannabis for certain customers," they said.
"Cannabis sales increased in all four states coinciding with state stay-at-home orders."
Government-imposed social distancing measures may have also encouraged people to switch from the illegal market to the legal one, leading to a boost in reported sales at dispensaries.
"Stay-at-home orders may also have resulted in individuals who previously purchased cannabis on the illicit market moving to legal sources of cannabis," the researchers said, "which would result in an increase in sales that may not correspond to changes in use but rather in the source of purchase."
Another explanation could be a rise in medical or therapeutic use of cannabis. "Given scientific evidence supporting specific medicinal uses of cannabis and cannabinoids, it is also possible that increased consumption may be due to self-treatment of medical conditions, including due to potential pandemic-related barriers to usual sources of medical care," the report says.
"Individuals may have initiated or increased cannabis use to cope with stressors brought on by the pandemic."
Researchers chose Alaska, Colorado, Oregon and Washington because legal adult-use markets in those states have been operating the longest and are thought to be more likely to have plateaued. "Some increase in year-over-year sales is expected even in established state-based cannabis markets because the cannabis industry continues to market to broad audiences, to diversify product offerings, and increasingly, to capture some of the illicit market," the study says. "However, sales are expected to be more stable in these four states than in states that legalized more recently and have less mature marketplaces."
There is, of course, potential noise in the data, which the authors acknowledge. Price changes, the "increasingly fluid" distinction between medical and adult use systems, for example, might also have affected total sales. Moreover, data from the four states studied may not represent trends in other states. Causality also isn't clear: "While results demonstrate the timing of sales increases coincided with the onset of stay-at-home orders following the COVID-19 pandemic and continued to increase thereafter," the report says, "additional research is needed to determine whether a causal association between the pandemic and cannabis use and sales exists and whether specific populations contributed to increased use and sales."
The short, five-page paper draws few conclusions from the data other than that purchasing and use patterns deserve further study. "In light of these increases, data monitoring is warranted to understand how patterns of use may be changing," it says, "and, if so, whether they affect a range of public health outcomes including the incidence of cannabis and other substance use disorders."
Elsewhere in the U.S., cannabis sales have similarly grown. In Illinois, for instance, saw $127.8 million in total sales last month, breaking its monthly sales record for the fourth time in the past five months.
Rising sales have also meant more revenue for state coffers. A report from advocates at Marijuana Policy Published in March estimated that all told, legal cannabis states had brought in $7.9 billion since nonmedical sales began. California made more than $1 billion in cannabis tax revenue in 2020 alone.
Leaders in other states have remarked on the millions in monthly revenue. Wisconsin Gov. Tony Evers (D) said in April he's getting "tired" of hearing about these sales figures, joking that Illinois Gov. J.B. Pritzker (D) always "thanks me for having Wisconsinites cross the border to buy marijuana."
Illinois officials have emphasized that the tax dollars from all of these sales are being put to good use. For example, the state announced in January that it is distributing $31.5 million in grants funded by marijuana tax dollars to communities that have been disproportionately impacted by the war on drugs.
Former Anti-Marijuana Congressman And Top Trump Health Official Joins Cannabis Company Board, Documents Show
Photo courtesy of WeedPornDaily.
Colorado Earned $423 Million In Marijuana Tax Revenue Last Year
More than $12 billion in marijuana has been sold since legalization in 2014, with the state collecting over $2 billion in taxes.
By Robert Davis, The Center Square
Colorado brought in a record $423 million in tax revenue from marijuana sales last year, according to the latest market report from the state's Department of Revenue (DOR).
In all, Colorado has sold more than $2 billion in marijuana through November 2021, making it the second consecutive year that the state has eclipsed that mark. In 2020, the state collected $387 million in taxes from the sales.
Colorado's tax revenue total also implies that the state beat its previous record of $2.1 billion in sales, though DOR said it will release the final numbers next month.
More than $12 billion in marijuana has been sold since legalization in 2014, with the state collecting over $2 billion in taxes.
🚨New record alert!🚨 In 2021, Colorado collected over $423 million in revenue from marijuana sales (compared to the previous record of over $387 million in 2020). Colorado also surpassed $2B in tax and fee revenue and $12B in marijuana sales to date. https://t.co/M5zrEiSNYR pic.twitter.com/XxpZzyV1XQ

— CO Dept. of Revenue (@CO_Revenue) January 12, 2022
Colorado collects its marijuana taxes from a 2.9 percent state sales tax on marijuana sold in stores, a 15percent state retail marijuana sales tax and a 15 percent retail marijuana excise tax on wholesale sales and transfers of marijuana. The state also collects fee revenue from marijuana license and application fees.
In December, Colorado collected more than $30 million in taxes, capping off a five-month streak of declining tax revenue.
The state also recorded more than $158 million in sales in November, with both medical and recreational marijuana showing significant declines in sales.
Colorado sold $131 million in recreational marijuana in November, an 11 percent drop when compared to October.
Similarly, November's medical marijuana sales totaled $26 million, representing a drop of more than 10 percent on a month-over-month basis.
The story was first published by The Center Square.
Delaware Lawmakers File New Marijuana Legalization Bill With Key Equity Revisions
Arizona Hits Recreational Marijuana Sales Record, With New Program Catching Up To Medical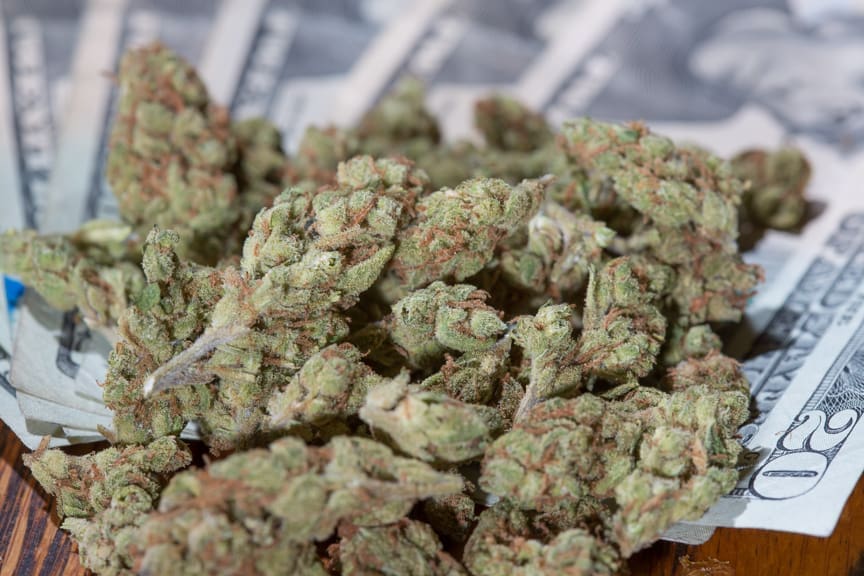 Medical cannabis sales eclipsed recreational from February through October—adult-use sales began on January 22—but in November, those numbers were almost identical.
By David Abbott, Arizona Mirror
Arizona cannabis sales continued on an upward trajectory in 2021, with the Arizona Department of Revenue reporting more than $1.23 billion in combined cannabis sales through the first 11 months of the year.
In November, adult-use recreational cannabis sales hit a new peak and crossed $60 million for the first time. Medical sales have fluctuated throughout the year, topping out at about $73 million in March and April.
Medical sales eclipsed recreational from February through October—adult-use sales began on January 22—but in November, those numbers were almost identical, with the medical program bringing in an estimated $60,365,545, while recreational sales reached $60,299,191.
In October, estimated cannabis sales for both programs were within $7 million of each other, the first time recreational sales came within $10 million of medical sales. But the adult-use market is in its infancy and is expected to match the medical program's economic heft within a few years.
Cannabis sales also provided a solid tax contribution in 2021.
TAXABLE Sales (Estimated) to date

| PERIOD COVERED | ADULT USE‐420 | MEDICAL‐ 203 | EXCISE TAX |
| --- | --- | --- | --- |
| Jan‐21 | $7,370,460 | $42,140,608 | $11,391,371 |
| Feb‐21 | $32,697,512 | $55,320,625 | $39,246,992 |
| Mar‐21 | $51,628,266 | $72,934,129 | $55,808,898 |
| Apr‐21 | $54,037,990 | $72,944,477 | $58,954,469 |
| May‐21 | $52,843,171 | $70,158,567 | $59,372,157 |
| Jun‐21 | $50,943,017 | $64,854,708 | $56,749,799 |
| Jul‐21 | $54,324,542 | $70,880,576 | $58,740,337 |
| Aug-21 | $51,877,656 | $65,492,643 | $57,675,654 |
| Sep-21 | $52,450,298 | $62,704,561 | $57,663,164 |
| Oct-21 | $59,508,253 | $65,415,461 | $62,446,719 |
| Nov-21 | $60,299,191 | $60,365,545 | $63,187,702 |
| Dec-21 | $20,922 | $591,294 | $0 |
| | $528,001,278 | $703,803,194 | $581,237,261 |
The state collects 16 percent excise tax on recreational sales in addition to the standard sales tax; medical patients pay a 6 percent excise tax. Local jurisdictions charge an additional 2 percent or so for all marijuana sales.
Taxes collected in November for recreational cannabis sales were $5,055,950, with medical slightly less at $5,026,317. The excise tax reached $10,110,032 for a total of $20,192,299 in tax revenue from November marijuana sales.
Proposition 207, which voters approved in 2020 to legalize adult use of cannabis, included specific uses for taxes collected on the recreational side. One-third is dedicated to community college and provisional community college districts; 31 percent to public safety—police, fire departments, fire districts, first responders—25 percent to the Arizona Highway User Revenue Fund and 10 percent to the justice reinvestment fund, dedicated to providing public health services, counseling, job training and other social services for communities that have been adversely affected and disproportionately impacted by marijuana arrests and criminalization.
The state collected a total of $196,447,570 in tax revenue the first 11 months of 2021 from cannabis sales, with $44,533,436 from recreational, $58,916,172 from medical and $92,997,962 from the excise tax.
This story was first published by Arizona Mirror.
Florida Marijuana Activists Pivot To 2024 For Legalization Ballot Initiative
Michigan Breaks Another Marijuana Sales Record For December, State Officials Say
Michigan closed out 2021 with another record-breaking month of adult-use marijuana sales in December, state officials say.
The state saw more than $135 million in recreational cannabis purchases and about $33 million in medical marijuana sales last month.
Andrew Brisbo, executive director of the Michigan Marijuana Regulatory Agency (MRA), said on Monday that the numbers "marked another high for the adult-use industry." The previous adult-use marijuana sales record happened in October, with about $128 million in purchases.
It's good to note that the new high is not because of increasing prices. In fact, prices in medical and adult-use continue to drop, month over month, and year over year.

Dec 2020: adult use was $350/oz & medical was $265/oz.

Dec 2021: adult-use at $185/oz & medical at $175/oz.

— Andrew Brisbo (@AndrewBrisbo) January 10, 2022
"It's good to note that the new high is not because of increasing prices," he said. "In fact, prices in medical and adult-use continue to drop, month over month, and year over year."
While December set the new record for adult-use marijuana purchases, the state saw the most combined recreational and medical cannabis sales in July, with about $171 million sold.
The latest data brings Michigan's total cannabis sales for 2021 to $1,311,951,737 for adult-use and $481,225,540 for medical marijuana. And those purchases are translating into hundreds of millions of dollars in tax revenue for the state.
About $131 million is going to a cannabis excise tax fund that supports various initiatives such as infrastructure and public education, MRA spokesman David Harns said. Another $115 million will support the state general fund.
Taxes flowing into the state of Michigan because of legalized marijuana in 2021:

$131.2 million goes to the marijuana excise fund which gets divvied up amongst local government, roads, and schools.

$115.4 million goes to the state sales tax bucket.

Almost 1/4 billion in taxes. https://t.co/kw2N4shya1

— David Harns (@DavidHarns) January 10, 2022
In nearby Illinois, December was also another record-breaking month, with $137.9 million in adult-use marijuana sales.
Last year, Illinois took in almost $100 million more in tax revenue from recreational cannabis sales than from alcohol, state data shows. And cannabis tax dollars have exceeded those for liquor every month since February.
Part of that marijuana tax revenue is actively funding equity initiatives in the state. For example, Illinois officials announced last month that applications are opening for $45 million in new grants—funded by cannabis tax dollars—that will support programs meant to reinvest in communities most harmed by the drug war.
States that have legalized cannabis have collectively garnered more than $10 billion in tax revenue since the first legal sales started in 2014, according to a report released by the Marijuana Policy Project (MPP) last week.
In Arizona, medical and adult-use marijuana sales topped $1 billion in the first ten months of the year, state tax officials said.
California collected about $817 million in adult-use marijuana tax revenue during the 2020-2021 fiscal year, state officials estimated in August. That's 55 percent more cannabis earnings for state coffers than was generated in the prior fiscal year.
A recent scientific analysis of sales data in Alaska, Colorado, Oregon and Washington State found that marijuana purchases "have increased more during the COVID-19 pandemic than in the previous two years."
In July alone, at least three states saw record-breaking sales for recreational cannabis. The same goes for Missouri's medical marijuana program.
GOP Texas Governor Says People Shouldn't Be Jailed Over Marijuana Possession, But Misstates Current Law