Denver City Panel Pushes To Expand Psilocybin Decriminalization With Gifting And Communal Use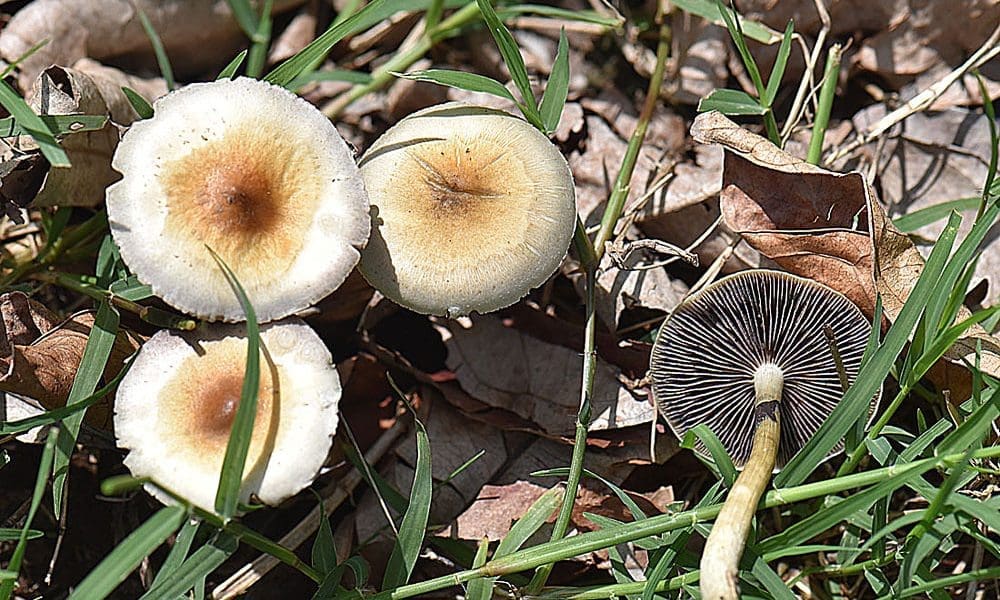 Denver activists, police officials and other experts have agreed upon a set of recommendations to expand the city's historic vote to decriminalize psilocybin in 2019—including by deprioritizing criminal enforcement against additional activities like gifting and communal use of the fungi.
The Denver Psilocybin Mushroom Policy Review Panel, which was established under the voter-approved initiative, unanimously approved those and other recommendations as part of a report on the impacts of decriminalization that members will be presenting to a City Council committee next month.
At a high level, the psilocybin decriminalization experiment has clearly demonstrated that "the sky didn't fall" in Denver by making possession and cultivation among the city's lowest enforcement priorities, Kevin Matthews, president of the city mushroom panel, told Marijuana Moment.
The report concludes that "after over a year of regular meetings, research and education from members of the psychedelic community in Denver and nationally, data collection, and insightful discussion, the Panel unanimously agreed that decriminalizing psilocybin mushrooms in Denver has not since presented any significant public health or safety risk in the city."
Members of the psilocybin body include District Attorney Beth McCann, Denver Police Department Division Chief Joe Montoya and City Councilman Chris Hinds.
Matthews, who also spearheaded the 2019 ballot initiative effort, said he's been encouraged to see city officials, law enforcement and advocates work together to ensure the effective implementation of the policy change and move toward broader reform.
There have been just 47 psilocybin-related cases in Denver since decriminalization took effect in May 2019. By contrast, there were 44 cases in 2018 alone prior, the redacted report, which was shared with Marijuana Moment and other outlets, shows.
Of the post-reform cases, 32 percent were dismissed by prosecutors and about half remain open. Six percent of cases went to sentencing and 11 percent currently involve warrants. One-in-ten of the arrests were for possession of psilocybin by itself, while the rest also involved other currently illicit drugs or possession in excess of the limitations set out in the initiative.
Advocates see the reduction in enforcement activity as a sign that police and prosecutors are taking seriously the will of voters. And they're hoping to expand upon that progress, laying out recommendations for local legislators to pursue further reform.
Here's a summary of what the panel is recommending to city officials going forward: 
Train City and County of Denver first responders to recognize and safely respond to people undergoing psychedelic crisis;
Produce educational public service announcements to inform the public about safety, responsible use and available risk reduction services;
Create a data collection reporting system for any interactions involving psilocybin for ongoing public safety monitoring;
Make sharing and gifting of psilocybin without purchase among the lowest law enforcement priority;
Make the communal use of psilocybin among the lowest law enforcement priority;
Expand voting panel members to be more representative of Denver's diversity;
Determine how psilocybin therapy can be applied to address mental health issues in Denver.
With respect to the further law enforcement training recommendation, the panel advised that officers should complete a curriculum designed by the Multidisciplinary Association for Psychedelic Studies to "reduce risk to Denver residents and first responders and minimize the risk of liability for adverse outcomes"
Public service programs should provide education "related to the safe and informed use of psilocybin," and there are organizations would could help facilitate those programs.
A key recommendation on psychedelics gifting also notes that Colorado doesn't current "distinguish gifting or sharing controlled substances from felony distribution." That's a key consideration, the panel said, and so Denver "should allow for individuals to gift and exchange personal amounts of psilocybin mushrooms without law enforcement intervention."
The group further said that Denver could "implement safe/therapeutic use sites" for psilocybin, "including but not limited to cooperatives and community organizations."
"Psilocybin in the United States isn't so much an industry as it is a rapidly emerging ecosystem already influencing healthcare, politics, finance, technology, and religion, and has the potential to innovate and transform the landscape of American society," the report says. "Because of this potential, much of the responsibility falls on lawmakers and policymakers to no longer deny human history, honor traditional psilocybin use, and ensure that future policy reform centers psilocybin access to populations who can benefit from it the most."
The panel also said "Denver officials should not simply consider, but wholeheartedly embrace the potential of psilocybin mushrooms to address some of the city's most pressing social, behavioral, and mental health issues."
Matthews, who also now serves as the founder of the advocacy group Vote Nature, first previewed some of the panel's recommendations in August. The panel's full unredacted report is due to be presented to the City Council in November.
Activists in the state are also mulling over a statewide psychedelics reform push, potentially involving a ballot measure, but details have yet to be released.
Denver became the first city in the U.S. to decriminalize psychedelic mushrooms with its 2019 local ballot initiative. In the years since, activists have seen a national renaissance in psychedelic reform—at the local, state and federal levels.
For example, a coalition of Pennsylvania lawmakers introduced a bill last week that's meant to promote research into the therapeutic potential of psilocybin mushrooms for mental health conditions such as post-traumatic stress disorder (PTSD)—the latest example of how the psychedelics reform movement is gaining momentum.
The top Democrat in the Florida Senate introduced a bill last month that would similarly require the state to research the medical benefits of psychedelics such as psilocybin and MDMA.
The governor of Connecticut signed a bill in June that includes language requiring the state to carry out a study into the therapeutic potential of psilocybin mushrooms.
A New York lawmaker introduced legislation in June that would require the state to establish an institute to similarly research the medical value of psychedelics.
In a setback for advocates, the U.S. House of Representatives recently voted against a proposal from Rep. Alexandria Ocasio-Cortez (D-NY) that would have removed a spending bill rider that advocates say has restricted federal funds for research into Schedule I drugs, including psychedelics such as psilocybin, MDMA and ibogaine. However, it picked up considerably more votes this round than when the congresswoman first introduced it in 2019.
Report provisions of separate, House-passed spending legislation also touch on the need to expand cannabis and psychedelics research. The panel urged the National Institute on Drug Abuse (NIDA) to support expanded marijuana studies, for example. It further says that federal health agencies should pursue research into the therapeutic potential of psychedelics for military veterans suffering from a host of mental health conditions.
There was an attempt by a Republican congressman to attach language into a defense spending bill that would promote research into psychedelics therapy for active duty military members, but it was not made in order in the House Rules Committee last month.
For what it's worth, Rep. Earl Blumenauer (D-OR), a longstanding champion of marijuana reform in Congress, said last week that he intends to help bring the psychedelics reform movement to Capitol Hill "this year."
NIDA also recently announced it's funding a study into whether psilocybin can help people quit smoking cigarettes.
An official with the U.S. Department of Veterans Affairs also said at a recent congressional hearing that the agency is "very closely" following research into the potential therapeutic benefits of psychedelics like MDMA for military veterans.
In May, lawmakers in Congress filed the first-ever legislation to federally decriminalize possession of illicit substances.
Oregon voters passed a pair of initiatives last November to legalize psilocybin therapy and decriminalize possession of all drugs. On the local level, activists in Portland are mounting a push to have local lawmakers pass a resolution decriminalizing the cultivation, gifting and ceremonial use of a wide range of psychedelics.
In California, the Arcata City Council unanimously approved a referendum last week that effectively decriminalized a wide range of psychedelics. That marked the third California city to decriminalize psychedelics, following similar reforms that lawmakers have enacted in Oakland and Santa Cruz.
In Oakland, the first city in the country where a city council voted to broadly deprioritize criminalization of entheogenic substances, lawmakers approved a follow-up resolution in December that calls for the policy change to be adopted statewide and for local jurisdictions to be allowed to permit healing ceremonies where people could use psychedelics.
A bill to legalize psychedelics in California advanced through the Senate and two Assembly committees this year before being pulled by the sponsor to buy more time to generate support among lawmakers. The plan is to take up the reform during next year's second half of the legislative session, and the senator behind the measure says he's confident it will pass.
California activists are separately collecting signatures for a ballot initiative to legalize psilocybin mushrooms in the state.
Seattle's City Council approved a resolution last week to decriminalize noncommercial activity around a wide range of psychedelic substances, including the cultivation and sharing of psilocybin mushrooms, ayahuasca, ibogaine and non-peyote-derived mescaline.
In Massachusetts, the Northampton City Council passed a resolution in April stipulating that no government or police funds should be used to enforce laws criminalizing people for using or possessing entheogenic plants and fungi. Somerville and Cambridge have also moved to effectively decriminalize psychedelics.
In Michigan, the Grand Rapids City Council approved a resolution last month calling for decriminalization of a wide range of psychedelics.
Elsewhere in Michigan, the Ann Arbor City Council has already elected to make enforcement of laws prohibition psychedelics like psilocybin, ayahuasca and DMT among the city's lowest priorities—and lawmakers recently followed up by declaring September Entheogenic Plants and Fungi Awareness Month.
After Ann Arbor legislators passed that decriminalization resolution last year, the Washtenaw County prosecutor announced that his office will not be pursuing charges over possessing entheogenic plants and fungi, "regardless of the amount at issue."
A local proposal to decriminalize various psychedelics will also appear on Detroit's November ballot.
At the same time that local activists are pursuing decriminalization, a pair of Michigan senators introduced a bill earlier this month to legalize the possession, cultivation and delivery of an array of plant- and fungi-derived psychedelics like psilocybin and mescaline.
Washington, D.C. voters also approved a ballot measure last year to deprioritize enforcement of laws criminalizing psychedelics.
Ohio Police Department Deletes Post Warning Of 'Downhill Tumble' If Voters Approve Marijuana Decriminalization
Photo courtesy of Dick Culbert