Ohio Police Department Deletes Post Warning Of 'Downhill Tumble' If Voters Approve Marijuana Decriminalization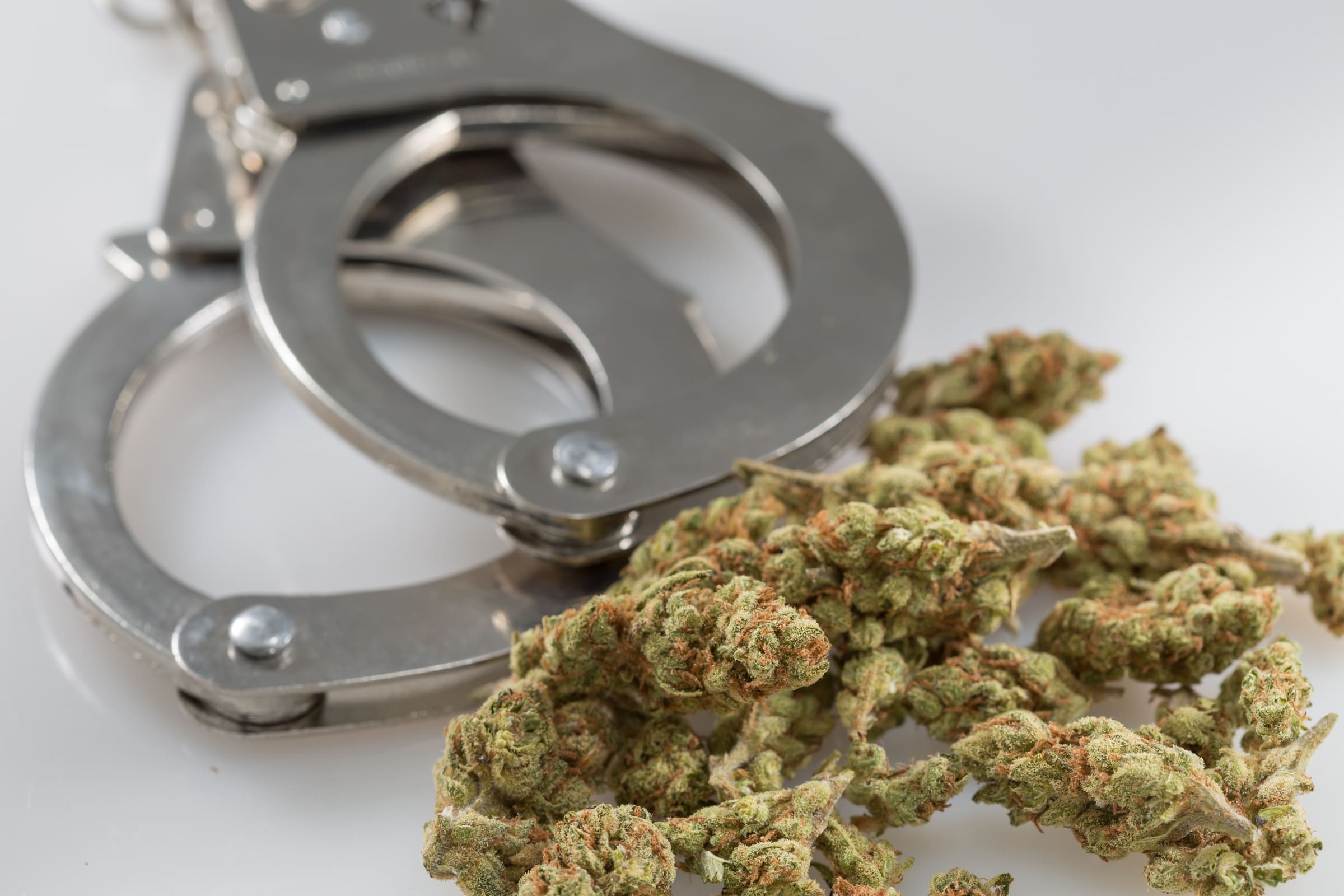 An Ohio police department shared—and then, hours later, deleted—a Facebook post warning that an initiative to decriminalize marijuana that voters will decide on next month could be the beginning of "a downhill tumble" for society.
In the press release from McArthur Police Chief Thomas Heaton, which was shared on Facebook on Thursday only to be taken down the following day, he explained that the proposal would reduce penalties for low-level cannabis possession to a zero-dollar fine.
"The McArthur Police Department is not willing to endorse or recommend the passage of this levy," the chief said. "Society views may think this is no big deal because it's just marijuana. However, this is only the beginning of a downhill tumble with regards to ILLEGAL drug use. If the penalties continue to be decreased over time, then what chance does society have to combat the ever-growing drug problem facing our Village and Country."
A response press release sent by NORML Appalachia of Ohio, which has worked to place marijuana decriminalization measures on local ballots in McArthur and other municipalities across the state, said Heaton is "risking his own employment" by engaging in electioneering with taxpayer dollars. The group alleges that he violated the federal Hatch Act as well as Ohio law by using police department letterhead to disseminate "outdated information to influence and intimidate voters."
Marijuana Moment reached out to the McArthur Police Department for clarification about why the press release was posted and then deleted, but a representative did not respond by the time of publication.
"This shows that small town politics has an ugly, uneducated side," Don Keeney, an activist with the NORML chapter who has been involved in reform efforts for several election cycles, told Marijuana Moment. "This why we continue to fight, even on the local level. Change comes from the ground up."
Advocates also point out that Heaton incorrectly described the cannabis decriminalization initiative as a "levy," implying that it would involve a tax, which is does not.
The chief's now-deleted press release additionally seemed to internally contradict itself with respect to cannabis's medical value.
"By law these products are still listed as a Schedule 1 controlled substance per the controlled substances act," he wrote. "The main difference between a schedule 1 and schedule 2 is NO medical use. There is already an accepted and voted medical marijuana product and items available."
"Law Enforcement Officer's [sic] have discretionary power already when it involves possibly charging someone with this crime or not," Heaton's release said.
McArthur is one of more than a dozen Ohio municipalities that will decide on ballot measures to decriminalize marijuana next month.
As it stands, 22 jurisdictions across the state have already adopted local statues effectively decriminalizing cannabis possession, some of which have been passed by voter initiatives while others were adopted by city councils.
Now, activists have succeeded in collecting enough signatures to qualify cannabis proposals for the November ballot to reduce the local punishment for low-level marijuana possession to the "lowest penalty allowed by state law," which is zero days in jail and a fine of zero dollars.
The initiatives will go before voters in Brookside, Dillonvale, Laurelville, Martins Ferry, McArthur, Morristown, Mount Pleasant, Murray City, New Lexington, New Straitsville, Powhatan Point, Rayland, Tiltonsville and Yorkville.
NORML Appalachia of Ohio and the Sensible Movement Coalition also sought to qualify reform initiatives in dozens more cities and villages this year, but not every effort made it across the finish line. In those places where petitioning efforts fell short this cycle, the advocates say they'll try again in future elections.
Meanwhile, a separate campaign recently cleared a final hurdle to begin collecting signatures for a 2022 ballot initiative to legalize marijuana statewide.
The Coalition to Regulate Marijuana Like Alcohol (CTRMLA) launched its ballot effort in July. And the attorney general certified the measure in August after his office rejected summary language of an earlier version.
Ohio voters rejected a 2015 legalization initiative that even some reform advocates opposed because of its oligopolistic model that would've granted exclusive control over cannabis production to the very funders who paid to put the measure on the ballot.
Advocates suspended a subsequent campaign to place a measure on the 2020 ballot due to the coronavirus pandemic.
Meanwhile, in addition to targeting Ohio cities for local reform measures, the Sensible Movment Coalition is also expanding its efforts to cover West Virginia and South Carolina as well.
Read the department's since-deleted press release on the McArthur marijuana decriminalization initiative below: 
Click to access 244420484_2938000019847060_6027850851896948503_n.pdf
Senators Push U.S. Attorney General To Decriminalize Marijuana 'Now' As Congress Debates Reform Bills