Where Presidential Candidate Andrew Yang Stands On Marijuana
Entrepreneur Andrew Yang entered the race to become the 2020 Democratic presidential nominee way back on November 6, 2017.
While marijuana hasn't played a central role in Yang's campaign, he supports legalization and has proposed several drug policy reforms since announcing his candidacy. That includes plans to decriminalize opioid possession and provide waivers for military veterans to access medical cannabis.
This piece was last updated on August 15, 2019 to include the candidate's statements and policy actions on marijuana since joining the race. It will continue to be updated on a rolling basis.
Legislation And Policy Actions
Yang has never before held public office, so he doesn't have a record of policy accomplishments to review. Instead, in addition to being an entrepreneur, he's worked in the nonprofit sector and as a philanthropist who has earned accolades for his efforts to create job opportunities for disadvantaged communities.
On The Campaign Trail
Since launching his campaign, Yang has advocated for ending marijuana prohibition, stating that "it's already legal" in a growing number of states and that "criminalizing it does more harm than good." He's also pledged to "pardon those in prison for non-violent marijuana-related offenses."
It's time to legalize marijuana https://t.co/0Uhl17MW98 it's already legal in 9 states and criminalizing it does more harm than good. I'd pardon those in prison for non-violent marijuana-related offenses.

— Andrew Yang (@AndrewYang) July 2, 2019
Marijuana is already legal in most states for medical use and in many for recreation. It's time to end the ambiguity and legalize it at the federal level. This would improve safety, social equity, and generate billions of dollars in new revenue based on legal cannabis businesses. pic.twitter.com/NQkhcEZd1L

— Andrew Yang (@AndrewYang) July 22, 2019
He also tweeted that "[i]nstead of pardoning billionaires I'd pardon non-violent marijuana and opiate offenders."
Instead of pardoning billionaires I'd pardon non-violent marijuana and opiate offenders.

— Andrew Yang (@AndrewYang) May 16, 2019
The candidate said that the "criminalization of marijuana is stupid and racist, particularly now that it's legal in some states."
"We should proceed with full legalization and pardon of those in jail for non-violent marijuana-related offenses," he said.
Our criminalization of marijuana is stupid and racist, particularly now that it's legal in some states. We should proceed with full legalization and pardon of those in jail for non-violent marijuana-related offenses. pic.twitter.com/sjrYq3P6cW

— Andrew Yang (@AndrewYang) December 3, 2018
"I'm for the legalization of marijuana, remove it from the controlled substance list in part because our administration of the criminal laws are deeply racist. It's very obvious to everyone," Yang said during an appearance on The Breakfast Club in March 2019. "On April 20, 2021, I'm going to pardon everyone who's in prison for a non-violent drug offense because it makes no sense to have people in jail for stuff that's legal in some parts of the country."
He also made that point during an interview on the Joe Rogan Experience in February.
In October, Yang said that Canada legalized cannabis and that the U.S. "should follow suit and remove it from the federal controlled substance list and then regulate."
Canada just legalized marijuana https://t.co/3CdpjmSDxa we should follow suit and remove it from the federal controlled substance list and then regulate.

— Andrew Yang (@AndrewYang) October 20, 2018
Yang drew attention in April when he said he'd pardon all non-violent drug offenders on the unofficial marijuana holiday 4/20.
"I would legalize marijuana and I would pardon everyone who's in jail for a non-violent, drug-related offense," he said. "I would pardon them all on April 20, 2021 and I would high five them on their way out of jail."
I'm for full legalization of marijuana. I would go a step further and on 4/20, 2021, exactly 2 years from today, I would pardon everyone who's in jail for a low-level, non-violent marijuana offense and I would high five them on their way out of jail. 👍 pic.twitter.com/Q8txZNa2I1

— Andrew Yang (@AndrewYang) April 20, 2019
.@AndrewYang at #NANconv2019: "I would legalize marijuana and then I would pardon everyone who's in jail for a nonviolent drug-related offense. I would pardon them on April 20, 2021 and I would high-five them on the way out of jail." pic.twitter.com/wqELzL9TwO

— The Hill (@thehill) April 3, 2019
But shortly after making that pronouncement, Yang walked back his proposal, saying that only those convicted of non-violent marijuana offenses would be eligible under his mass clemency plan.
His campaign website does state that the candidate would institute a policy of identifying non-violent drug offenders "for probation and potential early release."
That site also includes a bold proposal to decriminalize possession and use of opioids as a means of mitigating the drug crisis.
I didn't always believe that decriminalizing opioids was a good way to tackle the opioid crisis in our country. Then I dug into the data, and realized it is the single best way to facilitate recovery by prescribing treatment, not jail, to struggling users. pic.twitter.com/7LOhJzMvcN

— Andrew Yang (@AndrewYang) July 19, 2019
"While those who brought this plague on our citizens must face serious consequences, we need to make sure that those who are afflicted by the illness of addiction are treated and not criminalized," the site states. "The individuals behind pharmaceutical companies who promoted these drugs as non-addictive while knowing better are the ones who belong in jail, not those who fell prey to addiction."
"It is possible that criminalizing opiates decreases access and use. But for a public health crisis of this magnitude, the criminal justice system seems to be a terrible first resort. It pushes a lot of the activity underground and makes addicts more likely to hide their addiction. Addiction is a disease—you shouldn't criminalize people that you are trying to help. Especially when it may be partially your fault that they got addicted in the first place."
During a CNN town hall event in April, Yang pointed to countries such as Portugal that have decriminalized personal consumption of drugs, arguing that those engaged in drug trafficking should be held accountable in the criminal justice system but that those caught possessing small amounts of illicit substances should be referred to treatment.
"We need to decriminalize opiates for personal use," Democratic presidential hopeful Andrew Yang says. "I'm also for the legalization of cannabis" https://t.co/bW5PJhIGsH #YangTownHall pic.twitter.com/Z6jJQbfGKD

— CNN Politics (@CNNPolitics) April 15, 2019
However, he said his proposal would apply to opioids and specifically not cocaine because, he said, "the addiction has very different features."
Yang also released a plan that would provide military veterans with waivers so that they can access medical cannabis, even in states where it's not legal.
"The scientific evidence that certain controlled substances—particularly marijuana—are particularly effective at treating certain ailments common to veterans (e.g., PTSD) and for pain management," he said.
Asked if he felt any particular substances beside marijuana hold promise in the treatment of such conditions, Yang told Marijuana Moment through a Twitter direct message that MDMA represents one example of a drug that should be considered.
In August 2018, Yang wrote that while he's for legalization, "many users do find it addictive and we should have intelligent safeguards in place like limiting advertising and THC levels. We should learn from our past."
I'm for legalizing marijuana. But many users do find it addictive and we should have intelligent safeguards in place like limiting advertising and THC levels. We should learn from our past. https://t.co/96EsC1Dr8V

— Andrew Yang (@AndrewYang) August 21, 2018
During a campaign stop in Portland, Yang signed a bong.
Andrew Yang signed a bong in Portland from r/YangForPresidentHQ
Previous Quotes And Social Media Posts
It does not appear that Yang discussed marijuana publicly or on social media prior to filing his presidential campaign with the Federal Election Commission in November 2017.
Personal Experience With Marijuana
Asked whether his plan to grant mass pardons to people with nonviolent marijuana convictions on 4/20 signaled that he used cannabis himself, Yang said it simply meant that he knows people who smoke it but that he hasn't personally indulged.
"I was a pretty geeky Asian dude and, you know, my parents did a pretty good job of keeping me steering clear of certain things," he told HOT 97 in April 2019. "I have many friends who partake."
"I have a lot of friends who are using marijuana for medicinal and pain relief purposes," he said. "It's much less lethal than let's say opiates that are killing eight Americans every hour."
Jokingly asked whether he had a favorite blunt wrap brand, the candidate said he "cannot speak to what my preference would be."
Marijuana Under A Yang Presidency
Though Yang is best known for his economic plans—namely providing each American with a universal basic income—he's laid out several bold drug policy reform proposals throughout his campaign. While he hasn't endorsed any particular piece of marijuana legislation, his support for legalization, and broader plans to eliminate criminal records for those with non-violent cannabis convictions, indicate he would be an ally in the marijuana reform movement if elected president.
Andrew Yang Peddles Marijuana-Themed Presidential Campaign Merchandise
2020 candidate Andrew Yang announced on Saturday that his campaign for the Democratic Party's presidential nomination is rolling out a line of marijuana-themed merch.
The limited edition products blend Yang's love of mathematics with his support for cannabis reform. A t-shirt being offered for $30 simply says, "Math. Money. Marijuana." And a now-sold-out baseball cap says "Math" on the front and displays a cannabis leaf on back. There's also a bumper sticker that says, "Legalize Marijuana."
Please visit Forbes to read the rest of this piece.
(Marijuana Moment's editor provides some content to Forbes via a temporary exclusive publishing license arrangement.)
Buttigieg Pledges To Decriminalize Possession Of All Drugs In First Term As President
South Bend, Indiana Mayor Pete Buttigieg released a comprehensive plan on Friday that calls for "decriminalizing all drug possession" in his first presidential term as a means to combat the opioid epidemic and treat addiction as a public health, rather than criminal justice, issue.
Decriminalization is just one action the 2020 Democratic presidential candidate said he'd pursue in order to reform the country's mental health care system and bolster substance abuse treatment. His plan also includes proposals to reduce sentences for drug offenses other than possession, increase access to the opioid overdose reversal drug naloxone and make it easier to implement syringe exchange programs.
America's addiction and mental health care crisis has been building for decades—due to decades of neglect by political leaders in Washington. Today, I'm proposing a new approach that tackles this crisis with the urgency and care it deserves. pic.twitter.com/U8F9DXJPC2

— Pete Buttigieg (@PeteButtigieg) August 23, 2019
Buttigieg's "Healing and Belonging in America" plan emphasizes the need to divert people suffering from addiction away from prisons and into treatment. He said he'd accomplish that by expanding diversionary programs and evidence-based training "for drug courts, mental health courts, and other alternatives to incarceration for justice-involved persons."
The goal of decriminalization and diversion is to reduce "the number of people incarcerated due to mental illness or substance use by 75 percent in the first term."
Our country is in the midst of a mental health and addiction crisis, worsened by decades of stigma and political neglect. I'll bring a new approach, rooted in commitment and community, to tackle this crisis with the urgency it deserves. https://t.co/spBoh5KH4X

— Pete Buttigieg (@PeteButtigieg) August 23, 2019
Under his plan, sentencing reform for drug offenses other than possession would be applied retroactively and coupled with expungements for past convictions. Buttigieg pointed to research demonstrating that "incarceration for drug offenses has no effect on drug misuse, drug arrests, or overdose deaths" and instead "actually increases the rate of overdose deaths."
"We cannot incarcerate ourselves out of this public health problem."
"To ensure that people with a mental illness or substance use disorder can heal, we will decriminalize these conditions," the proposal states. "When someone is undergoing a crisis or is caught using a drug, they should be treated by a health professional rather than punished in a jail cell."
"All presidential candidates should join Pete Buttigieg in recognizing that the criminalization of people for their drug use is wrong and simply bad policy," Maria McFarland Sánchez-Moreno, executive director of the Drug Policy Action, said in a press release. "Possession of drugs for personal use is the single most arrested offense in the United States, eclipsing arrest rates for any other offense. With overdose numbers skyrocketing and entire communities, disproportionately black or brown, suffering from criminalization, it's time for policymakers to shift gears. Taking an evidence-based, health-centered approach to address this crisis is not only true leadership – it's common sense."
The mayor also made harm reduction policies a key component of his strategy. He said take-home naloxone programs would be expanded to all 50 states by 2024 and that harm reduction services would be expanded "to reduce overdose deaths and the spread of infectious diseases related to needle sharing."
The plan would make naloxone "broadly available in order to reverse overdoses" and remove "legislative and regulatory restrictions on the use of federal funds for syringe service programs."
Buttigieg said the federal government should provide funding for state and local health departments to purchase the medication, make sure that it's "available in public spaces and workplaces" similar to first aid kids and encourage "co-prescribing of naloxone with opioids, either by individual physicians or direct dispensing by pharmacists."
Existing federal law makes it difficult to establish syringe exchange programs, in part because federal funds can't be used to buy needles. The restrictions "hamper state and local responses, both because they limit resources and because they convey a negative message about the value of these programs, despite overwhelming scientific evidence that they can prevent transmission of HIV and hepatitis."
In addition to lifting those barriers, the candidate said the Centers for Disease Control and Prevention "would also work with states to remove any criminal liability for those participating in" syringe exchange programs.
"Harm reduction programs are a critical part of any effective response to the opioid and injection drug use crisis. They minimize the negative impact of drug use without encouraging it, while reducing other side effects of drug use. In particular, this means access to syringe service programs for people who inject drugs, that link them to treatment, and provides access to sterile syringes. These programs help prevent transmission of HIV, viral hepatitis, and other infectious diseases associated with needle sharing, and reduce overdoses by deploying medication such as naloxone that help reverse the effects of opioids."
One harm reduction policy that didn't make the cut in Buttigieg's plan is safe injection sites, where people could use illicit drugs under the supervision of medical professionals who could reverse overdoses and recommend treatment options. Sens. Bernie Sanders (I-VT) and Elizabeth Warren (D-MA), who are also running for the Democratic nomination, both proposed legalizing such facilities as part of criminal justice reform plans they released this month.
"Decades of failed mental health and addiction policy, coupled with mass incarceration that criminalized mental illness and drug use, have left us with a mental health and addiction care system so broken that today there are more people with serious mental illness in prisons than in treatment facilities," Buttigieg said.
The candidate also made ending incarceration for drug possession—as well as legalizing marijuana—central principles of his previously released criminal justice reform plan, which he released last month.
But while the prior plan did not explicitly describe the move as "decriminalizing" drugs, even though advocates commonly use that word to refer to policies that remove the threat of being imprisoned for possession, the new document does use that terminology—signaling a shift in clarity as Buttigieg continues to develop his campaign messaging.
In other instances, he borrowed language from his criminal justice reform plan, specifically as it concerns how criminalizing drug use can increase rates of overdose, for his mental health proposal.
"Despite equal rates of use, Black Americans are nearly four times as likely to be arrested for using marijuana," the criminal justice plan states. "Research shows that incarceration for drug offenses has no effect on drug misuse, drug arrests, or overdose deaths. In fact, some studies show that incarceration actually increases the rate of overdose deaths."
Buttigieg mentioned that, as with drug offenses, black people are also more likely to die from overdoses. And that's due to "the current broken system that criminalizes mental illness and addiction" that was "built during the crack epidemic of the 1980s."
Elizabeth Warren's Criminal Justice Plan Involves Legalizing Marijuana And Safe Injection Sites
This story was updated to include comment from the Drug Policy Action.
Photo courtesy of Flickr/Gage Skidmore.
White House Drug Officials Say Legal Marijuana Is Up To States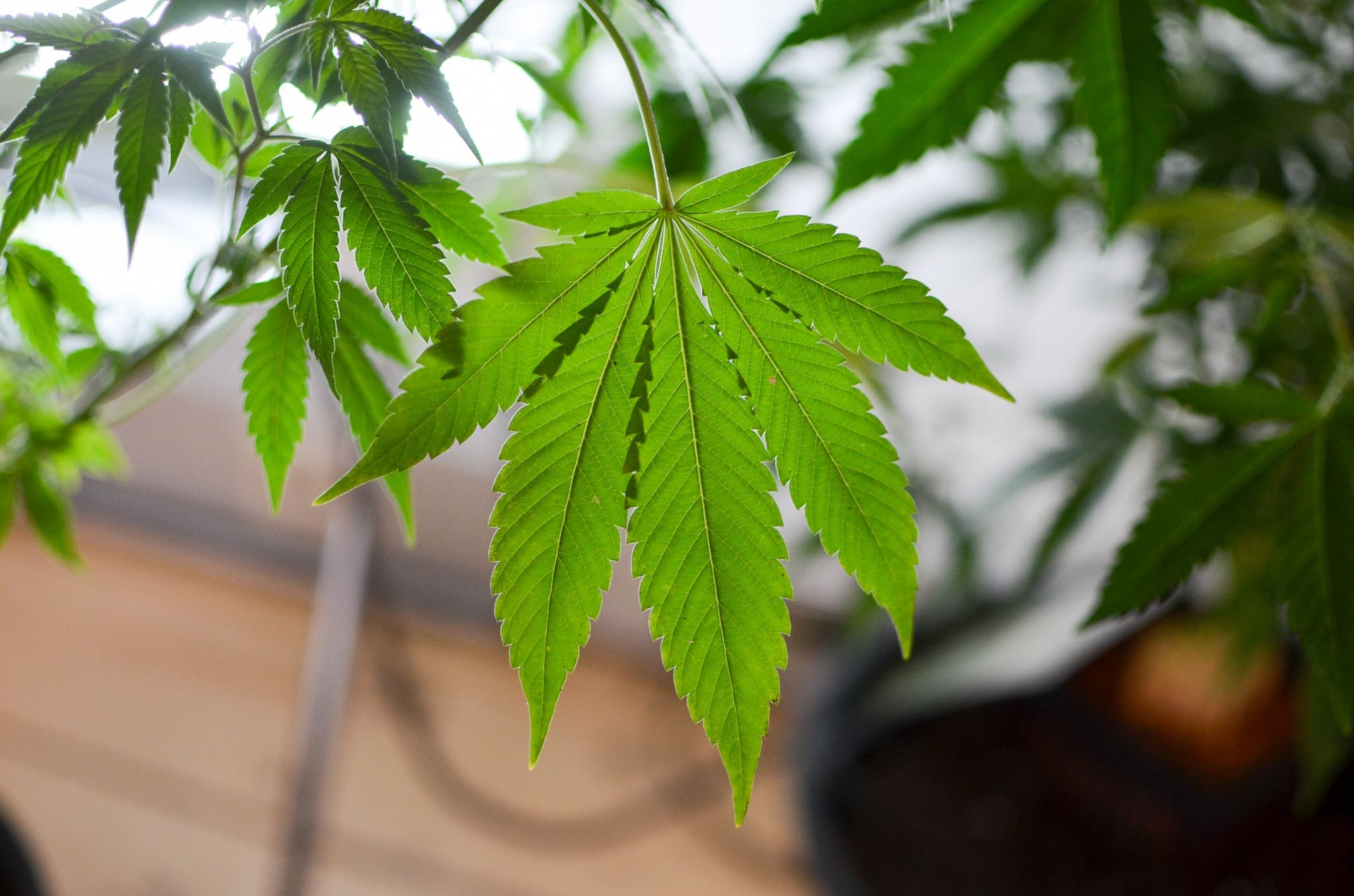 Two top federal drug officials, including the White House drug czar, recently said that marijuana legalization should be left up to states.
The comments stand out coming from the Office of National Drug Control Policy (ONDCP), which has historically played a central role in defending blanket federal prohibition.
Jim Carroll, the Trump-appointed drug czar who directs the administration's drug policies, told Fox 59 reporter Kayla Sullivan that he considers legalization a states' right issue. He added that he'd like to see targeted education campaigns concerning cannabis use during pregnancy and underage usage as well as research into impaired driving.
Got the answer: He believes it should be left up to the state. However, he does want to educate people on the effect marijuana has on young brain development, pregnant women and wants to come up with better guidance & testing for marijuana while driving. https://t.co/eifryNJB1j

— Kayla Sullivan (@KaylaReporting) August 14, 2019
It's a particularly notable position given that federal law stipulates that the drug czar is required to "take such actions as necessary to oppose any attempt to legalize the use of a substance" listed as Schedule I under the Controlled Substances Act, including marijuana.
Even if Carroll's remarks arguably don't directly violate that statute, they are significant in that he doesn't seem to have taken the opportunity to proactively oppose state legalization efforts when asked by a reporter.
Anne Hazlett, senior advisor at ONDCP, also weighed in on cannabis legalization on Wednesday, telling CentralIllinoisProud.com that marijuana legalization is "a state decision."
"Marijuana is an ongoing challenge that is being addressed in many of our states," she said. "This is a state decision, and we would like to see additional research done so that these decisions being made at a state level are being made in a manor that is fully informed."
Though the comments from Carroll and Hazlett seem to reflect an evolving understanding of the federal government's role in imposing prohibition on the states, the ONDCP director has previously made clear he's not enthusiastic about the burgeoning legal market.
During a House Committee on Oversight and Reform hearing in May, Carroll raised concerns about THC potency in marijuana products, saying "the marijuana we have today is nothing like what it was when I was a kid, when I was in high school."
"Back then the THC, the ingredient in marijuana that makes you high, was in the teens in terms of the percentage," he said. "Now what we're seeing is twice that, three times that, in the plant."
He also said that more research is needed and that the Drug Enforcement Administration as well as the Department of Health and Human Services are "working hard to make sure that we understand the impact of legalization of marijuana on the body."
Federally Funded Journal Exposes How Marijuana Prohibition Puts Consumers At Risk
Photo courtesy of Philip Steffan.