What Joe Biden's Presidential Victory Means For Marijuana In 2021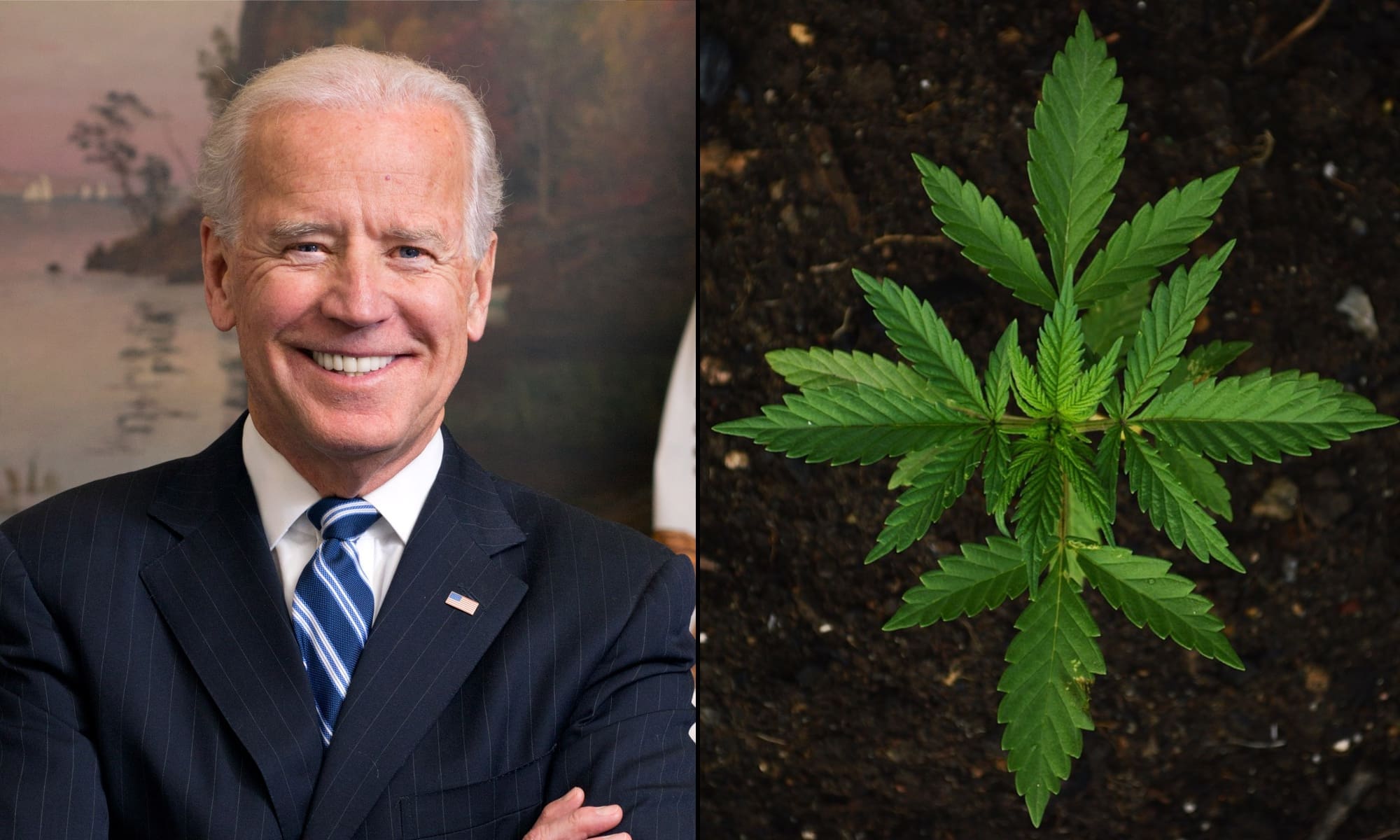 Joe Biden has been projected to have won the presidential election by several major news organizations. If that sticks when all the votes are certified, and if he fulfills a key campaign promise once he gets to the White House, federal marijuana reform will be part of his administration's legacy.
Although the Democratic former vice president has embraced decriminalizing cannabis possession, expunging past records and other modest moves, he has faced criticism over his record pushing punitive anti-drug legislation during his time in the Senate. And reform advocates have similarly taken him to task over his refusal to join the majority of U.S. voters and a supermajority of those in his own party in embracing broad adult-use marijuana legalization.
But the political dynamics that will define marijuana policy in 2021 go beyond the presidency. Despite the stated pro-reform positions of both Biden and his running mate, Sen. Kamala Harris (D-CA)—who has her own questionable record on cannabis criminalization but became the sponsor of a comprehensive legalization bill in 2019—the fate of reform still rests largely on Congress.
But it's unclear at this point which party will control the Senate next year, with news outlets still not ready to project the results of several races and two Georgia seats appearing to be headed for January runoffs.
Democratic leaders have pledged an end to federal marijuana prohibition, and if the party wins the majority, the stage will be set for far-reaching reform.
But if Republicans maintain control of the Senate, there will be serious doubt about what kind of pull a Biden administration could have in moving marijuana legislation—even if he prioritized the issue, which remains to be seen. The past two years have shown time and again that the GOP-controlled chamber is simply unwilling to address the issue in a meaningful way.
Unlike President Trump, Biden has said on the campaign trail that his administration will pursue marijuana decriminalization and expungements for people with prior cannabis convictions. He also favors medical cannabis legalization, modestly rescheduling marijuana under federal law and letting states set their own policies without federal intervention.
"We should decriminalize marijuana," he said during a town hall event last month, adding, "I don't believe anybody should be going to jail for drug use."
But at that same event, he again offered his vision for an alternative to incarceration for drug crimes that many advocates oppose: forced drug treatment.
In any case, the likelihood of marijuana reform under a Biden administration seems more promising than if Trump were to be reelected, if not for anything but the lack of clear commitments the incumbent has made on the issue during his last four years.
While Trump has voiced support for medical cannabis and said he is in favor of bipartisan legislation to protect states that legalize marijuana from federal intervention, he has not pledged any specific reforms himself. Nor does it seem he has pushed Republican lawmakers to prioritize the issue.
As noted, Biden will also be joined by Harris when he enters the Oval Office. The senator—who has been criticized over her former prosecutorial record pursuing low-level cannabis cases as a California district attorney and for campaigning against legalization in her own state—became the lead Senate sponsor of a comprehensive bill to end federal prohibition last year.
She made much of the need to legalize cannabis during her own unsuccessful run for the 2020 Democratic presidential nomination. However, her statements on the issue have been tempered since she agreed to run alongside Biden, choosing instead to focus on his more limited decriminalization and expungements plan.
Harris said last month that she has a "deal" with Biden to candidly share her perspective on a range of progressive policies he currently opposes, including legalizing marijuana, but she hasn't indicated that she would proactively push him in that direction. The senator also said that month that the administration would have "a commitment to decriminalizing marijuana and expunging the records of people who have been convicted of marijuana offenses."
Even so, given Biden's former hostile approach to drug policy as a legislator and his ongoing obstinance on marijuana legalization at a time when polls show that the overwhelming share of Democrats favor the policy change, there remains some skepticism about his willingness to make good on his campaign promises to prioritize decriminalization or the other reforms he's discussed.
He did proudly author the infamous 1994 Crime Bill—legislation that increased penalties for drug-related crimes and is considered a main facilitator of mass incarceration—after all, as well as several 1980s-era anti-drug bills. That record is a point that Trump's reelection campaign had seized on, calling Biden the "architect" of the drug war.
Biden, for his part, has conceded that his work on punitive anti-drug legislation was a "mistake."
That said, shortly after becoming the party's 2020 nominee, the former vice president's ongoing opposition to recreational legalization is suspected of being at least partly behind the Democratic National Committee platform committee's vote against adding the reform as a 2020 party plank in July.
So it may be incumbent upon Congress to advance broad legalization after he takes office. And the likelihood of that happening will hinge largely on the makeup of the Senate.
If Democrats reclaim control of the chamber, those chances will be significantly bolstered. Senate leadership in this current Congress has been opposed to taking up reform. Senate Majority Leader Mitch McConnell (R-KY), for example, is an adamant opponent of loosening laws on marijuana, all but ensuring that reform bills would not stand a chance in his chamber even as he has championed hemp legalization. Even modest House-passed legislation focused on banking access for cannabis businesses never received a vote.
With Democrats back at the reigns, they would be positioned to bring any number of cannabis bills that have been introduced to the floor, including those calling for the end of federal marijuana prohibition. Sen. Chuck Schumer (D-NY), the current top Democrat in the chamber, who would be expected to be installed as the majority leader come January if the party wins enough of the outstanding races, said last month that he will put his own descheduling bill "in play" and that "I think we'll have a good chance to pass it."
Leadership in the House, which is expected to maintain a Democratic majority, albeit a reduced one, has already signaled their intention of advancing cannabis reform.
The chamber was expected to hold a floor vote on a comprehensive legalization bill—the Marijuana Opportunity, Reinvestment and Expungement (MORE) Act—in September, but it was ultimately postponed after certain centrist Democrats argued the optics of passing the bill would be bad for them before approving another coronavirus relief package. Leadership has since committed to voting on the legislation, which also contains provisions to fund programs to repair some of the harms of the war on drugs, later this fall.
With a Democratic-controlled Senate and the party still in control of the House, it stands to reason that cannabis reform would move in the 117th Congress, even if the pace of that reform and the administration's role in promoting it remain uncertain.
But if Republicans maintain their majority, the party's approach to cannabis to date does not indicate leaders would be ready to embrace far-reaching reforms such as the MORE Act. That said, it is possible that banking-focused marijuana legislation—which despite its having stalled so far in the Senate, has significant bipartisan support among the rank and file in both chambers—could move.
It is also not entirely out of the question that a scaled-down proposal to simply protect people complying with state marijuana laws from federal interference—likely without the social equity and restorative justice components of Schumer's bill or the MORE Act—could see the light of day. That possibility is boosted by the fact that voters in several Republican and swing states approved cannabis ballot measures on Election Day. Sen. John Thune (R-SD), the party's whip, for example, now represents constituents who voted to legalize both recreational and medical marijuana by solid margins.
That said, the most vocal GOP advocate for marijuana reform in the Senate won't be returning to Capitol Hill next year. Sen. Cory Gardner (R-CO), who unsuccessfully led efforts to convince his party to allow cannabis legislation to come to the floor for a vote in the 116th Congress, lost his reelection bid. With him not being around to prod McConnell to consider the issue, it would be up to other lawmakers—perhaps Sens. Steve Daines (R-MT), Lisa Murkowski (R-AK) or Rand Paul (R-KY)—to make the case to leaders that the issue is a winning one worth advancing.
Outside of Congress, Biden could also make moves to advance cannabis reform administratively.
He could, for example, reinstate a version of the Obama-era Justice Department memo that directed federal prosecutors to generally not interfere with state marijuana laws, which was rescinded by the Trump administration in 2018. It is also within the power of the executive branch to reschedule marijuana under the Controlled Substances Act. Biden has pledged to make a move to Schedule II, though that would not achieve many of the changes advocates seek.
The president has the unilateral authority to grant acts of clemency, including pardons and commutations, to people who have been convicted of federal marijuana or other drug offenses. He also gets to appoint an attorney general, drug czar and other officials who will make decisions on how the federal government handles the issue—though many of those officials will be subject to Senate confirmation.
For his part, Rep. Earl Blumenauer (D-OR) told Marijuana Moment in August that "the Biden administration and a Biden Department of Justice would be a constructive player" in advancing legalization.
But in the end, while Biden has come around to the idea of removing criminal penalties for marijuana possession, and he is now advocating for clearing the records of those who've been punished for such crimes, his longstanding record of opposing reform and embracing punitive drug policies continue to leave questions about what actions he'll be willing to take post-election.
He remains out of step with the majority of his party and U.S. voters more broadly on the question of legalization, and it doesn't seem likely that cannabis reform would be at the top of his agenda. That said, his recent pivot in favor of decriminalization and medical cannabis legalization indicates that he recognizes that a tough-on-crime approach to drugs is no longer politically acceptable to voters and signals that further evolution in his position on cannabis is possible.
Seven In Ten Americans Support Marijuana Legalization, New Gallup Poll Shows