Congressional Hearing Exposes Marijuana Research Limitations Imposed By Federal Law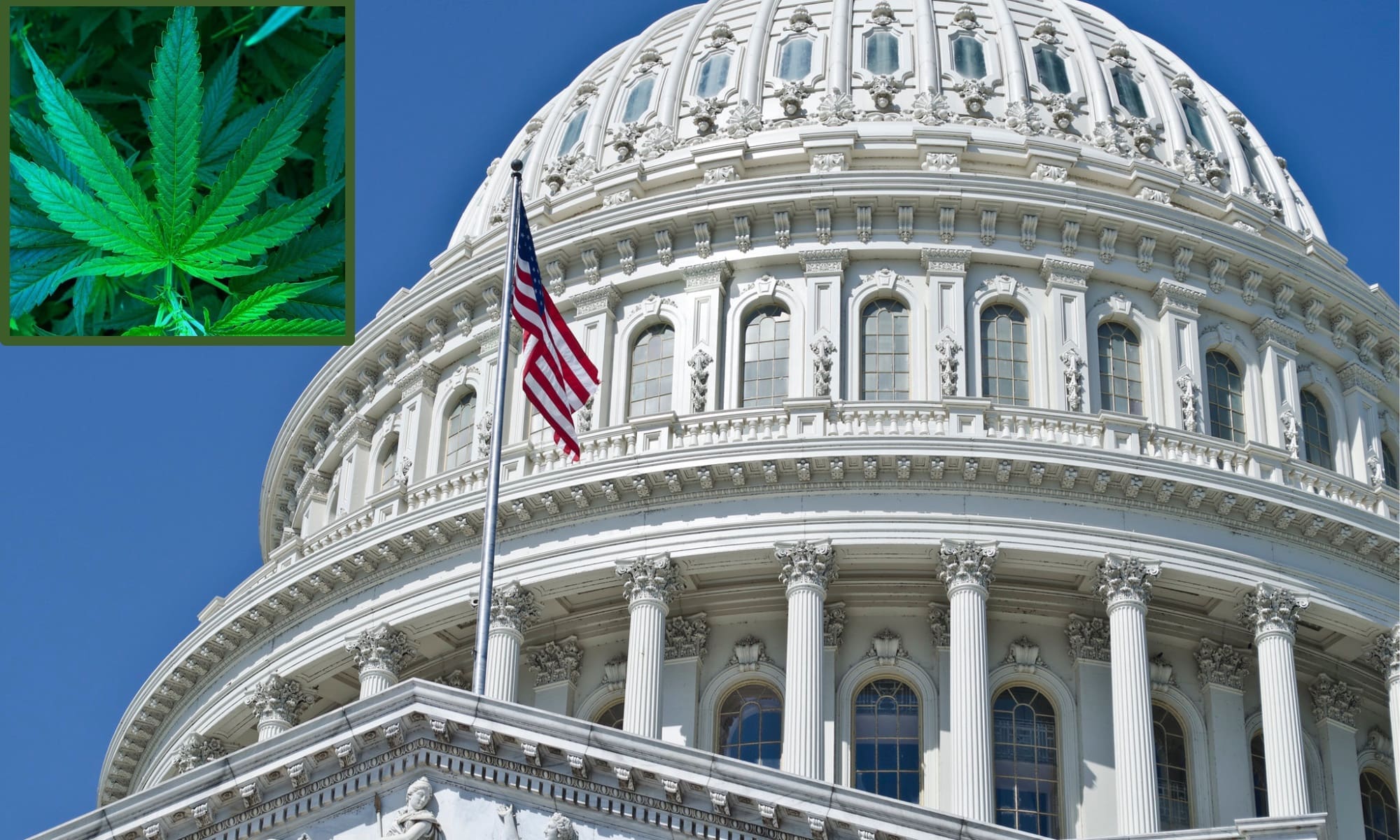 At a congressional hearing on Wednesday, federal regulators recognized that valuable research into marijuana is being inhibited cannabis's current legal status and described previously unreported steps they're taking to resolve the issue.
The Energy and Commerce Subcommittee on Health held the meeting to discuss six cannabis reform proposals, including two that would federally legalize marijuana. Most of the hearing involved lawmakers pressing witnesses from the Drug Enforcement Administration (DEA), Food and Drug Administration (FDA) and National Institute on Drug Abuse (NIDA) on the obstacles to marijuana studies that those officials claim are needed before pursuing broader policy reform.
Conversation was more limited when it came to legalization bills such as Judiciary Chairman Jerrod Nadler's (D-NY) Marijuana Opportunity, Reinvestment and Expungement (MORE) Act, which was approved by his panel last year. That said, formerly anti-reform Rep. Joe Kennedy III (D-MA) did lead a powerful discussion about the failures of prohibition and the need to deschedule cannabis.
Kennedy announced that panel leadership has agreed to hold a second hearing featuring the voices of people negatively impacted by marijuana prohibition, which he said "has failed."
Energy and Commerce Committee Chairman Frank Pallone (D-NJ) said in his opening statement that "while state laws and public perception around cannabis and its derivatives have evolved over the years, much of the federal framework that regulates cannabis has stayed the same."
Today the @EnergyCommerce Health Subcommittee is holding a legislative hearing on cannabis policies for the new decade including proposals to decriminalize marijuana and increase important research on cannabis, hemp and CBD. pic.twitter.com/uL8lkmmXdj

— Rep. Frank Pallone (@FrankPallone) January 15, 2020
Watch the hearing, titled "Cannabis Policy For the New Decade," below:
After being repeatedly asked about the limited supply of research-grade cannabis and the lack of chemical diversity in those plants cultivated at the nation's only federally authorized manufacturer, DEA Senior Policy Advisor Matthew Strait said the agency is aware of the issue and is actively developing regulations to address the problem by licensing additional growers.
"We actually have a draft regulation in place," he said, adding that it's currently being reviewed by the White House Office of Management and Budget (OMB) and that regulators have a call scheduled for Thursday to discuss the proposed rule.
"We know that we have to probably do notice and comment rulemaking to implement regulations on two matters: one is how we're going to evaluate all of our pending applications and two what additional types of regulations might need to be in place in order to impose on those that would grow," he said. "That regulation is in draft form. I can't talk too much about it, but rest assured, we have submitted to OMB, it's been drafted and tomorrow some of us will be getting on a call to talk through it."
DEA, FDA and NIDA witnesses all agreed under questioning that the current supply of cannabis for study purposes is inadequate and that researchers should be able to access a wider range of marijuana products.
Kennedy, who recently became a cosponsor of the MORE Act, followed up on his opening remarks with a brief statement on his personal evolution on the issue and frustration over policies inhibiting research.
"Meanwhile, millions of Americans—mostly black and brown—have been locked up for non-violent drug offenses. Meanwhile, desperate parents are forced to turn to a black market with no concern for patient safety to get their children the relief that they need. Meanwhile our cities and states are trying, and at times stumbling, to put in place thoughtful and thorough regulatory frameworks with zero support from federal partners. And meanwhile, a brand new corporate industry is rising up, rife with predictable economic injustices that spring up whenever government fails to regulate. Prohibition has clearly failed and America isn't waiting for its government anymore."
He then asked NIDA Director Nora Volkow and FDA Deputy Director for Regulatory Programs Douglas Throckmorton whether removing cannabis from the Controlled Substances Act (CSA) would make it easier for researchers to obtain and study it. Both said that the policy change would in fact simply research, though Volkow said it "may have unintended negative consequences."
FDA and NIDA said their agencies would not be impacted if marijuana was descheduled, and DEA's Strait acknowledged that his agency would because of its responsibility to enforce the CSA.
Subcommittee Chairwoman Anna Eshoo (D-CA) said researchers are "are in a catch-22" under the current regulatory scheme because they "can't conduct research until they show cannabis has a medical use, but they can't demonstrate cannabis has a medical use until they can conduct research."
"It doesn't make sense—at least to me," she said.
Rep. Tony Cardenas (D-CA) said that the "United States Congress made a mistake, and every Congress since has not had honest hearings and honest dialogue and has not allowed—truly allowed—the researchers in this great country to do the true research that needs to be done for us to properly categorize cannabis in this country."
"As a result of that, we have millions of individuals in this country who have been subjected to incarceration and a criminal record that otherwise they would have a much more productive and better life and that as a society, we would be much better off, including the taxpayers, if we were to actually get this right," he said.
There were several exchanges throughout the hearing—which was requested by four Republican members last month—where lawmakers opposed to comprehensive reform argued that cannabis is a gateway drug and that legalization represents a public health threat.
Rep. Greg Walden (R-OR) brought cookies in plastic baggies and distributed them to members. He then pointed to an image of a THC-infused cookie that looks similar that are available in Oregon.
"Each of you, by the way, has a cookie in front of you. I have a pizza stand opening in an hour out in the hallway," he quipped. "Now don't worry, I didn't get that carried away. You can actually eat these. The question is, how do you know if your child stumbled upon it?"
Americans are consuming more cannabis & policy decisions on this substance have been made in a virtual information vacuum. States that have legalized marijuana, like OR, have done so with far less info than they have on legal substances that are easily abused, such as alcohol.

— Rep. Greg Walden (@repgregwalden) January 15, 2020
The congressman went on to say that descheduling marijuana "is a step too far and is something I cannot support."
But there were other members who shared anecdotes about the consequences of prohibition, particularly on patients who stand to benefit from medical cannabis.
Rep. Morgan Griffith (R-VA), for example, recalled that in the 1980s, he knew friends who would smuggle cannabis into a hospital for a man suffering from cancer and who wanted to improve his quality of life to spend time with his son. Rep. Debbie Dingell (D-MI) said her late husband, former Rep. John Dingell (D-MI) experienced "great pain" and was told that cannabis might treat it, but he declined in part because of its status as a federally illicit substance.
Several other lawmakers, including Cannabis Caucus Co-Chair Barbara Lee (D-CA), highlighted the hearing and remarked on its significance.
It's past time to end cannabis criminalization and repair the damage the racist and failed War on Drugs has done to communities of color across the country. Thanks @EnergyCommerce for holding today's important hearing to modernize our federal cannabis policies! #MarijuanaJustice https://t.co/9uLRi86obs

— Rep. Barbara Lee (@RepBarbaraLee) January 15, 2020
Today, the @EnergyCommerce Subcommittee on Health is holding its FIRST EVER legislative hearing regarding federal cannabis policies.

If you are unable to attend this historic hearing in person, you can tune in here: https://t.co/HkUeiAqfEs #CannabisNews pic.twitter.com/PCGnERfwEB

— Bobby L. Rush (@RepBobbyRush) January 15, 2020
"Today, my [Energy Commerce] colleagues are holding a hearing on legislation to remove marijuana from the list of Schedule I drugs and allow for more research on the uses, impacts, and health benefits of cannabis," Rep. Mike Doyle (D-PA) said. "Looking forward to their discussion on these bills!"
Including H.R. 3884, the MORE Act. This bill would decriminalize marijuana, expunge the criminal records of individuals with cannabis-related offenses, and establish a sales tax on marijuana to create a fund helping these individuals to advance their careers and education.

— Mike Doyle (@USRepMikeDoyle) January 15, 2020
Watch below as my @EnergyCommerce committee holds a hearing on legislation to remove marijuana from the list of schedule 1 drugs and allow research on the health benefits of cannabis. https://t.co/1CTgo5RTY2

— Rep. Kurt Schrader (@RepSchrader) January 15, 2020
"After years of working to advance cannabis reform in Congress, this critical hearing is an important milestone where another major congressional committee focused time and attention on our movement," Rep. Earl Blumenauer (D-OR), who spoke to Marijuana Moment on Tuesday about his expectations for the hearing, said in a press release. "It was important to hear a number of senior members of Congress affirming the change that is taking place at the state level and affirming the contradictions that are created by the federal government being out of step and out of touch."
With today's @EnergyCommerce hearing, another major cmte has focused time & attention on our movement to bring federal cannabis policy into the 21st century & end the failed war on drugs. This was an encouraging step on our blueprint to legalize cannabis, but we need more action.

— Earl Blumenauer (@repblumenauer) January 15, 2020
Pro-legalization group NORML also submitted written testimony for the hearing, stating that as "evident by the title of this hearing, our federal marijuana policies are stuck in the past."
"It is time for Congress to amend them in a manner that comports with our current political and cultural reality," the organization said. "For some 50 years, the cannabis plant has been improperly categorized and criminalized by federal law. It is time to re‐examine and amend this longstanding failed policy."
Ahead of the hearing, a coalition of cannabis reform groups—including the National Cannabis Industry Association, Cannabis Trade Federation and Minority Cannabis Business Association—sent a letter to subcommittee leadership ahead of the meeting, encouraging members to take action on the various pieces of legislation.
BREAKING: Cannabis industry groups send letter urging descheduling and federal regulation to increase research improve public safety and address harms caused by prohibition.

With: @CanTradeFed, @MinCannBusAssoc, @FollowNCR, @GlobalCannaComm #CannabisPolicy pic.twitter.com/ZPdEJskzi0

— National Cannabis Industry Association (@NCIAorg) January 14, 2020
"As organizations that collectively represent thousands of state-legal cannabis businesses around the country, ancillary industries, and our communities, we applaud your decision to hold a hearing on cannabis policy so early in the new legislative session," the groups wrote. "This is a wonderful opportunity to continue the robust and groundbreaking discussion on this issue that took place in Congress last year and we commend your leadership in carrying it over into 2020."
"As an industry, we understand that many lawmakers have concerns about the impact of the changing legal status of cannabis. We do not take these concerns lightly. These concerns underscore the need to establish a legal federal cannabis framework, as current federal policies can cause and exacerbate these concerns. We welcome the opportunity to work with lawmakers and regulators to determine the best paths forward as state and federal cannabis policy evolves."
In their written testimony, DEA, FDA and NIDA representatives generally described the current state of federal marijuana policy, unsurprisingly without advocating for changes to cannabis's current criminal status. That said, both DEA and NIDA seemed to at least recognize that existing policies are inhibiting research into the plant and signaled that changes are on the horizon.
Volkow wrote that the growing availability of cannabis products, particularly with high concentrations of THC, "raise serious public health concerns." At the same time, however, "despite the public health urgency, legal and regulatory barriers continue to present challenges to advancing cannabis research."
"Obtaining or modifying a Schedule I registration [for researchers to study marijuana] involves significant administrative challenges, and researchers report that obtaining a new registration can take more than a year," she said. "Adding new substances to an existing registration can also be time consuming."
"It would be useful to clarify aspects of the [Controlled Substances Act] that have been sources of confusion and administrative burden for the research community," she said.
Additionally, Volkow acknowledged that the current situation, where the government has only authorized one facility to cultivate cannabis for researchers, "limits the diversity of products and formulations available to researchers and slows the development of cannabis-based medications."
"Although the University of Mississippi supplies cannabis for clinical trials, it does not have the capacity to manufacture a broad array of cannabis-derived formulations for research or to supply these cannabis products for commercial development," she said.
Strait wrote that his agency remains committed to expanding the number of federally authorized cannabis manufacturers for research purposes, noting that DEA is reviewing the situation but that " adjustments to DEA's policies and procedures may be necessary under applicable U.S. law to be consistent with certain treaty functions."
"In the near future, DEA intends to propose regulations that would govern persons seeking to become registered with DEA to grow marihuana as bulk manufacturers, consistent with applicable law, taking into account recent changes in the Controlled Substances Act," he said. "At present, a notice of proposed rulemaking is under review by the Office of Management and Budget."
Volkow raised another issue, which other federal agencies have previously recognized, noting that "researchers supported by NIDA and other federal agencies are unable to access marketed cannabis products through state marijuana dispensaries."
"There is a significant gap in our understanding of their impact on health," she said. "The recent outbreaks of e-cigarette or vaping product use associated lung injury (EVALI), which has been linked to informally-sourced THC-containing vape products, underscores the critical importance of facilitating researcher access to different product sources."
A NIDA staffer told Marijuana Moment in an email last week that "rigorous research is essential for understanding how the changing cannabis landscape will affect public health, for guiding evidence-based policy, and advancing therapeutics."
"However, there are significant regulatory challenges to conducting research with marijuana and other Schedule I drugs," the official said. "NIDA [has] been working with the DEA and FDA on ways to ameliorate these challenges, but there is nothing publicly available to share at this time."
This story has been updated to include details and quotes from the hearing.
Leading Marijuana Reform Advocate In Congress Weighs In On This Week's Legalization Hearing
Image element courtesy of Tim Evanson.