Congressional Hearing Exposes Marijuana Research Limitations Imposed By Federal Law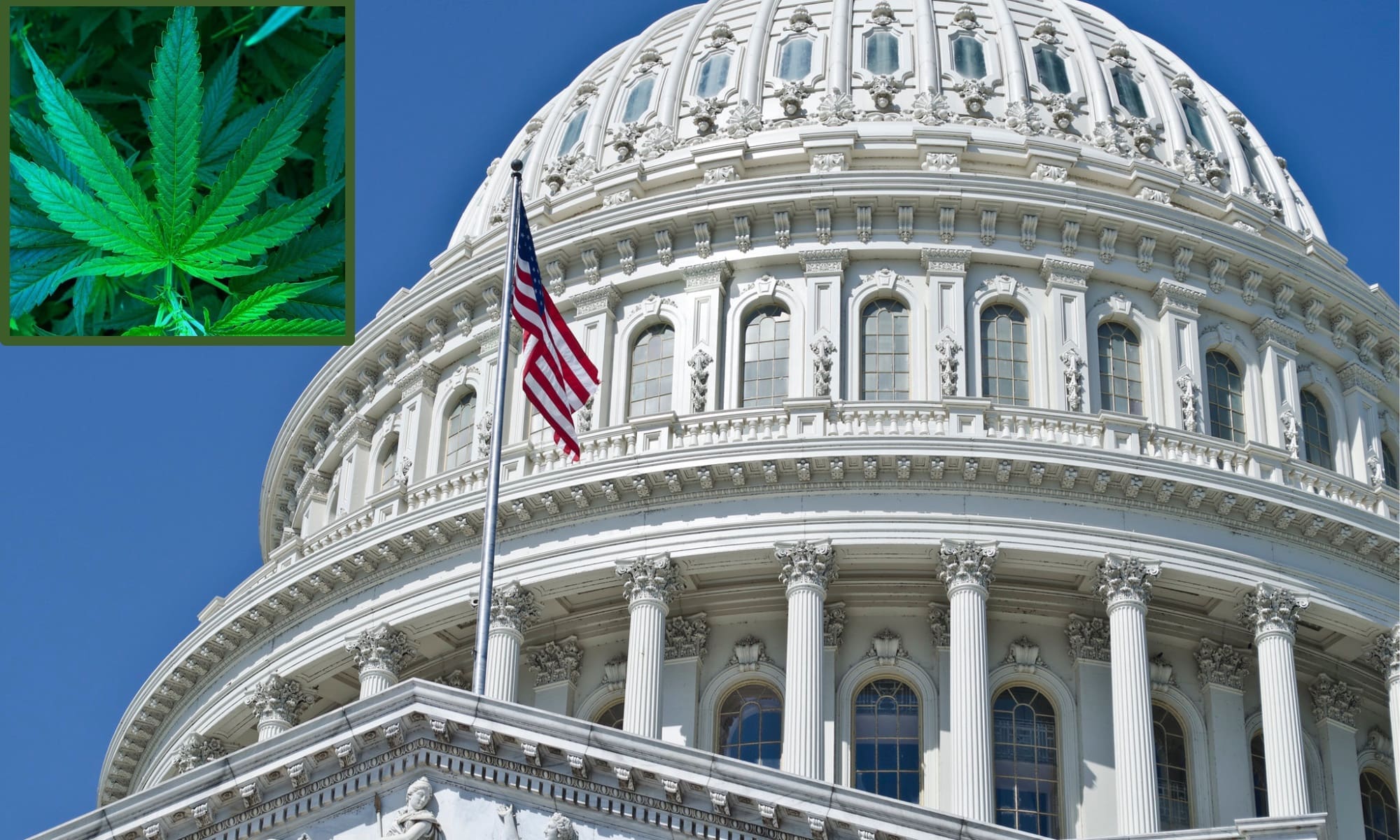 At a congressional hearing on Wednesday, federal regulators recognized that valuable research into marijuana is being inhibited cannabis's current legal status and described previously unreported steps they're taking to resolve the issue.
The Energy and Commerce Subcommittee on Health held the meeting to discuss six cannabis reform proposals, including two that would federally legalize marijuana. Most of the hearing involved lawmakers pressing witnesses from the Drug Enforcement Administration (DEA), Food and Drug Administration (FDA) and National Institute on Drug Abuse (NIDA) on the obstacles to marijuana studies that those officials claim are needed before pursuing broader policy reform.
Conversation was more limited when it came to legalization bills such as Judiciary Chairman Jerrod Nadler's (D-NY) Marijuana Opportunity, Reinvestment and Expungement (MORE) Act, which was approved by his panel last year. That said, formerly anti-reform Rep. Joe Kennedy III (D-MA) did lead a powerful discussion about the failures of prohibition and the need to deschedule cannabis.
Kennedy announced that panel leadership has agreed to hold a second hearing featuring the voices of people negatively impacted by marijuana prohibition, which he said "has failed."
Energy and Commerce Committee Chairman Frank Pallone (D-NJ) said in his opening statement that "while state laws and public perception around cannabis and its derivatives have evolved over the years, much of the federal framework that regulates cannabis has stayed the same."
Today the @EnergyCommerce Health Subcommittee is holding a legislative hearing on cannabis policies for the new decade including proposals to decriminalize marijuana and increase important research on cannabis, hemp and CBD. pic.twitter.com/uL8lkmmXdj

— Rep. Frank Pallone (@FrankPallone) January 15, 2020
Watch the hearing, titled "Cannabis Policy For the New Decade," below:
After being repeatedly asked about the limited supply of research-grade cannabis and the lack of chemical diversity in those plants cultivated at the nation's only federally authorized manufacturer, DEA Senior Policy Advisor Matthew Strait said the agency is aware of the issue and is actively developing regulations to address the problem by licensing additional growers.
"We actually have a draft regulation in place," he said, adding that it's currently being reviewed by the White House Office of Management and Budget (OMB) and that regulators have a call scheduled for Thursday to discuss the proposed rule.
"We know that we have to probably do notice and comment rulemaking to implement regulations on two matters: one is how we're going to evaluate all of our pending applications and two what additional types of regulations might need to be in place in order to impose on those that would grow," he said. "That regulation is in draft form. I can't talk too much about it, but rest assured, we have submitted to OMB, it's been drafted and tomorrow some of us will be getting on a call to talk through it."
DEA, FDA and NIDA witnesses all agreed under questioning that the current supply of cannabis for study purposes is inadequate and that researchers should be able to access a wider range of marijuana products.
Kennedy, who recently became a cosponsor of the MORE Act, followed up on his opening remarks with a brief statement on his personal evolution on the issue and frustration over policies inhibiting research.
"Meanwhile, millions of Americans—mostly black and brown—have been locked up for non-violent drug offenses. Meanwhile, desperate parents are forced to turn to a black market with no concern for patient safety to get their children the relief that they need. Meanwhile our cities and states are trying, and at times stumbling, to put in place thoughtful and thorough regulatory frameworks with zero support from federal partners. And meanwhile, a brand new corporate industry is rising up, rife with predictable economic injustices that spring up whenever government fails to regulate. Prohibition has clearly failed and America isn't waiting for its government anymore."
He then asked NIDA Director Nora Volkow and FDA Deputy Director for Regulatory Programs Douglas Throckmorton whether removing cannabis from the Controlled Substances Act (CSA) would make it easier for researchers to obtain and study it. Both said that the policy change would in fact simply research, though Volkow said it "may have unintended negative consequences."
FDA and NIDA said their agencies would not be impacted if marijuana was descheduled, and DEA's Strait acknowledged that his agency would because of its responsibility to enforce the CSA.
Subcommittee Chairwoman Anna Eshoo (D-CA) said researchers are "are in a catch-22" under the current regulatory scheme because they "can't conduct research until they show cannabis has a medical use, but they can't demonstrate cannabis has a medical use until they can conduct research."
"It doesn't make sense—at least to me," she said.
Rep. Tony Cardenas (D-CA) said that the "United States Congress made a mistake, and every Congress since has not had honest hearings and honest dialogue and has not allowed—truly allowed—the researchers in this great country to do the true research that needs to be done for us to properly categorize cannabis in this country."
"As a result of that, we have millions of individuals in this country who have been subjected to incarceration and a criminal record that otherwise they would have a much more productive and better life and that as a society, we would be much better off, including the taxpayers, if we were to actually get this right," he said.
There were several exchanges throughout the hearing—which was requested by four Republican members last month—where lawmakers opposed to comprehensive reform argued that cannabis is a gateway drug and that legalization represents a public health threat.
Rep. Greg Walden (R-OR) brought cookies in plastic baggies and distributed them to members. He then pointed to an image of a THC-infused cookie that looks similar that are available in Oregon.
"Each of you, by the way, has a cookie in front of you. I have a pizza stand opening in an hour out in the hallway," he quipped. "Now don't worry, I didn't get that carried away. You can actually eat these. The question is, how do you know if your child stumbled upon it?"
Americans are consuming more cannabis & policy decisions on this substance have been made in a virtual information vacuum. States that have legalized marijuana, like OR, have done so with far less info than they have on legal substances that are easily abused, such as alcohol.

— Rep. Greg Walden (@repgregwalden) January 15, 2020
The congressman went on to say that descheduling marijuana "is a step too far and is something I cannot support."
But there were other members who shared anecdotes about the consequences of prohibition, particularly on patients who stand to benefit from medical cannabis.
Rep. Morgan Griffith (R-VA), for example, recalled that in the 1980s, he knew friends who would smuggle cannabis into a hospital for a man suffering from cancer and who wanted to improve his quality of life to spend time with his son. Rep. Debbie Dingell (D-MI) said her late husband, former Rep. John Dingell (D-MI) experienced "great pain" and was told that cannabis might treat it, but he declined in part because of its status as a federally illicit substance.
Several other lawmakers, including Cannabis Caucus Co-Chair Barbara Lee (D-CA), highlighted the hearing and remarked on its significance.
It's past time to end cannabis criminalization and repair the damage the racist and failed War on Drugs has done to communities of color across the country. Thanks @EnergyCommerce for holding today's important hearing to modernize our federal cannabis policies! #MarijuanaJustice https://t.co/9uLRi86obs

— Rep. Barbara Lee (@RepBarbaraLee) January 15, 2020
Today, the @EnergyCommerce Subcommittee on Health is holding its FIRST EVER legislative hearing regarding federal cannabis policies.

If you are unable to attend this historic hearing in person, you can tune in here: https://t.co/HkUeiAqfEs #CannabisNews pic.twitter.com/PCGnERfwEB

— Bobby L. Rush (@RepBobbyRush) January 15, 2020
"Today, my [Energy Commerce] colleagues are holding a hearing on legislation to remove marijuana from the list of Schedule I drugs and allow for more research on the uses, impacts, and health benefits of cannabis," Rep. Mike Doyle (D-PA) said. "Looking forward to their discussion on these bills!"
Including H.R. 3884, the MORE Act. This bill would decriminalize marijuana, expunge the criminal records of individuals with cannabis-related offenses, and establish a sales tax on marijuana to create a fund helping these individuals to advance their careers and education.

— Mike Doyle (@USRepMikeDoyle) January 15, 2020
Watch below as my @EnergyCommerce committee holds a hearing on legislation to remove marijuana from the list of schedule 1 drugs and allow research on the health benefits of cannabis. https://t.co/1CTgo5RTY2

— Rep. Kurt Schrader (@RepSchrader) January 15, 2020
"After years of working to advance cannabis reform in Congress, this critical hearing is an important milestone where another major congressional committee focused time and attention on our movement," Rep. Earl Blumenauer (D-OR), who spoke to Marijuana Moment on Tuesday about his expectations for the hearing, said in a press release. "It was important to hear a number of senior members of Congress affirming the change that is taking place at the state level and affirming the contradictions that are created by the federal government being out of step and out of touch."
With today's @EnergyCommerce hearing, another major cmte has focused time & attention on our movement to bring federal cannabis policy into the 21st century & end the failed war on drugs. This was an encouraging step on our blueprint to legalize cannabis, but we need more action.

— Earl Blumenauer (@repblumenauer) January 15, 2020
Pro-legalization group NORML also submitted written testimony for the hearing, stating that as "evident by the title of this hearing, our federal marijuana policies are stuck in the past."
"It is time for Congress to amend them in a manner that comports with our current political and cultural reality," the organization said. "For some 50 years, the cannabis plant has been improperly categorized and criminalized by federal law. It is time to re‐examine and amend this longstanding failed policy."
Ahead of the hearing, a coalition of cannabis reform groups—including the National Cannabis Industry Association, Cannabis Trade Federation and Minority Cannabis Business Association—sent a letter to subcommittee leadership ahead of the meeting, encouraging members to take action on the various pieces of legislation.
BREAKING: Cannabis industry groups send letter urging descheduling and federal regulation to increase research improve public safety and address harms caused by prohibition.

With: @CanTradeFed, @MinCannBusAssoc, @FollowNCR, @GlobalCannaComm #CannabisPolicy pic.twitter.com/ZPdEJskzi0

— National Cannabis Industry Association (@NCIAorg) January 14, 2020
"As organizations that collectively represent thousands of state-legal cannabis businesses around the country, ancillary industries, and our communities, we applaud your decision to hold a hearing on cannabis policy so early in the new legislative session," the groups wrote. "This is a wonderful opportunity to continue the robust and groundbreaking discussion on this issue that took place in Congress last year and we commend your leadership in carrying it over into 2020."
"As an industry, we understand that many lawmakers have concerns about the impact of the changing legal status of cannabis. We do not take these concerns lightly. These concerns underscore the need to establish a legal federal cannabis framework, as current federal policies can cause and exacerbate these concerns. We welcome the opportunity to work with lawmakers and regulators to determine the best paths forward as state and federal cannabis policy evolves."
In their written testimony, DEA, FDA and NIDA representatives generally described the current state of federal marijuana policy, unsurprisingly without advocating for changes to cannabis's current criminal status. That said, both DEA and NIDA seemed to at least recognize that existing policies are inhibiting research into the plant and signaled that changes are on the horizon.
Volkow wrote that the growing availability of cannabis products, particularly with high concentrations of THC, "raise serious public health concerns." At the same time, however, "despite the public health urgency, legal and regulatory barriers continue to present challenges to advancing cannabis research."
"Obtaining or modifying a Schedule I registration [for researchers to study marijuana] involves significant administrative challenges, and researchers report that obtaining a new registration can take more than a year," she said. "Adding new substances to an existing registration can also be time consuming."
"It would be useful to clarify aspects of the [Controlled Substances Act] that have been sources of confusion and administrative burden for the research community," she said.
Additionally, Volkow acknowledged that the current situation, where the government has only authorized one facility to cultivate cannabis for researchers, "limits the diversity of products and formulations available to researchers and slows the development of cannabis-based medications."
"Although the University of Mississippi supplies cannabis for clinical trials, it does not have the capacity to manufacture a broad array of cannabis-derived formulations for research or to supply these cannabis products for commercial development," she said.
Strait wrote that his agency remains committed to expanding the number of federally authorized cannabis manufacturers for research purposes, noting that DEA is reviewing the situation but that " adjustments to DEA's policies and procedures may be necessary under applicable U.S. law to be consistent with certain treaty functions."
"In the near future, DEA intends to propose regulations that would govern persons seeking to become registered with DEA to grow marihuana as bulk manufacturers, consistent with applicable law, taking into account recent changes in the Controlled Substances Act," he said. "At present, a notice of proposed rulemaking is under review by the Office of Management and Budget."
Volkow raised another issue, which other federal agencies have previously recognized, noting that "researchers supported by NIDA and other federal agencies are unable to access marketed cannabis products through state marijuana dispensaries."
"There is a significant gap in our understanding of their impact on health," she said. "The recent outbreaks of e-cigarette or vaping product use associated lung injury (EVALI), which has been linked to informally-sourced THC-containing vape products, underscores the critical importance of facilitating researcher access to different product sources."
A NIDA staffer told Marijuana Moment in an email last week that "rigorous research is essential for understanding how the changing cannabis landscape will affect public health, for guiding evidence-based policy, and advancing therapeutics."
"However, there are significant regulatory challenges to conducting research with marijuana and other Schedule I drugs," the official said. "NIDA [has] been working with the DEA and FDA on ways to ameliorate these challenges, but there is nothing publicly available to share at this time."
This story has been updated to include details and quotes from the hearing.
Leading Marijuana Reform Advocate In Congress Weighs In On This Week's Legalization Hearing
Image element courtesy of Tim Evanson. 
Elizabeth Warren Has A New Plan For Legalizing Marijuana
Sen. Elizabeth Warren (D-MA) unveiled a plan for federal marijuana reform on Sunday, calling for legalization as well as a series of policies aimed at righting the wrongs of the drug war and promoting involvement in the legal industry by communities harmed by prohibition.
In the "Just and Equitable Cannabis Industry" plan, which Warren's campaign shared with Marijuana Moment ahead of a town hall event in Colorado, the 2020 Democratic presidential candidate slams the "racist 'War on Drugs' policy" perpetuated during the Nixon administration and the mass incarceration that has followed.
She also introduces noteworthy ideas, such as using her executive authority to begin the federal legalization process within 100 days of taking office, respecting the sovereignty of other nations to legalize marijuana, protecting immigrants who participate in the legal industry, empowering veterans to access medical cannabis and ensuring that corporations aren't able to monopolize the market.
Further, the Warren plan promotes unionization in the marijuana industry, protecting Indian tribes' authority to enact their own reform programs and lifting a current ban so that Washington, D.C. can use its local monies to implement legal marijuana sales
"Even as the federal government has held fast to its outdated marijuana policy, states have led the charge in adopting thoughtful, evidenced-based marijuana policy," the six-page document says. "And what have we learned in the eight years since the first states legalized marijuana? Legalization works."
The senator details the progress of the legalization movement and the economic potential of the industry, and she argues that access to cannabis has been shown to play a role in mitigating the opioid epidemic. All that said, she notes that marijuana arrests have continued to increase nationally—and they continue to be carried out on racially disproportionate basis—and so comprehensive reform at the federal level is a goal she is pledging to pursue starting day one if elected president.
"It's not justice when we lock up kids caught with an ounce of pot, while hedge fund managers make millions off of the legal sale of marijuana. My administration will put an end to that broken system."
"Legalizing marijuana is about more than just allowing recreational use, or the potential medicinal benefit, or the money that can be made from this new market," the Warren plan says. "It's about undoing a century of racist policy that disproportionately targeted Black and Latinx communities. It's about rebuilding the communities that have suffered the most harm. And it's about ensuring that everyone has access to the opportunities that the new cannabis market provides."
I've got a plan to legalize marijuana, rebuild communities devastated by failed anti-marijuana policies, and ensure that those communities are equally able to participate in the budding cannabis industry. Here's how we'll do it. https://t.co/11E2gfCHel

— Elizabeth Warren (@ewarren) February 23, 2020
The plan for marijuana reform.
Warren's proposal is two-pronged. The first objective is to "address the disproportionate enforcement of our drug laws." Here's how she plans to accomplish that:
1. Urge Congress to pass comprehensive marijuana legalization bill such as the Marijuana Opportunity Reinvestment and Expungement (MORE) Act, which cleared the House Judiciary Committee last year. "We need full legalization, as quickly as possible," the plan states.
2. Should Congress not follow suit, Warren says she will use her executive powers to begin the process of descheduling marijuana within her first 100 days in office. The senator is promising to appoint heads of the Justice Department, Drug Enforcement Administration, Food and Drug Administration and Office of National Drug Control Policy who support legalization and says she will "direct those agencies to begin the process of delisting marijuana via the federal rule-making process." Additionally, Warren is pledging to reinstate Obama-era guidance directing federal prosecutors to generally respect local cannabis laws.
3. Expunge prior cannabis convictions. Again the candidate cites the MORE Act as an ideal vehicle for that policy change, stating that it would also "prohibit the denial of federal benefits, such as housing, because of the use or possession of, or even a past conviction for, marijuana."
4. Ensure that immigrants are not penalized over marijuana convictions or participation in a state-legal cannabis market. That's "because any equitable and just cannabis economy must also include immigrant communities," she says, slamming a Trump administration move declaring that those who use cannabis do not have the "good moral character" needed for citizenship.
5. Encourage the U.S. Department of Veterans Affairs (VA) to research the therapeutic potential of cannabis for service members and allow VA doctors to recommend medical marijuana to veterans. She is also pledging to end a current policy that blocks veterans from getting home loans "for no reason other than being employed in their state's legal marijuana industry"—an issue she recently filed Senate legislation on.
6. Deschedule cannabis to promote "serious research into the potential benefits and drawbacks of medical marijuana [that's been] largely blocked by outdated federal laws and policies"and allocate funds for such studies.
7. Lift the appropriations ban that prohibits Washington, D.C. from using its local tax dollars to implement a regulated cannabis market. While there's been widespread interest in removing the congressional rider at issue, eliminating the policy hasn't received much attention on the presidential stage until now. Warren says she will "encourage the District to develop a legal market that includes impacted communities and fulfills the racial justice goals of the original referendum" that voters approved in 2014.
8. Warren says she will "streamline and remove unnecessary administrative barriers that impede economic growth on Tribal lands, respect tribal jurisdiction over tribal businesses, and promote forward-looking efforts to ensure full access to new and emerging economic opportunities, including in the cannabis industry."
9. Respect the sovereignty of other nations that opt to legalize marijuana. The senator promises she will "support the legalization of marijuana in any nation that wishes to do so and fully support our neighbors exercising their sovereignty when it comes to their internal drug policy." She further says that U.S. officials need to "recognize the role our War on Drugs has had in destabilizing Latin America – a root cause of migration to the United States."
We can't allow affluent and mostly white hedge-funders and capital investors to hoard the profits from the same behavior that led to the incarceration of generations Black and Latino youth. We must ensure equity in accessing the cannabis industry. https://t.co/4lsPQByHli pic.twitter.com/FgjLQxeJXp

— Elizabeth Warren (@ewarren) February 23, 2020
Warren's second broad objective as described in the plan is to "prioritize opportunities in the cannabis industry for communities of color and others who were harmed by the failed policies of the past." That will involve:
1. Working to support unions, including those representing cannabis workers, to enhance collective bargaining rights. "As president, I will safeguard the organizing rights of working people and make it easier for unions to secure contracts and assert their rights in the cannabis industry," Warren says. Sen. Bernie Sanders (I-VT), another 2020 candidate, also raised this issue last month, imploring employees at a major marijuana business in Illinois to vote in favor of unionization.
2. Freeing up banks and financial institutions to service cannabis businesses. Additionally, Warren says she will direct her administration "to investigate discrimination in cannabis-related capital lending that prevents many aspiring entrepreneurs of color from securing needed loans."
3. Promoting participation in the legal industry by minorities and women—something that Warren says the MORE Act would accomplish. She also says she would "mitigate the high permitting and licensing fees that prevent many aspiring entrepreneurs of color from starting a cannabis business."
4. Preventing large corporations from overtaking the marijuana industry and working to "protect consumers by closely regulating the safety and marketing of marijuana products." Like Sanders, Warren points specifically at tobacco companies as examples of businesses that shouldn't be able to enter the market. "We'll make sure Big Tobacco can't muscle in on the fledgling marijuana industry," she says, adding that her administration will "use anti-trust laws and federal oversight to prevent consolidation in the cannabis industry that drives up prices, restricts new businesses from entering the markets, and lowers quality."
5. Allowing individuals with prior drug convictions to participate in the marijuana and hemp industries. "I will remove collateral sanctions associated with federal convictions for activity that is no longer criminalized and encourage states to do the same," the senator says.
"For four decades, we've subscribed to a 'War on Drugs' theory of crime, which has criminalized addiction, ripped apart families—and failed to curb drug use," the plan states. "Legalizing marijuana and erasing past convictions won't fully end the War on Drugs or address its painful legacy, but it's a needed step in the right direction."
My friends and colleagues @KamalaHarris and @CoryBooker have led the fight to repair the damage done by failed anti-marijuana policies. I am proud to support the MORE Act and the Marijuana Justice Act, and will continue to fight for those reforms as president.

— Elizabeth Warren (@ewarren) February 23, 2020
"As we move to harness the economic potential of a legalized cannabis industry, we must ensure that the communities that were harmed by the War on Drugs—disproportionately communities of color—are fully included in the opportunity and prosperity that legalization will create. I support investing federal and state revenue from the cannabis industry into communities that have been disproportionately impacted by enforcement of our existing marijuana laws.
"Legalizing marijuana gives us an opportunity to repair some of the damage caused by our current criminal justice system, to invest in the communities that have suffered the most harm, and to ensure that everyone can participate in the growing cannabis industry. We have an opportunity now to get this right, and I'll fight to make that happen."
Warren also calls out former House Speaker John Boehner (R-OH) in her proposal, stating that the country "cannot allow affluent and predominantly white hedge-funders and capital investors to hoard the profits from the same behavior that led to the incarceration of generations of Black and Latino youth."
"Boehner, who declared that he was 'unalterably opposed' to legalization while in Congress, now profits handsomely as a lobbyist for legalization even as others continue to live with the consequences of a prohibition he defended," she points out, referencing the former speaker's role as a board member at the cannabis firm Acreage Holdings.
Legalizing marijuana is about more than just allowing its use. It's about undoing a century of racist policy that disproportionately targeted Black and Latino communities and rebuilding the communities that have suffered the most harm. https://t.co/11E2gfl5PL

— Elizabeth Warren (@ewarren) February 23, 2020
While Warren's plan repeatedly cites the need to broadly address the harms of the broader drug war, her proposals are exclusively focused on cannabis policy changes. While she and Sanders have been strong champions of marijuana reform, drug policy advocates have emphasized the need to expand reform to other illicit substances, as former South Bend, Indiana Mayor Pete Buttigieg and Rep. Tulsi Gabbard (D-HI) have by proposing decriminalization and legalization of all illegal drugs, respectively.
In terms of her marijuana reform agenda, however, experts who spoke to Marijuana Moment recently have indicated that Warren's 100-day plan would probably be legally and practically more realistic that Sanders's most recent proposal to use an executive order to legalize marijuana in all 50 states on day one of his presidency.
While Sanders initially proposed something similar to Warren—appointing key officials within his administration who would pursue legalization during his first 100 days in office—he shifted gears last month and pledged to deschedule cannabis on his first day in the White House.
Last year, Warren laid out a criminal justice reform plan that called for marijuana reform, as well as the legalization of safe injection sites where individuals could use illicit substances under medical supervision—a move also backed by Sanders.
Warren and Sanders might have differing approaches to marijuana legalization, but what's clear is they stand in stark contrast to former New York City Mayor Mike Bloomberg and former Vice President Joe Biden, both of whom are the only contenders in the Democratic race who remain opposed to ending cannabis prohibition.
Read Warren's full marijuana plan below:
A Just and Equitable Cannabis Industry by Marijuana Moment on Scribd
House Candidate Gives Marijuana To Voters At 'First-Ever Congressional Weed Party'
Photo element courtesy of Gage Skidmore.

After New Mexico Lawmakers Fail To Pass Marijuana Legalization, Governor Says Voters Could Decide
Marijuana legalization failed to happen legislatively in New Mexico this year, but now Gov. Michelle Lujan Grisham (D) says she's open to letting voters decide on the policy change.
A bill to legalize cannabis in the state advanced through one Senate committee last month, but it was rejected by another with just days left in the legislative session, which ended on Thursday. When lawmakers reconvene in 2021, the governor said it's possible the legislature will pursue the reform move through a constitutional amendment that would be referred to voters at the ballot box.
Lawmakers would still have to vote in favor of advancing such a proposal to get it on the ballot, but it may be more palatable to some to let voters make the ultimate decision on whether to legalize marijuana in the state.
"We could," Grisham said on Thursday in response to a question about whether the state could pursue a constitutional amendment to legalize. "I mean, I'm open to any number of pathways."
She added that brining advocates and experts to the table while crafting a "regulatory design" for a cannabis market is an "incredibly transparent" process, but it also means "you get a lot of questions about how it works."
"Overwhelmingly in every county, New Mexicans believe that that's a productive economic path forward," the governor said. "My job is to keep with them, making the case and trying to the best of our ability to answer any question, deal with any conflicts and to make sure that when we do anything, our expectation is that New Mexico does it the best and that we set aside and move aside by addressing them, any unintended consequences or potential risks."
Listen to the governor's remarks on a potential marijuana legalization constitutional amendment below: 
"I'll probably do a little of both, and I have no doubt that the legislators will do that as well," she said.
A constitutional amendment to legalize marijuana was approved by a Senate committee in 2015, but it did not advance further. It was reintroduced the next year, but it didn't get a committee vote.
Grisham, who was elected in 2018, has made clear that cannabis reform is a legislative priority, including legalization in her 2020 agenda. She also discussed the need to establish a well-regulated and equitable marijuana market during her State of the State address last month.
The House of Representatives passed a bill in 2019 to legalize marijuana and let state-run stores control most sales. The proposal later advanced through one Senate committee but did not receive a floor vote. Lujan Grisham did sign a more limited bill to simply decriminalize marijuana possession that lawmakers approved during that session, however.
After legalization failed to advance last year, the governor established a working group to study the issue and make recommendations.
Following a series of hearings, the panel released a report in October that said any legalization bill should include automatic expungements of past records and provisions to ensure equity in the industry for communities most impacted by the war on drugs. It also said that home cultivation of marijuana by consumers should either be prohibited or licensed by the state.
In December, the governor's working group released a poll showing overwhelming public support for cannabis legalization.
Photo courtesy of Mike Latimer.
House Candidate Gives Marijuana To Voters At 'First-Ever Congressional Weed Party'
"Get your blunt!" Illinois Democratic congressional candidate Anthony Clark tells a voter in a newly released campaign video. "We're having a pretty dope day party."
Ahead of the state's March 21 primary election, Clark, an Air Force veteran and special education teacher in Chicago, has made marijuana a key campaign priority. On Thursday, he released a video shot at what he's calling the "first ever congressional weed party in Chicago."
"We just wanted to do something different," Clark explains in the video. "I feel like we're all out here in the struggle, we're all out here living, we're all out here grinding on a daily fucking basis."
Clark has said that he first experimented with marijuana in high school but rediscovered it as an adult after being injured in a Seattle shooting. "Weed has literally saved my life. I'm a veteran with PTSD," Clark says in the video. "It's time we changed this narrative that exists, eliminate the stigma."
Did we just make history with the first ever congressional weed party in Chicago? #legalizeit #cannabis #NotMeUspic.twitter.com/JOC0bCCfeq

— Anthony Clark for Congress (@anthonyvclark20) February 20, 2020
Adult-use cannabis sales have been legal in Illinois since January 1.
"We're gonna celebrate that, but there's still a ways to go," Clark tells party attendees, a blunt in one hand and a shot glass in the other. In Illinois, he adds, public funds are still be spent on "jailing street dealers…who are predominantly black and brown in the poor communities."
Clark's candor around his own cannabis use appears to have helped his campaign against incumbent Rep. Danny Davis (D), who's held the seat for the predominantly black district since 1997. Earlier this month, the Chicago Sun-Times endorsed Clark over Davis, saying the district "deserves a representative who is impatient to change the world, which might be Clark's best trait."
In a separate campaign video released in November, Clark smoked marijuana on camera and said he's transparent about his cannabis consumption because "if we really want to make change and we have a platform, you just have to be courageous with your platform."
"I think I have to be just as open about my cannabis use because lying to individuals, I think, plays a direct role in enabling status quo, in enabling the oppressors, the top one percent, to remain," he added.
Support candidate with a donation today fighting for:

✅ Legalization
✅ Auto vacate & expungements
✅ Reparations
✅ jobs & economic growth
✅ Expand medical & hemp
✅ End work discrimination
✅ Black, Brown, women, 🏳️‍🌈 owners/investors

⬇️ https://t.co/sNuEwNJJyN pic.twitter.com/J2vdDXRCvZ

— Anthony Clark for Congress (@anthonyvclark20) November 22, 2019
Some supporters say it was Clark's bold stance on cannabis that first got them involved in the campaign. "I first heard about Anthony Clark on Facebook," one supporter, identified as Miriam, says in the new video, "and I seen him and a group of three people smoking a blunt."
"It's ending the stigma," she says. "It's ending the harsh stigma."
Clark ran for the same congressional seat two years ago. He earned 26% of the primary vote but lost to incumbent Davis, who has generally supported cannabis amendments in Congress but hasn't made the issue a key focus for his office. This year observers expect the challenger to do even better on primary day.
Much has changed in the state since 2018, after all, especially around cannabis. Last year Illinois became the first U.S. state to legalize adult-use sales through its legislature, and state officials so far have been broadly supportive. A day before marijuana became legal, Gov. J.B. Pritzker (D), who made legalization a part of his own election campaign, pardoned more than 11,000 people with low-level cannabis convictions. When stores opened, Lt. Gov. Juliana Stratton (D) was one of the first in line to buy edibles.
At his State of the State address last month, the governor said legalization "gives us a chance to collect tax revenue from the residents of Wisconsin, Missouri, Iowa and Indiana" and provides "a second chance to hundreds of thousands of people who had a low level cannabis conviction or arrest on their record."
Licensed marijuana stores in Illinois sold $40 million worth of recreational marijuana products during the first month of legal sales. State officials say $8.6 million of that came from out-of-state cannabis tourists.
Congressional Candidate Smokes Marijuana And Talks Legalization In Campaign Video
Photo courtesy of Facebook/Anthony Clark