Congress Will Debate Two Bills To Legalize Marijuana At Hearing With DEA Witness Next Week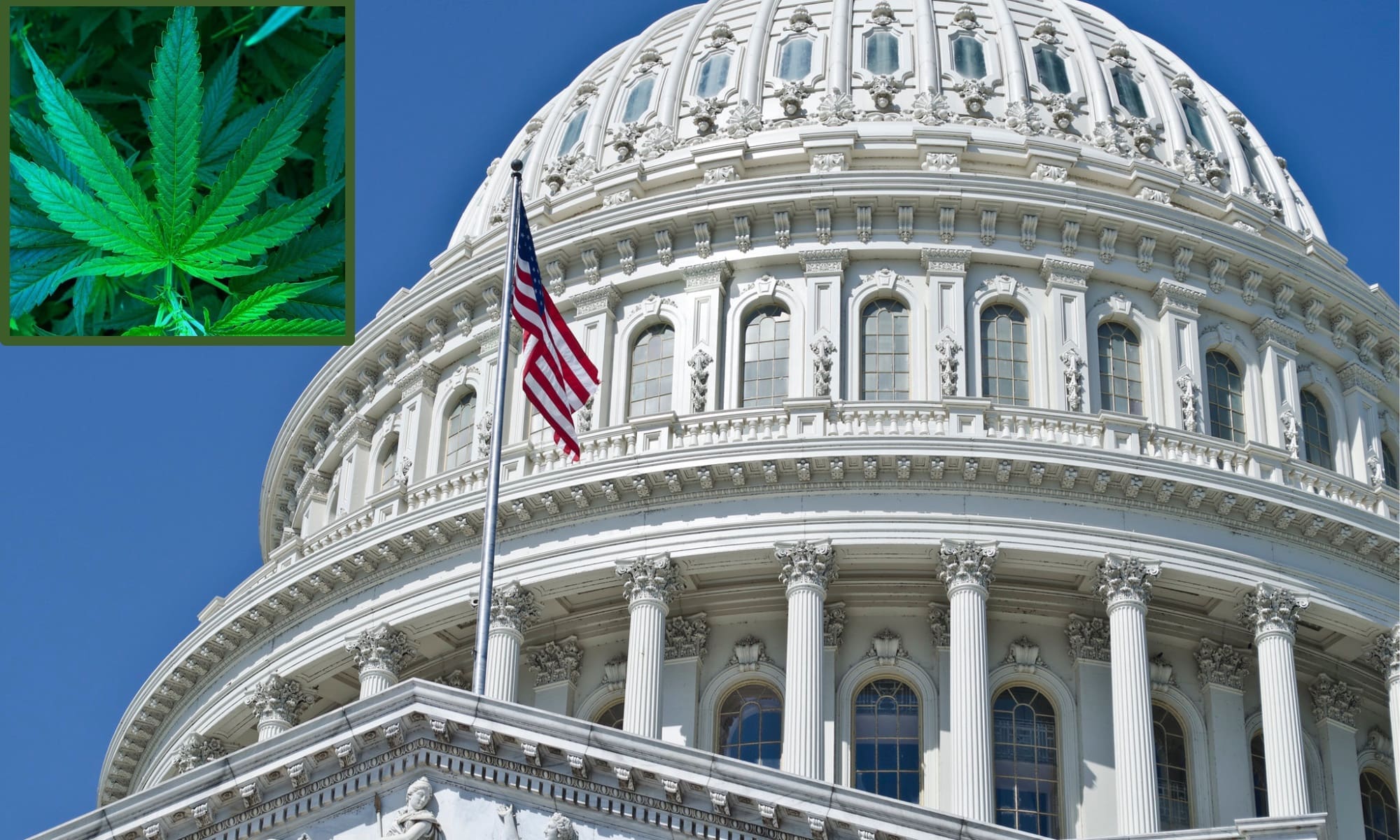 A congressional committee will debate two bills to federally legalize marijuana and several other pieces of cannabis research legislation next week, according to a briefing memo obtained by Marijuana Moment on Friday.
A House Energy and Commerce subcommittee is scheduled to hold a hearing on various reform proposals on Wednesday, with witnesses from the Drug Enforcement Administration (DEA), Food and Drug Administration (FDA) and National Institute on Drug Abuse (NIDA)  set to testify.
This comes months after the House Judiciary Committee held a historic vote approving a comprehensive legalization bill sponsored by the panel's chairman, Rep. Jerrold Nadler (D-NY). That legislation—the Marijuana Opportunity, Reinvestment and Expungement (MORE) Act—will be one of two descheduling bills the Energy and Commerce Subcommittee on Health will take up.
The memo starts by providing context on the state of cannabis policy in the U.S., outlining research restrictions imposed under the Controlled Substances Act (CSA), the legalization of industrial hemp, past petitions to reschedule cannabis and public health issues.
DEA Senior Policy Advisor Matthew Strait, FDA Deputy Director for Regulatory Programs Douglas Throckmorton and NIDA Director Nora Volkow are listed as witnesses for the hearing.
Here are the bills that the committee will consider next week: 
Marijuana Opportunity Reinvestment and Expungement (MORE) Act
The MORE Act would federally deschedule cannabis, expunge the records of those with prior marijuana convictions and impose a five percent tax on sales, revenue from which would be reinvested in communities most impacted by the drug war.
It would also create a pathway for resentencing for those incarcerated for marijuana offenses, as well as protect immigrants from being denied citizenship over cannabis and prevent federal agencies from blocking public benefits or security clearances due to its use.
Marijuana Freedom and Opportunity Act
This bill, sponsored by Rep. Hakeem Jeffries (D-NY), would federally deschedule marijuana, set aside funding for minority and women-owned cannabis businesses and provide grants to help people expunge prior marijuana convictions. Senate Minority Leader Chuck Schumer (D-NY) is the lead sponsor of a companion Senate bill.
Medical Cannabis Research Act of 2019
The Medical Cannabis Research Act, sponsored by Rep. Matt Gaetz (R-FL), would require the Justice Department to approve additional manufacturers of research-grade marijuana, protect research institutions interested in conducting studies on cannabis and authorize the U.S. Department of Veterans Affairs to inform patients about federally approved cannabis studies that they can participate in.
Medical Marijuana Research Act of 2019
A bipartisan group of House members, led by Rep. Earl Blumenauer (D-OR), introduced the bill last year. It would simplify the registration process for researchers interested in studying cannabis and allow certified scientists to obtain research-grade cannabis from private manufacturers.
Legitimate Use of Medicinal Marijuana Act
This legislation, from Rep. Morgan Griffith (R-VA), would move marijuana from Schedule I to Schedule II under the CSA and clarify that the federal government cannot "prohibit or otherwise restrict" state-legal use, possession, transportation, production and distribution of medical cannabis.
Veterans Medical Marijuana Safe Harbor Act
Rep. Barbara Lee (D-CA) is the sponsor of the Veterans Medical Marijuana Safe Harbor Act, a bill that would make it legal under federal law for military veterans to "use, possess, or transport medical marijuana" in state-legal systems. It would also allow Department of Veterans Affairs (VA) doctors to issue medical cannabis recommendations to their patients.
Read the full briefing memo on the House marijuana hearing below: 
Congressional Marijuana Hea… by Marijuana Moment on Scribd
Formerly Anti-Marijuana Congressman Cosponsors Comprehensive Legalization Bill
Image element courtesy of Tim Evanson.
Border Patrol Union Head Admits Legalizing Marijuana Forces Cartels Out Of The Market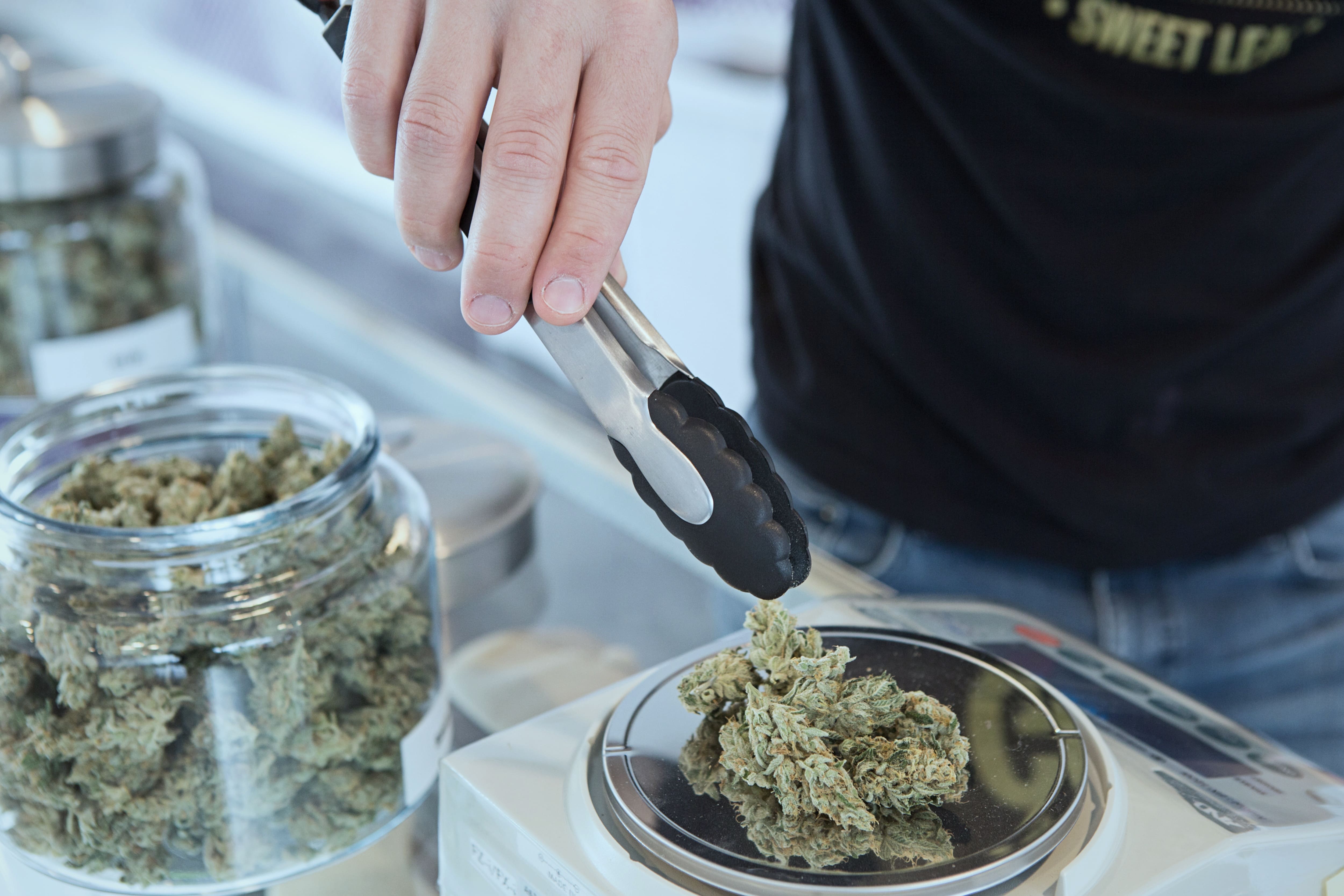 The head of the labor union that represents U.S. Border Patrol agents acknowledged on Friday that states that legalize marijuana are disrupting cartel activity.
While National Border Patrol Council President Brandon Judd was attempting to downplay the impact of legalization, he seemed to inadvertently make a case for the regulation all illicit drugs by arguing that cartels move away from smuggling cannabis and on to other substances when states legalize.
Judd made the remarks during an appearance on C-SPAN's Washington Journal, where a caller said that "the states that have legalized marijuana have done more damage to the cartels than the [Drug Enforcement Administration] could ever think about doing."
"As far as drugs go, all we do is we enforce the laws. We don't determine what those laws are," Judd, who is scheduled to meet with President Trump on Friday, replied. "If Congress determines that marijuana is going to be legal, then we're not going to seize marijuana."
"But what I will tell you is when he points out that certain states have legalized marijuana, all the cartels do is they just transition to another drug that creates more profit," he said. "Even if you legalize marijuana, it doesn't mean that drugs are going to stop. They're just going to go and start smuggling the opioids, the fentanyl."
One potential solution that Judd didn't raise would be to legalize those other drugs to continue to remove the profit motive for cartels. Former presidential candidate Andrew Yang made a similar argument in December.
Federal data on Border Patrol drug seizures seems to substantiate the idea that cannabis legalization at the state level has reduced demand for the product from the illicit market. According to a 2018 report from the Cato Institute, these substantial declines are attributable to state-level cannabis reform efforts, which "has significantly undercut marijuana smuggling."
Additionally, legalization seems to be helping to reduce federal marijuana trafficking prosecutions, with reports showing decreases of such cases year over year since states regulated markets have come online.
In his annual report last year, Supreme Court Chief Justice John Roberts also noted reduced federal marijuana prosecutions—another indication that the market for illegally sourced marijuana is drying up as more adults consumers are able to buy the product in legal stores.
Top Mexican Senator Says Marijuana Legalization Bill Will Be Approved This Month
Mike Bloomberg Attacks Marijuana Legalization In Controversial Resurfaced Recording
Before Mike Bloomberg launched his 2020 Democratic presidential bid, he really wasn't shy about his disdain for marijuana legalization.
The former New York City mayor has been widely criticized this week after a recording surfaced of him defending controversial stop-and-frisk practices and racially disparate marijuana arrests during a 2015 Aspen Institute speech. But while that short clip went viral on social media, the full audio recording from the event also features Bloomberg condemning cannabis legalization efforts at length.
Asked by an audience member about his thoughts on Colorado's decision to end marijuana prohibition, Bloomberg said, "I think it is just a terrible, terrible idea."
Some of the remarks from the talk were previously reported by The Aspen Times, such as when Bloomberg asserted that marijuana use is associated with reduced IQ among young people—something President Trump also said in a recently revealed secret recording.
"What are we going to say in 10 years when we see all these kids whose IQs are 5 and 10 points lower than they would have been?" Bloomberg told the Aspen audience. "Kids' brains are being formed while they are teenagers.
But much of his anti-cannabis commentary from the talk has not been reported until now.
"If you're my age, of course you smoked a joint in the 60s—but it was very different and just because we did doesn't make it right," the former mayor, who has previously acknowledged his own past marijuana consumption, said. "It was not easily accessible compared to today. Today it's much stronger and potentially much more damaging."
Listen to Bloomberg's anti-marijuana remarks below: 
"We are making progress in reducing smoking. We are making progress in reducing obesity and diabetes. We are making progress in reducing automobile deaths and a variety of other things," he said. But cannabis reform is going in "exactly in the other direction."
Bloomberg also disparaged the idea that a regulated market can prevent youth from accessing cannabis, stating that "even if you have a law that says we're not going to sell it to them, let's get serious: if there's more of it around, they're going to get it."
"I just can't imagine why society is doing this," he said. "I couldn't feel more strongly about it, and my girlfriend says it's no different than alcohol. It is different than alcohol. This is one of the stupider things that's happening across our country."
Erik Altieri, executive director of NORML, told Marijuana Moment that the newly revealed remarks show just how much work Bloomberg has ahead of him if he intends to reform his image as a tough-on-crime, anti-cannabis candidate.
"Bloomberg and his wealthy friends may be able to sit around and joke about how he was able to smoke a joint in the 60's and be just fine, but that is cold comfort to the over 440,000 Americans who were put in handcuffs for marijuana possession in New York City during his tenure as mayor," Altieri said. "He is painfully ignorant and out of touch with sound public policy and basic scientific facts."
"If he expects voters to treat him as anything other than an awful relic of a bygone drug war era he needs to correct himself on marijuana law reform issues immediately and somehow attempt to make amends for the countless lives he had a role in ruining," he said. "Unfortunately, given the number of other candidates vying for the presidency who are leaps and bounds ahead of him on this, that still might be too little too late for his self-funded presidential aspirations."
Bloomberg has been sharply rebuked this week over a different clip from the same 2015 recording where he defended the use of stop-and-frisk policing that disproportionately impacted communities of color.
An "unintended consequence" of targeting policing in those communities, he said, is that "people say, 'oh my god, you are arresting kids for marijuana that are all minorities.'"
"Yes, that's true. Why? Because we put all the cops in minority neighborhoods," he said. "Yes, that's true. Why do we do it? Because that's where all the crime is."
Bloomberg has taken steps since launching his campaign to pivot away from his reputation as anti-reform, voicing support for decriminalizing cannabis possession and allowing states to set their own policies.
But he continues to oppose cannabis legalization, and his past comments haven't been forgotten. A Denver-based reporter brought up the candidate's 2019 statement that legalization is  "perhaps the stupidest thing anybody has ever done" and asked whether that meant he felt Colorado voters were stupid for approving the policy change.
"Colorado has a right to do what they want to do," he replied. "I would advise going slowly to any other state because it's not clear, doctors aren't sure whether or not it's doing damage. But if a state wants to do it, and Colorado and Washington were the first two that did it, that's up to the state."
"But what I really object to is putting people in jail for marijuana," he added. "That's really dumb."
Bloomberg and former Vice President Joe Biden are the only two Democratic candidates in the 2020 race who oppose federally legalizing cannabis.
Top Pro-Trump Lawmaker: Congress Will Ignore President's Push To End Medical Marijuana Protections
Bipartisan Lawmakers Ask Colleagues To Cosponsor Medical Marijuana Research Bill For Veterans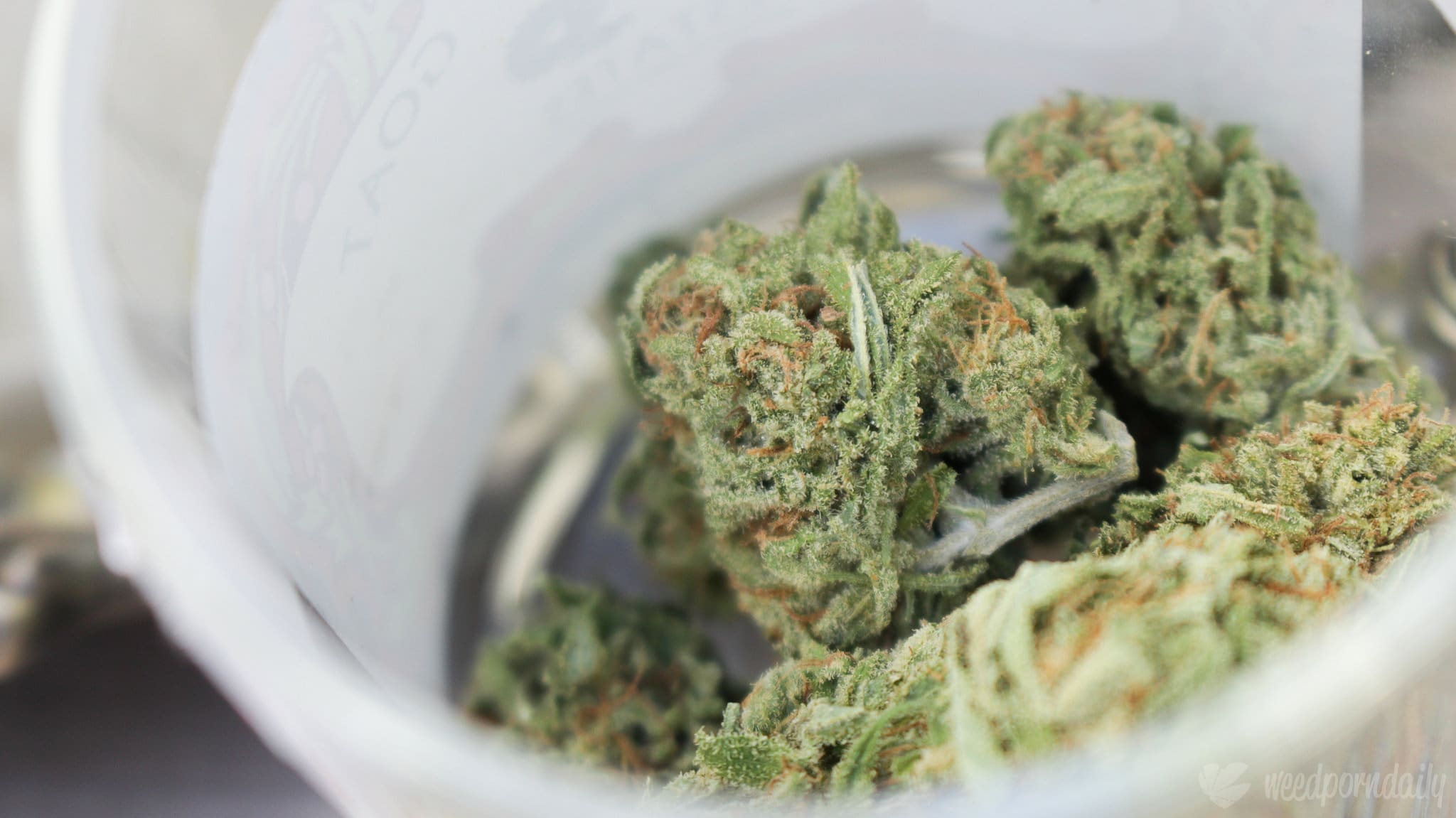 A bipartisan duo of lawmakers sent a letter to fellow members of the House this week, asking for additional cosponsors on a bill to promote research into the therapeutic potential of marijuana for veterans.
Reps. Lou Correa (D-CA) and Clay Higgins (R-LA) cited a survey from the advocacy group Iraq and Afghanistan Veterans of America (IAVA) that showed 83 percent of its members support medical cannabis legalization and 90 percent are in favor of researching medical marijuana.
"Therefore, medical research into the safety and efficacy of cannabis usage for medical purposes is timely, necessary, and widely supported by the veteran community," the lawmakers, who are the sponsors of the VA Medicinal Cannabis Research Act, wrote in the Wednesday letter.
Thank you @RepLouCorrea and @RepClayHiggins for continuing to push the VA Medicinal Cannabis Research Act. Thanks for asking Members of Congress to co-sponsor this important legislation and highlighting #IAVA's work in your letter! #CannabisForVets pic.twitter.com/loHHQmaKAj

— IAVA (@iava) February 13, 2020
That legislation currently has 102 cosponsors—representing nearly one-forth of the House's membership. It would require the U.S. Department of Veterans Affairs (VA) to conduct double-blind clinical trials on the safety and effectiveness of various forms of marijuana in the treatment of post-traumatic stress disorder and chronic pain.
"Congress made great progress in reforming our cannabis laws in 2019, proving that Americans are ready for change. Veterans deserve to be a part of this change and have their medical needs taken seriously by the Department of Veterans Affairs," Correa told Marijuana Moment. "My bill puts veterans' health front and center. With over 100 bipartisan co-sponsors, it's time to move the Medicinal Cannabis Research Act and take care of our vets."
After the bill's introduction last year, the House Veterans' Affairs Subcommittee On Health and the full panel held hearings on the issue, but it has not received a vote yet. During the subcommittee meeting, VA officials voiced opposition to the proposal, arguing that the scope of its research requirements is too large.
"As many veterans are currently using cannabis for medicinal purposes, it is important that clinicians be able to fully advise veterans on the potential impacts, harms, and benefits of cannabis use on post-traumatic stress disorder (PTSD) and chronic pain," the letter from Correa and Higgins states.
The bill would also "authorize a long-term observation study of participating veterans," require the VA to "preserve all data collected or used and require the department to submit reports on the implementation of the legislation annually for five years.
Twelve GOP Lawmakers Thank Senate Chairman For Delaying Marijuana Banking Bill
Photo courtesy of WeedPornDaily.