USDA Releases Results Of 'Benchmark' National Hemp Survey, Finding Crop Reached $824 Million In Value Last Year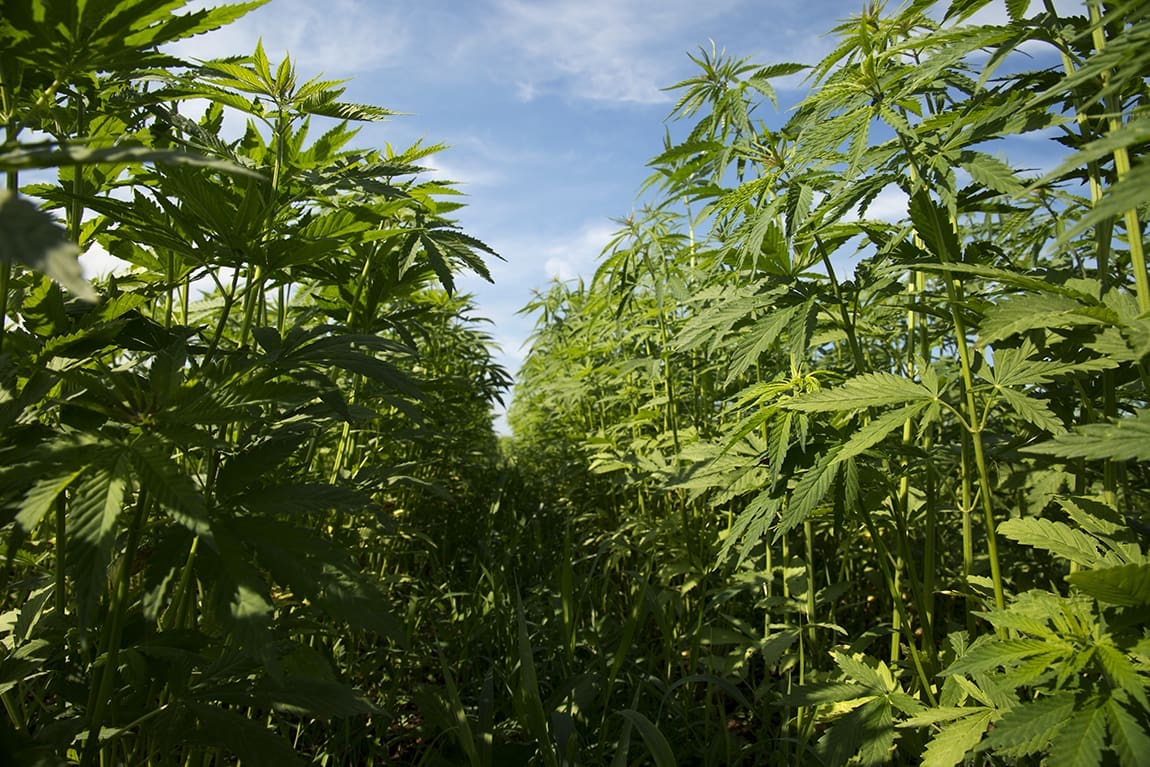 The U.S. Department of Agriculture (USDA) on Thursday released the results of a massive, first-ever federal survey on the hemp industry, providing a "benchmark" analysis of the economic impact of the burgeoning newly legal market.
At a top level, USDA's survey found that the hemp market's value reached $824 million in 2021, with about 54,200 acres grown across the country.
The Hemp Acreage and Production Survey, which was authorized by the White House last year, is based on responses from 20,501 hemp growers. USDA sought to quantify the size and scope of the market after hemp was federally legalized under the 2018 Farm Bill.
The department asked questions about plans for outdoor hemp production, acreage for operations, primary and secondary uses for the crop and what kinds of prices producers are able to bring in. The questionnaire listed preparations such as smokeable hemp, extracts like CBD, grain for human consumption, fiber and seeds as areas the department is interested in learning about.
"The release of this landmark report provides a needed benchmark about hemp production to assist producers, regulatory agencies, state governments, processors, and other key industry entities," USDA National Agricultural Statistics Service (NASS) Administrator Hubert Hamer said in a press release.
The National Hemp Report is officially here. Find stats on the acreage, yield, production, price, and value of hemp in the United States. https://t.co/ywgA8tJo7x pic.twitter.com/dqS50P4Ctk

— National Agricultural Statistics Service (@usda_nass) February 17, 2022
"Not only will these data guide USDA agencies in their support of domestic hemp production, the results can also help inform producers' decisions about growing, harvesting, and selling hemp as well as the type of hemp they decide to produce," he said. "The survey results may also impact policy decisions about the hemp industry."
A NASS representative said that the plan is to produce these survey reports annually, but that's contingent on funding being available.
The industry figures detailed in the new report might seem substantial given how young the federally legal hemp industry is, but stakeholders who have been following market trends say the USDA numbers actually signal a decline that's resulting from a lack of regulations around hemp-derived cannabinoid products and other federal restrictions.
The report breaks down the different ways that hemp processors are utilizing the crop—for fiber, grain, flower and seed, for example. Most of the acreage (16,000 acres) and value ($623 million) came from floral hemp, which can be processed to make popular products like CBD oil.
Stakeholders maintain that this segment of the hemp economy could be significantly bolstered with certain federal reforms, including the passage of a newly filed bill from Rep. Chellie Pingree (D-ME). The lack of federal regulations around marketing hemp-derived cannabinoid products could also be inhibiting the flower-based hemp market.
USDA's NASS took questions on the new survey results during a Twitter Q&A on Thursday. Asked by Marijuana Moment about the flower market impact resulting from the lack of CBD regulations, which would be under the jurisdiction of the Food and Drug Administration (FDA), the division said that "we are focused on how much was produced, price & value, etc. We don't speculate on the 'why' issues."
Here at @usda_nass we are focused on how much was produced, price & value, etc. We don't speculate on the "why" issues. #StatChat LH

— National Agricultural Statistics Service (@usda_nass) February 17, 2022
Jonathan Miller, general counsel for the U.S. Hemp Roundtable, told Marijuana Moment that the USDA survey and other non-governmental reports "are demonstrating a steep decline in hemp production and commodity prices nationwide."
As an example, a report from the advocacy group VoteHemp that was released in January 2019 found that the acreage of hemp cultivated in the U.S. in 2018 was around 78,000—about 24,000 acres more than what USDA is reporting for 2021. But it should be noted that differences in methodology between the group's report and the new federal survey could partly account for that sizable disparity.
"The causes are clear: the lack of regulatory framework for CBD products combined with the burdensome testing and THC requirements for growers and processors," Miller said. "Congress needs to act by passing common sense legislation to regulate CBD."
Larry Farnsworth, a spokesperson for National Industrial Hemp Council (NIHC), told Marijuana Moment that there's also a significant disparity between the acreage of hemp planted and harvested in many states, which may be attributable to USDA's strict rules on THC limits and "certainly helps bolster the case for raising the THC threshold."
Pingree's recently filled bill, the Hemp Advancement Act, would accomplish that. Among other policy reforms, her measure would raise the legal THC threshold for hemp products from the current 0.3 percent to one percent on a dry weight basis.
Last year, Reps. Kurt Schrader (D-OR) and Morgan Griffith (R-VA) filed a separate bill aimed at allowing hemp and CBD derived from the crop to be marketed and sold as dietary supplements.
In the Senate, Sens. Ron Wyden (D-OR), Rand Paul (R-KY) and Jeff Merkley (D-OR) introduced a bill that would similarly exempt "hemp, hemp-derived cannabidiol, or a substance containing any other ingredient derived from hemp" from certain restrictions that have blocked the emergence of legal consumable hemp products while the FDA has slow-walked regulations.
Paul also filed separate legislation last year that would triple the concentration of THC that hemp could legally contain while addressing multiple other concerns the industry has expressed about the federal regulations.
Separately, USDA announced last month that it will be partnering with Cornell University on a webinar series to promote education about hemp as the industry evolves.
The agency also recently said that it has taken steps to improve insurance policies for hemp businesses, making them more flexible in response to stakeholder feedback.
USDA has taken a number of steps to align hemp insurance policies with those of other lawful crops since the plant was federally legalized under the 2018 Farm Bill, consistently seeking out input from stakeholders as the industry matures.
In 2020, for example, the department made it so hemp farmers can qualify for Multi-Peril Crop Insurance, in addition to several other coverage programs for which the crop is now eligible.
USDA said last year that it is teaming up with a chemical manufacturing company on a two-year project that could significantly expand the hemp-based cosmetics market.
Meanwhile, the U.S. Department of Energy (DOE) announced in August that it is sponsoring a project to develop hemp fiber insulation that's designed to be better for the environment and public health than conventional preparations are.
South Dakota Lawmakers Approve Marijuana Legalization And Taxation Bills In Committee
Photo courtesy of Brendan Cleak.