Industrial Hemp Cultivation Exploded In The U.S. Last Year, Report Shows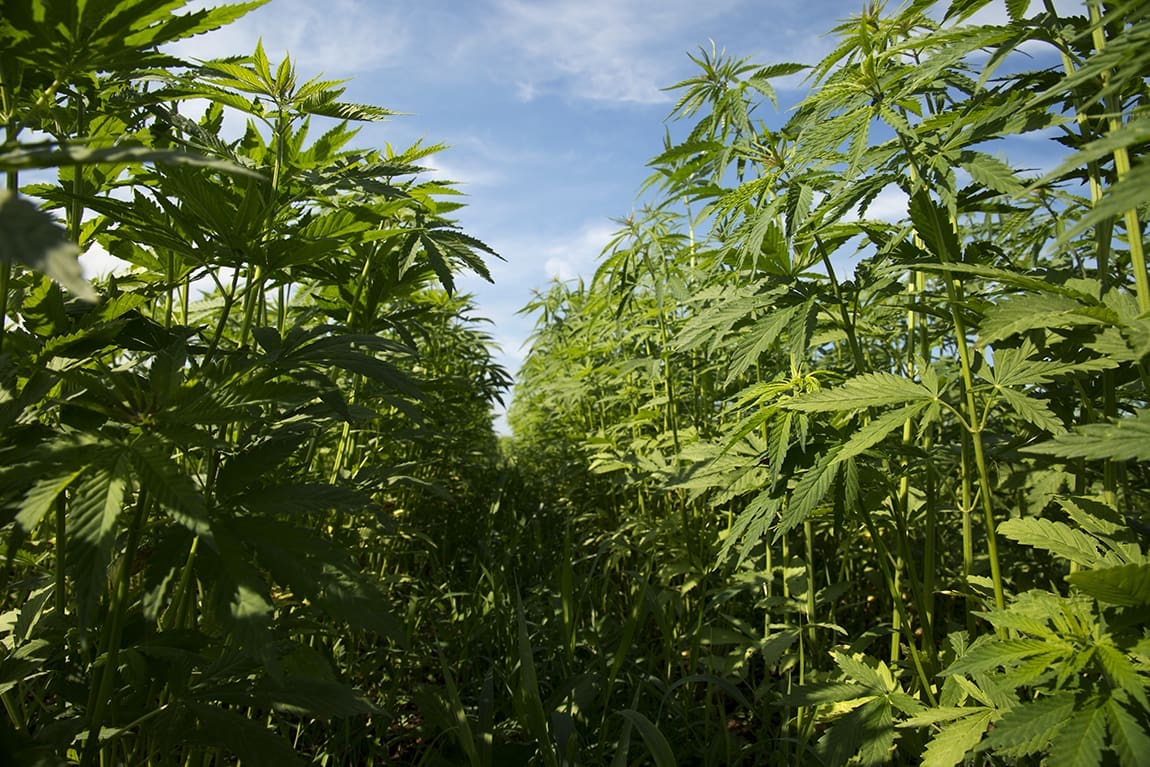 Industrial hemp production significantly increased in the U.S. in 2018, with farmers cultivating three times as many acres of the crop as compared to the pervious year, according to a report released on Monday.
Farmers grew more than 78,000 acres of legal hemp last year, the advocacy group VoteHemp reported. In 2017, they grew about 26,000 acres and in 2016, the total was just under 10,000 acres.
But while those are impressive gains—the product of a growing number of state-level reform policies that expanded the pool of farmers licensed to grow hemp and universities authorized to research it under a previous Farm Bill passed in 2014—expect another massive surge in 2019 thanks to hemp's outright legalization through the new Farm Bill signed by President Trump last month.
The hemp provisions remove the crop from the Controlled Substances Act, shift regulatory responsibility to the U.S. Department of Agriculture from the Justice Department and allow hemp farmers to qualify for benefits like crop insurance.
The legislation is a game-changer in terms of production estimates, advocates say.
"Sales of hemp products have been growing at a double digit pace for several years and demand for CBD has been phenomenal," Eric Steenstra, president of Vote Hemp, the industry group that created the report, told Marijuana Moment. "Now that hemp has been removed from the Controlled Substances Act, we expect demand for American hemp to continue to increase and project that at least 125,000 acres of hemp will be planted nationally in 2019."
Last year, five new states established pilot hemp programs under the earlier version of the wide-ranging federal agriculture legislation. And most states that already had programs in place saw their production increase significantly from 2017 to 2018. That's especially true of Montana, which led the nation in hemp cultivation last year with 22,000 acres grown—a 4,000 percent increase compared to 2017.
The former leader of hemp cultivation in the U.S. was Colorado, whose new governor said this month that investing in the hemp industry will be one of his administration's priorities.
"With our world class universities like Colorado State and Adams State, which are at the forefront of hemp innovation with the leading hemp manufacturers and cultivators already here, we want to seize on this opportunity under the most recent national Farm Bill to help make Colorado the national leader in industrial hemp production," Gov. Jared Polis (D) said in his State of the State address.
Steenstra also said in a press release that the end of hemp prohibition means "it's time to invest our energy in expanding hemp cultivation and the market for hemp products across the country so that all can reap the benefits of this versatile, historic American crop."
Photo courtesy of Brendan Cleak.
Square Quietly Launches Program For CBD Cannabis Company Credit Card Processing
Companies that sell cannabis products—even those consisting of CBD derived from hemp, which was legalized in the U.S. through the Farm Bill late last year—are continuing to have trouble accessing basic financial services that are available to businesses in other sectors. That includes being able to maintain bank accounts and process their customers' credit cards.
The latter problem could be solved under a new pilot program that has quietly been launched by the payment processing service Square.
Please visit Forbes to read the rest of this piece.
(Marijuana Moment's editor provides some content to Forbes via a temporary exclusive publishing license arrangement.)
Facebook Uses Marijuana And Broccoli To Show Off Its AI Tech
Marijuana buds and tempura broccoli can look oddly similar out of context, but Facebook's artificial intelligence (AI) technology can tell the difference.
At its annual developers conference on Wednesday, Facebook CTO Mike Schroepfer discussed how the social media giant is able to leverage visual AI to spot "policy-violating content," including advertisements to sell cannabis on the platform. He explained the process by comparing images of the fried vegetable next to marijuana buds, which he described as the "most benign possible example" of prohibited content he could find.
How Facebook flags marijuana on the social network. #F82019 pic.twitter.com/on62gJ3Y2e

— Queenie Wong (@QWongSJ) May 1, 2019
Five years ago, the company relied on "behavioral signals" to catch people advertising cannabis—things like whether the advertiser has been "caught for doing bad stuff before" or whether they used "obvious words" like "marijuana" or "drugs" in the post. But as AI advanced, Facebook developed a system that could visually distinguish cannabis from other miscellaneous items.
To drive the point home, Schroepfer put both images on the screen and challenged the audience to differentiate them.
Audience participation at #f8. Which of these is tempura broccoli and which is marijuana? Facebook's vision algorithms can tell pic.twitter.com/tITTU8EdF4

— Tom Simonite (@tsimonite) May 1, 2019
A few people thought the tempura broccoli was marijuana, but most seemed to get it right. The visual algorithm was 94 percent sure that the marijuana was, in fact, marijuana, and 88 percent sure that the other image was the broccoli.
A very high tech discussion on which of these images AI would consider to be marijuana or tempura broccoli (spoiler: it's broccoli on the right) #f82019 pic.twitter.com/nNk3sdTV2M

— john colucci (@johncolucci) May 1, 2019
For Facebook, the technology offers a convenient way to streamline its policy enforcement efforts. But for many cannabis reform groups and media companies that run Facebook accounts, the presentation is a window into an ongoing frustration.
The ban on content promoting the sale of federally illicit drugs has had collateral consequences for pages that post noncommercial marijuana material such as news outlets like Marijuana Moment and state regulatory bodies like the Massachusetts Cannabis Control Commission. These pages have at times been hidden from search results (a technique referred to as "shadowbanning") because the algorithm isn't able to accurately differentiate commercial advertisements from cannabis-related news articles, for example.
Marijuana influencers and state-legal cannabis businesses have long complained about having their accounts on the Facebook-owned Instagram platform temporarily disabled or permanently blocked for depicting cannabis or advertising their services.
A policy change may be on the horizon, as the company said in March that it wants "to consider whether we can loosen this restriction, especially in relation to medical marijuana, legal marijuana and brick and mortar stores." But for the time being, Facebook will continue to enforce the policy, and it hasn't provided a status update on that front at the conference so far.
"It's against our policies because it's against U.S. federal law, so you can't advertise marijuana on Facebook," Schroepfer said.
People Searched For A Certain Cannabis Product A Lot In 2018, Google Says
Photo courtesy of Facebook.
FDA Sends Warnings To Three Companies Selling CBD Products
At the same time that the Food and Drug Administration (FDA) is working to create a regulatory framework for hemp-derived CBD, it's also cracking down on companies that are in its view irresponsibly marketing CBD products and making unsanctioned claims about their medical benefits.
FDA announced on Tuesday that it and the Federal Trade Commission sent warning letters to three such companies last month: PotNetwork Holdings in Florida, Nutra Pure in Washington state and Advanced Spine and Pain in New Jersey. The letters were sent "in response to their making unsubstantiated claims related to more than a dozen different products and spanning multiple product webpages, online stores and social media websites," FDA Commissioner Scott Gottlieb said in a press release.
In a Twitter thread, the commissioner added that he was "concerned to hear recently that several national pharmacy chains and other major retailers have begun to sell or will soon begin to sell" CBD products and that the agency will "be contacting them to remind them of #FDA obligations and our commitment to protect consumers against products that can put them at risk."
CVS and Walgreens both recently announced they will begin selling CBD-infused products.
We'll be contacting them to remind them of #FDA obligations and our commitment to protect consumers against products that can put them at risk.

— Scott Gottlieb, M.D. (@SGottliebFDA) April 2, 2019
In the press release about the warning letters his agency has already sent to CBD companies, Gottlieb asserted that they used their websites to "make unfounded, egregious claims about their products' ability to limit, treat or cure cancer, neurodegenerative conditions, autoimmune diseases, opioid use disorder, and other serious diseases, without sufficient evidence and the legally required FDA approval."
At the same time, the warning letters announced today make clear that #FDA has and will continue to monitor the marketplace and use our authorities to take action against companies illegally selling these types of products when they are putting consumers at risk

— Scott Gottlieb, M.D. (@SGottliebFDA) April 2, 2019
FDA is hustling to provide manufacturers guidelines on marketing cannabidiol following the federal legalization of hemp last last year, but the process is complicated by the fact that CBD is the active ingredient in an FDA-approved drug, Epidiolex, and remains the subject of intensive clinical testing. Gottlieb has indicated that it will take years to develop a regulatory plan for CBD without further congressional action.
In the meantime, companies that continue to choose to engage in CBD commerce should be wary about making health claims about their products. The commissioner said FDA has "limited resources" for enforcement operations, but it would take action against companies that make "over-the-line" statements.
In the press announcement, FDA listed some of the unauthorized claims that the three companies made. For example, the products were touted as being able to treat cervical cancer, Alzheimer's disease and substance use disorder.
"I believe these are egregious, over-the-line claims and we won't tolerate this kind of deceptive marketing to vulnerable patients," Gottlieb said. "The FDA continues to be concerned about the proliferation of egregious medical claims being made about products asserting to contain CBD that haven't been approved by the FDA, such as the products and companies receiving warning letters today."
"Selling unapproved products with unsubstantiated therapeutic claims can put patients and consumers at risk," he said. "These products have not been shown to be safe or effective, and deceptive marketing of unproven treatments may keep some patients from accessing appropriate, recognized therapies to treat serious and even fatal diseases."
Questions about what constitutes an unauthorized claim that would put a company at risk of enforcement action will likely come up at the agency's just-announced public hearing CBD issues on May 31. Stakeholders are invited to submit information about the public safety impacts of CBD and how to manufacture and market products that contain the cannabis compound.
This piece was updated to include Gottlieb's tweets about national pharmacy chains.
Photo courtesy of Nicholas C. Morton.