Square Quietly Launches Program For CBD Cannabis Company Credit Card Processing
Companies that sell cannabis products—even those consisting of CBD derived from hemp, which was legalized in the U.S. through the Farm Bill late last year—are continuing to have trouble accessing basic financial services that are available to businesses in other sectors. That includes being able to maintain bank accounts and process their customers' credit cards.
The latter problem could be solved under a new pilot program that has quietly been launched by the payment processing service Square.
"Square is currently conducting an invite-only beta for some CBD products," a spokesperson for the company said in an email.
When asked about the reasons for the launching the new program, which comes after years of refusing to work with CBD companies, the spokesperson said that the company closely watches evolving public policies and strives to create new opportunities for clients.
Thanks for checking in, but we're not able to support sales of CBD at this time. This Support Center article has more information: https://t.co/KMgsu6cP6l. Send us a DM if you have any questions about this. https://t.co/1BxE8pERcm

— Square Support (@SqSupport) October 19, 2018
Unfortunately, Square is currently unable to support the sale of these products. If Square becomes able to support businesses selling CBD, we will announce it.

— Square Support (@SqSupport) December 13, 2018
In any case, Square's beta effort comes just at the right time for businesses in the growing CBD space. This month, US Bank subsidiary Elavon, which has until recently handled payment processing for companies selling products with the non-intoxicating cannabis compound, is moving to shutter those accounts.
Last week, Rep. Andy Barr (R-KY) pressed federal financial regulators about the issue during a hearing.
"I've had constituent businesses tell me that their access to financial products, specifically card services, have actually deteriorated since we descheduled industrial hemp in the Farm Bill," he said. "This obviously conflicts with congressional intent."
In April, Senate Majority Leader Mitch McConnell (R-KY) and Sen. Ron Wyden (D-OR)—who together championed hemp's legalization through the Farm Bill, sent a series of letters to various federal agencies pushing for new guidance about financial services access for hemp businesses.
"While some financial institutions have agreed to offer financial products to the growing hemp industry, many of them have not due to confusion over the legal status of hemp," the bipartisan duo wrote. "However, as hemp is no longer a controlled substance, financial institutions should feel secure in engaging with this industry."
Square's entry into the CBD space comes as federal legislation to allow broader access to financial services for marijuana businesses is gaining momentum in Congress.
In March, the House Financial Services Committee voted 45 to 15 to approve a bill to shield banks from being punished by federal regulators for working with state-legal marijuana businesses. That legislation now has 184 cosponsors—significantly more than a third of the chamber's membership, and a floor vote is expected within the next several weeks.
A companion Senate bill has 29 lawmakers signed on, but Banking Committee Chairman Mike Crapo (R-ID) has so far refused to commit to even holding a hearing on the proposal.
But outside groups that do not traditionally support marijuana law reform are exerting pressure on Congress to act.
On Monday, bankers associations from all 50 states sent a joint letter urging Crapo to move the cannabis financial services legislation forward.
Earlier this month, members of the National Association of Attorneys General, which represents the top law enforcement officials in each state, sent a similar letter endorsing the marijuana banking bill.
And last week, The National Association of State Treasurers adopted a resolution supporting a legislative fix, writing that "cash-based systems are inefficient, expensive, and opaque, making illicit activity more difficult to track and posing a significant risk to public safety by increasing the likelihood of violent crime."
While this story was being reported on Tuesday, the website New Consumer published an early report about Square's move, citing an unnamed industry source.
Morgan Fox, media relations director for the National Cannabis Industry Association, praised the Square for taking the step.
"Forward-thinking companies are stepping in to fill the gap created by outdated federal banking policies, and helping address the problems caused by a lack of financial services in the cannabis industry," he said. "Lawmakers should take heed and open this space to all financial institutions."
Congressional Committee Asks JUUL For Documents On Marijuana Partnerships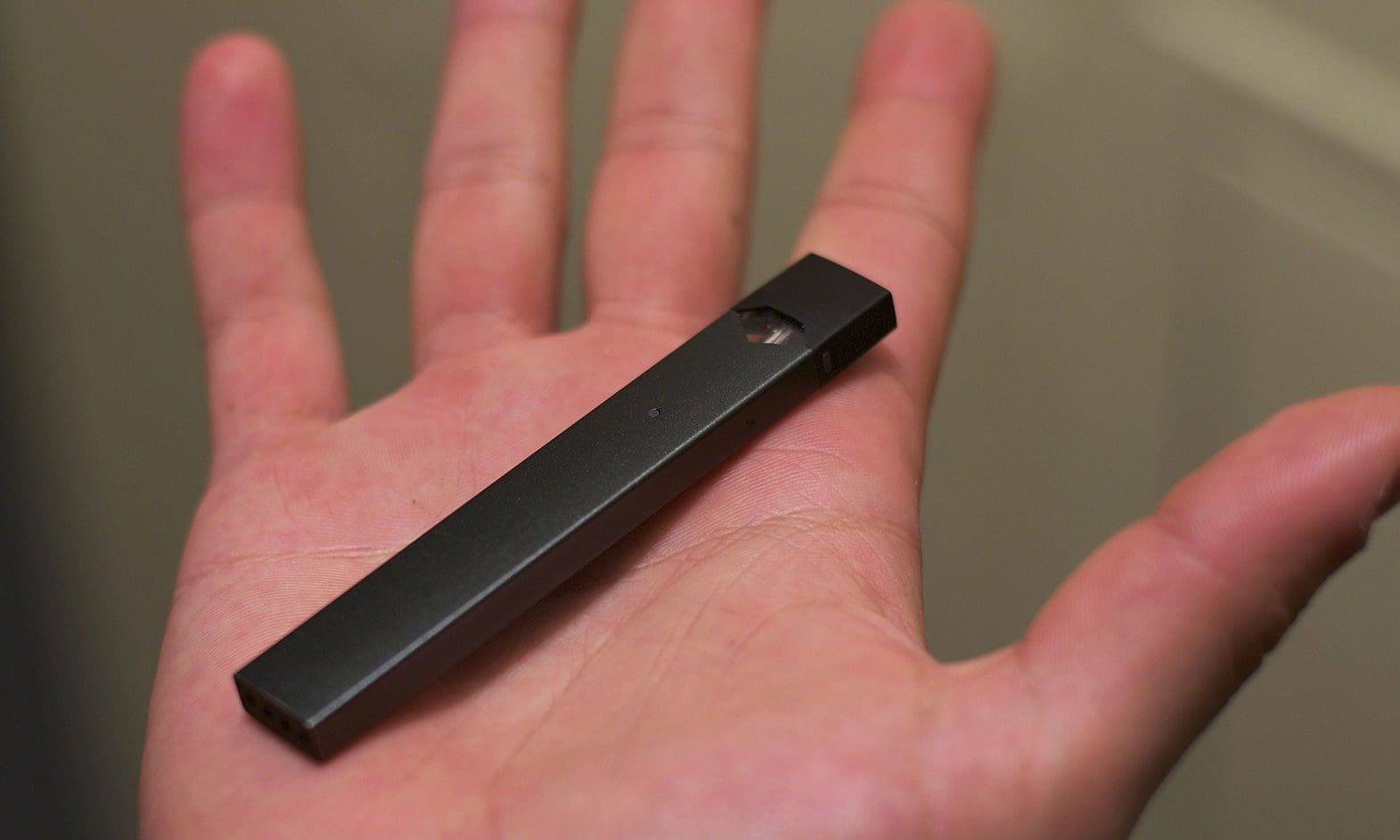 Is the e-cigarette company JUUL planning on expanding its stake in the marijuana industry?
That's one question the chair of a congressional subcommittee asked the company in a letter concerning JUUL's role in the "youth e-cigarette epidemic" earlier this month.
Lawmakers have frequently criticized JUUL for making products—specifically flavored e-cigarette cartridges—that allegedly appeal to young people at a time when rates of cigarette use are steadily declining. But while JUUL was developed by the cannabis vaporizer company PAX, it hasn't announced plans to further partner with marijuana companies.
Rep. Raja Krishnamoorthi (D-IL), who chairs the House Subcommittee on Economic and Consumer Policy, apparently sees the possibility on the horizon, though.
In a letter sent to JUUL on June 7, the congressman said his panel was investigating youth e-cigarette usage and, specifically, how the company's marketing tactics might be exacerbating the issue. He requested documents on everything from clinical trials on how JUUL devices divert people away from traditional cigarettes to communications on the company's rationale for the nicotine concentration of JUUL pods.
Tucked within the extensive request is a question about potential marijuana partnerships. Krishnamoorthi asked for:
"All documents, including memoranda and communications, referring or relating to proposals, plans, and/or intended partnerships or collaborations between JUUL and any cannabis-related companies, including but not limited to Cronos Group."
It's not clear where the Cronos-specific mention comes from, but the company has perviously caught the interest of the tobacco industry. The maker of Marlboro cigarettes, Altria Group, invested almost $2 billion in the Canada-based cannabis company in December. Two weeks later, Altria invested $13 billion in JUUL.
Marijuana Moment reached out to JUUL, Cronos and Krishnamoorthi's office for comment, but representatives did not respond by the time of publication.
If a partnership does emerge, it would likely be met with some controversy, as opponents and proponents of marijuana reform alike have long expressed concern that the tobacco industry would take over the cannabis market and commercialize it in a way that mirrors how it peddled cigarettes.
Of course, given that tobacco use is declining and tobacco companies generally have the infrastructure that would make a pivot to cannabis relatively simple, such a partnership would not be especially surprising.
Senate Majority Leader Mitch McConnell (R-KY) has made the case several times that tobacco farmers in his state could leverage the federal legalization of industrial hemp and its derivatives by growing the crop to offset profit losses from declining tobacco sales.
Read Rep. Krishnamoorthi's full letter to JUUL below:
2019-06-07.Krishnamoorthi t… by on Scribd
Photo courtesy of Wikimedia.
Google Announces Ban On Marijuana Apps In Android Play Store
Apps that help connect people with marijuana products are not welcome anymore in the Google Play store, the company announced in a policy update on Wednesday. That includes apps that facilitate cannabis transactions in states where it's legal.
The updated policy section states that Google Play doesn't "allow apps that facilitate the sale of marijuana or marijuana products, regardless of legality." Previously the page didn't include any specific mention of cannabis.
The revised guidelines go on to list descriptions of "common violations." Apps can't allow users "to order marijuana through an in-app shopping cart feature," help users "in arranging delivery or pick up of marijuana" or facilitate the "sale of products containing THC."
A google spokesperson explained the change in an email to Marijuana Moment, adding that affected companies can take advantage of a simple workaround.
"These apps simply need to move the shopping cart flow outside of the app itself to be compliant with this new policy," the spokesperson said. "We've been in contact with many of the developers and are working with them to answer any technical questions and help them implement the changes without customer disruption."
The spokesperson also said that the company recognizes the popularity of cannabis-related apps and hopes they will remain in the Play Store under the amended rules. Google is working directly with developers of affected apps, the spokesperson said.
Another new section of the policies stipulates that apps "that facilitate the sale of tobacco (including e-cigarettes)" are prohibited. Apps that help consumers purchase alcohol are apparently allowed, but not those that "encourage the irresponsible use of alcohol or tobacco."
The update was first reported by Android Police, which also noted that Apple has previously banned marijuana-related apps such as the social networking platform MassRoots. But Apple lifted that ban in 2015 and has since taken a relatively hands-off approach to the issue.
Some of the best-known cannabis apps—Weedmaps and Eaze—are still available for download on Google Play as of the time of publication. But insiders believe that their essential functions (i.e. the ordering services) will have to be deactivated. Weedmaps alone has been installed more than one million times to date, and more than 50,000 users have downloaded Eaze.
Android Police reported that Google will be working with affected app developers to resolve any compliance issues over the next month.
In a blog post on Wednesday, Google said that it was generally making a series of policy changes to ensure that its app store serves as "a positive, safe environment for children and families." As TechCrunch pointed out, this comes about five months after Google Play was the subject of an FTC complaint, which alleged that the company wasn't doing enough to vet apps that appear in the kids section.
The tech industry has had a strained relationship with marijuana businesses, even as a growing number of states have decided to legalize and regulate the sale of cannabis.
Facebook, which recently showed off its artificial intelligence technology that's capable of identifying images of marijuana, continues to prohibit the commercial advertising of cannabis products, regardless of the legality of the business under state law.
Noncommercial cannabis news sites such as Marijuana Moment and state regulatory bodies like the Massachusetts Cannabis Control Commission have also been caught up in the anti-marijuana policy despite the fact that they do not promote or sell cannabis products. In some cases, it appears these organizations have been hidden from appearing in search results—a practice known as "shadowbanning."
The online shopping site eBay also gave cannabis consumers some bad news this week, clarifying that CBD products will continue to be banned globally regardless of individual country laws on the compound.
"Eaze connects adults only to licensed, regulated cannabis retailers," Elizabeth Ashford, senior director of corporate communications for Eaze, said in an email. "Google's decision is a disappointing development that only helps the illegal market thrive, but we are confident that Google, Apple and Facebook will eventually do the right thing and allow legal cannabis companies to do business on their platforms. We regret any inconvenience this may cause for customers and patients."
"Prohibition is over," she added. "Voters across the country have legalized cannabis."
Marijuana Moment also reached out to Weedmaps for comment but the company has not yet provided a statement reacting to the Google policy change.
On the flip side, at least one major tech company is testing the regulatory waters after hemp and its derivatives were legalized under the 2018 Farm Bill. The payment processing service Square announced last week that has launched a pilot program designed to give businesses that sell hemp-derived CBD products access to credit card processing services as an alternative to traditional financial institutions that remain wary of working with the industry.
Marijuana might be banned from Google's app market, but just last year it seemed the company's executives were pretty bullish about loosening cannabis laws. Google co-founder Sergey Brin joked about supplying employees with joints at a post-election meeting in September.
"I was asking if we could serve joints outside on the patio, but apparently these things take a little while to take effect," Brin said, referring to the implementation of California's cannabis legalization measure. "It was a huge, huge disappointment. I've been bemoaning that all week, I'll be honest with you."
Disclosure: Weedmaps and Eaze are Marijuana Moment advertisers/sponsors.
This story was updated to include comment from Google and Eaze.
Google Execs Told Marijuana Jokes To Lighten The Mood After Trump's Election, Leaked Video Shows
Photo courtesy of Rick Proctor.
eBay Says It Will Continue To Ban People From Selling CBD Products
The massive online shopping site eBay says CBD products will continue to be banned globally on its platform, even as other companies like the payment processor Square are working to make it simpler to market hemp-derived goods.
In response to a tweet complaining about cannabidiol oil being removed from the site, the company said last week that the "sale of CBD products is highly regulated in many countries," and while "they may be legal to buy and sell in some countries, they are regulated by the FDA and enforced by some law enforcement agencies."
The sale of CBD products is highly regulated in many countries. While they may be legal to buy and sell in some countries, they are regulated by the FDA and enforced by some law enforcement agencies. For this reason, we have decided to prohibit the items globally. Mary

— Ask eBay (@AskeBay) May 24, 2019
"For this reason, we have decided to prohibit the items globally," an eBay representative wrote.
Compare that stance to the recent announcement from Square, which said last week it has launched a pilot program designed to give CBD businesses access to credit card processing services—something that some companies say they continue to struggle with even though hemp was federally legalized via the 2018 Farm Bill.
A quick search of eBay does turn up several listings for CBD products, including oils, gummies and lotions. But as far as the company is concerned, those sellers are violating a policy that has been a source of frustration for CBD consumers for years.
Community forums discussing the platform's CBD ban go back to at least 2015, with many challenging eBay's rationale. But it is the case that while Congress and President Trump acted to legalize hemp and its derivatives late last year, FDA does maintain regulatory authority over CBD and has said it's currently unlawful to market the cannabis-derived compound as a food item or dietary supplement.
However, FDA is holding a public meeting on Friday to further discuss alternative regulatory pathways that may eventually allow people to sell hemp-derived CBD products. Former FDA Administrator Scott Gottlieb has indicated that the issue may have to be resolved through further congressional action.
But until then, large companies are testing the waters, with companies like CVS Pharmacy saying they will begin selling CBD products in spite of existing federal restrictions.
It doesn't appear that eBay competitor Amazon has commented on their policy on selling CBD products, but again, a search of the site reveals thousands of hits for a wide range of hemp-based items.
TSA Updates Marijuana Rules To Allow Hemp-Derived CBD On Flights
Photo courtesy of Pixabay.