Majority Of State Attorneys General Tell Congress To Pass Marijuana Banking Bill
The top law enforcement officials from 38 U.S. states and territories are calling on Congress to pass legislation to increase marijuana businesses' access to banks. The move comes just days after the treasurers of 17 states issued a separate call in support of the pending cannabis financial services bill.
Even as a growing number of states adopt laws to legalize marijuana for medical or recreational use, federal prohibition remains intact—for now—and that makes many banks wary of maintaining accounts for cannabis growing, processing or retail operations. They could, they fear, be prosecuted under federal money laundering laws.
Legislation to shield financial services providers from being punished by regulators for working with the cannabis industry has been gaining momentum in Congress, and now the effort is getting a boost from the National Association of Attorneys General, which is officially endorsing the bill.
"Businesses are forced to operate on a cash basis. The resulting grey market makes it more difficult to track revenues for taxation and regulatory compliance purposes, contributes to a public safety threat as cash-intensive businesses are often targets for criminal activity, and prevents proper tracking of billions in finances across the nation," the attorneys general wrote in a letter to congressional leaders on Wednesday.
@COAttnyGeneral leads coalition of 38 state/territory AGs calling on #Congress to pass @RepPerlmutter's bill allowing #cannabis companies to access banks w/o fear of federal repercussions. @NatlAssnAttysGn has adopted this position as official policy.https://t.co/6kr60PamhQ

— CO Attorney General (@COAttnyGeneral) May 8, 2019
"[R]regardless of how individual policymakers feel about states permitting the use of medical or recreational marijuana, the reality of the situation requires federal rules that permit a sensible banking regime for legal businesses," the officials wrote.
In March, the House Financial Services Committee approved the marijuana banking bill in a bipartisan vote of 45 to 15. The legislation, sponsored by Rep. Ed Perlmutter (D-CO), now has 173 cosponsors—substantially more than a third of the entire chamber's membership. It is expected to be considered on the House floor within the next several weeks.
"The SAFE Banking Act is about public safety, accountability and respecting states' rights. I appreciate the overwhelming support of the attorneys general and treasurers," Perlmutter said in a statement. "Their endorsement of the SAFE Banking Act underscores the need to respect states' rights on this issue and make our communities safer by allowing the marijuana industry and related businesses access to the banking system."
The support of our nation's attorneys general and state treasurers underscores the need to respect states' rights on this issue and make our communities safer by allowing the marijuana industry and related businesses access to the banking system. #SAFEBanking https://t.co/B1GpOUIoNK

— Rep. Ed Perlmutter (@RepPerlmutter) May 8, 2019
An identical companion bill on financial services for cannabis businesses in the Senate has 25 lawmakers signed on—fully a quarter of the body.
The new letter, led by Colorado Attorney General Phil Weiser, was joined by attorneys general from Alaska, Arizona, Arkansas, California, Connecticut, Delaware, the District of Columbia, Guam, Hawaii, Illinois, Iowa, Kentucky, Maine, Maryland, Massachusetts, Michigan, Minnesota, Mississippi, Nevada, New Jersey, New Mexico, New York, North Dakota, the Northern Mariana Islands, Ohio, Oklahoma, Oregon, Pennsylvania, Puerto Rico, Rhode Island, Utah, the U.S. Virgin Islands, Vermont, Virginia, Washington, West Virginia and Wisconsin.
It just makes sense: Majority Of State Attorneys General Tell Congress To Pass Marijuana Banking Bill via @forbes https://t.co/fmOn6JYRXn

— Rob McKenna (@robmckenna) May 8, 2019
Late last month, Oregon Treasurer Tobias Read led a group of fellow state fiscal officials in sending a separate letter to congressional leaders in support of the marijuana banking legislation.
"Businesses operating in cash pose a significant public safety risk. Absent access to banking services, cannabis-related businesses are unable to write checks, make and receive electronic payments, utilize a payroll provider, or accept credit and debit cards," they wrote. "Processing, storing, and moving large amounts of cash puts business owners, their employees, and their customers at risk of violent crime. The cash-only environment means state and local government agencies must collect tax and fee payments in person and in cash, incurring added expenses and employee safety risks."
Despite the advancement of the cannabis banking bill in the House, Senate Banking Committee Chairman Mike Crapo (R-ID)refused to commit to hold a hearing or vote on the bill in his panel when asked last month.
The proposals have already been endorsed by the American Bankers Association and a number of other organizations representing financial services industry interests, as well as by drug policy reform groups.
The backing by the state attorneys general, which was first reported by the Denver Post, could go a long way toward earning support from law-and-order conservatives who might otherwise scoff at the notion of supporting legislation to assist marijuana businesses.
Today I'm leading 38 AGs in urging Congress to pass the #SAFEBankingAct, to allow legal marijuana businesses to access the US banking system.

Forcing these businesses to operate only in cash leaves communities vulnerable to violence and crime: https://t.co/xgYurGRxui pic.twitter.com/bMrUoLIoAc

— AG Karl A. Racine (@AGKarlRacine) May 8, 2019
"Compliance with tax laws and requirements would be simpler and easier to enforce with the regulated tracking of funds in the banking system, resulting in higher tax revenues," the attorneys general wrote. "Our banking system must be flexible enough to address the needs of businesses in the various states and territories, with state and territorial input, while protecting the interests of the federal government. This includes a banking system for marijuana-related businesses that is both responsive and effective in meeting the demands of our economy."
This is simple: not incorporating an $8.3 billion industry into our banking system is hurting our public safety and economy. #SAFEBanking #Cannabis https://t.co/La9kBIAhEG

— Xavier Becerra (@AGBecerra) May 8, 2019
AG Yost has joined a coalition of 38 states urging Congress to allow marijuana-related businesses to access the banking system. Read more here: https://t.co/MBL3ZNr7n7 pic.twitter.com/d5e7n9HCLP

— Ohio Attorney General Dave Yost (@OhioAG) May 8, 2019
The treasurers, in their letter, offered further encouragement to skittish lawmakers by saying that allowing the banking fix would not be "a tacit endorsement of descheduling or rescheduling cannabis from the Controlled Substances Act."
"Without banking services, cannabis businesses are less able to obey the law, pay taxes, and follow state regulations of the industry," they wrote. "The public safety risks posed by these businesses are easily mitigated through access to banking service providers and keeping the cash off the streets. Nearly every U.S. state has a stake in this issue."
New Jersey Voters Will Decide On Marijuana Legalization Next Year, Senate Leaders Say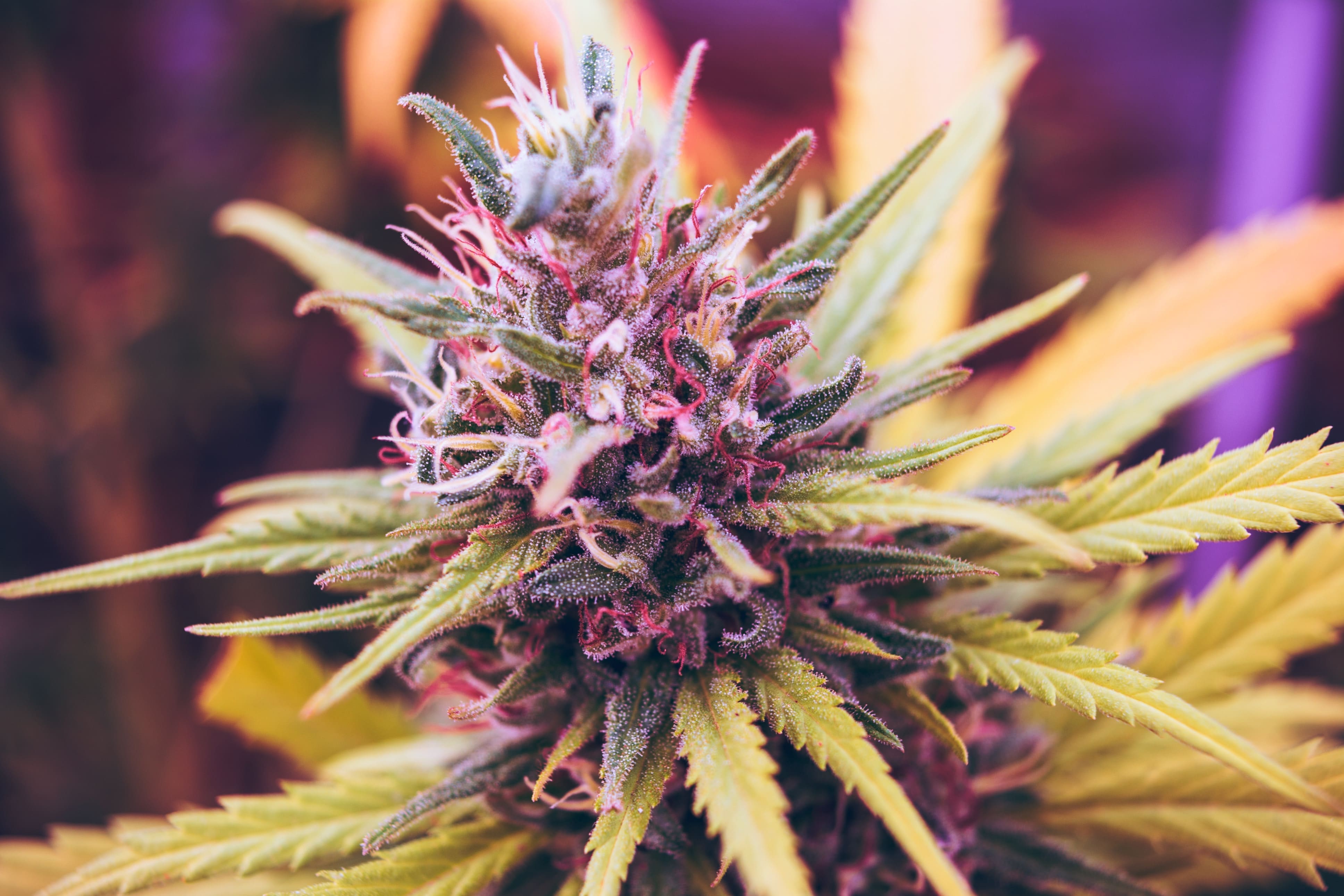 New Jersey lawmakers are giving up on plans to enact marijuana legalization through the legislature and are now seeking to put the question before voters on the 2020 ballot.
Senate President Steve Sweeney (D) and Senate Judiciary Committee Chairman Nicholas Scutari (D) announced on Monday that while they had "made further attempts to generate additional support in the Senate to get this done legislatively," the "votes just aren't there." As a result, they filed a proposal that would allow residents to vote on legalization as a constitutional amendment.
"We are moving forward with a plan to seek voter approval to legalize adult use marijuana in New Jersey," the leaders said in a press release. "We introduced legislation today to authorize a public referendum for a proposal that will lead to the creation of a system that allows adults to purchase and use marijuana for recreational purposes in a responsible way."
Here it is, no recreational marijuana vote in NJ Legislature. Going to the voters a year from now @NBCNewYork @MarijuanaPolicy @_NJCIA @NCIAorg @CannabisWire pic.twitter.com/iWnhSRIDy2

— Brian Thompson (@brian4NY) November 18, 2019
"This initiative will bring cannabis out of the underground so that it can be controlled to ensure a safe product, strictly regulated to limit use to adults and have sales subjected to the sales tax," they said.
The plan, which NJ.com first reported, is to have the legislature to approve the referendum proposal and get the ballot measure set for a vote in the general election next November. Sweeney and Scutari said they are "confident it will be approved by the Senate, the Assembly and the voters."
"We will now move forward with a plan that helps correct social and legal injustices that have had a discriminatory impact on communities of color," they said. "We can make real progress towards social justice at the same time that cannabis is made safe and legal."
After months of negotiation, it became apparent that that progress wasn't going to happen legislatively in the short-term, with Sweeney indicating as early as May that legalization would likely have to be decided through a voter referendum.
Text of the resolution calling for a referendum doesn't offer many details about what the proposed legal cannabis market would look like; rather it generally describes a system allowing adults 21 and older to use and purchase marijuana from authorized retail facilities. The state's Cannabis Regulatory Commission would be responsible for regulating the program. And cannabis sales would be subject to the state sales tax, with no additional excise tax added.
As written, the draft ballot question is worded somewhat confusingly. Voters would be asked: "Do you approve amending the Constitution to legalize a controlled form of marijuana called 'cannabis'?"
"Only adults at least 21 years of age could use cannabis," it continues. "The State commission created to oversee the State's medical cannabis program would also oversee the new, personal use cannabis market. Retail sales of cannabis products in this new market would be subject to the State's sales tax, and no other form of tax."
Prohibitionist group Smart Approaches to Marijuana celebrated news of the legislature abandoning plans to pursue legalization legislatively this session and said it would invest resources into a campaign to dissuade voters from supporting the proposed ballot initiative.
BREAKING: New Jersey State Senate abandons push to legalize marijuana during 'lame duck' session.

The marijuana industry outspent SAM 86-1 in this effort.

Our statement: pic.twitter.com/MPtI2fNIzx

— SAM (@learnaboutsam) November 18, 2019
While adult-use legalization hasn't panned out as advocates hoped, Gov. Phil Murphy (D) did sign a bill significantly expanding the state's medical cannabis program in July. Sweeney had pointed to that reform move as one reason legalization negotiations stalled.
It's not clear how the ballot approach is going to impact discussions about regionally coordinating legalization plans in the Northeast, which has been ongoing since New York Gov. Andrew Cuomo (D) and Connecticut Gov. Ned Lamont (D) met to talk about the issue over the summer.
During a joint meeting of governors from around the region last month, Murphy said that "doing things in an intelligent, coordinated, harmonious way is good for the entirety of not just our states but our residents" and emphasized the need for social justice components in a legal cannabis market.
Read the text of the New Jersey marijuana legalization referendum resolution below:
NJ Marijuana Ballot Bill by Marijuana Moment on Scribd
Sanders Pledges Legal Marijuana 'In Every State' As Biden Faces 'Gateway Drug' Backlash
Sanders Pledges Legal Marijuana 'In Every State' As Biden Faces 'Gateway Drug' Backlash
As former Vice President Joe Biden faces a backlash over his suggestion that marijuana could be a 'gateway' drug, rival presidential candidates such as Sens. Bernie Sanders (I-VT) and Kamala Harris (D-CA), as well as entrepreneur Andrew Yang, are touting their own support for cannabis reform proposals
One day after Biden said he doesn't support national cannabis legalization because there's "not nearly been enough evidence that has been acquired as to whether or not it is a gateway drug," Sanders offered a competing vision, emphasizing in a speech that he wants to "make marijuana legal in every state in the country," rather than allow prohibition to continue in certain states.
The senator also discussed other elements of a cannabis reform plan he released last month, including his pledge to "expunge the records of those arrested for possession of marijuana" and provide funding to promote participation in the legal industry by individuals from communities most impacted by the war on drugs.
"It sounds unfair that when we legalize marijuana, you end up having a handful of corporations controlling that industry," Sanders said during the Sunday event in Las Vegas. "We have built into our criminal justice program an effort to provide many billions of dollars in help to people in the African-American community, Latino community, other communities, the people who have been hit the hardest by the war on drugs, to help them profit off a legal marijuana system."
Watch Sanders's marijuana comments, around 33:00 into the video below: 
Sanders described his three-step plan to prevent large corporations from controlling the cannabis market during an interview on Showtime's Desus & Mero last month.
Separately, he took to Twitter on Sunday to highlight new polling showing that a majority of Americans support legalizing marijuana.
The American people are united on issue after issue. We must legalize marijuana now—and expunge all past marijuana convictions as a matter of racial and economic justice. https://t.co/NQjp7WOko3

— Bernie Sanders (@SenSanders) November 17, 2019
Meanwhile, Harris also appeared to take a direct hit at Biden over his "gateway drug" comment, stating that the debate on that matter is already settled.
Let's be clear: marijuana isn't a gateway drug and should be legalized. Glad to see my bill with Rep. Nadler take the next step in the House this week. https://t.co/d6BcMFlpYT

— Kamala Harris (@KamalaHarris) November 18, 2019
"Let's be clear: marijuana isn't a gateway drug and should be legalized," she tweeted, adding that she's glad that a bill she and House Judiciary Chairman Jerrold Nadler (D-NY) filed earlier this year to federally deschedule cannabis is scheduled for a vote in the House this week.
Harris herself has faced pushback from reform advocates and challengers who point out that the senator was involved in criminalizing cannabis consumers, and opposed legalization, during her time as a prosecutor.
Yang, for his part, presented a visual contrast to Biden on Monday, sharing photos of him smiling, surrounded by dozens of trimmed marijuana plants in an undisclosed facility.
He also wrote in a tweet that cannabis "should be legal nationwide" and linked to a campaign site page laying out his reform plan.
Marijuana should be legal nationwide. It is already legal in several states, it reflects a safer approach to pain relief than opiates, and our administration of drug laws is deeply uneven and racist. https://t.co/0Uhl17MW98

— Andrew Yang🧢 (@AndrewYang) November 18, 2019
"It is already legal in several states, it reflects a safer approach to pain relief than opiates, and our administration of drug laws is deeply uneven and racist," Yang said.
Biden has drawn criticism from lawmakers outside of the presidential race as well, with Rep. Earl Blumenauer (D-OR) calling him out on Monday.
Get with the program, @JoeBiden.

Not only do we have legislation that would solve the issue of research, the American people overwhelmingly support legalizing cannabis—period.

The war on drugs has ruined countless lives. It's past time we end this senseless prohibition.

— Earl Blumenauer (@repblumenauer) November 18, 2019
"Get with the program, @JoeBiden," the congressman, who has spearheaded Capitol Hill efforts to end federal prohibition, said. "Not only do we have legislation that would solve the issue of research, the American people overwhelmingly support legalizing cannabis—period."
"The war on drugs has ruined countless lives," he said. "It's past time we end this senseless prohibition."
Photo courtesy of Facebook/Bernie Sanders.
AOC Calls For Decriminalizing The Use Of All Drugs
Rep. Alexandria Ocasio-Cortez (D-NY) voiced support for decriminalizing the use of all drugs on Sunday.
The freshman congresswoman tweeted that drug decriminalization, as well as marijuana legalization, are "matters of public health."
Marijuana should be legalized, and drug consumption should be decriminalized.

These are matters of public health.

— Alexandria Ocasio-Cortez (@AOC) November 18, 2019
This marks a development in Ocasio-Cortez's drug policy platform. Previously, she called for decriminalizing the use and research of psychedelics, emphasizing the therapeutic potential of the substances.
To that end, she introduced an amendment to a spending bill in June that would remove a rider that advocates argue has inhibited research into the potential therapeutic benefits of Schedule I drugs such as psilocybin and LSD. The House rejected that measure in a floor vote, however.
There's a growing push to decriminalize the personal possession of drugs beyond cannabis. South Bend, Indiana Mayor Pete Buttigieg and Rep. Tulsi Gabbard (D-HI), both Democratic presidential candidates, are in favor of the policy. Entrepreneur Andrew Yang supports decriminalizing opioids as a means to combat the drug overdose crisis.
Ocasio-Cortez recently gave her endorsement to Sen. Bernie Sanders (I-VT). But while the senator was the first major presidential candidate to back marijuana legalization during his 2016 run, he said this year he's "not there yet" on broader drug decriminalization. It's not clear if the congresswoman's role as a surrogate on his campaign will ultimately influence him to adopt the policy.
But as more candidates debate the best way forward on various drug reform proposals, with cannabis legalization being a given for almost all contenders, former Vice President Joe Biden remains several paces behind. He opposes adult-use legalization and said on Saturday that marijuana may be a gateway to other, more dangerous substances.
Photo courtesy of C-SPAN.