Snoop Dogg Says Sports Leagues Should Let Athletes Use Marijuana Instead Of Opioids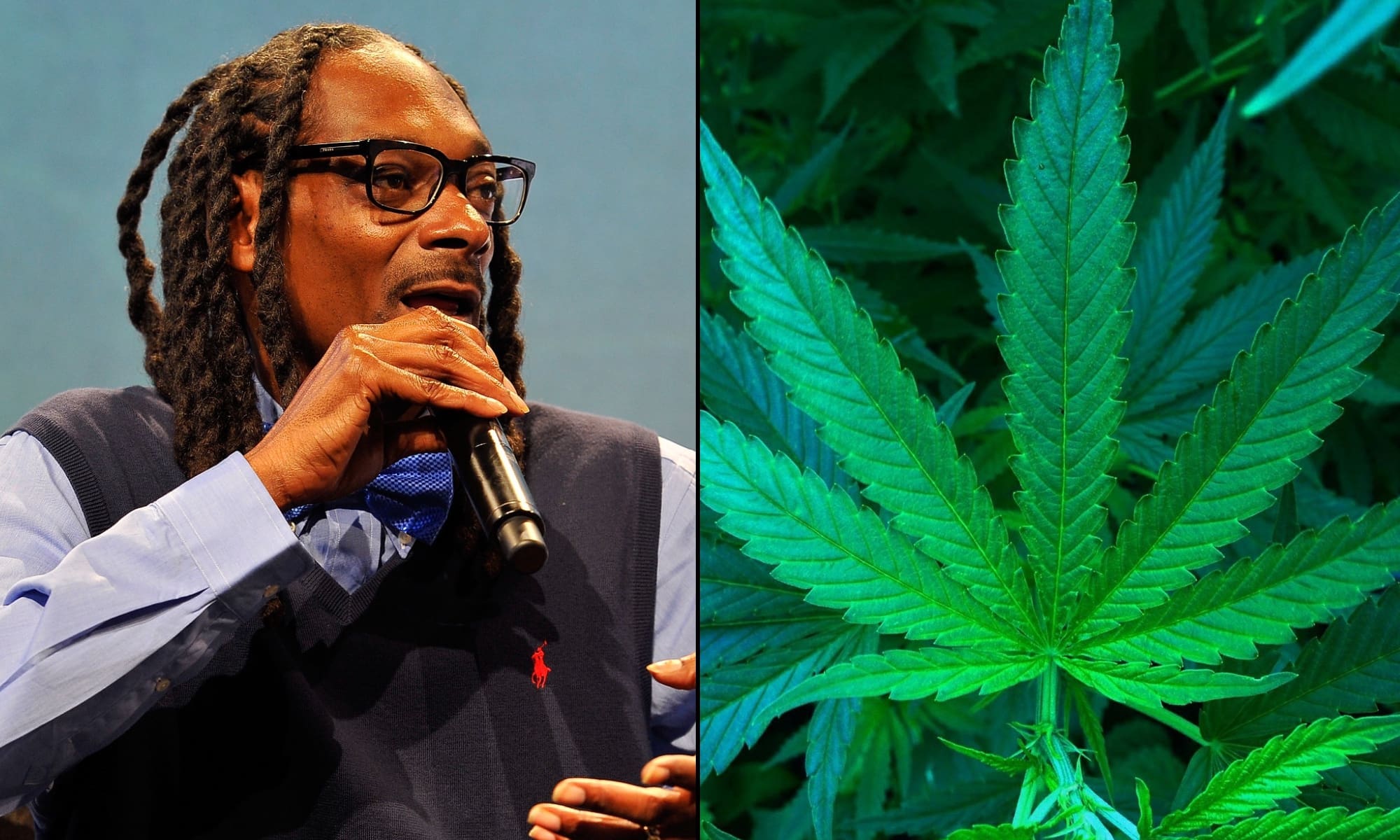 Sports leagues need to stop testing players for marijuana and allow to them to use it as an alternative to prescription opioids, cannabis icon Snoop Dogg said on Monday.
During an appearance on Jimmy Kimmel Live, guest host Stephen A. Smith asked Snoop about the issue—which became an especially hot topic this summer following the suspension of U.S. runner Sha'Carri Richardson from participating in the Olympics over a positive marijuana test.
Smith, who is a sports commentator for ESPN, first asked Snoop whether he agreed with him in principle that athletes should avoid using cannabis to avoid being penalized and losing money.
"Well, I agree with your position when it comes to the athletes who have commissioners and rules and regulations and tests and things that they have to deal with in their profession that could stifle them from getting their money," the rapper said.
"Now when I'm speaking to entertainers and people like myself, we don't have a commissioner, we don't have none of that," he continued. Athletes "can hang out with the rappers, but you can't do what the rappers do because the rapper don't have ramifications for what they do."
But whether there should even be ramifications for athletes who use cannabis is a different matter, Snoop said.
Leagues should relax their marijuana policies "because what happens is a lot of times these athletes take these pills and they get addicted to these pills, and it still doesn't give them the relief that they need as far as with the pain or whatever they're going through," he said.
"Through the CBD, through the THC, through the marijuana, through the cannabis, they're able to find a relaxation and getting the medical treatment that they deserve—without having those later side effects—so I push for that in sports," Snoop said, adding that it doesn't make sense that different sports leagues hold players to different standards when it comes to drug testing.
The idea of reforming the rules around marijuana in sports is gaining momentum, and Richardson's case led many to question why athletes are being punished for using a plant that's increasingly being legalized for medical and recreational use.
Richardson said last week that she's hopeful that her suspension from participating in the Olympics after testing positive for marijuana will lead to an international policy change for athletes, and she says she would be "blessed" if that happens as a result of her punishment.
The U.S. Anti-Doping Agency (USADA) has expressed sympathy for Richardson and asserted that the rules on marijuana for international athletes "must change." The White House press secretary—like USADA—also suggested that it may be time for a reevaluation of the cannabis prohibition.
USA Track & Field has similarly said that international policy on cannabis punishments for athletes "should be reevaluated."
Rep. Steve Cohen (D-TN) was among the lawmakers who've been critical of Richardson's suspension. He argued last month that it is hypocritical that athletes would be penalized for using marijuana when alcohol use is largely tolerated. And he also said cannabis is only a performance enhancing drug in the context of food eating competitions.
At a separate federal commission hearing on international sports last month, a representative of USADA said in response to questioning by Cohen that the organization is "heartbroken" over Richardson's case and supports "liberalization" of current bans.
Meanwhile, advocates have broadly embraced internal marijuana policy reforms at other major professional athletic organizations, arguing that they are long overdue especially given the ever-expanding legalization movement.
NFL's drug testing policy changed demonstrably last year as part of a collective bargaining agreement, for example. Under the policy, NFL players will not face the possibility of being suspended from games over positive tests for any drug—not just marijuana.
In a similar vein, the MLB decided in 2019 to remove cannabis from the league's list of banned substances. Baseball players can consume marijuana without risk of discipline, but officials clarified last year that they can't work while under the influence and can't enter into sponsorship contracts with cannabis businesses, at least for the time being.
Meanwhile, a temporary NBA policy not to randomly drug test players for marijuana amid the coronavirus pandemic may soon become permanent, the league's top official said in December. Rather than mandate blanket tests, Commissioner Adam Silver said the league would be reaching out to players who show signs of problematic dependency, not those who are "using marijuana casually."
Last week it was announced that the online marijuana marketplace Weedmaps is teaming up with NBA star Kevin Durant for a multi-year partnership that's aimed at destigmatizing cannabis and showcasing the plant's potential value for "athlete wellness and recovery."
Once athletes are freed up to use marijuana therapeutically or for leisure, they could turn to Snoop for some helpful advice. In 2019, he and actor Seth Rogen gave some tips to novices on how to responsibly consume cannabis for the first time.
California Shattered Marijuana Tax Revenue Record In Latest Fiscal Year, State Reports
Image element courtesy of TechCrunch.