Maryland Senators Begin Considering Marijuana Legalization Bills, Days After House Approves Referendum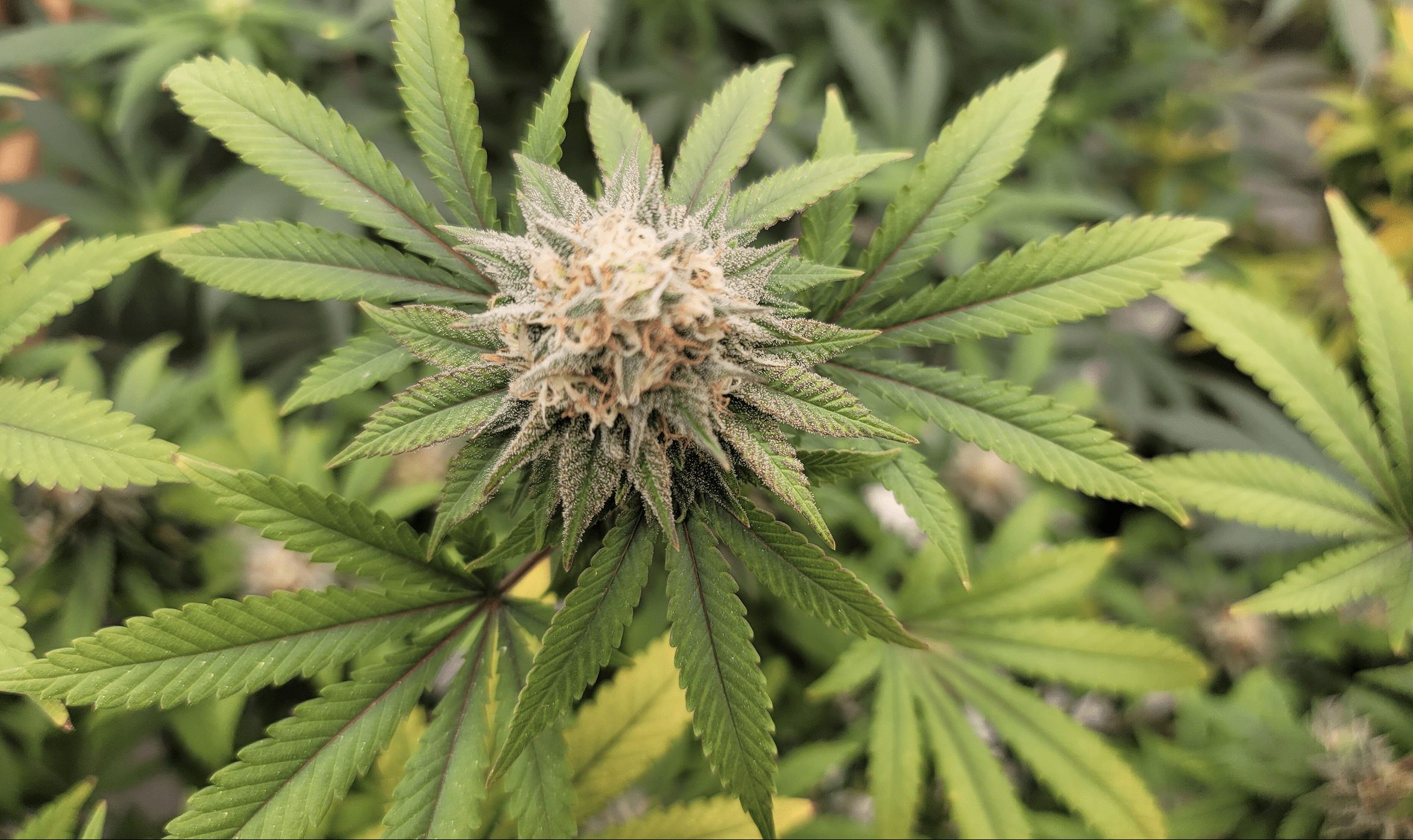 Maryland senators began formal consideration of two bills to legalize marijuana on Thursday, including one that would put the reform on November's ballot as a referendum.
The Senate Finance Committee hearing comes less than a week after the state's House of Delegates passed its own legalization package that would refer the question to state voters. The House proposals have also been referred to the Senate panel, though they weren't on the committee's agenda for Thursday's hearing along with the chamber's own legalization bills and a handful of separate medical cannabis reforms.
Supporters from both chambers are optimistic Maryland's legislature will move forward on some sort of legalization plan this session, though it remains to be seen what form the final proposal will take. So far at least five separate adult-use cannabis bills have been introduced, leaving lawmakers to choose between competing provisions to merge into passable legislation.
"We have several goals we're trying to achieve here," said the panel's vice chair, Sen. Brian J. Feldman (D), the sponsor of one of the two Senate legalization bills. "We want to divert cannabis sales out of the illicit, unregulated market, that we have right now. We want to regulate this product and we want to tax it. We want to invest millions back—I think this is hugely important—millions and millions back into the communities most most adversely impacted by a prior enforcing policies."
"I don't look at it as these two bills being in conflict," Feldman added. He said the other bill's sponsor, Sen. Jill Carter (D), has been helpful and raised ideas that might be incorporated into his own plan. He said he was optimistic the competing proposals could be merged.
Carter, whose bill prioritizes repairing the damage done by the war on drugs, said "it's time for Maryland to prioritize ending the mass incarceration of black people, and begin to mend the harm created by cannabis prohibition."
The Senate Finance Committee did not hold votes on the proposals at Thursday's meeting, instead spending the afternoon discussing a range of cannabis-related issues and taking testimony from stakeholders.
Aside from the legalization measures, other bills considered by the panel would make changes to the state's existing medical marijuana program, for instance increasing the number of business licenses available, allowing licensees to operate at up to four physical locations and adjusting ownership rules for medical marijuana companies. Another would specify that hemp products in the state could not contain more than 0.3 percent delta-8 THC, on par with the existing limit on delta-9 THC.
Of the two legalization bills, Feldman's measure, SB 833, would ask voters to approve a constitutional amendment on November's ballot. If approved, legalization would become law in July 2023.
The other bill, Carter's SB 692, would take effect nearly a year sooner, in July of this year, and establish more permissive limits on possession and home cultivation.
—
Marijuana Moment is already tracking more than 1,000 cannabis, psychedelics and drug policy bills in state legislatures and Congress this year. Patreon supporters pledging at least $25/month get access to our interactive maps, charts and hearing calendar so they don't miss any developments.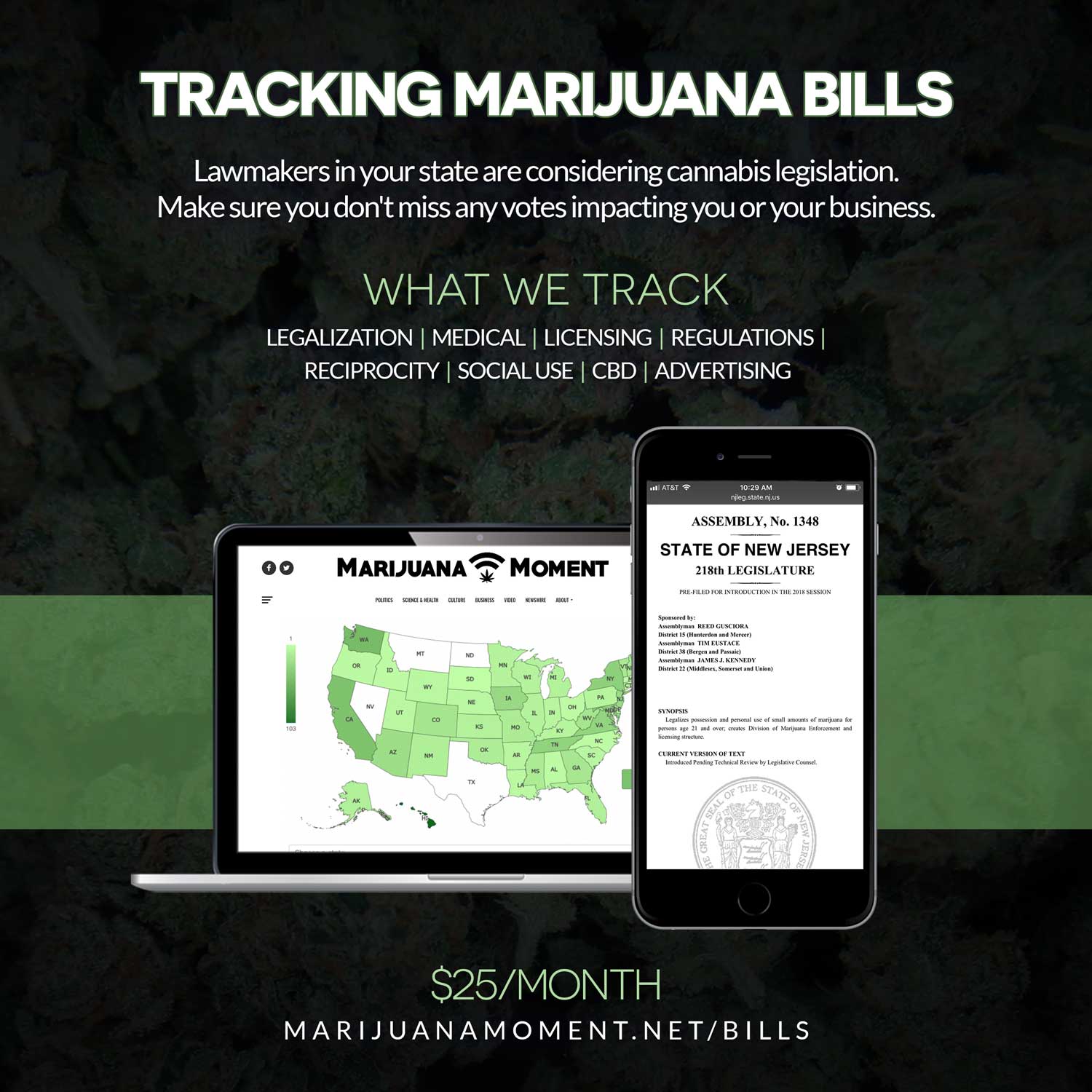 Learn more about our marijuana bill tracker and become a supporter on Patreon to get access.
—
Feldman last legislative session was a lead author on a different legalization bill that was co-sponsored by Senate President Bill Ferguson (D). The Senate Finance Committee held a hearing on that proposal last March, but ultimately no votes were held. That followed a House Judiciary Committee hearing on a separate cannabis proposal in February.
Though Feldman's updated plan now asks voters to approve the change, Ferguson, for his part, said last year that he supported lawmakers legalizing cannabis directly without having to do a referendum.
A poll in October found broad support for the policy change among Marylanders. Two-thirds (67 percent) backed legalizing cannabis, according to the Goucher College survey, while just 28 percent were opposed.
On the House side, delegates last Friday approved two bills from Judiciary Committee Chairman Luke Clippinger (D), who led a marijuana workgroup that House Speaker Adrienne Jones (D) formed last summer to study the issue. The first measure, HB 1, would ask voters to approve an amendment to the state's constitution to legalize cannabis use and possession by adults at least 21 years old. The second, HB 837, is designed to set up initial rules for a legal marijuana market if voters approve the policy change.
"We are at the beginning of an important process where we begin to look again at how we have treated this substance, cannabis," Clippinger said ahead of the floor vote.
A competing legalization bill on the House side, HB 1342, has been introduced by Del. Gabriel Acevero (D) and is scheduled for a committee hearing on Tuesday.
The bills share many common features but differ on specifics. In the weeks ahead, it's expected that lawmakers will negotiate and offer amendments in an attempt to build consensus behind a single plan. Carter said at Thursday's hearing that the House plan, which "says, 'Hey, let's just take it to a referendum, and we'll deal with fixing all the policy things later,'" would be "a horrific thing to do."
Gov. Larry Hogan (R), meanwhile, has not endorsed legalization but has signaled he may be open to considering the idea. That said, Hogan's signature would not be required if lawmakers pass a constitutional amendment to legalize.
Unlike the leading House proposal, Feldman's SB 833 packages both the legalization referendum and the program's basic framework in the same bill. The Senate bill also includes a higher personal possession limits for adults—up to two ounces of cannabis, compared to 1.5 ounces under the House plan. Home cultivation would be allowed under both proposals, but the Senate bill would let adults grow up to four plants per person as opposed to two under the House measure.
In an interview with Baltimore public radio station WYPR, Feldman said he packaged both the referendum and state regulatory scheme into a single measure so voters would have a better idea of what they're approving. "We on our side kind of were of the view that if you're going to ask the voters to vote. Maybe they need to know what they're voting on exactly," he said.
He added that he's flexible how to proceed, however. "We could just do a referendum, we could do a referendum with the criminal justice underlying bill, which I think is very doable," the senator said. "The market issues are more complicated."
The other Senate bill, Carter's SB 692, would allow adults to possess up to four ounces of cannabis and grow six plants for personal use. It would also remove criminal penalties for possession of any amount of cannabis, while Feldman's bill would decriminalize only up to twice the legal amount, or four ounces of marijuana.
Carter's bill would also allow smoking of marijuana wherever tobacco use is allowed, while Feldman's plan would make public smoking a civil offense punishable by up to a $50 fine.
Support SB692 in MD to repair the damage wrought by criminalizing cannabis. This bill will prohibit police from using cannabis odor as pretext to stop people and search cars, and repair catastrophic harms inflicted by the War on Drugs on Black communities.https://t.co/dZSRhkcE8w pic.twitter.com/1hDlYoNLwn

— Legal Defense Fund (@NAACP_LDF) March 3, 2022
Both Senate bills share similar components, although the specifics sometimes diverge. They would both provide paths for people with past cannabis convictions to automatically clear those charges, for example, though details of the plans differ.
Civil rights and legal justice groups said at Thursday's hearing that Carter's bill has more comprehensive criminal justice reforms than the competing proposals. It would vacate past convictions, for example, rather than expunging them as well as prevent law enforcement from using the odor of marijuana to justify searches.
"Sen. Carter's bill is the only one that lays critical, extensive framework to repair the racial injustices that have been caused by the war on drugs," said Elizabeth Hilliard, an assistant public defender and assistant director of the state's Office of the Public Defender's government relations division.
Representatives from the pro-legalization group Marijuana Policy Project (MPP) supported the proposals with some amendments to individual provisions. Olivia Naugle, the organization's senior policy analyst, said Carter's bill would legalize "in a way that repairs the damage inflicted by criminalization."
Tahir Johnson, MPP's director of social equity and inclusion and a resident of Maryland, said the state's existing decriminalization rules for low-level cannabis possession aren't enough. Black and brown Marylanders are routinely discriminated against by law enforcement, he added, noting that he was once arrested when driving a Lexus because police said he looked like a drug dealer.
Feldman asked Carter during the hearing to explain the difference between expunging and vacating past convictions, acknowledging that he was not familiar with the distinction. He said that he doesn't see the two Senate bills in conflict with one another and said some provisions of Carter's bill are "ideas for the other bill that maybe needs some amendments."
Carter, who is a lawyer, replied that vacating convictions "is a better vehicle" because it treats the conviction as though it never happened.
According to a 2020 ACLU report, she noted, roughly half of all drug arrests in the state were for cannabis, and in parts of the state, Black people are as much as eight times more likely than white people to be arrested on cannabis charges.
Racial justice is critically important for Maryland's future and to repair the harm done by the war on drugs, Carter urged. "If we don't put that as a priority, there is really no reason to move forward with recreational legalization."
The bills also diverge in terms of how to handle driving under the influence of cannabis. Feldman's bill would set a per-se legal limit on THC in drivers' blood, while Carter's would require that prosecutors demonstrate that the driver was in fact impaired.
Taxes would be structured almost identically under the two bills: A statewide cannabis excise tax would begin at 10 percent under both plans and rise to 20 percent beginning in 2028. Certain local governments could impose an additional three percent local sales tax.
But the bills lay out different proposals for how tax revenue should be spent. Under Carter's SB 692, 60 percent of money remaining after administrative costs would go to a Community Reinvestment and Repair Fund, aimed at investing in low-income communities and those impacted most disproportionately by the drug war. Another two percent would go to an account to support small businesses and companies owned by women or members of minority groups, and the remainder would go to the state's general fund.
"We have to deal with more than just ending the criminalization and the repercussions of criminalization," Carter told the committee. "We have to look at repairing the damage and harm due to the wealth gap, and this is a way to build black wealth."
Feldman's SB 833 would also establish a Community Reinvestment and Repair Fund, but it would receive just 25 percent of revenue after administrative expenses. The remainder would be earmarked for a variety of programs, including 20 percent to the Department of Health for mental health and substance use disorder treatment, 15 percent to local aid, 10 percent to the state's HBCUs and 10 percent to a social equity startup fund. Seven percent would be directed to the state's general fund, with smaller amounts going to public education about cannabis risks (two percent), cannabis research (two percent), law enforcement to recognize drugged driving (one percent) and various other earmarks.
Under both bills, local jurisdictions could ban any or all types of cannabis establishments within their boundaries, but they could not prohibit delivery.
Maryland's legislative session is set to wrap up in mid-April, meaning lawmakers have little more than a month to determine how to proceed.
Clippinger, the lead sponsor of the House legalization plan, told WYPR that he intends to continue discussions with Feldman after Thursday's Senate hearing. "We're going to double back and talk again after that," Clippinger said, "and will start to figure out what our next steps are going to be."
Maryland legalized medical marijuana through an act of the legislature in 2012. Two years later, a decriminalization law took effect that replaced criminal penalties for possession of less than 10 grams with a civil fine of $100 to $500. Since then, however, a number of efforts to further marijuana reform have fallen short.
A bill to expand the decriminalization possession threshold to an ounce passed the House in 2020 but was never taken up in the Senate.
Also that year, the governor vetoed a bill that would have shielded people with low-level cannabis convictions from having their records publicized on a state database. In a veto statement, he said it was because lawmakers failed to pass a separate, non-cannabis measure aimed at addressing violent crime.
In 2017, Hogan declined to respond to a question about whether voters should be able to decide the issue, but by mid-2018 he had signed a bill to expand the state's medical marijuana system and said full legalization was worth considering: "At this point, I think it's worth taking a look at," he said at the time.
As for Maryland lawmakers, a House committee in 2019 held hearings on two bills that would have legalized marijuana. While those proposals didn't pass, they encouraged many hesitant lawmakers to begin seriously considering the change.
More Banks Report Working With Marijuana Businesses As Pressure Builds To Pass On Congress To Pass Reform Bill
Photo courtesy of Mike Latimer