Maryland Lawmakers Officially Put Marijuana Legalization On The Ballot, Also Sending Implementation Bill To Governor
Maryland voters will get the chance to decide on legalizing marijuana following approval of a constitutional amendment in the legislature on Friday that puts the question of reform on the November ballot. Separate legislation to lay out initial rules for the program if voters opt to end cannabis criminalization was also passed by both chamber of the legislature and sent to Gov. Larry Hogan (R).
This development comes after weeks of back-and-forth debate between the House of Delegates and Senate on three separate cannabis bills, with a number of amendments being adopted along the way.
On the House side, there was HB 1 and HB 837 from Del. Luke Clippinger (D), who chairs the Judiciary Committee and led a legislative cannabis workgroup formed by House Speaker Adrienne Jones (D).
The former bill would simply place legalization on the ballot, though it was amended in the Senate to include language specifying for voters that legalization would not be enacted until July 2023 and clarifying that only those 21 and older could access the market. The House Judiciary Committee concurred with the amended version and sent it back to the floor on Friday. It passed the full chamber in a 94-39 vote.
Because it's a constitutional amendment, the referendum measure does not require the approval of the governor.
HB 837, meanwhile, sets basic rules for the adult-use program if voters approve the ballot referendum. Those rules mostly concern issues such as penalties and expungement.
We voted to deliver recreational cannabis legalization bills to the Governor. We're focused to get this right and we have more work to do – but this is a huge step forward.

Thank you @SpeakerAJones, @SenBillFerg, and my colleagues for your work and support on HB 1 and HB 837. pic.twitter.com/L1JNP7wbgO

— Luke Clippinger (@LukeClippinger) April 1, 2022
Under the law that would be enacted if voters approve legalization at the ballot, the purchase and possession of up to 1.5 ounces of cannabis would be legal for adults. The legislation also would remove criminal penalties for possession of up to 2.5 ounces. Adults 21 and older would be allowed to grow up to two plants for personal use and gift cannabis without remuneration.
Past convictions for conduct made legal under the proposed law would be automatically expunged, and people currently serving time for such offenses would be eligible for resentencing. The legislation makes it so people with convictions for possession with intent to distribute could petition the courts for expungement three years after serving out their time.
The bill was also amended throughout the legislative process. For example, language was attached to create a community reinvestment fund and allow state tax deductions for certain cannabis-related expenses that marijuana businesses are barred from claiming under current federal tax code.
—
Marijuana Moment is already tracking more than 1,000 cannabis, psychedelics and drug policy bills in state legislatures and Congress this year. Patreon supporters pledging at least $25/month get access to our interactive maps, charts and hearing calendar so they don't miss any developments.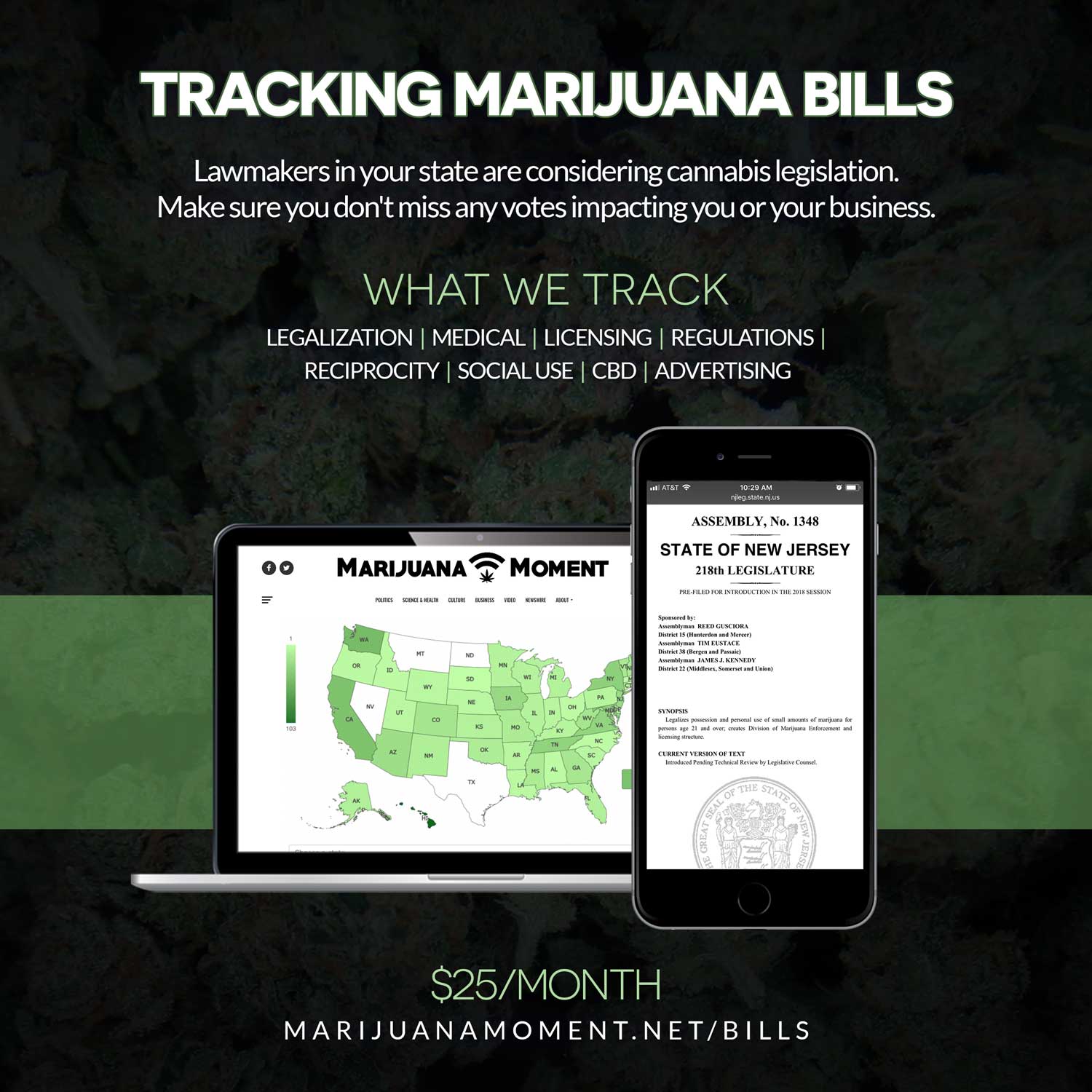 Learn more about our marijuana bill tracker and become a supporter on Patreon to get access.
—
"Marylanders have long awaited a new approach to cannabis policy and the passage of these bills is a promising step forward," Olivia Naugle, a legislative analyst with the Marijuana Policy Project, told Marijuana Moment. "We applaud the legislature for taking decisive action this session to finally end the era of cannabis prohibition, a policy that is both long overdue and supported by a majority of constituents. We look forward to working with Maryland legislators on this issue moving forward."
A separate bill, SB 833 from Sen. Brian Feldman (D), as originally introduced would have created specific regulations for the industry—touching on tax policy, licensing and more—that would also have been contingent on voter approval of the referendum question.
But while some senators pushed for the more prescriptive legislation, arguing that voters should know more about what kind of market would emerge before heading to the polls in November, Feldman's bill was largely replaced with the language of HB 837. As such, lawmakers will return to the question of commercial cannabis regulations next year if voters approve the referendum.
Both bills were further amended and made identical on the Senate floor on Thursday. The newest revisions would allow cannabis funds to be used to purchase technology and equipment to measure THC levels in drivers and require that small business minority equity funds must be made available to people who've previously been incarcerated.
The Senate passed HB 837 as amended in a 30-15 vote on Thursday, sending it back to the House for concurrence. It was then agreed to by the House Judiciary Committee on Friday before advancing to the floor, where it passed in a 89-41 vote, sending it to the governor.
The Maryland House just took the final vote to send marijuana legalization to @GovLarryHogan's desk 👇 pic.twitter.com/1gjAwmhGGI

— David Moon (@DavidMoon2014) April 1, 2022
SB 833 also passed as amended in the Senate on Friday, 29-17. But because lawmakers faced a deadline to get any legislation passed through both chambers by the end of the week in order to maintain the ability to override a veto from the governor, it was taken off the table, making the identical HB 837 the official vehicle for the reform.
Feldman explained the legislative compromise on the Senate floor on Thursday, saying that lawmakers are "taking a very, very methodical, deliberate approach" to the policy change.
"There are folks that want to go broader. There are folks that don't want to go this far," the senator said. "But we're striking a balance in conjunction with where the House is, where the Senate Finance Committee is, and we've come up with what I believe is a good, balanced and modest approach."
It would further establish a Cannabis Business Assistance Fund to support equity initiatives for minority- and women-owned businesses. That fund would go toward incubator and educational programs to promote participation in the industry by people most impacted by criminalization.
To understand the effects of legalization on the state and its residents, the statutory bill would also establish various research initiatives, including studies into youth impacts, use patterns, impaired driving, advertising, labeling, quality control of products and barriers to entering the industry. A baseline study would be conducted before legalization, and updates would be sent to the governor every two months.
If voters approve legalization in November, it wouldn't take effect immediately. Possession of small amounts of cannabis would become a civil offense on January 1, 2023, punishable by a $100 fine for up to 1.5 ounces, or $250 for more than 1.5 ounces and up to 2.5 ounces. Legalization for up to 1.5 ounces wouldn't kick in for another six months.
NEW: The MGA passed legislation to allow Marylanders to vote to legalize adult-use cannabis on and put an equitable framework in place should Marylanders vote "yes" on the referendum. pic.twitter.com/o4O8v3bAXY

— MD House Democrats (@mdhousedems) April 1, 2022
Advocates have taken issue with that protracted timeline. Having possession legalization take effect sooner was among several asks they made that were not incorporated into the now-passed legislation. For example, activists also wanted lawmakers to include a provision preventing police from using the odor of marijuana alone as the basis for a search.
Another potential problem that advocates have identified is the proposed allocation of equity funds. The bill would provide certain funding for jurisdictions with the most cannabis arrests; and while black people are more likely to face criminalization over cannabis on average, some of the counties in Maryland where marijuana arrests have been most common are mostly white, potentially undermining the intent of the reform provision.
As noted, certain senators, including Senate President Bill Ferguson (D), have expressed skepticism about punting the creation of regulations for the marijuana market until next year. However, last month, Ferguson signaled openness to the referendum idea—but stressed that voters deserve to know more details of what a legal cannabis market would look like than is provided in the House bills.
That was a notable shift considering that the top senator said last year that he favored legalizing cannabis through the legislature rather than waiting to ask voters on November's ballot.
Another legalization bill filed by Sen. Jill Carter (D) last month was considered in committee in February, but did not advance. The senator expressed frustration on the floor on Thursday after an amendment she filed was rejected.
Legalizing cannabis without addressing the centuries of injustice committed against black and brown communities concedes to exploitation and perpetuates systemic racism. Passing empty policy to secure an electoral victory will adversely impact the most vulnerable communities.

— Senator Jill P. Carter (@jillpcarter) April 1, 2022
That amendment would have required that cannabis offenses for possession with the intent to distribute be considered civil and not criminal matters.
"If you stick a knife in my back nine inches and pull it out six inches, there's no progress. If you pull it all the way out that's not progress. Progress is healing the wound that the blow made" . Simply legalizing marijuana without investing in communities will impede equity.

— Senator Jill P. Carter (@jillpcarter) April 1, 2022
Meanwhile, a separate competing legalization bill on the House side, HB 1342, was introduced in February by Del. Gabriel Acevero (D). It had a brief committee hearing on March 8 but never received a vote.
More than two dozen advocacy groups—including ACLU of Maryland, NAACP Maryland State Conference, League of Women Voters of Maryland and Maryland Office of the Public Defender—sent a letter to Maryland legislative leaders last month demanding that racial and socioeconomic equity be placed at the forefront of any attempts to legalize marijuana in the state.
A recently released poll of Maryland voters from ACLU found that 66 percent are more likely to support marijuana legalization if it includes relief for past convictions; 65 percent are more likely to back it if the reform stops police from using the odor of cannabis as probable cause for a search and 61 percent are more likely to be on board with legislation if marijuana can't be used to deny housing or child custody or negatively impact parole or probation status.
Maryland lawmakers are also considering separate legislation this year to decriminalize drug possession and fund access to psychedelics for therapeutic uses.
When it comes to marijuana, legalization began to advance through Maryland's legislature last session, but no votes were ultimately held. The Senate Finance Committee held a hearing last March on a legalization bill sponsored by Feldman and Ferguson. That followed a House Judiciary Committee hearing on a separate cannabis proposal in February.
Lawmakers then worked to reconcile the differences between the House and Senate proposals in hopes of getting something to the governor's desk. Hogan has not endorsed legalization but has signaled he may be open to considering the idea.
A poll in October found that the state's residents are on board with the policy change. Two-thirds (67 percent) of Marylanders now back legalizing cannabis, according to a Goucher College survey. Just 28 percent are opposed.
Maryland legalized medical marijuana through an act of the legislature in 2012. Two years later, a decriminalization law took effect that replaced criminal penalties for possession of less than 10 grams with a civil fine of $100 to $500. Since then, however, a number of efforts to further marijuana reform have fallen short.
A bill to expand the decriminalization possession threshold to an ounce passed the House in 2020 but was never taken up in the Senate.
Also that year, the governor vetoed a bill that would have shielded people with low-level cannabis convictions from having their records publicized on a state database. In a veto statement, he said it was because lawmakers failed to pass a separate, non-cannabis measure aimed at addressing violent crime.
In 2017, Hogan declined to respond to a question about whether voters should be able to decide the issue, but by mid-2018 he had signed a bill to expand the state's medical marijuana system and said full legalization was worth considering: "At this point, I think it's worth taking a look at," he said at the time.
As for Maryland lawmakers, a House committee in 2019 held hearings on two bills that would have legalized marijuana. While those proposals didn't pass, they encouraged many hesitant lawmakers to begin seriously considering the change.
House Approves Federal Marijuana Legalization Bill For Second Time In History
Photo courtesy of M a n u e l.