Marijuana Advocates Raise Concern About Social Equity Problem In House-Passed Legalization Bill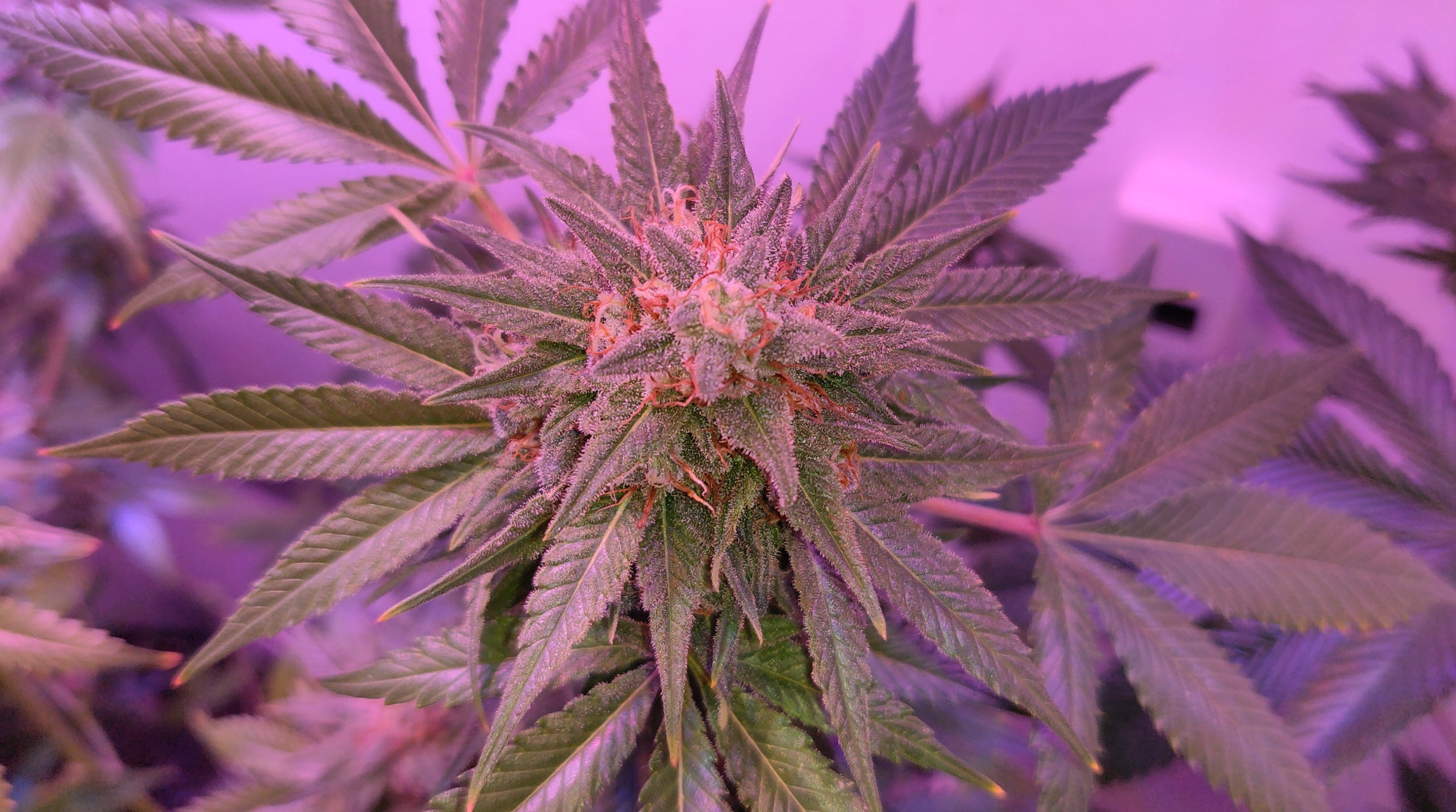 The House passage of a bill to federally legalize marijuana this month marked a historic step forward for reform advocates. Yet amid the celebration, there are increasing concerns about certain language that was added to the legislation at the last minute that activists say undermines their social equity goals.
Days before the floor vote, the Marijuana Opportunity, Reinvestment and Expungement (MORE) Act was amended in the form of a House Rules Committee Print. While the main thrust of the bill remained intact, including a tax to fund programs to repair the harms of the drug war, a provision was added requiring a federal permit to operate a "cannabis enterprise"—along with restrictions that could ban people with prior marijuana convictions from being eligible.
That runs counter to the principles of social equity that advocates have been pushing for, arguing that it's not enough to simply end prohibition and that communities most impacted by the enforcement of the war on drugs need to be specifically uplifted in the newly legal market.
There are some nuances to the language, but in general what it says is that, under federal regulations, a permit must be issued in order for certain marijuana businesses to operate. There are a series of considerations that go into a permit approval, but the one advocates view as the most problematic states that it can be suspended or revoked if a person has a past or current legal proceeding related to a felony violation of any state or federal cannabis law.
That would raise questions about their ability to "maintain operations in compliance with this chapter," the text of the bill says.
It would not be an automatic revocation, however, as the government would need to "issue an order, stating the facts charged, citing such person to show cause why their permit should not be suspended or revoked." Then a hearing would be held to determine in the permit holder can show "cause why their permit should not be suspended or revoked."
Read the language in question below:
SEC. 5923. PERMIT.
(a) Issuance.—A person shall not engage in business as a cannabis enterprise without a permit to engage in such business. Such permit, conditioned upon compliance with this chapter and regulations issued thereunder, shall be issued in such form and in such manner as the Secretary shall by regulation prescribe. A new permit may be required at such other time as the Secretary shall by regulation prescribe.
(b) Suspension Or Revocation.—
(1) SHOW CAUSE HEARING.—If the Secretary has reason to believe that any person holding a permit—
(A) has not in good faith complied with this chapter, or with any other provision of this title involving intent to defraud,
(B) has violated the conditions of such permit,
(C) has failed to disclose any material information required or made any material false statement in the application for such permit,
(D) has failed to maintain their premises in such manner as to protect the revenue, or
(E) is, by reason of previous or current legal proceedings involving a felony violation of any other provision of Federal or State criminal law relating to cannabis, not likely to maintain operations in compliance with this chapter,
the Secretary shall issue an order, stating the facts charged, citing such person to show cause why their permit should not be suspended or revoked.
The bill does not define which departmental secretary would be responsible for making the permitting decision as outlined in the text, as that was left out in a drafting error. There are mentions of at least three different secretaries—health and human services, transportation and treasury—throughout the legislation.
There's another caveat to this, as it doesn't appear the permit requirement would apply to retail dispensaries. Only businesses that meet the definition of a "cannabis enterprise" would be affected, and that includes "a producer, importer, or export warehouse proprietor," with producer being defined as "any person who plants, cultivates, harvests, grows, manufactures, produces, compounds, converts, processes, prepares, or packages any cannabis product."
But even so, advocates are pushing to have the language removed. They point out that, because marijuana criminalization has disproportionately impacted people of color despite comparable usage rates with white people, the policy is inherently discriminatory.
"The felony exclusion provision was not just concerning, for social equity licensees and the organizations and communities that support, there was genuine fear and concern the exclusion would send signals to investors, companies and state and local lawmakers that could have an immediate chilling impact on investment, hiring and support for social equity operators and programs," Brandon Banks, a board member of the Minority Cannabis Business Association (MCBA), told Marijuana Moment.
MCBA Vice President Kaliko Castille said the organization "worked with House leadership to make clear the intent of Congress to ensure those most impacted by cannabis prohibition would have access to the legal cannabis industry instead of continuing to face criminal penalties for activities generating billions and that any provisions to the contrary would not stand in future legislation."
Overall, the legislation would federally deschedule cannabis, and those with prior convictions would have their records expunged. The descheduling provisions would be retroactive, too.
The reason the language at issue got into the MORE Act is because much of the text of a separate, previously introduced cannabis reform bill was inserted in the Rules Committee Print shortly before the floor vote. And its inclusion in that legislation, the Marijuana Revenue and Regulation Act, is somewhat curious given that the bill's lead sponsor is Rep. Earl Blumenauer (D-OR), a fierce advocate for legalization who is intimately familiar with social equity concerns as the co-chair of the Congressional Cannabis Caucus.
When it came to Blumenauer's attention, he attempted to get it removed from the MORE Act, but there wasn't enough time between the Rules hearing and the floor vote, a spokesperson for the congressman said. She added that he has since secured a commitment from House Ways & Means Chairman Richard Neal (D-MA) to have the language nixed the next time the bill comes up.
In a letter submitted to the Congressional Record, Blumenauer touted the progress that the legislation represents but added a caveat about the particular section that advocates have raised concerns about.
"No bill is perfect, and the MORE Act contains a provision that is contrary to our legislative intent," he wrote. "Without hesitation, I am committed to correcting this language to ensure that the millions of Americans, especially Black and Latino people, who have been most harmed by cannabis prohibition can participate equally in this emerging industry. Equity, inclusion and opportunity are fundamental values that must be at the center of all federal cannabis legislation."
"This is not the end of the story, it's the beginning of the next chapter," he said. "This is a fight for racial justice, economic justice, and freedom. This policy is long-overdue."
It was an oversight that advocates and industry stakeholders, who meticulously review and help draft cannabis bills, share the blame for, Justin Strekal, political director of NORML, acknowledged to Marijuana Moment.
Blumenauer's office did not provide a response to an inquiry about why the provisions was added to his original bill, the first version of which was filed in 2017. A representative for Sen. Ron Wyden (D-OR), another champion of cannabis reform who sponsored the Senate companion version of the legislation, did not immediately respond to a request for comment on the origins of the marijuana felony ban language.
Queen Adesuyi, policy manager of national affairs for DPA, told Filter that she understands the concerns about "problematic provisions" of the revised MORE Act—but that "it was really difficult to walk away from the entire vehicle because of the longer-term implications that we're able to see, in terms of our ability to actually move anything at all."
Of course, it should be noted that while the MORE Act cleared the House, it's seriously unlikely to get a vote in the GOP-controlled Senate, which is run by anti-marijuana Senate Majority Leader Mitch McConnell (R-KY), before the end of the current Congress. So if Democrats take the bill back up next session, they will have an opportunity to address advocates' concerns. And Strekal said they have a "commitment" from allies on the Hill to remove the problematic language.
Shaleen Title, a commissioner on the Massachusetts Cannabis Control Commission who has focused on equity issues, wrote in a blog post earlier this month that while advocates are "encouraged by any forward movement on cannabis criminal justice reform, we strongly believe that we will not get racial justice without economic justice."
"We very much appreciate your support of cannabis legalization and restorative justice and look forward to the opportunity to work with you on changes to the Act that will support the ground breaking cannabis equity work already occurring across the country," she wrote to lawmakers on behalf of the Cannabis Regulators of Color Coalition.
Other than the permit provision, the bill was also revised before reaching the floor with a series of mostly technical amendments, though there was one significant change as it relates to the proposed tax structure for marijuana.
As now structured, the MORE Act would make it so cannabis would be federally taxed at five percent for the first two years after implementation and then increased by one percent each year until reaching eight percent. After five years, taxes would be applied to marijuana products based on weight rather than price.
The bill would also create a pathway for resentencing for those incarcerated for marijuana offenses, as well as protect immigrants from being denied citizenship over cannabis and prevent federal agencies from denying public benefits or security clearances due to its use.
A new Cannabis Justice Office under the Justice Department would be responsible for distributing funds providing loans for small cannabis businesses owned and controlled by socially and economically disadvantaged individuals. The bill also seeks to minimize barriers to licensing and employment in the legal industry.
It would also establish a Community Reinvestment Grant Program. Tax dollars appropriated to that program would go to job training, legal aid for criminal and civil cases such as those concerning marijuana-related expungements, literacy programs and youth recreation and mentoring services, among other programs.
Some advocates also took issue with other late changes that stipulate that the heads of the Transportation Department and Coast Guard may continue to include marijuana in drug testing programs for safety-sensitive positions and clarify that the expungement provisions only apply to "non-violent marijuana offenders" and bars so-called "kingpins" from obtaining expungements.
"Now that we have the precedent of a bill passing to end marijuana prohibition in the House of Representatives under Democratic control—and with Democratic control returning in the next session—I feel confident that we can improve the bill," Strekal said. "And it is our hope that working with more stakeholders, we will make many improvements in the bill such as including a post-prohibition regulatory structure that will provide greater certainty to new emerging markets and promote standardization of labeling and weights and metrics as more and more states legalize marijuana in the future."
Overall, the passage of the legalization legislation could send a strong signal to the incoming presidential administration, and it sets the stage for similar action in 2021—especially if Democrats win control of the Senate after two runoff elections in Georgia next month.
Given President-elect Joe Biden's former approach to championing punitive anti-drug legislation as a senator and his ongoing obstinance on marijuana legalization at a time when polls show that a clear majority of Americans favor the policy change, there remains some skepticism about his willingness to make good on his campaign promises to achieve more modest reforms he has endorsed, such as decriminalizing possession and expunging records.
A transition document the incoming Biden-Harris administration released last month left out mention of those cannabis pledges. While Vice President-elect Kamala Harris is sponsoring the MORE Act in the Senate, she's indicated that she would not necessarily push the president-elect to adopt a pro-legalization position.
That said, the president-elect has conceded that his work on punitive anti-drug legislation during his time in Congress was a "mistake."
For his part, Blumenauer told Marijuana Moment in August that "the Biden administration and a Biden Department of Justice would be a constructive player" in advancing legalization.
Meanwhile, the Congressional Research Service released an analysis of the MORE Act last month, finding that the bill's passage could "reverse" the current cannabis policy gap that exists between states and the federal government.
Read Blumenauer's submission to the Congressional Record on the MORE Act below:
Blumenauer MORE Act by Marijuana Moment
What Trump's Pardon Means For This Man Who Served 13 Years In Prison For Marijuana
Photo courtesy of Mike Latimer.
Former GOP House Speaker John Boehner Says He's Open To Using Marijuana
Former Republican House Speaker John Boehner, who joined the marijuana industry in a consulting capacity after leaving office, says he's not yet a cannabis consumer himself—but he's open to changing that.
In a new behind-the-scenes book that he released on Tuesday and in an interview with CBS, Boehner briefly discussed his own recreational drug preferences. He told the news station that "I drink red wine" but "if somebody wants to smoke a joint or eat a gummy, that's really none of my business."
The former congressional leader isn't a marijuana consumer, however, despite joining the board of the major cannabis company Acreage Holdings in 2018. That move drew sharp criticism from reform advocates who quickly pointed out that Boehner declined to push for any sort of policy change while in power but is now profiting off the industry.
CBS News reporter John Dickerson asked Boehner if he did any "first-hand research" to inform his shift in thinking about the medical potential of cannabis.
"No, I'm not a cannabis user," he said.
"But you're not ruling it out for yourself?" Dickerson asked.
"Hey, tomorrow is tomorrow," Boehner joked. "Who knows?"
Watch Boehner discuss marijuana policy, around 7:50 into the video below: 
In a scorching new memoir, "On the House," former House Speaker John Boehner writes that "political terrorists" playing to the party base are hurting the country, and threaten the GOP's survival. https://t.co/ycvxYthM3w pic.twitter.com/8fesknxsCP

— CBS Sunday Morning 🌞 (@CBSSunday) April 11, 2021
The former speaker more seriously expressed openness to smoking cannabis in the new book, "On The House: A Washington Memoir."
In a chapter entitled "Smoke-Filled Rooms," Boehner first discusses his well-known cigarette habit and then writes about how he ended up finding himself "in a very different sector of the smoking community when I joined the board of Acreage Holdings, a cannabis company."
"But now, some people don't believe me when I tell them I've never smoked a joint," he said. "But I haven't. I'm not ruling it out though."
The former speaker's entrance into the marijuana industry hasn't been without controversy. Advocates have complained about his inaction on the issue while in office and opponents of legalization have accused him of being an opportunist who represents a profit-minded side of the market.
In 2019, social equity-focused cannabis advocates protested a keynote speech Boehner delivered at the festival South by Southwest.
The Equity First Alliance, a group that promotes racial and social justice in the cannabis industry, said that Boehner's appearances at the event was a reflection of an ongoing trend where mostly white men are profiting off a market while people of color continue to disproportionately face criminalization for marijuana offenses.
On the flip side, Fox News personality Tucker Carlson said last year that "John Boehner is like a marijuana lobbyist now" and he takes "a paycheck getting your kids to smoke more weed." The controversial host called the former speaker "disgusting" for his work in the cannabis space.
Illinois Gets More Tax Revenue From Marijuana Than Alcohol, State Says
Photo courtesy of Gage Skidmore.
Sixth Minnesota House Committee Approves Marijuana Legalization Bill On Its Path To The Floor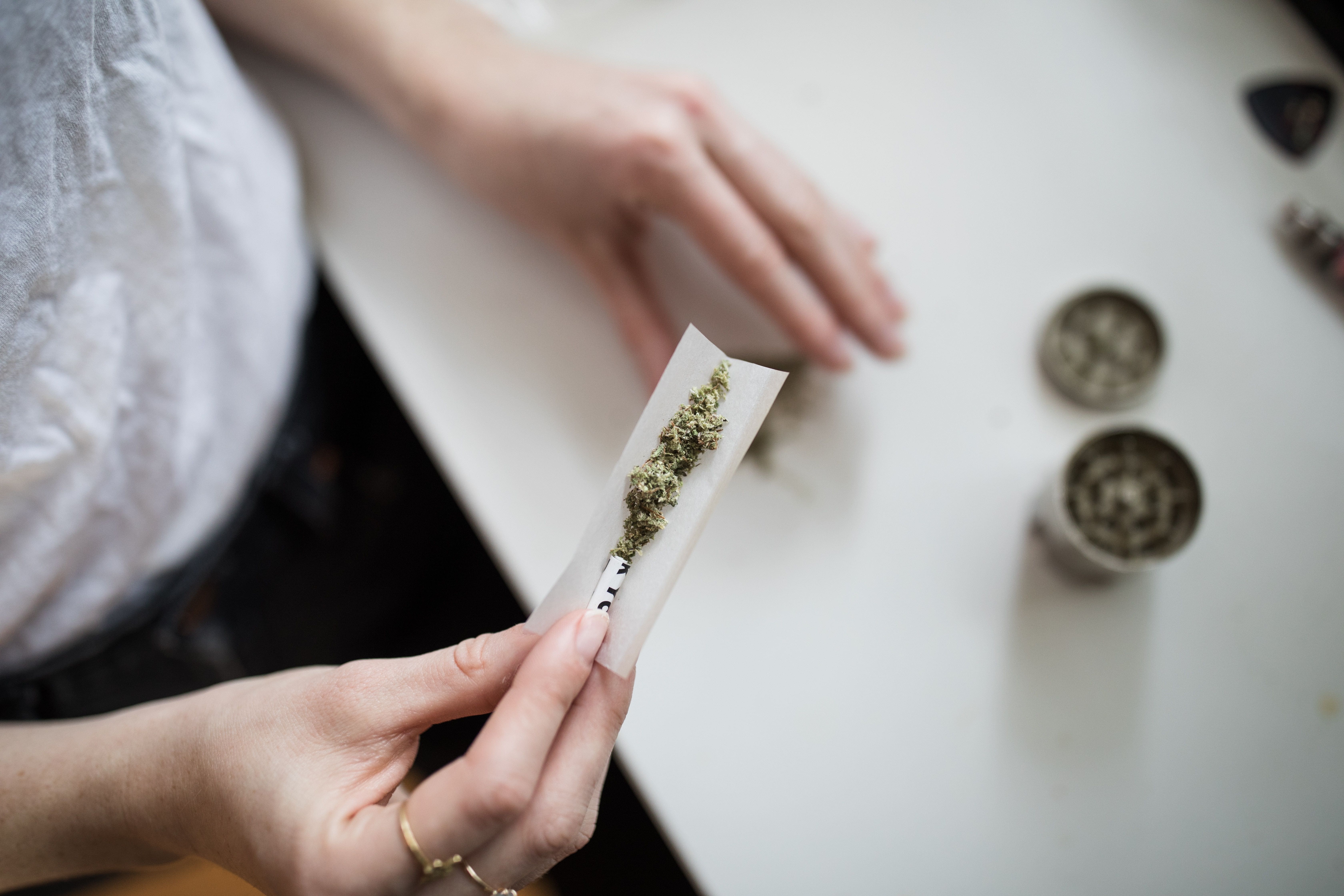 A bill to legalize marijuana in Minnesota is going through a thorough vetting process, with a sixth House committee on Wednesday giving the reform proposal a green light following a hearing.
House Majority Leader Ryan Winkler (D), Speaker Melissa Hortman (D) and other lawmakers filed the measure in February. It would allow adults 21 and older to purchase and possess up to 1.5 ounces of cannabis and cultivate up to eight plants, four of which could be mature.
Days after a separate panel approved the legislation with amendments, the House Judiciary Finance and Civil Law Committee passed it in a 9-7 vote.
"The purpose of House File 600 is to eliminate the harm that cannabis has in our society," Winkler said of the bill at the hearing. "The primary harm that cannabis poses in Minnesota is the prohibition and criminal enforcement of cannabis."
"The goal of House File 600 is to shift in a legal marketplace that is policed and over-policed disproportionately and instead to create a policy of repair, an opportunity for those most adversely affected by the war on drugs," he said.
The House Environment and Natural Resources Finance and Policy Committee was the last body to approve the bill, on Monday, and members there adopted a number of changes to the proposal. For example, it now stipulates that members of a cannabis advisory council established under the bill could not serve as lobbyists while on the panel and for two years after they end their service.
Before that hearing, the House Agriculture Finance and Policy Committee, the Workforce and Business Development Finance and Policy Committee, the Labor, Industry, Veterans and Military Affairs Finance and Policy Committee and the Commerce Finance and Policy Committee each advanced the measure.
Its next stop is the State Government Finance and Elections Committee.
Winkler recently said that he expects the legislation to go through any remaining panels by the end of April, with a floor vote anticipated in May.
—
Marijuana Moment is already tracking more than 900 cannabis, psychedelics and drug policy bills in state legislatures and Congress this year. Patreon supporters pledging at least $25/month get access to our interactive maps, charts and hearing calendar so they don't miss any developments.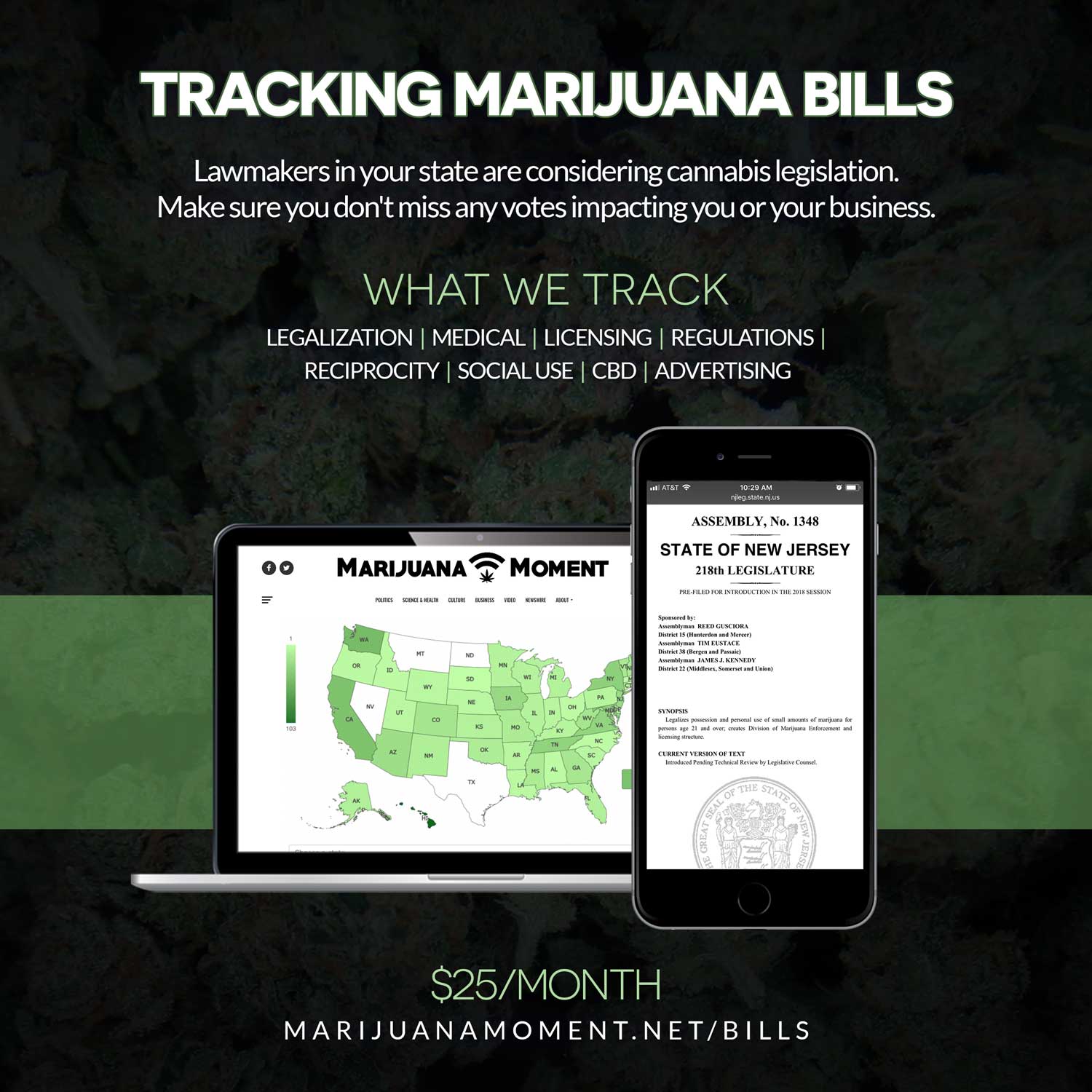 Learn more about our marijuana bill tracker and become a supporter on Patreon to get access.
—
Still, even if the legislation does make it all the way through the House, it's expected to face a significant challenge in the Republican-controlled Senate, where lawmakers have signaled that they're more interested in revising the state's existing medical cannabis program than enacting legalization of adult use.
After the New York legislature approved a recreational cannabis legalization bill—which the governor promptly signed into law—Winkler said that Minnesota is "falling behind a national movement towards progress."
"MN has some of the worst criminal justice disparities in the country, and legalizing cannabis & expunging convictions is a first step towards fixing that," he tweeted.
The majority leader's bill as introduced was identical to a proposal he filed last year, with some minor technical changes. Winkler, who led a statewide listening to gather public input ahead of the measure's introduction, called it the "best legalization bill in the country" at the time. It did not advance in that session, however.
Under the legislation, social equity would be prioritized, in part by ensuring diverse licensing and preventing the market from being monopolized by corporate players. Prior marijuana records would also be automatically expunged.
On-site consumption and cannabis delivery services would be permitted under the bill. And unlike in many legal states, local municipalities would be banned from prohibiting marijuana businesses from operating in their areas.
Retail cannabis sales would be taxed at 10 percent. Part of that revenue would fund a grant program designed to promote economic development and community stability.
The bill calls for the establishment of a seven-person Cannabis Management Board, which would be responsible for regulating the market and issuing cannabis business licenses. It was amended in committee month to add members to that board who have a social justice background.
People living in low-income neighborhoods and military veterans who lost honorable status due to a cannabis-related offense would be considered social equity applicants eligible for priority licensing.
Cannabis retails sales would launch on December 31, 2022.
Gov. Tim Walz (D) is also in favor of ending marijuana prohibition, and in January he called on lawmakers to pursue the reform as a means to boost the economy and promote racial justice. He did not include a request to legalize through his budget proposal, however.
Walz did say in 2019 that he was directing state agencies to prepare to implement reform in anticipation of legalization passing.
Winkler, meanwhile, said in December that if Senate Republicans don't go along with the policy change legislatively, he said he hopes they will at least let voters decide on cannabis as a 2022 ballot measure.
Heading into the 2020 election, Democrats believed they had a shot of taking control of the Senate, but that didn't happen.
The result appears to be partly due to the fact that candidates from marijuana-focused parties in the state earned a sizable share of votes that may have otherwise gone to Democrats, perhaps inadvertently hurting the chances of reform passing.
In December, the Minnesota House Select Committee On Racial Justice adopted a report that broadly details race-based disparities in criminal enforcement and recommends a series of policy changes, including marijuana decriminalization and expungements.
Alabama Medical Marijuana Bill Moves Closer To Floor Vote With House Committee Action
Alabama Medical Marijuana Bill Moves Closer To Floor Vote With House Committee Action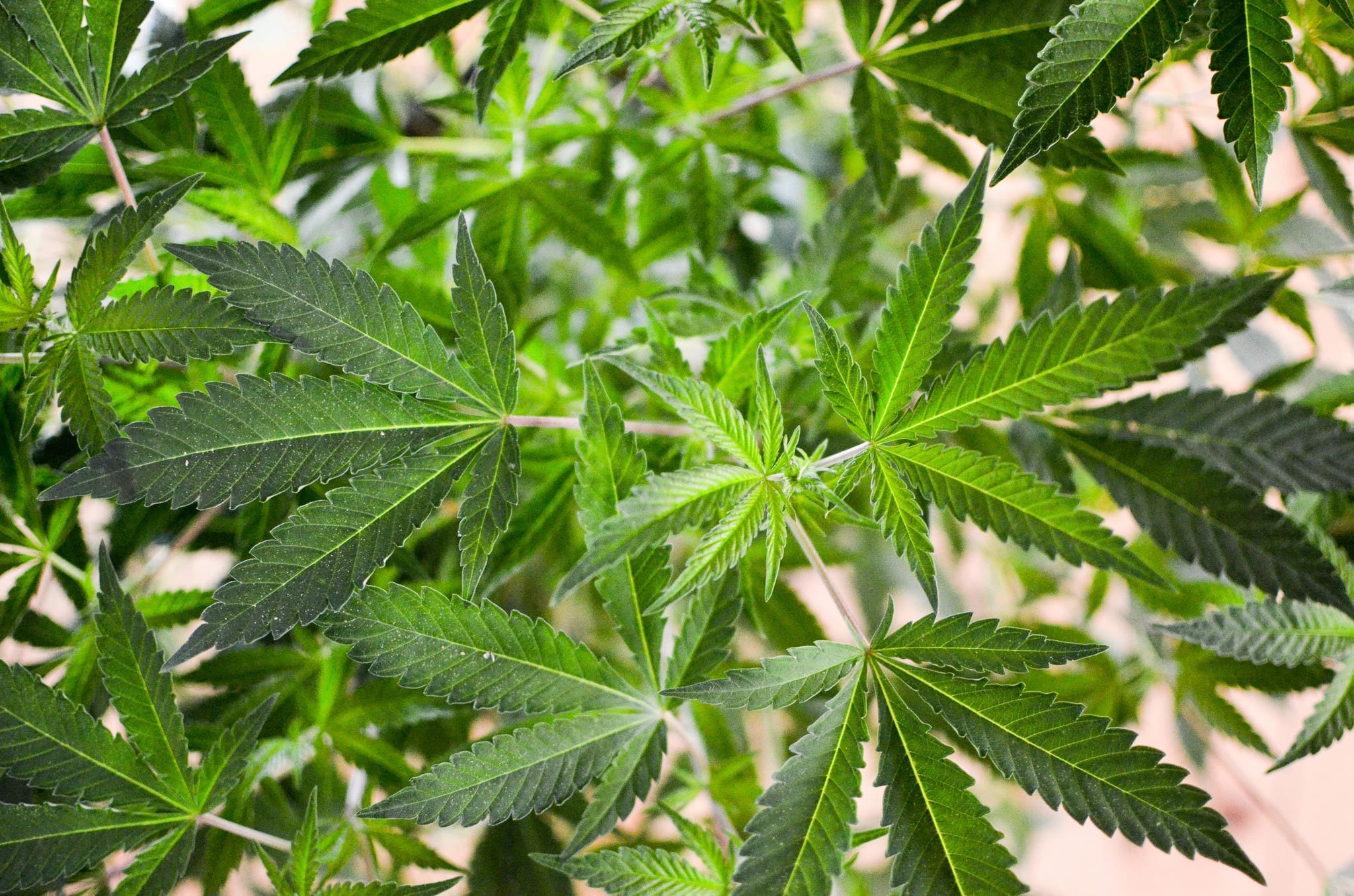 An Alabama House committee on Wednesday amended a medical marijuana legalization bill that already passed the Senate. Members also took public testimony in advance of an expected Thursday vote to send the revised legislation to the House floor.
This hearing of the House Health Committee comes one week after a separate panel in the body amended and cleared the bill.
Sponsored by Sen. Tim Melson (R), the legislation would allow people with qualifying conditions to access cannabis for therapeutic purposes. The full Senate approved the bill last month.
"I just want to take [cannabis] to the patients that need it. I want to see people get relief," the senator said at the meeting. He also made the case that allowing legal access can mitigate opioid overdose deaths.
Melson is the same lawmaker who sponsored similar legislation that was approved by the full Senate last year but which later died without any House votes amid the coronavirus pandemic.
This latest proposal would establish an Alabama Medical Cannabis Commission to implement regulations and oversee licensing.
To qualify for the program, patients would have to be diagnosed with one of about 20 conditions, including anxiety, sleep disorders, post-traumatic stress disorder and intractable pain. Regulators would not be able to independently add additional conditions, leaving that decision up to lawmakers.
The House Judiciary Committee approved 10 amendments to the legislation during last week's hearing. For example, members agreed to scrap provisions providing reciprocity for out-of-state patients and reducing the percentage of marijuana tax revenue that would go to cannabis research from 30 to 15 percent.
Those amendments were integrated into a new substitute version of the bill adopted by the Health panel, with additional revisions such as removing anxiety and adding depression and Parkinson's disease as qualifying conditions for medical cannabis. The committee voted to accept the substitute version for consideration before going into testimony.
Time was evenly divided between supporters and opponents. By and large, the conversation revolved around personal anecdotes about the medical benefits and risks of marijuana.
More amendments were added following the testimony. One change would add an annual registration fee for physicians who recommend cannabis. Another would give the state attorney general's office access to a patient registry database.
—
Marijuana Moment is already tracking more than 900 cannabis, psychedelics and drug policy bills in state legislatures and Congress this year. Patreon supporters pledging at least $25/month get access to our interactive maps, charts and hearing calendar so they don't miss any developments.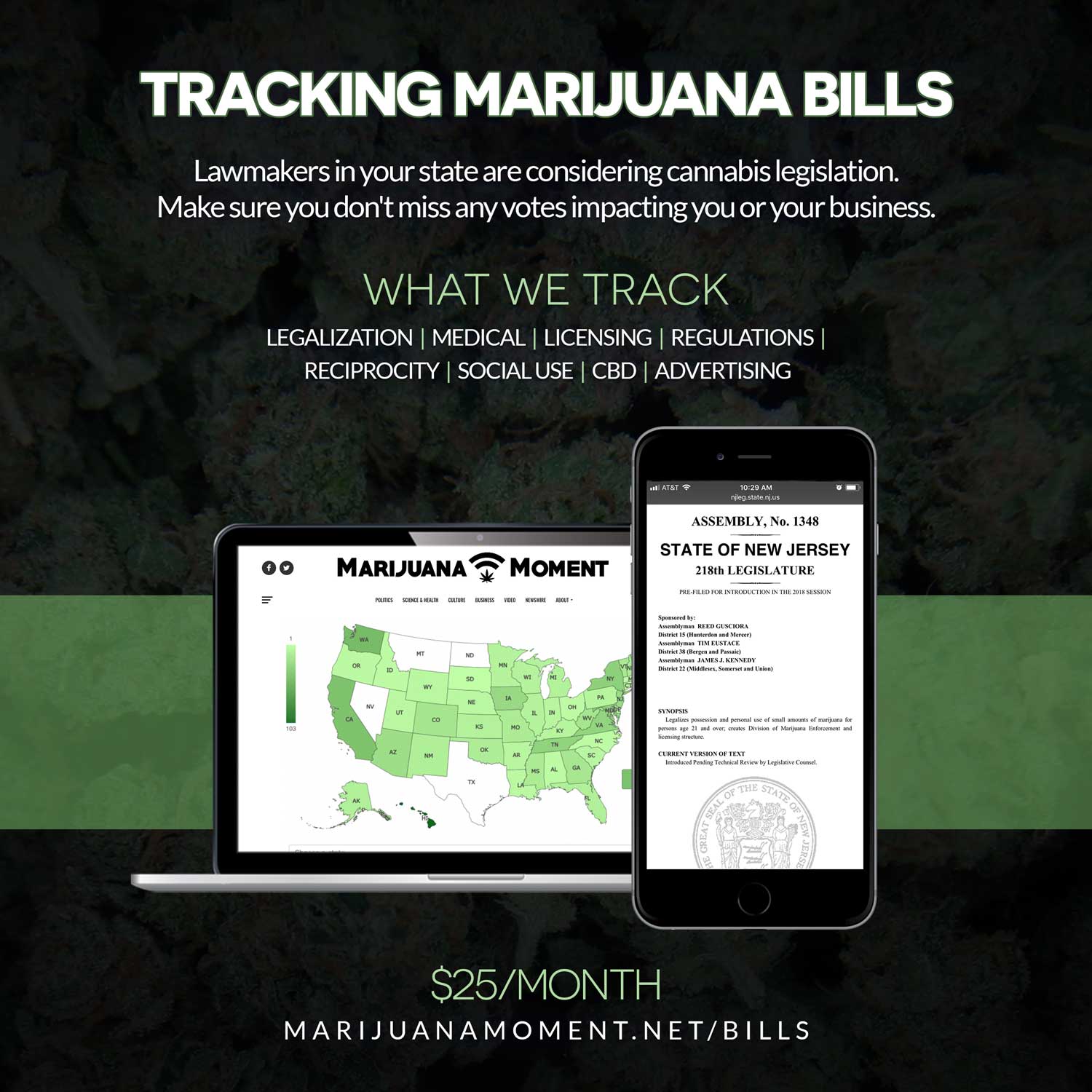 Learn more about our marijuana bill tracker and become a supporter on Patreon to get access.
—
Members further approved an amendment to remove fibromyalgia and menopause from the list of qualifying conditions and another to expand the number of institutions that are eligible for grants to research marijuana. A revision to develop a uniform flavor for all cannabis products was also accepted.
Additionally, an amendment was approved to require dispensaries to have 24-hour security cameras operating in their facilities. These changes are all being added to a new substitute that the panel will take up and vote on Thursday.
Because the proposal has been amended, it would go back to the Senate for final consideration if it's passed in the House before being sent to the governor's desk.
Advocates say they're encouraged that medical cannabis reform is advancing in Alabama, but they've raised concerns about a number of aspects of the bill.
One problematic provision, advocates say, is that patients with chronic or intractable pain could only be recommended medical marijuana in cases where "conventional therapeutic intervention and opiate therapy is contraindicated or has proved ineffective."
The bill also prohibits raw cannabis, smoking, vaping and candy or baked good products. Patients would instead be allowed to purchase capsules, lozenges, oils, suppositories and topical patches.
Patients would be allowed to purchase and possess up to "70 daily dosages of medical cannabis." Under an amendment approved on the Senate floor, the maximum daily dose was reduced from 75 to 50 milligrams. However, the amendment's sponsor said it could be increased to 75 milligrams in some circumstances.
The revision also calls for a label on marijuana products to indicate that cannabis can cause drowsiness.
It also calls for a nine percent gross proceeds tax on medical marijuana sales.
Patients, caregivers and and medical cannabis businesses would receive legal protections under the proposal, preventing them from being penalized for activities authorized by the state.
For physicians to be able to recommend cannabis to patients, they would have to complete a four-hour continuing education course and pass an exam. The course would cost upwards of $500 and doctors would also be required to take refresher classes every two years.
Under the bill, regulators would be tasked with developing restrictions on advertising and setting quality control standards. Seed-to-sale tracking and laboratory testing would be mandated.
Other changes approved in the Senate would add language to stipulate that gelatinous cannabis products cannot be sugar coated and insert provisions promoting good manufacturing practices and tamper-evident packaging.
Applications for cannabis business licenses would have to be accepted starting September 1, 2022 and then proceeded within 60 days.
The commission would be required to approve at least four cultivators, up to four processors, up to four dispensaries for the first year of implementation (more could be approved after that point depending on demand) and as many as five vertically integrated operators.
This bill's reintroduction has been greatly anticipated by advocates. The Senate approved a separate medical cannabis bill in 2019, but the House later severely compromised it. The legislation as enacted would not have legalized patient access; rather, it set up a study commission to explore the issue and make recommendations.
The commission came back with its report in December 2019, with members recommending that medical marijuana be legalized.
There could be additional pressure on the legislature to enact legalization given that voters in neighboring Mississippi approved a medical cannabis reform initiative during the November election.
Separately, the Alabama Senate Judiciary Committee approved a bill last month to decriminalize possession of up to two ounces of cannabis, making it punishable by a $250 fine without the threat of jail time.
Majority Of Connecticut Residents Back Marijuana Legalization And Expungements, Poll Finds As Reform Bills Advance
Photo courtesy of Philip Steffan.