Georgia's Senate Runoffs Could Decide Federal Marijuana Policy In 2021: Here's Where The Candidates Stand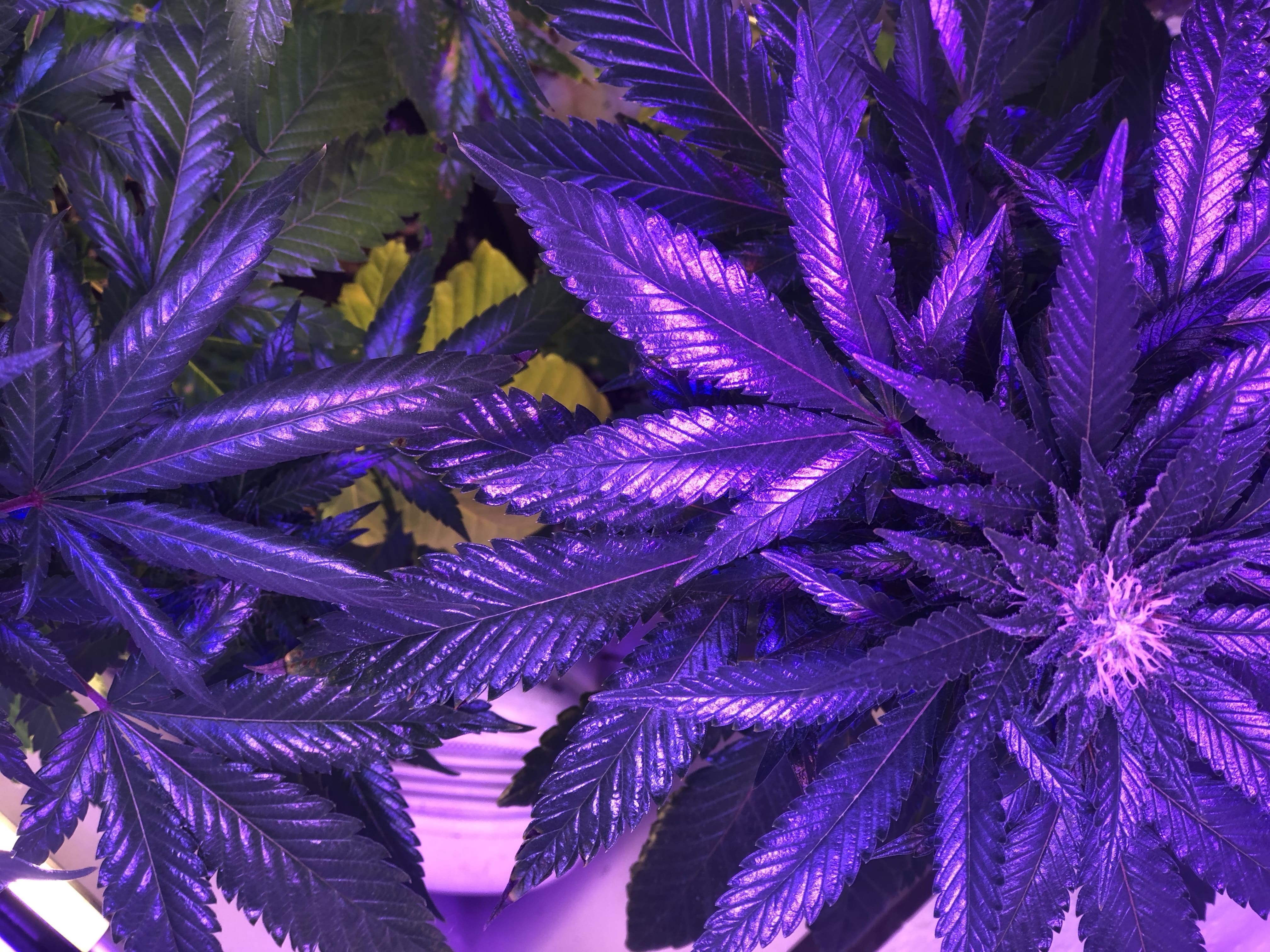 Two Georgia runoff elections for U.S. Senate seats being held next month will decide which party controls the chamber—and that will have significant implications for marijuana policy in the 117th Congress.
Democratic wins for both positions would mean that the party would reclaim command over the Senate, with Vice President-elect Kamala Harris serving as a tiebreaker. Both of the Democratic candidates vying for those seats are in favor of cannabis and drug policy reform. If Republicans keep the majority by winning at least one of the Georgia seats, meanwhile, the prospects of ending federal marijuana prohibition would be dimmed for at least the next two years.
That's not because GOP voters oppose enacting the policy change. In fact, 51 percent of Republicans said in a recent poll that they favor a House-passed bill to federally legalize marijuana. But current leadership in the Senate has given no signal that they would take up, let alone prioritize, cannabis reform. Figures like Majority Leader Mitch McConnell (R-KY), who holds staunchly anti-marijuana views, would likely be reinstalled next year if the party keeps control.
What all of that means is that the January 5 runoffs will likely decide the fate of federal cannabis policy, at least until the 2022 midterm elections. For voters who care about marijuana issues in the state, which went to President-elect Joe Biden in a historic flip, there's a lot at stake.
Here's where each of the Georgia Senate candidates stand on cannabis, followed by some broader analysis:
Sen. Kelly Loeffler (R-GA)
The senator, who joined Congress earlier this year after being appointed by the state's governor to fill a vacancy, earned an F grade on her cannabis platform from the advocacy group NORML.
Loeffler said that while she understands "some of the arguments in favor of ending the federal prohibition of marijuana and am aware that there are potential medical applications," she is "concerned about the negative effects that legalizing marijuana would have on communities, families, and our nation's youth."
She also pointed to an advisory from the U.S. Surgeon General cautioning against cannabis use by adolescents and pregnant women.
"Any efforts by Congress to legalize this substance must be taken seriously and with the common goal in mind to prevent Americans from becoming dependent on drugs," she said, according to NORML.
Loeffler said in an American Family Association survey that she "strongly disagrees" with the legalization of marijuana.
The senator has also been dismissive of recent congressional efforts to reform marijuana laws. For example, she criticized House Democrats for including language in a coronavirus relief bill that would protect banks that service state-legal cannabis businesses from being penalized by federal regulators.
.@realDonaldTrump is fighting to restore the blue collar boom he created since taking office while the Democrats' relief plan mentions cannabis 20 more times than it mentions jobs.

It's time to drop these political games & get this done. pic.twitter.com/wJtwAEkJ4K

— Kelly Loeffler (@KLoeffler) August 8, 2020
She also joined the chorus of Republicans who chastised Democrats for holding a vote on a bill to federally legalize marijuana this month. That legislation was approved.
Millions of Americans are struggling, and what is Pelosi's House Majority doing?

– Voting on a "Tiger King" bill
– Voting to legalize marijuana
– Studying ceiling fans

Meanwhile they're still blocking aid for small businesses & employers.

DESPICABLE.

Americans deserve better. https://t.co/lMdyq7y0HT

— Senator Kelly Loeffler (@SenatorLoeffler) December 9, 2020
Loeffler has not cosponsored any cannabis reform bills during her time in the Senate.
Democrat Rev. Raphael Warnock
The reverend has frequently discussed the failures of the war on drugs and supports marijuana reform.
"Marijuana is seen as an illegal substance," he said in one sermon. "It's a terrible irony and we feel it, that right now in America there are some folks who are becoming billionaires for selling the same stuff that's got our children locked up all across America."
"Where is the justice?" he asked "It's not enough to decriminalize marijuana. Somebody's gotta open up the jails and let our children go."
Loeffler, who Warnock is running to unseat, attempted to criticize him for those remarks by falsely claiming in a debate this month that he wanted to broadly empty prisons and wouldn't keep communities safe.
Loeffler's line about Warnock wanting to "empty the prisons" is pretty misleading. Warnock was talking specifically about marijuana convictions. The quote was: "It's not enough to decriminalize marijuana; somebody's got to open up the jail cells and let our children go."

— Dave Weigel (@daveweigel) December 7, 2020
Speaking more broadly about the drug war in another sermon, Warnock pointed out that the U.S. only seemed to take a public health approach to substance misuse when it became clear that the opioid misuse epidemic was entered largely white communities.
"For 35 years we've had a war on drugs. Now, back then we were dealing with heroin, crack. Now we're dealing with meth and opioids," he said. "It's interesting to me that now we have a public health emergency. I'm glad we've become so enlightened now that the bodies are suburban, rural and white."
"In 1980, there were about 300,000 or so Americans in prison. Today there are 2.3 million Americans in prison. Most of them are there for non-violent, drug-related offenses in America's so-called war on drugs. We warehouse in America 25 percent of the world's prisoners. Nobody else comes close. Not even China with a billion people. We've got them beat. We warehouse 25 percent of the world's prisoners in the so-called war on drugs."
"When our children take a plea, sometimes for a marijuana charge—and we deplore drug use, to be sure.—but some children are taken down to central booking, and others are taken home," he said. "The issue is not simply drugs. Raise your hand if you ever tried some weed. You're in church now."
Sen. David Perdue (R-GA)
NORML gave Perdue a B- for his cannabis record in the Senate.
"I'm not a doctor, but the only use of marijuana that I would support today would be the medical use of it," he said in 2014. "I've talked to other physicians that think it's a valuable tool to use. I'm basing this on medical thought that that is a tool to use against some treatments for cancer and so forth, and if that can be used medicinally, I would be OK with that."
Perdue said he would protect his state's limited medical cannabis program from potential federal interference.
"As a senator, I'm telling you that I'm going to support the law of the land in the state of Georgia, that's first of all, second of all, that the medicinal use of it is something that I would be receptive to," he said.
Perdue is opposed to broader legalization and has not cosponsored any marijuana reform legislation in the Senate.
Democrat Jon Ossoff
Jon Ossoff, the Democratic challenger to Perdue is in favor of cannabis legalization and said that he would push for the policy change if elected to the Senate.
In the Senate I'll fight for stronger civil rights laws and due process protections, an end to mandatory minimum sentencing, prison reform that raises conditions to humane standards, death penalty abolition, cannabis legalization, and to ban private prisons.

— Jon Ossoff (@ossoff) June 19, 2020
"Some get rich in the legal cannabis industry while others sit in prison for nonviolent cannabis offenses. Prohibition destroys lives, wastes resources, and enriches cartels," he wrote in July. "Federal legalization is long overdue."
Some get rich in the legal cannabis industry while others sit in prison for nonviolent cannabis offenses.

Prohibition destroys lives, wastes resources, and enriches cartels.

Federal legalization is long overdue. pic.twitter.com/vOQEj1YYGU

— Jon Ossoff (@ossoff) July 21, 2020
In an interview CNBC, Ossoff said "I won't just push for decriminalization, I'll push for nationwide legalization of cannabis."
"The prohibition of this substance is irrational," he said. "It's hugely expensive. It has a terrible human toll."
He's also previously remarked that marijuana is safer than alcohol, while prohibition "destroys lives."
Fact: Cannabis is much less dangerous than alcohol.

Its prohibition destroys lives, enriches drug cartels and the prison industry, and costs taxpayers billions per year.

Legalize it!https://t.co/ggPXgAS0yi

— Jon Ossoff (@ossoff) October 12, 2019
Ossoff's campaign website pledges that he will work to "legalize cannabis" and "end incarceration for nonviolent drug offenses."
Analysis
Given the increasing bipartisan nature of marijuana reform—coupled with the fact that five more states voted to legalize on Election Day in some form, including several conservative states—it's not outside the realm of possibilities that a Republican-controlled Senate could meet House Democrats in the middle and advance some kind of policy change in 2021. But it's unlikely that such reform would be comprehensive and include the restorative justice components that advocates are pushing for.
It's possible, for example, that GOP members would move limited bills to protect states with cannabis legalization on the books from federal intervention, or to shield banks that service state-legal marijuana businesses from being penalized by regulators.
But the distinct possibility remains that even those proposals may linger in the Senate if Democrats don't secure the chamber, as the current Republican majority has shown no willingness to move even modest marijuana reforms. And even if GOP leadership did decide to advance cannabis legislation, Loeffler has indicated she's not amenable to minor reforms, regardless of their bipartisan nature.
What that means is that, if advocates hope to finally end cannabis prohibition in 2021, both Ossoff and Warnock would likely need to prevail in the runoffs next month. That would get leadership in place that would be more willing to advance the policy change as well as put two more individual pro-reform lawmakers in office.
Senate Minority Leader Chuck Schumer (D-NY), who would be expected to become majority leader if Democrats take the Senate, has said he will advance cannabis legislation if given the power to set the floor agenda.
For what it's worth, the Democratic challengers have the advantage among most Georgia voters when it comes to marijuana. Two separate 2018 polls released by 11Alive News found that 55 percent of residents back the reform.
In January of that year, 50 percent of voters said in an Atlanta Journal-Constitution survey that they favor legalization, compared to 46 percent who said they were opposed. An overwhelming 77 percent said in that poll that they support expanding the state's medical cannabis program.
Previously, 66 percent of Georgia Republican primary voters said in a 2015 survey that they back medical cannabis legalization.
Feds' Post-Election Warning: Marijuana Still Banned For Federal Workers Despite State Legalization