House Approves Federal Marijuana Legalization Bill In Historic Vote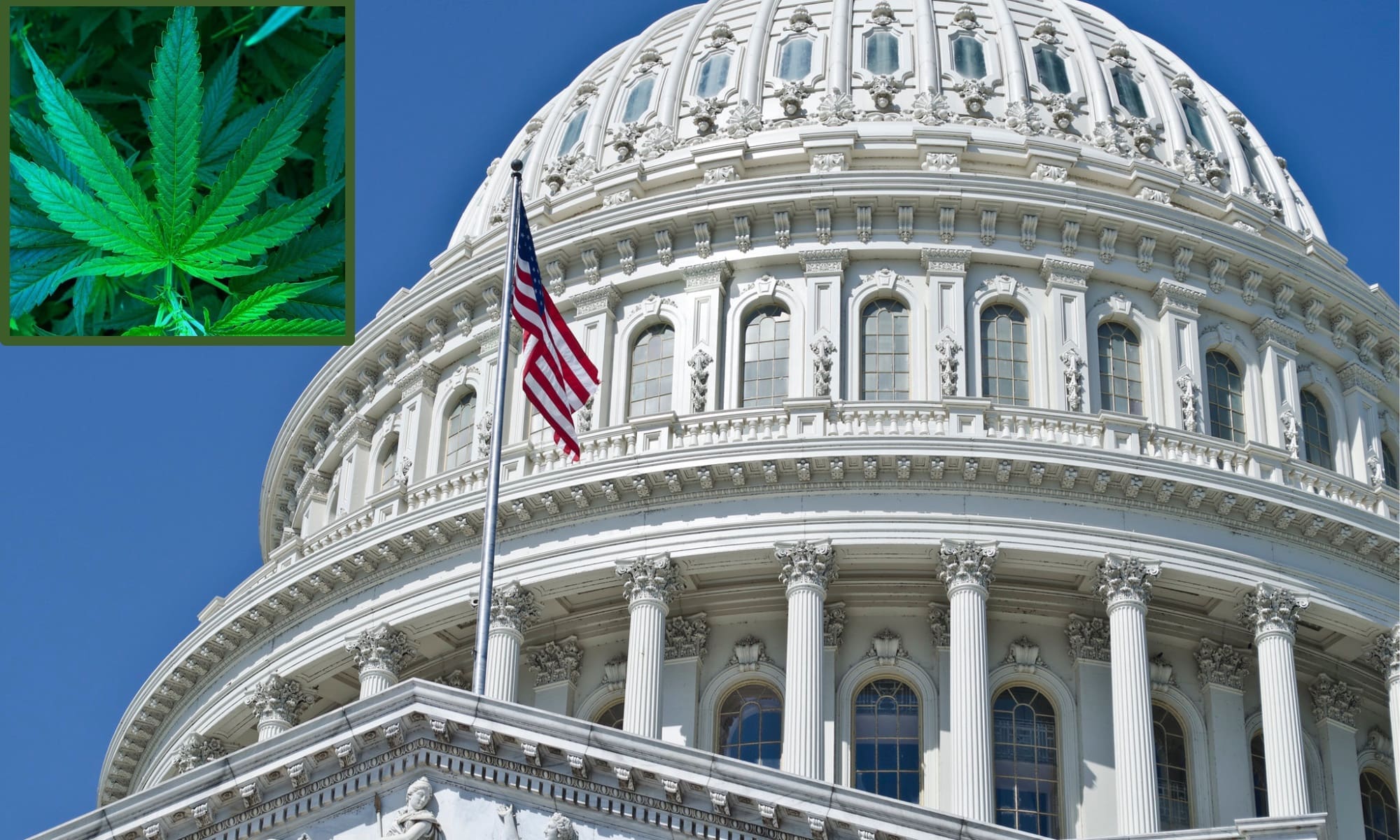 The U.S. House of Representatives approved a bill to federally legalize marijuana in a historic vote on Friday.
It's the day that cannabis reform advocates have been building toward for years—a full floor vote to end prohibition in a chamber of Congress.
Prior to the bill's approval in a 228 to 164 vote, Republican lawmakers spent days criticizing their Democratic counterparts for even bringing the legislation to the floor.
While the vote was mostly along party lines, five Republicans supported the reform and six Democrats opposed it.
Under the Marijuana Opportunity, Reinvestment and Expungement (MORE) Act, cannabis would be federally descheduled and those with prior convictions would have their records expunged. The descheduling provisions would be retroactive, too.
Despite the unprecedented House victory for reformers, few believe the legislation stands a chance in the Republican-controlled Senate, at least before the end of the current Congress early next month. Vice President-elect Kamala Harris (D-CA) is the lead sponsor of the Senate companion version of the bill.
Ahead of the bill's passage, debate on the floor largely consisted of Democrats making the case that the reform will help to right the wrongs of the racist war on drugs, and Republicans arguing that legalization would cause harms to children and public safety and that now is not the right time to consider the issue in any case.
Watch the House debate and vote on the MORE Act below:
"Across this nation, thousands of men and women have suffered needlessly from the federal criminalization of marijuana, particularly in communities of color and have borne the burden of collateral consequences for those ensnared in criminal legal systems that have damaged our society across generations," Rep. Sheila Jackson Lee (D-TX) said in her opening remarks. "This is unacceptable and we must change our laws. It is time for Congress to catch up with the reforms that states are enacting."
1. Removes marijuana, or cannabis, from the list—or the schedule—of Federally controlled substances.

— Sheila Jackson Lee (@JacksonLeeTX18) December 4, 2020
We must undo the damage that has been done to our communities since marijuana was arbitrarily placed on the list of controlled substances back in 1970. pic.twitter.com/3SmTw8bebs

— Sheila Jackson Lee (@JacksonLeeTX18) December 4, 2020
Rep. Matt Gaetz (R-FL), the sole GOP cosponsor of the legislation, said that while he feels the bill is "flawed," he is voting for it "because the federal government has lied to the people of this country about marijuana for a generation.
"We have seen a generation, particularly of black and brown youth, locked up for offenses that not should have not resulted in any incarceration whatsoever," he said.
The federal government has lied to the people of this country about marijuana for a generation.

I'm voting for the MORE Act. pic.twitter.com/suH497s54Y

— Rep. Matt Gaetz (@RepMattGaetz) December 4, 2020
The fourth-ranking Democrat in the House, Rep. Hakeem Jeffries (D-NY), said cannabis criminalization represents "a stain on our democracy," emphasizing ongoing racial disparities in enforcement despite the fact that black and white people use marijuana at roughly the same rates.
House just passed legislation to decriminalize Marijuana in America.

The failed war on drugs has ruined lives, families and communities.

We must end it.

Forever. pic.twitter.com/5E2En4HKMp

— Hakeem Jeffries (@RepJeffries) December 4, 2020
Congressional Cannabis Caucus Co-chair Barbara Lee (D-CA) said the MORE Act "is an important racial justice measure" and "the product of years of work by so many activists and advocates and young people—and it's long overdue."
"It's time to end these unjust laws which has shattered the lives of so many young people of color," the congresswoman, who presided over the chamber during the final vote, said.
Rep. Earl Blumenauer (D-OR), another Cannabis Caucus co-chair and longtime marijuana reform advocate, gave an impassioned speech in support of the bill.
Today, the House takes a major step forward in ending the failed war on drugs.#EndCannabisProhibition

— Earl Blumenauer (@repblumenauer) December 4, 2020
"We're not rushing to legalize marijuana," he said. "The American people have all ready done that. We're here because Congress has failed to deal with the disastrous war on drugs and do its part for the over 50 million regular marijuana users [who live in] every one of your districts."
"It's time for Congress to step up and do its part," he said. "We need to catch up with the rest of the American people."
Rep. Jim Jordan (R-OH) repeated the GOP criticism of Democratic priorities with this vote and slammed the tax provisions of the MORE Act.
"This bill—it's not enough just to legalize marijuana. They want taxpayers to pay for it," he said of Democrats. "This bill sets up a grant program. This is the marijuana business infrastructure bill."
Prior to the vote on final passage, the House considered a motion to recommit—the minority party's only tool to amend the bill—from Rep. Debbie Lesko (R-AZ) to add language clarifying that "an employer may test an employee or applicant for cannabis use to ensure workplace and public safety." That proposal was rejected by a tally of 218 to 174, with one member voting present.
"In the middle of the COVID-19 pandemic House Democrats are rushing to pass a sweeping marijuana legalization bill without considering the unintended consequences the legislation will have on workplace and public safety," she said. The vote on the motion will occur after the vote on passage.
"Wars are costly, and the war on marijuana is no exception," Rep. David Cicilline (D-RI) said. "The costs of the war on marijuana have disproportionately fell on the backs of blacks and Latinos."
Criminal prosecutions for possessing marijuana have ruined people's lives. The House just passed the #MOREAct to end this practice. pic.twitter.com/AiBDdtwQlj

— David Cicilline (@davidcicilline) December 4, 2020
Rep. Lou Correa (D-CA) noted that "than half of all Americans live in a state where cannabis is legal" and said Congress should "align federal cannabis laws with the will of the people. Let's take full advantage of the medical benefits of cannabis."
The #MOREAct:

✅ Reverses decades of discriminatory cannabis policies
✅ Helps our veterans access alternative medications
✅ Creates jobs and economic opportunity

Let's pass the More Act! pic.twitter.com/WZMIQn6Mnh

— Rep. Lou Correa (@RepLouCorrea) December 4, 2020
He also thanked House Judiciary Chairman Jerrold Nadler (D-NY), the bill's sponsor, for including one of his proposals to require a study of the benefits of medical cannabis for veterans in an adopted manager's amendment.
"For far too long, we have treated marijuana as a criminal justice problem instead of as a matter of personal choice and public health," Nadler, who was not present for the debate, said in a written statement.
America's marijuana laws disproportionately harm individuals and communities of color, leading to convictions that damage job prospects and the ability to vote. As the legal marijuana industry grows, Congress has a responsibility to ensure our policies are equitable & inclusive.

— Rep. Nadler (@RepJerryNadler) December 4, 2020
"Whatever one's views are on the use of marijuana for recreational or medicinal use, the policy of arrests, prosecution, and incarceration at the Federal level has proven unwise and unjust," he said.
Today, the House votes on my bill, the Marijuana Opportunity Reinvestment and Expungement (MORE) Act. I'm proud of this historic bill—which federally decriminalizes marijuana, expunges marijuana convictions, and makes local investments—and the difference it'll make. #WeWantMORE pic.twitter.com/M6ERXXK9oR

— Rep. Nadler (@RepJerryNadler) December 4, 2020
"The bottom line is, this vote is about freedom," Rep. Tulsi Gabbard (D-HI) said. "It's about freedom of choice for every American to make their own decisions for themselves without fear of the government coming and arresting them."
Rep. Andy Biggs (R-AZ) voiced opposition to the legislation and inaccurately claimed that voters in his state "barely" approved a measure to legalize marijuana during last month's election. In fact, it passed 60-40 percent—a point Blumenauer later clarified.
The chairwoman of the House Small Business Committee, Rep. Nydia Velázquez (D-NY), said the bill "will restore justice to our most marginalized communities and it will boost our economy." She added that "communities of color have disproportionately suffered from the so-called war on drugs" and they "have also been locked out of traditional capital markets."
"That is why the MORE Act is the best legislation to advance progress on this issue," she said.
The MORE Act takes a stand for our marginalized communities, decriminalizing cannabis and incentivizing the expunging of low level possession records. Today, I spoke in support of this bill, and of creating equal opportunities. (2/2) https://t.co/qko8NYJHRa

— Rep. Nydia Velazquez (@NydiaVelazquez) December 4, 2020
It's been about a year since the legislation cleared the Judiciary Committee. Advocates have been pushing for a floor vote ever since, and leadership initially said that would take place in September. But certain centrist Democrats urged a delay, citing concerns about the optics of advancing the reform before passing another round of coronavirus relief.
Many states have legalized marijuana. It's now time for us to remove the criminal prohibitions against marijuana at the federal level. #WeWantMORE pic.twitter.com/fiKnVHR7Yo

— House Judiciary Dems (@HouseJudiciary) December 4, 2020
Our federal cannabis policies have been rooted in the past for far too long. As states continue to modernize how we regulate cannabis, Congress has a responsibility to ensure that our policies are fair, equitable, and inclusive. #EndCannabisProhibition

— House Judiciary Dems (@HouseJudiciary) December 4, 2020
Leadership agreed but promised a floor vote before the year's end. Majority Leader Steny Hoyer (D-MD) recently announced that the action would take place this week, and the procedural rules for floor consideration were approved in committee on Wednesday. The House began preliminary debate and accepted the rule—which closed the bill to further amendments—on Thursday.
GOP lawmakers have repeatedly hit House leadership after plans of the vote on the MORE Act were announced. While many have lashed out on Twitter, Senate Majority Leader Mitch McConnell (R-KY) took to the floor of his chamber to condemn the move on Thursday, sarcastically mocking Democrats for "spending this week on pressing issues like marijuana."
One House Democrat, Rep. Conor Lamb (D-PA), echoed the GOP criticism, saying that this "isn't the right way" to advance reform and arguing that lawmakers should instead be focused on COVID-19 relief.
Before coming to the floor, the legislation was revised in a Rules Committee Print, transmitted from Nadler's Judiciary panel, and further modified in a manager's amendment he filed. Most of the revisions were technical in nature, though there was one significant change as it relates to the proposed tax structure for marijuana.
There is no reason for cannabis to be classified as a federally scheduled substance under the Controlled Substances Act. The MORE Act deschedules cannabis, allowing states to establish their own marijuana regulations and providing medical marijuana access to veterans in need.

— Rep. Nadler (@RepJerryNadler) December 4, 2020
As now structured, the MORE Act would make it so cannabis would be federally taxed at five percent for the first two years after implementation and then increased by one percent each year until reaching eight percent. After five years, taxes would be applied to marijuana products based on weight rather than price.
The bill would also create a pathway for resentencing for those incarcerated for marijuana offenses, as well as protect immigrants from being denied citizenship over cannabis and prevent federal agencies from denying public benefits or security clearances due to its use.
A new Cannabis Justice Office under the Justice Department would be responsible for distributing funds providing loans for small cannabis businesses owned and controlled by socially and economically disadvantaged individuals. The bill also seeks to minimize barriers to licensing and employment in the legal industry.
It would also establish a Community Reinvestment Grant Program. Tax dollars appropriated to that program would go to job training, legal aid for criminal and civil cases such as those concerning marijuana-related expungements, literacy programs and youth recreation and mentoring services, among other programs.
In new changes that some reform advocates take exception to, the legislation also stipulates that the heads of the Transportation Department and Coast Guard may continue to include marijuana in drug testing programs for safety-sensitive positions and clarifies that the expungement provisions only apply to "non-violent marijuana offenders" and bars so-called "kingpins" from obtaining expungements.
Advocates were optimistic about the bill's advancement through the House, but it should be noted that its prospects in the GOP-controlled Senate this session are dim. McConnell is a champion of the hemp industry but staunchly opposes further marijuana reform.
Still, the historic nature of a vote by a chamber of Congress to legalize marijuana is hard to overstate. While the House has on two previous occasions approved amendments to shield all state marijuana laws from federal interference (which later died in the Senate), never before has legislation to formally remove cannabis from the Controlled Substances Act advanced on Capitol Hill.
Legalization advocates heralded the vote as a watershed moment for the movement.
Justin Stekal, political director of NORML, said this "is a historic day for marijuana policy in the United States."
"This vote marks the first time in 50 years that a chamber of Congress has ever revisited the classification of cannabis as a federally controlled and prohibited substance, and it marks the first time in 24 years—when California became the first state defy the federal government on the issue of marijuana prohibition—that Congress has sought to close the widening chasm between state and federal marijuana policies," he said. "By establishing this new trajectory for federal policy, we expect that more states will revisit and amend the archaic criminalization of cannabis, establish regulated consumer marketplaces, and direct law enforcement to cease the practice of arresting over half a million Americans annually for marijuana-related violations—arrests which disproportionately fall upon those on people of color and those on the lower end of the economic spectrum."
Aaron Smith, chief executive officer of the National Cannabis Industry Association said that "the symbolic and historical importance of the MORE Act passing in the House cannot be overstated."
"This vote stands as a rebuke of failed and harmful prohibition policies, and represents a growing understanding of their racially and economically disparate impacts," he said. "Americans are increasingly ready to see cannabis legal for adults and sensibly regulated, which they showed through their representatives today and at the ballot box last month."
Steve Fox, a strategic advisor to the Cannabis Trade Federation, said it is "a day of celebration for everyone who has worked to end cannabis prohibition over the past 25 years. All of those efforts have built toward this day."
While celebrating the overall legislation, Marijuana Policy Project Executive Director Steve Hawkins noted that "it falls short of a perfect bill and at least one provision can hopefully be removed before final enactment."
"An amendment inserted in the final days before today's vote would empower the federal government to prevent Americans who have been charged with cannabis-related felonies from working in the marijuana industry," he said. "This policy could block many of those individuals accused of prior marijuana offenses from participating in the legal market, which will inhibit our ability to create an equitable and fair marijuana industry. The fact that it might apply to people who were never even convicted of a crime makes it particularly unacceptable."
Overall, the passage of the legalization legislation could send a strong signal to the incoming presidential administration, and it sets the stage for similar action in 2021—especially if Democrats win control of the Senate after two runoff elections in Georgia next month.
Given President-elect Joe Biden's former approach to championing punitive anti-drug legislation as a senator and his ongoing obstinance on marijuana legalization at a time when polls show that a clear majority of Americans favor the policy change, there remains some skepticism about his willingness to make good on his campaign promises to achieve more modest reforms he has endorsed, such as decriminalizing possession and expunging records.
A transition document the incoming Biden-Harris administration released this month left out mention of those cannabis pledges. While Harris is sponsoring the MORE Act, she's indicated that she would not necessarily push the president-elect to adopt a pro-legalization position.
That said, the president-elect has conceded that his work on punitive anti-drug legislation during his time in Congress was a "mistake."
For his part, Blumenauer told Marijuana Moment in August that "the Biden administration and a Biden Department of Justice would be a constructive player" in advancing legalization.
Meanwhile, the Congressional Research Service released an analysis of the MORE Act last month, finding that the bill's passage could "reverse" the current cannabis policy gap that exists between states and the federal government.
Top New York Republican Lawmaker Says Marijuana Legalization Will Happen In 2021
Image element courtesy of Tim Evanson.
Minnesota Marijuana Legalization Bill Approved By Seventh House Committee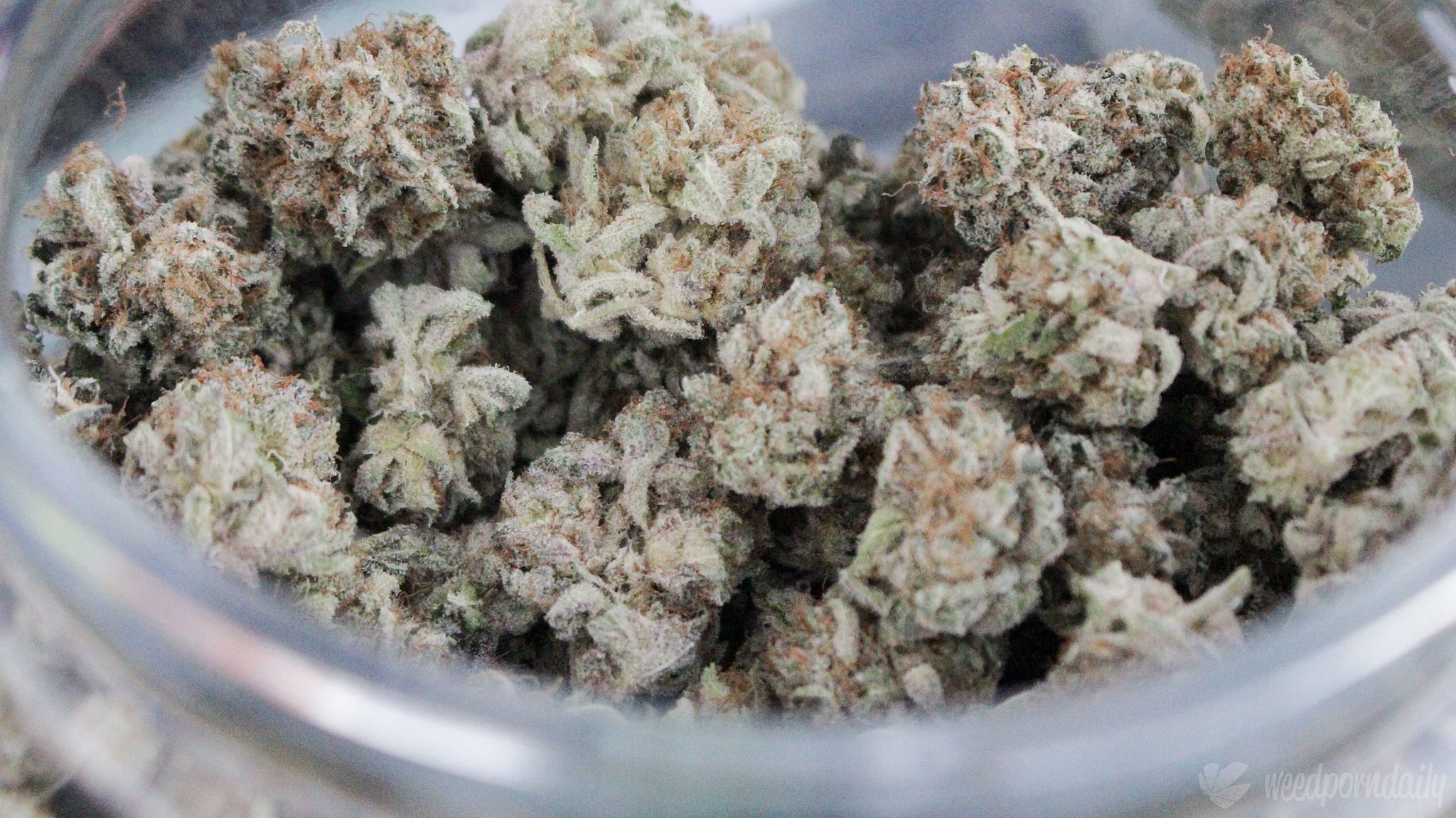 Another day, another House committee approval of a bill to legalize marijuana in Minnesota.
On Saturday, a seventh panel cleared the proposal from House Majority Leader Ryan Winkler (D), Speaker Melissa Hortman (D) and other lawmakers since it was filed in February.
The bill would allow adults 21 and older to purchase and possess up to 1.5 ounces of cannabis and cultivate up to eight plants, four of which could be mature.
The House State Government Finance and Elections Committee is the latest panel to advance the legislation, by a vote of 7-5,—just days after the House Judiciary Finance and Civil Law Committee gave it the green light.
Winkler said before the vote that the goal of the bill is "to end the criminal prohibition of cannabis in Minnesota [and] to acknowledge that the criminal enforcement of cannabis in Minnesota is part of a broader war on drugs that has disproportionately impacted communities of color, especially black Minnesotans."
"We seek to provide criminal justice reform and make sure that those adversely affected through the criminal sanctions of the war on drugs have an opportunity to have their records expunged," he said, "and to have an opportunity to participate in the upside, the opportunity of a new cannabis market—to right past wrongs."
Before this latest hearing, the House Environment and Natural Resources Finance and Policy Committee, the Agriculture Finance and Policy Committee, the Workforce and Business Development Finance and Policy Committee, the Labor, Industry, Veterans and Military Affairs Finance and Policy Committee and the Commerce Finance and Policy Committee each advanced the measure.
The next stop will be the Education Finance Committee. Winkler recently said that he expects the legislation to go through any remaining panels by the end of April, with a floor vote anticipated in May.
—
Marijuana Moment is already tracking more than 1,000 cannabis, psychedelics and drug policy bills in state legislatures and Congress this year. Patreon supporters pledging at least $25/month get access to our interactive maps, charts and hearing calendar so they don't miss any developments.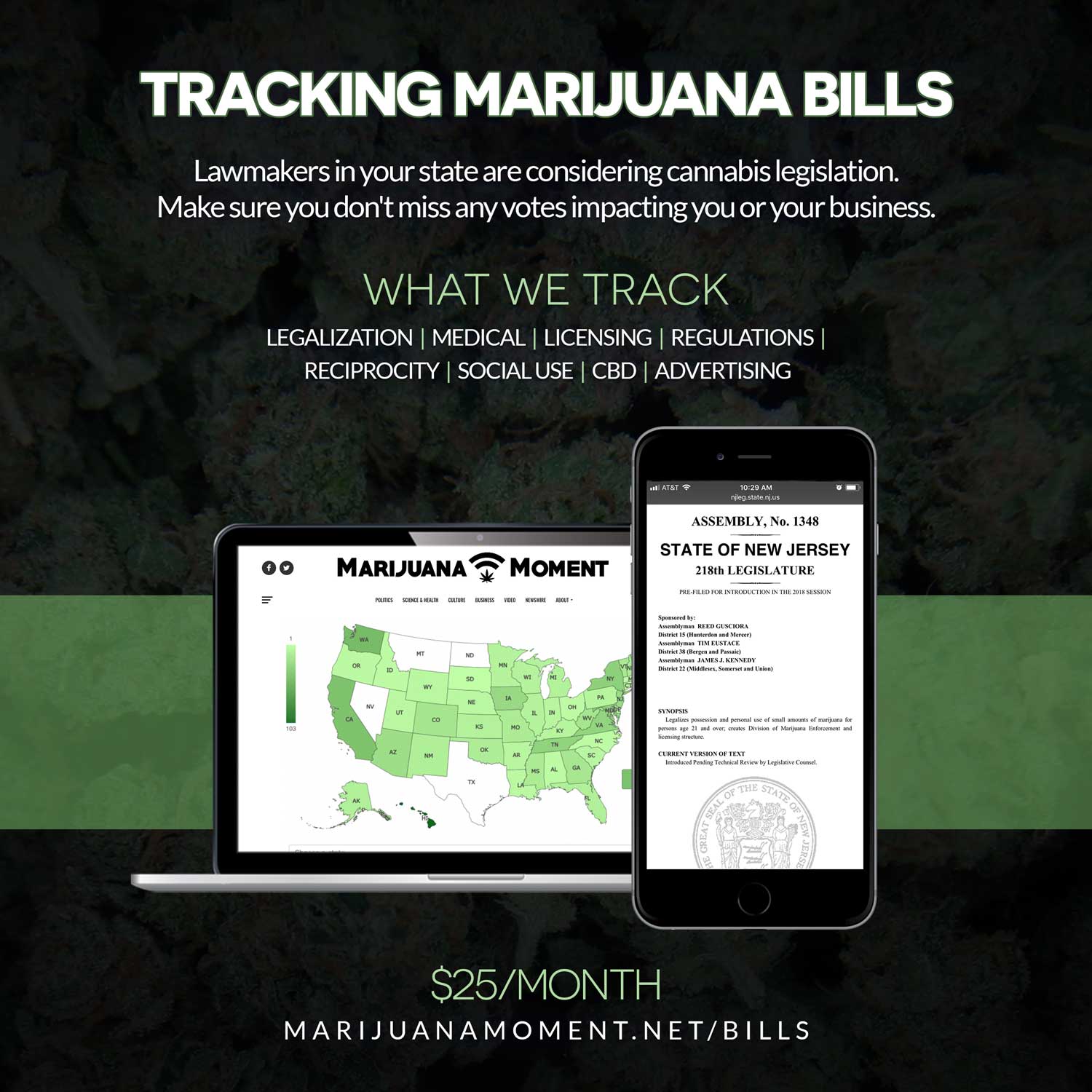 Learn more about our marijuana bill tracker and become a supporter on Patreon to get access.
—
Still, even if the legislation does make it all the way through the House, it's expected to face a significant challenge in the Republican-controlled Senate, where lawmakers have signaled that they're more interested in revising the state's existing medical cannabis program than enacting legalization of adult use.
After the New York legislature approved a recreational cannabis legalization bill—which the governor promptly signed into law—Winkler said that Minnesota is "falling behind a national movement towards progress."
"MN has some of the worst criminal justice disparities in the country, and legalizing cannabis & expunging convictions is a first step towards fixing that," he tweeted.
The majority leader's bill as introduced was identical to a proposal he filed last year, with some minor technical changes. Winkler, who led a statewide listening to gather public input ahead of the measure's introduction, called it the "best legalization bill in the country" at the time. It did not advance in that session, however.
Under the legislation, social equity would be prioritized, in part by ensuring diverse licensing and preventing the market from being monopolized by corporate players. Prior marijuana records would also be automatically expunged.
On-site consumption and cannabis delivery services would be permitted under the bill. And unlike in many legal states, local municipalities would be banned from prohibiting marijuana businesses from operating in their areas.
Retail cannabis sales would be taxed at 10 percent. Part of that revenue would fund a grant program designed to promote economic development and community stability.
The bill calls for the establishment of a seven-person Cannabis Management Board, which would be responsible for regulating the market and issuing cannabis business licenses. It was amended in committee month to add members to that board who have a social justice background.
People living in low-income neighborhoods and military veterans who lost honorable status due to a cannabis-related offense would be considered social equity applicants eligible for priority licensing.
Cannabis retails sales would launch on December 31, 2022.
Gov. Tim Walz (D) is also in favor of ending marijuana prohibition, and in January he called on lawmakers to pursue the reform as a means to boost the economy and promote racial justice. He did not include a request to legalize through his budget proposal, however.
Walz did say in 2019 that he was directing state agencies to prepare to implement reform in anticipation of legalization passing.
Winkler, meanwhile, said in December that if Senate Republicans don't go along with the policy change legislatively, he said he hopes they will at least let voters decide on cannabis as a 2022 ballot measure.
Heading into the 2020 election, Democrats believed they had a shot of taking control of the Senate, but that didn't happen.
The result appears to be partly due to the fact that candidates from marijuana-focused parties in the state earned a sizable share of votes that may have otherwise gone to Democrats, perhaps inadvertently hurting the chances of reform passing.
In December, the Minnesota House Select Committee On Racial Justice adopted a report that broadly details race-based disparities in criminal enforcement and recommends a series of policy changes, including marijuana decriminalization and expungements.
Marijuana Banking Bill Will Get A House Floor Vote Next Week, Majority Leader Confirms
Photo courtesy of WeedPornDaily.
Marijuana Banking Bill Will Get A House Floor Vote Next Week, Majority Leader Confirms
A bipartisan bill to protect banks that service state-legal marijuana businesses from being penalized by federal regulators has been formally scheduled to receive a House floor vote on Monday, a calendar released by Majority Leader Steny Hoyer's (D-MD) office confirms.
Marijuana Moment reported on the expected development earlier Friday after obtaining an email that was sent to stakeholders by a staffer for Rep. Ed Perlmutter (D-CO), the bill's sponsor, seeking letters of support for the Secure and Fair Enforcement (SAFE) Banking Act ahead of the anticipated vote.
The bill is now now officially listed on the majority leader's agenda of legislation for Monday.
This will mark the first floor action on a cannabis reform bill this Congress. The standalone legislation cleared the House with bipartisan support in 2019, and its language was also included in two coronavirus relief packages that the chamber approved. The proposal did not advance in any form in the Senate under GOP control, however.
With Democrats now in control of the House, Senate and White House, industry stakeholders are optimistic that the legislation stands a solid chance of becoming law this year.
The SAFE Banking Act was reintroduced in the House last month, and it currently has 168 cosponsors—more than one-third of the chamber. Days later, it was refiled in the Senate, where Sens. Jeff Merkley (D-OR) and Steve Daines (R-MT) are the chief sponsors.
—
Marijuana Moment is already tracking more than 1,000 cannabis, psychedelics and drug policy bills in state legislatures and Congress this year. Patreon supporters pledging at least $25/month get access to our interactive maps, charts and hearing calendar so they don't miss any developments.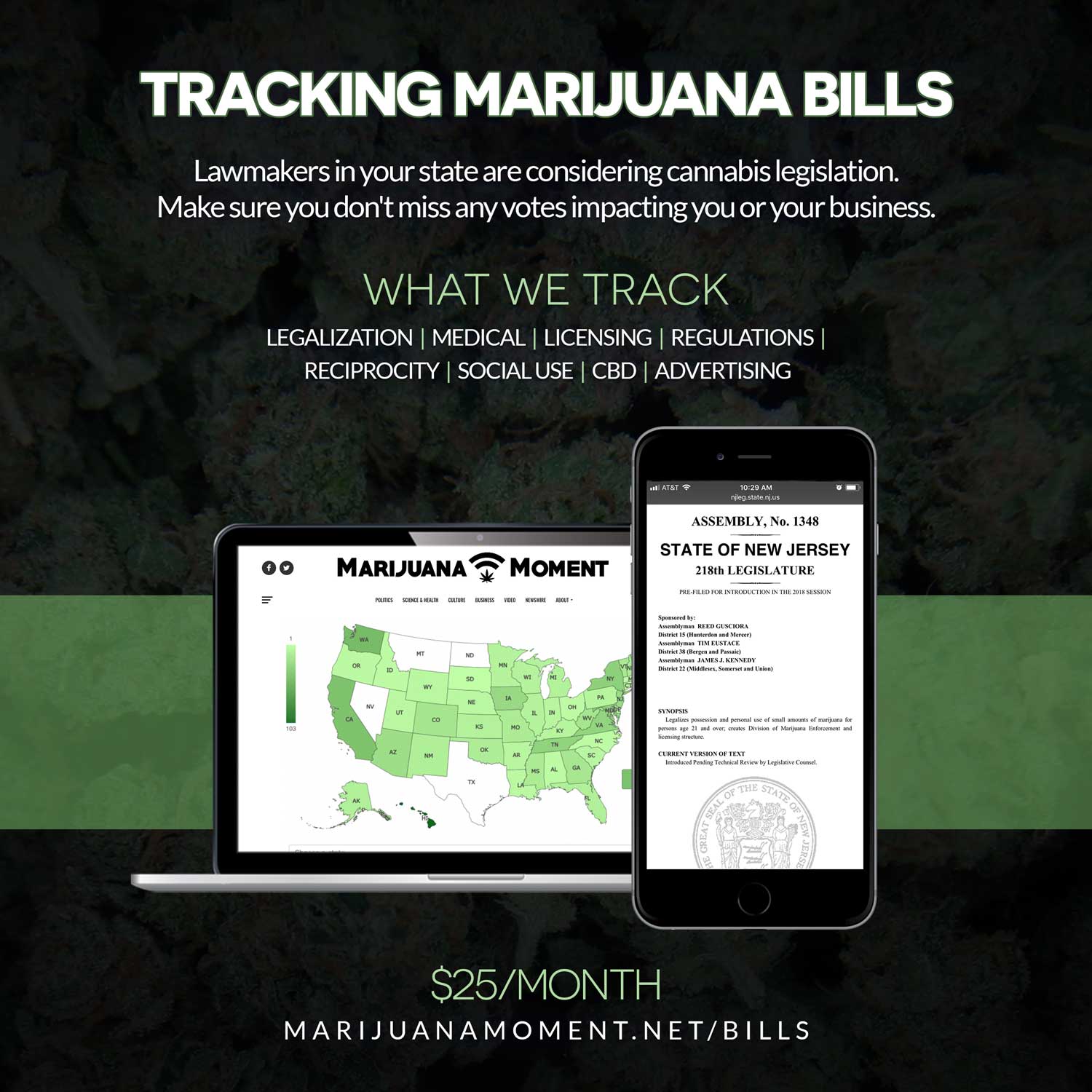 Learn more about our marijuana bill tracker and become a supporter on Patreon to get access.
—
The legislation would ensure that financial institutions could take on cannabis business clients without facing federal penalties. Fear of sanctions has kept many banks and credit unions from working with the industry, forcing marijuana firms to operate on a cash basis that makes them targets of crime and creates complications for financial regulators.
Because the bill will be taken up under the process known as suspension of the rules, it will need a two-thirds supermajority to pass—an achievable threshold given the level of support it got during the earlier 2019 vote. No floor amendments will be allowed under the procedure.
Rep. Matt Gaetz (R-FL) said in a tweet on Friday that he'll "be voting for the SAFE Banking Act in the House" and that it's "absurd that Marijuana business cannot fully access the US financial system." He did not comment on the timing of a vote, however.
I'll be voting for the SAFE Banking Act in the House.

It is absurd that Marijuana business cannot fully access the US financial system. pic.twitter.com/5YDeuUBr0p

— Matt Gaetz (@mattgaetz) April 16, 2021
After it passed the House last Congress, advocates and stakeholders closely watched for any action to come out of the Senate Banking Committee, where it was referred after being transmitted to the chamber. But then-Chairman Mike Crapo (R-ID) did not hold a hearing on the proposal, despite talk of negotiations taking place regarding certain provisions.
Crapo said he opposed the reform proposal, but he signaled that he might be more amenable if it included certain provisions viewed as untenable to the industry, including a 2 percent THC potency limit on products in order for cannabis businesses to qualify to access financial services as well as blocking banking services for operators that sell high-potency vaping devices or edibles that could appeal to children.
Sen. Sherrod Brown (D-OH), who took the top seat in that panel after Democrats secured a majority in the Senate, told reporters in February that he's "willing" to move the cannabis banking bill, "but with it needs to come sentencing reform."
The current Senate version of the SAFE Banking Act has 32 cosponsors.
When legislative leaders announced that the SAFE Banking Act was getting a House vote in 2019,  there was pushback from some advocates who felt that Congress should have prioritized comprehensive reform to legalize marijuana and promote social equity, rather than start with a measure viewed as primarily friendly to industry interests.
Rep. Earl Blumenauer (D-OR), co-chair of the Congressional Cannabis Caucus and an original cosponsor of the bill, said last month that the plan is to pass the banking reform first this session because it "is a public safety crisis now," and it's "distinct—as we've heard from some of my colleagues—distinct from how they feel about comprehensive reform."
Meanwhile, congressional lawmakers are simultaneously preparing to introduce legislation to end federal cannabis prohibition.
Senate Majority Leader Chuck Schumer (D-NY), Senate Finance Chairman Ron Wyden (D-OR) and Sen. Cory Booker (D-NJ) are in the process of crafting a legalization bill, and they've already met with advocates to get feedback on how best to approach the policy change.
Schumer said this week that the legislation will be introduced and placed on the floor "soon."
On the House side, Judiciary Chairman Jerrold Nadler (D-NY) said recently that he plans to reintroduced his legalization bill, the Marijuana Opportunity, Reinvestment and Expungement (MORE) Act, which cleared the chamber last year but did not advance in the Senate under GOP control.
Biden's Already On Board With Federal Marijuana Legalization Even If He Doesn't Use That Word, Booker Says
Washington Senate Replaces Drug Decriminalization Bill With Revised Measure To Reinstate Penalties
A bill that would have formally decriminalized drugs in Washington State was gutted on the Senate floor on Thursday, with lawmakers approving a dramatically revised version that instead reinstates criminal penalties following a state Supreme Court ruling that overturned prohibition.
The action sets up a possible showdown with more progressive Democrats in the House of Representatives who have said they won't vote for legislation that returns to a criminal war on drugs.
Washington has been without a law against drug possession since a divided state Supreme Court abruptly struck it down February, after ruling that a narrow portion of the decades-old law was unconstitutional. Lawmakers have since scrambled to address the decision—which has halted drug arrests and prosecutions across the state and freed dozens of people incarcerated on drug possession charges—before the legislative session ends on April 25.
On the Senate floor on Thursday evening, a bill that originally would have left drug possession decriminalized was amended to instead make possession a gross misdemeanor, a crime punishable by up to a year in jail and a $5,000 fine—a change that led its lead sponsor to vote against the measure.
Prior to the court decision, drug possession was classified as a felony.
Senators passed the amended version of the bill, SB 5476, on a 28–20–1 vote. It next proceeds to the House, where it's scheduled for an initial hearing in the Appropriations Committee on Monday, with possible committee action slated for Wednesday, April 21.
Watch the senators discuss the drug penalties legislation, around 1:01:33 into the video below: 
As amended, the Senate-passed bill represents a moderate reform to Washington's now-invalidated felony law against possession. It requires the prosecutors divert people for first- and second-time possession charges to evaluation and treatment programs, and allows for the possibility of further diversions with a prosecutor's approval.
"I think that this striking amendment will help move us forward as we continue negotiations in these final 10 days with the body across the way toward having a response that will provide services and treatment and help for people who are struggling with substance use disorder," Sen. Jamie Pedersen (D), who brought the amendment, said on the Senate floor.
The bill in its original form represented a more significant shift away from the drug war. It would have imposed no penalties for possession of small, "personal use" amounts of drugs, instead routing people to evaluation and treatment services for substance use disorder.
Some senators who initially supported SB 5476 ultimately changed their vote after the misdemeanor amendment was adopted. The bill's original sponsor, Sen. Manka Dhingra (D) said she could no longer support the proposal.
"The way we are doing this, I'm glad there'll be opportunities for diversion, but it needs to be not through the criminal justice system," Dhingra said during floor debate. "I understand this is my bill, I understand my name is on there, but I will be voting no on this today."
Many senators who weighed in on the bill Thursday said it was important that the legislature pass something before the session end, given the sweeping impact of February's state Supreme Court decision, State v. Blake. In a statement issued after the floor vote, Senate Majority Leader Andy Billig (D) said that not passing a state law on drug possession "means a patchwork of local ordinances that will be confusing to Washingtonians and won't provide equal justice across the state."
Generally speaking, state drug laws are understood to preempt those of Washington's cities and counties. With the state law against possession gone, localities could establish their own laws and penalties, and some have already begun doing so.
"The bill we passed today is not the final word on the subject," Billig said in a statement. "It is a compromise that keeps this important legislation moving so that we can do our duty as the representatives of the people of our whole state."
Representatives in the House, however, have indicated more openness to leaving drug possession decriminalized this session. On Thursday, lawmakers in favor of broader drug reform introduced a new bill, HB 1578, which would expand treatment and recovery services and reclassify low-level possession as a civil infraction, punishable by a fine of up to $125 and no possibility of jail time.
—
Marijuana Moment is already tracking more than 1,000 cannabis, psychedelics and drug policy bills in state legislatures and Congress this year. Patreon supporters pledging at least $25/month get access to our interactive maps, charts and hearing calendar so they don't miss any developments.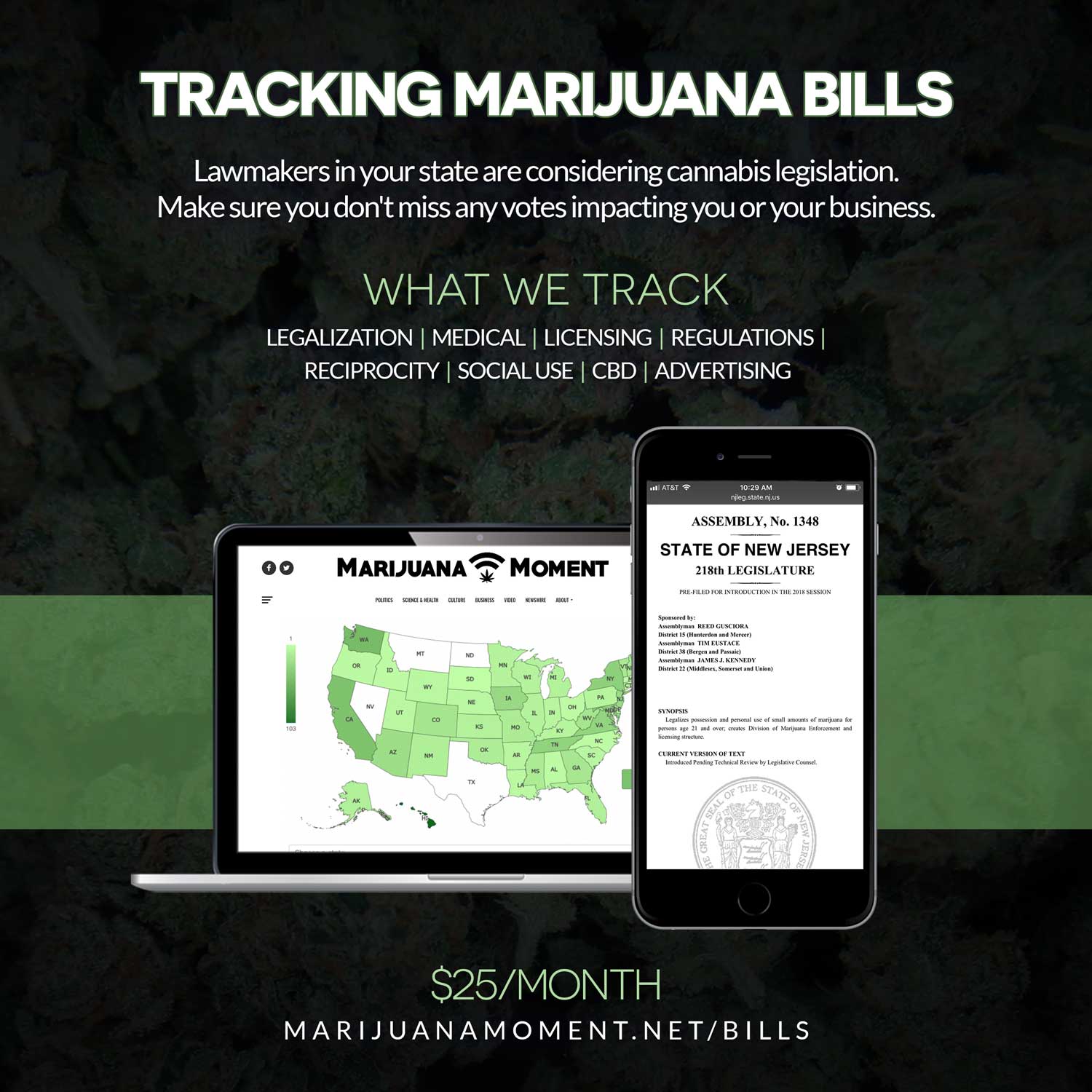 Learn more about our marijuana bill tracker and become a supporter on Patreon to get access.
—
Of all the measures currently in play this session, the new bill is the one that most closely resembles neighboring Oregon's drug decriminalization measure passed by voters in November. But its path forward is uncertain: HB 1578 would need to pass both chambers of the legislature in less than two weeks.
Likewise, it remains unclear how the House will receive the Senate-passed bill, SB 5476, in its new form. More progressive members of the Democratic caucus have said they won't vote for legislation that reimposes criminal penalties for simple possession, but it's not certain they'll be able to muster enough support to pass a decriminalization measure.
If House lawmakers were to amend the Senate bill before passing it, the legislation would need to go to a conference committee, where members of both chambers would iron out differences in the two versions of the bills.
Earlier this year, before the Supreme Court's decision, a House committee passed a separate bill, HB 1499, that would have ended criminal penalties for personal use amounts of drugs and instead routed people to evaluation and treatment. It would have also significantly expanded the state's outreach and recovery programs for people with drug use disorders. That measure failed to proceed further after missing a legislative deadline last month.
HB 1499, for its part, stemmed from an effort to put a drug decriminalization initiative on Washington's ballot last year. Supporters pivoted to a push through the legislature after pressing pause on their signature-gathering campaign after COVID-19 first broke out in the Seattle area early last year.
Advocates for reform have noted that the state's criminal enforcement of drug possession laws has had a strong bias against people of color, particularly the state's Black, brown and Indigenous communities.
In her comments on the Senate floor, Dhingra echoed that point, arguing that the Blake decision presents a chance for lawmakers to finally begin to address those racial disparities.
"I will say that the Supreme Court did provide us with an opportunity," she said, "an opportunity to really think about what we as a state and as a nation have been doing in regards to the war on drugs, and to really think critically of the impact that this has had very, very specifically on Brown and Black families."
"The racial impact of our drug laws cannot be understated," Dhingra continued. "When we take a look at mass incarceration, when we take a look at families with a single mom who is bringing up her children, when we take a look at parents who cannot find a job because of their criminal history, cannot find housing, cannot seek recovery, it comes down to the manner in which we have been enforcing our drug laws."
Rep. Roger Goodman (D), the lead sponsor of the new House measure, HB 1578, which would make possession a civil infraction, didn't immediately respond to a request for comment on Thursday evening. In an interview with Marijuana Moment last month, however, he called the Blake decision "both a blessing and a curse."
"It's an opportunity for us to come up with a more effective approach that does less harm," he said, "but we don't have the opportunity to be deliberate and inclusive in conversations with interested parties, so it's not as well thought-out a proposal as it would be otherwise. It has to be an interim measure."
Just five years ago, few state legislatures would have dreamed of letting drugs remain decriminalized after a court decision like Blake. Now attitudes are beginning to shift.
"There's this phenomenon called discontinuous change," Goodman told Marijuana Moment, "where nothing happens and nothing happens and nothing happens, and then the Berlin Wall falls down. We're getting to that place in drug policy where it's a tipping point."
Oregon voters ended prohibition of low-level drug possession at the ballot during last November's election, which has contributed to the national conversation.
In both Maine and Vermont, lawmakers have also recently unveiled legislation last month to decriminalize small amounts of illegal drugs. Last month, a Rhode Island Senate committee held a hearing on legislation that would end criminal penalties for possessing small amounts of drugs and replace them with a $100 fine.
In New Jersey, meanwhile, Gov. Phil Murphy (D) said last month that he's "open-minded" on decriminalizing all drugs.
California Bill To Legalize Possession Of Psychedelics Clears Second Senate Committee